Published: December 29, 2020 Updated: September 14, 2021
These easy homemade freezer meatballs are the PERFECT meal prep option! Breadcrumbs, fresh ground beef, and a few choice seasonings combine to make 88 delicious meatballs, ready for your freezer and ready for your family. Why buy from the store when you can make them yourself!? Dairy free, with gluten-free option.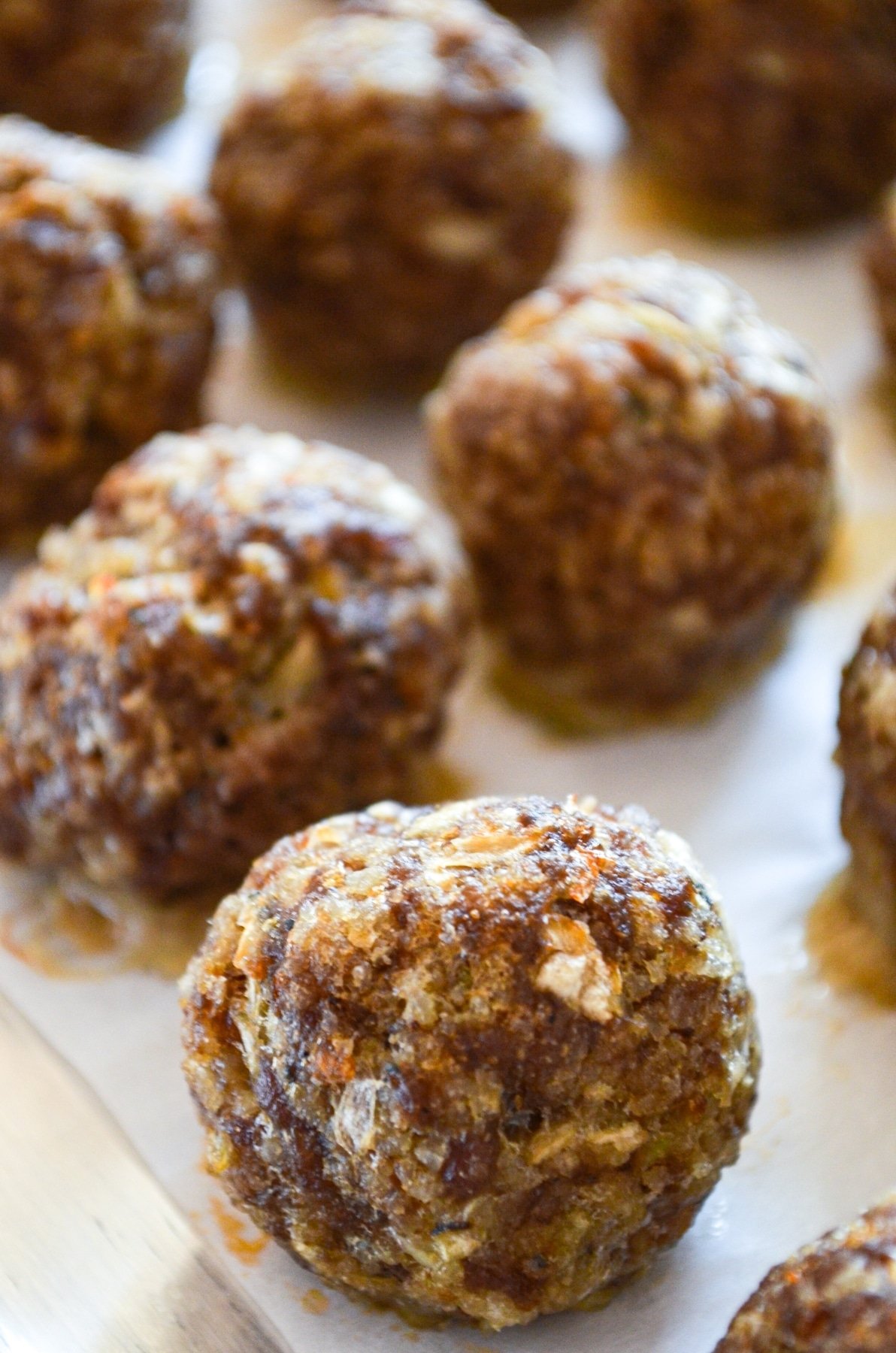 This post contains affiliate links, which means that if you click a link and make a purchase, we receive a commission at no additional cost to you. See our disclaimer for more information. Any nutritional information is for entertainment and informational purposes only, and is not intended as medical advice. Always seek the advice of your health provider.
Pin it for Later
---
It's so great having meals in the freezer, ready for those crazy days. You know what I'm talking about. We all have those insane days where nothing seems to go right, and before you know it it's supper time and all you have is a stale loaf of bread and a wilted head of lettuce. What on earth am I going to make for supper?
Most of those days end up with a call for pizza, or maybe you end up at the grocery store last minute, buying a rotisserie chicken. While those are fine options on occasion, it certainly is helpful when you have something on back up in your freezer. These easy homemade freezer meatballs are the perfect secret weapon for dinner success. Since they are precooked, then frozen, you don't need to thaw or wait long periods of time to transform them into a delicious meal. Not only that, there are endless options for preparing your frozen meatballs.
Ingredients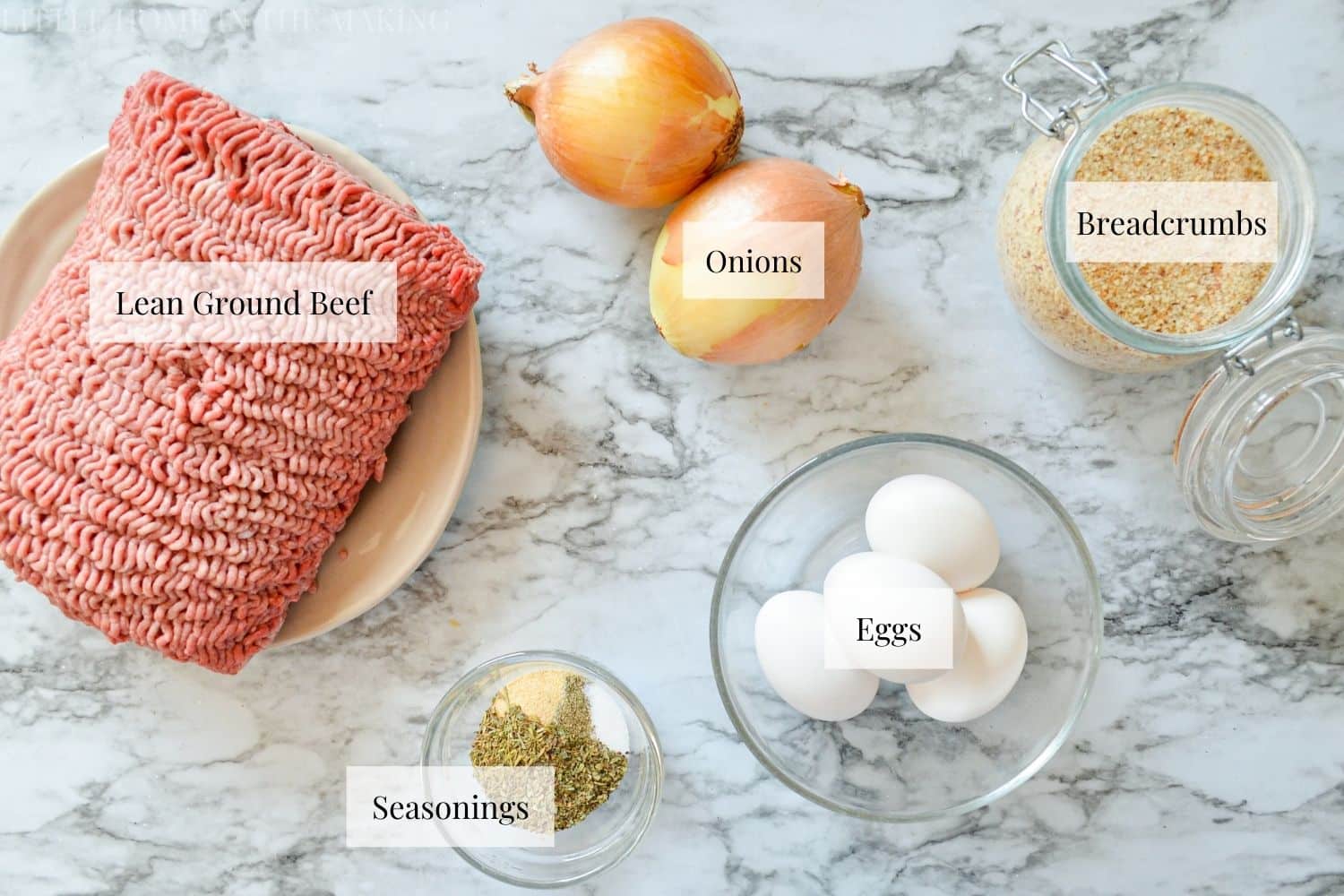 Lean Ground Beef: This is the perfect choice for meatballs. Since most of the fat is removed, you won't end up with a lot of grease in your pan after cooking. I find higher fat ground beefs leave for soggy bottoms, and shrunken meatballs. Grass fed beef is naturally lean, so you won't have to worry if you're opting for that.
Onions: Two medium yellow onions are used in this recipe. They are pureed with a food processor or small blender, meaning you don't have big chunks of onion sticking out of your meatballs. This is particularly great for those picky eaters in your family.
Eggs: These act as a binder. 4 large eggs (about 1 egg per pound of ground beef) is what you'll need for these freezer meatballs.
Breadcrumbs: I used sourdough breadcrumbs, but you can use panko, regular store bought, or ground gluten-free oats if you're gluten free.
Salt: Whenever you're cooking from scratch, you're going to want a little salt. You can use any fine salt. I like to use mineral salt, but table salt is fine.
Seasoning: These seasonings are on the simple side, which means the meatballs can be used for a variety of dishes. I mostly use mine with tomato sauce, but I've made both honey garlic and Swedish meatballs with great success!
Instructions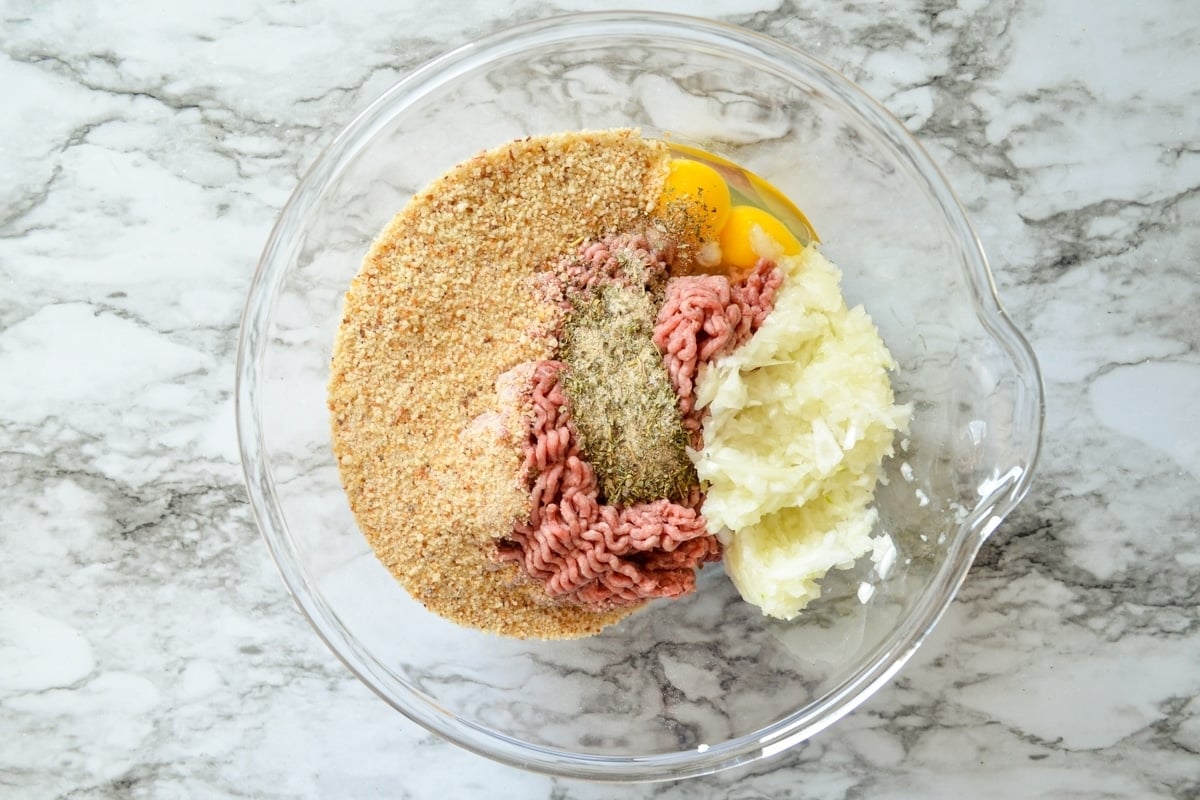 Preheat your oven to 400F and line a full size (or two half size) sheet pans with parchment paper.
Add the ground beef to a large bowl.
Puree the onion in a blender or food processor.
Add the onion, seasonings, and breadcrumbs to a bowl.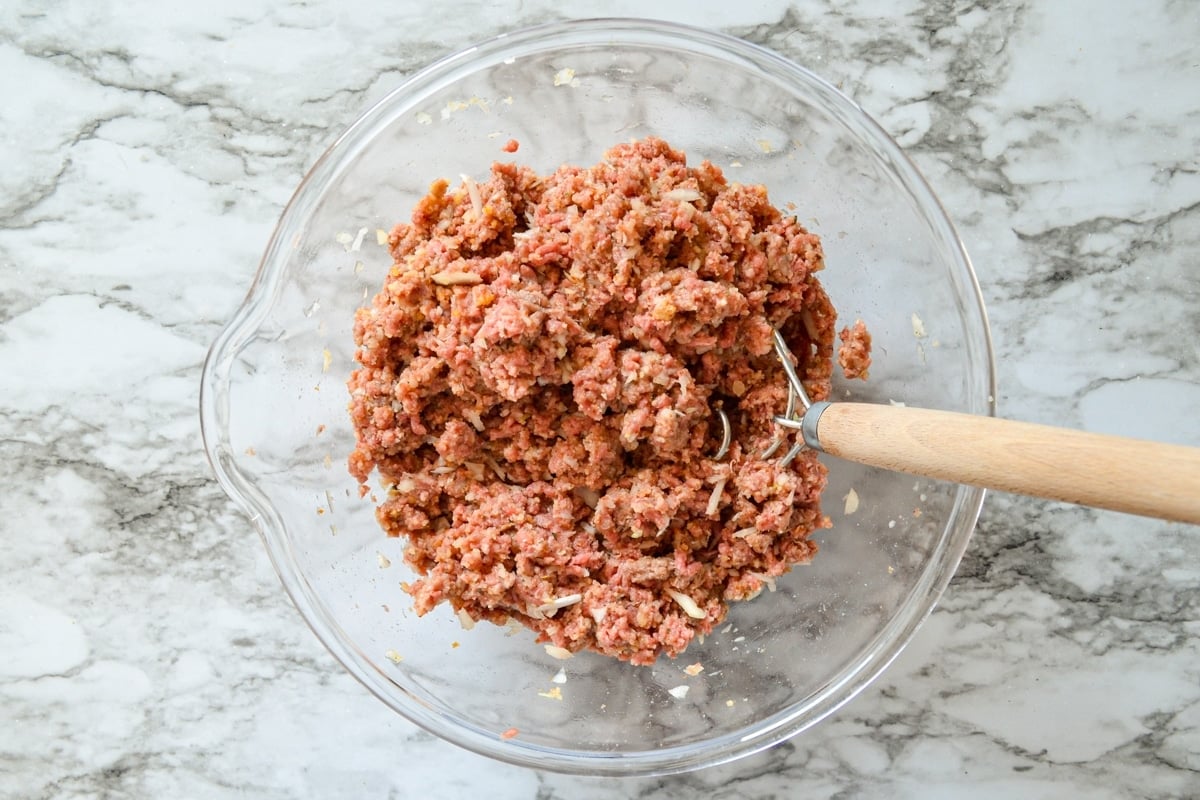 Use your hands or a Danish Dough Whisk to combine the ground beef, seasonings, onion, and breadcrumbs.
Mix until is just comes together. Be careful to not handle the ground beef mixture too much.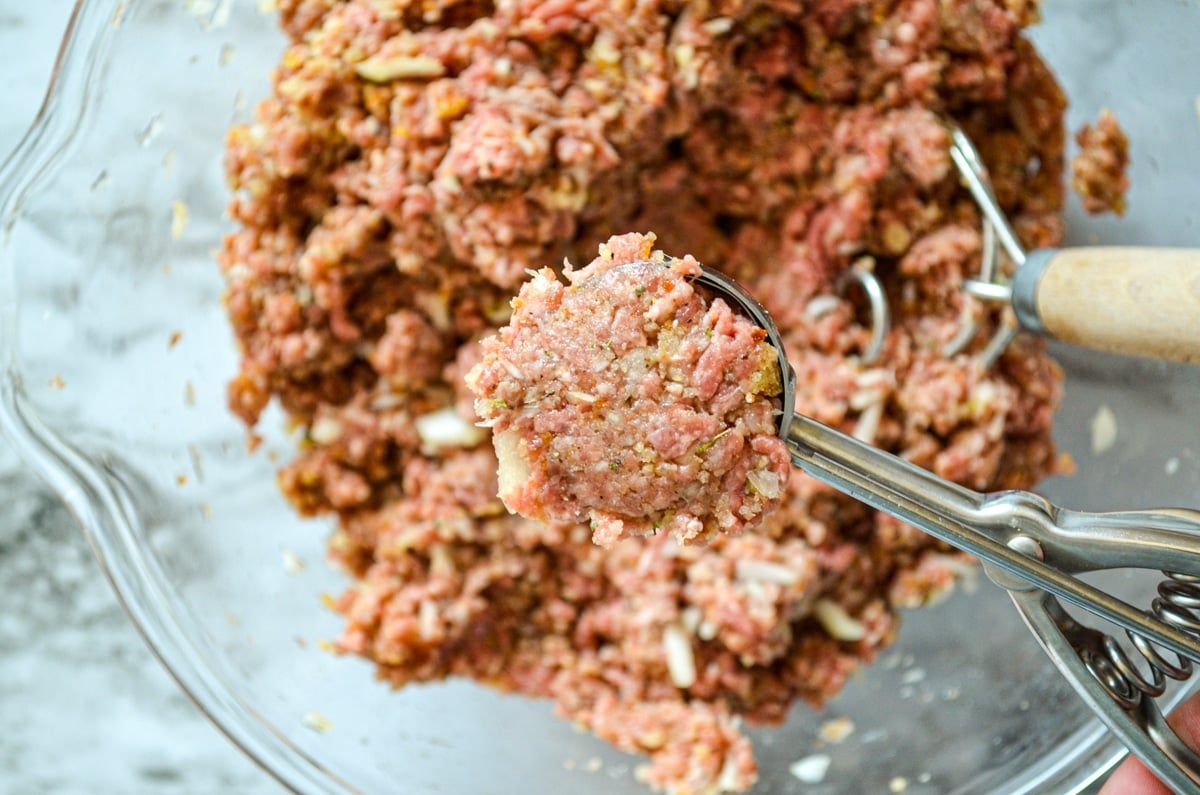 Use a cookie scoop (I like the medium sized one from OXO) to portion out the ground beef mixture.
Roll the portion between your palms to create a smooth ball.
Place the meatball onto your prepared baking sheet.
Repeat with all of the remaining meat mixture, spacing the meatballs 1/2″ apart.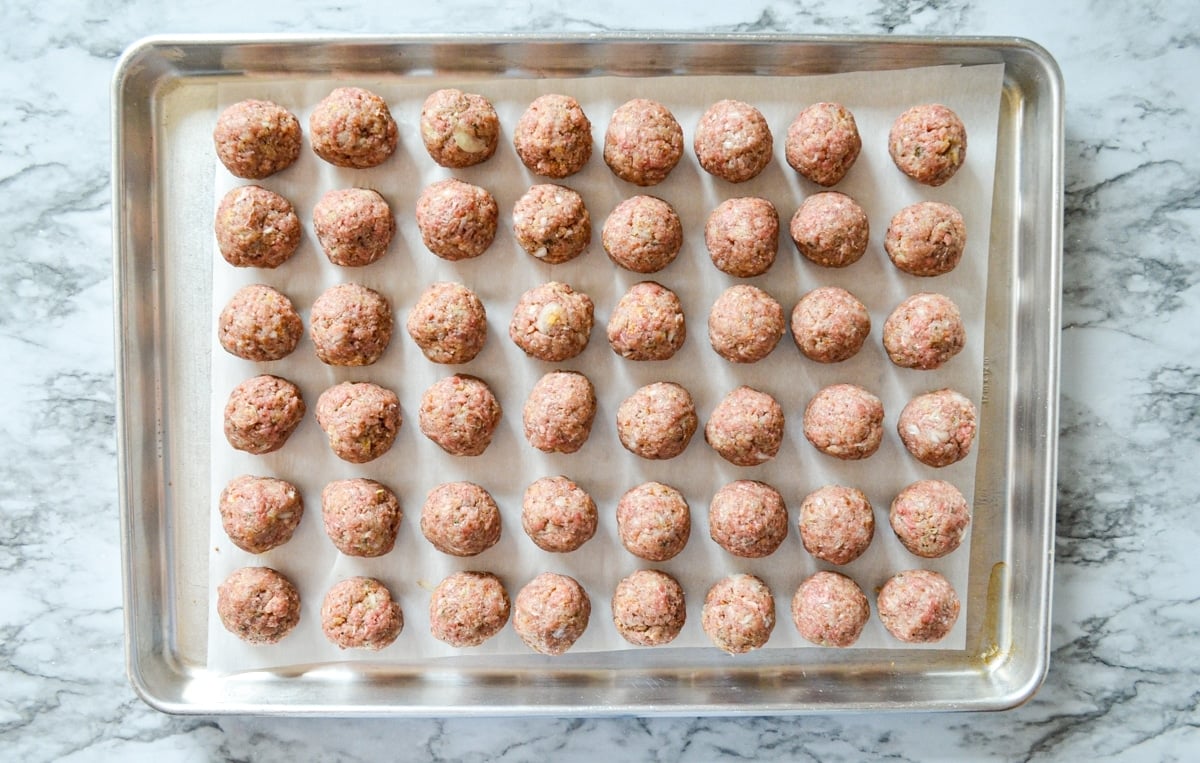 Once all of the meatballs have been formed, place your meatballs in the oven and bake for 30-35 minutes, or until they reach a minimum internal temperature of 165F.
Remove from the oven, and remove the meatballs to drain on paper towel lined plates OR a metal mesh drying rack with a drip pan set under it.
Let the meatballs cool completely before freezing.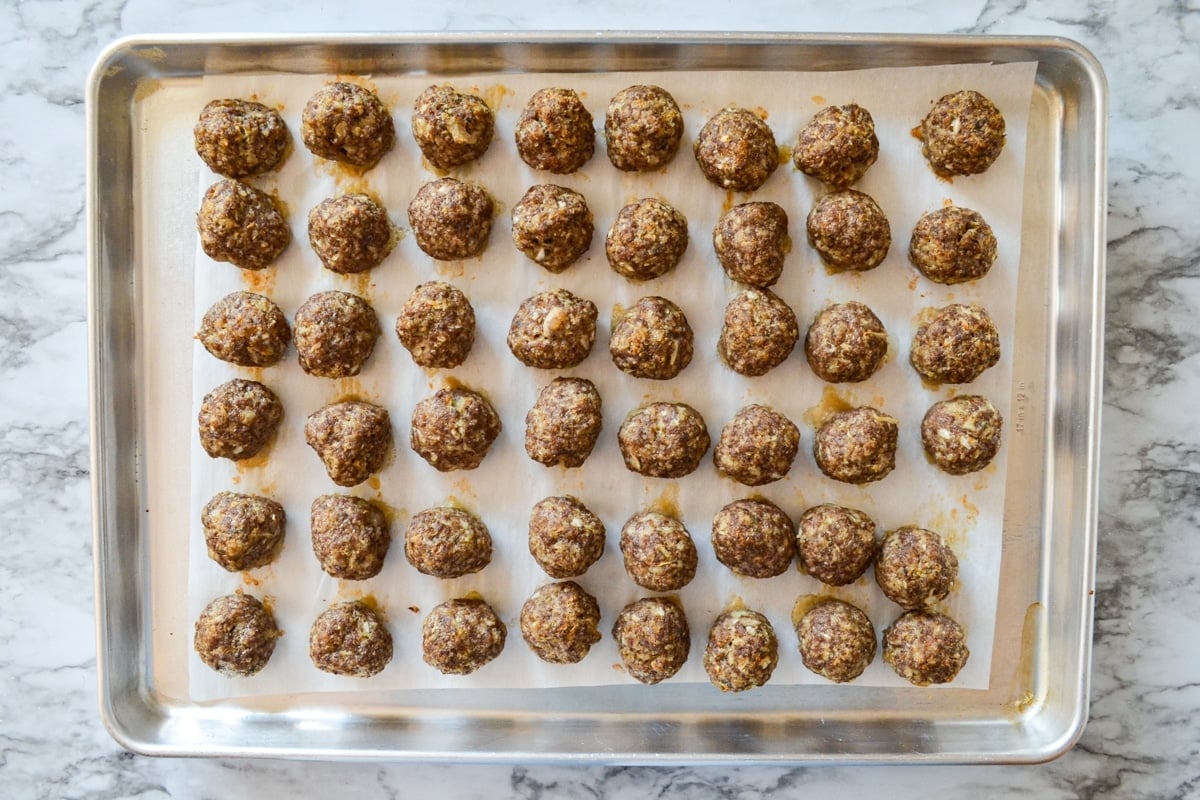 To Freeze
Once the meatballs have been cooled, place them on a flat cookie sheet or sheet pan and place in the freezer. Once the meatballs and frozen solid, transfer them to a labeled freezer bag. Remove any excess air and freeze for up to 3 months.
Use in your favorite recipes that call for pre-cooked meatballs.
Substitutions:
Gluten Free: To make these gluten free, use a gluten free breadcrumb OR the same volume of ground gluten free oats. I like to grind mine in a food processor or blender. They should not be as fine as oat flour, but not as coarse as instant oatmeal.
Dairy Free: These freezer meatballs are dairy free as written, but it very much depends on if the breadcrumbs you are using are dairy free. While most breadcrumbs are, some breads are made with dairy products and so care must be taken. I like to use my sourdough breadcrumbs.
Variations
Italian Freezer Meatballs: Substitute the breadcrumbs for Italian seasoned breadcrumbs. Use in your favorite Italian and tomato based recipes. You may also substitute half of the ground beef for ground Italian sausage.
Turkey Meatballs: Replace the ground beef with ground turkey. You may need to add some milk or almond milk to moisten the mixture, since turkey is very try.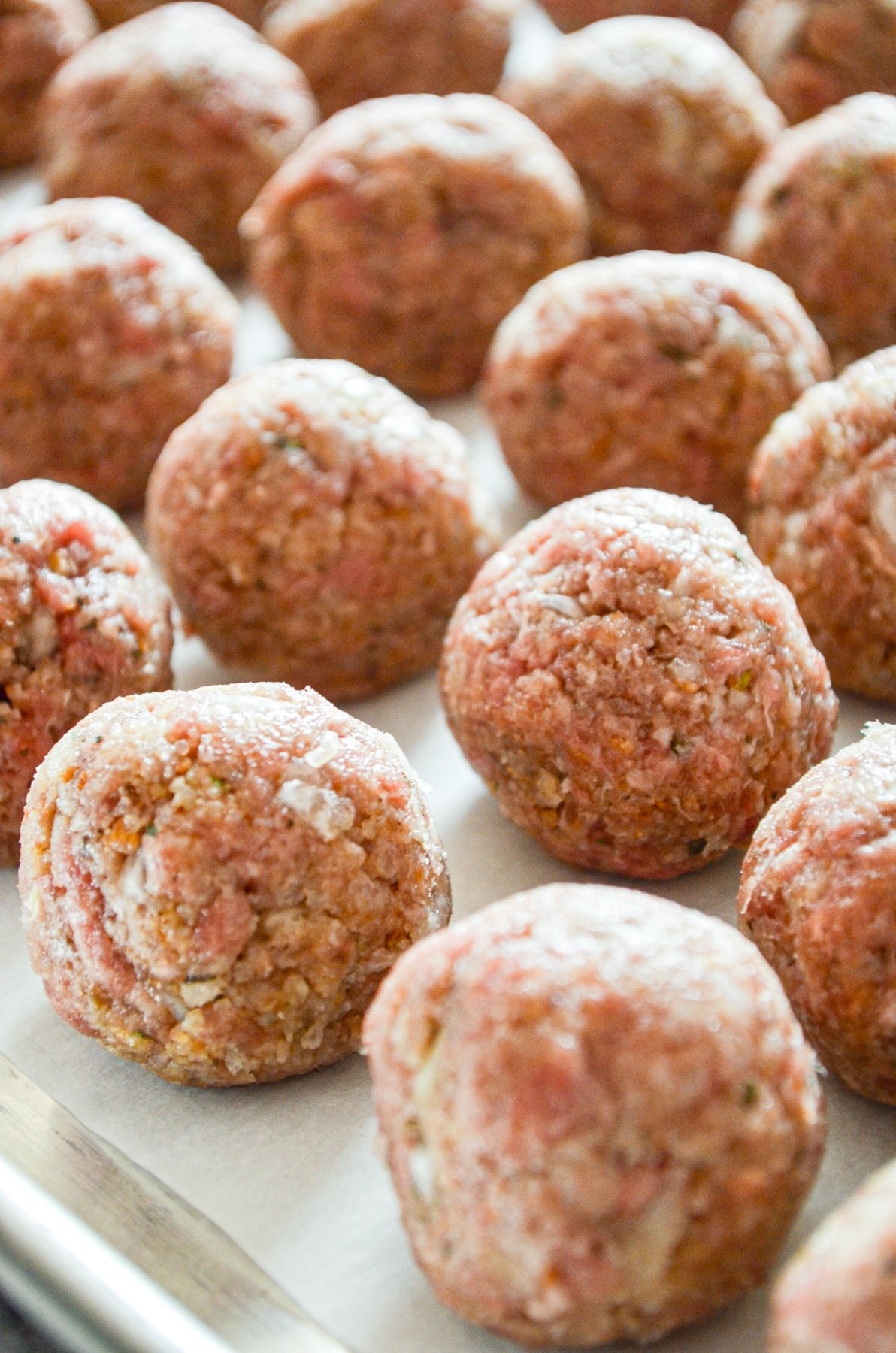 Recipes Using Precooked Meatballs
Swedish Meatballs
Meatball Subs or Sandwiches
Baked Meatballs and Marinara
Spaghetti and Meatballs
Spaghetti Squash and Meatballs
Italian Wedding Soup (try this recipe from Cooking Classy)
Sweet and Sour Meatballs
And the list goes on!
I have loved having these in my freezer far more than any other freezer meal I've prepped in the past. I can go from freezer to table in about 30 minutes, including sauce. That's a real win for me, since most homemade freezer meals take about an hour or more to bake from frozen.
A quick and easy meal using precooked meatballs:
25 precooked frozen meatballs
1 jar of your favorite pasta sauce
Shredded mozzarella or parmesan
Just add the meatballs to an 8X8 baking dish, cover in the jar of sauce, top with cheese, and cover. Bake for 20-30 minutes at 350F, or until meatballs are warmed through. Serve with a quick salad and you are set to go.
It doesn't get much easier than that!
Recommended Tools:
Cookie Scoop: this is used to ensure all of the meatballs are perfectly portioned. This ensures even cooking, which means you won't have some meatballs done long before others.
Food Processor: A food processor makes easy work of grinding up tough sourdough bread for whole food breadcrumbs. Also excellent for grating large amounts of cheese, this is one appliance I can't do without.
Full size baking sheet: Most baking sheets you buy will be the half sheet size. The full sheet is the size that is used in most commercial kitchens and bakeries. I have one of these, and all 88 meatballs fit on one baking sheet. 2 half size sheets can work in place of the full size baking sheet.
Parchment paper: This makes clean up an absolute breeze! I will never go back to skipping on the parchment paper.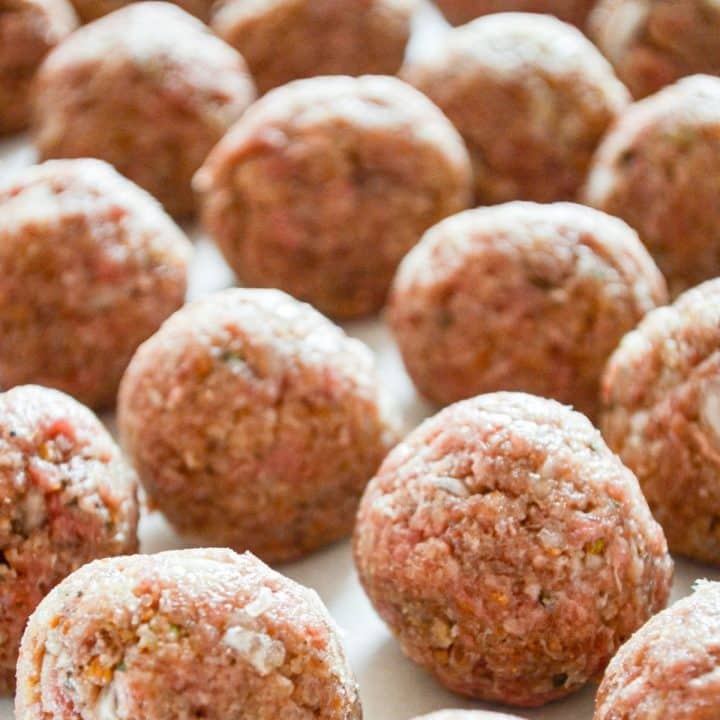 Easy Homemade Freezer Meatballs
Homemade (or store-bought) breadcrumbs, fresh ground beef, egg, pureed onions, and a few choice seasonings combine to make 88 delicious meatballs, ready for your freezer and ready for your family.
Ingredients
4 lbs lean ground beef
2 medium onions, pureed
4 large eggs, beaten
2 cups breadcrumbs
1 tablespoon salt
1 teaspoon ground black pepper
1 teaspoon garlic powder
1 tablespoon dried basil
1 teaspoon Italian seasoning
Instructions
Preheat the oven to 400F.
Add the eggs, breadcrumbs, and pureed onion to a very large bowl. Mix well with a fork to combine.
Combine all of the seasonings in a small bowl and mix well.
Add the ground beef to the egg, breadcrumb, and pureed onion mixture. Sprinkle with the seasonings, and mix well with a large wooden spoon.
Once it becomes difficult to mix with a spoon, use clean hands to ensure the meat, seasonings, breadcrumb, eggs, and onion are uniformly combined.
Prepare a full size baking sheet by lining it with parchment paper, or two half size sheets.
Use a medium (#40 or 1.5 Tbsp. size) cookie scoop to perfectly portion the ground beef mixture, and then roll each portion between your hands to form a round meatball. Place the meatball on the prepared baking sheet.
Continue with the rest of the meat mixture, leaving 1/2" of space around each meatball to ensure even cooking.
Once all of the meatballs have been made, and are placed on the prepared baking sheet(s), place them in the oven.
Bake for 30 minutes, or until an instant read thermometer reads at least 160F. Ensure to check meatballs on the edges, as well as the middle to ensure even cooking. Some may be cooked, while others need to continue to bake.
Once the meatballs have cooked through, remove them from the oven and drain off any excess fat. Remove the meatballs from the baking sheet, and place them on a wire rack to drain. I like to place an extra baking sheet under them to catch the fat. If you don't have a wire rack, you can drain them on paper towel lined plates.
Freezing Instructions
Once the meatballs have cooled completely, move them to clean baking sheets lined with parchment or a silicone baking mat.
Place the baking sheets in the freezer, ensuring they are resting on a flat surface.
Once the meatballs have frozen solid, move them to gallon size freezer bags.
Remove any extra air from the bags and seal. Store them in the back of your freezer or in a deep freezer.
Use as you would frozen prepared meatballs in any recipes you have or cook in a 350F oven until heated throughout.
Notes
How to make breadcrumbs:
Use day old bread ends and dried slices for the best results. I like to toast mine in the oven for 5-10 minutes, cool, and then grind them in my food processor. You can also use a high powered blender. If you don't have access to sourdough bread, you can use store bought sourdough or italian bread. You could also substitute panko or conventional breadcrumbs if you desired to.
How to make pureed onions: Simply chop your onions and place them in your food processor or high powered blender until they become "juicy". Use a silicone spatula to scrape out the onion into the large bowl.
Nutrition Information:
Yield:

16
Serving Size:

5.5 Meatballs
Amount Per Serving:
Calories:

180
Total Fat:

2g
Saturated Fat:

0g
Trans Fat:

0g
Unsaturated Fat:

0g
Cholesterol:

106mg
Sodium:

449mg
Carbohydrates:

6g
Fiber:

0g
Sugar:

1g
Protein:

23g
Nutritional Information is an estimate only and is calculated using MyFitnessPal.
Pin it for Later