This easy recipe for maple whipped cream is made with just 3 simple ingredients! If you have just 5 minutes you can make your very own delicious homemade whipped cream sweetened with maple syrup. Perfect for topping your favorite desserts, coffees, waffles, and more!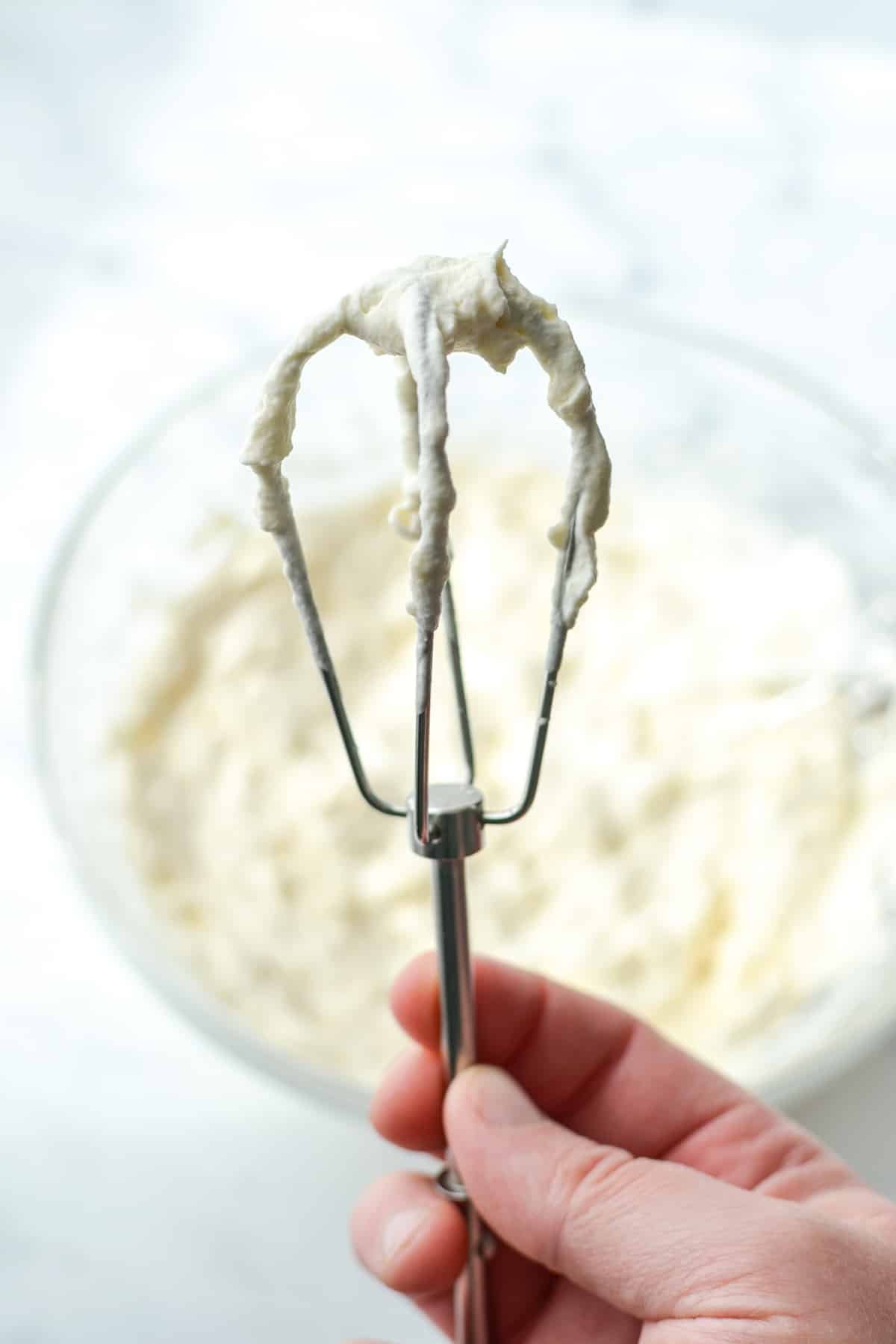 For some time now, I've been trying to use natural sweeteners whenever possible. And while I still use predominantly cane sugar for my sourdough desserts, it's nice to work on converting some of my favorite recipes to naturally sweetened versions.
This maple whipped cream is an easy recipe to start with because its an easy swap for sugar, delicious, easy to make and ready in just 5 minutes! It's perfect for topping your favorite recipes, adding to a hot cup of French press coffee, or serving with a bowl of delicious fresh berries.
Why Make Maple Whipped Cream?
It's naturally sweetened – making it perfect for those who try to avoid refined sweeteners like conventional granulated sugar.
A delicious flavor that is reminiscent of maple without being overpowering.
The perfect topping for your favorite coffee drinks, pies, waffles and more!
Easy to make with just 3 simple ingredients: heavy cream, maple syrup, and vanilla extract.
Ingredients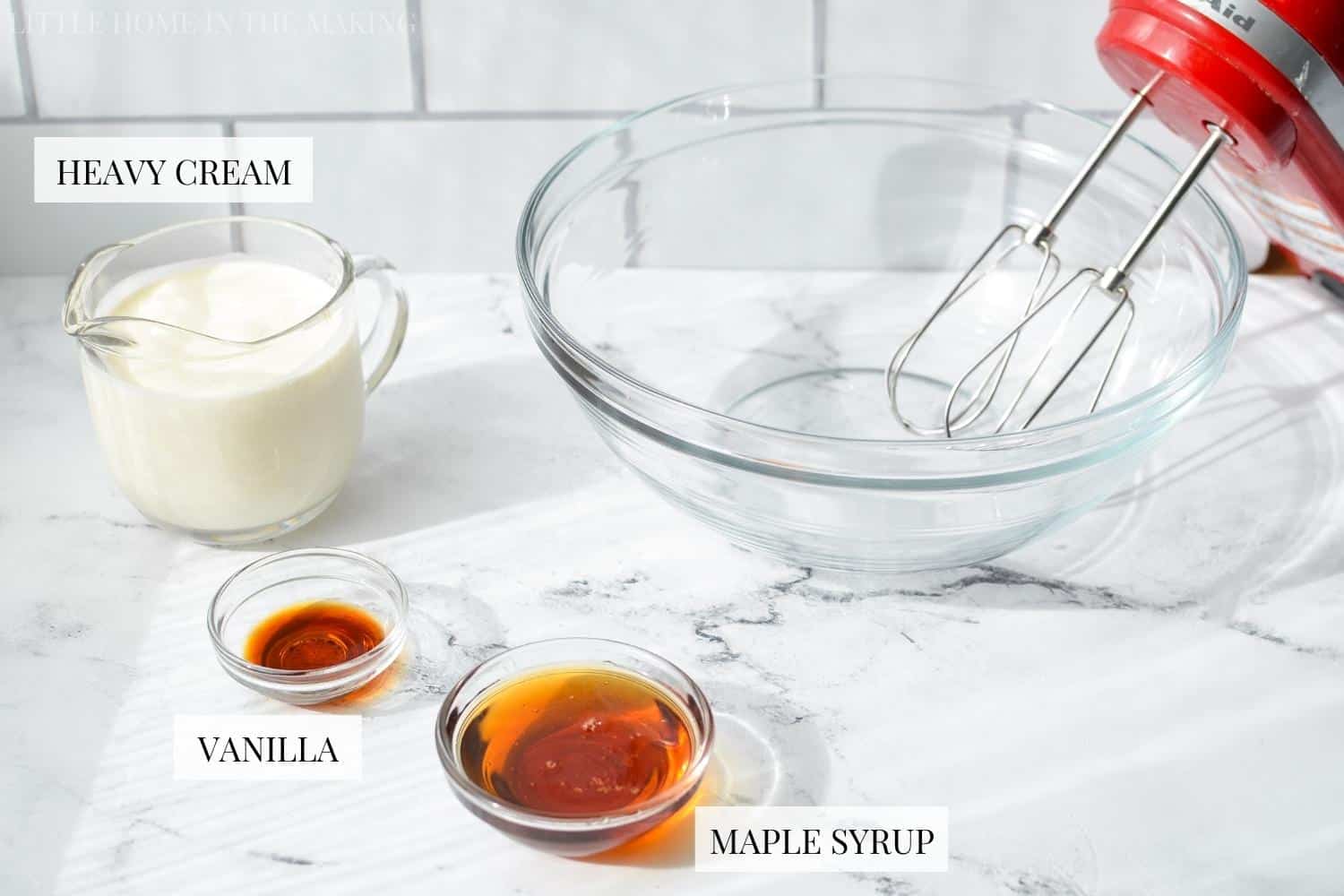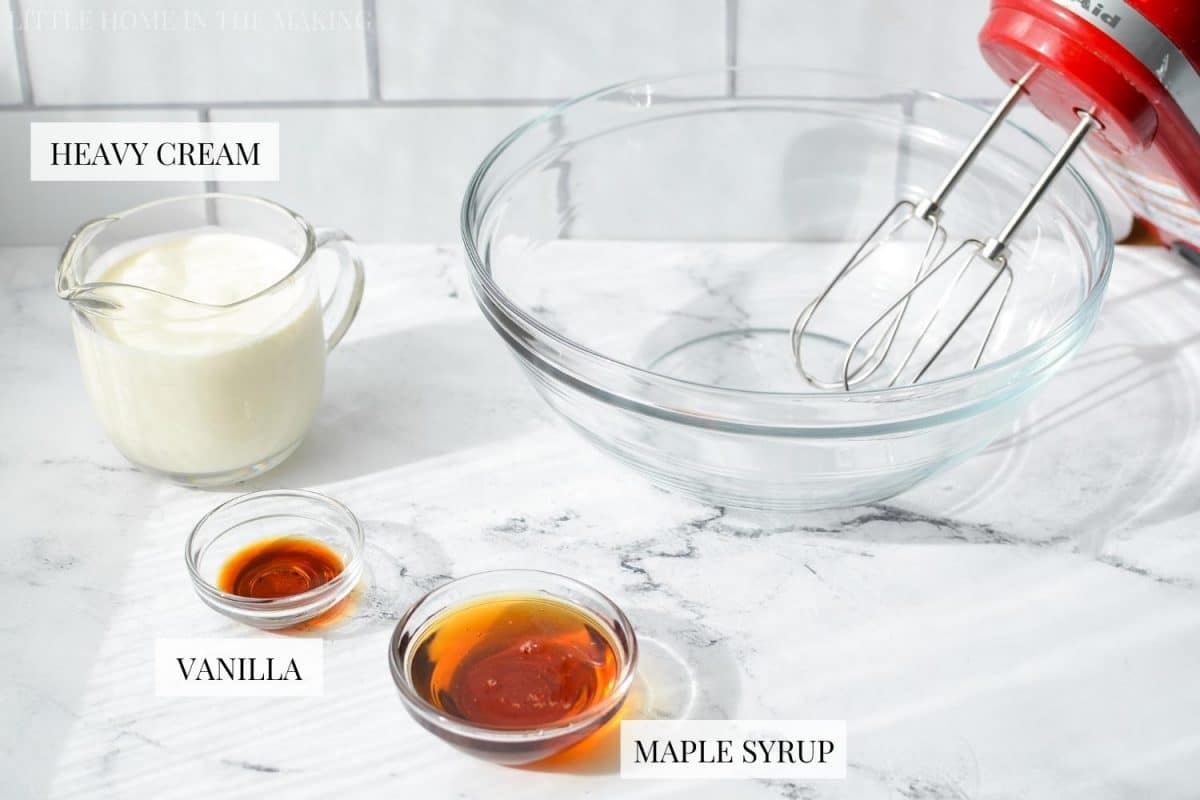 Heavy cream: Also known as whipping cream or heavy whipping cream, this can easily be purchased from the store. If you get your milk from a farmer, you can collect the cream that rises to the top and use that instead.
Maple syrup: Make sure to use pure maple syrup and not pancake syrup! The best deals can be found at local markets if you're in the Northeast, at Costco, or online.
Vanilla: This is an optional ingredient, but many of us love a touch of vanilla in our whipped cream! I think it's a lovely addition.
Equipment and Tools:
Stand Mixer: This whips your cream super fast, and has multiple attachments for making bread, cookies, and more. I have this model and use it often!
OR Hand Mixer: If you don't have a stand mixer, a good quality hand mixer will work really well, and is easy to clean up. You could also use a whisk and do it by hand, but I don't think my muscles are strong enough for that!
How to Make Whipped Cream with Maple Syrup
It's really so easy to make maple whipped cream. In fact, it takes less than 5 minutes! So no excuses – make some delicious homemade whipped cream today!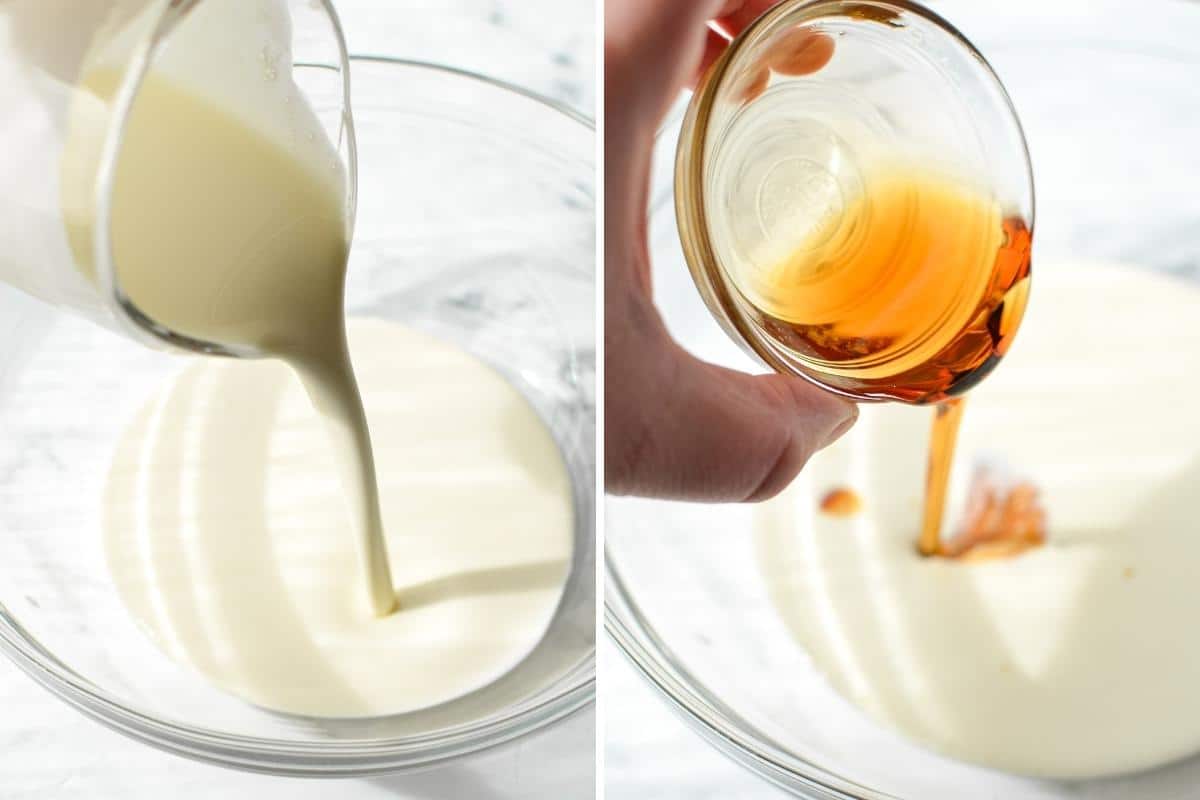 Step one: Add your chilled heavy whipping cream to a large bowl OR the bowl of a stand mixer.
Step Two: Add in 2 tablespoons of maple syrup and about 1/2 teaspoon of vanilla extract (if you're using it).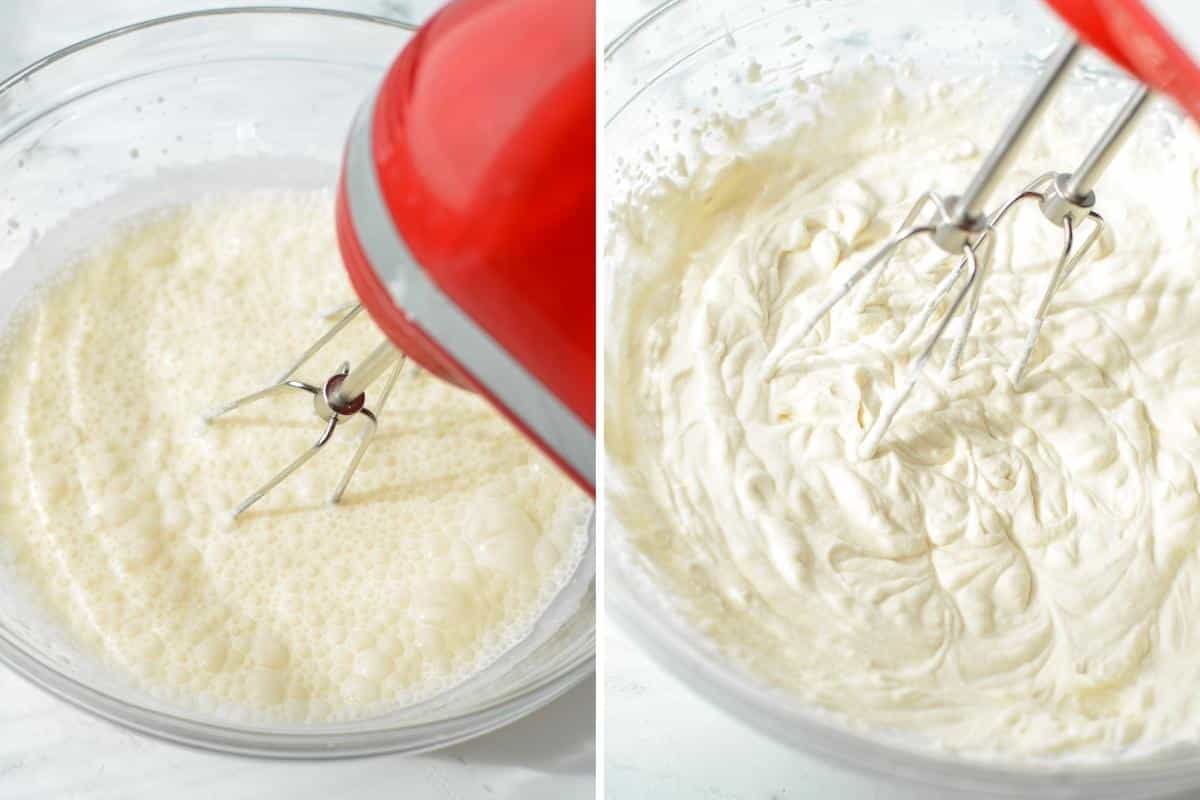 Step Three: Whisk all of the ingredients together using medium speed on an electric hand mixer or a stand mixer.
Step Four: Increase the mixer speed to medium-high and mix until stiff peaks form. Stiff peaks are when you can pull the mixer out of the whipped cream and the cream holds its shape as its pulled up, forming peaks.
Step Five: Serve and enjoy!
Storing
Once your whipped cream has formed stiff peaks it's ready to store or eat! Homemade whipped cream really is best when served within the first 24 hours, but you can store it for up to 2 days.
In all honesty, you can store it for longer than that, but it begins to weep and separate so its just not quite as sturdy or delicious. Besides, it's so easy to prepare (5 minutes!) that you can make it as needed pretty easily.
Ways to Serve Maple Whipped Cream:
Pies
Hot Chocolate
Coffee drinks
Cakes and cupcakes
Pancakes
Waffles
Oatmeal
Fruit salad
Berries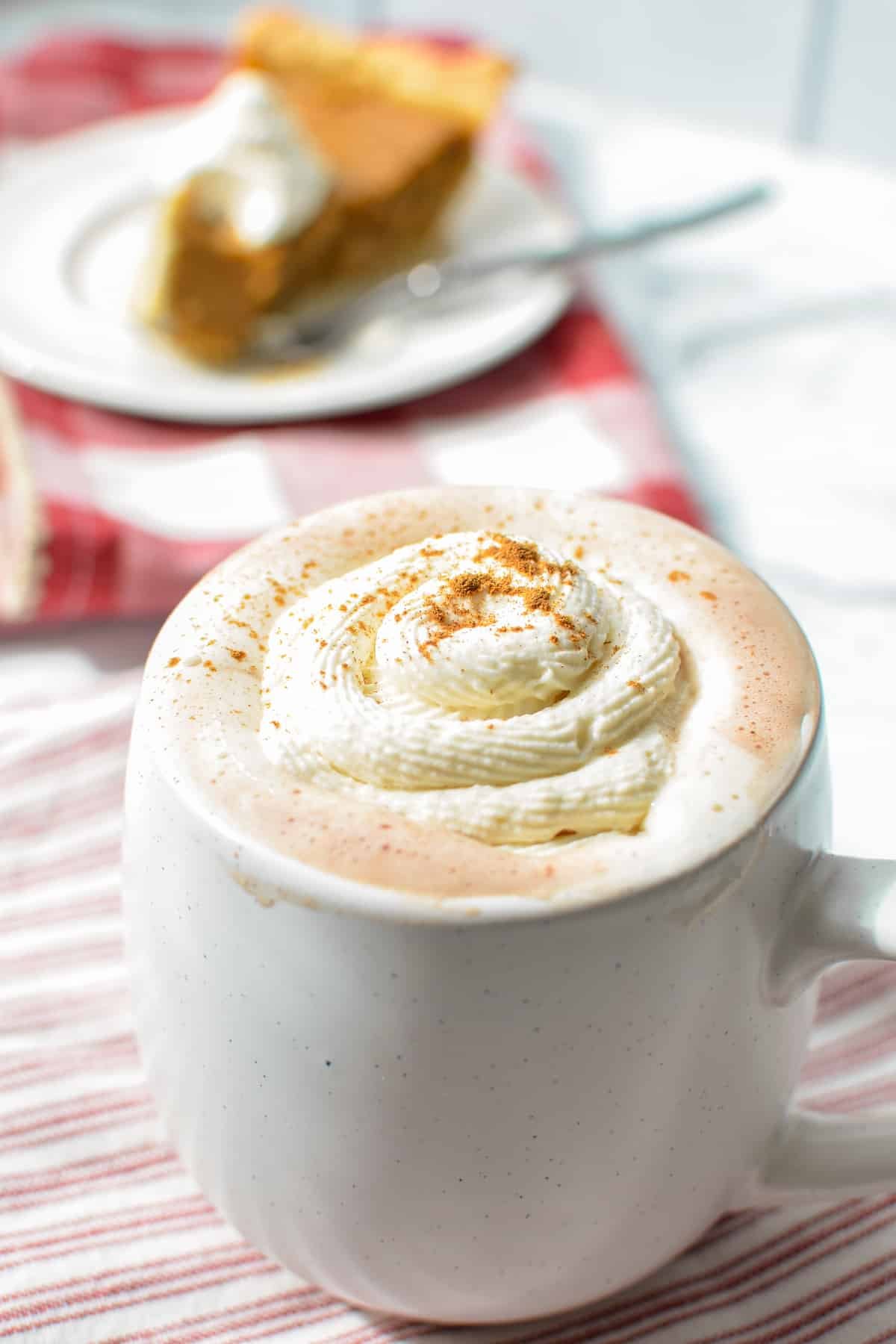 Expert Tips
Make sure to use cold ingredients! While your maple syrup will be okay room temperature, your heavy cream really should be thoroughly chilled in order to get the best possible whip. Warm cream just doesn't whip as well.
As an optional step, you can chill your bowl for 10-15 minutes. This extra step increases your chance of success (which is already like 99%), and tends to give you a firmer maple whipped cream.
Other Sweetening Options
With honey: You can substitute the maple syrup for about 1 1/2 tablespoons of honey, but it will have a stronger flavor and the honey can easily clump. To reduce the chances of clumping, use a thinner, pourable honey (versus thick raw honey) and drizzle finely over the surface of the heavy cream.
With maple sugar: If you want to use maple sugar instead, you can absolutely do that! It's a delicious way to sweeten foods, and has a similar consistency to granulated sugar. Substitute at a 1:1 ratio with maple syrup.
With Sucanat or Rapadura: Sucanat is evaporated cane juice and can be used at a 1:1 ratio for both maple syrup and sugar. Rapadura is a bit stronger in flavor (similar to coconut sugar) and I wouldn't recommend using it just because of the strong flavor. BUT if you do, try using about 1 1/2 tablespoons for every 2 tablespoons of maple syrup or sugar.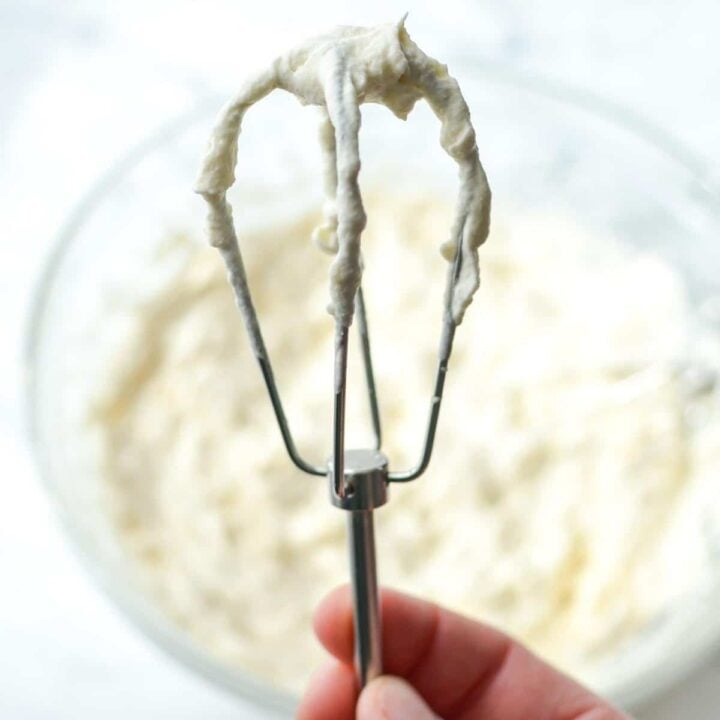 Maple Whipped Cream
This easy recipe for maple whipped cream is naturally sweetened and ready in just 5 minutes!
Ingredients
1 cup heavy whipping cream
2 tablespoons maple syrup
½ teaspoon vanilla extract (optional)
Instructions
Add the whipping cream to the bowl of a stand mixer fitted with the whisk attachment, or a large bowl with a hand mixer (or whisk).
Add the maple syrup and vanilla extract to the bowl of heavy whipping cream, and turn the mixer on to medium speed to whisk everything together.
Increase the mixer speed to medium-high and whisk as the mixture thickens, eventually forming stiff peaks.
Once stiff peaks have formed, turn off the mixer and transfer the whipped cream to a container or piping bag.
Use immediately, or store in the refrigerator for 1-2 days Homemade whipped cream easily begins to separate when stored for longer than 24 hours, so it's best when consumed the day you make it.

Notes
Stiff peaks: This is when your whipped cream holds a peak or its shape when you pull the whisk out of the bowl.
Nutrition Information:
Yield:

6
Serving Size:

1
Amount Per Serving:
Calories:

153
Total Fat:

14g
Saturated Fat:

9g
Trans Fat:

0g
Unsaturated Fat:

4g
Cholesterol:

45mg
Sodium:

12mg
Carbohydrates:

6g
Fiber:

0g
Sugar:

5g
Protein:

1g
Nutrition information is an estimate only.
Please note that some of my blog posts here at Little Home in the Making may contain affiliate links. If you make a purchase through these links, I will get a small commission at no additional cost to you. See our disclaimer for more information.