Save money and skip the preservatives by making your very own homemade seasoned salt! This recipe is easy, takes less than 5 minutes, and you probably have all the ingredients you need in your pantry. Gluten-free, dairy-free, and packed with all natural flavor! The perfect substitute for seasoned salt from the grocery shelves.
Updated on January 27, 2022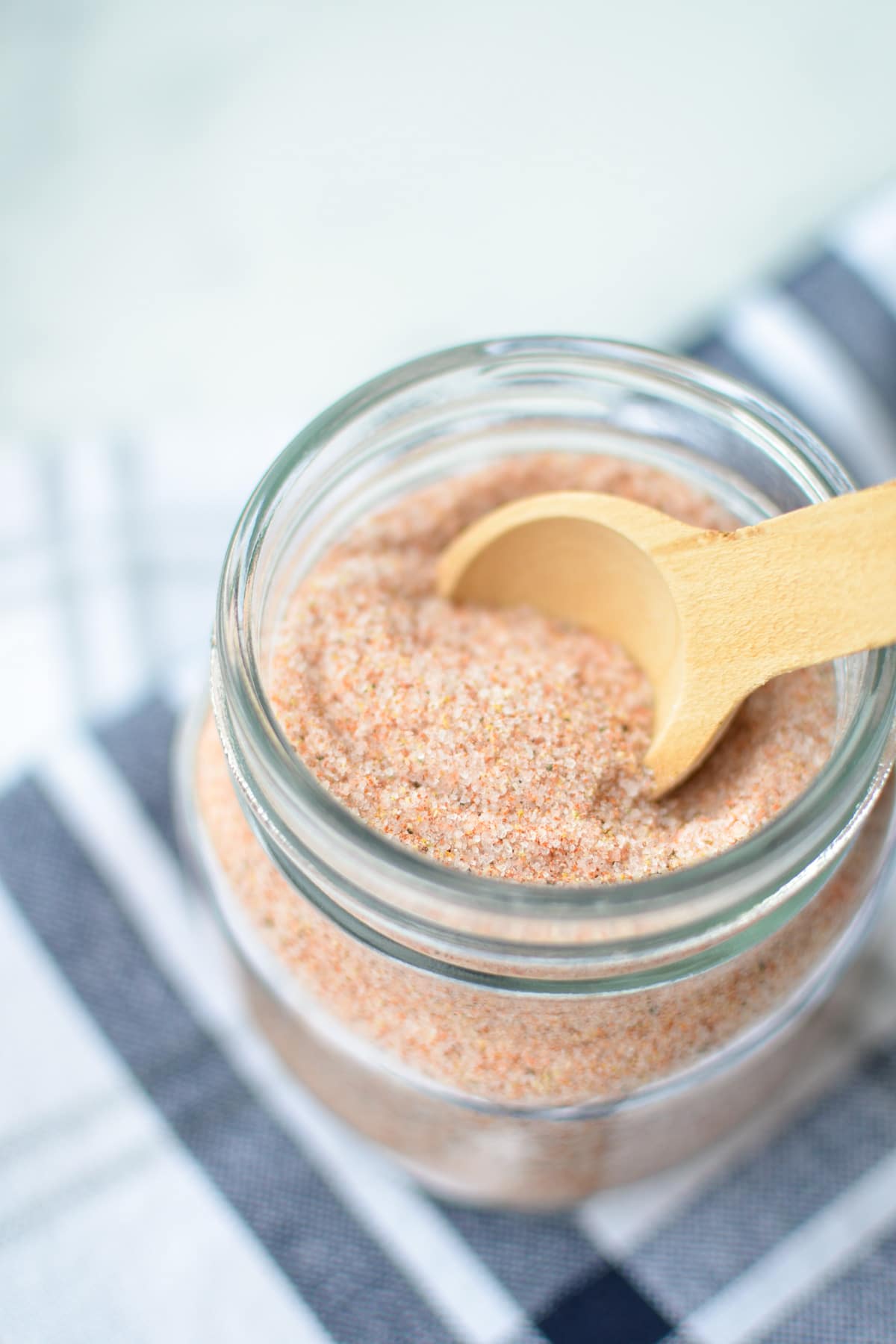 Please note that some of my blog posts here at Little Home in the Making may contain affiliate links. If you make a purchase through these links, I will get a small commission at no additional cost to you. Please see my Disclaimer for more information.
---
I've been featuring some of my favorite homemade seasoning blends here on the blog lately (see my Homemade Chicken Taco Seasoning and my Homemade Taco Seasoning recipes I've shared over the past few weeks!), and I wanted to share another mainstay in my pantry. This is a recipe I use in place of store-bought varieties of seasoned salt. Not only will it save you money and preservatives, it also tastes AWESOME! In fact, I like to call it "Even Better Than Lawry's Homemade Seasoned Salt".
What Is Seasoned Salt?
Seasoned salt is a blend of spices and seasonings that are generally complimentary to a wide variety of dishes. It's an all-purpose seasoning blend that adds both saltiness and flavor to your favorite meals. It's a great option for seasoning for new and learning cooks, as it can be difficult to learn what seasonings go best with certain foods.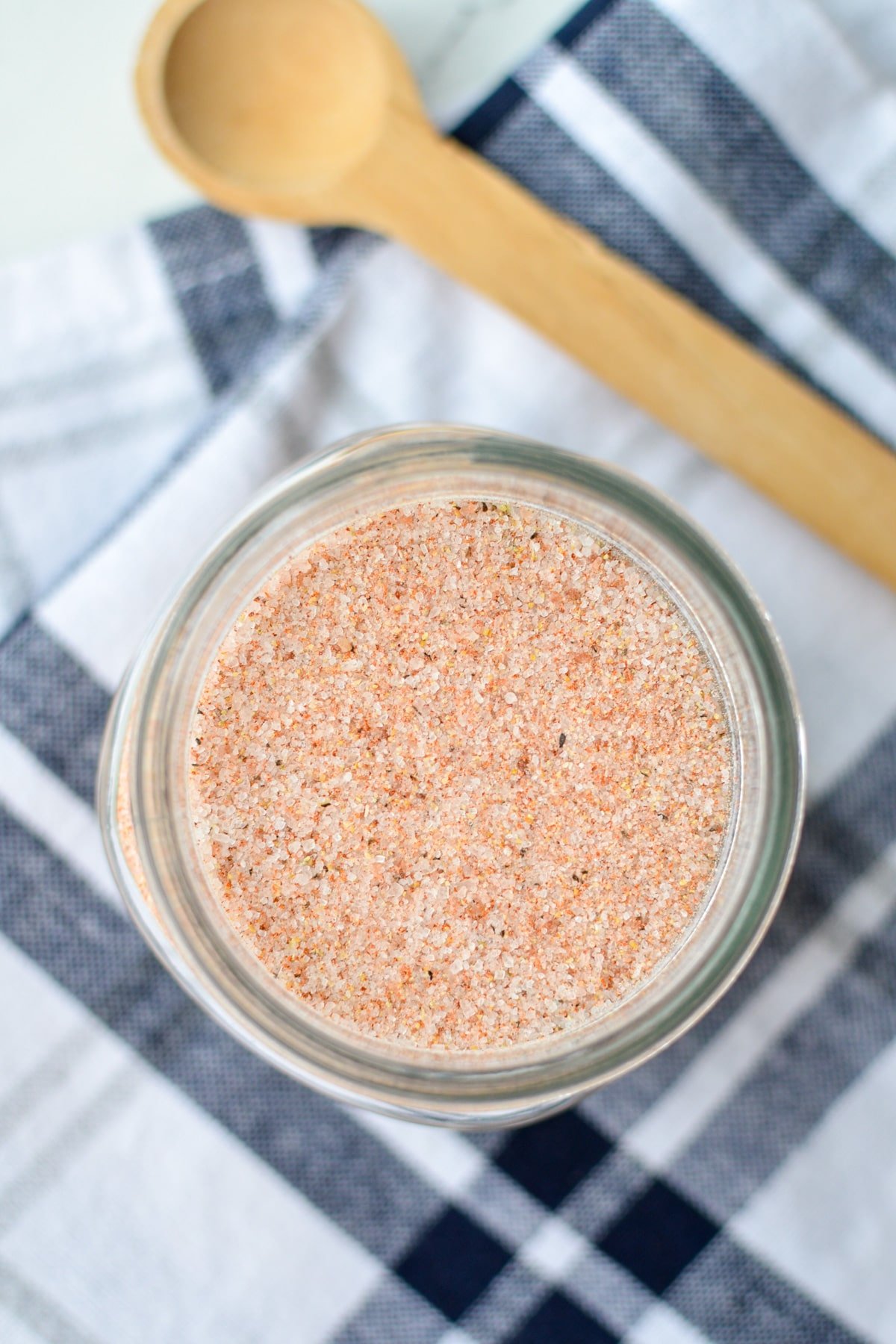 What is In Seasoned Salt?
This really depends on whether we are talking about DIY Homemade Seasoned Salt, or the stuff you buy at the grocery store. The store bought variety is meant to last through shipping, sitting on a store shelf, and then finally coming home to live with you for 6-12 months. Because of this, it can feature lots of preservatives and anti-caking agents. If you opt for making your own seasoned salt at home, you can skip the additives and preservatives. Because you know exactly what you're putting into your homemade blend, you can be sure it is free from gluten or soy, if those are important to avoid for your family. Just as an example, I'll compare store-bought to homemade:
Brand Name Seasoned Salt Contains:
Salt
Sugar
Spices
Corn Starch
Tricalcium Phosphate
Sunflower Oil
"Natural" flavor
Ingredients in Homemade Seasoned Salt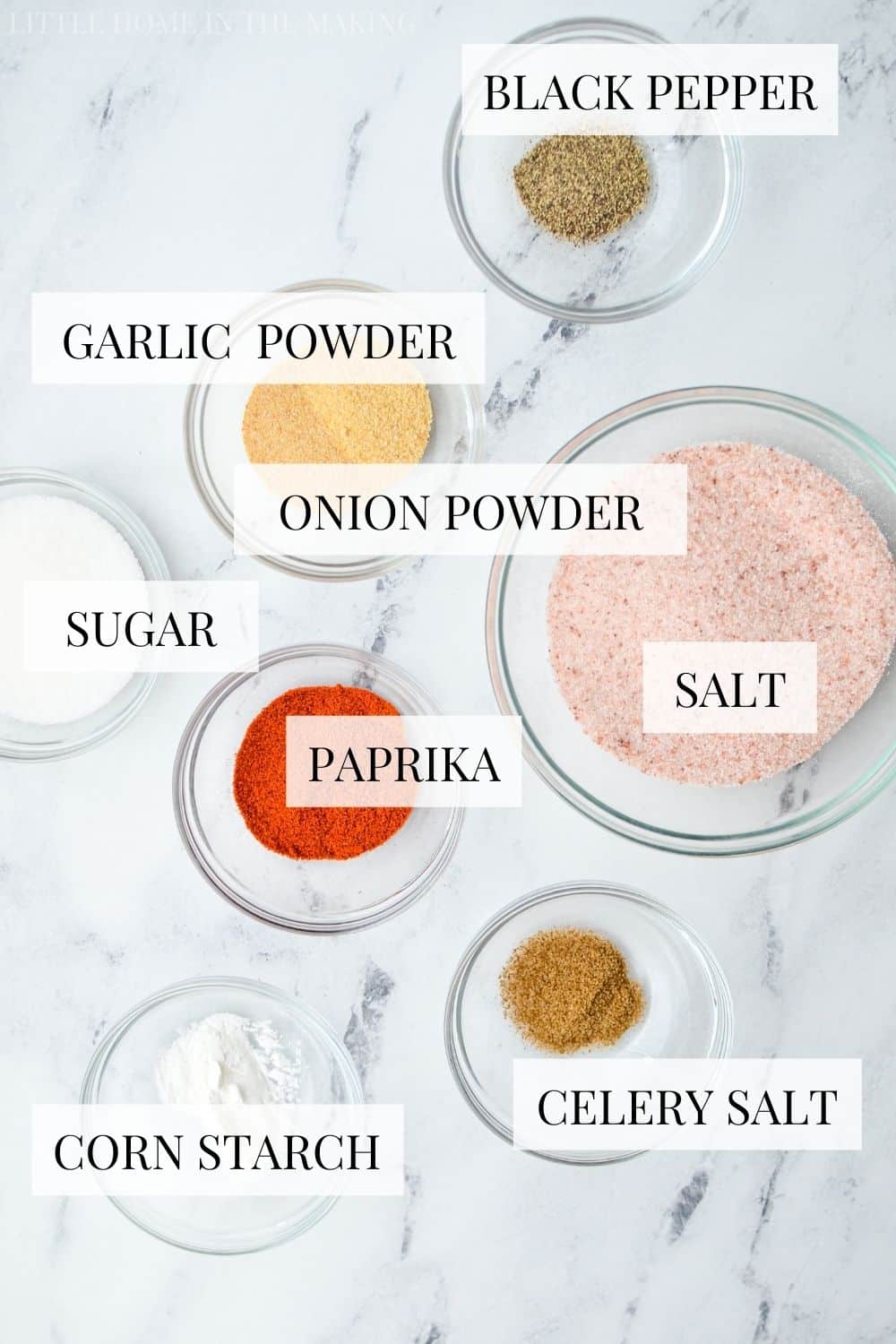 Salt
Paprika
Corn starch
Onion and garlic powders
Celery salt
Black pepper
Sugar
Yup! That's it!
While you can see both the homemade and store-bought versions share some ingredients, the homemade version leaves out the Tricalcium Phosphate (for caking; I have a homemade solution for you below), sunflower oil, and the all-too-elusive "natural flavor." This means you get all the flavor, without any extras. On top of saving some of that hard earned cash, you just can't beat that!
How to Make a Homemade Substitute for Seasoned Salt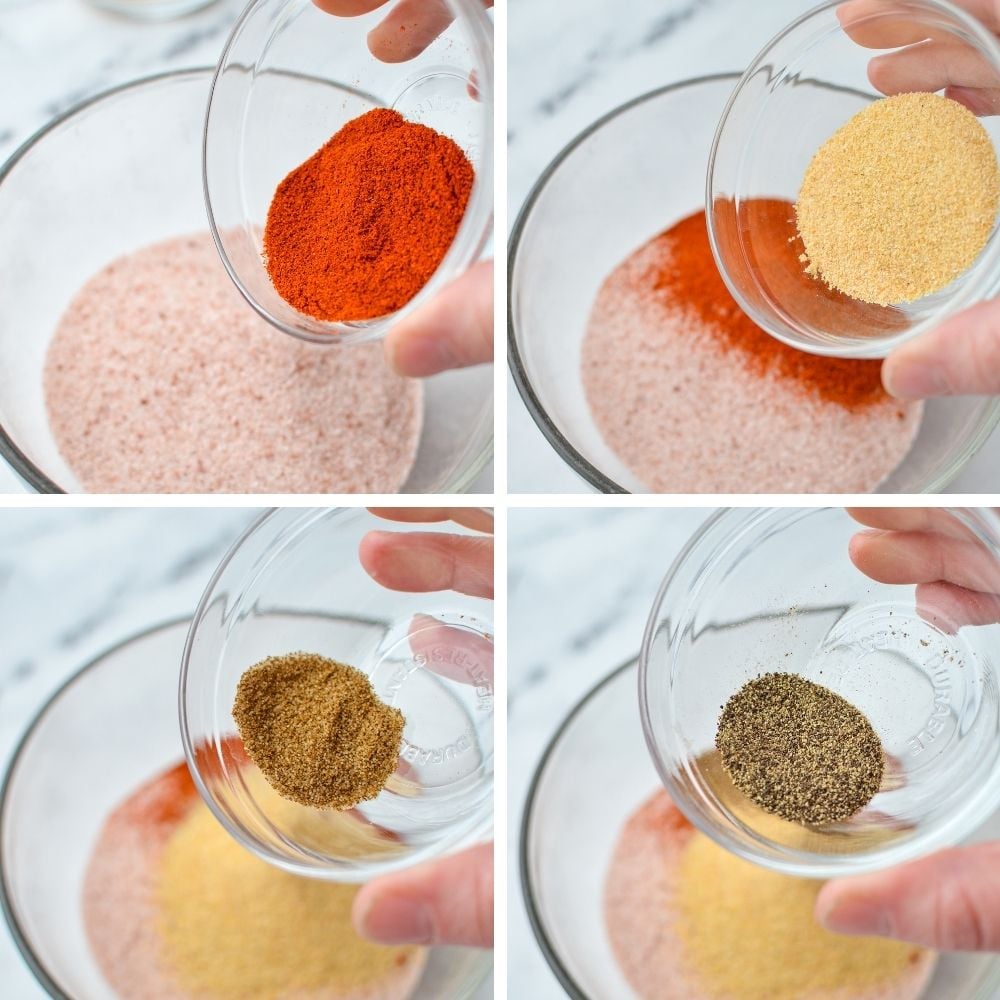 Start off with your salt in a large bowl. I like to use mineral salt, but you can use whatever fine salt you have on hand.
Add in the paprika, garlic powder, onion powder, celery salt, and black pepper.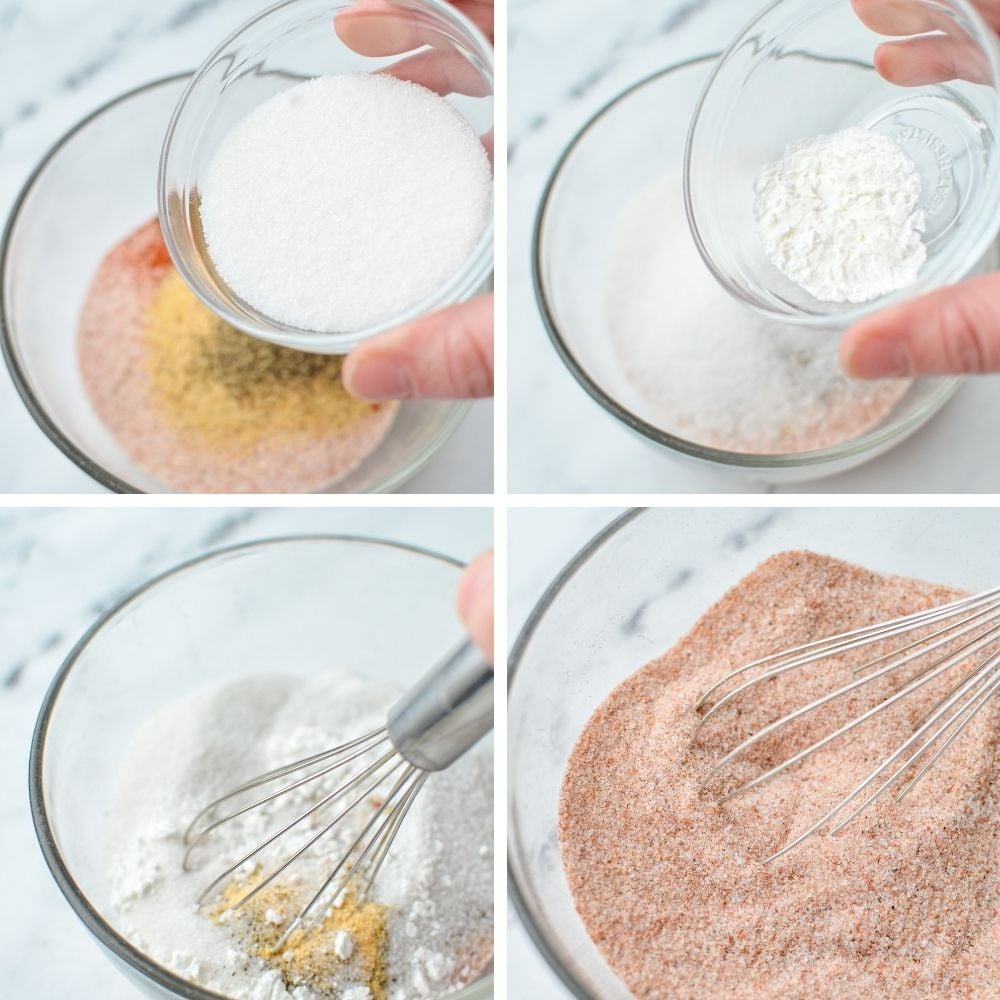 Then add in the sugar and cornstarch.
Whisk well to combine.
Once your homemade seasoned salt substitute is fully blended, add it to an airtight storage container (with rice at the bottom; see below) and keep at room temperature for up to 6 months.
How to Prevent Homemade Seasonings from Clumping and Caking
Recently I became aware of a great DIY all natural way to prevent homemade seasoning blends from clumping. So far, it's working GREAT for me. I've made up batches of my favorite seasoning blends using this trick, and so far they've been clump free! Of course the natural route won't work as well as the factory additives, but it does help considerably and so far I'm loving it.
All you need is rice.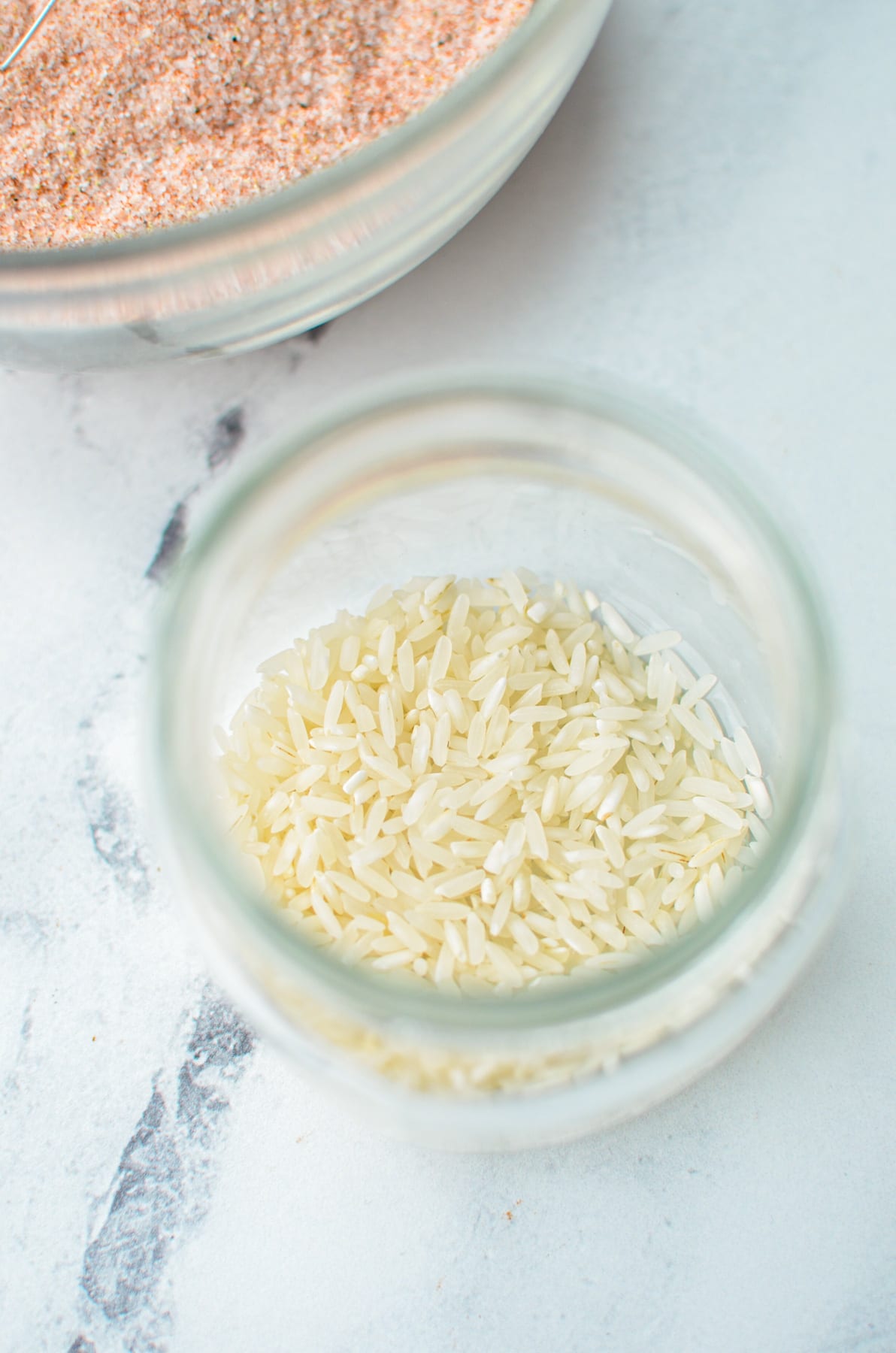 Yup! You heard me correctly. If you've ever been to a Diner, you may have noticed their salt shakers with little bits of rice in them. I first noticed this several years back when visiting a roadside Diner with my husband, but never thought to apply it to my homemade seasoning blends. Bad move, because it works great! The rice actually absorbs some of the moisture present in the storage container of homemade seasoning mixes, making them less likely to clump up!
Using Rice to Absorb Moisture
All you have to do is put a few teaspoons of uncooked white rice (brown rice will go rancid too quickly) in the bottom of the storage jar and place your seasoning mix on top. If you spoon your seasoning out, just ensure to leave the bottom of the jar alone. If you like to shake your seasoning blends, make sure your container is fitted with a shaker lid with small holes, so as not to let the rice grains out and into your seasoned foods.
Once you get near to the bottom of the jar, just strain off the rice granules and use up the last of the seasoning! Voila! A hack for preventing caking with homemade seasonings. And yes, this works for my Chicken Taco Seasoning and Taco Seasoning too!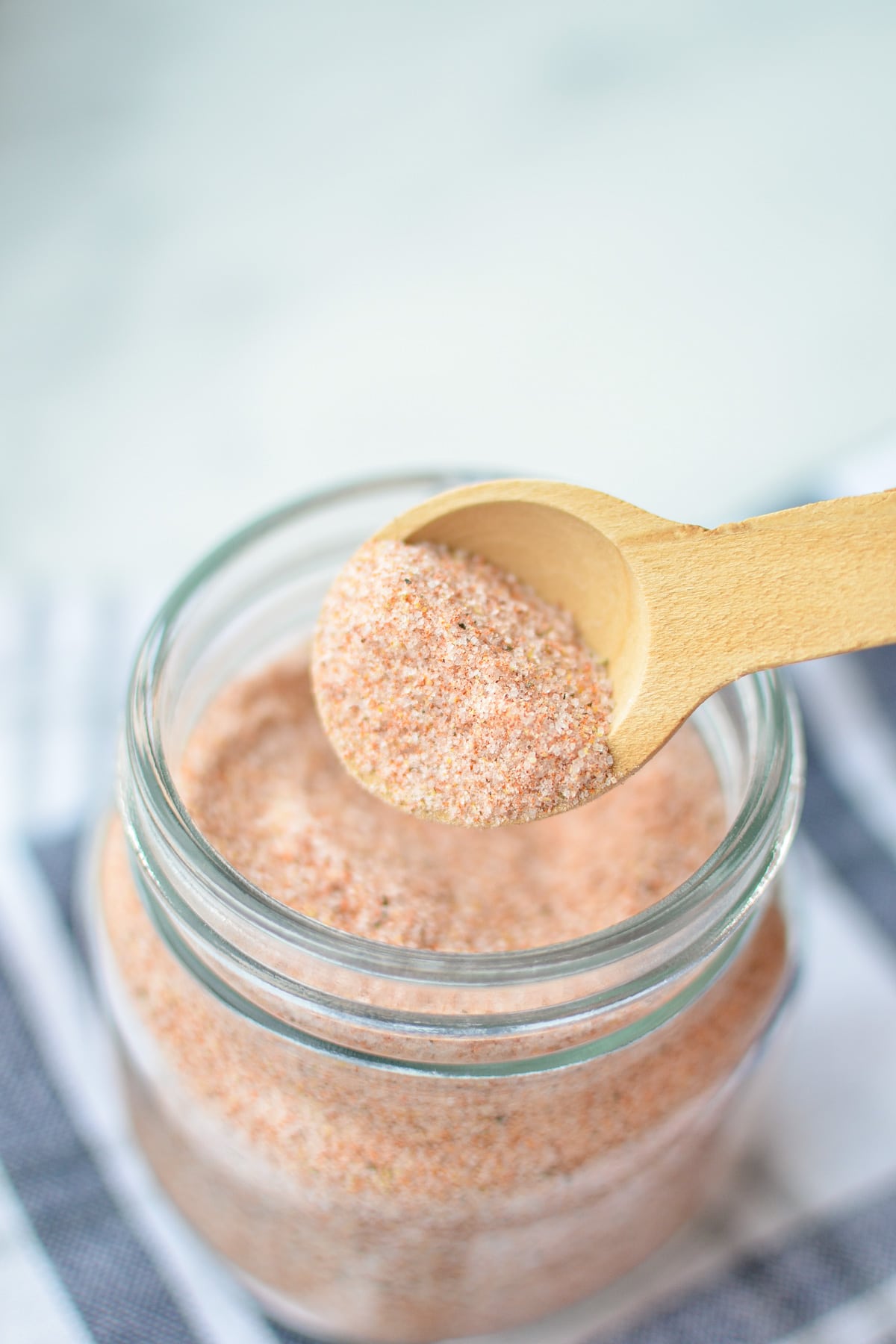 Seasoned Salt Vs. Seasoning Salt
This seems to be a quandary as old as time itself. Is it called seasoned salt, or is it called seasoning salt? The correct answer is "seasoned salt", but I don't think anyone is judging you for calling it "seasoning salt". Well, at least I hope not, because that's what I call it a lot of the time! I just switch back and forth, and hopefully people have an idea of what I'm talking about! Now that I know it's "seasoned salt" I try to correct myself if I say otherwise, but I think that everyone gets the gist.
What Can I Make with Seasoned Salt?
Seasoned salt (also known as Seasoning Salt) can be used in a variety of recipes. It's commonly used in Chex mix, sausage gravy, and I happen to LOVE it on popcorn! I also love to use it to season recipes like my recipe for Homemade Hamburger Helper.
A few popular recipes using seasoned salt: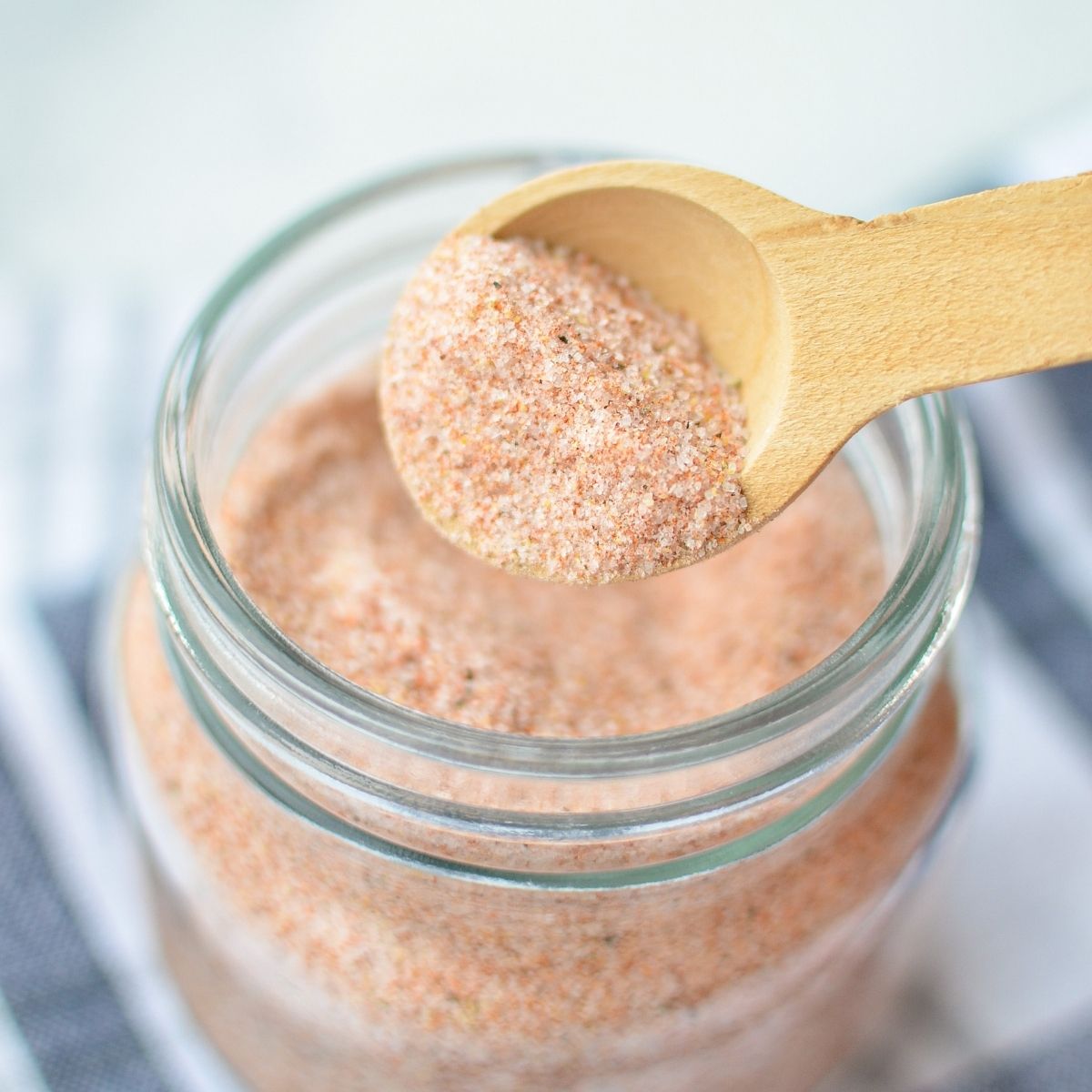 Homemade Seasoned Salt
Yield:
Approximately 3/4 cup
This recipe for DIY Seasoned Salt is a great way to save money in the kitchen! In my opinion, this recipe is EVEN BETTER than Lawry's, but you'll have to try it for yourself. A great seasoning to keep on hand to flavor all sorts of dishes and a perfect substitute for store bought seasoned salt.
Ingredients
½ cup Salt, table or mineral salt
2 ½ tbsp. Granulated Sugar
2 tsp. Paprika
1 tsp. Onion Powder
1 tsp. Garlic Powder
1 tsp. Cornstarch
½ tsp. Celery Salt
½ tsp. Ground Black Pepper
Instructions
Add all of the ingredients to a medium bowl and mix well until uniform.
Store in an airtight container in a cool, dry place until needed.
Notes
Optional: Add 1 tsp. Of rice to the bottom of your storage container. This will help absorb extra moisture and prevent some caking that is common with salt-based mixes.
Storage: Keep your seasoned salt in a cool, dry place for up to 6 months. To prevent caking, line the bottom of the jar with white rice.
Seasoning Consistency: Use the finest grind for all spices and seasonings in this recipe. This will result in a smoother, more uniform seasoned salt. For example, opt for fine grind or table salt instead of kosher salt, garlic powder instead of granulated garlic and so on and so on.
Gluten Free: The recipe is gluten free as written! Just verify any of your individual ingredients have not come in contact with gluten-containing foods.
Nutrition Information:
Yield:

24
Serving Size:

1 1/2 Tbsp.
Amount Per Serving:
Calories:

7
Total Fat:

0g
Saturated Fat:

0g
Trans Fat:

0g
Unsaturated Fat:

0g
Cholesterol:

0mg
Sodium:

2408mg
Carbohydrates:

2g
Fiber:

0g
Sugar:

1g
Protein:

0g
Nutritional information is an estimate only and isn't always accurate.