This homemade ghee popcorn is even better than the popcorn you can buy at the movie theatre! A healthy way to have popcorn at home with just 3 simple ingredients. Perfect for movie night!
Please note that some of my blog posts here at Little Home in the Making may contain affiliate links. If you make a purchase through these links, I will get a small commission at no additional cost to you. Please see my Disclaimer for more information.
If there is any snack food that holds a mystical and much revered position, it is movie theatre popcorn.
Movie theatre popcorn is in an entirely different category when held in comparison to standard homemade popcorn. And could it be any wonder? I'm sure it's coated in a ton of lab created "seasonings" and "natural flavors" to make it as addictive as possible.
But what if I told you that you could have AMAZING, even-better-than-the-movie-theatre popcorn right at home?
You might think I'm lying, but this ghee popcorn is every bit as delicious as the movie theatre, only made with simple, high quality ingredients.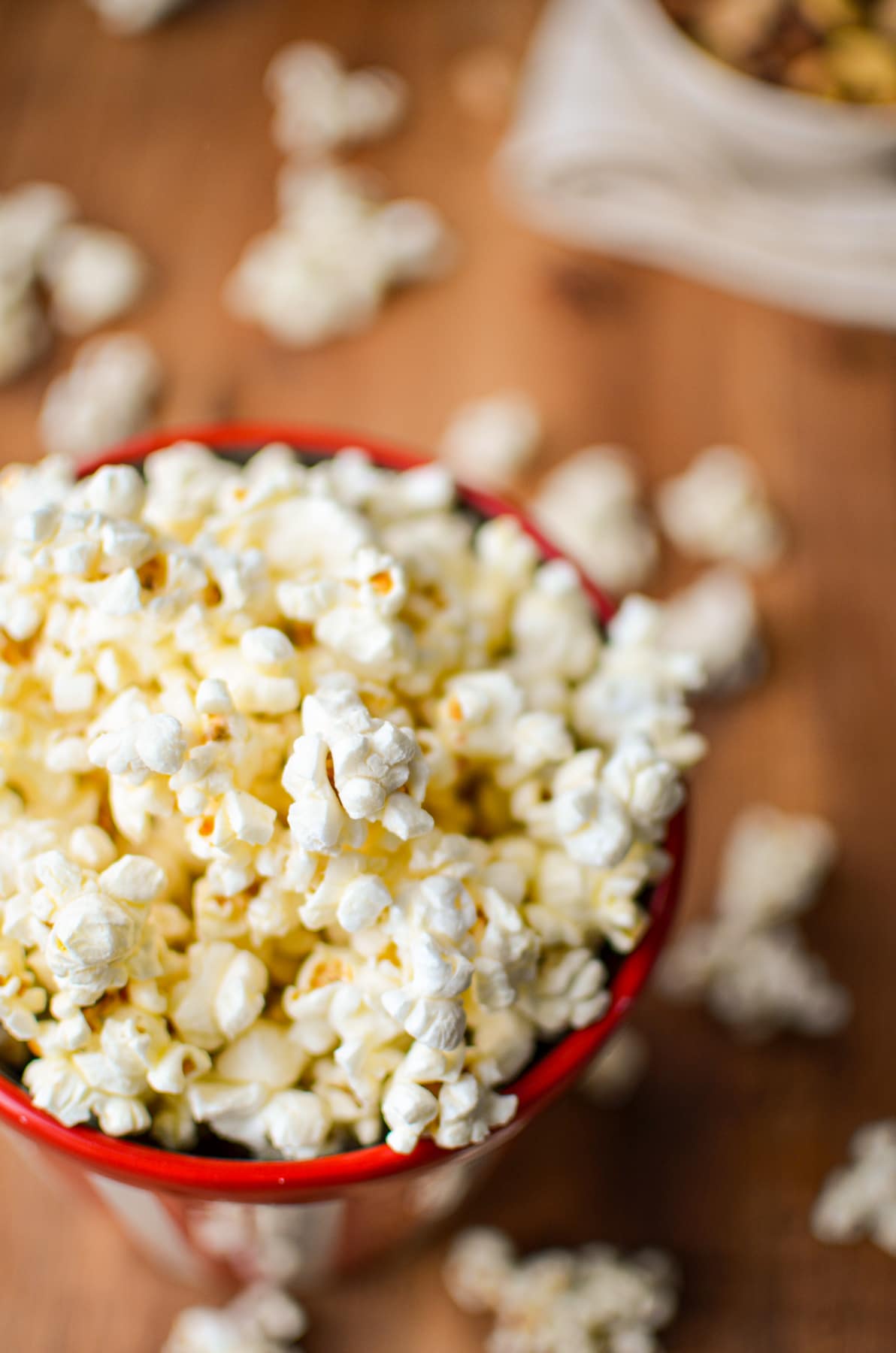 Ghee on Popcorn
It turns out, the secret to addictive and delicious popcorn is to use ghee instead of butter!
And while that may seem strange, ghee is actually made from butter, so it only makes sense!
I go into detail in my tutorial on how to make ghee in the Instant Pot, but the gist is this: ghee is butter that has been clarified from a solid fat into a semi-solid fat.
This change in status removes the milk solids from butter, and the resulting clarified butter (ghee) becomes a sort of oil.
When oil is used in place of butter in popcorn, you get a perfect, crisp, and addictive result that isn't soggy like popcorn with melted butter. This Ghee popcorn is, in my opinion, the absolute best way to make homemade popcorn, and tastes EVEN BETTER than the movie theatre stuff.
Ingredients
The best thing about this easy recipe is that you need just 3 ingredients! This makes it a perfect option for a family movie night!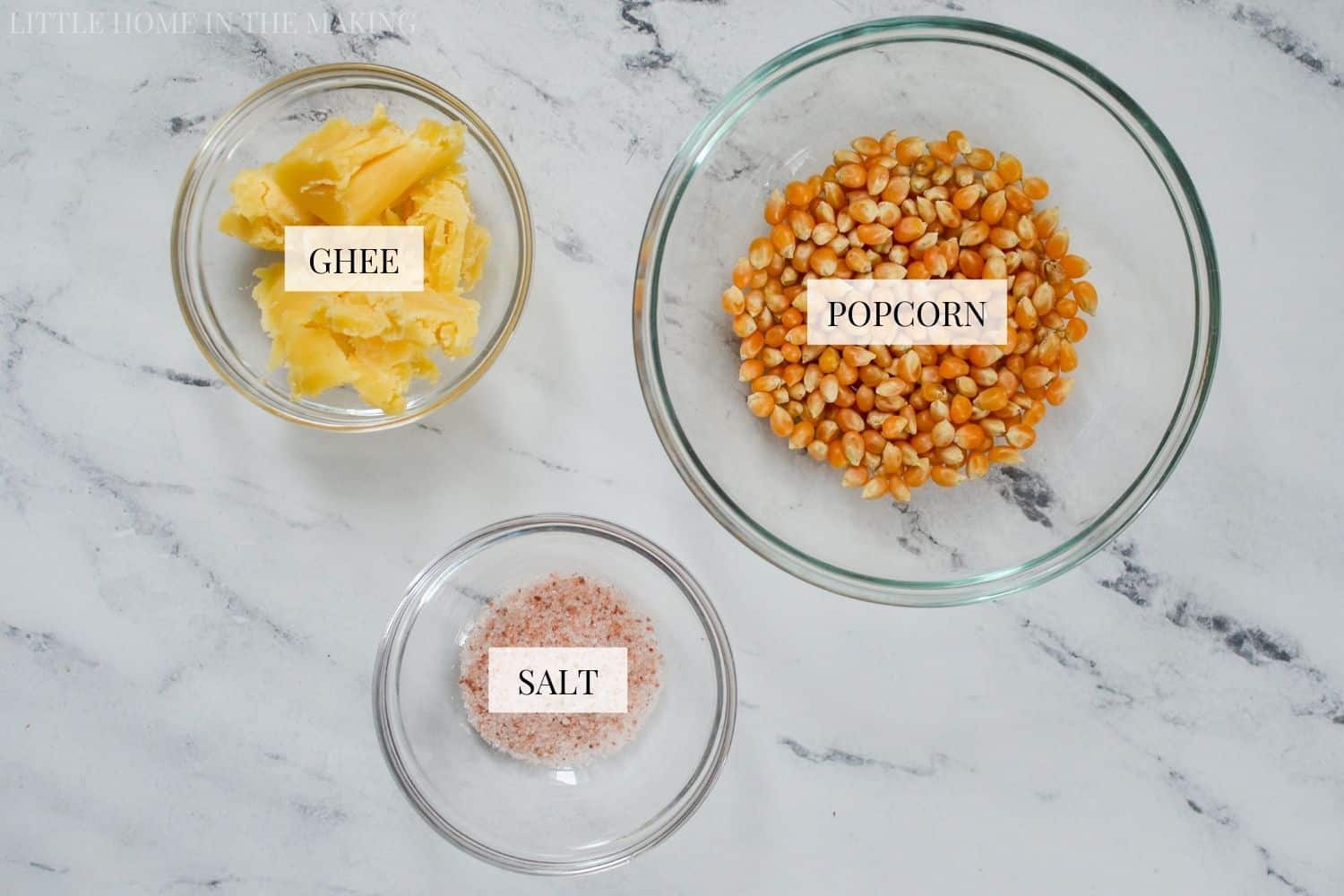 Popcorn: You will need approximately 1/2 cup for a bowl of popcorn for serving to a family of 3-4. Use organic or sprouted popcorn (find it from Vitacost or Thrive Market) if that's what you prefer, but any kind is fine!
Ghee: This can be store bought, or homemade. I normally make mine from scratch, and the Instant Pot method is probably the easiest. You'll want to have your ghee melted for this recipe.
Salt: You can use whatever salt you have on hand! Mineral salt (like Real Salt or Celtic Sea Salt) is my favorite choice.
Equipment Needed
Making popcorn with ghee is so incredibly simple! All you need is an air popper for making popcorn, or another method (like a microwave popper, or by using an air fryer method). I prefer the standard air popper because we don't like to use the microwave too often, and it's handy since I love making ghee popcorn for weekly movie nights!
How to Make Popcorn with Ghee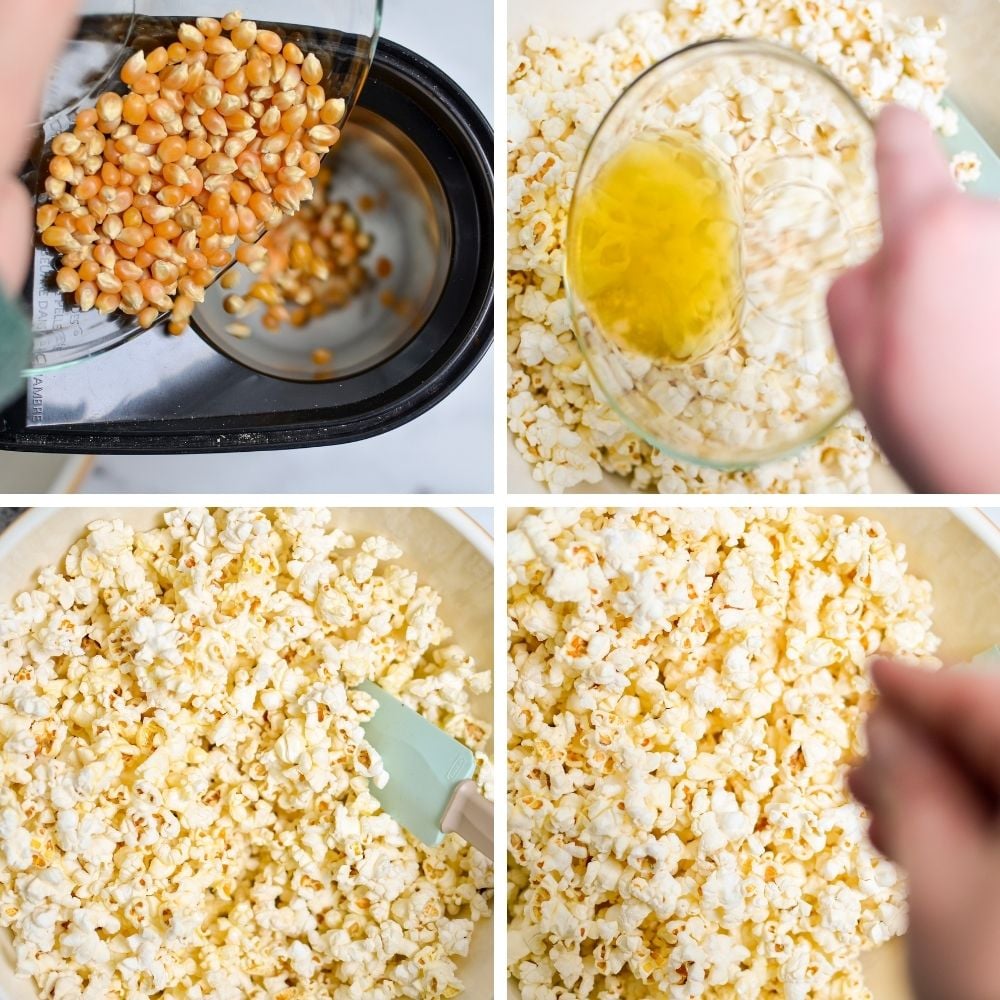 Once you have your popcorn popped via whatever method you prefer, start by drizzling on about half of the melted ghee.
Toss the popcorn to evenly distribute the ghee.
Sprinkle with salt and toss again.
Add the remaining melted ghee (to taste), and toss again. Taste and see if your popcorn needs additional salt. If it does, add salt to your liking and toss to distribute.
Serve immediately!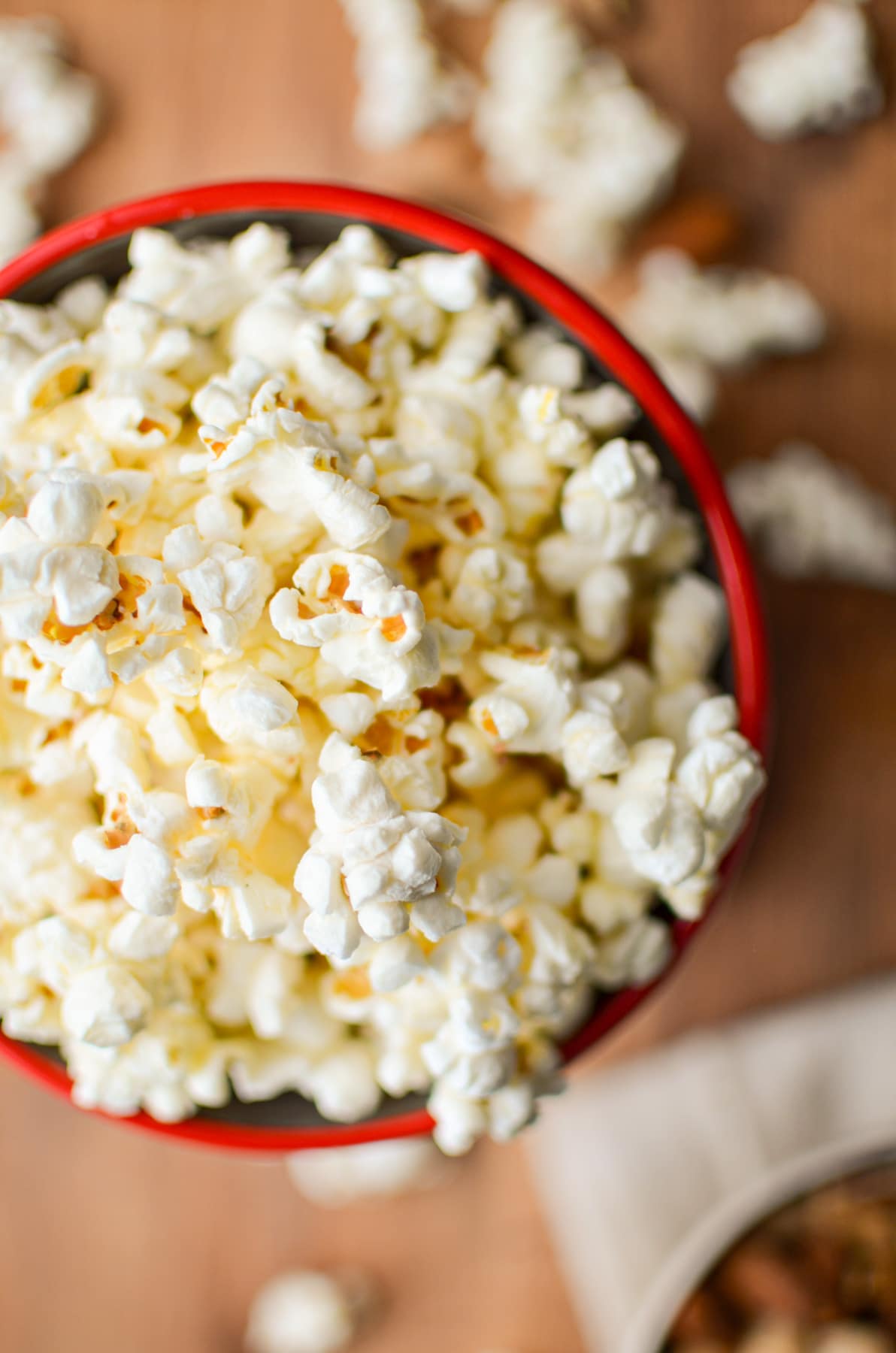 Dairy Free Option
Although ghee has the milk solids removed, and many who are dairy sensitive can eat ghee without issue, if you need a 100% dairy free version of this healthy movie theatre style popcorn, there are still options!
Coconut oil has traditionally been used at movie theatres for making popcorn, and now you can even find butter flavored coconut oil. Alternatively, you can use refined coconut oil and nutritional yeast to give a vegan and dairy free "buttery" style popcorn.
Frequently Asked Questions
Does popcorn expire or go bad?
Since popcorn is a seed, it doesn't technically go "bad" if kept in the right conditions. Store your popcorn in a cool, dry place in an airtight container and it should last indefinitely. Although the amount of kernels that pop may go down, popcorn that is stored past its expiration date (if labeled) is likely fine to consume so long as it is not visibly spoiled in any way.
Is ghee good for making popcorn?
Ghee is the BEST for making popcorn. It's low moisture content, high smoke point, and buttery flavor make for a perfect combination for popcorn.
Does ghee make popcorn soggy?
No, quite the opposite! Since butter contains moisture, popcorn that has been drizzled with butter can easily become solid. Ghee is butter that has been clarified into oil, and does not saturate the popcorn with moisture in the same way that butter does. Instead, acting as an oil, it lightly coats the popped kernel with buttery flavor.
What can I use instead of butter for popcorn?
Ghee, coconut oil, and butter flavored coconut oil all make good substitutes for butter on popcorn.
Does ghee go bad?
While ghee does have a longer shelf life than many fats, it does eventually go bad. Keep your sealed ghee at room temperature for 6+ months, or your opened ghee in the fridge for 6-12 months. Ensure your spoons that you use for your ghee are clean, and you leave no food residue in the jar when you use your ghee. With proper care and good refrigeration, your ghee should last a very long time.
How can I add butter to popcorn without making it soggy?
The best way to get buttery flavor on popcorn without making it soggy, is to use melted ghee. Ghee (also known as clarified butter) has the nutty, buttery flavor you love, but a very low moisture content. That makes ghee the perfect substitute for butter on popcorn.
Is ghee dairy free?
While ghee can be great for those with a dairy sensitivity, it is not completely free from dairy. Since ghee is butter that has the milk solids removed, it can work great for traditionally dairy free diets like Paleo and Whole30, and for those that have a sensitivity to dairy foods. Since it is made from butter, it is not safe for those with a true dairy allergy.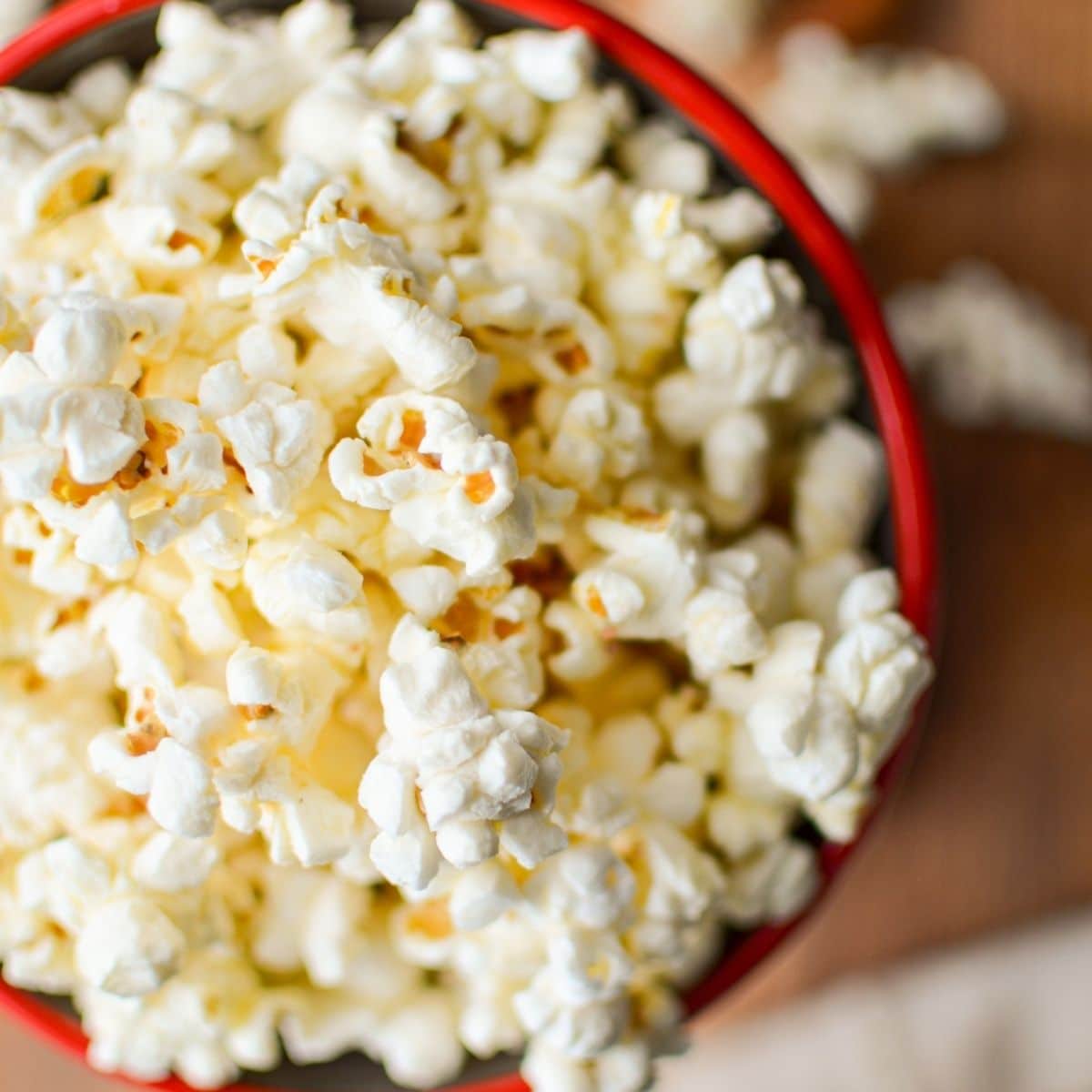 Ghee Popcorn
If you love the crispy and addictive taste of movie theatre popcorn, but don't love the cost or long list of ingredients, you're going to be obsessed with this easy ghee popcorn! Even better than the movie theatre, and made with just 3 simple ingredients.
Ingredients
1/2 cup popcorn kernels
1/3 cup ghee, melted
Salt, to taste
Instructions
Add the popcorn kernels to the base of an air popper, or follow the instructions for another method of popping kernels for eating.
Drizzle half of the melted ghee on top of the popcorn, and toss with a spatula or wooden spoon to distribute evenly.
Sprinkle the popcorn with salt, and toss again to combine.
Drizzle on the remaining ghee, tossing well to ensure all of the popcorn is evenly coated.
Taste and adjust for flavor by seasoning with additional salt.
Serve and enjoy!
Notes
Dairy Free Option: Use buttery flavored coconut oil, OR refined coconut oil + nutritional yeast flakes.
Gluten Free: This recipe is gluten free as written.
Salt options: I like to use an unrefined salt like mineral salt, real salt, or Celtic sea salt. You can use whatever fine ground salt you have on hand.
Popcorn options: There are so many options for popcorn kernels! Use whatever kind you like best. There are great options for Organic, and you can find sprouted popcorn at Vitacost and Thrive Market.
Popping: You can use the standard air popper, but there are microwave and air fryer options as well if you do not have a standard air popping machine.
Nutrition Information:
Yield:

4
Serving Size:

1 Serving
Amount Per Serving:
Calories:

154
Total Fat:

17g
Saturated Fat:

11g
Trans Fat:

0g
Unsaturated Fat:

6g
Cholesterol:

43mg
Sodium:

153mg
Carbohydrates:

1g
Fiber:

0g
Sugar:

0g
Protein:

0g
Nutrition information is an estimate only.