Make your very own Homemade Hamburger Helper with beef and pasta. Skip the boxed stuff and all the preservatives, and instead fill your meal with tender pasta, succulent ground beef, and melty cheddar cheese. You will probably have most of the ingredients on hand and your family is going to LOVE it! A one pot/one skillet recipe that is perfect for weeknight meals.
Updated on January 29 2022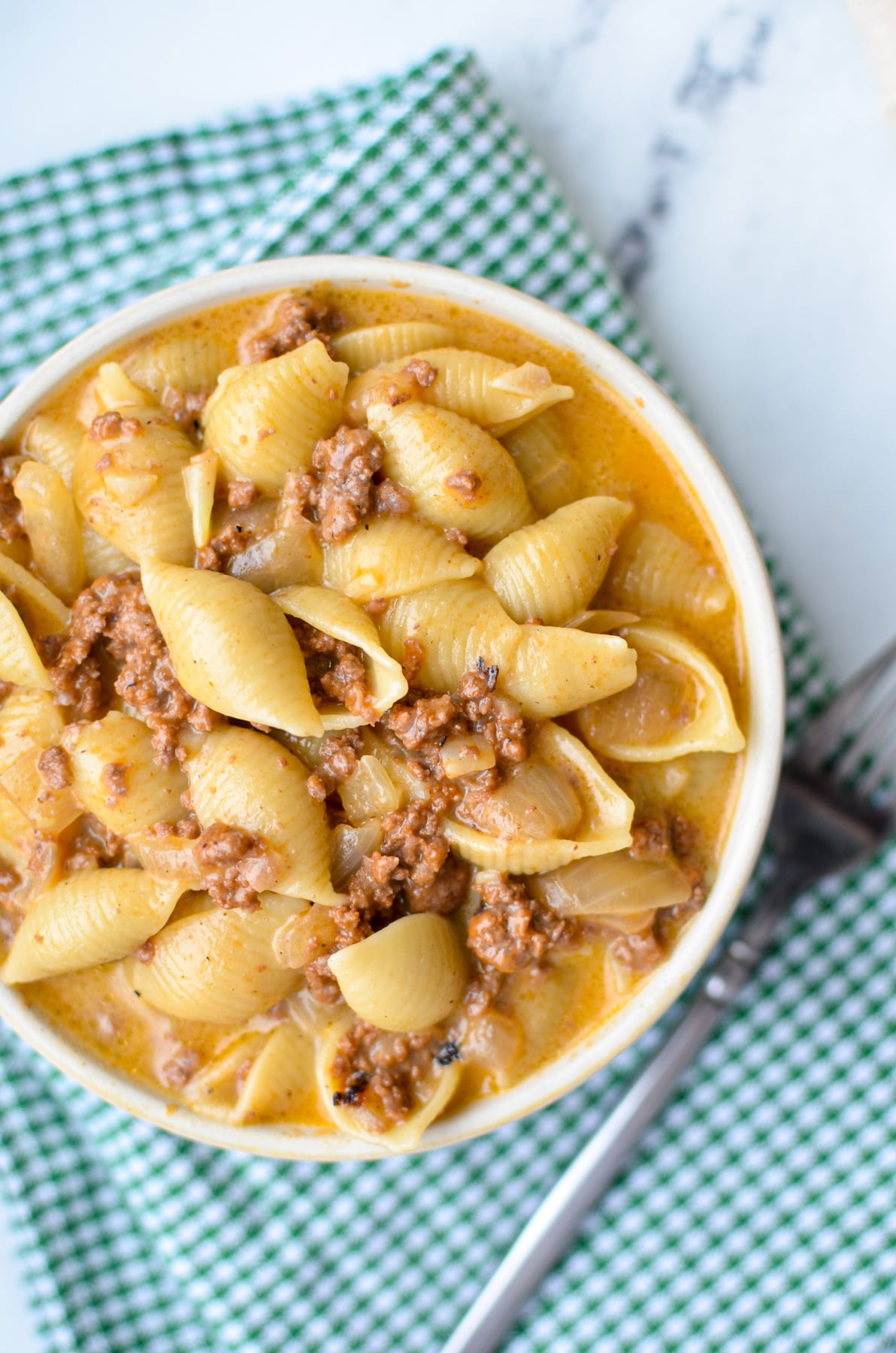 Please note that some of my blog posts here at Little Home in the Making may contain affiliate links. If you make a purchase through these links, I will get a small commission at no additional cost to you. Please see my Disclaimer for more information.
---
There are some foods that just remind me of a certain time of place. Truly, Hamburger Helper is one of those foods. It reminds me of being a kid in the mid-90's, when boxed meals were all the rage (do we even say that anymore!?). While I do face a twinge of nostalgia every time I pass by the red box, I couldn't help but wonder: is there a better way?
Of course there's a better way.
Homemade (AKA Grown Up) Hamburger Helper with beef and pasta.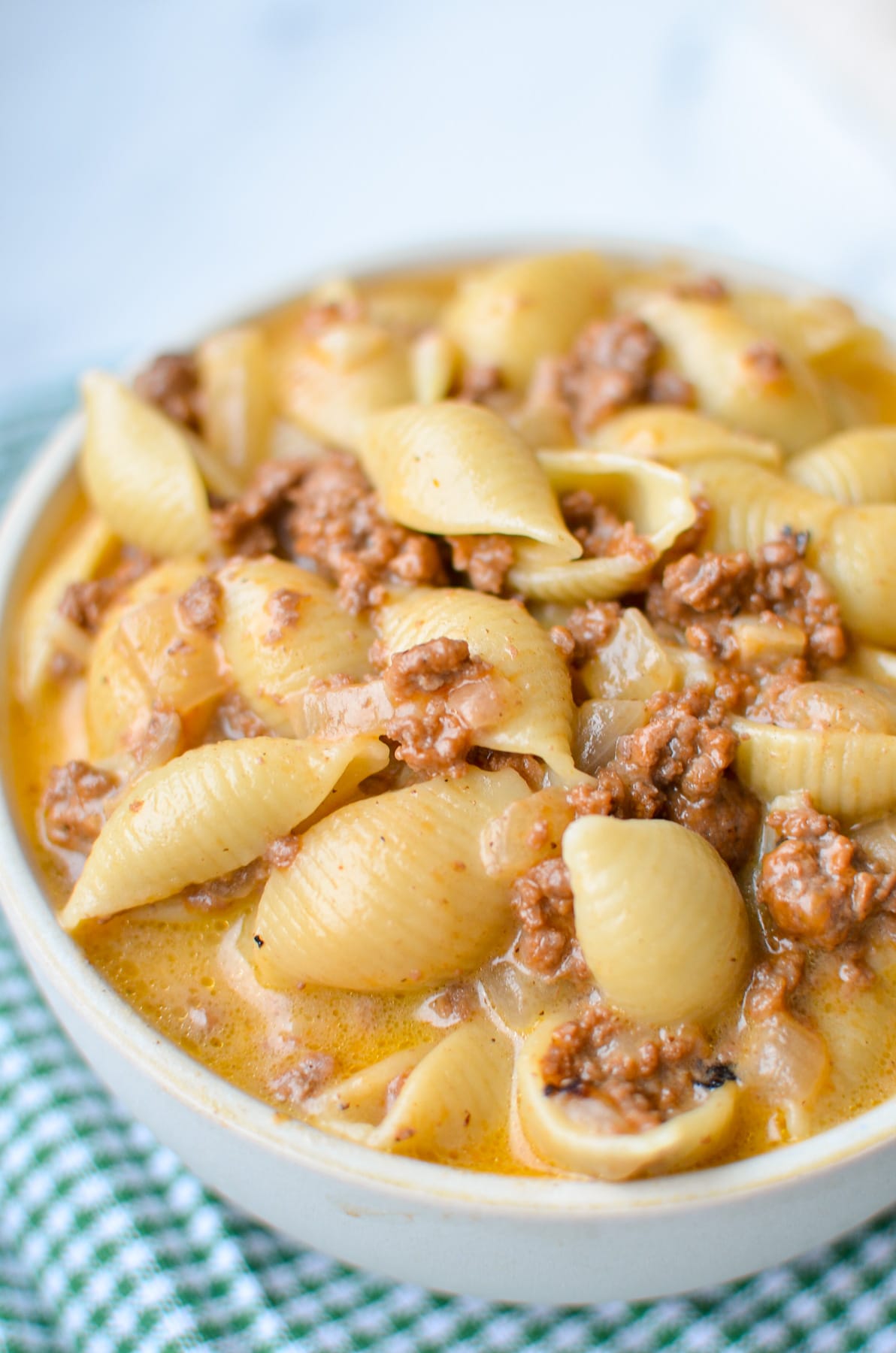 Why Make Homemade Hamburger Helper?
Of course you can always go out any buy a box of the classic comfort food we all know and love as Hamburger Helper. But you can also make it yourself! So why make it yourself? The flavor. The flavor of this beef and pasta skillet is SO good, and we are totally obsessed in my home. I know you will be too! There is just something about the real thing that makes the difference. There's a time and a place for a box meal, but on a regular basis it's good to have home cooked meals.
In addition to the flavor element, you're able to skip out on all the additives and preservatives when you make hamburger helper from scratch.
Store Bought Hamburger Helper Ingredients:
Enriched macaroni
Corn starch
Salt
Modified whey
Sugar
Tomato
Cheddar cheese
Onion
Garlic
Citric acid
Vegetable oil (canola, soybean and/or sunflower oil)
Buttermilk
Whey
Yeast extract
Annatto extract
Spice
Monoglycerides
Sodium phosphate
Gum arabic
"Natural flavor"
Silicon dioxide
Um…yep. 😮
VS. The Ingredients in Homemade Hamburger Helper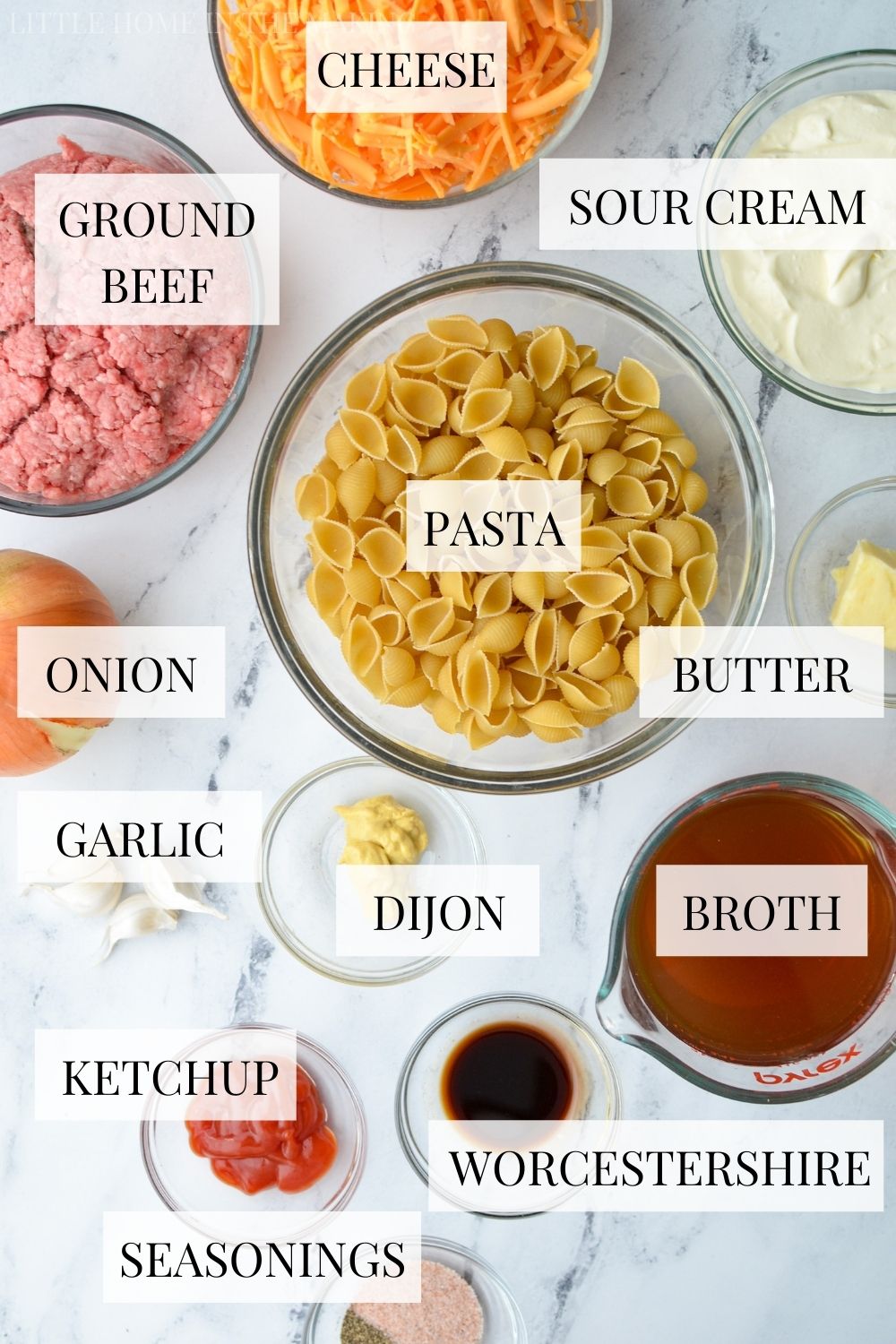 I don't know about you, but I'm feeling a lot better about the second list! Finally, a list of ingredients we can recognize! While there is some work that goes into the homemade version, it's still not a complicated meal by any standards. It can all be made in one big skillet or dutch oven, which makes for minimal clean up. Win win!
How To Make Homemade Hamburger Helper with Beef and Pasta
Making your own homemade version of hamburger helper at home is a lot more simple than you might think! This recipe, while elevated above and beyond the simple boxed meal, is still a one pot dinner! This makes for minimal clean up and that is definitely a favorite feature for cooks everywhere!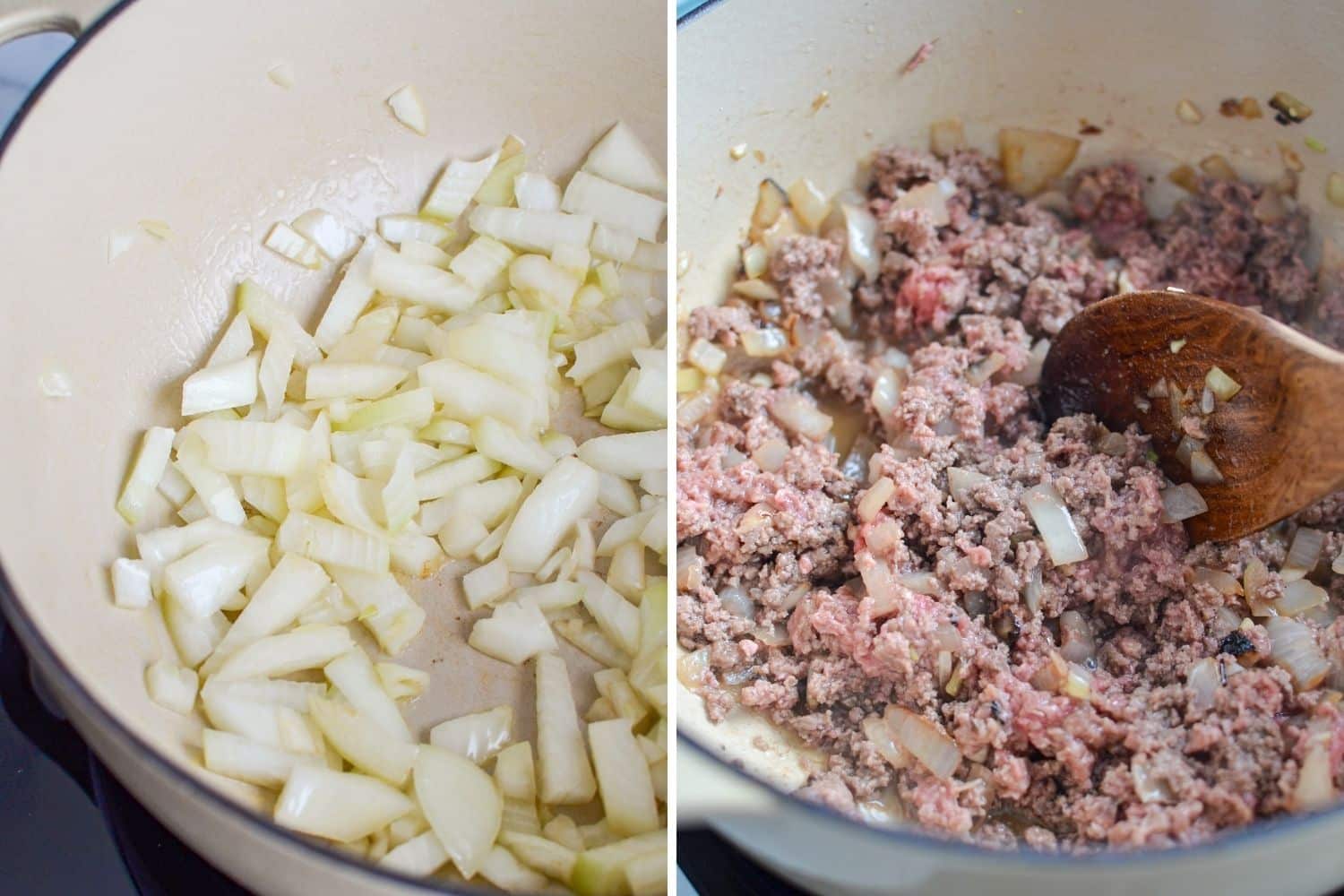 Step One: Brown the ground beef and onion together, then sauté the garlic until fragrant.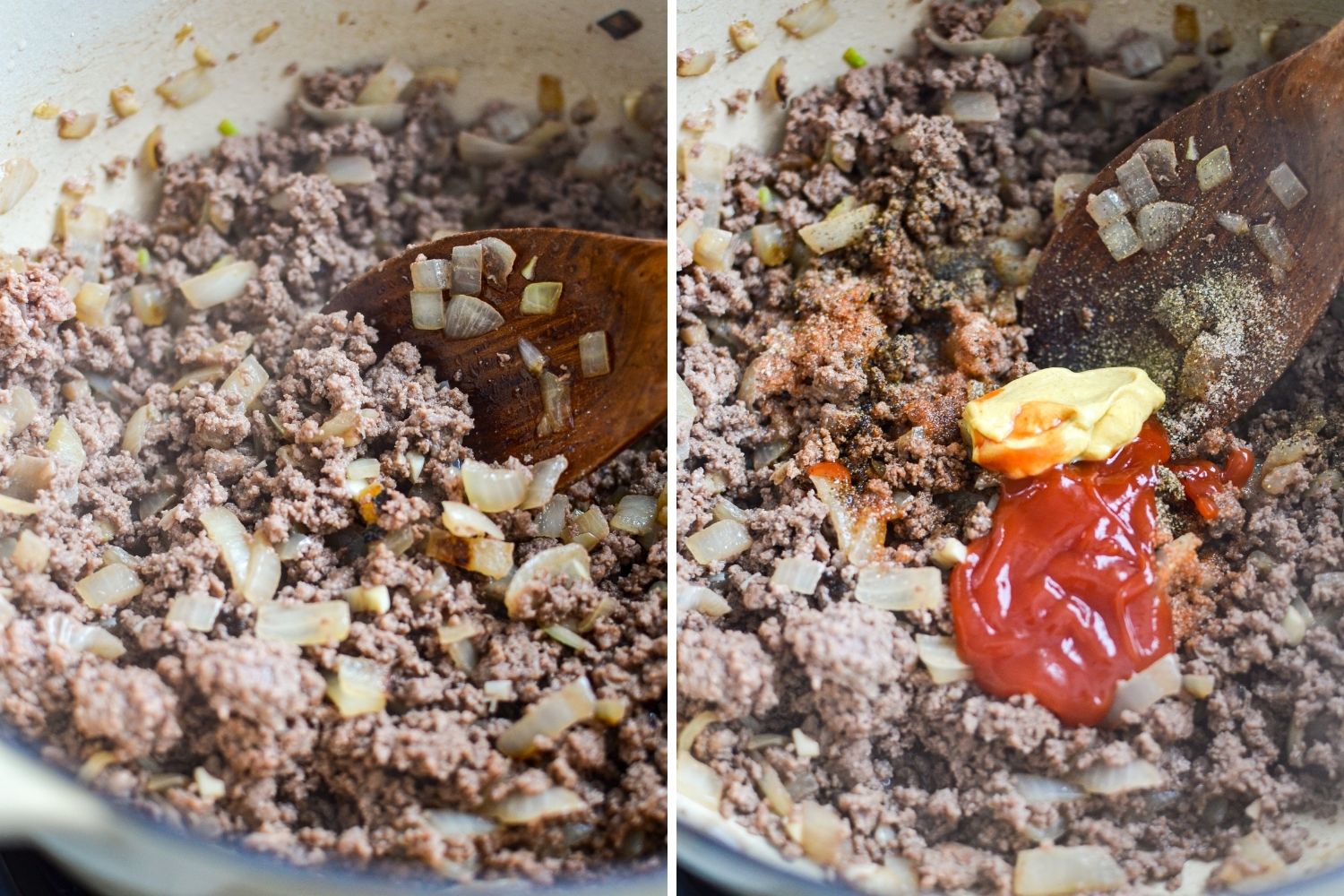 Step Two: Add the seasonings, ketchup, mustard, and Worcestershire sauce.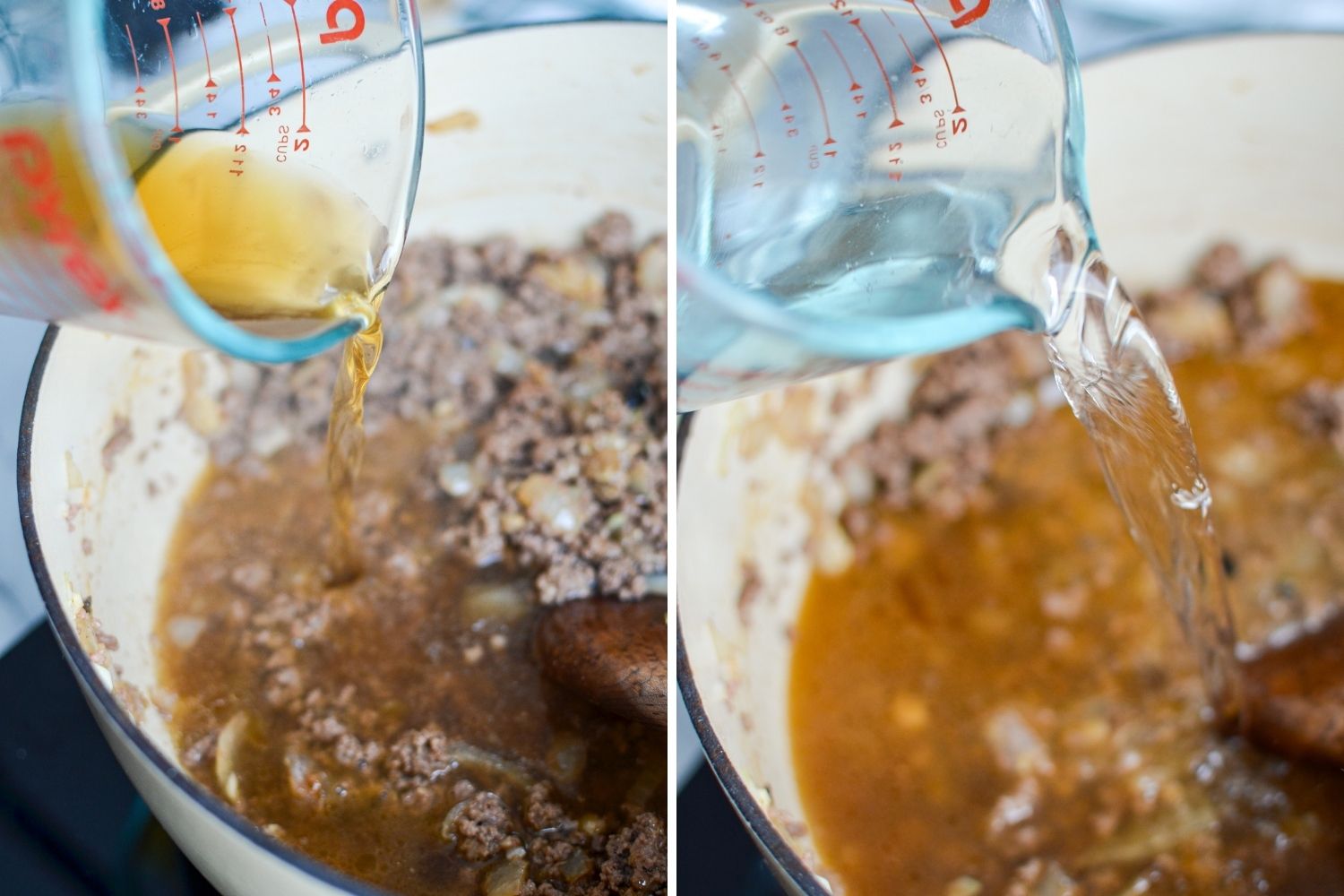 Then, Step Three: Add the broth and water.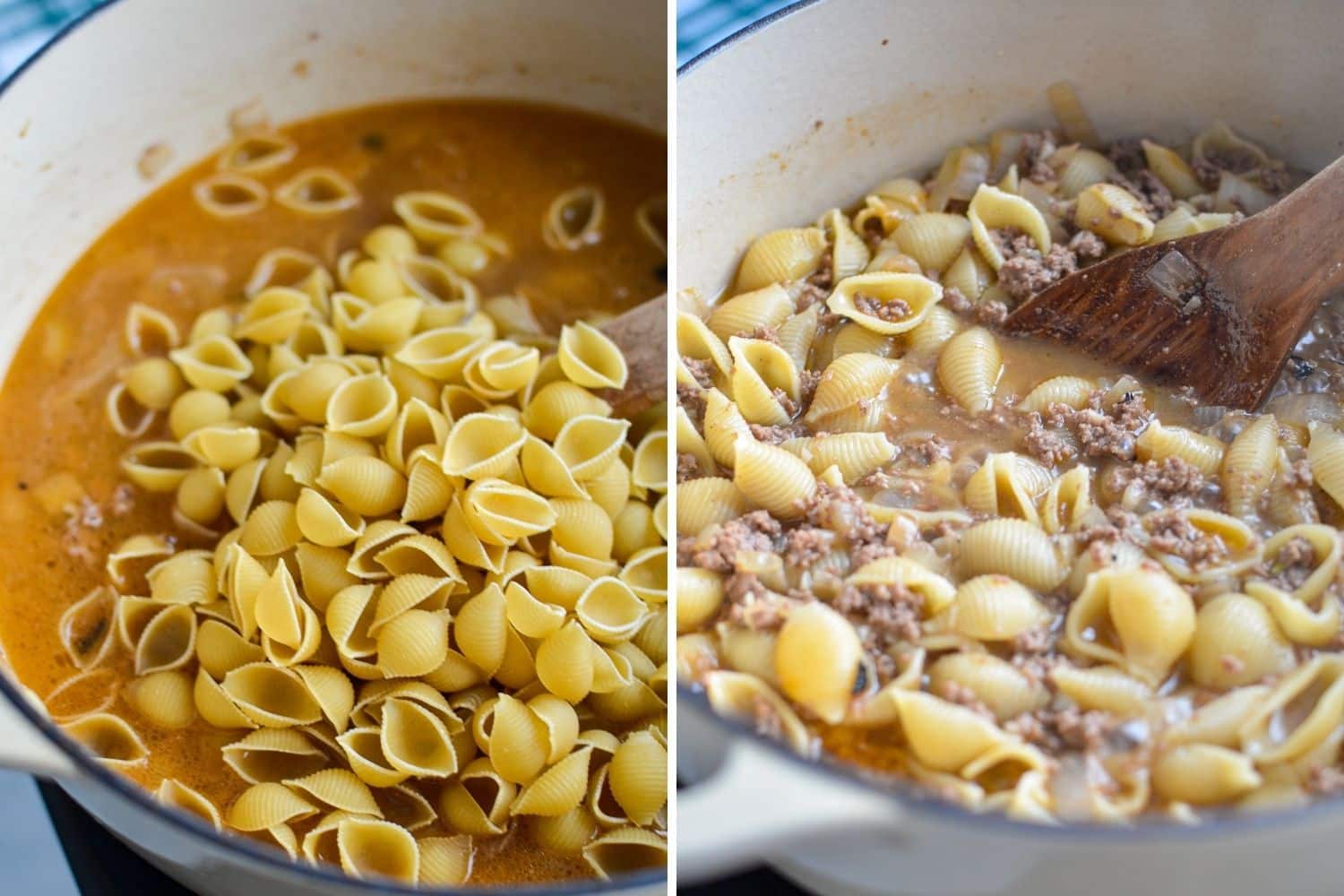 Step Four: Add in the pasta, stir, cover and cook.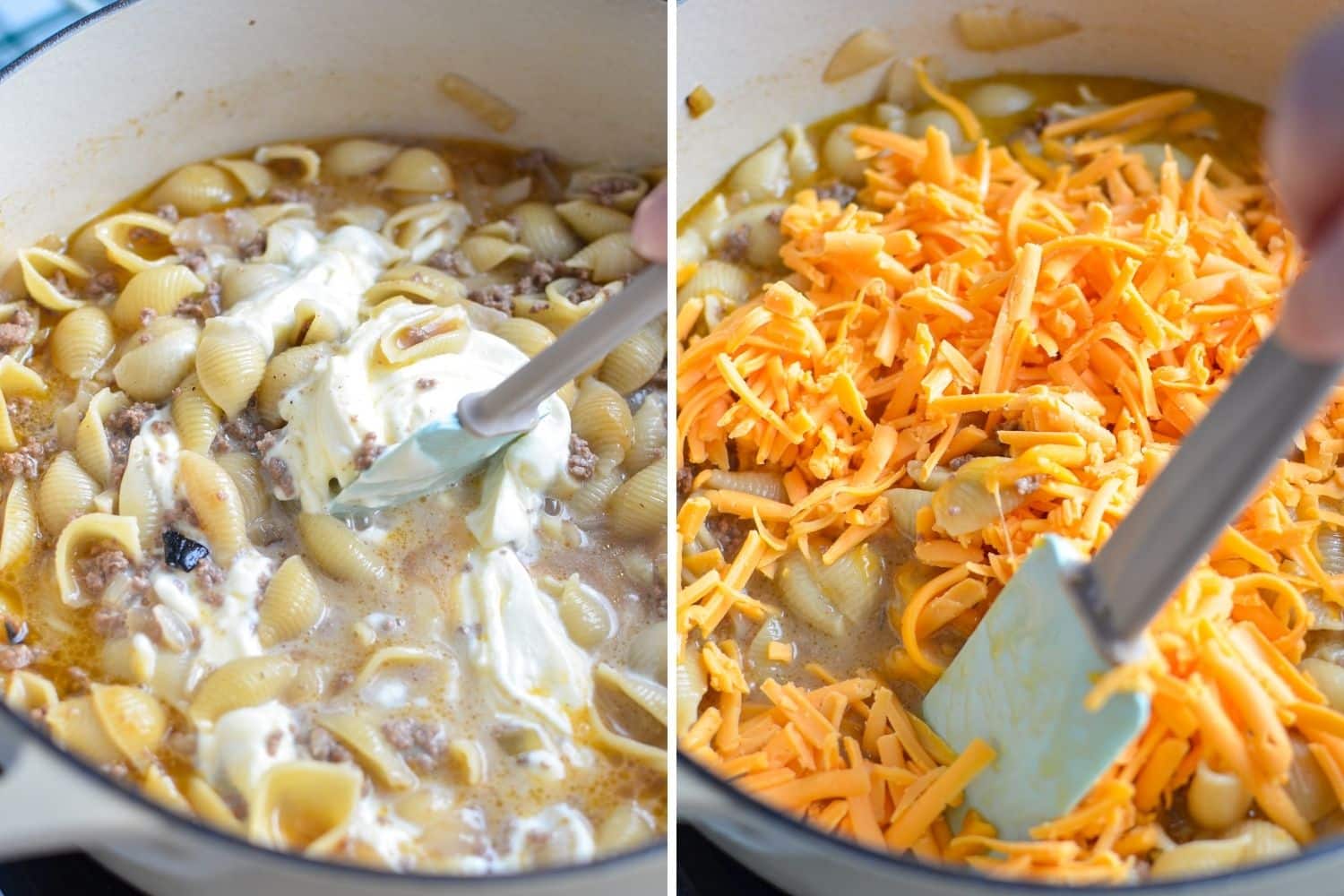 Step Five: Add in the sour cream and stir until blended. Then, add in the cheese and stir until creamy.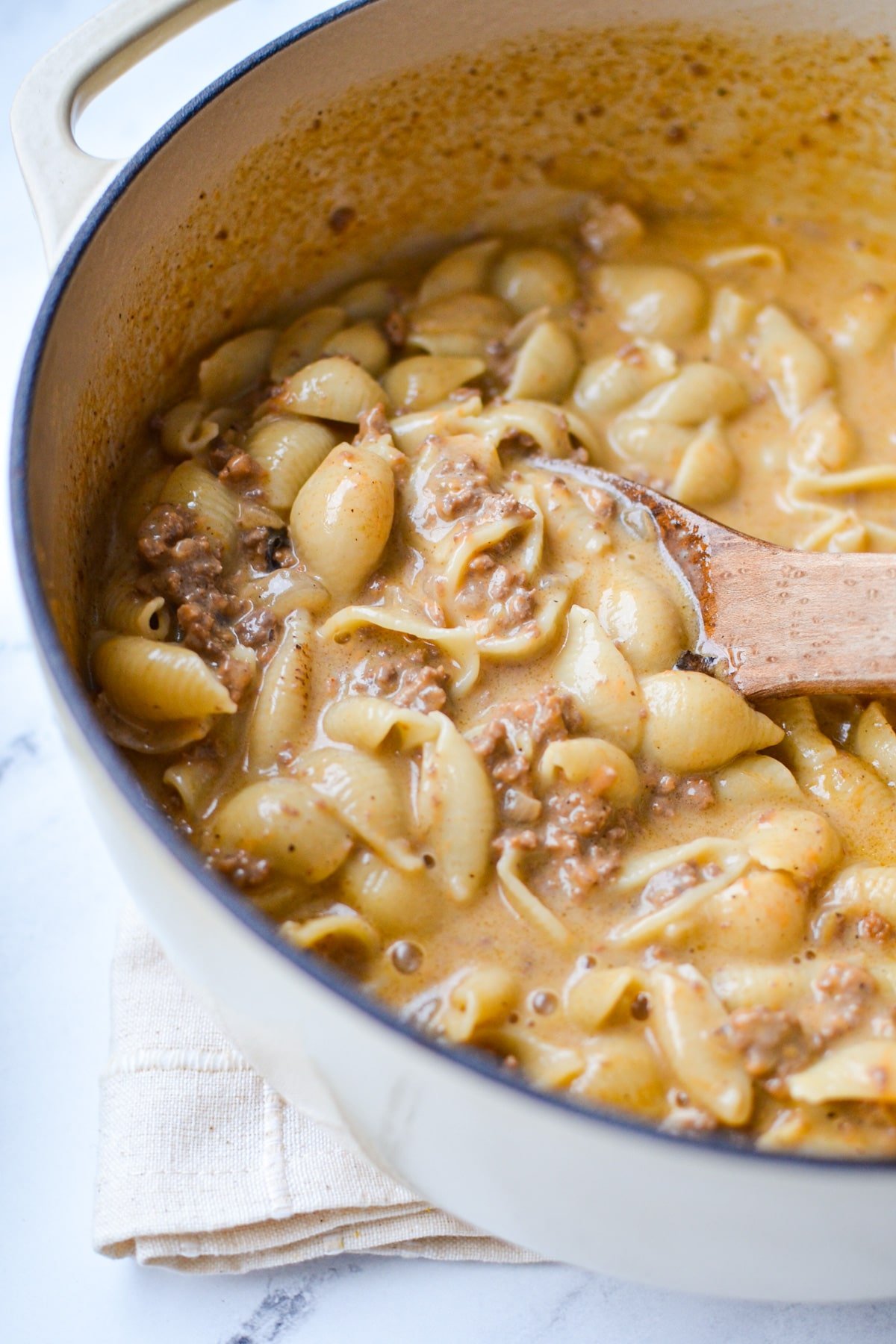 This homemade hamburger helper is so simple, yet the flavor is SOOO much better than the boxed stuff. You're going to love this grown up version of your childhood favorite. Make sure to check out the printable recipe below! 👇
Frequently Asked Questions
What kind of cheese should I use?
I suggest using cheddar cheese grated from the block. When you use freshly grated cheese, it melts better. Store bought shredded cheese contains anti-caking agents to help with clumping and with moisture. Those additives make for a poor melting quality, and so when you use it in a sauce it can result in a grainy consistency.
Can I use a different type of pasta?
Yes, you can! I opted for large shells in this recipe because the swirly shape makes for lots of nooks and crannies to trap the delicious sauce. But you can use other pasta, so long as you measure it in grams. Pasta doesn't convert well cup for cup unless the varieties you are using are VERY close in size. Instead, weigh your pasta and make the conversion based on weight. In this recipe, we use 278 grams of Larger shells, which yields about 3 1/2 cups. Select 278 grams (about 9.80 oz) of whatever pasta you desire, and ensure to follow package directions and adjust the cook time as needed. I've tested with Fusilli and Rotini with great results.

Also note that some pasta shapes absorb more water and expand more than others. You may need to scale the broth and water up or down based on what type of pasta you are using. If you don't have access to a kitchen scale, you can use this guide from Barilla and a calculator to get a rough estimate of how much pasta to use.
What kind of Ground Beef should I use?
A good quality lean ground beef is best in this recipe. Since you'll be adding fat with the cheese and sour cream, any extra fat will pool at the top and not be appetizing. For this reason, I suggest using lean ground beef AND draining the excess fat. If you opt for a higher content of fat, ensure to drain your beef very well. You may also need to buy a larger quantity of beef in order to have the same yield. Higher fat content beefs tend to cook down more and result in less overall browned beef.
Can I use all water instead of broth?
You could, but the flavor will not be as rich. I strongly recommend adding the broth portion for the best results.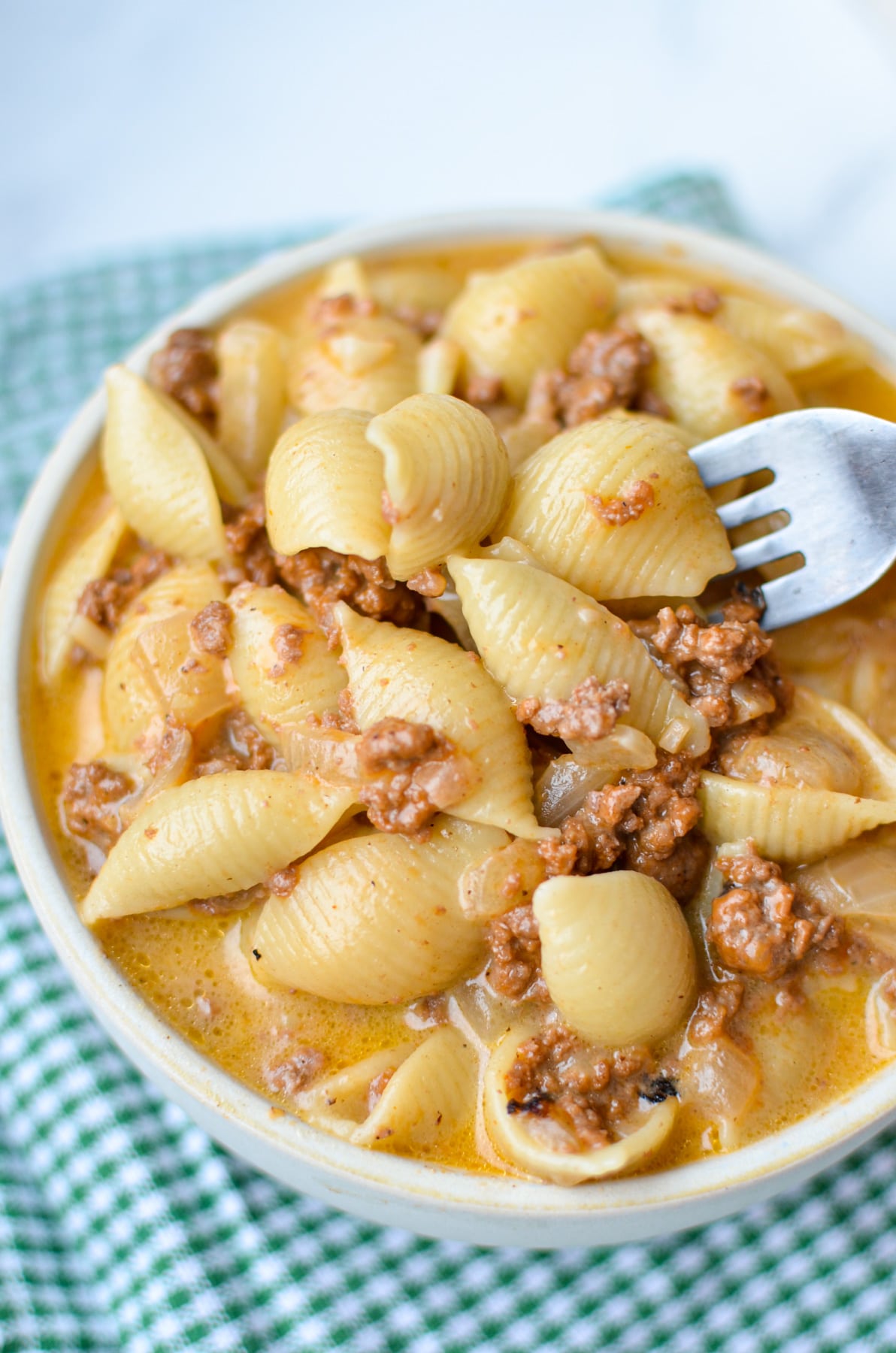 What to Serve with Hamburger Helper
While this dish is a great one pot meal, you can make for a more well rounded meal by including side dishes. Here are a few great choices:
Garden Salad
Steamed broccoli
Roasted or steamed green beans
Steamed cauliflower
Bread and butter
Rolls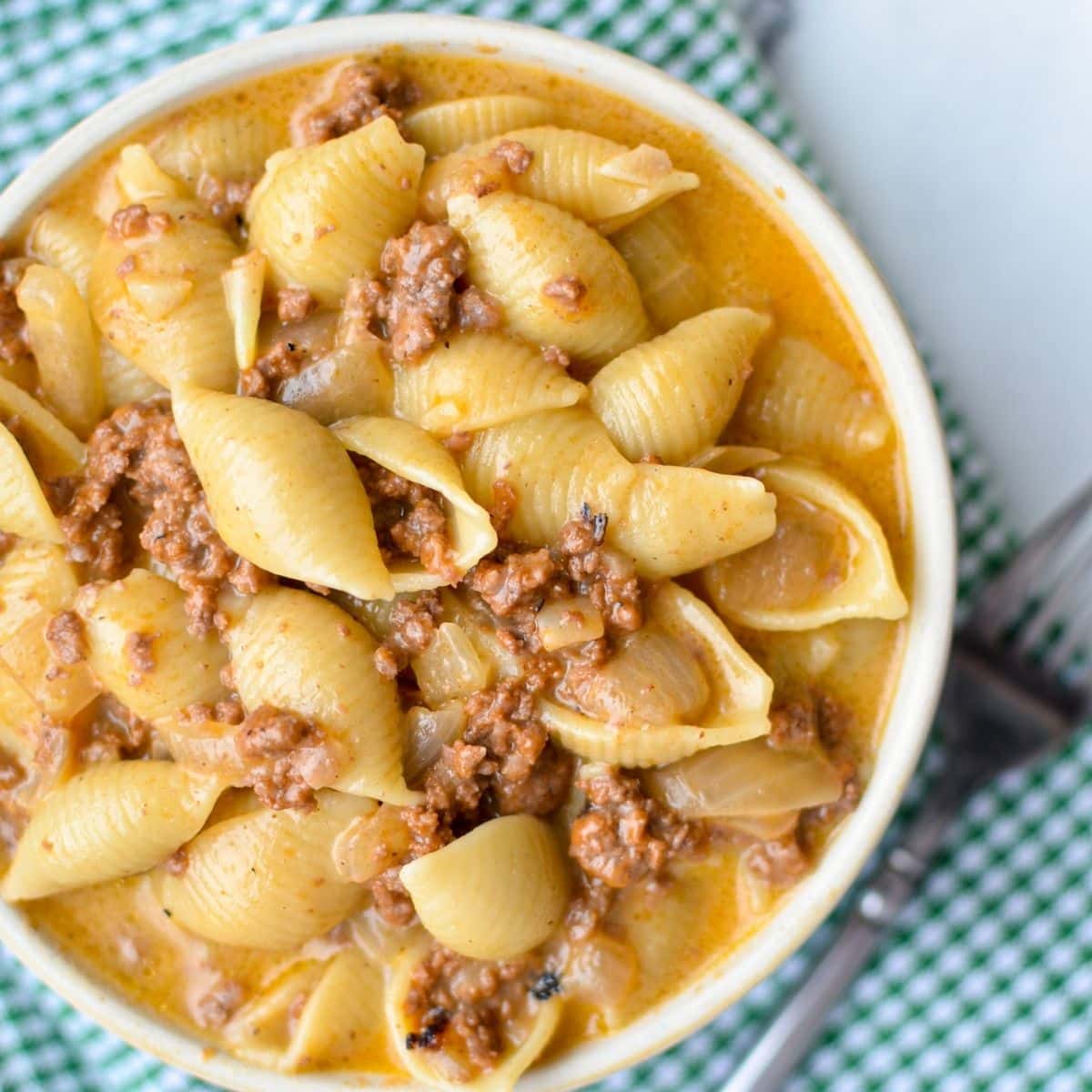 Homemade Hamburger Helper
This one pot beef and pasta dinner is ultra cheesy and satisfying for all members of the household. Homemade Hamburger Helper is made in one pot. Best of all? It all comes together in 45 minutes from fridge to table!
Ingredients
1 Tbsp. Salted Butter
1 medium Yellow Onion, peeled and diced
4 large Garlic Cloves, peeled and minced
1 ½ lbs Lean Ground Beef
1 ½ tsp. Dijon Mustard
1 ½ Tbsp. Ketchup
1 ½ tsp. Seasoned Salt
¾ tsp. Ground Black Pepper
3 cups Chicken Broth
2 cups Water
1 tsp. Worcestershire Sauce
3 ½ cups Dried Large Shell Pasta, 278g
¾ cup Sour Cream (or crème fraiche)
3 cups Shredded Cheddar Cheese, from the block
Instructions
Melt the butter in a large covered skillet or Dutch oven over medium heat. Add the onion and sauté until translucent and lightly browned, about 5 minutes.
Add the garlic and sauté until fragrant, about 1 minute. Be sure to not overcook the garlic, as it burns easily and adds a bitterness to your meal.
Immediately add the ground beef, using the end of a wooden spoon to break up the meat. Brown the ground beef, ensuring to continue to break up the meat as it cooks.
Use a large spoon to remove any excess grease from the cooked ground beef.
Add in the Dijon mustard, ketchup, seasoned salt, and ground black pepper to the ground beef, onions, and garlic. Stir well to coat the ground beef.
Add in the chicken broth, water, and Worcestershire sauce.
Add the pasta to the pot and stir well. Ensure the pasta is submerged in the liquid and increase the heat to medium-high. Once the pasta comes to a boil, stir and reduce the heat to medium-low. Add the cover to your skillet or Dutch oven and simmer for 11-13 minutes, or until the pasta is soft.
Remove from the heat and stir in the sour cream. Use a whisk if necessary to create a smooth sauce.
Add in the shredded cheddar cheese and stir until melted.
Taste and adjust seasonings as desired.
Serve immediately, garnished with additional shredded cheddar or chopped parsley if desired.
Notes
Pasta:
If you would like to change the pasta, do so by measuring the weight of the pasta rather than the volume. I've tested fusilli and rotini in this recipe with great results.
Sour Cream vs. Crème Fraiche:
In my opinion, the crème fraiche works better in this recipe, but it can be hard to find if you don't make it yourself. Crème fraiche melts better into the pasta, versus sour cream that needs a little more thorough mixing. Use whatever you have on hand and whatever you have access to. Higher fat sour creams tend to work better.
Cheese:
I strongly encourage you to use cheese that you grate yourself from the block. While buying pre-shredded cheese in convenient, it doesn't melt as well due to the anti-caking agents used in manufacturing. Grating your cheese at home saves money, and results in a smoother sauce.
I used sharp cheddar cheese here, but feel free to use whatever block-style cheddar cheese your family prefers.
Nutrition Information:
Yield:

6
Serving Size:

1 grams
Amount Per Serving:
Calories:

561
Unsaturated Fat:

0g
Nutritional information is an estimate only and isn't always accurate.