This EASY and healthy Mexican Chicken Soup is the PERFECT healthy soup recipe. Gluten free, dairy free, and using whole food ingredients. A meal you can feel good serving up to your family! Add fun toppings like cheese, sour cream, and crushed tortilla chips for those who want a little extra, OR enjoy it as a light and lovely soup. Best part? Uses up some of that leftover rotisserie chicken you have lying around!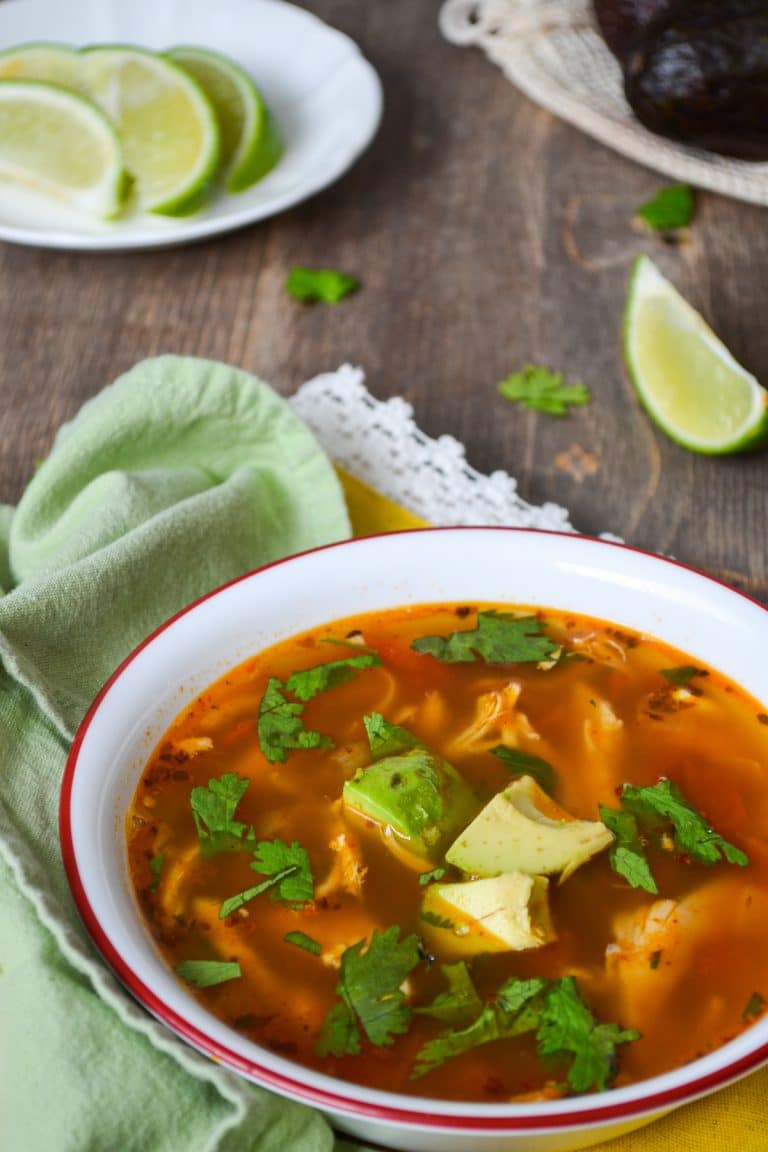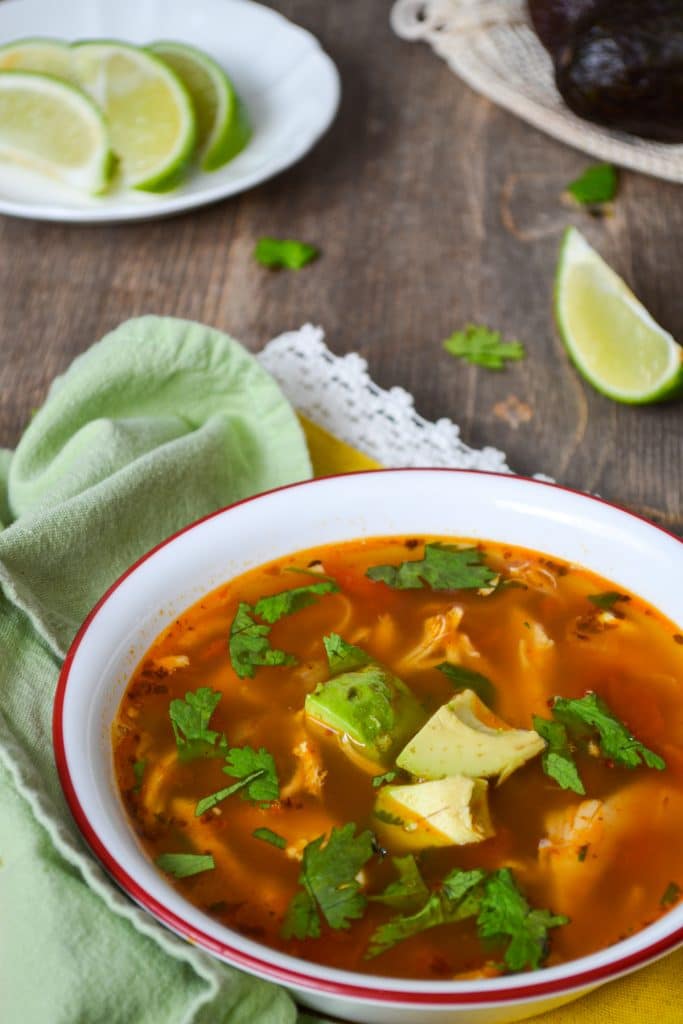 Please note that some of my blog posts here at Little Home in the Making may contain affiliate links. If you make a purchase through these links, I will get a small commission at no additional cost to you. Please see my Disclaimer for more information.
---
One of my favorite budget friendly ways to feed my family is by using soups. Even through the summer months, we eat soup about once a week. This helps us use up our weekly batch of bone broth, and I'm able to load it up with nutrient dense foods. It's also a GREAT way to use up leftovers like shredded chicken, odds and ends of vegetables, and even the final crumbs of a bag of tortilla chips.
Using Leftover Chicken
This recipe is a great weeknight recipe because it makes use of leftover shredded chicken. This can be a rotisserie chicken if you like the convenience of picking one up when you're out and about, or it can be leftover from a chicken you've roasted yourself at home. Either way, be sure to make your own bone broth from the leftover bones! I have a super easy recipe using the Instant Pot here. You can cut the recipe in half if you just have one chicken carcass to use up.
If you prefer to use chicken pieces like chicken breast, that's fine too! Just cook and shred your chicken in advance so it's ready for soup time.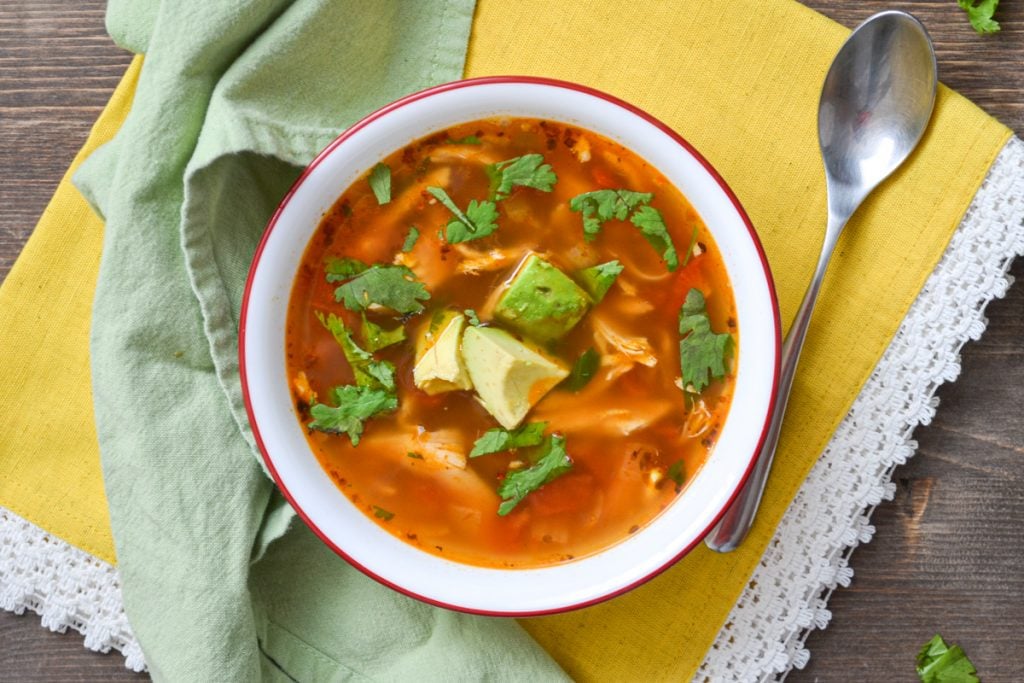 A Gluten Free and Dairy Free Meal for the Whole Family
If you've ever had to prepare a family meal while keeping dietary restrictions in mind, you know that it can be a HARD job! Many folks who are working with allergies and restrictions end up making entirely different meals for the afflicted family members. Not only does that place a heavy burden on the person who prepares the meals, but it also lacks that family together feeling we should get from our mealtimes. It really is best for all parties involved if we can eat the same food most of the time.
And that is why this easy recipe for Healthy Mexican Chicken Soup is here to save the day! This soup is easily prepared to be gluten free and dairy free, which are the most common restrictions we see when we are feeding others. A simple swap (olive oil instead of butter) makes this meal an easy dairy free soup that the whole family can enjoy. Just simply lay out topping options for those who need a more substantial meal (my husband can't eat a meal without cheese it seems! 😅).
Great for Guests
For the very same reason this soup is perfect for serving to large crowds. Just double, triple, or quadruple the recipe and provide ample serving dishes of various toppings and garnishes. You can ladle a bowl for each guest, and they can fix their bowl just how they like it! For those who face restrictions, going out to eat or visiting another family can bring up some anxiety. They worry that they are being too difficult, or they worry that they may accidently eat some of the very food they are trying to avoid. Serving a meal that can be customized is the perfect solution!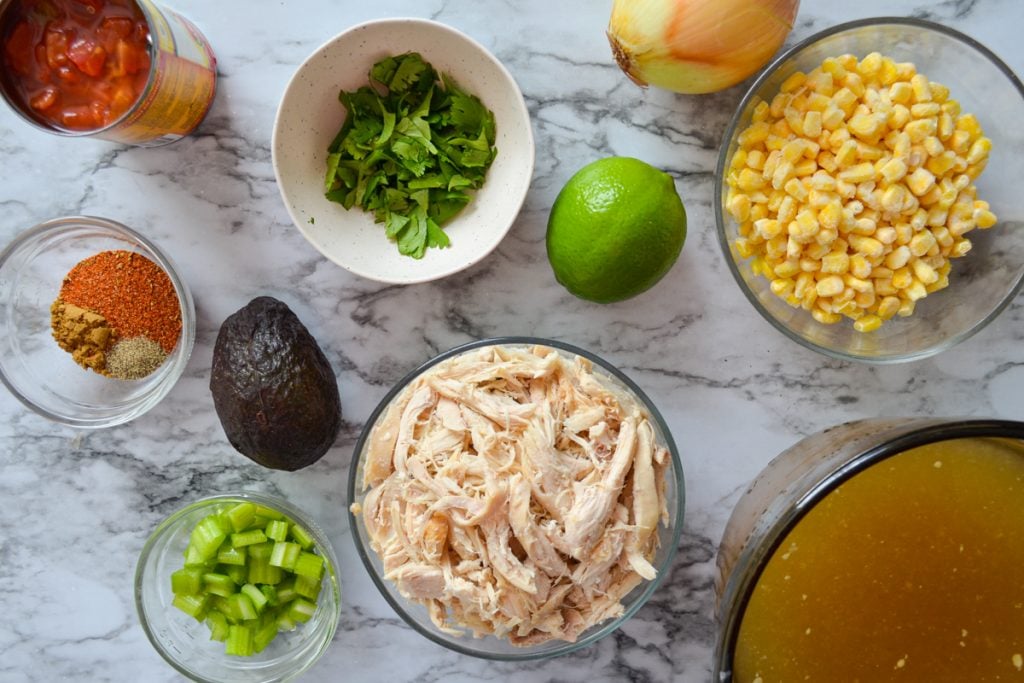 What is in Mexican Chicken Soup?
Chicken: What would Mexican Chicken Soup be if it weren't for chicken!? For extra ease, I like to use leftover shredded cooked chicken. You can use rotisserie chicken, or leftovers from a home roasted chicken.
Broth: You can use store bought, but I love to use my Instant Pot Chicken Bone Broth since I always have some to use up in the fridge. You can also use my standard Homemade Chicken Broth recipe and use the leftover chicken in your soup!
Veggies: Chopped onion, chopped celery, and corn kernels add plenty of vegetable matter to this yummy soup.
Seasonings: I like to use some of my Homemade Chicken Taco Seasoning in this recipe, but you can use store-bought. You'll also need a bit of cumin and some black pepper.
Rotel or Tomatoes: Rotel adds a little kick and some tomato flavor, and is one of my favorite additions to soups (see my Crockpot Chicken Taco Soup for proof). If you don't have Rotel, you can use some undrained diced tomatoes mixed with diced green chilies (see my substitution down below).
Cilantro: I know that there's plenty of folks who think cilantro tastes like soap, but for those us that love the bright and fresh flavor, this is an essential element to Mexican chicken soup.
Garnish: Includes fresh lime wedges and chunks of avocado. So delicious!
How to Make Mexican Chicken Soup
Making this healthy soup is SO easy, and can be made in about 30 minutes, most of which is inactive simmering time. You're going to want to make this easy dinner over and over again!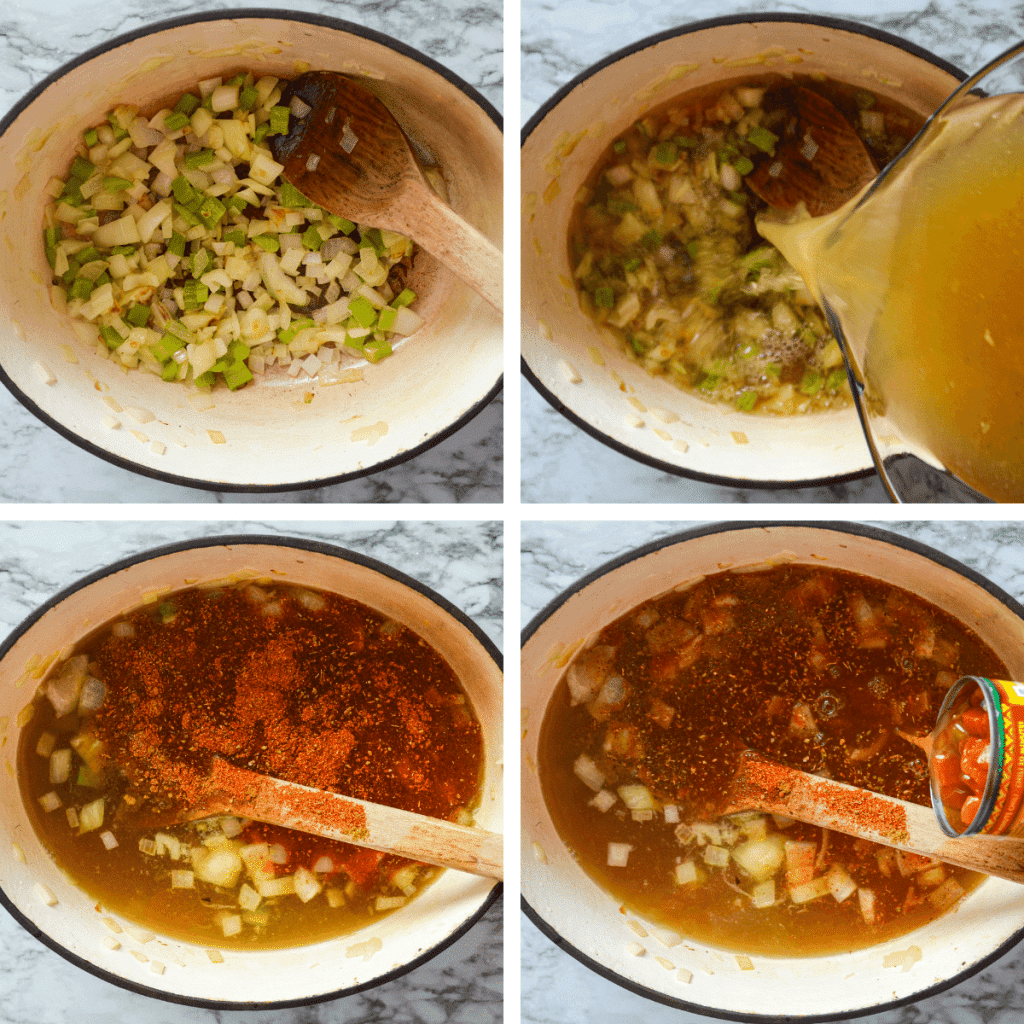 The first thing you do is melt butter (or olive oil if dairy free) in a dutch oven or large saucepan.
Add in the chopped celery and onions, and stir well to coat with the butter or oil. You're going to allow this to saute until tender, which will be about 5 minutes.
Then, add in the chicken broth and water.
The seasonings.
And a full undrained can of Rotel chilies and tomatoes.
Then simmer for about 20 minutes.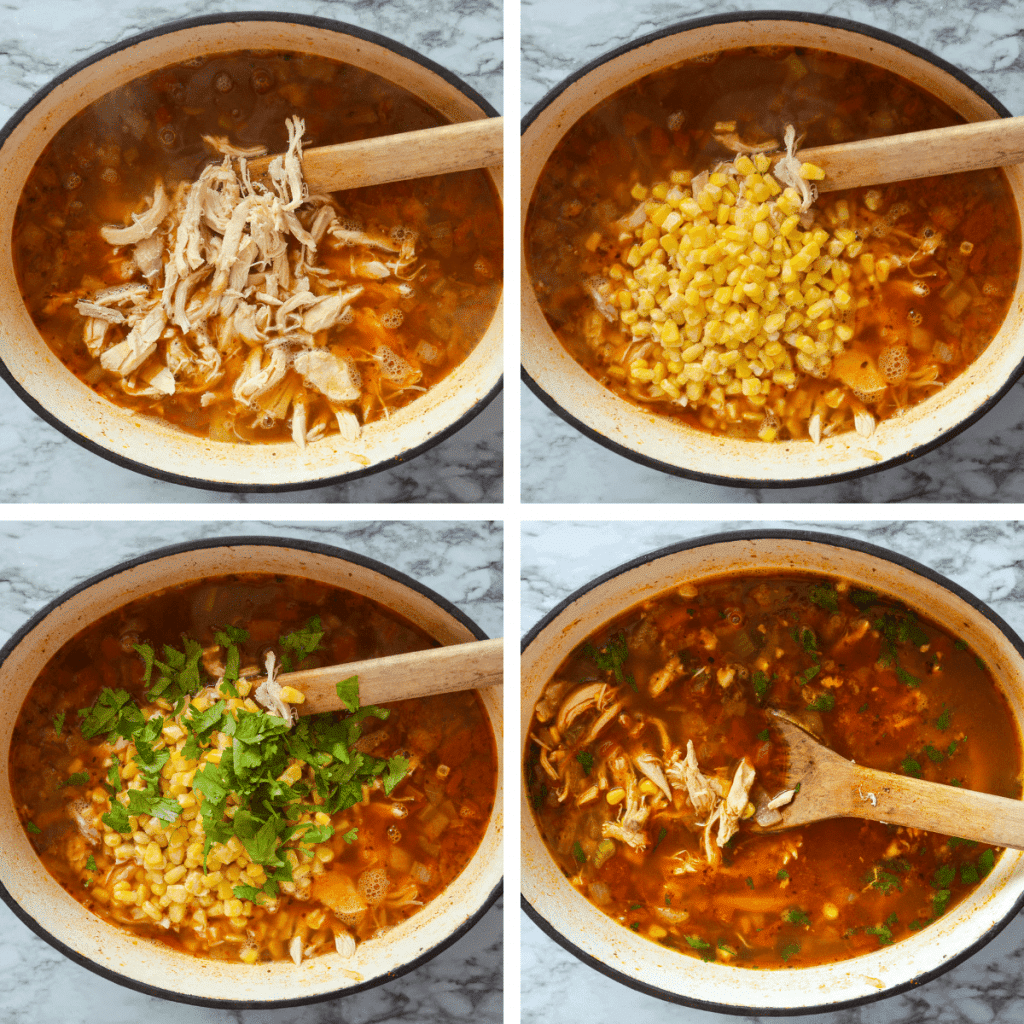 Remove the soup from the heat and add in the cooked, shredded chicken.
Add in the frozen corn kernels (thawed is fine).
And some fresh chopped cilantro.
Then, simmer for another 5 minutes or until the chicken is heated through.
Serve in individual bowls, and garnish with additional chopped cilantro, fresh lime wedges, and chunks of avocado.
If desired, offer lots of options for topping your delicious bowls of Healthy Mexican Chicken Soup!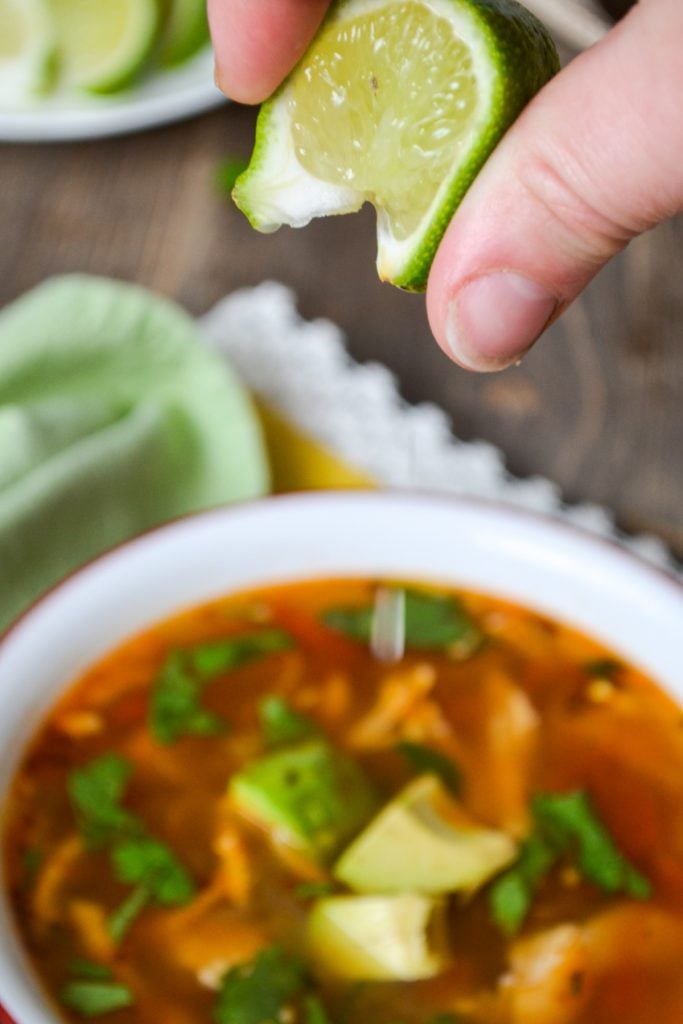 Topping Suggestions
In addition to the garnishes described in the recipe (chopped cilantro, fresh lime wedges, and chunks of avocado), you can customize this healthy soup to your liking by adding some of your favorite toppings. Anything you'd add to a taco, you can add to this yummy Mexican Chicken Soup!
Shredded cheese
Sour cream or Crème Fraiche (see how to make it yourself)
Crushed tortilla chips
Guacamole
Queso fresco
Gluten Free and Dairy Free Toppings
Of course, if you need this soup to be gluten free and/or dairy free, be sure to keep that in mind when selecting your toppings. If you're dairy free you can do vegan or dairy free versions of some of the above suggestions. Those who need gluten free toppings may consider using crushed corn tortilla chips.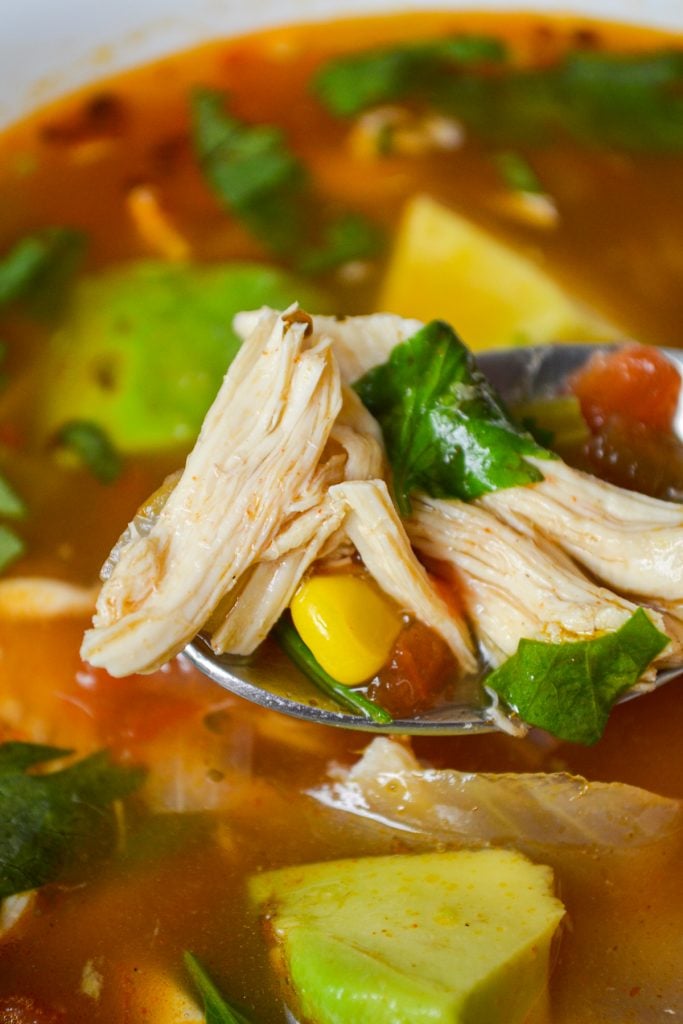 Side Dishes for Mexican Chicken Soup
While this soup is plenty enough for a meal in itself, if you'd like to serve some goodies on the side, that will help you stretch your meal a bit further. Here are some suggestions for side dishes:
Cilantro lime rice (check out this recipe for the Instant Pot)
Cooked rice
Cooked quinoa
Cornbread (I have a sourdough cornbread recipe that is super yummy with soup!)
Tortilla chips and salsa
Jalapeno poppers (love these ones from Dinner at the Zoo)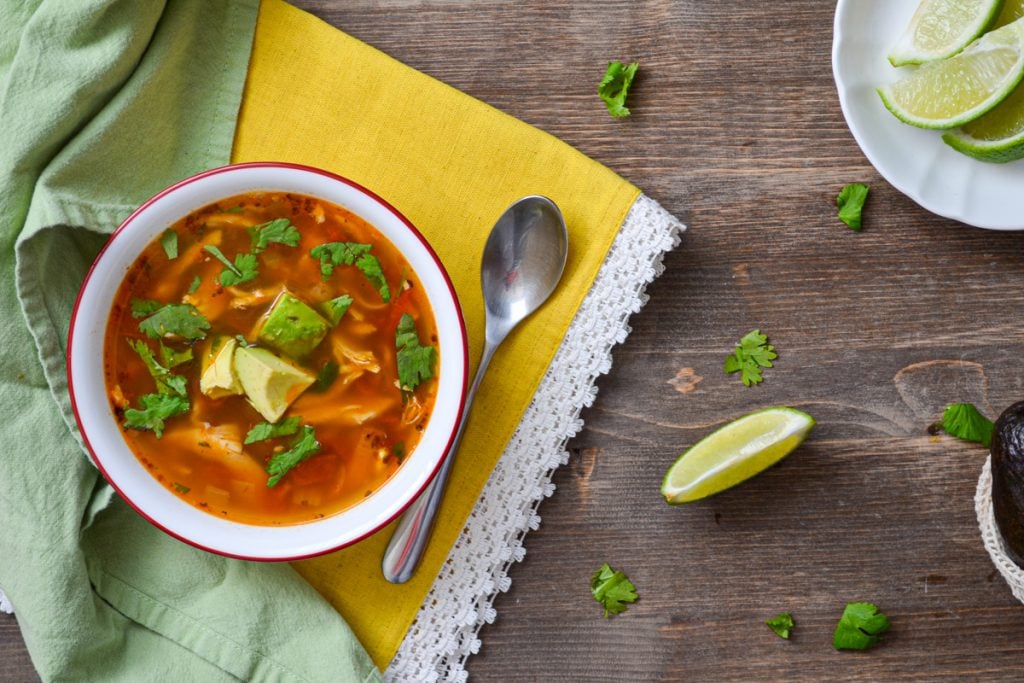 Rotel Substitute
If you can't find Rotel in your local supermarket, or it isn't available where you live, you can easily make a substitute for Rotel! For each 10oz can of Rotel your recipe calls for, substitute 8oz of undrained diced tomatoes and 2oz of undrained canned green chilies.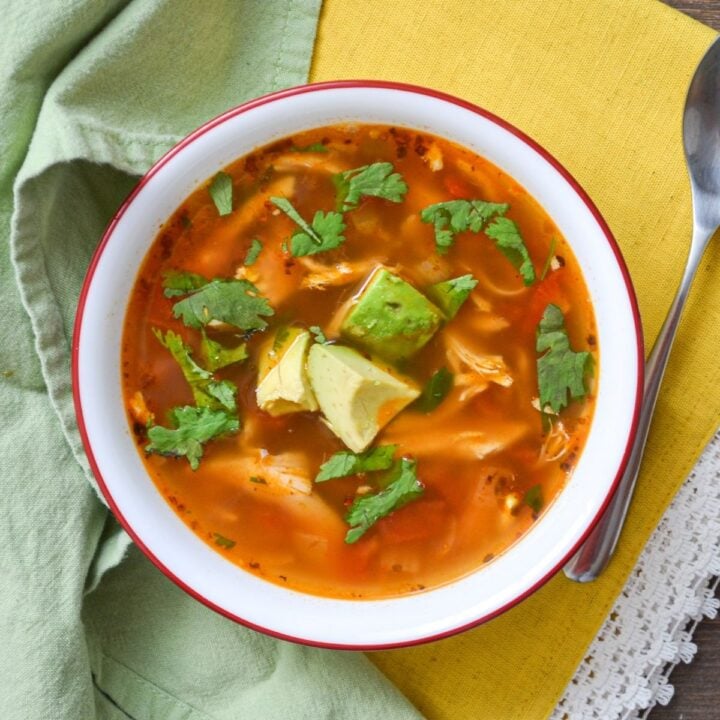 Healthy Mexican Chicken Soup
This healthy Mexican soup is a meal that the whole family can enjoy together! Gluten free, dairy free, and totally customizable! Add toppings for extra flavor, or leave them out for a light and lovely soup. This is an easy dinner idea you'll want to make again and again!
Ingredients
1 1/2 tbsp. salted butter or olive oil
1 large onion, peeled and diced
1/2 cup diced celery
6 cups low sodium chicken broth
1 cup water
1 (10oz) can Rotel diced tomatoes with chilies
2 tbsp. taco seasoning
1/2 tsp. ground cumin
1/4 tsp. ground black pepper
4 cups cooked and shredded chicken
1 1/2 cups frozen corn kernels
Additional chopped cilantro
Sour cream or crème fraiche
Shredded cheese
Crushed tortilla chips
For Garnish
1/4 cup chopped fresh cilantro leaves
1 large lime, cut into wedges
1 ripe avocado, peeled and diced
Optional Toppings
Additional chopped cilantro
Sour cream or crème fraiche
Shredded cheese
Crushed tortilla chips
Instructions
In a large dutch oven or stockpot, heat the butter or oil over medium heat. Once the butter is melted or the oil is shining, add the onion and celery. Stir well to toss with butter or oil.
Cook the onions and celery until soft, stirring often. This should take approximately 5 minutes.
Once the onions and celery are soft, add the chicken broth, water, and Rotel tomatoes to the pot. Stir well to combine.
Add in the taco seasoning, cumin, and black pepper. Stir well and turn the heat up to medium-high.
Bring the soup to a low boil, and then reduce the heat to medium low. Simmer for 20 minutes. This will allow the flavors to develop and meld together.
Add the cooked chicken, frozen corn, and fresh cilantro into the soup. Stir well and simmer for an additional 5 minutes.
Remove the soup from the heat and serve with a squeeze of lime juice and several diced avocado chunks on top. You may serve with additional toppings such as sour cream, shredded cheese, additional chopped cilantro, or crushed tortilla chips!
Notes
Rotel Substitution:
If you can't find Rotel, you can make a quick substitution by combining 8oz of diced tomatoes and 2oz of diced green chilies.
Dairy Free Notes:
Be sure to use the suggested olive oil in place of the butter called for in the recipe.
Dairy Free Toppings:
Shredded dairy free cheese
Chopped cilantro
Diced avocado
Dairy free sour cream
Gluten Free Toppings:
Crushed gluten free corn tortilla chips
Chopped cilantro
Diced avocado
Creme fraiche or sour cream
Shredded cheese
Nutrition Information:
Yield:

6
Serving Size:

1/6 of Recipe
Amount Per Serving:
Calories:

410
Total Fat:

22g
Saturated Fat:

7g
Trans Fat:

0g
Unsaturated Fat:

13g
Cholesterol:

87mg
Sodium:

733mg
Carbohydrates:

24g
Fiber:

5g
Sugar:

5g
Protein:

32g
Nutrition information is an estimate only.
Pin it for Later