This homemade Fire Cider Recipe is adapted from the original recipe formulated by the renowned herbalist Rosemary Gladstar. Featuring apple cider vinegar, cayenne pepper, onions, garlic, ginger, and horseradish, this spicy tonic is easy to make – even for beginners.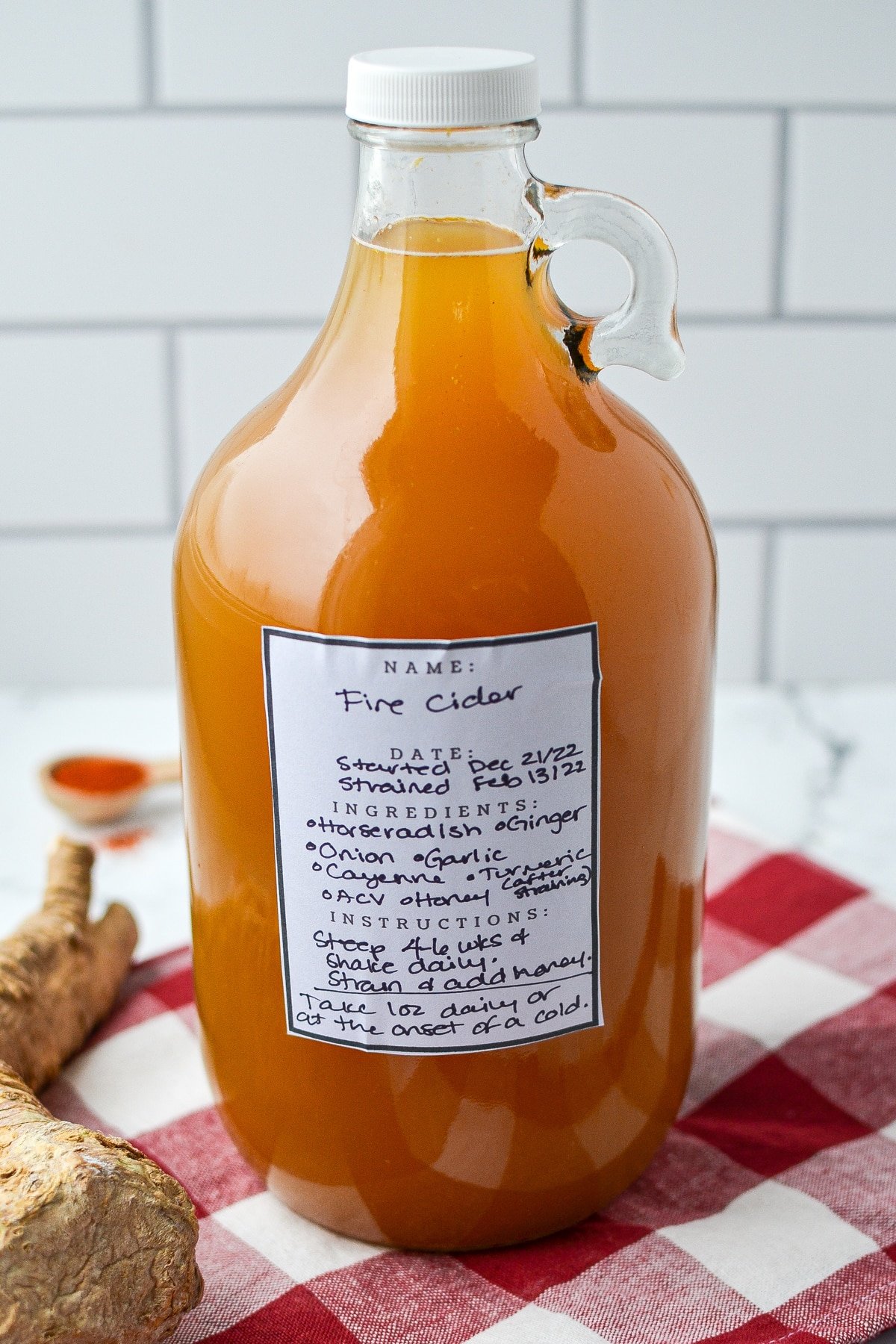 The content provided on this website is for informational purposes only and is not intended to be medical advice or to substitute medical care. Seek the advice of a healthcare professional.
This homemade fire cider recipe has been in rotation over the past several years during the colder months. As soon as I strain one batch, I'm ready to make another!
Fire Cider was first formulated by Rosemary Gladstar (the founder of the California School of Herbal Studies), based on traditional oxymel recipes and herbs that that have been used in folk medicine for centuries. It's been widely used in the herbalist community ever since.
You can read more about how Fire Cider was created by reading Rosemary's Story from the Free Fire Cider website.
What Is It Used For?
This recipe for Fire Cider is a basic preparation of apple cider vinegar infused with ingredients that have long been used in natural remedies to:
boost the immune system
soothe sore throats
and aid digestion.
Once it's ready, you strain off the solids, then mix with warmed honey to form a spicy, flavorful oxymel (mixture of vinegar and honey) that can be easily taken as a tonic, or included in other foods (like salad dressing or bloody Mary's).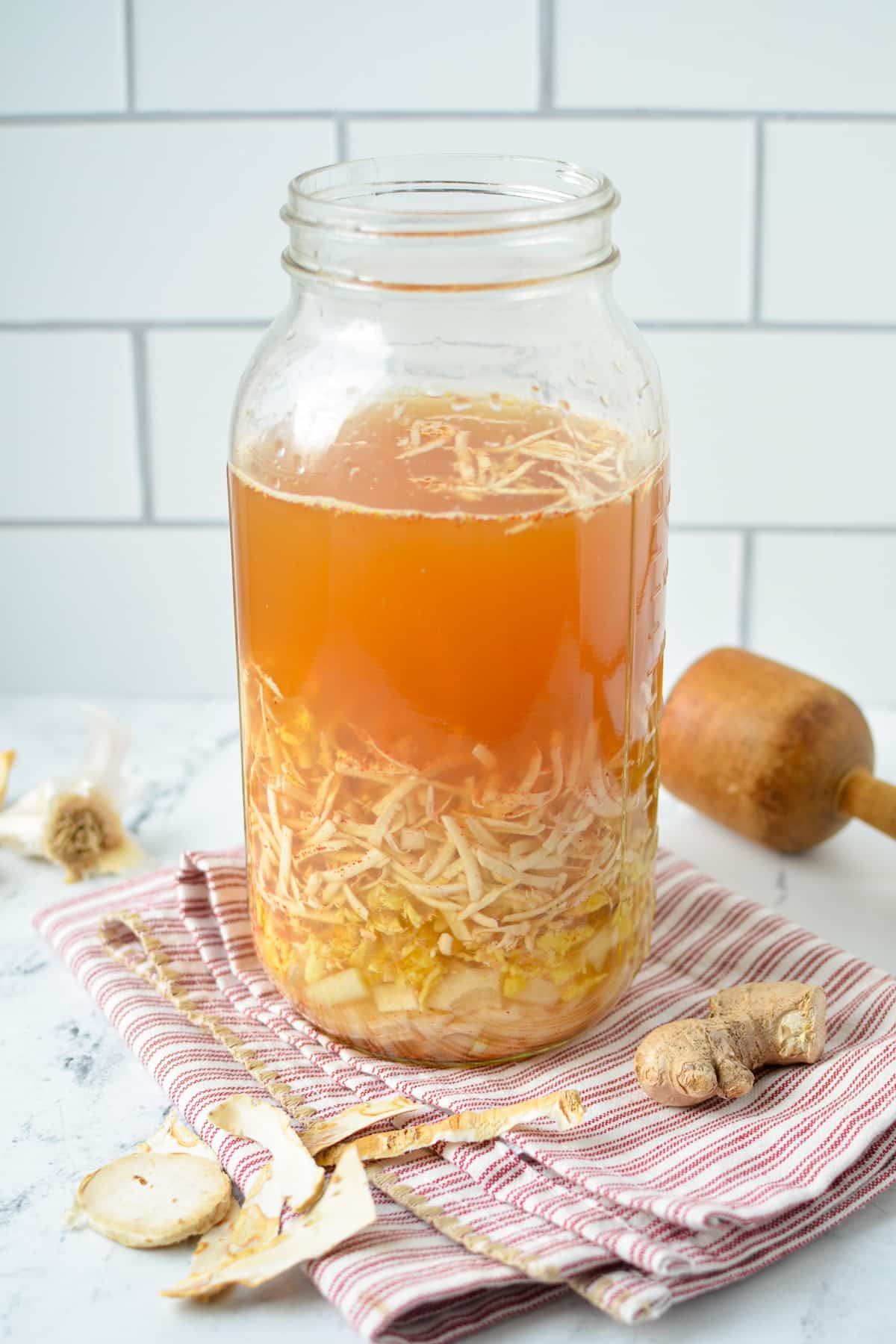 Health Benefits of Fire Cider
Ingredients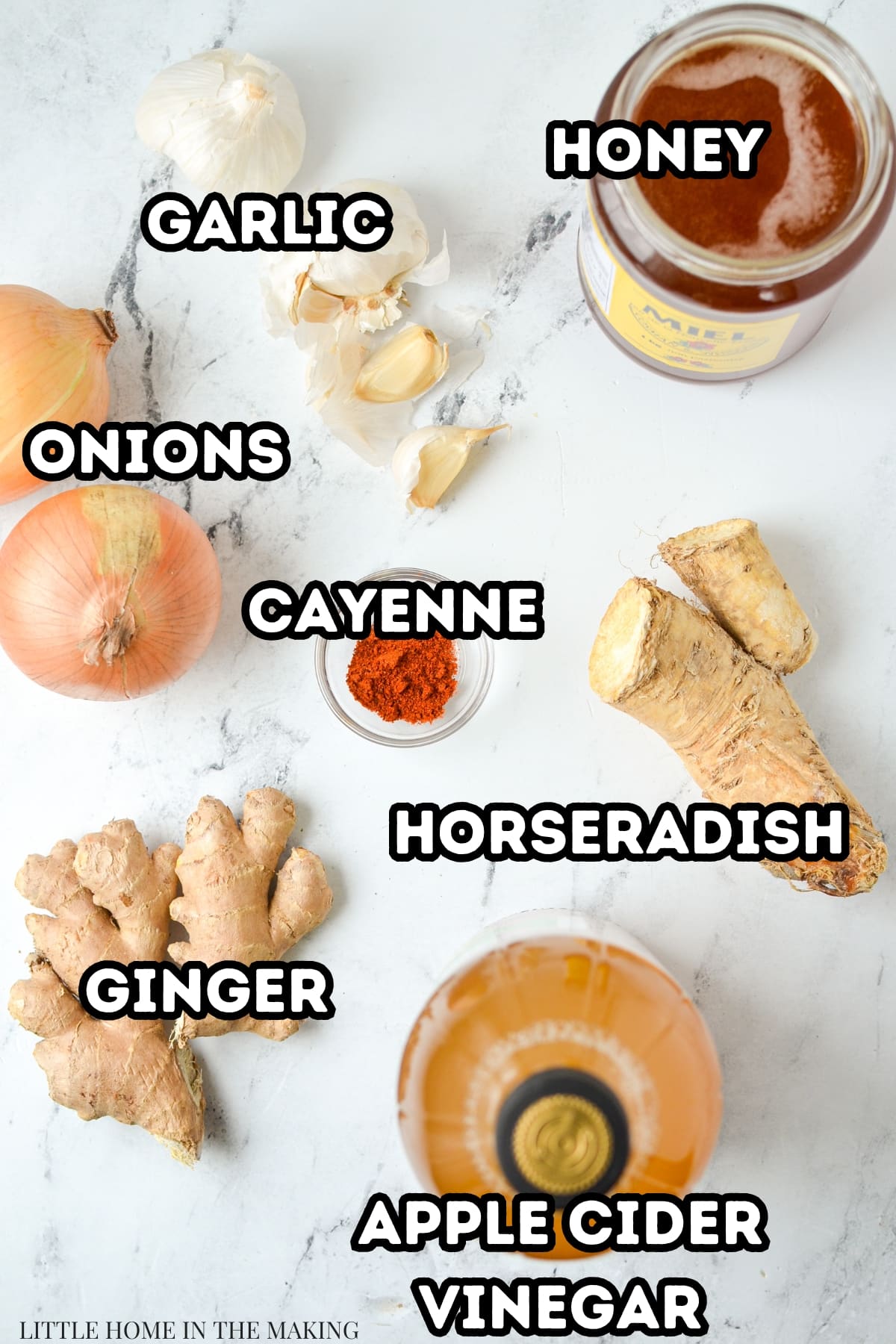 Key ingredients
Onions: You can use whatever type of onions you like best – red onions, white onions, or yellow cooking onions. I recommend selecting organic or home grown when available.
Garlic: For a half gallon (2L) batch you'll need 8-10 cloves, which is almost a full bulb. If you want to make a 1 gallon (4L) batch, you'll need double that.
Ginger root: Fresh ginger is superior to ground ginger as far as both beneficial properties and flavor go. If you use organic garlic, you don't need to peel it (just was well), but if you use conventional garlic, make sure you peel it before grating.
Horseradish root: This is spicy, pungent, and an essential ingredient to this homemade fire cider recipe! It can be found at farmer's markets, natural food stores, and even in some grocery stores. Peel before grating.
Supporting Ingredients
Cayenne: Rosemary Gladstar uses ground cayenne pepper in her original recipe, and I do the same for my version of Fire Cider. If you want to use fresh cayenne peppers, add several to the jar, and make sure to buy them fresh and in season.
Apple cider vinegar: Looking for unpasteurized apple cider vinegar (aka RAW) that contains the mother, organic if possible. This can be found in the natural foods section at regular grocery stores, locally at Farmer's markets, or even at Costco.
Honey: Raw or unpasteurized honey is the best choice for this recipe, and source locally when possible. You can use whatever honey you have, as long as it is in fact true honey.
Other herbs or add-ins: Since this recipe is folk remedy, part of its charm is that it can be made in a multitude of ways and everyone has their own unique spin on the recipe. Feel free to add your favorite herbs, peppers, and additional ingredients (I like to add turmeric or echinacea!).
How to Make Fire Cider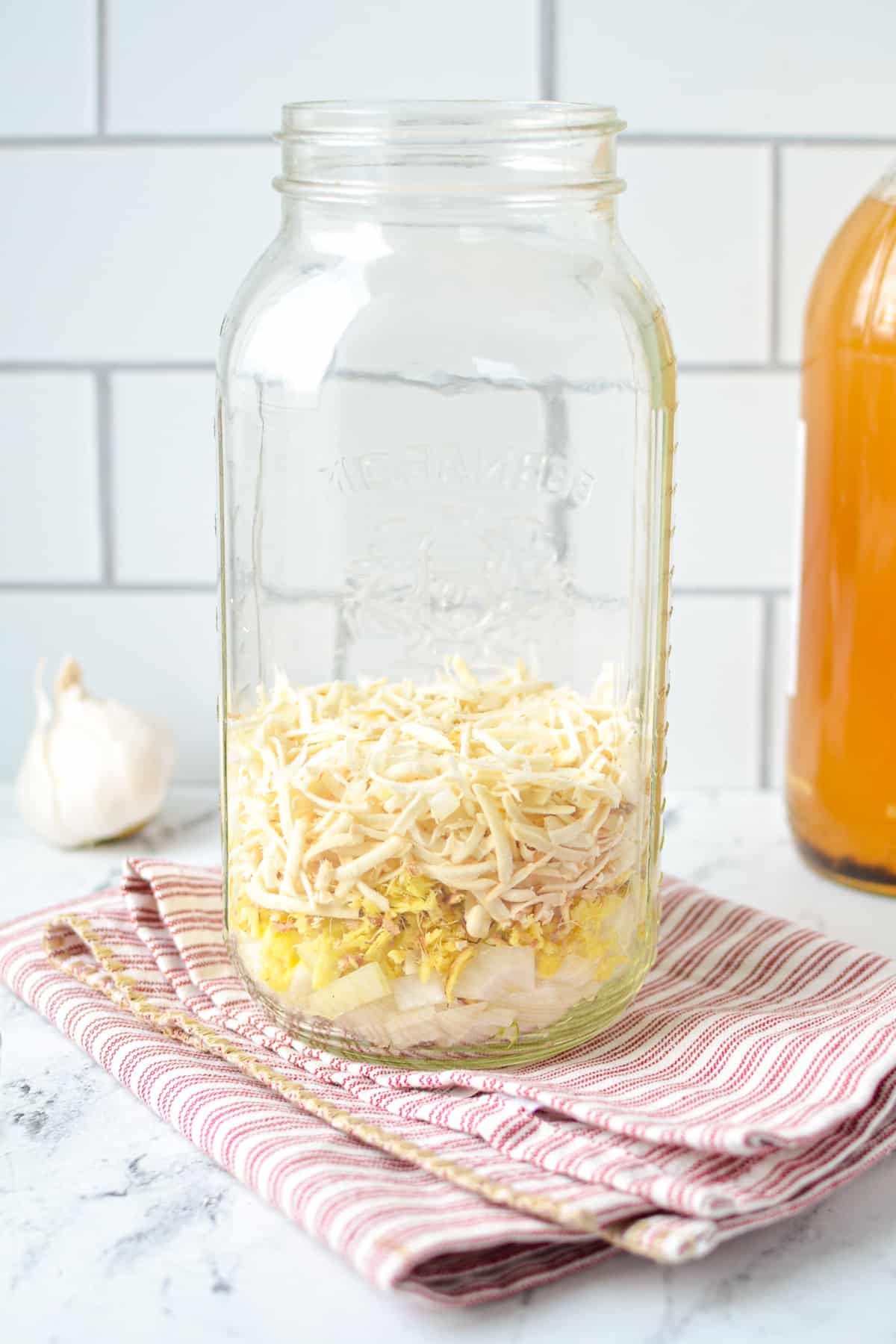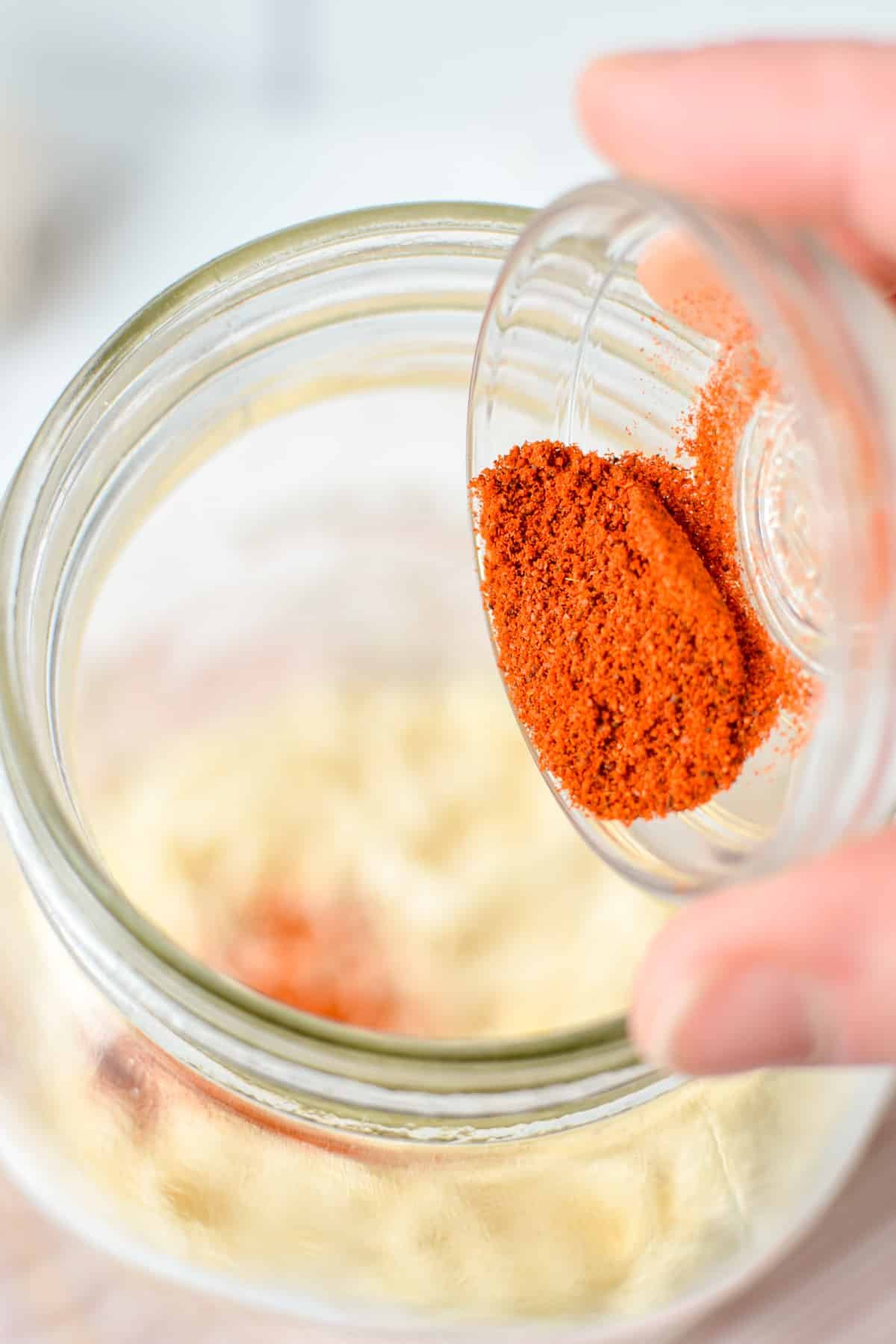 Step two: Add the cayenne pepper, turmeric (if using), and any optional add-ins of your choice.
Add the Apple Cider Vinegar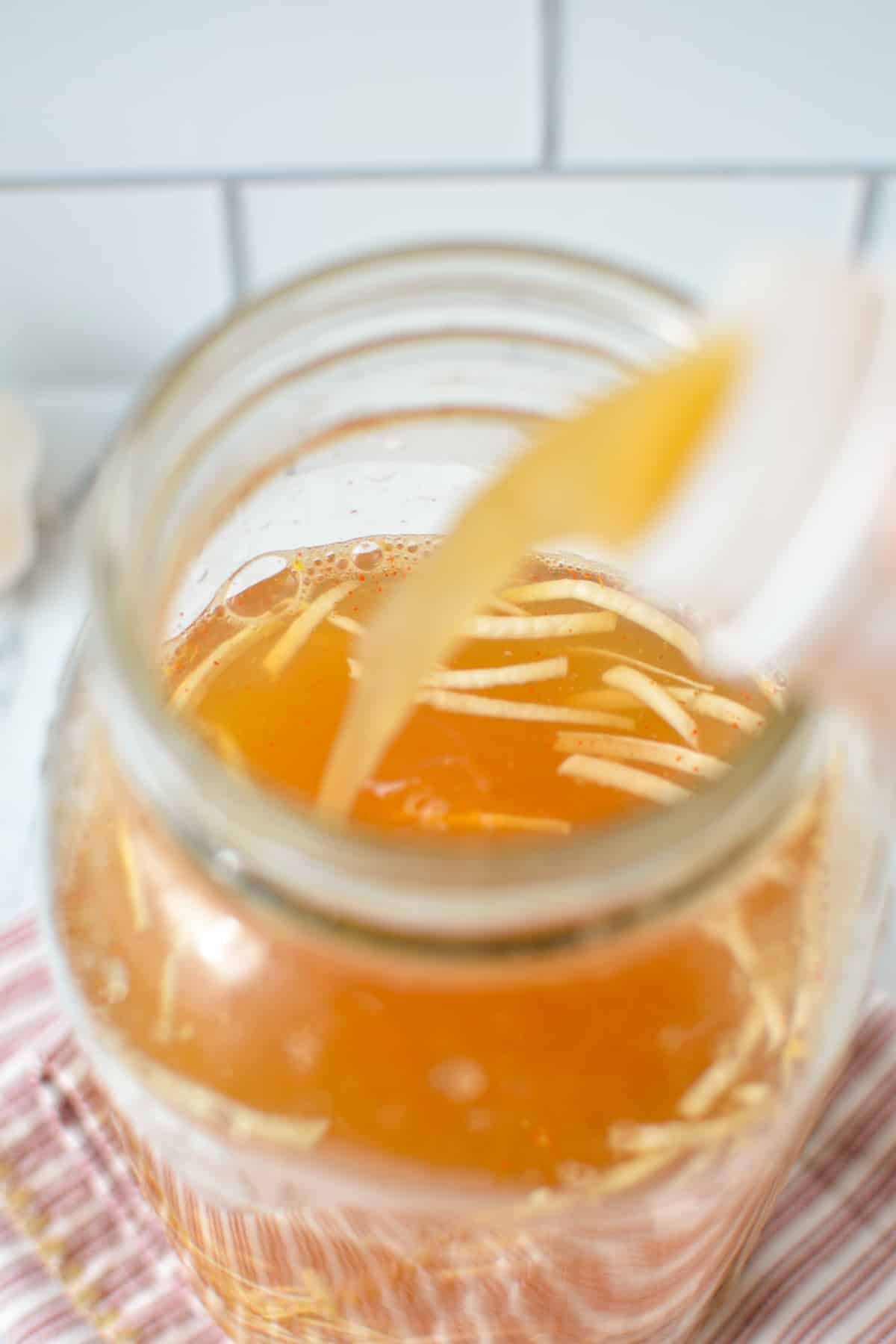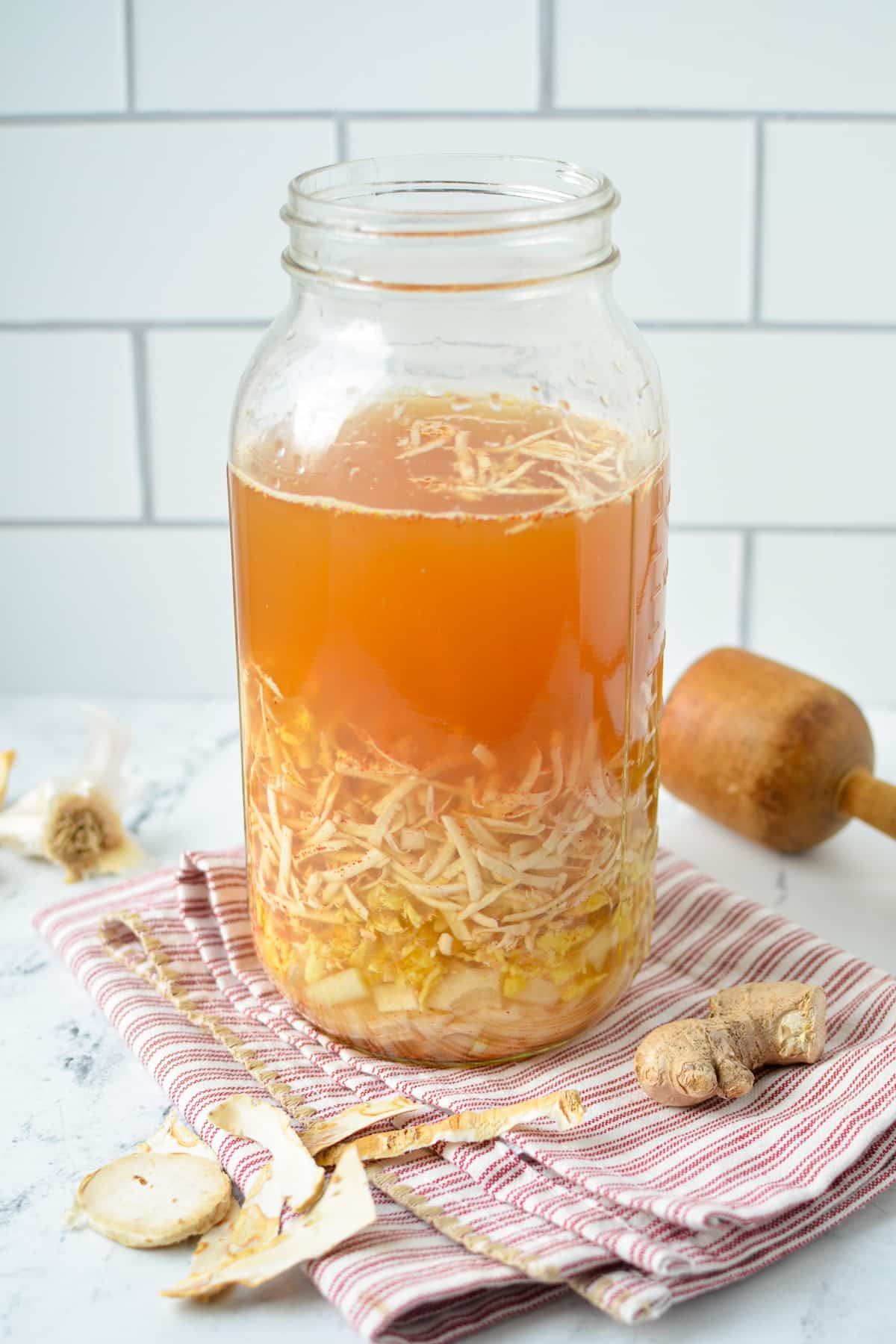 Step three: Pour in the apple cider vinegar, filling the jar until the horseradish, ginger, onions, and garlic are covered by 4-6 inches of vinegar.
Step four: Add a lid to the jar and place in a warm spot or a sunny ledge for 4-6 weeks to steep. Shake every day to help the vinegar draw the properties from the ingredients and keep the ingredients submerged.
After 4-6 Weeks
Once your fire cider has steeped for 4-6 weeks (or up to 8 weeks), it's ready to strain off. Once the liquid is strained, we add some honey to taste, effectively turning this vinegary beverage into an oxymel.
The idea of an oxymel comes from the Greek work oxymeli, which translates to "acid and honey". Most oxymels have more honey than acid, but Fire cider, being primarily acid (and sweetened with honey) is the most common oxymel we use today.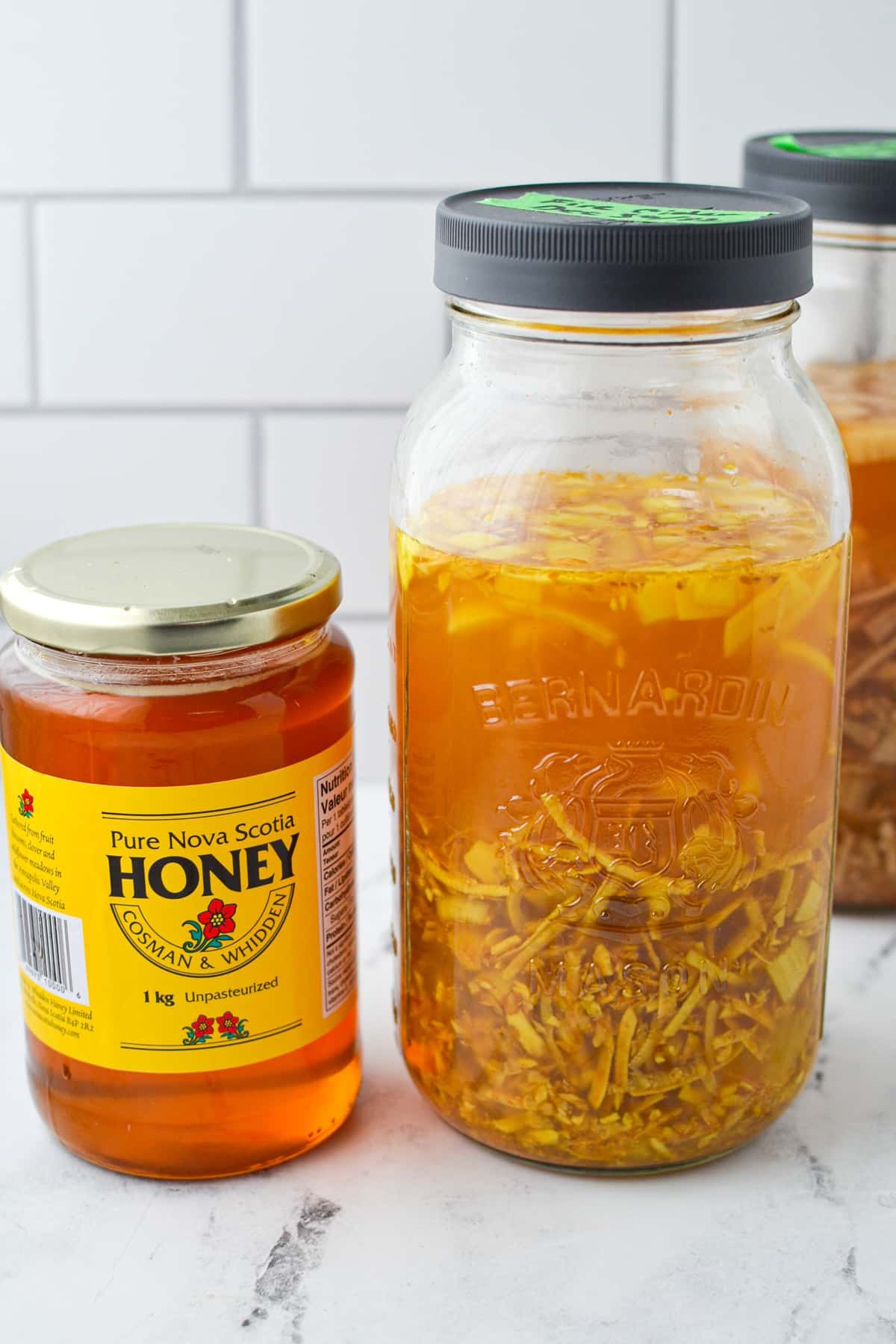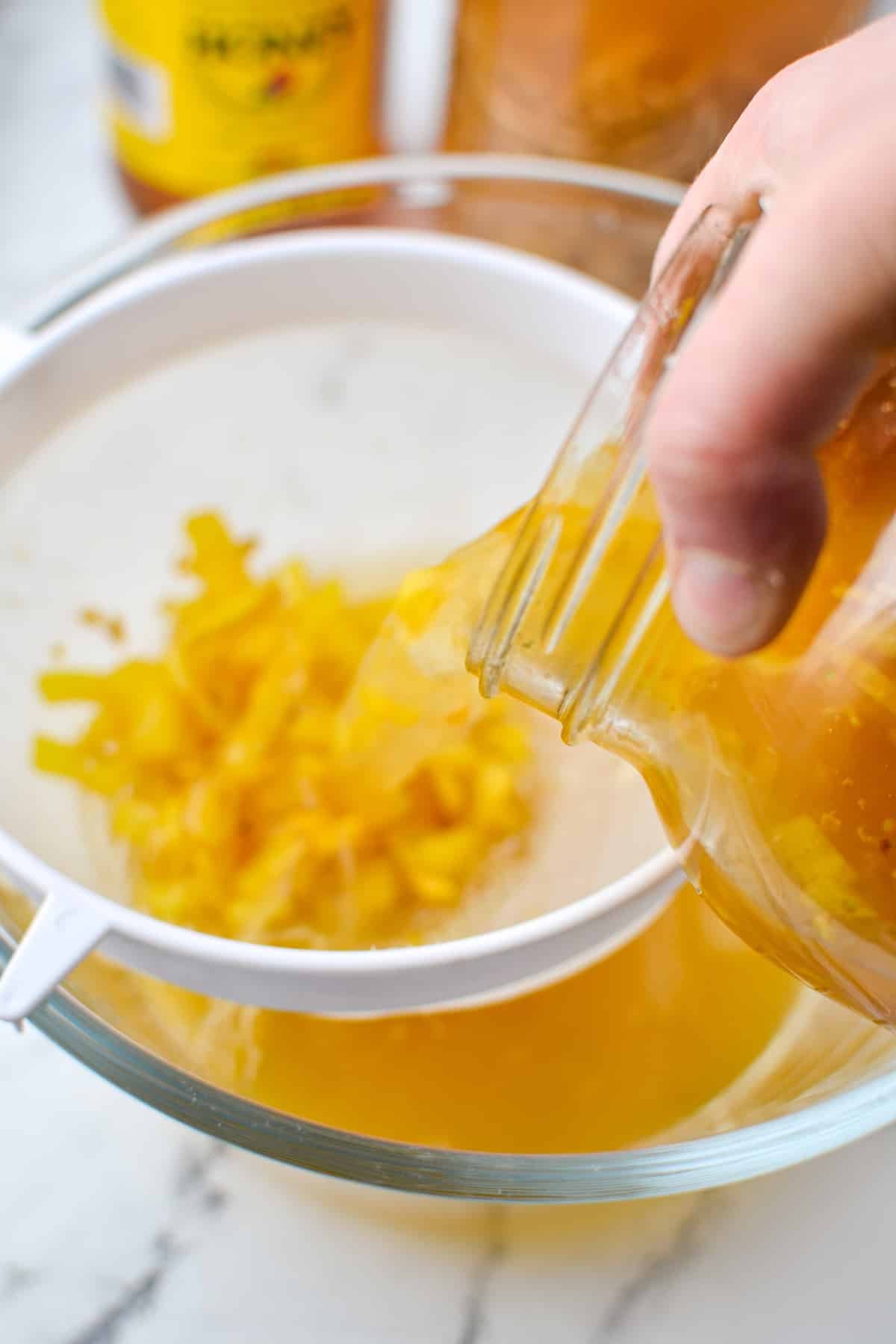 Step five: Select honey to add to your fire cider. Raw honey is preferred, but any local or unpasteurized honey will work well.
Note: If possible, warm the honey gently on the low setting in a heavy-bottomed saucepan. This will help it blend with the vinegar base more easily.
Step six: Set a mesh strainer (or a colander lined with cheesecloth) over a large bowl, and pour the contents of the jar through the strainer.
Adding the Honey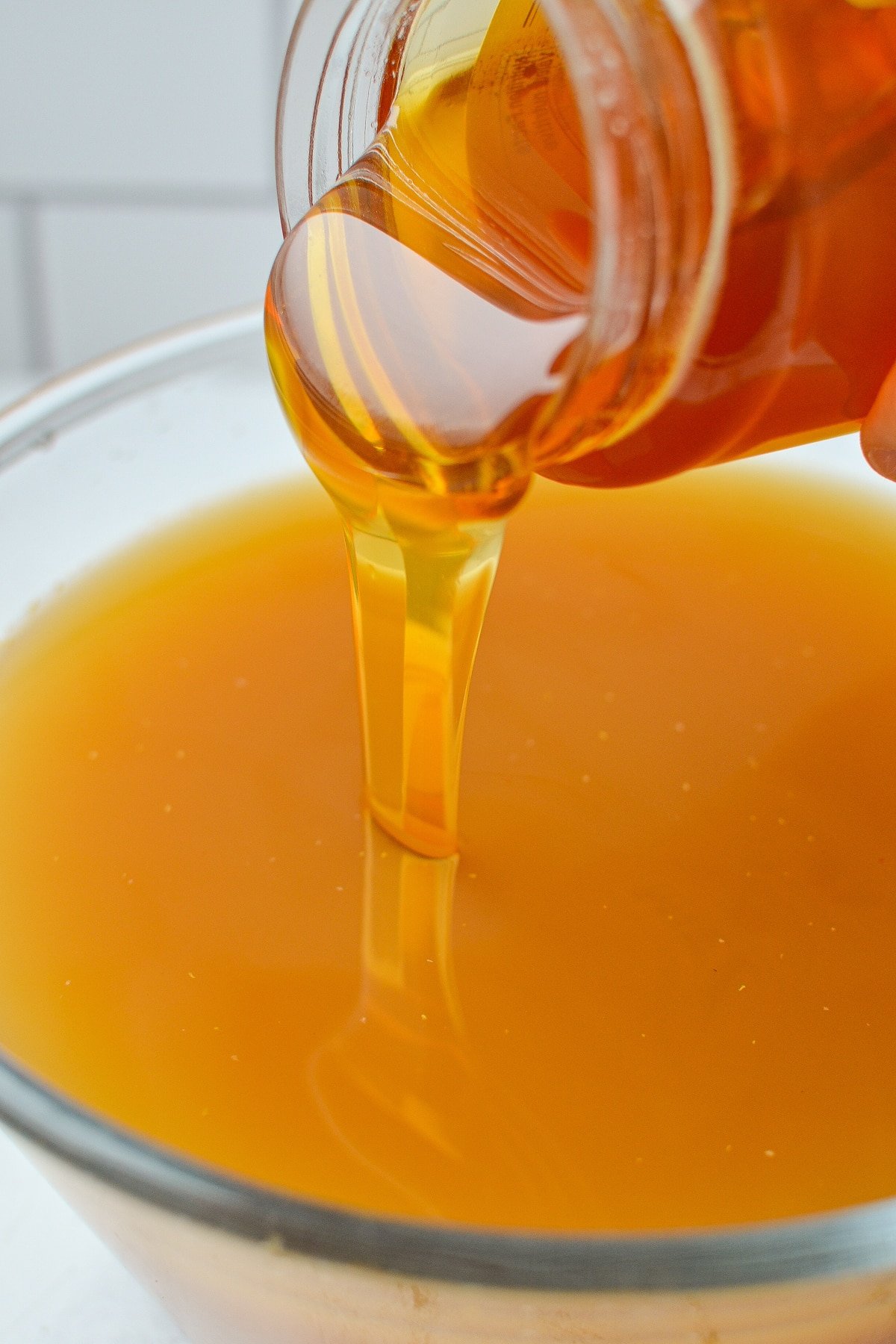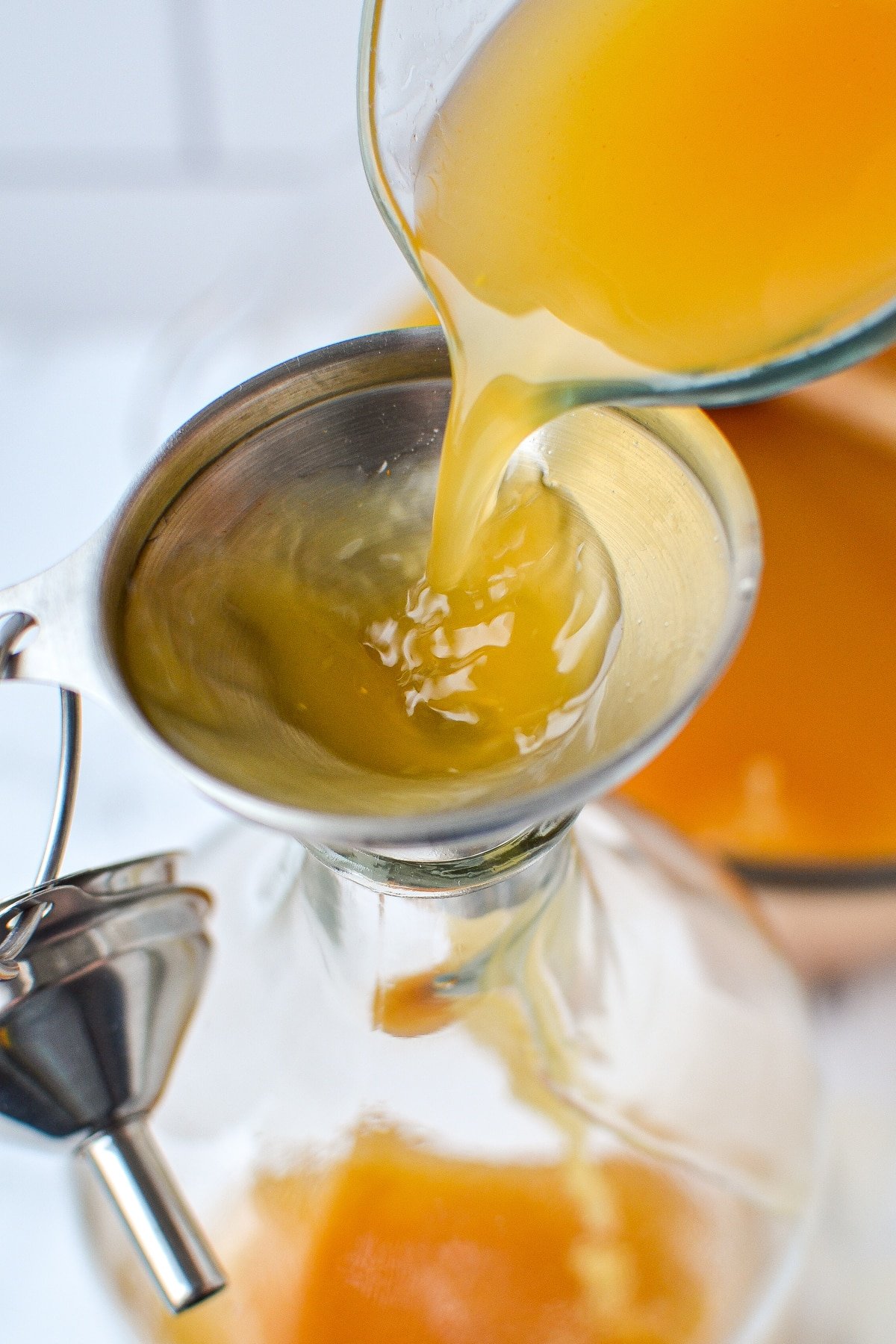 Step seven: Add the honey to the infused apple cider vinegar, stirring it well after each addition. Taste the fire cider with a clean spoon each time, adjusting until it is to your liking.
Step eight: Fit a clean jar or jug with a funnel, and decant the cider into the jar.
Bottling and Storage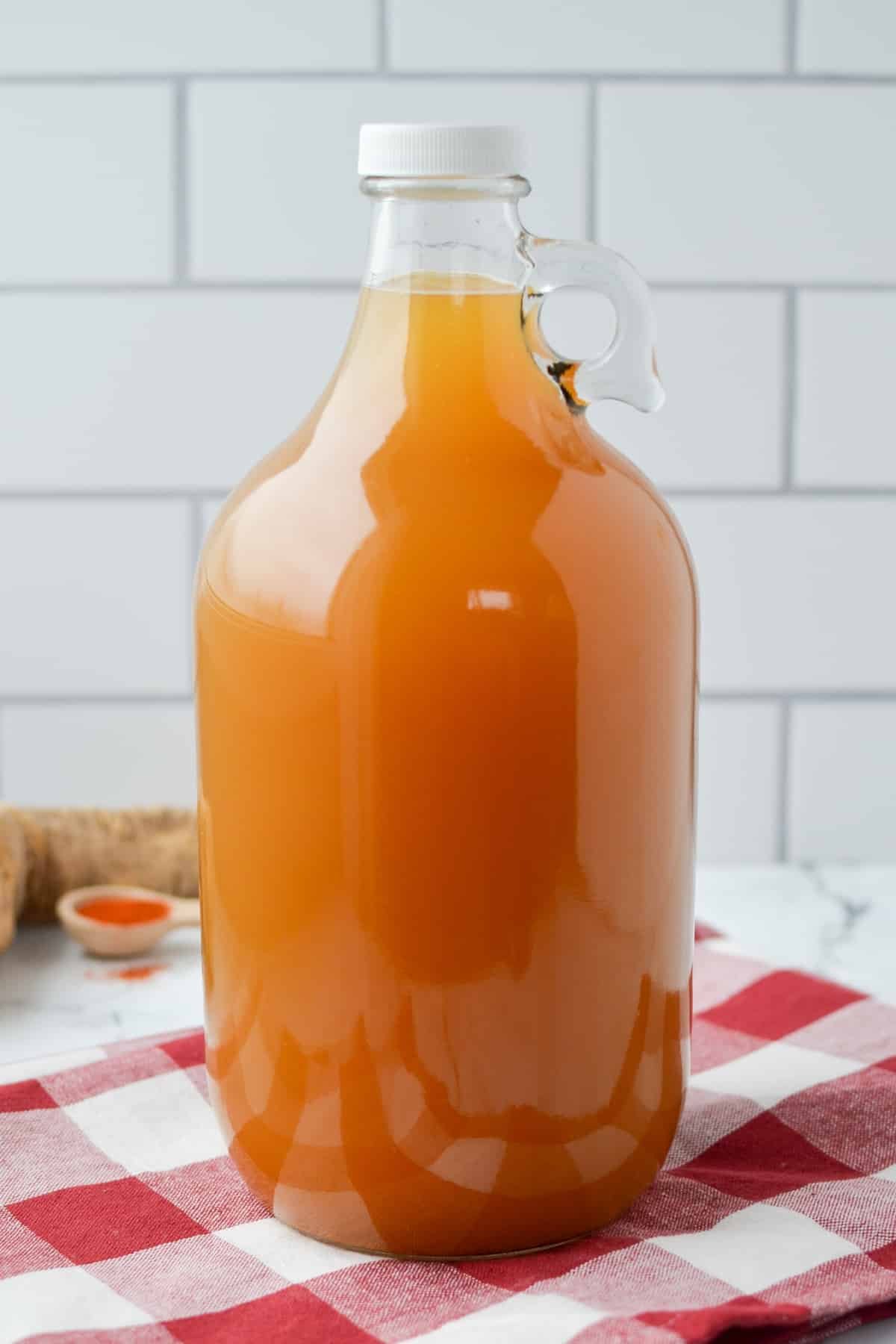 Step nine: Once all of your homemade fire tonic has been transferred to a clean jar or jug, secure it with a lid and add a detailed label, including the date, type of remedy, the ingredients, and an estimated use-by date. See the "Labeling" heading for more information.
Storage
Finished and strained fire cider can be stored for 2-3 months at room temperature.
For extended storage, or for bottles actively in use, store in the refrigerator for 6+ months.
Always use a clean spoon when retrieving this spicy tonic.
Use newer bottles of raw apple cider vinegar to prolong the storage time.
Don't use ACV that is close to the expiration date or has an off color, smell, or flavor.
If using homemade apple cider vinegar, check to see it has reached a safe level of acidity (5%) by checking for a PH of 2.5 or low (this can be done with a simple litmus test).
Optional Add-In's When Making Your Own Fire Cider
The beauty of folk remedies is that they are meant to be adapted and carried on, meaning it's encouraged that you add your own spin to your homemade concoctions.
This fire cider recipe is just a base, and can be customized with your choice of medicinal herbs, root vegetables, hot peppers, etc.
Popular Additions Include:
Fresh turmeric
Chili peppers (fresh cayenne pepper, jalapeño, etc)
Echinacea
Lemon juice (or whole lemon)
Cinnamon sticks
Cloves
Sprigs of rosemary, thyme, oregano, etc.
Black pepper (whole peppercorns)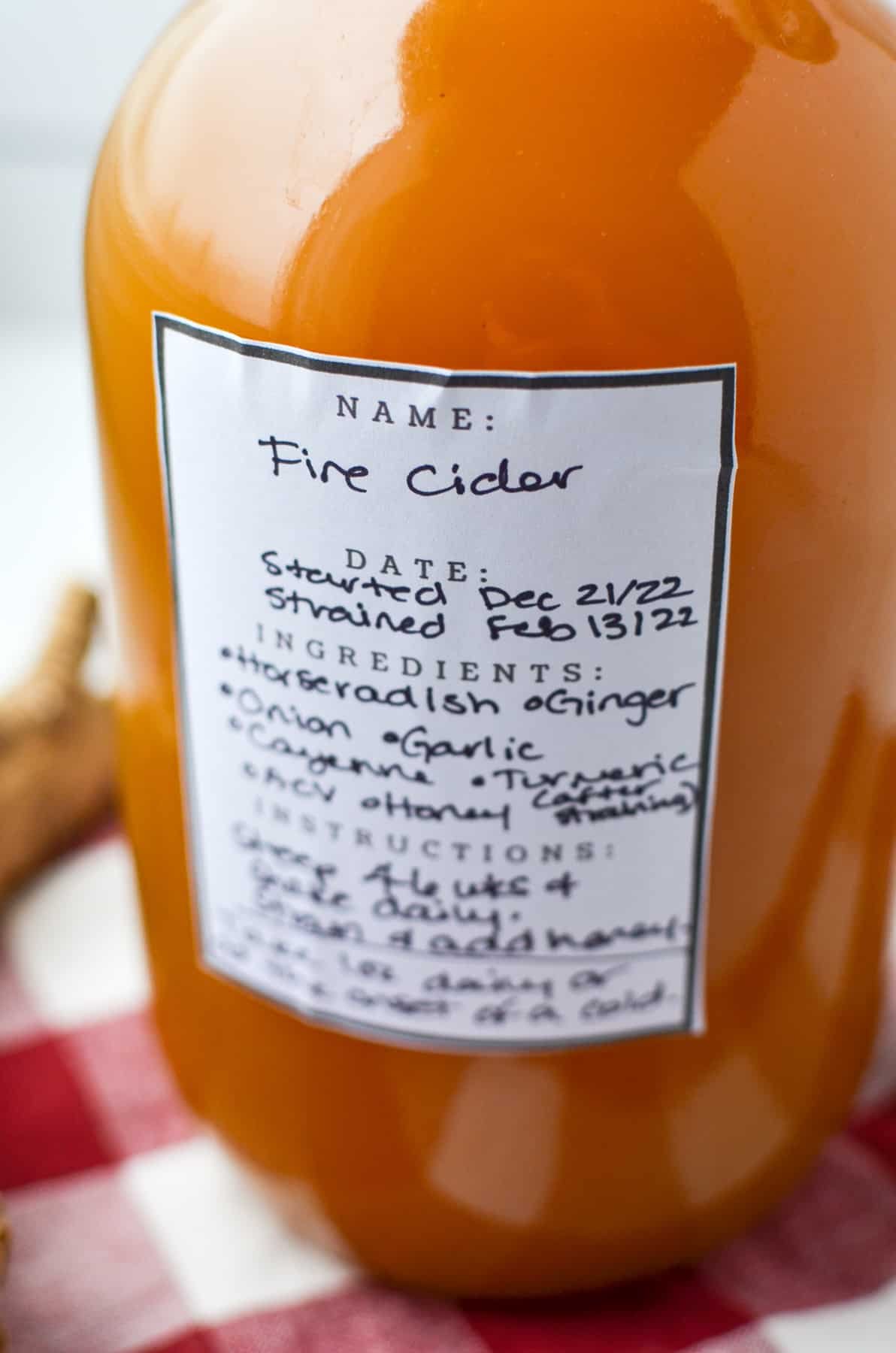 Labeling
When preparing and natural or herbal remedy, it's very important to correctly label your jars. Many different preparations can look similar, so knowing the contents, ingredients, and dates are essential to making sure you're using the right thing – at the right time.
Include the following information on your label:
Name or type
Date(s) of preparation
Ingredients
Recommended use and instructions
Estimated best before date
Subscribe to my e-mail list for my free printable label template for herbal remedies, tinctures, syrups, etc.
Expert Tips
Use organic ingredients. Herbalists will always recommend that you use organic ingredients when possible when making your own herbal remedies. Since the properties are concentrated (most often) when preparing a tincture or tonic, it's a good idea to start with ingredients that are free from pesticides and herbicides. That being said, use what you have access to and what you can afford.
Make ahead. If you wait until flu season is already here, or you're in need of some spicy tonic, you're going to have a long wait ahead of time. The best time to make fire cider is during the harvest season (around the end of September), just before the Winter months arrive.
Type of honey. The best type of honey to use is raw honey, but any local and/or unpasteurized honey will work great! Some grocery chain brands of honey may be cut with corn syrup, so source it from a farmer or store that you trust.
Recipe FAQ's
What is fire cider supposed to taste like?
Fire cider is supposed to takes like a zippy, zingy, and slightly spicy tonic. The key is to add enough honey to make it easy to drink – without turning it into a spicy and sweet beverage. If you have trouble with the taste, go ahead and add it to a glass of vegetable juice or tomato juice to help dilute the spiciness.
How often should you drink fire cider?
Since fire cider is a tonic, it can be consumed daily (about 1-2 tablespoons per day), or just occasionally to help fight off an oncoming cold (2 tablespoons several times per day).
Do I need to refrigerate fire cider?
Since fire cider is essentially an infused raw apple cider vinegar, it can be store at room temperature for 2-3 months once strained, as long as it is undisturbed. As soon as the bottle is opened and you are using it, move it to the refrigerator to help extended the storage time to 6+ months.
Ways to Use Fire Cider
Taken daily in a shot glass
In place of vinegar in salad dressings
In place of the vodka in Bloody Mary's (my husband loves this!)
As a marinade
A spicy addition to Haymaker's Punch
Taken with Honey Onion Syrup and/or Elderberry Syrup
Added to herbal tea
Mixed with water or juice
Any way you would use herbal vinegars
Or just to keep on hand for the cold Winter days ahead
If you loved this Fire Cider recipe, let me know by leaving a 5-star review in the recipe card or comment below! You can also tag me on Instagram @littlehomeinthemaking.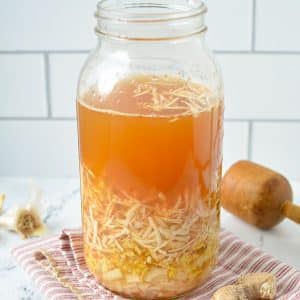 Fire Cider Recipe
Featuring apple cider vinegar, cayenne pepper, onions, garlic, ginger, and horseradish, this fire cider recipe is easy to make – even for beginners.
Print
Pin
Rate
Ingredients
2

medium

onions

chopped

8-10

cloves

garlic

coarsely chopped

1/2

cup

grated horseradish root

1/2

cup

grated ginger root

1/4-1

teaspoon

ground cayenne

1

teaspoon

ground turmeric

(optional)

4-6

cups

apple cider vinegar

raw (warmed if possible)

Honey

to taste (raw preferred)
Instructions
Add the chopped onions, garlic, grated horseradish, grated ginger, cayenne, and turmeric (if using) to a half-gallon-sized mason jar.

Add enough apple cider vinegar to cover everything by about 4-6 inches.

Place a lid on the jar and shake it very well to combine.

Label and place in a warm spot or sunny ledge for 4-6 weeks. Shake it every day or so, which will help the vinegar to draw the properties out of the ingredients.

Strain the fire cider through a fine mesh strainer, or a colander lined with cheesecloth.

Compost or discard the solids.

The remaining liquid is your finished fire cider. Add enough warmed honey so that it tastes sweet enough to drink, but still a little zingy and spicy!

Transfer the fire cider to clean bottles and label them with the name, date, ingredients, and instructions.

Store at room temperature for 2-3 months or in the refrigerator for up to 6 months.

Take 1-2 teaspoons daily as a tonic, or 1-2 tablespoons at the first signs of a cold. If seeking help with a cold, take every 3-4 hours until your symptoms subside.
Nutrition
Serving:
2
tablespoons
|
Calories:
7
kcal
|
Carbohydrates:
1
g
|
Protein:
0.1
g
|
Fat:
0.03
g
|
Saturated Fat:
0.01
g
|
Polyunsaturated Fat:
0.01
g
|
Monounsaturated Fat:
0.005
g
|
Sodium:
9
mg
|
Potassium:
26
mg
|
Fiber:
0.2
g
|
Sugar:
0.4
g
|
Vitamin A:
3
IU
|
Vitamin C:
1
mg
|
Calcium:
4
mg
|
Iron:
0.1
mg
Please note that some of my blog posts here at Little Home in the Making may contain affiliate links. If you make a purchase through these links, I will get a small commission at no additional cost to you. See our disclaimer for more information.
The content provided on this website is for informational purposes only and is not intended to be medical advice or to substitute medical care. Seek the advice of a healthcare professional.