This easy method for making a Stinging Nettle Infusion is a great way to nourish your body and relax your mind. Tasty, rich in minerals, and simple to make – you're going to want to make this a part of your nightly wind down routine.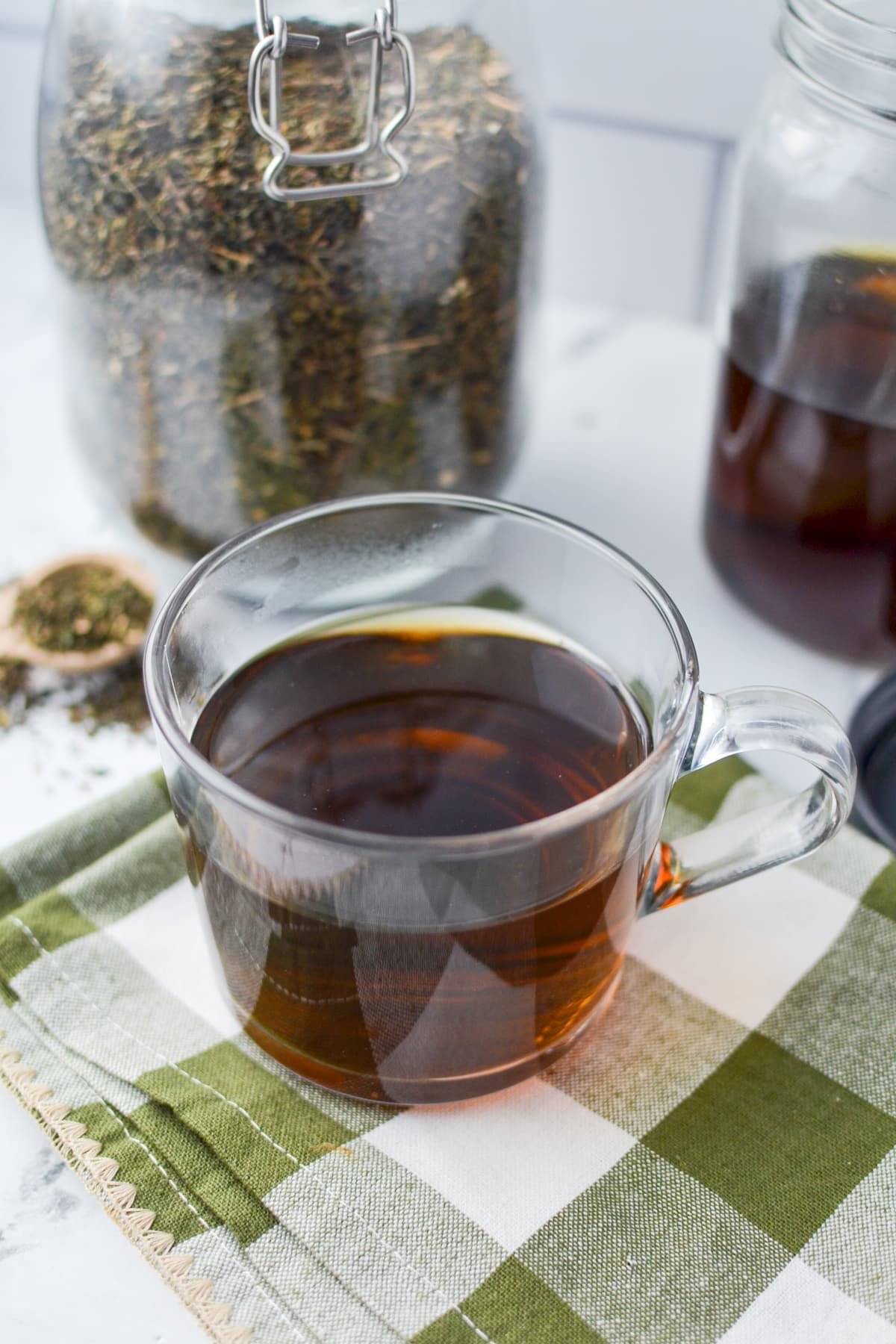 The content provided on this website is for informational purposes only and is not intended to be medical advice or to substitute medical care. Seek the advice of your health care provider.
One of my favorite ways to get the benefits of a particular plant or herb is by making an Herbal infusion. These infusions are a mineral-rich beverage that can be consumed like you would a cup of tea, and are often quite delicious.
Nettle leaf makes a particularly delicious infused tea, and it also happens to be high in Iron, Vitamin K and Vitamin C. It's the perfect nourishing tonic after a long, busy day.
What is an Herbal Infusion?
Herbal infusions are a way to extract beneficial properties from traditional medicinal herbs, and transform them into a warm, drinkable beverage.
Similar to herbal teas, they are prepared by pouring boiling water over dried herbs and allowing the mixture to steep for a period of time. Herbal teas are generally steeped for 3-10 minutes, but infusions are steeped for a much longer time, and use a larger amount of dried herb.
After the herbs have infused into the hot water, they are strained off and the infused water is consumed like you would a cup of tea. Infusions can also be chilled and served as an iced tea if desired.
Possible Benefits of Stinging Nettle
Stinging nettle (Urtica dioica) has been used in folk medicine and herbal remedies for millennia, with a variety of purported health benefits. Here are a few of the most popular:
Traditionally used for achy joints, arthritis, anemia, and increasing stamina
Rich in trace minerals
High in both iron and calcium
Is thought to support liver health (source)
May help protect against heavy metals, toxins, and inflammation (source)
Contains all of the essential amino acids
Boosts antioxidant levels
Has anti-inflammatory properties
Improves symptoms of seasonal allergies and hay fever
May help boost the immune system
Nettle has been shown to reduce high blood pressure in animal studies (source)
Stimulates nitric acid production, which acts as a vasodilator, widening the blood vessels
Traditionally used to lower blood sugar, with studies showing that it's effective (source)
Natural diuretic
Commonly used to treat varicose veins and hemorrhoids
High in vitamin K and vitamin C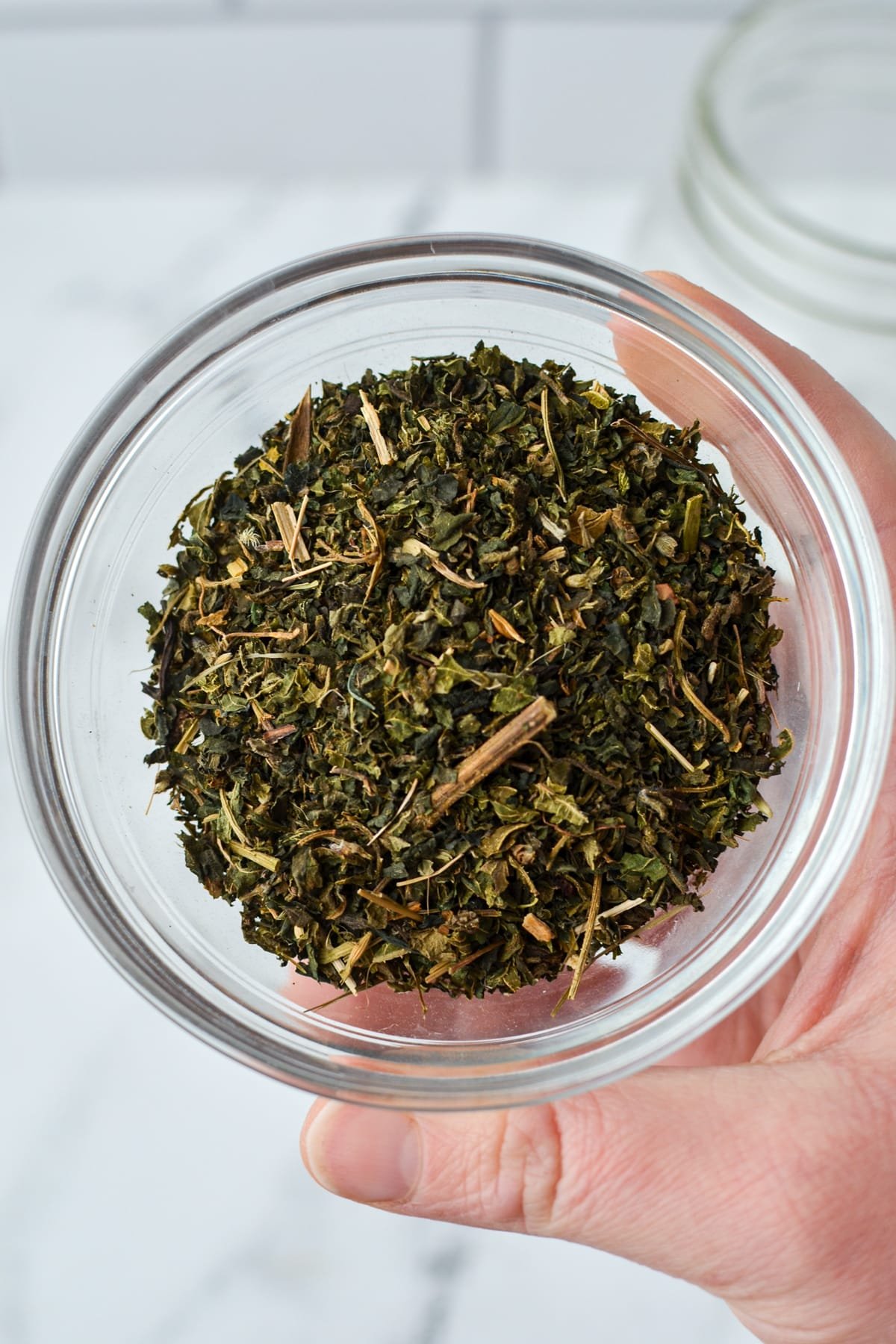 Where to Find Stinging Nettle
Stinging Nettle is a common weed in much of North America, Europe, and even Australia. It likes to grow on moist riverbanks, or in areas with high rainfall. For that reason, it's most popular in the Pacific Northwest of North America, although it can be found all over.
Foraging. If you are experienced with identifying and foraging, you can easily harvest stinging nettle and dry it for later use. But be careful! It gets its name because of the stinging sensation you get when your skin touches the spiny leaves. Be sure to wear long pants, a long-sleeved shirt, and use gloves when collecting from the stinging nettle plant.
Farmer's Markets. If you have an active Farmer's Market in your area, you may be able to find plants and herbs for using in traditional remedies. Because nettle makes such a delicious herbal tea, you may be able to find the fresh leaves for sale.
Health food stores. Any health food store that sells medicinal herbs should have dried nettle – it's one of the most popular, after all!
Online. You can find dried nettle at online shops like Mountain Rose Herbs, iHerb, and you can even find a big bag on Amazon! Look for an "organic" certification on the label. Since herbal preparations are a concentration, it's important that there are no pesticides or herbicides on the dried herbs.
What You'll Need
Stinging nettle leaves: These can be foraged if you have experience, found at local health food store or even on Amazon. I recommend using organic nettle leaves.
Boiling water: Always use a drinkable quality water (I like Berkey water filters).
Equipment
Quart jar: I recommend a glass canning jar that also has a lid. These are meant to withstand intense heat, so they do not break when boiling water is added.
Mesh strainer: I really like this set of mesh strainers (I use it for both milk and water kefir), but you could use a standard colander lined with cheesecloth.
Cheesecloth (optional): If you don't have a fine mesh strainer, line your colander with a few layers of cheesecloth to catch the solids.
How to Make a Stinging Nettle Infusion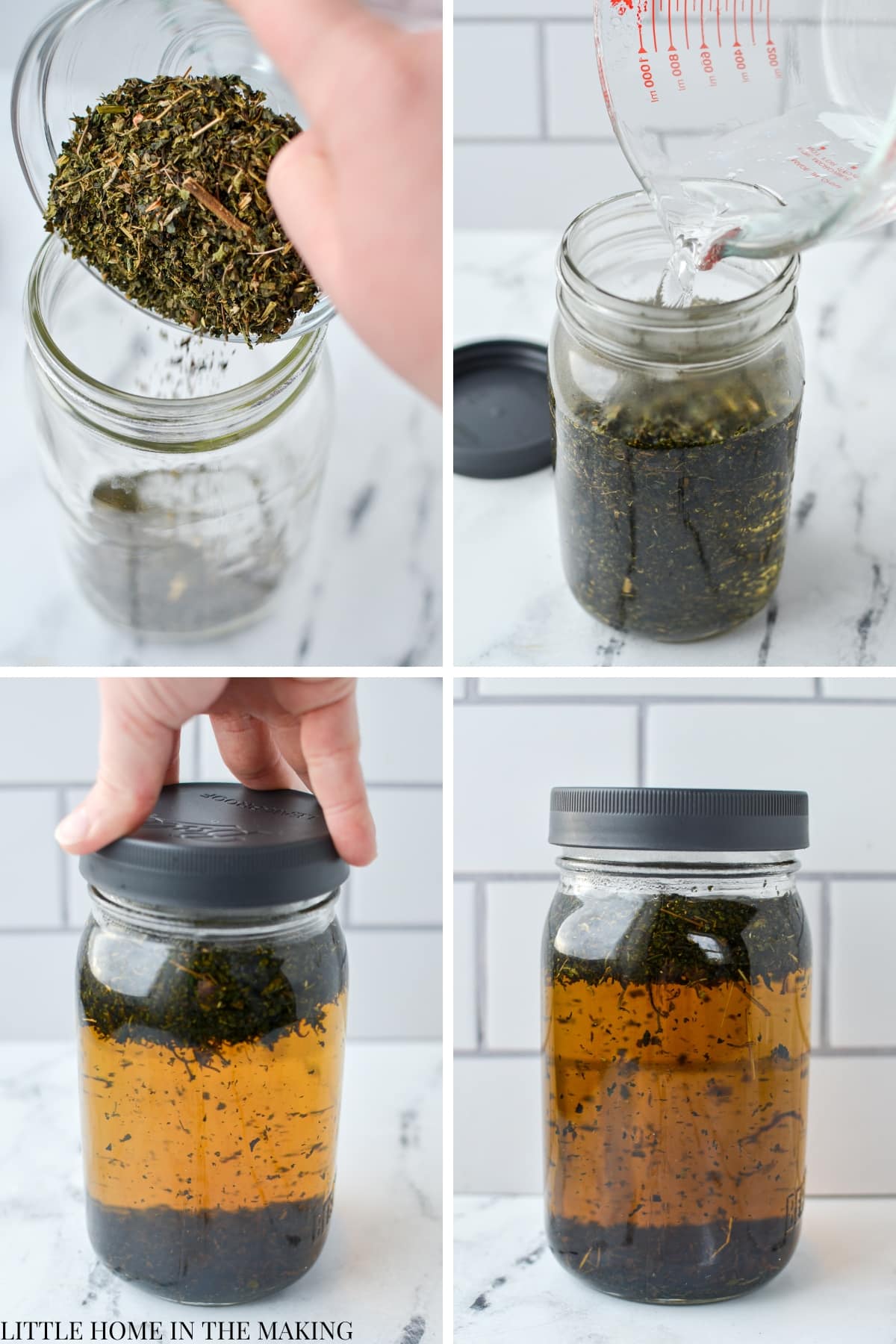 Add 4-6 tablespoons of dried nettle leaf to a quart-sized canning jar.
Pour in enough boiling water to cover, leaving a 1″ headspace.
Secure a lid on the jar, and leave on the counter for 30-40 minutes to steep.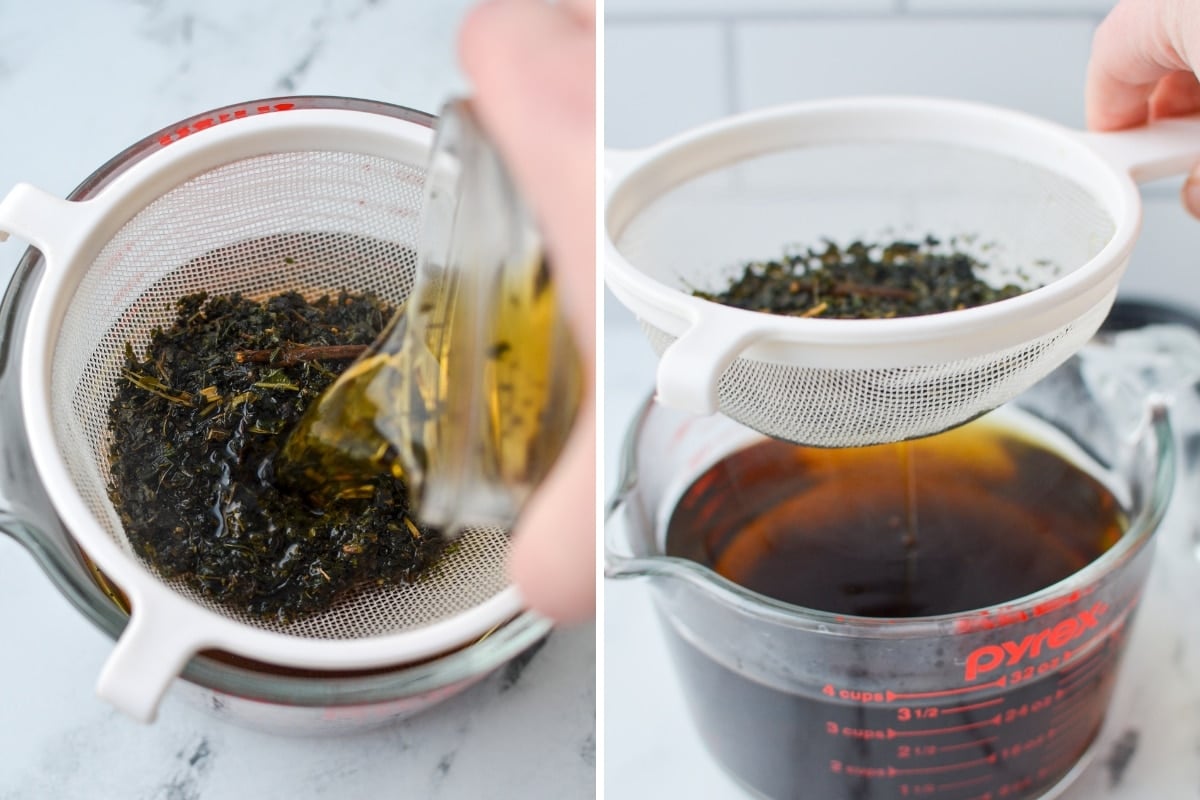 Set a fine-mesh sieve (or cheesecloth lined colander) over a wide-mouth bowl or measuring cup.
Pour the nettle infusion through the strainer, collecting the dark green liquid in the bottom and the solids in the strainer.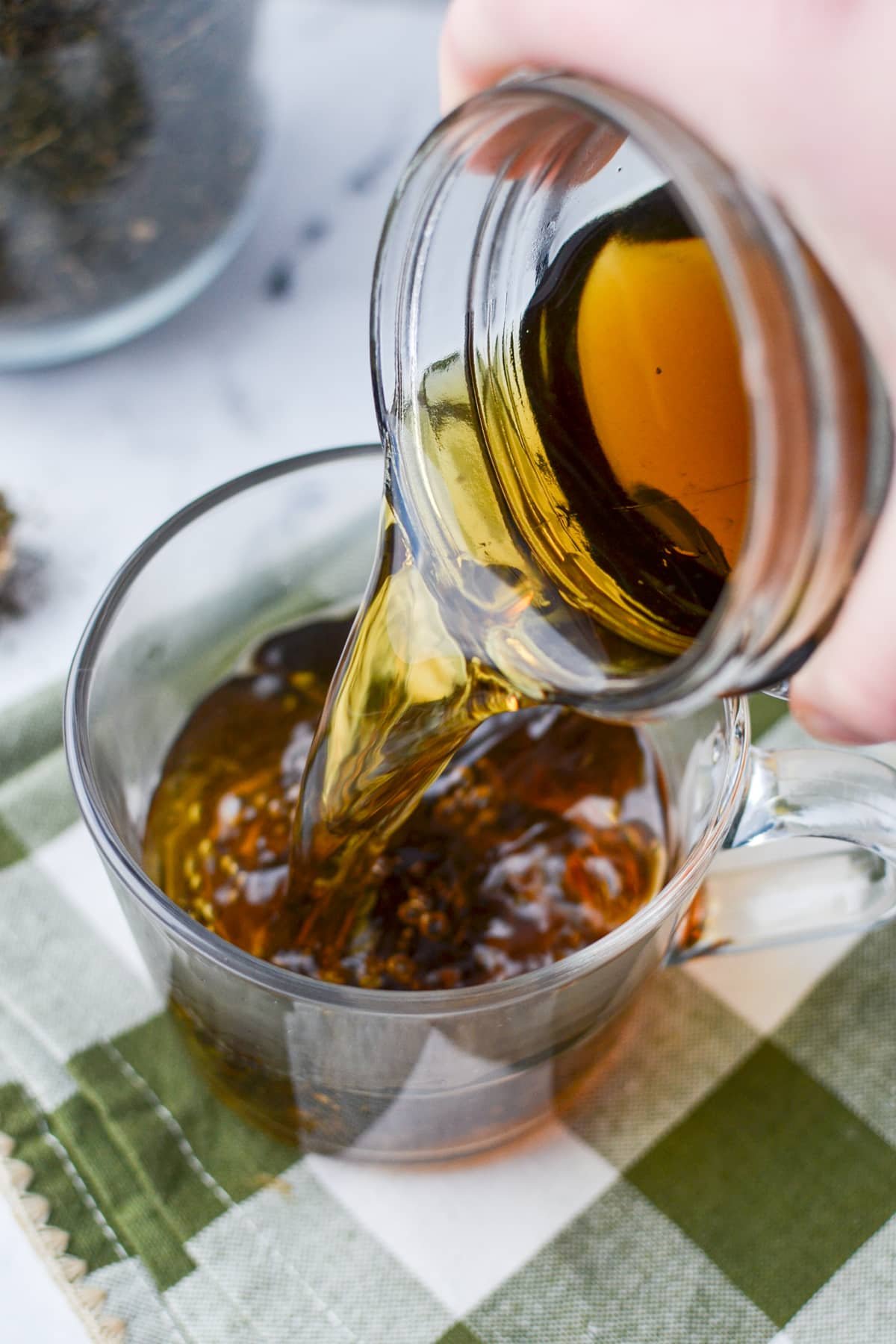 Pour into mugs and enjoy a hot cup of nettle infusion, or chill for iced nettle tea.
Discard or compost the solids.
Leftovers store in an airtight jar in the refrigerator for 1-2 days.
Using Fresh Nettle Leaves
If you want to use fresh nettle leaves instead of dry, you can easily do that! Instead of using 4-6 tbsp per quart jar (or 3 1/2 cups of boiling water), use 6-8 tablespoons.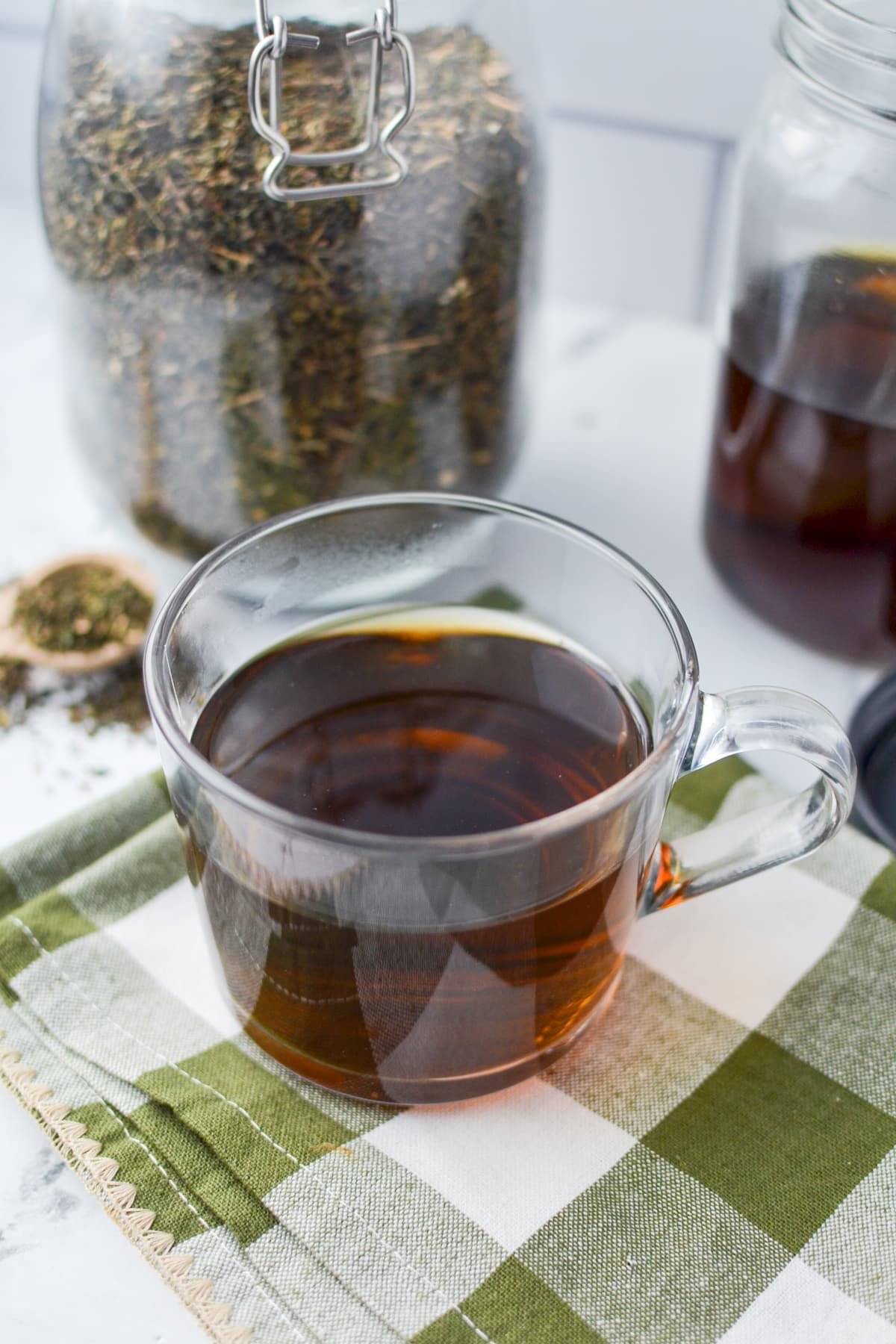 Making Stinging Nettle Tea
If you would prefer to make a traditional nettle leaf tea, you can add 1-2 tablespoons per 12 ounces (1 1/2 cups) of boiling water via the loose leaf method, OR add it to a tea ball or reusable tea bags. Steep for 3-10 minutes, then strain or remove the nettle leaf and serve hot.
More Natural Remedies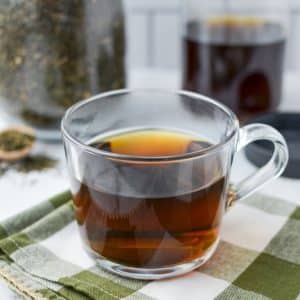 Nettle Infusion
This easy method for making a Stinging Nettle Infusion is tasty, nourishing, rich in minerals, and simple to make!
Print
Pin
Rate
Ingredients
4-6

tablespoons

dried stinging nettle

or 6-8 tablespoons fresh

3 1/2

cups

boiling water
Instructions
Add the stinging nettle to the bottom of a heat-proof wide mouth quart canning jar, or other heatproof container with a lid.

Pour in boiling water, covering the herb, and filling the jar up to the rim (approximately 3 1/2 cups of water).

Swirl the water gently to make sure all of the dried herb is moistened, then place a lid on the jar.

Allow the water to infuse with the dried herb for 30-40 minutes.

Set a small mesh strainer over a clean jar, and line it with cheesecloth (if desired).

Pour the infusion through the strainer, collecting the liquid in the jar below. Compost the herb solids.

Drink the nettle infusion warm as a tea, or chilled as an iced tea. Keeps well in the fridge for 1-2 days.
Nutrition
Serving:
1
cup
|
Calories:
8
kcal
|
Carbohydrates:
1
g
|
Protein:
1
g
|
Fat:
0.02
g
|
Sodium:
1
mg
|
Potassium:
66
mg
|
Fiber:
1
g
|
Sugar:
0.05
g
|
Vitamin A:
396
IU
|
Calcium:
95
mg
|
Iron:
0.3
mg
Please note that some of my blog posts here at Little Home in the Making may contain affiliate links. If you make a purchase through these links, I will get a small commission at no additional cost to you. See our disclaimer for more information.
Sources and studies: