This chicken taco soup is an easy soup recipe that is made in the crockpot. All you need to do is add all of the ingredients to a slow cooker and cook slow and low. Packed with flavor, gluten-free, and dairy-free. Perfect for a potluck or for family dinners since everyone can add the toppings they love! Like chicken tortilla soup without the tortillas, and without all the work!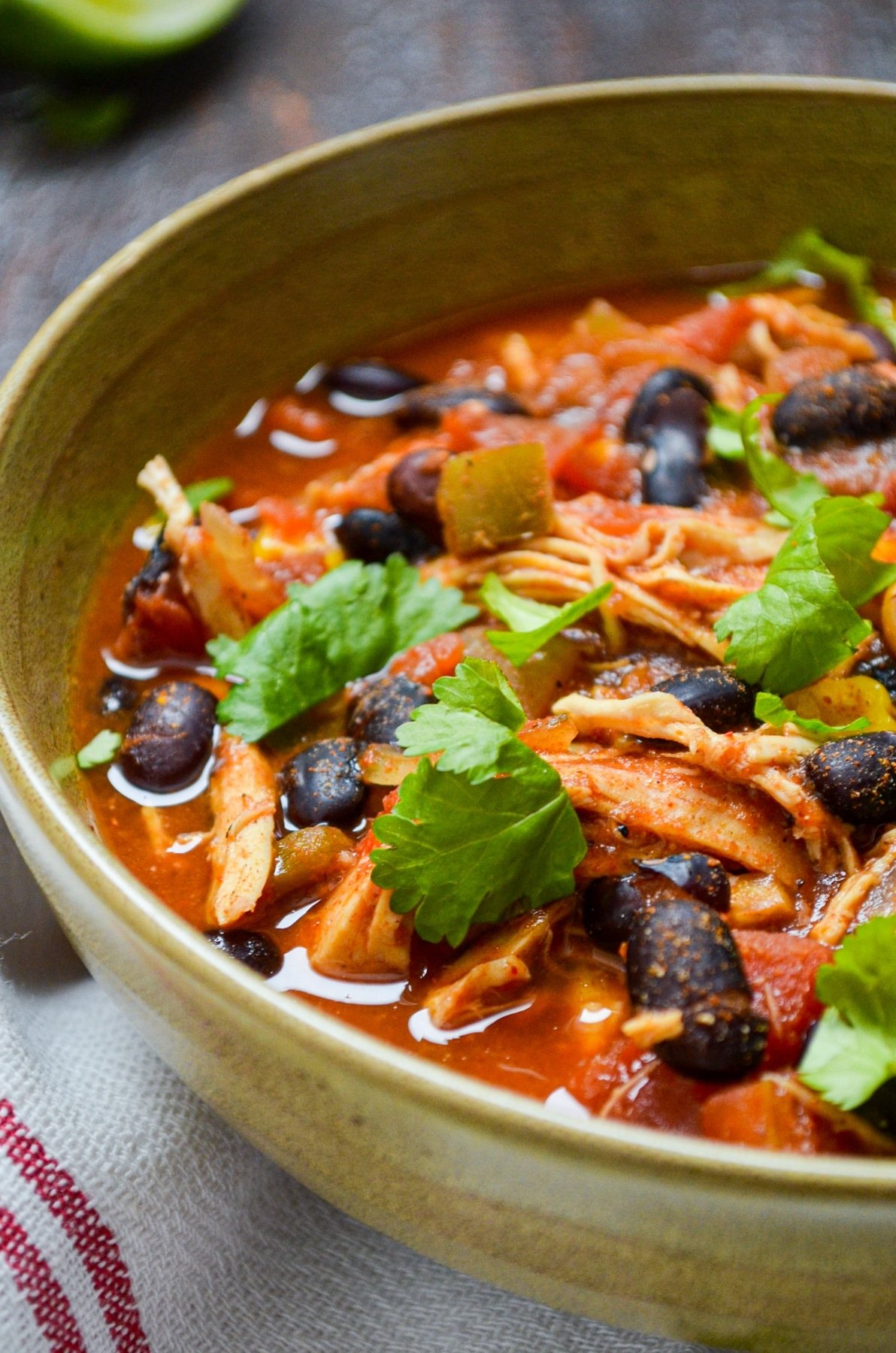 Please note that some of my blog posts here at Little Home in the Making may contain affiliate links. If you make a purchase through these links, I will get a small commission at no additional cost to you. Please see my Disclaimer for more information.
---
Who doesn't love the ease of the crockpot? I know that I am totally in love with my time and work saving appliances, and my slow cooker is definitely at the top of that list! Some of my favorite meals (like my French Dip Sandwiches) are made in this magic little crock, and I'm not about to give it up anytime soon. While summer is surely on its way, I couldn't miss the opportunity to post just one more slow cooker soup recipe. I have to get my soup willies out until approximately August, when I will become newly obsessed with all things crockpot and soupy.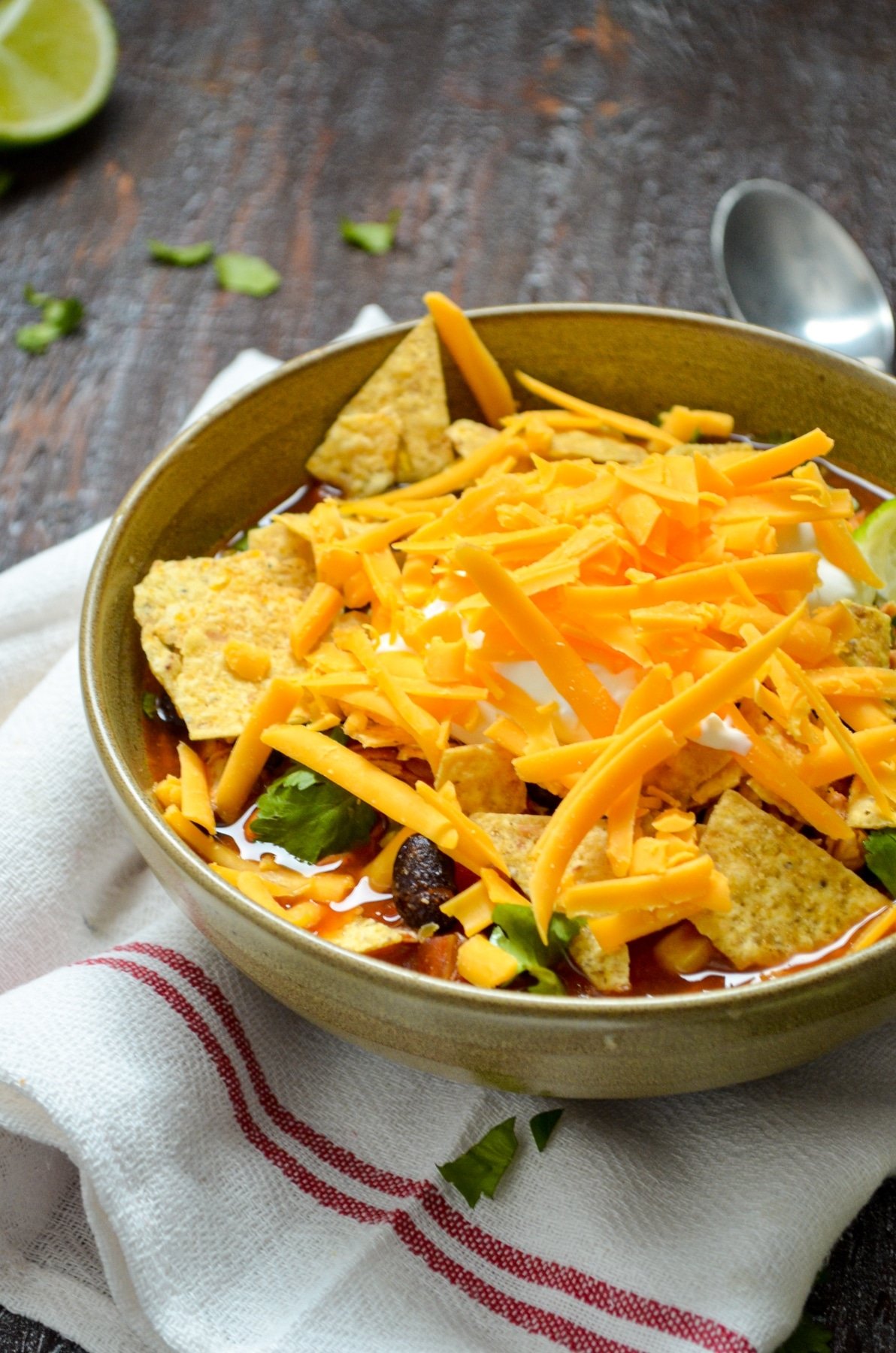 A Family Friendly Crockpot Meal
This chicken taco soup recipe is perfect for families. Why? Well, it can be adapted for so many different dietary needs. With allergies and preferences, it can sometimes be hard to find a meal that the whole family can eat. This slow cooker option is perfect for sitting down to a meal together, and all sharing the same main dish. If you need gluten free, I got you. If you need dairy free, I got you too. This soup is going to be a favorite for you because it's just so dang easy!
The real fun is when it comes to the toppings. As you can see in the photo above, you can load crockpot taco soup with whatever toppings you desire. I have a list of suggestions toward the bottom of the post if you're looking for some chicken taco soup inspiration!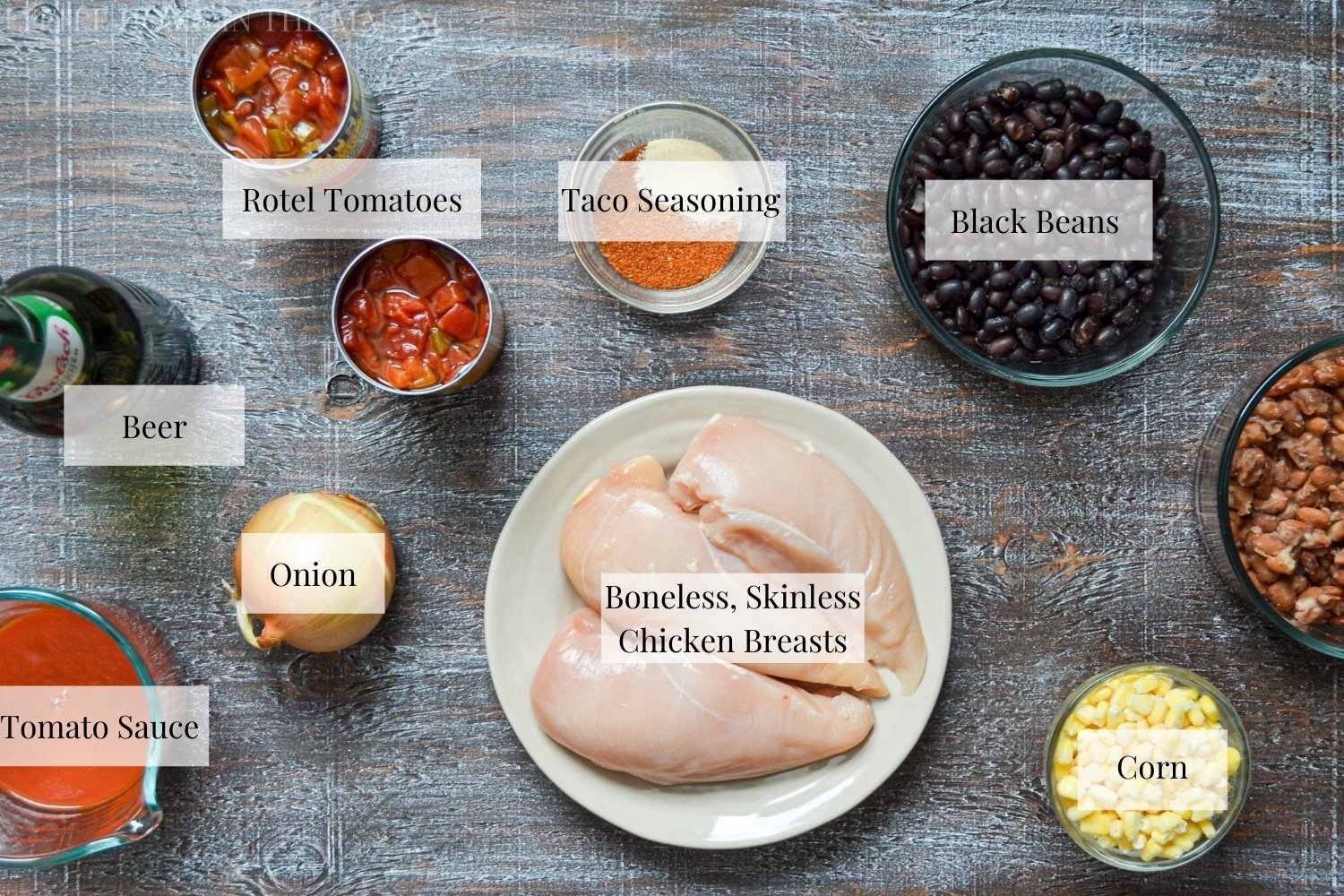 What ingredients do I need?
Chicken Breasts: I recommend using the boneless, skinless variety for best results. This ensures you don't have excess fat in your soup, or bones to pick out.
Beans: I like to use a home cooked bean, and I find that black beans hold up the best in the slow cooker. If you are using home cooked beans, use about 2 cups of drained beans. If you are using canned beans, use 2 cans of drained and rinsed black beans or another bean of your choosing.
Rotel Tomatoes: This is what adds the heat to the soup, and so it's important to use diced tomatoes and chilies rather than just diced tomatoes. If you can't find Rotel, feel free to use 1 (15oz) can of fire-roasted tomatoes and 1 (4oz) can of diced green chilies to replace the 2 cans of Rotel tomatoes in this recipe.
Tomato Sauce: Any type of tomato sauce will do for this recipe. I prefer to use a low salt option if it is available.
Beer: We like to use Grolsch in our cooking since I love to keep the bottles for making homemade kombucha, water kefir, and ginger beer. You can use whatever variety you have on hand or prefer. If you need this recipe to be gluten-free, ensure you purchase a gluten-free beer OR use chicken broth in its place.
Corn: Fresh, frozen or canned is fine.
Onion: One diced onion is the perfect amount for this cozy crockpot chicken taco soup.
How to make chicken taco soup in the slow cooker
One of the best parts of chicken taco soup is that it can be made in the slow cooker. The slow cooker has got to be my favorite tool for making soups, since the low and slow simmer makes for excellent results. This chicken taco soup is no different, and you won't believe how easy this crock pot soup is to prep!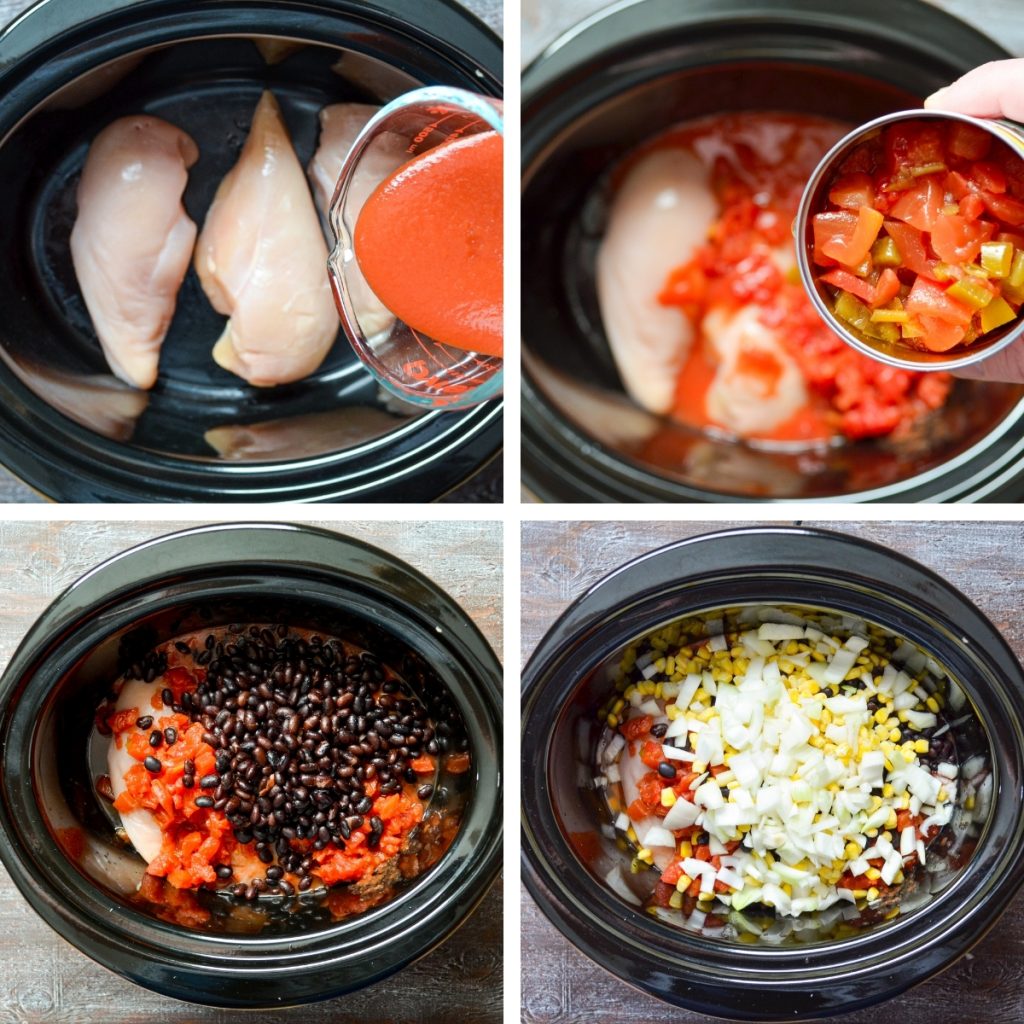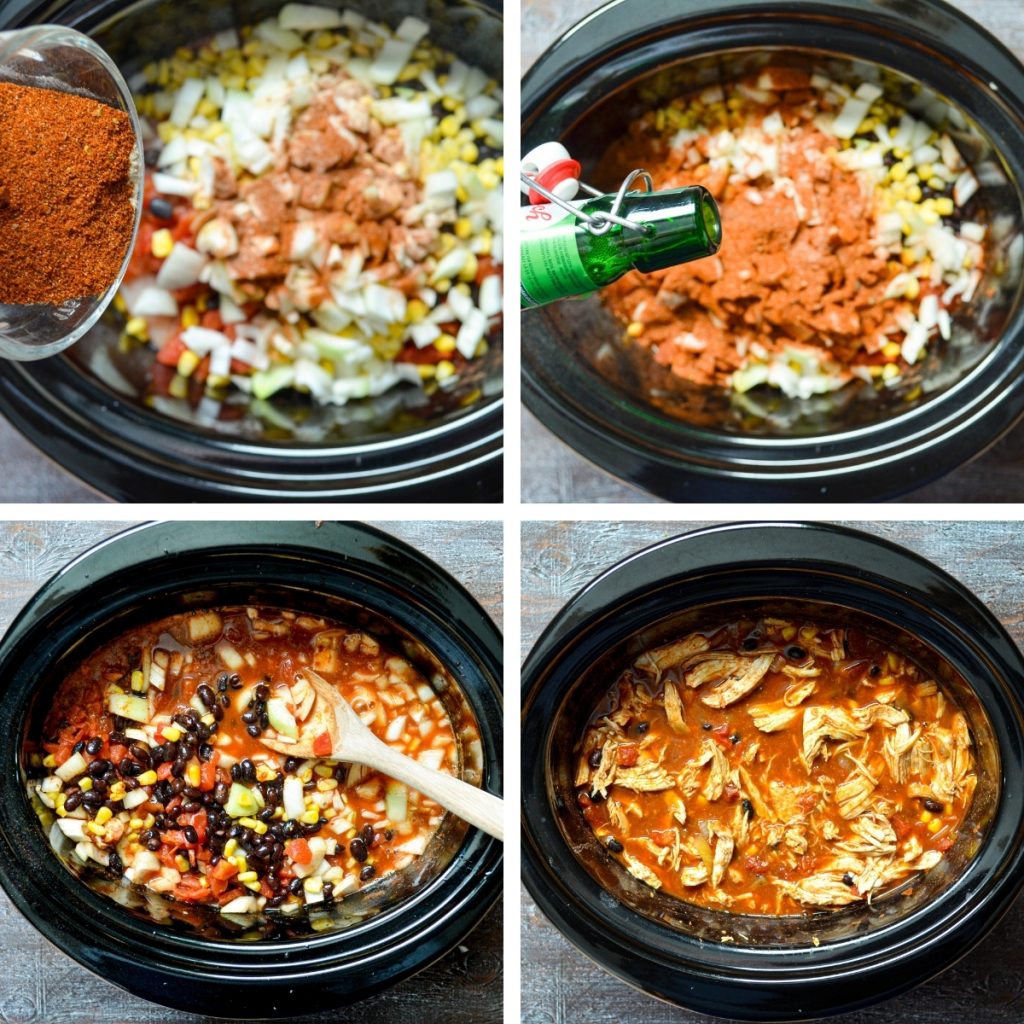 Instructions:
Place 3 large chicken breasts in the slow cooker. Cover with tomato sauce.
Add in 2 cans of Rotel diced tomatoes and chilies
Then, Add 2 cups of cooked, drained black beans (approximately 2 cans).
Add in 1 diced onion and some frozen corn.
Sprinkle in taco seasoning and garlic powder
Pour in 12-15oz of a beer of your choice (gluten-free if needed)
Stir well and place the lid on the slow cooker. Cook on "Low" for 5 hours.
Remove the chicken breasts and shred them with two forks. Return the shredded chicken to the slow cooker and cook on "Low" for an additional 2 hours.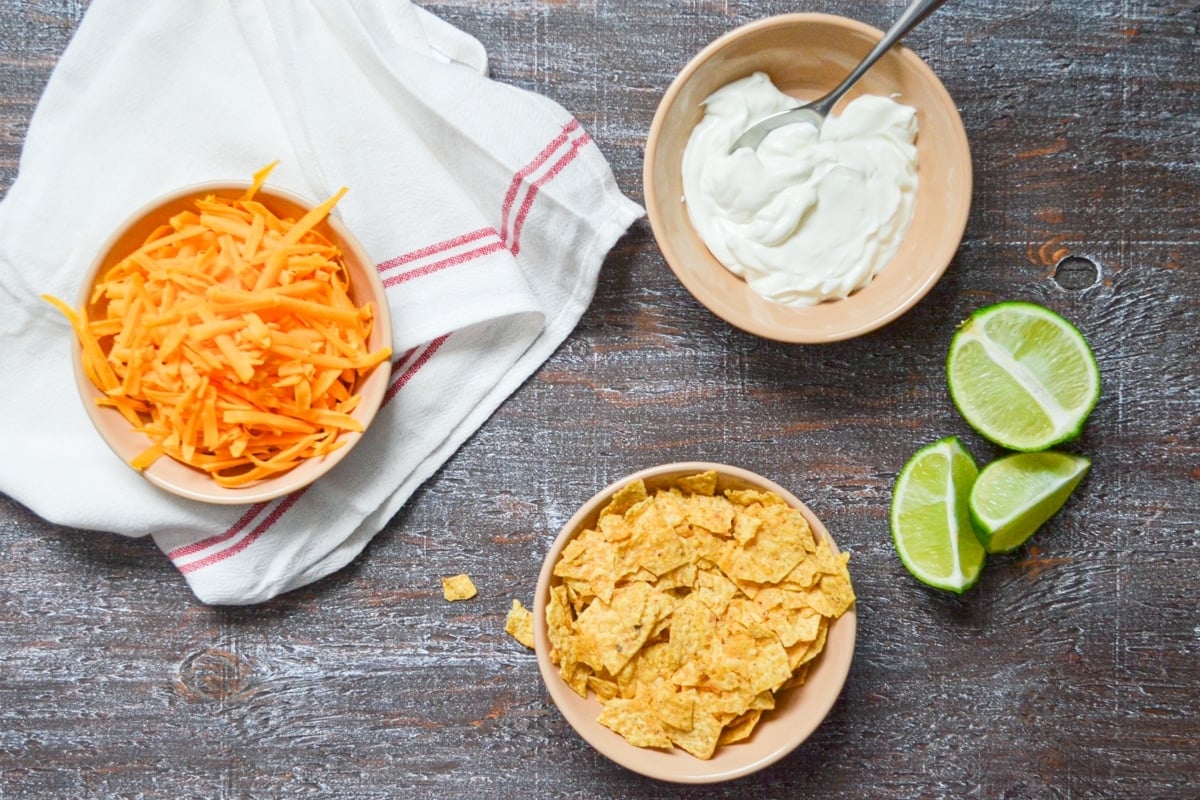 What toppings are best for chicken taco soup?
There are so many great toppings for chicken taco soup, and they can be customized to your family's preferences and tastes, as well as dietary needs! Here are a few favorites:
Shredded cheese
Crushed tortilla chips
Sour cream or crème fraiche
Avocado slices
Lime wedges
Fresh chopped cilantro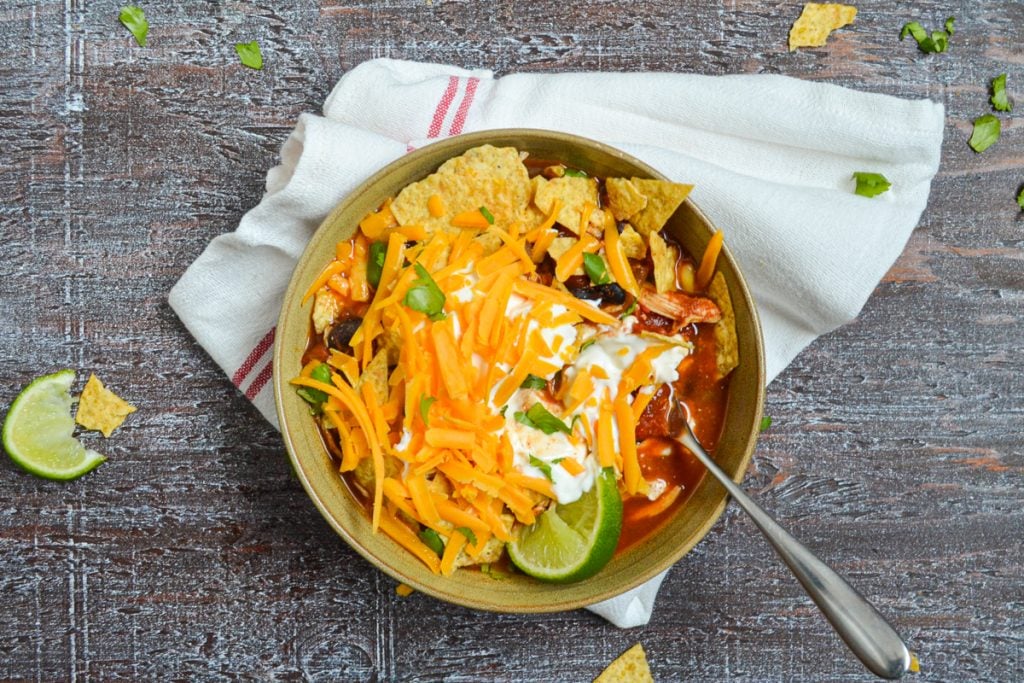 Side Dishes for Chicken Taco Soup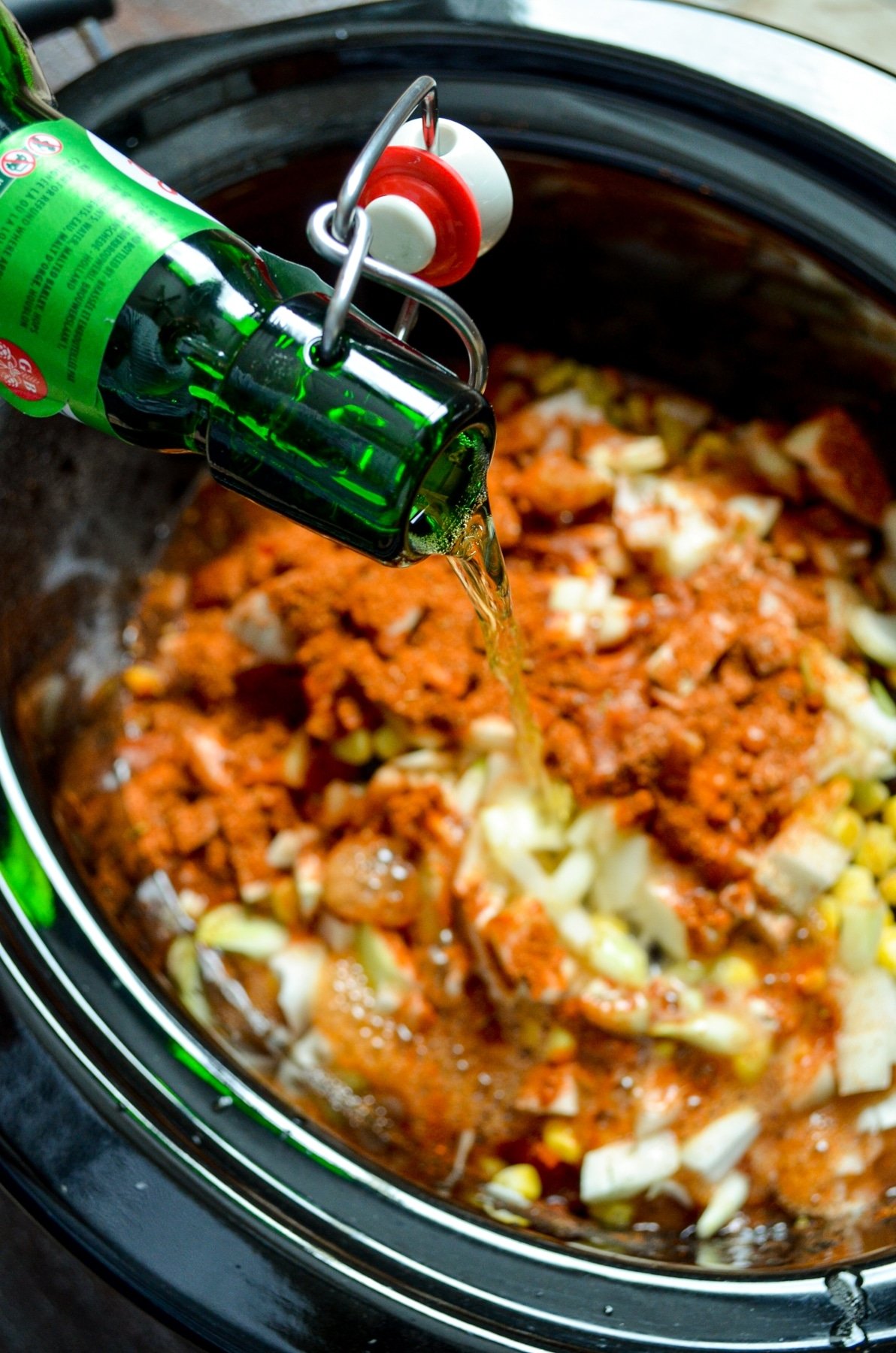 Adding Beer to Soup
Since you are cooking the beer for an extended period of time (about 10 minutes is sufficient), all the alcohol will be evaporated. This means that if you have any moral or dietary concerns against the consumption of alcohol, you need not worry that soup made with beer has an alcoholic content.
If you would still prefer not to use beer, you can substitute the same quantity of beer with a good quality chicken broth.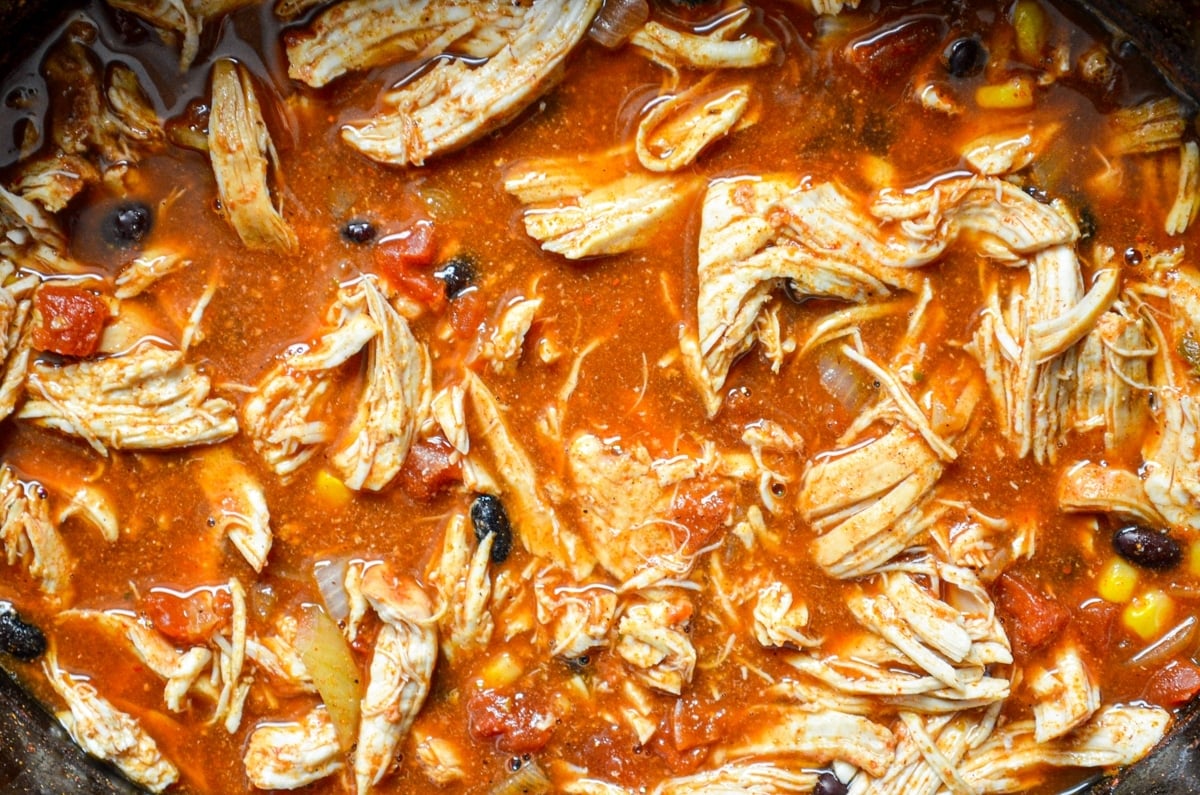 Can you make it ahead of time?
Yes! Soups are perfect for making ahead, and this crockpot chicken taco soup is no different. Here are some suggestions on how to make your soup ahead of time.
Freezing:
You can place the entire contents of this soup in a large gallon-sized freezer bag and freeze flat. When ready to cook, thaw completely and add to the crockpot. Cook as directed in the recipe.
OR
Cook the soup as directed in the recipe. Cool completely and add to freezer-safe containers. Place in the freezer and thaw and reheat when needed.
Storage:
If you need to make your crockpot chicken taco soup ahead of time, you can prepare it and keep it in a covered container in the fridge for up to 3 days. Simply reheat your soup and top it with the desired toppings before serving.
Frequently Asked Questions:
What is a good substitute for Rotel tomatoes?
If you can't find Rotel tomatoes at your local grocery store, you can make a substitute in a pinch. Combine 1 (15oz) can of fire-roasted diced tomatoes and 1 (4oz) can of diced green chilies. This will equal just a little bit less than 2 (10oz) cans of Rotel tomatoes.
Can you put raw chicken in a crock pot?
Yes! While it is not recommended that you use frozen chicken breasts in the slow cooker, using thawed raw chicken is totally fine.
How do you thicken taco soup?
If your taco soup is too thin for you liking, there are several ways you can thicken it. The first option is to reduce your soup. You can reduce it by letting it simmer with the lid removed for about an hour or so. The second option would be to use cornstarch. Mix 1 tbsp. of cornstarch with about 2 tbsp. of cold water until it forms a paste. Add this to your soup and stir until well combined. Let your soup cook another 20-30 minutes to let the cornstarch work its magic. OR you could stir in some masa harina, which is more traditional way of thickening taco soup.
Is chicken taco soup gluten free?
Yes! Most of the ingredients in taco soup are naturally gluten free. For recipes that call for beer, ensure to opt for a gluten-free beer OR use chicken broth in place of the beer in the recipe. Ensure that you select gluten free options for topping your taco soup such as avocado, cheese, and gluten free tortilla chips.
Is chicken taco soup dairy free?
Yes! While some of the topping options like cheese and sour cream contain dairy, the actual soup itself is dairy free. Opt for dairy-free toppings such as avocado, tortilla chips, cilantro, and dairy-free versions of cheese and sour cream.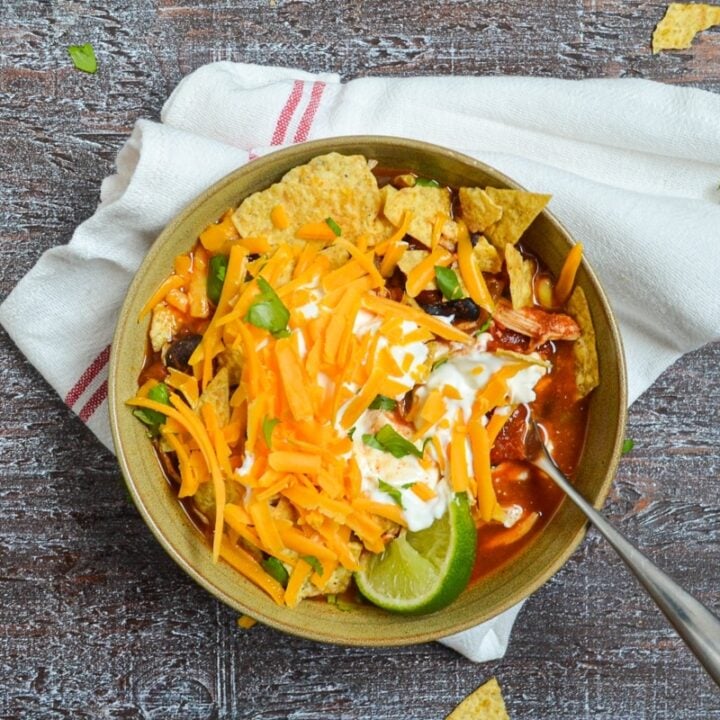 Slow Cooker Chicken Taco Soup
Total Time:
7 hours
10 minutes
This crockpot chicken taco soup is a great meal idea that the whole family will love. Customize your bowl according to your taste and dietary preferences. Easily made dairy free and gluten free.
Ingredients
1 1/2 lbs boneless, skinless chicken breasts (about 3 large breasts)
1 medium onion, peeled and diced
2 (10oz) cans Ro*tel diced tomatoes and chilies
1 (15oz) can black beans, drained and rinsed (or 2 cups home cooked black beans)
1 cup frozen whole kernel corn
1 (8oz) can tomato sauce
1 1/2 cups beer (about 12oz)
4 Tbsp. taco seasoning
1 tsp. garlic powder
Optional Toppings
Shredded cheese
Sour cream or crème fraiche
Chopped fresh cilantro
Lime wedges
Crushed tortilla chips
Instructions
Add the whole chicken breasts to the insert of a 6qt slow cooker.
Add in the onion, Ro*tel, drained beans, corn, tomato sauce, beer, and seasonings. Stir well to combine.
Place the lid on the slow cooker and cook on "Low" for 5 hours or on "High" for 2 to 2 1/2 hours.
Remove the chicken breasts from the soup and allow them to cool for 15-20 minutes. Use two forks to shred the chicken, and then return it to the slow cooker and replace the cover. Cook for an additional 2 hours on "low" or an additional 1 hour on "high."
Once the cooking time is through, serve each bowl with crushed tortilla chips, shredded cheddar cheese, sour cream, chopped fresh cilantro, and fresh lime wedges if desired. I love to squeeze some of my lime juice into the soup.
Notes
Gluten Free Option:
Substitute the beer for a gluten-free beer OR chicken broth.
Note on Toppings:
Use whatever toppings you desire. The toppings listed are optional only and if you need to be gluten-free or dairy-free, keep that in mind while selecting your toppings.
Rotel Substitution:
To replace 2 cans of Ro*tel, you can use one (15oz) can of fire-roasted tomatoes and 1 (4oz) can of Green chilies.
Nutrition Information:
Yield:

6
Serving Size:

1/6 of the Recipe
Amount Per Serving:
Calories:

314
Total Fat:

5g
Saturated Fat:

1g
Trans Fat:

0g
Unsaturated Fat:

3g
Cholesterol:

96mg
Sodium:

632mg
Carbohydrates:

22g
Fiber:

5g
Sugar:

5g
Protein:

40g
Nutrition information is an estimate only.