These Easter Rice Krispie Squares (also known as treats) are filled with Cadbury Mini Eggs and drizzled with white chocolate. The perfect Easter Dessert to make in a pinch with lots of festive flair! So easy to make, and so tasty too!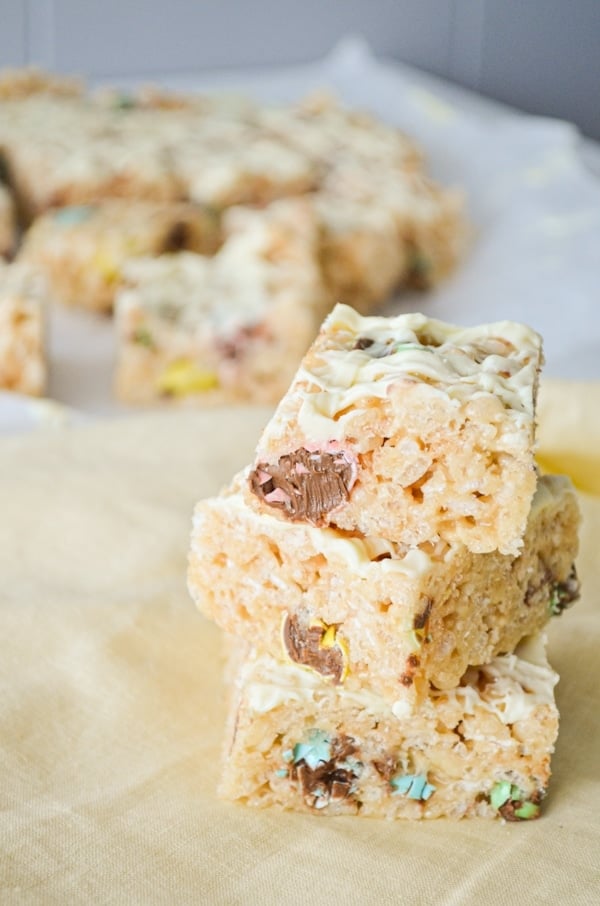 Please note that some of my blog posts here at Little Home in the Making may contain affiliate links. If you make a purchase through these links, I will get a small commission at no additional cost to you. See our disclaimer for more information.
---
One of my favorite treats of the Easter Season are Mini Eggs. I love the milky chocolate, and the sharp colored candy coating. I love to just let them melt one at a time in my mouth. They are so decadent and so delicious! If I'm not careful though, I can eat through an entire bag just on my own! They are just TOO delicious, if there ever could be such a thing.
Baking with Mini Eggs
A good way to spread out the enjoyment of this special Easter time treat is to bake with it. I've seen Mini Egg Cupcakes, Cheesecakes, and those cute little birds nest cookies too! Since I'm a big fan of your standard Rice Krispie Square (or Rice Krispie Treat as some call it), I figured they could use a good dose of Mini Egg love. And a drizzle of white chocolate for good measure.
These Easter Rice Krispie Squares are super easy to make, and are loaded with our favorite Easter treat flavors. Mini eggs are folded into the cereal and marshmallow mixture, and drizzled with melted white chocolate chips. If you don't like white chocolate, you can always sub another type of chocolate. These are an easy Easter treat that can be made with small children…if you don't mind sticky fingers!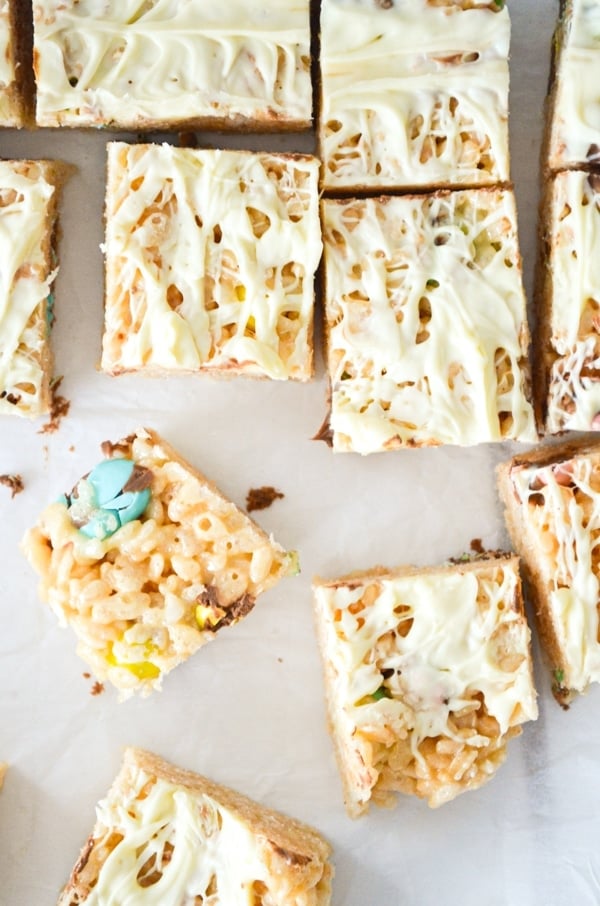 Rice Krispie Treats Vs. Rice Krispie Squares
Okay, so I grew up calling the delicious cereal and marshmallow bars we know and love "Rice Krispie Squares", while many of you may have grown up calling them "Rice Krispie Treats." I do think this is very much a cultural or regional thing, but in a Facebook group of ladies I'm a member of, I posed this question in a poll and one of the ladies gave an explanation I can get behind!
Rice Krispie "Treats" are when they are purchased in a box or store-bought. Rice Krispie "Squares" are of the homemade variety.
This makes total sense to me! Even still, many folks call even homemade versions "treats", so I can't be sure what is the right thing to call them! For now, I'm going to use the two interchangeably.
How about you? Are they Rice Krispie Treats, or Squares? Let me know in the comments below!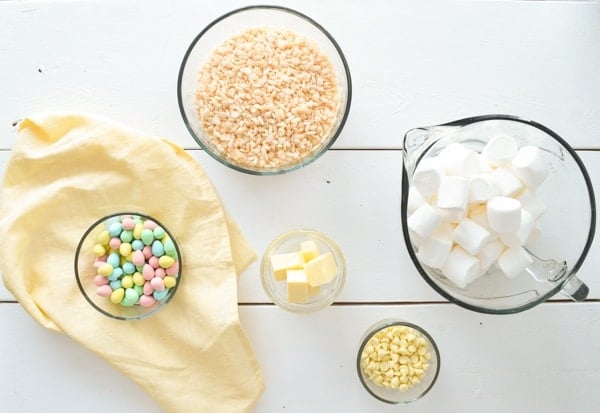 What Do I Need to Make Easter Rice Krispie Squares?
Crispy Rice Cereal: You can use the national brand, or you can use generic. I do tend to like the name brand better, but generic is fine if that's what you have on hand!
Marshmallows: You'll need a 10oz bag of marshmallows. If your bag is larger, you'll need to have a way to measure out 10oz of marshmallows. They are measured by weight, rather than volume (cups) since it's so hard to give an accurate measurement and there are so many variations of sizes for marshmallows.
Butter: I like to use salted butter because it balances the sweetness in baked goods. You could use unsalted if you prefer or if that is what you have on hand.
Vanilla Extract: You can use pure or imitation vanilla extract in this recipe. It isn't exactly bougie, so the imitation stuff is fine! 😂
Mini Eggs: Without these, they would just be plain ol' Rice Krispie Squares! I keep these whole, since the heat from the marshmallows and butter tends to melt them and break them up a bit anyway. We use Cadbury brand; I like their chocolate flavor best of all the miniature chocolate eggs!
White Chocolate Chips: Just 1/2 cup of White Chocolate Chips are melted and drizzled on top. 😋 If you don't like white chocolate, you can opt for milk chocolate chips. Be sure to use "chips" rather than melted chocolate bars, because the latter tends to separate when melting.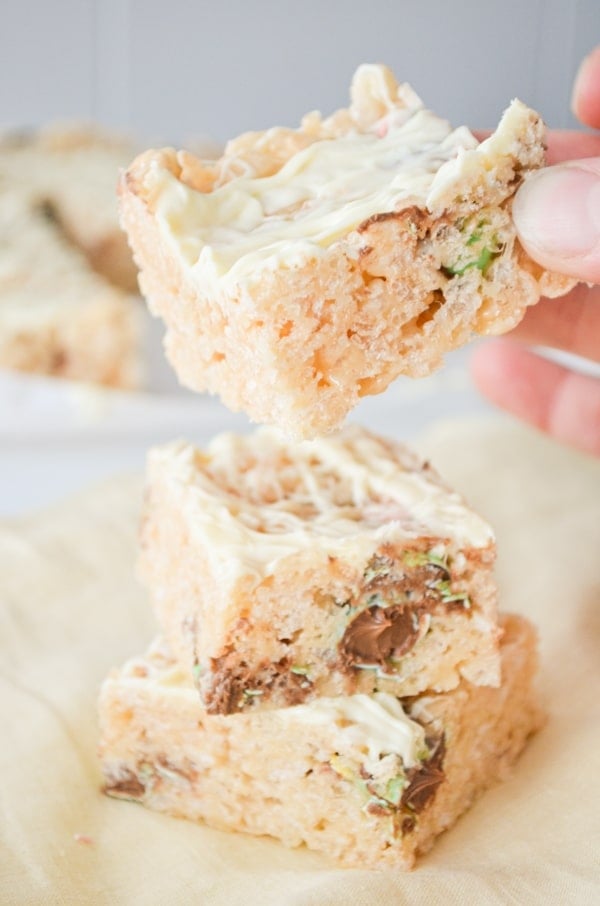 Equipment You May Need:
A Double Boiler: I like to use a proper double boiler for melting chocolate for safety reasons. In a pinch you can use a heat proof bowl set over a pot of simmering water. This one is Amazon's Choice and is only $12!
Questions and Answers
What Kind of Marshmallows are Best For Easter Rice Krispie Squares?
You can use any type of marshmallows in this recipe. Since they will be melted, the size and type isn't significant so long as you make sure you weigh out exactly 10oz. I like to use the regular size, but you can use mini or large if you prefer. I would keep to the regular white marshmallows, because the colored marshmallows can get very muddy looking when melted.
Do I Have to Use White Chocolate?
No! You can omit the white chocolate drizzle, or you can substitute the white chocolate chips for another type of chocolate chips. I would recommend milk chocolate, since that will compliment the mini eggs more than a dark chocolate would.
Can I Make Easter Rice Krispie Squares in the Microwave?
We don't use a microwave in our home, so I don't have exact instructions, but you can use your microwave to melt the butter and marshmallows together like you would in the standard Rice Krispie Square recipe. You can find Kellogg's Rice Krispie Treats recipe here.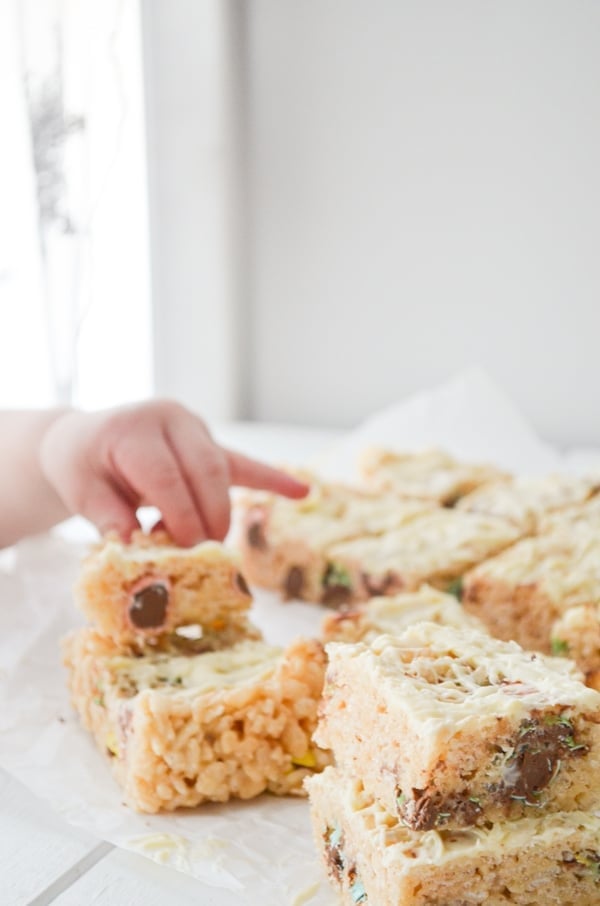 Easter Rice Krispie Treats - Made with Cadbury Mini Eggs
These Easter Rice Krispie treats are super easy to make, and kid friendly too! Just a few simple ingredients make the cereal treats we all know and love, and then we add in some special Easter elements. Fun for making together as a family.
Ingredients
1 (10oz) bag Marshmallows, mini or regular
6 Tbsp. Salted Butter
1/2 tsp. Vanilla Extract
4 1/2 Cups Crispy Rice Cereal
1 cup Cadbury Mini Eggs, Whole
1/2 Cup White Chocolate Chips
Instructions
Grease an 8X8 baking dish with butter or cooking spray. Line with parchment paper. This will prevent sticking, as Rice Krispie treats can be very sticky!
In a large pot over medium heat, melt the butter.
Once the butter is melted, add the marshmallows, stirring until they are completely melted in with the butter.
Remove from the heat and add in the vanilla extract. Stir well to combine.
Add the rice cereal, using a silicone spatula to fold the cereal in with the butter and marshmallows.
Once most of the cereal is coated, add in the mini eggs. Quickly fold them into the mixture.
Transfer the cereal and marshmallow mixture to the prepared baking dish. Use the back of your spatula to very gently press in the cereal. Make sure to spread the cereal mixture evenly, and into the corners as well. Don't press too hard, or you'll end up with very dense Rice Krispie treats.
Set your treats aside, and prepare a double boiler for the white chocolate drizzle. If you don't have a double boiler, you can use a heat proof bowl over a pot of low simmering water. Heat your prepared double boiler over high heat.
Once the water is boiling, add the white chocolate chips to the top portion of your double boiler. Use a small silicone spatula to stir the chocolate until melted.
Once the chocolate is melted, quickly drizzle it on top of the cereal treats. You can use a spoon or the silicone spatula to drizzle the chocolate. Move quickly, to avoid big clumps of white chocolate.
Once the chocolate is drizzled on, chill the squares in the fridge for 1 hour before slicing and eating.
You can store your cereal treats in an airtight container at room temperature for 2-3 days. You can store in the fridge up to one week. Enjoy!
Notes
If you don't have a double boiler or heat safe bowl, you can melt the white chocolate chips in a small microwave safe bowl in 15 second intervals. Stir the chocolate after each interval until melted and creamy.
Nutrition Information:
Yield:

12
Serving Size:

1
Amount Per Serving:
Calories:

226
Total Fat:

15g
Saturated Fat:

9g
Trans Fat:

0g
Unsaturated Fat:

5g
Cholesterol:

17mg
Sodium:

110mg
Carbohydrates:

25g
Fiber:

1g
Sugar:

15g
Protein:

2g
Nutritional information is an estimate only.
More Easy Dessert Recipes: