These no bake Oreo Cheesecake Bites are the perfect last minute dessert for when the sweet tooth hits! The combination of cheesecake flavor and Oreo cookie crumbs is classic, satisfying, and oh-so-addictive. Give this super easy dessert a try today: you need just 4 simple ingredients!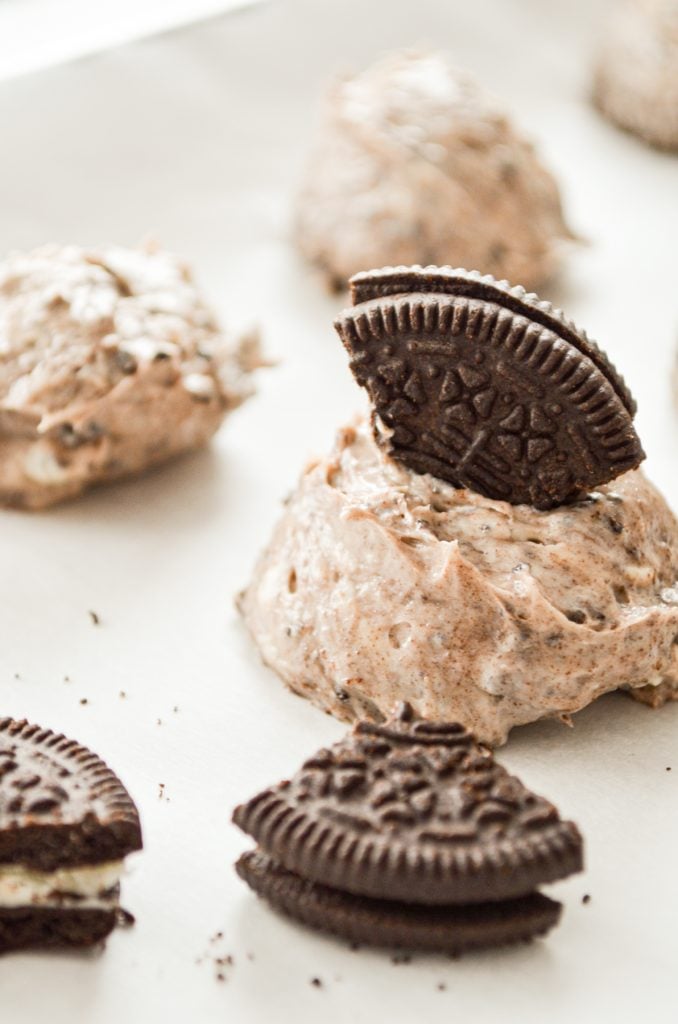 Please note that some of my blog posts here at Little Home in the Making may contain affiliate links. If you make a purchase through these links, I will get a small commission at no additional cost to you. Please see my Disclaimer for more information.
---
These Oreo cheesecake bites are going to be your new Summer addiction. They are deadly delicious, and crazy easy to make. This combination is a dangerous one indeed. You'll find yourself whipping up a batch of these easy no bake bites any time the snackies hit. Better yet, you can make them ahead and keep them in the freezer for a sweet treat at the end of the night.
These are a spinoff of my Pumpkin Pie Cheesecake Bites, and one of many flavors I've tried and loved. I'll try my best to get them photographed and put up on my blog ASAP, but this one I just HAD to share with you in time for Summer. This is one of our favorite mini desserts, and it's just so stinking easy! This is the perfect dessert for keeping you (and the kitchen) cool during those long, hot summer days. I'm dreaming just thinking about it, how about you?
These use crushed Oreo cookies, but you can use store bought crumbs if you like. I happen to think there is something extra special about making your own. Mostly because you get to eat the leftover cookies, lets be honest! 😂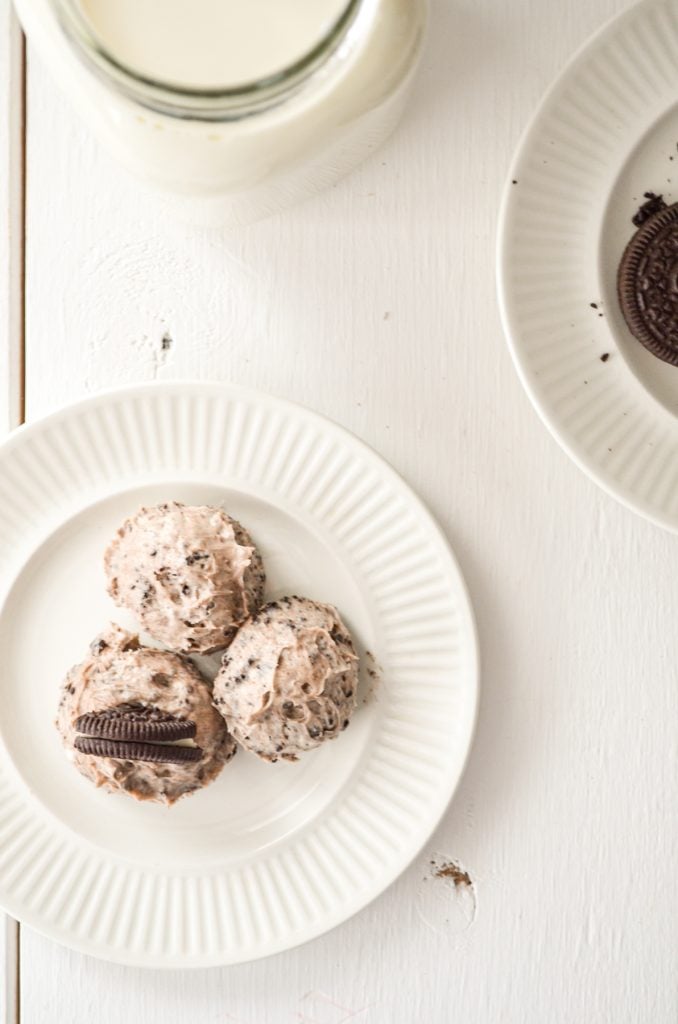 How to Make Oreo Cookie Crumbs
Making your own Oreo Cookie crumbs is very easy! If you have a food processor, you can make them very easily and with minimal clean up. Just add Oreo cookies to the base of your food processor, pulse until broken down, and use in your favorite recipes. You can use Oreo cookies with or without their cream filling.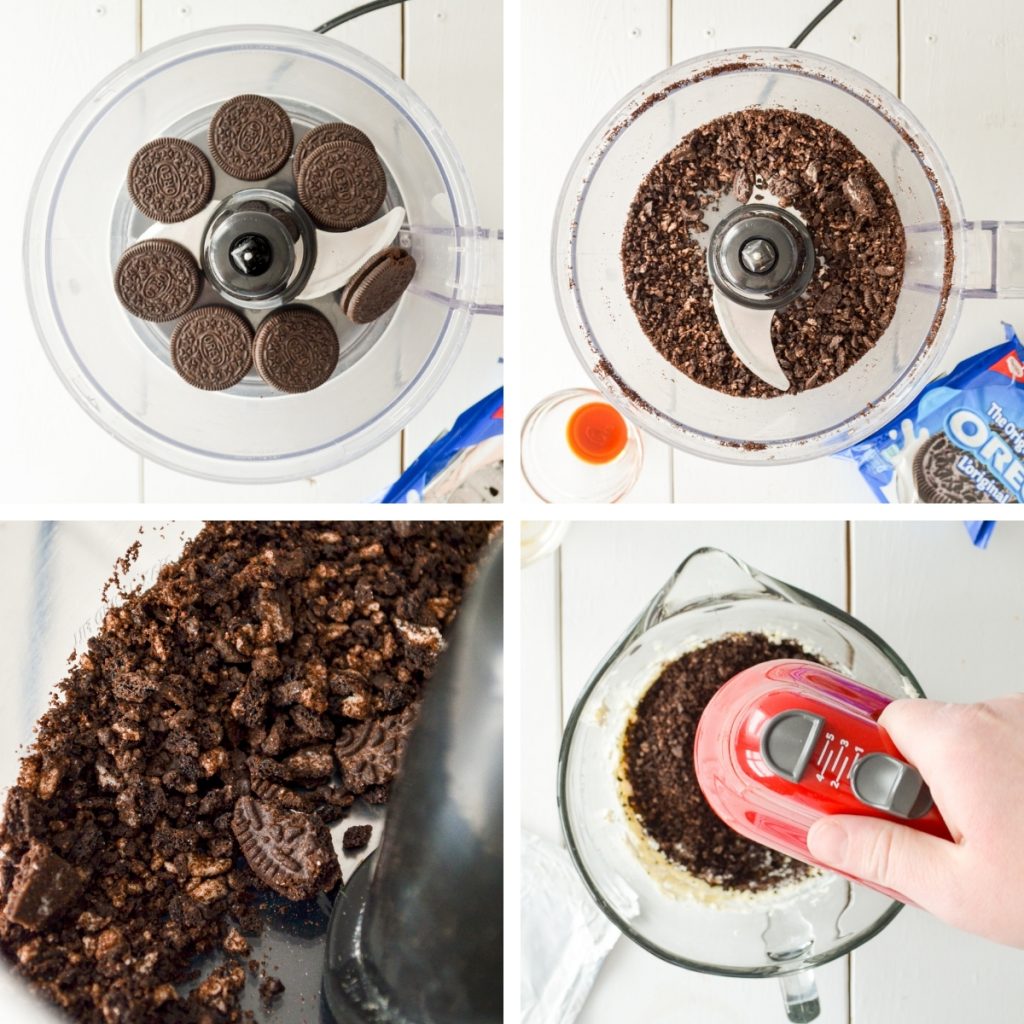 Without a Food Processor
To make Oreo cookie crumbs without a food processor, place your Oreo cookies in a sealed freezer bag and use a rolling pin to gently crush the cookies until they are fine and crumbly. Use them in place of Oreo cookie crumbs in your favorite recipes!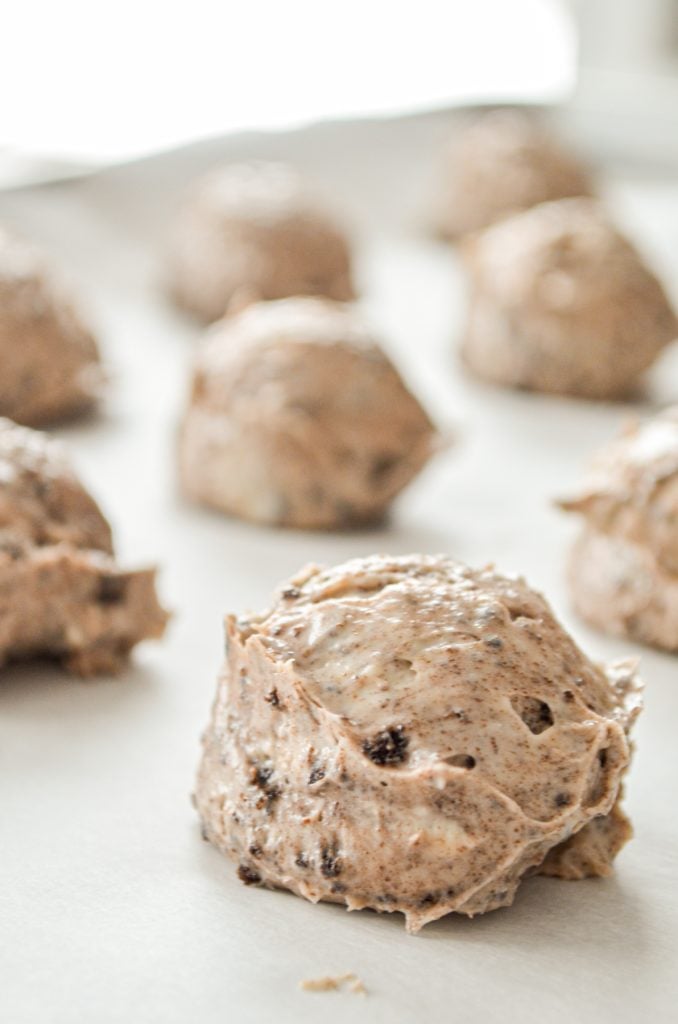 How to Soften Cream Cheese Quickly
This recipe calls for softened cream cheese. This ensures the cream cheese is able to be thoroughly whipped and lump free. The best and easiest way to soften cream cheese is to leave it at room temperature for several hours. While this is a simple and straight forward method, it doesn't work for those who need to make Oreo cheesecake bites on a tight schedule!
This post from Completely Delicious details several different methods for softening cream cheese quickly. I use a modified version of one of her suggestions to soften my cream cheese quickly.
My Method:
Simply remove the paper packaging from the cream cheese, leaving the foil portion intact. Place the cream cheese block in a sealed zipper freezer bag. Fill your sink halfway with warm water and submerge the bag in the water (it will float). Leave the bag in the warm water for approximately 5 minutes, turning it over halfway through to ensure both sides are softened.
How Do You Make Cheesecake Bites From Scratch?
It's really a very simple process!
Add softened cream cheese to a bowl.
Whip the cream cheese until light and fluffy.
Add in sugar and vanilla extract.
Whip the cheesecake mixture until smooth.
Add in your mix-ins (like crushed Oreo crumbs or graham cracker crumbs).
Stir to combine.
Scoop your batter onto a parchment lined baking tray.
Freeze until firm.
Serve and enjoy!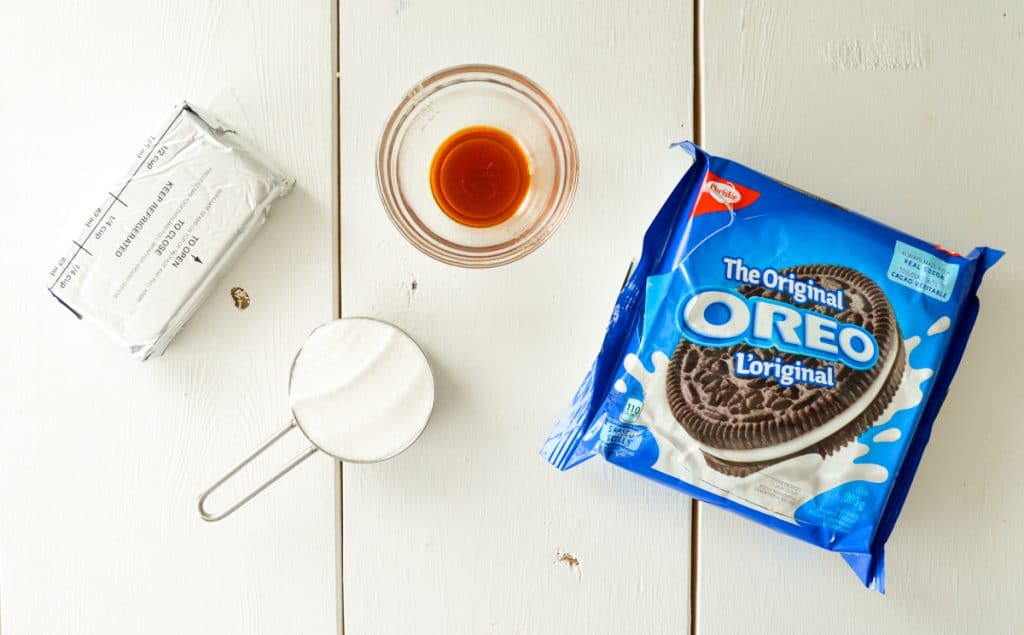 What Do I Need to Make Oreo Cheesecake Bites?
Since we use just 4 simple ingredients, the list is short:
Cream Cheese: The best cream cheese to use for baking is the brick style cream cheese. This results in a creamy, firm texture that is essential to cheesecake style desserts. We use an 8oz brick for this recipe.
Oreo Cookies: No substitution will do since we are talking "Oreo" cheesecake bites 😂 If you're thinking of alternative flavors, you may like my recipe for Pumpkin Pie Cheesecake Bites.
Sugar: Granulated white cane sugar works perfectly in this recipe. It provides a neutral taste, which is excellent since we want to focus on that Oreo flavor.
Vanilla Extract: Just a touch of vanilla helps round out the flavors and give that "baked" taste to our yummy no bake dessert.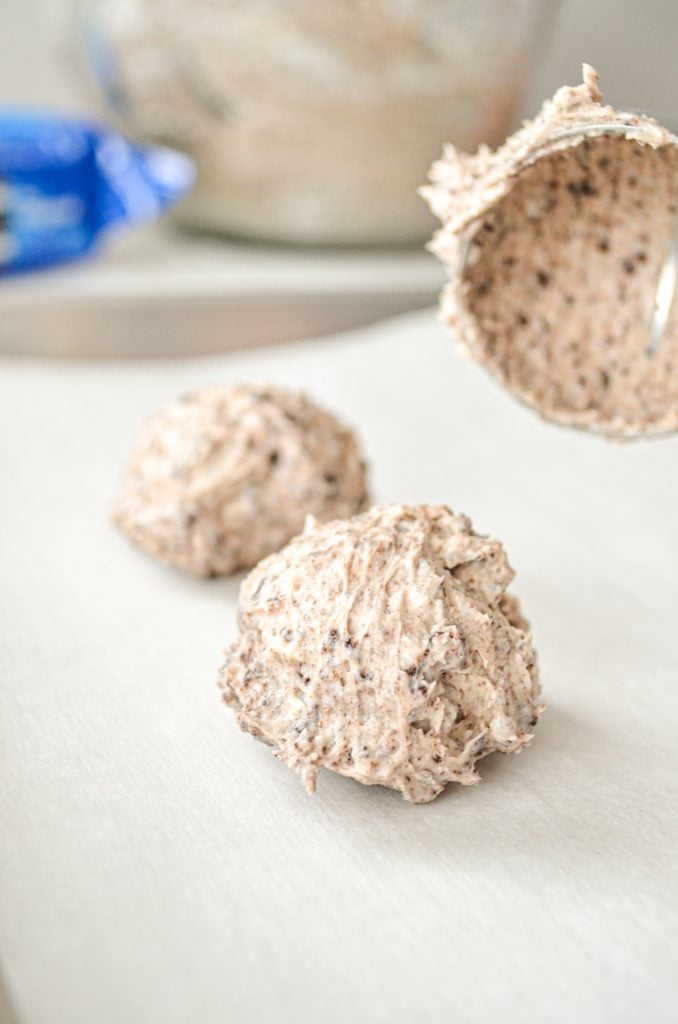 Tools and Equipment
Baking Sheets: I like to use the half size sheet pans. They are perfect for everything from baking cookies, to making delicious sheet pan dinners. I suggest keeping at least two on hand for rotating while baking, but I have three and I'm ready to invest in more. This is the brand I recommend on Amazon.
Cookie Scoop: I use this every single week in my kitchen. I love using scoops to portion out cookie dough (like my Buffalo Chip cookies), meatballs (see my Freezer Friendly Meatballs as proof), and more! If you like a consistent shape and size, these are an essential element in your kitchen. They are absolutely perfect for making cheesecake bites too. I recommend the #40 size as an all purpose scoop, and it is the size I use for these delicious no bake Oreo cheesecake bites.
Food Processor: If you're not ready to invest in a food processor, you can use store bought crumbs or crush your Oreo cookies with a rolling pin and a zipper freezer bag. I prefer the food processor method because it is low waste, and I can get my chunks of Oreo just perfect (not completely crushed, with lots of bigger chunks left intact). This is the food processor I have and it has served me well for years.
How to Make No Bake Oreo Cheesecake Bites
All you need is about 10 minutes and the supplies listed above. Now lets get started!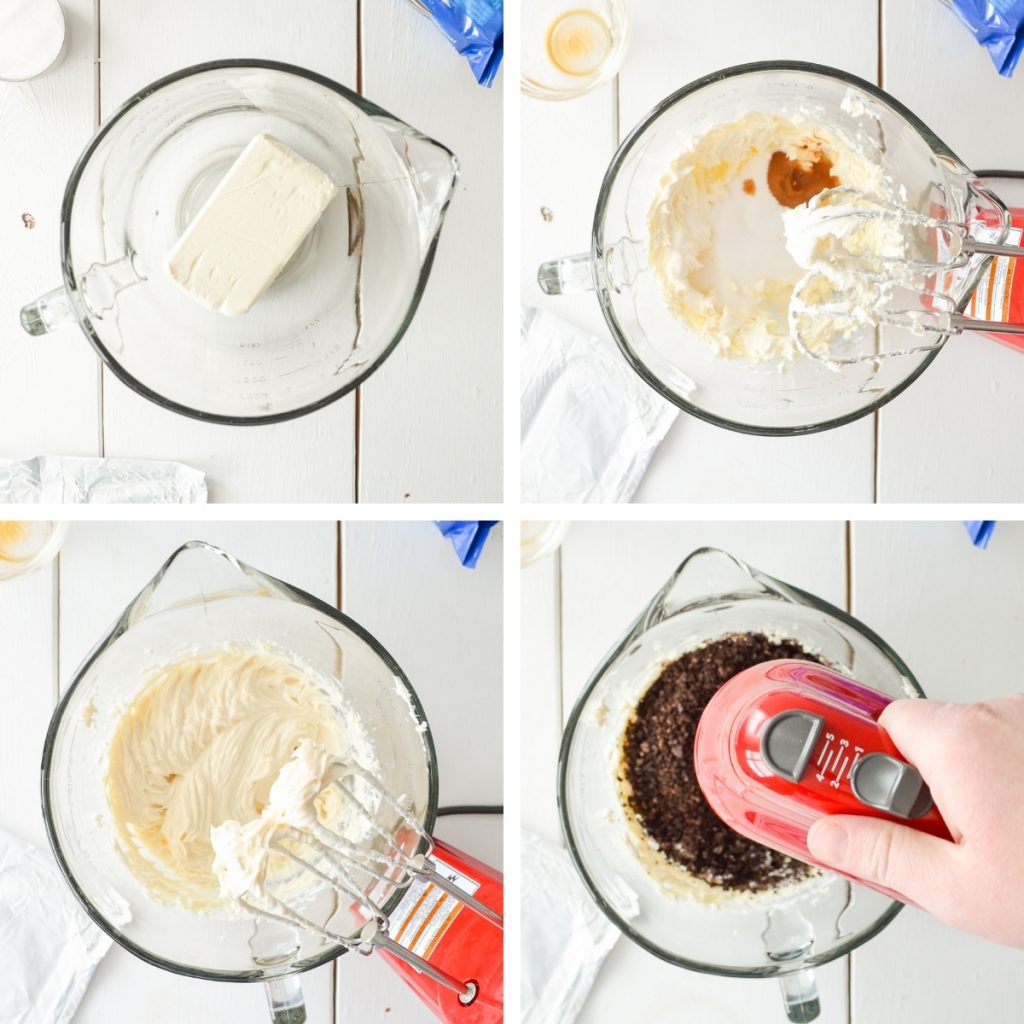 Add your cream cheese to a medium sized mixing bowl. Blend with a hand mixer until light and fluffy.
Add the sugar and vanilla extract.
Beat the mixture well until smooth and creamy.
Add the crushed Oreo cookies and blend just until combined.
Like this picture here!
Scoop portions of cheesecake batter onto a parchment lined baking sheet, using a cookie scoop for consistency.
Repeat until all of the cheesecake batter is used.
Cover with plastic wrap and freeze until firm, about one hour.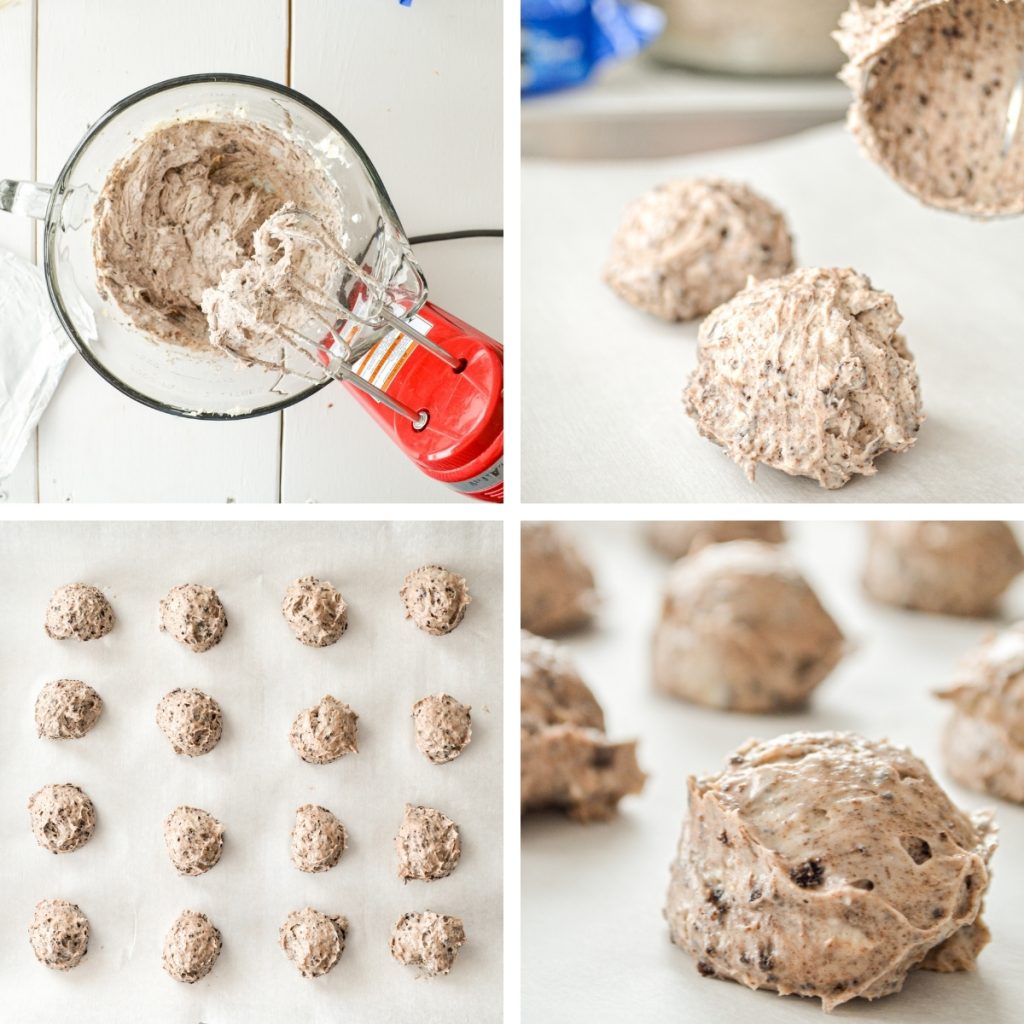 Once your cheesecake bites are firm, place them in an airtight container in the fridge or transfer to airtight freezer bags to keep in the freezer.
How Long Do Cheesecake Bites Last?
Not very long in my house 😂
Cheesecake bites are good in a covered container in the refrigerator for up to one week. If you keep them in a sealed bag in the freezer, they are good for up to two months.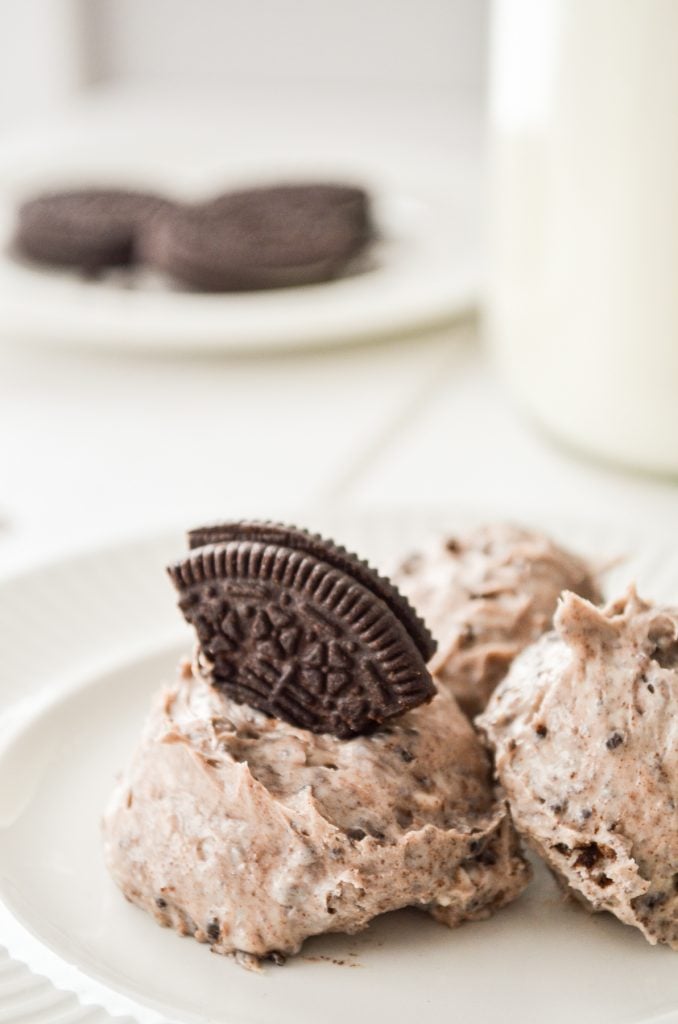 FAQ and Substitutions
Can I Make Dairy Free Oreo Cheesecake Bites?
Since Oreo cookies themselves are dairy free, you could try using a dairy free cream cheese substitute in place of the traditional cream cheese in this recipe. I have not tested a dairy free version at this time, but it may be worth a try if you need to eat dairy free for health reasons.
Can I make Gluten-Free Oreo Cheesecake Bites?
Oreo does have a gluten free option, so feel free to substitute gluten-free Oreos in place of the traditional variety in this recipe.
How Long are Cheesecake Bites Good For?
When stored in the fridge in a covered container, cheesecake bites are good for up to one week. When stored in the freezer in an airtight freezer bag, they can last up to two months.
Can I substitute Light Cream Cheese?
Although the taste won't be as rich, you can definitely substitute light cream cheese for a lower calorie option. Be sure to use the brick style cream cheese, as this provides the best cheesecake consistency.
Can I substitute honey or maple syrup for sugar in cheesecake?
It is not recommended, since both of these sweeteners are liquid in nature. This results in a thin, soupy cheesecake texture, which is not desirable. White cane sugar is the best option for cheesecake style recipes.
No Bake Oreo Cheesecake Bites
Total Time:
1 hour
10 minutes
These Oreo Cheesecake Bites need only 4 simple ingredients and taste just like an Oreo cheesecake...without all the work!
Ingredients
8oz pkg. Cream Cheese, softened
8 Oreo Cookies, 4 additional cookies for topping, if desired
½ cup Granulated Sugar
1 tsp. Vanilla Extract
Instructions
Add the Oreo cookies to the bowl of a food processor with the blade attached. Process until most of the cookies are broken down, but some larger chunks remain.
Line a baking sheet with parchment paper or a silicone baking mat.
Add the cream cheese to a medium sized mixing bowl. Use a hand mixer or a stand mixer to whip the cream cheese until soft and fluffy.
Add the sugar and the vanilla extract. Beat until well blended.
Add in the crushed Oreo cookies and mix until smooth.
Use a #40 size cookie scoop or a heaping tablespoon to portion out batter and place each portion on the prepared baking sheet.
Once the batter is portioned and placed, you may garnish each Oreo cheesecake bite with an additional chunk of Oreo cookie, if desired. I like to cut each cookie into quarters and use one quarter per cheesecake bite. They often don't quarter perfectly, so use a sharp knife for the best results.
Place the sheet of cheesecake bites in the freezer. Freeze for 1 hour, or until firm.
Remove the cheesecake bites from the baking sheet and store in an airtight container in the fridge, or in the freezer for longer storage.
Notes
Yields: 16 Cheesecake Bites
Note: You may use 3/4 cup of boxed Oreo cookie crumbs in place of the crushed Oreo cookies if you wish. The texture will be different, but still delicious!
Nutrition Information:
Yield:

8
Serving Size:

2 Bites
Amount Per Serving:
Calories:

276
Total Fat:

16g
Saturated Fat:

8g
Trans Fat:

0g
Unsaturated Fat:

5g
Cholesterol:

29mg
Sodium:

181mg
Carbohydrates:

32g
Fiber:

1g
Sugar:

23g
Protein:

3g
Nutrition information is an estimate only.
Pin it for Later