Mars Bar Squares are the ultimate easy dessert! Melted Mars chocolate bars combine with rice cereal (AKA Rice Krispies) to make something wonderful!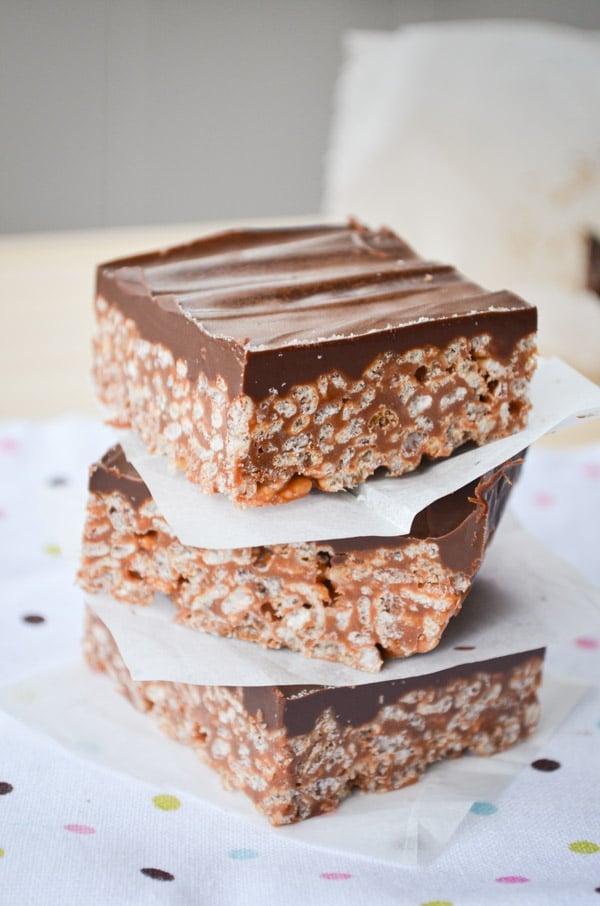 Please note that some of my blog posts here at Little Home in the Making may contain affiliate links. If you make a purchase through these links, I will get a small commission at no additional cost to you. Please see my Disclaimer for more information.
Have you ever had a Mars Bar? If you're reading this from the US, you probably haven't. I only realized recently that Mars Bars aren't as widely available in the US as they are here in Canada. Who would have known!? Aparently they are often available on Amazon.com and select Cracker Barrel locations. They are also very similar to the Milky Way bar you can purchase in the US, although I've never tried making this no bake dessert with Milky Way bars, so I can't say for sure if it would work out!
Well, if you can get your hands on some Mars chocolate bars, I highly suggest making this delicious recipe for Mars Bar Squares. I mean, what could go wrong with melted chocolate bars, crispy rice cereal, butter, and chocolate chips!?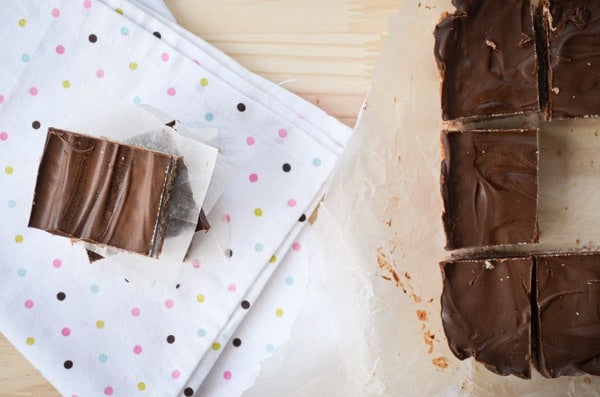 Storing Mars Bar Squares
Since the chocolate is combined with butter, the bars can become quite soft at room temperature, so I highly recommend you keep the sliced bars in the fridge right up until you are ready to serve them. They can get quite melty and messy if left at room temperature for a significant amount of time.
These bars also lend themselves well to freezing. If you would like to freeze some for later, I recommend slicing the bars to the desired size and wrapping with two layers of plastic wrap. Place the wrapped bars in a large ziploc bag, squeeze to remove the air, seal, and place in the fridge. Leave the desired amount of bars at room temperature to thaw for about 15-20 minutes.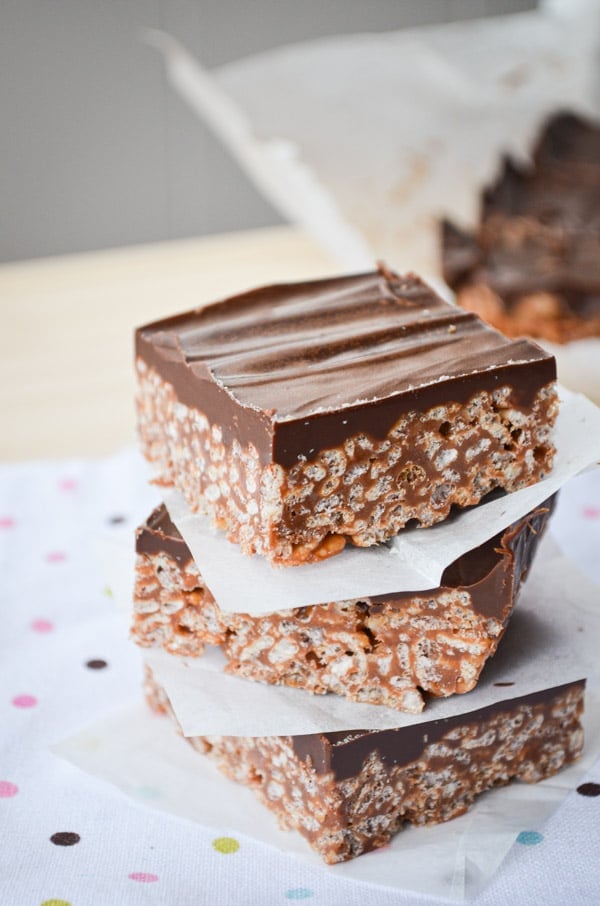 What Do I Need to Make Mars Bar Squares?
4 Mars Bars: You need 4 full size bars for this recipe. I haven't tried this with fun size bars, and I wouldn't recommend it. Mini size bars have a different chocolate to filling ratio that could end up with undesirable results.
Crisp Rice Cereal: Also known as the brand name "Rice Krispies" but you can use generic if you like.
Chocolate Chips: I like to use semisweet chocolate chips in this recipe. I have used milk chocolate chips in the past, but I find it results in a slightly grainy texture.
Salted Butter: This melts with both the chocolate bars and the chocolate chips, though separately. You're definitely going to want the real stuff for this recipe!
Parchment Paper: I'm usually a big fan of silpat mats for cookies and other baked goods, but this is a messy dessert and requires a good lining of parchment paper to keep it from falling apart in the slicing and serving process.
Double Boiler: You don't 100% NEED a double boiler for this recipe, but it does make things a tad safer. This one from Amazon is under $20.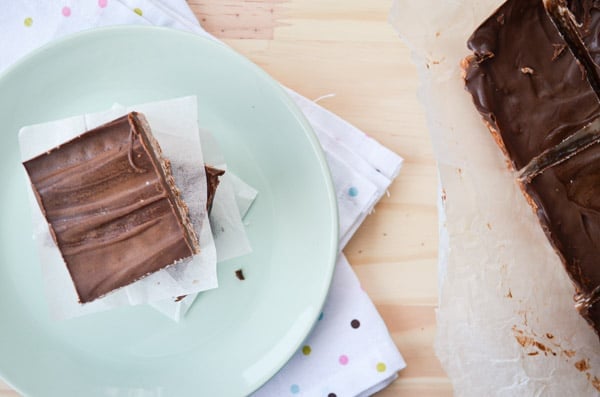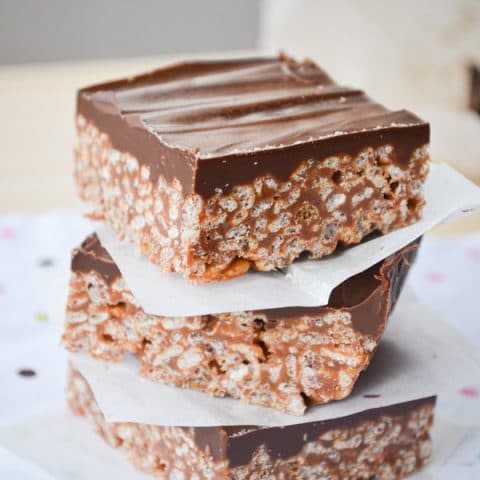 Mars Bar Squares
Total Time:
3 hours
20 minutes
If you're craving something decadent and sweet, these Mars Bars Squares will hit the spot! So easy to make, yet so absolutely dreamy and delicious!
Ingredients
Base
4 Mars Bars
1/2 cup Salted Butter
3 cups Crispy Rice Cereal, like Rice Krispies
Topping
1 cup Semi-Sweet Chocolate Chips
1/4 cup Salted Butter
Instructions
Base
Grease an 8X8 baking dish and line it with parchment paper.
Melt the mars bars and 1/2 cup of salted butter in a medium saucepan over medium heat, stirring constantly.
Once the mars bars and butter is melted, whisk until smooth.
Pour the crisp rice cereal into a large bowl and pour the melted mars bar mixture over the cereal.
Press the cereal and mars bar mixture into the prepared baking dish.
Topping
Melt the chocolate chips with 1/4 cup of salted butter in a small saucepan or double boiler. Whisk until smooth.
Pour the melted chocolate on top of the cereal layer and cool on the counter for an hour before covering with foil or plastic wrap and cooling for 2-3 additional hours in the fridge.
Slice and serve. Keep the bars in the fridge until ready to serve, as the chocolate layer can melt very easily at room temperature.
Nutrition Information:
Yield:

12
Serving Size:

1 Square
Amount Per Serving:
Unsaturated Fat:

0g
Don't Forget to "Pin it" For Later!