The BEST Chicken Thigh Crock Pot recipe! Slow Cooker Butter Chicken is an easy, flavorful meal that makes excellent use of slow and low cooking!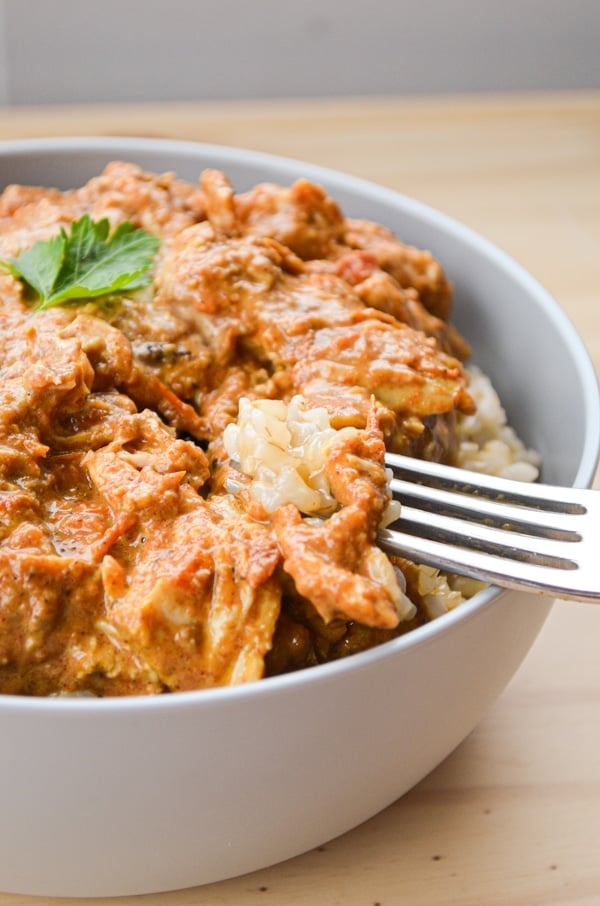 Please note that some of my blog posts here at Little Home in the Making may contain affiliate links. If you make a purchase through these links, I will get a small commission at no additional cost to you. Please see my Disclaimer for more information.
Since it's October (AKA Crocktober) I'm sharing as many slow cooker recipes as I can. This is one I'm particularly happy with.
Sometimes, if you're not using a good recipe or adequate seasoning, crock pot meals can taste kind of bland. My husband told me that when he was growing up, he always equated the crock pot with blandness and immediately went for the Worcestershire sauce 😂. Thankfully, we have the internet now and a great resource at our finger tips for not just FREE recipes, but great ones! I think crock pot cooking in particular has been given a leg up in the age of the internet. As popular as slow cookers were during the 1990's (and before that), there weren't a whole lot of great "from scratch" recipes that were in the recipe card chains of my youth.
Is Slow Cooker Butter Chicken Kid Friendly!?
Not only is this Slow Cooker Butter Chicken recipe FROM SCRATCH, but it's also full of flavor. Tomato, turmeric, garam masala, ginger…these are all flavors that are featured and celebrated in this recipe. Once finished with salted butter and heavy cream, who can turn this delicious butter chicken down!? I know I can't! In fact, Butter Chicken is easily one of my 16 month old's favorites! People are always surprised when he eats well seasoned foods, but I think we need to give babies and children more opportunities to explore unfamiliar flavors. The only thing we had trouble with was that one time I made a curried pasta salad with Jamaican curry powder instead of Indian. Yeah, he was crying 😂 So was I. I love heat, but that was just TOO much!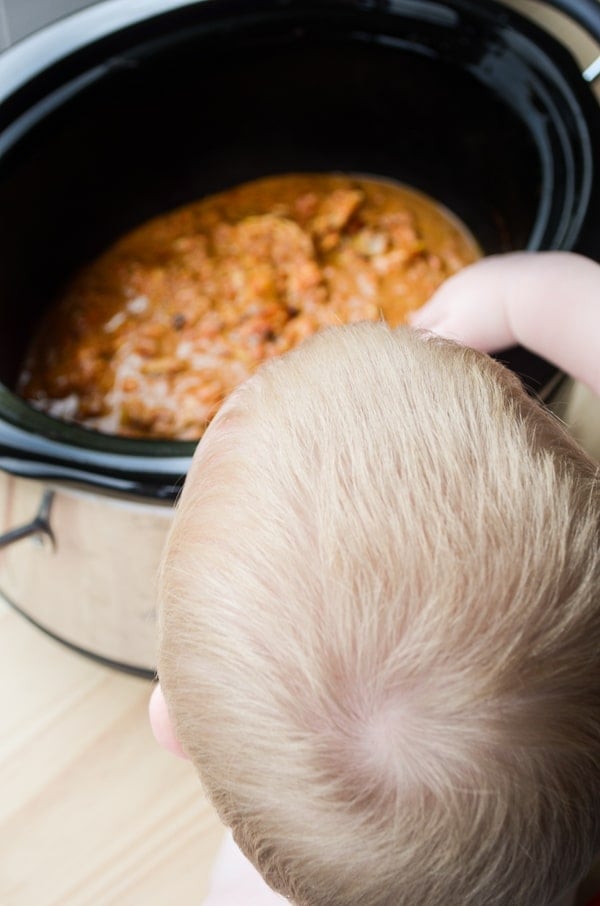 How To Make Slow Cooker Butter Chicken Sauce
Butter chicken is alllllll about that sauce! So how do you make a nice, creamy butter chicken sauce in the slow cooker? Well, it's really not that hard if you have a hand blender (this is the one I have).
Combine and Cook
With this recipe, we combine the chicken, tomatoes, and seasonings in the crock pot and cook it all day, only really "making" the sauce at the very end.
Blend it Up
Once the cooking time is through, you're just going to remove the chicken to a plate and use your hand blender to blend up the sauce right inside the crock pot! If you don't have a hand blender, you can use a regular blender, but you're going to have to be super careful to not burn yourself! You may even want to wait for the sauce to cool a bit, blend it, and then reheat it.
Finishing
Once the sauce is blended, we are going to add in the finishing elements: butter, heavy cream, and garam masala. First, you add the butter, stirring until it melts. You may have to switch your crockpot onto high if you're having trouble getting it to melt. Then you're going to add your garam masala and heavy cream.
Serving
Shred or chop the chicken and add it back to the sauce. Now you're ready to serve over hot cooked rice!
What Do I Need to Make Slow Cooker Butter Chicken?
Boneless, Skinless Chicken Thighs: Chicken thighs work sooo well in this recipe, and in my opinion, this is the BEST crock pot chicken thigh recipe. I find chicken thighs hold up and don't dry out during the slow and low cooking you get from a crock pot.
Fire Roasted Tomatoes: This is probably my secret weapon. I always find recipes with canned tomatoes lacking a little something. A depth of flavor I suppose. I like to use Fire Roasted Tomatoes instead. I don't know what it is, they just make every recipe so much better! They are actually hard to find in my area (they are only available at one grocery store), so when they go on sale I stock up!
Garlic: I definitely opt for fresh in this recipe, but I have used the jarred minced garlic and it has been okay. Fresh is best though.
Garam Masala: This is one seasoning that absolutely makes the dish (no skipping this one). You may not have it in your spice collection, but you can make it from scratch if you need to! Try this recipe from Feasting at Home. I also use Garam Masala for my Curry and Masala Lentils if you're looking for more ideas.
Seasonings: In addition to the Garam Masala, several seasonings are used to up the flavor ante. Salt, ground ginger, cayenne, turmeric, smoked paprika and cumin are all used in this recipe. Smoked paprika really makes the difference versus regular paprika, so I highly recommend you pick some of this up if you don't already have it!
Salted Butter: This adds such an awesome depth of flavor, saltiness, and fatty mouthfeel. Love it.
Heavy Cream: Like liquid butter. Where can you go wrong?
A Slow Cooker: Of course you need a slow cooker! I love this programmable one because I can set the time, go out for the day, and know my meal has not been overcooked!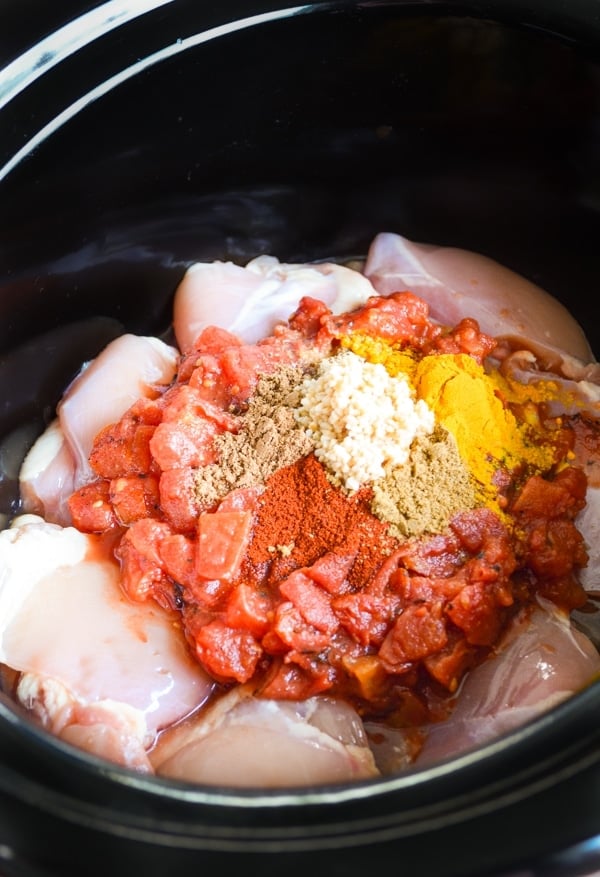 Slow Cooker Butter Chicken - BEST Chicken Thighs Crock Pot Recipe
The BEST Chicken Thighs Crock Pot recipe! Slow Cooker Butter Chicken is an easy, flavorful meal that makes excellent use of slow and low cooking!
Ingredients
2 lbs Boneless, Skinless Chicken Thighs
1 15oz can Fire Roasted Tomatoes
5 cloves Garlic, minced
¾ tsp. Mineral Salt
½ tsp. Ground Ginger
½ tsp. Ground Cayenne
1 tsp. Turmeric
1 tsp. Smoked Paprika
1 tsp. Ground Cumin
2 tsp. Garam Masala, divided
Finishing
½ cup Salted Butter
½ cup Heavy Cream
1 tsp Garam Masala
Serving
Hot Cooked Rice, for serving
Instructions
Add the fire roasted tomatoes, garlic, ground ginger, turmeric, cayenne, smoked paprika, mineral salt, ground cumin, and 1 tsp. of garam masala. Mix well to combine.
Add the chicken and stir the sauce to coat and submerge the chicken.
Cook on "Low" for 6-7 hours, or until the chicken reaches an internal temperature of 165F. Turn the slow cooker off.
Remove the chicken from the slow cooker and set aside on a plate.
Finishing
Add the butter cubes to the slow cooker and stir the sauce to melt the butter. Add the heavy cream and stir to combine.
Stir in 1 tsp. Garam Masala.
Use an hand immersion blender to blend the chunks of tomato into a smooth sauce. You can also transfer the sauce to a blender, but a hand blender is easier.
Shred the chicken and add it back to the sauce. Stir to combine and coat the chicken with sauce.
Serve over hot, cooked rice and enjoy!
Nutrition Information:
Yield:

6
Serving Size:

1 grams
Amount Per Serving:
Calories:

509
Total Fat:

35g
Saturated Fat:

18g
Trans Fat:

1g
Unsaturated Fat:

15g
Cholesterol:

248mg
Sodium:

770mg
Carbohydrates:

13g
Fiber:

2g
Sugar:

3g
Protein:

39g
Nutrition information is an estimate only.
Don't Forget to "Pin It" for Later!