This simple recipe for Dutch Oven stuffed peppers features seasoned ground beef mixed with cooked rice, spooned into hollowed out bell peppers, and baked to perfection. Then, each serving is topped off with some shredded cheese and placed under the broiler. The perfect healthy comfort food!
There is nothing quite like the early summer months when all these delicious foods start coming into season. Suddenly, food that was super expensive at the grocery store, is practically a steal and you have to just buy it all and find a way to use it.
Bell peppers are one of those things that I always buy when they go on sale. They take a while to arrive at the Farmer's market in our Zone 5 climate, but in early June they start going on sale at the grocery stores and I just have to pick some up. I use them in everything from skillet fajitas to sausage and peppers, and everything in between.
This easy recipe for Dutch Oven stuffed peppers is the perfect way to use up some of those seasonal bell peppers, all while making a delicious and comforting meal that also happens to be healthy. Tender ground beef pairs with diced tomatoes and rice, and then is spooned into hollowed out bell peppers. Finally, everything is baked in a covered Dutch Oven until perfectly soft. Then, you top each pepper with some shredded cheese and broil just until melted and bubbly, and you're ready to serve. I'm drooling just thinking about it!
Why You'll Love This Recipe
Makes a great use of seasonally available bell peppers.
This Dutch Oven recipe can be made ahead or frozen, making it perfect for meal prep.
It's naturally gluten free, and some easy substitutions can make it work for paleo, keto, and low carb diets.
It's flavorful, comforting, and delicious, all while being loaded with veggies.
Ingredients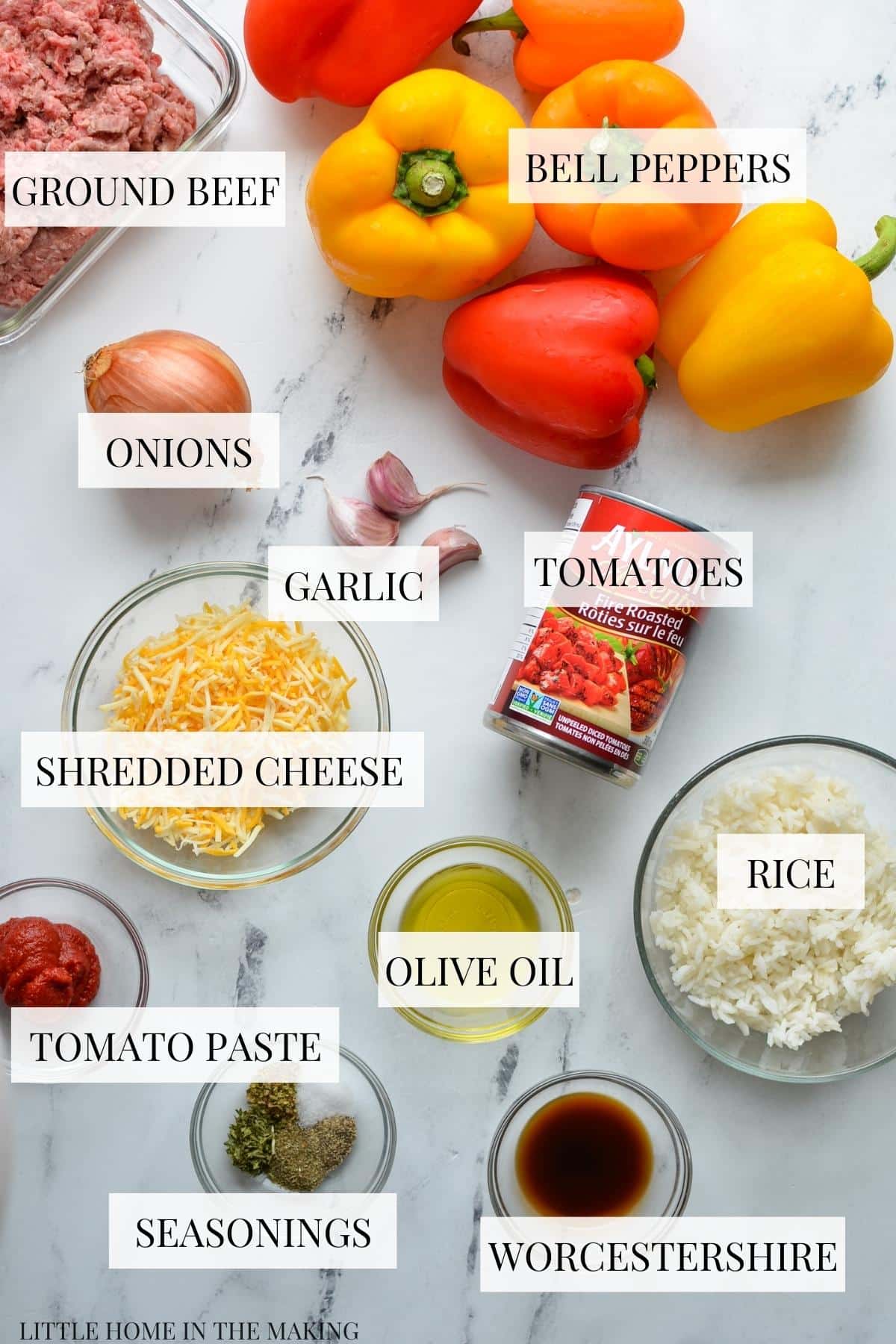 Bell peppers: You'll need 6 bell peppers, of varying colors. While you can use green peppers, they take a bit longer to cook and are less sweet then their yellow, orange, and red counterparts.
Ground beef: A lean ground beef is preferred, but you can use whatever kind you have on hand since you'll have a chance to drain excess fat.
Rice: You'll need about 1 cup of cooked rice to add in. You can do this in advance, use leftover rice, or do it just before preparing the peppers and ground beef.
Diced tomatoes: I highly recommend using fire roasted diced tomatoes for this recipe. The flavor is SO much better than standard diced tomatoes. You could also opt for a petite diced tomato.
Cheese: A little bit of shredded cheese on top makes this a comforting meal.
Garlic and onions: Because nothing adds flavor like aromatics!
Other: tomato paste, Worcestershire sauce, olive oil, dried basil, dried oregano, dried parsley, black pepper and salt.
Equipment Needed
Dutch oven: This is an investment piece, and so it's a good idea to go with a size that is versatile and easy to use. I have two dutch ovens, and plan on investing in more of various shapes and sizes, but this is the one I use for about 90% of my dutch oven cooking. I do everything from sourdough bread to chicken and dumplings in this workhorse!
Heavy bottomed skillet: Having a good quality heavy bottomed skillet will serve you well! Food does not easily burn in these high quality skillets, so they are much easier to clean and the quality of your food is so much better versus thin skillets. This is the one I use for all purpose cooking.
How to Make Stuffed Peppers in a Dutch Oven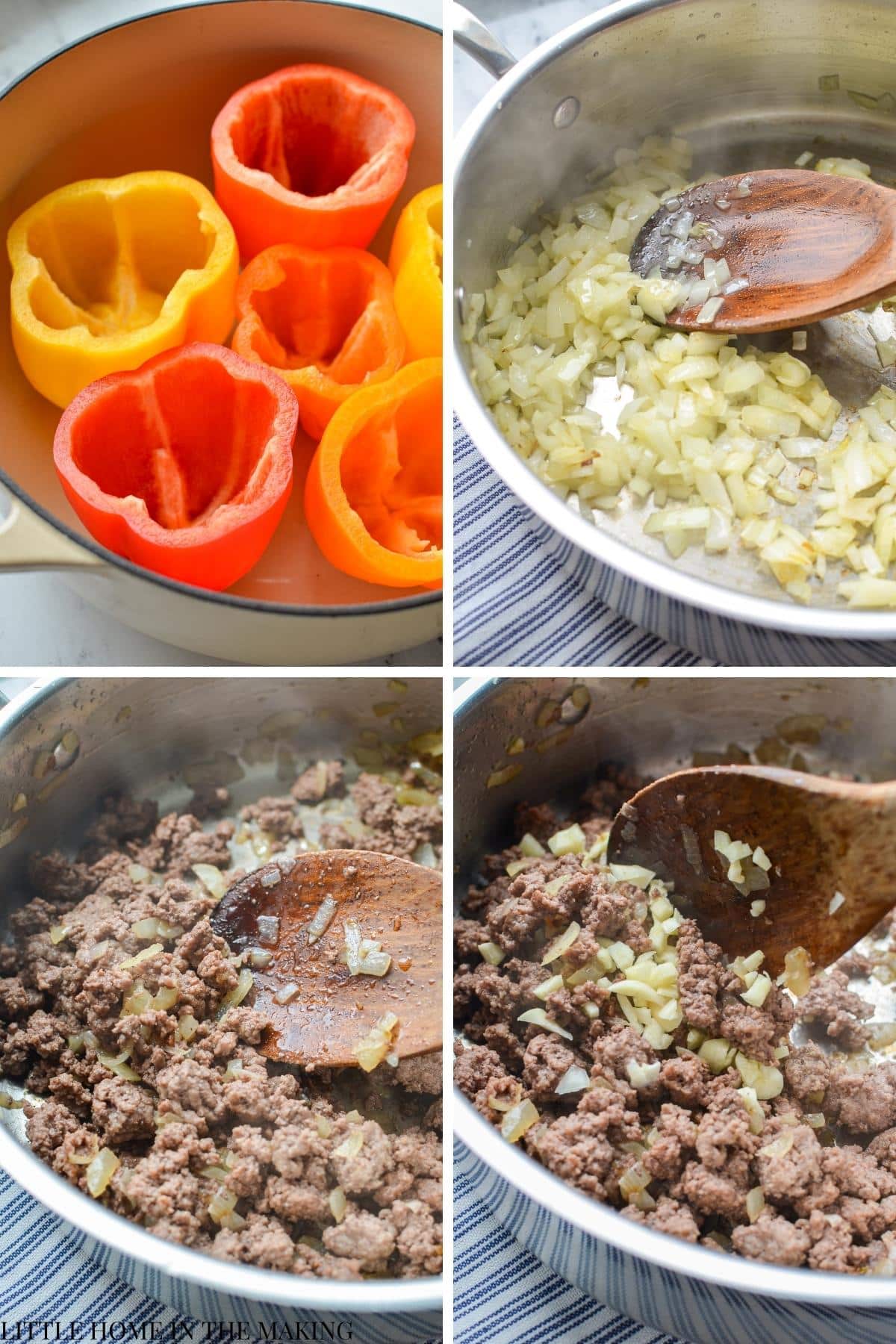 To get started, remove the tops of your rainbow bell peppers and remove any seeds. Wash them inside and out, and pat dry with a clean cloth. Place them inside of your dutch oven, evenly spaced.
Heat a heavy bottomed skillet over medium heat, and add some olive oil when it gets hot. Add the diced onions and sauté until softened and semi-translucent (2-3 minutes).
Add the ground beef and crumble with the bottom of a wooden spoon. Cook and crumble until all of the ground beef is browned and no pink remains. Drain off any excess grease that accumulates.
Add in the garlic and sauté until fragrant, approximately 1 minute.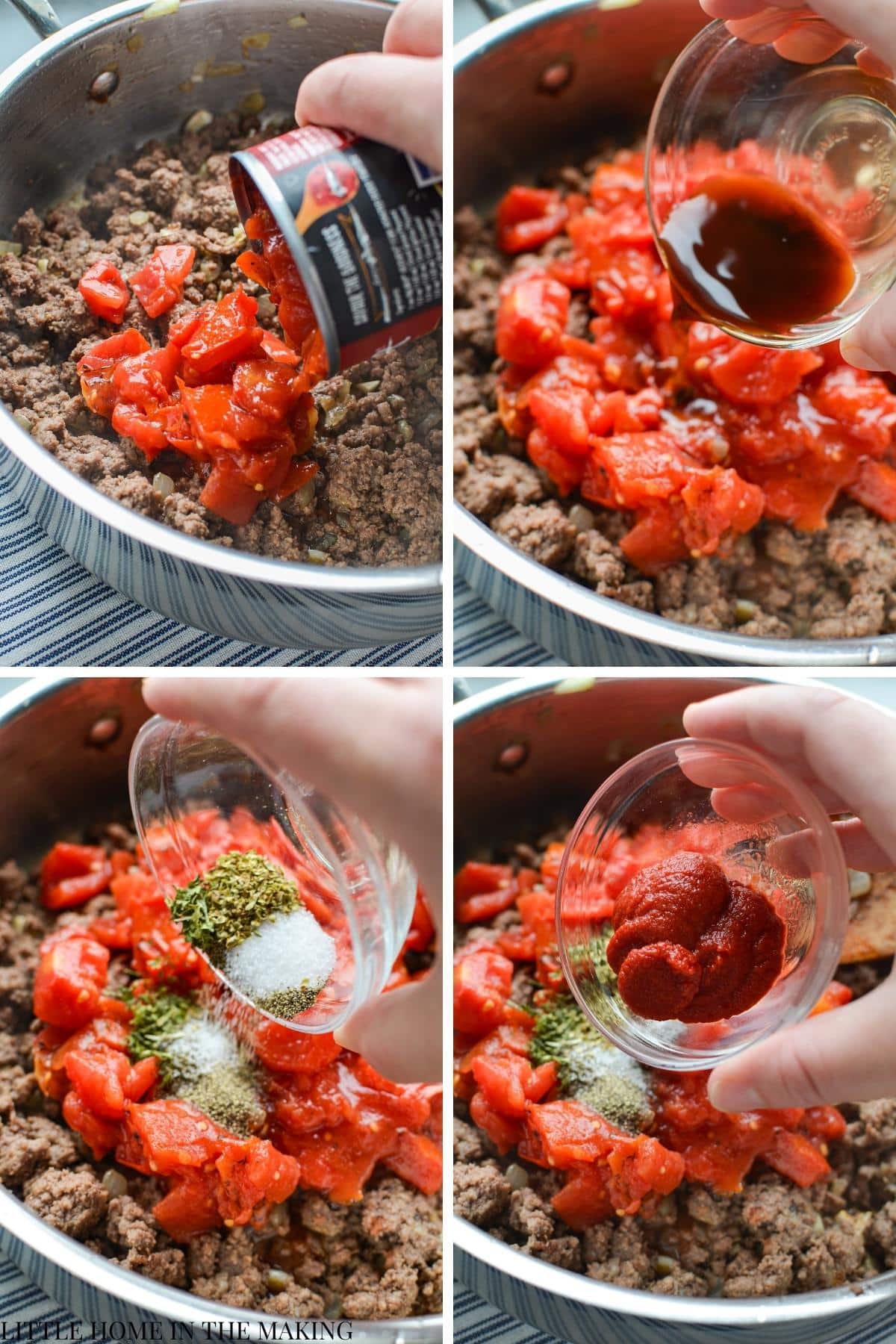 Immediately add in the full can of diced tomatoes, Worcestershire sauce, seasonings, and tomato paste.
Then, stir everything together until well combined. Remove from the heat.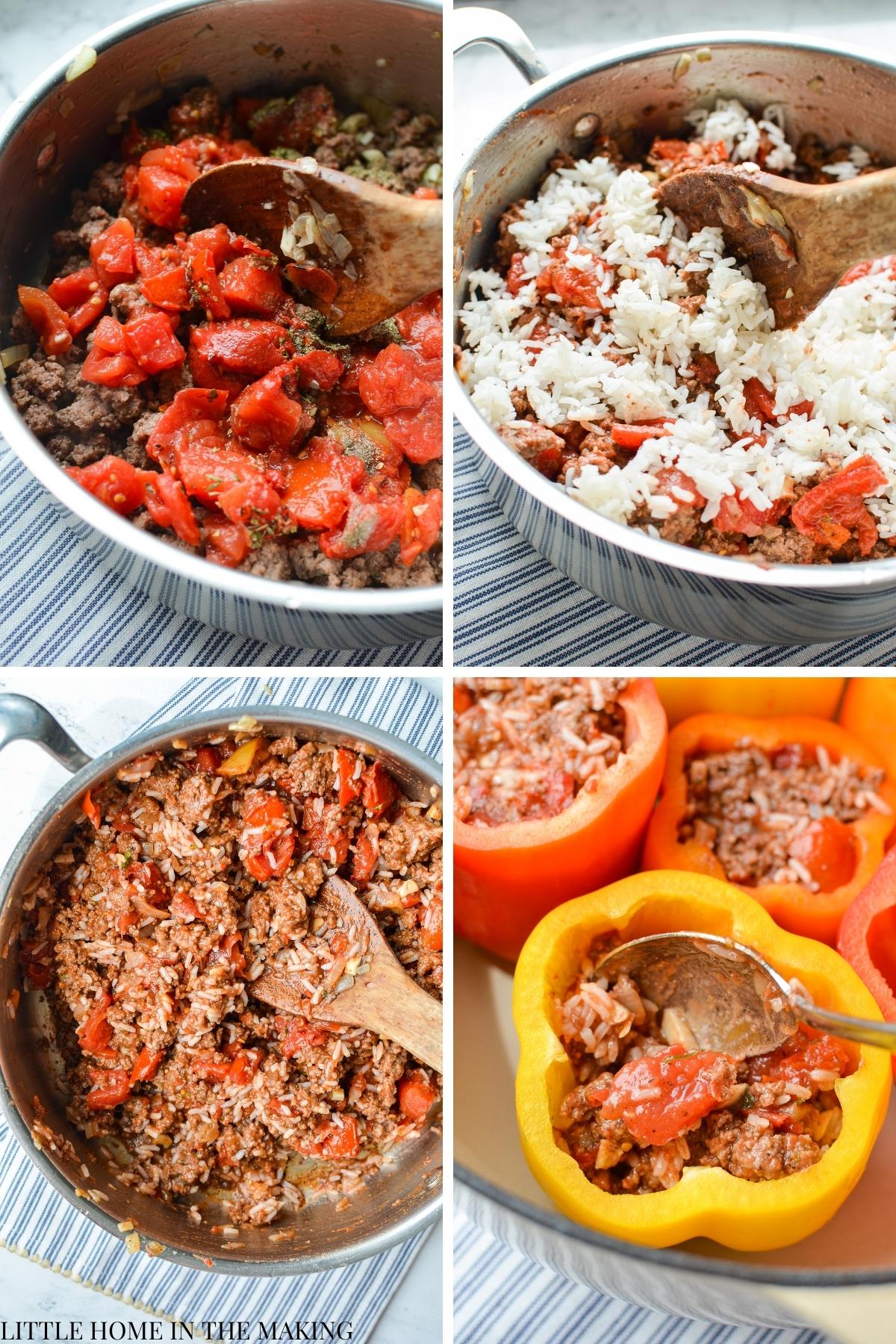 Add 1 cup of cooked rice into the skillet, and stir to combine. Taste and adjust any seasonings or flavors to your liking.
Spoon the mixture into the hollowed out bell peppers until all the mixture is used up and the peppers are filled.
Add the cover and bake in a 350ºF oven for 45 minutes. Then, remove the lid from the dutch oven and bake for an additional 15 minutes.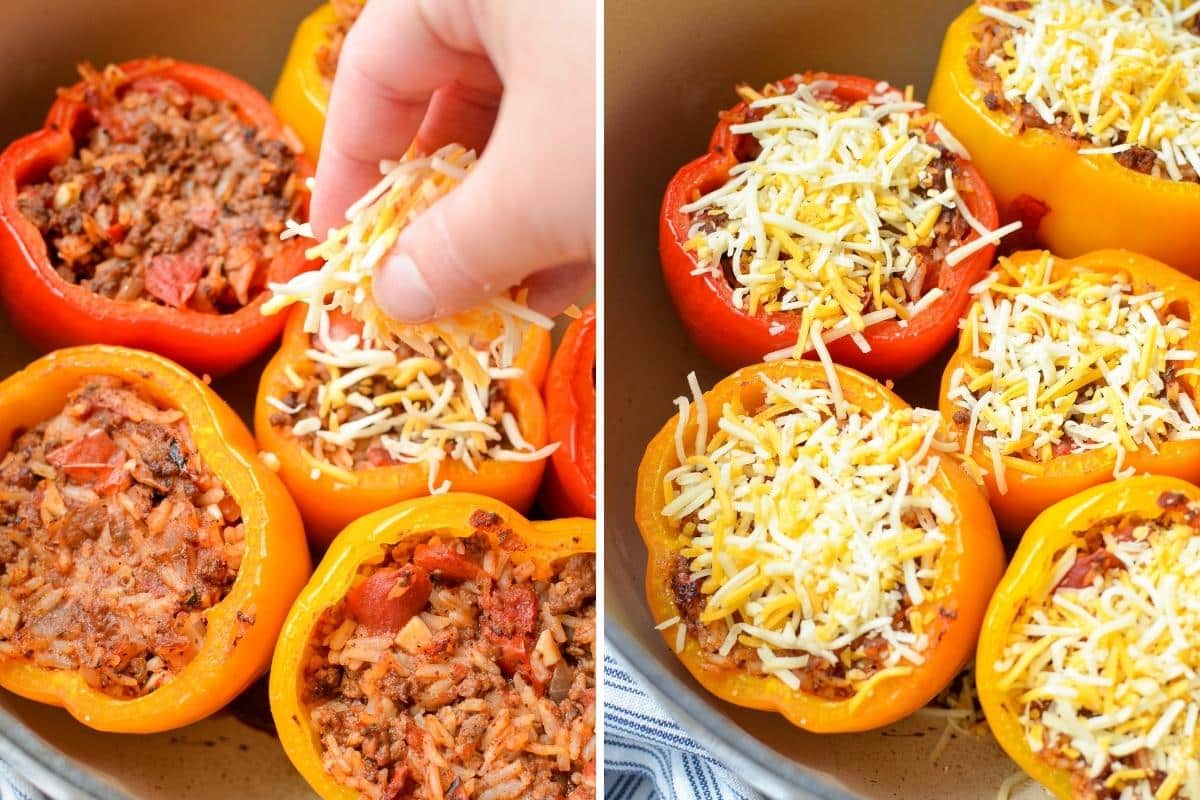 Top each pepper with some shredded cheese, and set the oven to broil.
Place the peppers under broil for 1-3 minutes, or until the cheese is melted and bubbly, and the edges of the peppers char slightly.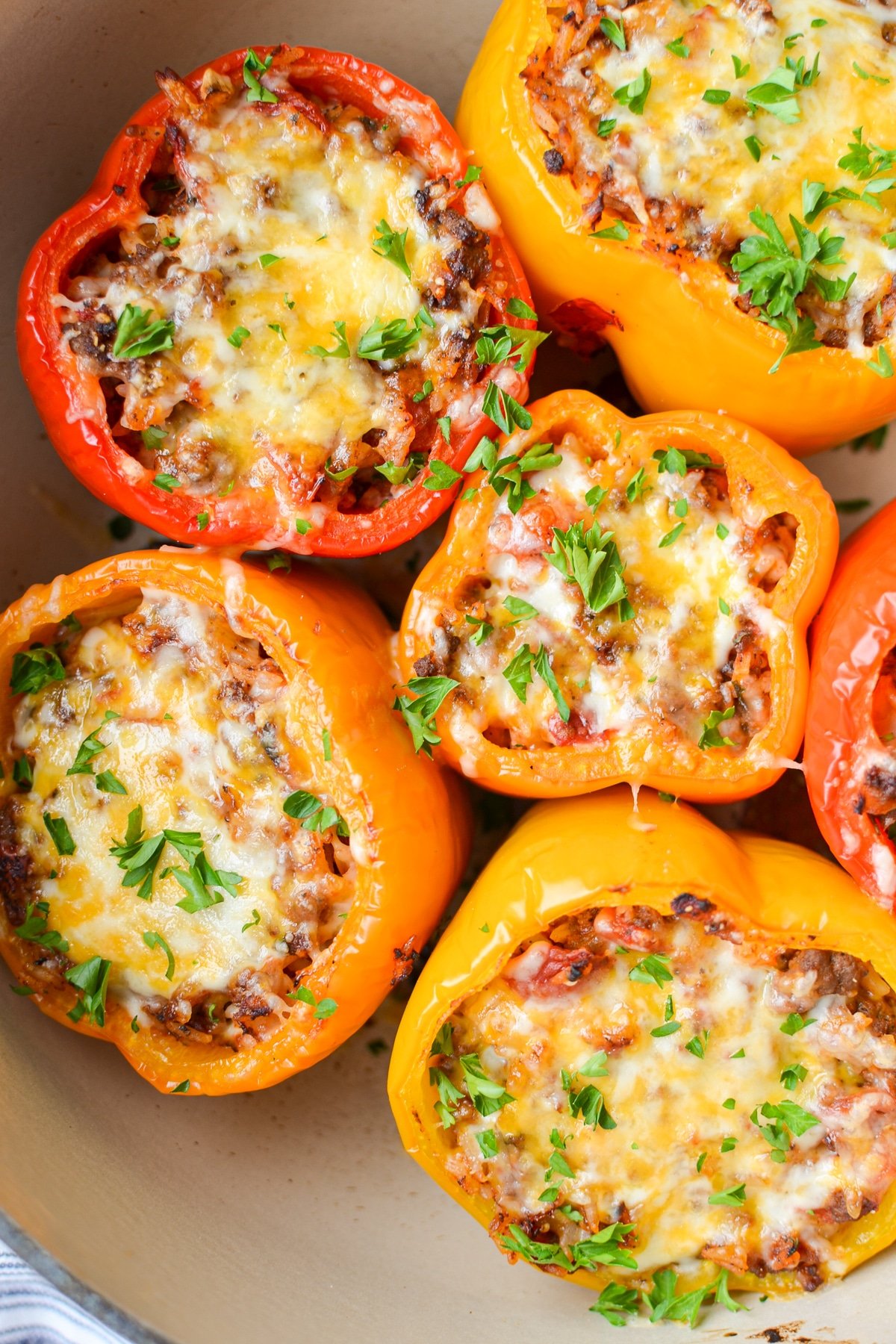 Variations and Substitutions
Rice: substitute the rice for quinoa, cauliflower rice, or leave it out all together. If you leave the rice out, be sure to add an additional 1/2 pound of ground beef to increase the substance.
Gluten free: This recipe is gluten free as written! Just verify that your brand of Worcestershire sauce is gluten free, as some brands can contain gluten.
Paleo/Low Carb: Substitute the cooked rice in this recipe for steamed cauliflower rice, or omit and cook an additional 1/2 pound of ground beef. For paleo, omit the cheese.
Recipe FAQ's
Can stuffed peppers be made ahead of time?
Yes, stuffed peppers absolutely can be made ahead of time. The best way to make them ahead of time is to prepare the filling mixture, fill the peppers, and store until ready to bake. For the best results, I wouldn't recommend baking the peppers first.
Can I freeze stuffed peppers?
Yes, you can freeze your stuffed peppers either cooked or uncooked. If storing them cooked, allow to cool first. Then place in a baking dish and wrap, or wrap individually for longer storage. If freezing your peppers uncooked, you must first prepare the filling, blanch the peppers for 1-2 minutes, and then stuff them with the filling. Allow to cool completely, then wrap individually and place in an airtight freezer bag.
Do I need to cook my peppers before stuffing them?
If you are using colorful rainbow bell peppers, there is no need to cook them beforehand. Since colors like red, orange, and yellow are fully ripened, they are much softer than unripe peppers like green peppers. If using green peppers, it is best to blanch them first OR roast them in the oven prior to filling with your beef or turkey mixture.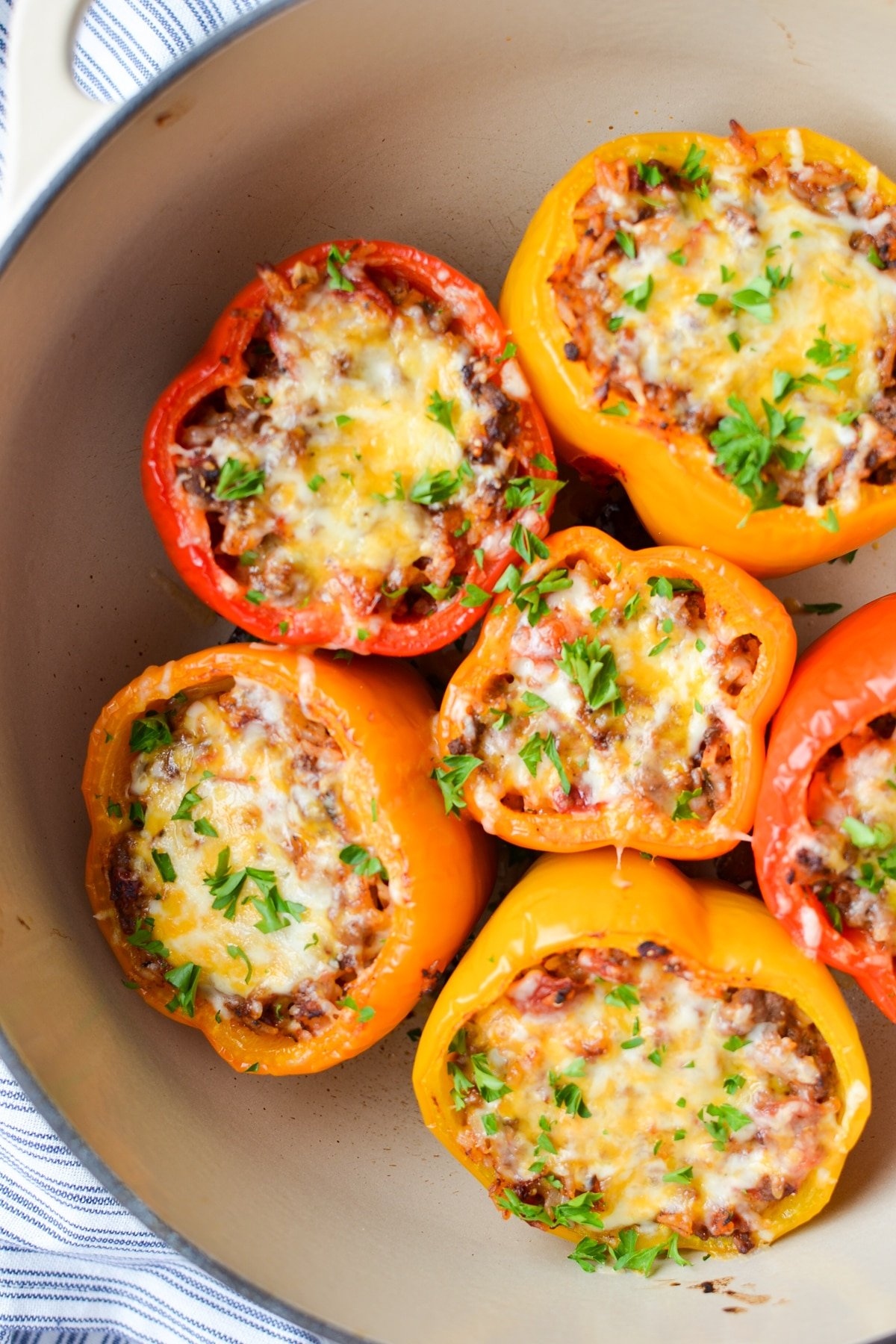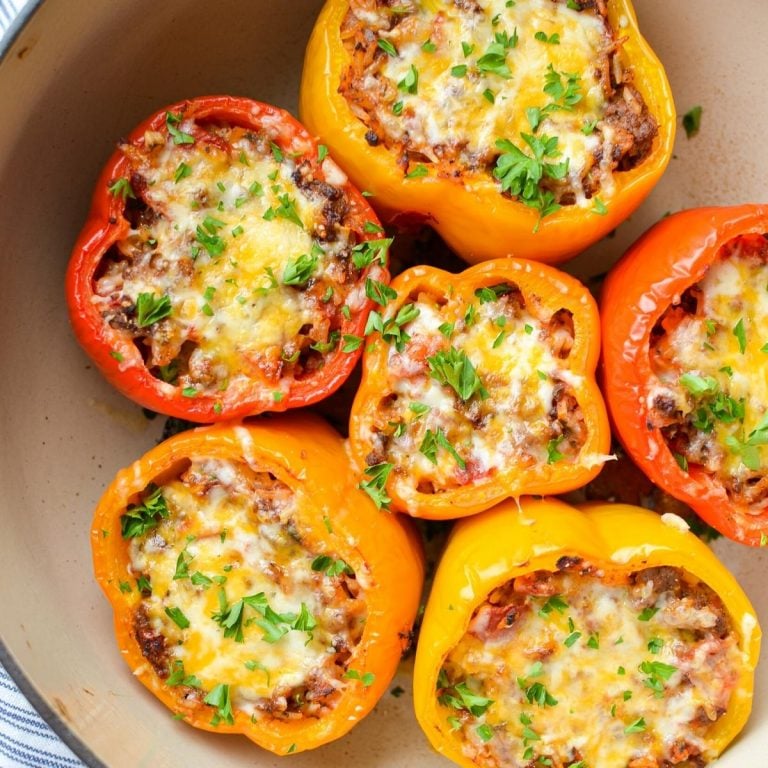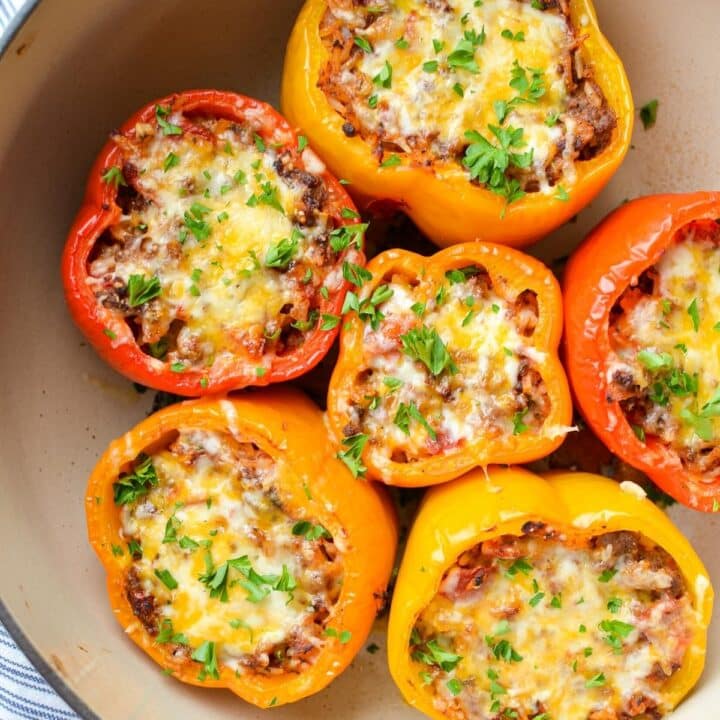 Dutch Oven Stuffed Peppers
Cook Time:
1 hour
5 minutes
Total Time:
1 hour
25 minutes
Filled with ground beef, tender bell peppers, and fire roasted tomatoes, this comforting recipe for stuffed peppers in a dutch oven is sure to be a new favorite.
Ingredients
6 Rainbow bell peppers
1 tablespoon olive oil
1 medium onion, peeled and minced
1 pound lean ground beef
3 garlic cloves, peeled and minced
1 (15oz) can fire roasted tomatoes, undrained
2 tablespoons tomato paste
1 tablespoon Worcestershire sauce
1/2 teaspoon dried basil
1/2 teaspoon dried oregamo
1/2 teaspoon dried parsley
1/4 teaspoon ground black pepper
1/2 teaspoon salt
1 cup cooked rice
3/4 cup shredded cheese
Instructions
Preheat the oven to 350ºF and cook rice according to package directions. Set aside 1 cup of cooked rice for the recipe.
Cut the tops off of your rainbow peppers, and remove the pith and the seeds from the inside. Arrange in your dutch oven so they are evenly spaced. You may need to cut a small amount off the bottom to get them to stand up.
Heat a heavy bottomed skillet over medium heat. Once the skillet is hot, add the olive oil and swirl to coat the pan.
Add the minced onion to the skillet and saute just until softened.
Add the ground beef and crumble with the bottom of a wooden spoon.
Once the ground beef is browned and cooked through, use a spoon to remove any excess grease.
Add the garlic cloves and saute until fragrant, or for about 1 minute.
Add in the full can of fire roasted tomatoes, the tomato paste, worcestershire sauce, and all of the seasonings. Stir to combine,
Add the rice to the skillet, and stir until everything is evenly distributed.
Spoon the rice and ground beef mixture into the peppers, filling each one to the top.
Place the cover on the dutch oven and bake for 45 minutes in the preheated oven.
Remove the lid, and return to the oven for an additional 15 minutes of cooking time.
Remove the dutch oven, top each pepper with shredded cheese, and place under the broiler for 1-2 minutes, or until the cheese is melted and bubbly.
Serve and enjoy! Garnish with parsley if desired.
Notes
Storage: Allow to cool to room temperature, then wrap tightly and store in the fridge for up to 3 days, or in the freezer for up to 2 months.
Ground turkey: If desired, you can use ground turkey in place of the ground beef. Just add some oil to the pan before browning, as turkey is very lean and will stick to the pan otherwise.
Gluten free: Verify that your brand of worcestershire sauce is gluten free, and you're good to go!
Nutrition Information:
Yield:

6
Serving Size:

1
Amount Per Serving:
Calories:

357
Total Fat:

18g
Saturated Fat:

7g
Trans Fat:

0g
Unsaturated Fat:

8g
Cholesterol:

86mg
Sodium:

436mg
Carbohydrates:

20g
Fiber:

3g
Sugar:

6g
Protein:

28g
Nutrition information is an estimate only.
Please note that some of my blog posts here at Little Home in the Making may contain affiliate links. If you make a purchase through these links, I will get a small commission at no additional cost to you. Please see my Disclaimer for more information.