These old fashioned buffalo chip cookies are loaded with pecans, coconut, oatmeal, chocolate chips and cereal! I make mine with Rice Krispies, but you can use cornflakes too. The ultimate potluck and bake sale cookie; you get a whopping 90+ cookies with just one bag of chocolate chips! Freezer friendly and packed full of flavor. This is a unique cookie recipe that you're going to want to hold onto.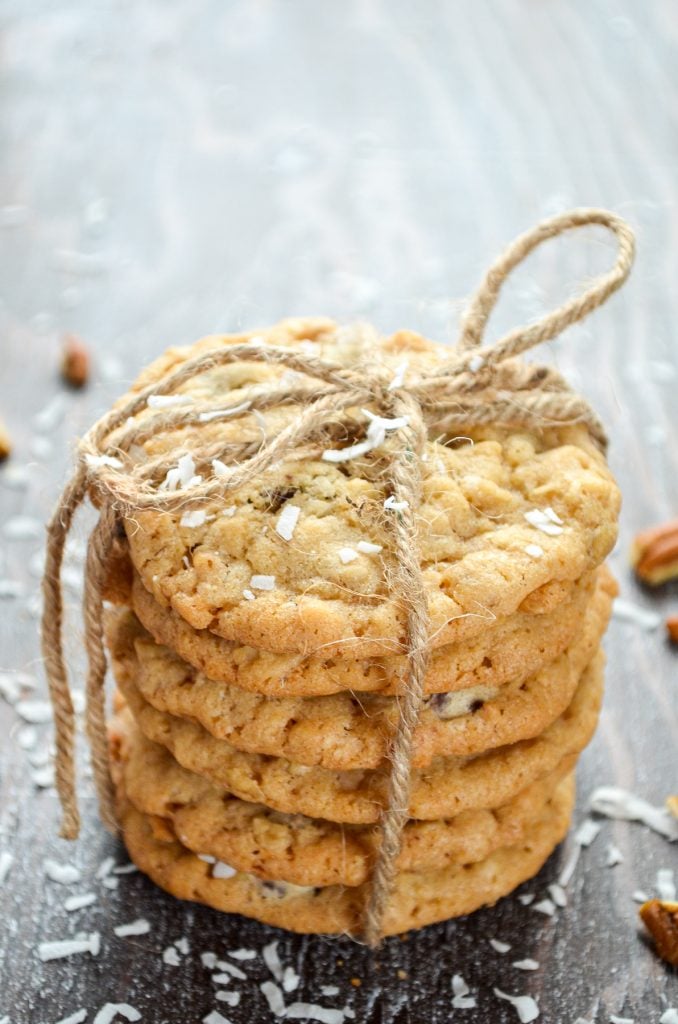 This post contains affiliate links, which means that if you click a link and make a purchase, we receive a commission at no additional cost to you. See our disclaimer for more information. Any nutritional information is for entertainment and informational purposes only, and is not intended as medical advice. Always seek the advice of your health provider.
---
The Old Fashioned Cookie Recipe You've Never Heard Of
When I came upon a recipe for "Buffalo Chip Cookies" in an old recipe book I picked up at the thrift store, I was totally intrigued. I've been baking since I was a teenager and I haven't come across anything like this! Sure, I've seen a variety of kitchen sink cookies (and I would categorize this as such), but I hadn't seen anything by this name. And I certainly hadn't seen anything with so many add-ins!
These Old Fashioned Buffalo Chip cookies are absolutely loaded with chopped pecans, shredded coconut, chocolate chips, oatmeal, and cereal! Yes, you read that right: cereal. The original recipe calls for Cornflakes, but I just felt that Rice Krispies would be a better fit. I'm so glad I made that choice because there is a gentle crunch when you bite into the cookie that is just absolutely irresistible! I know you're going to be totally obsessed with these unique cookies!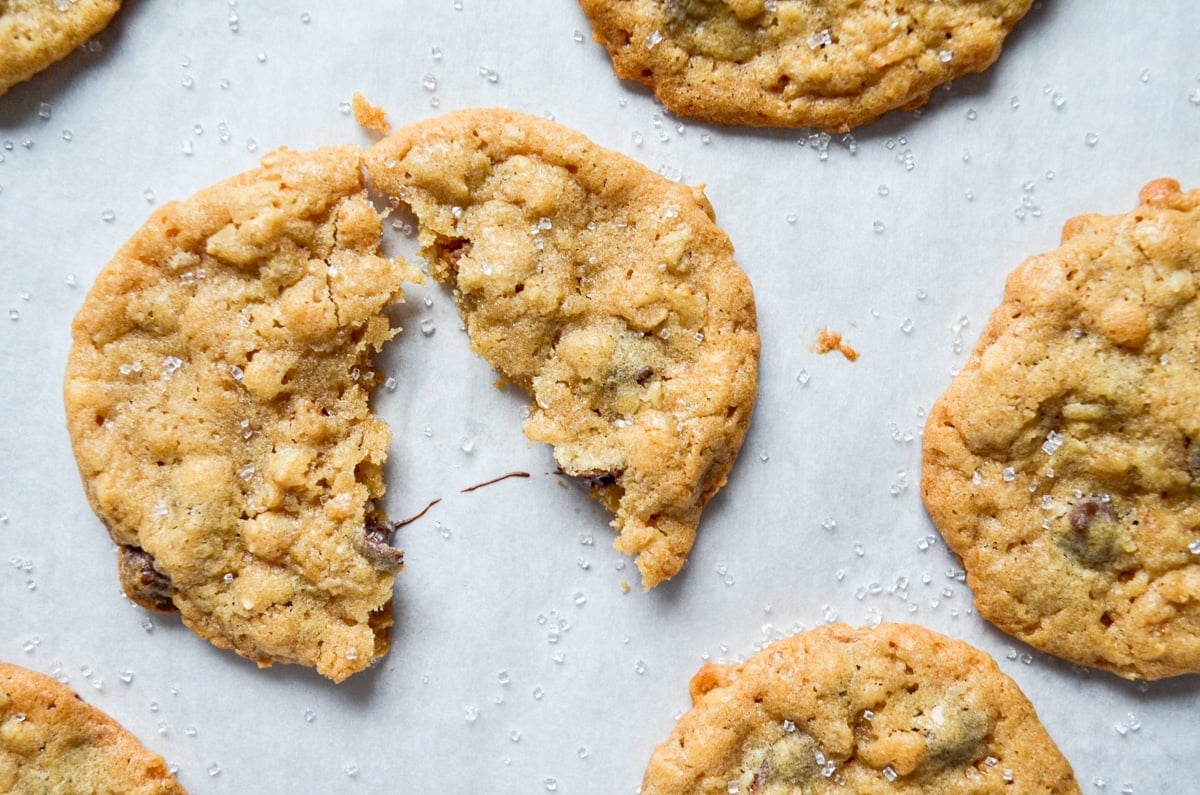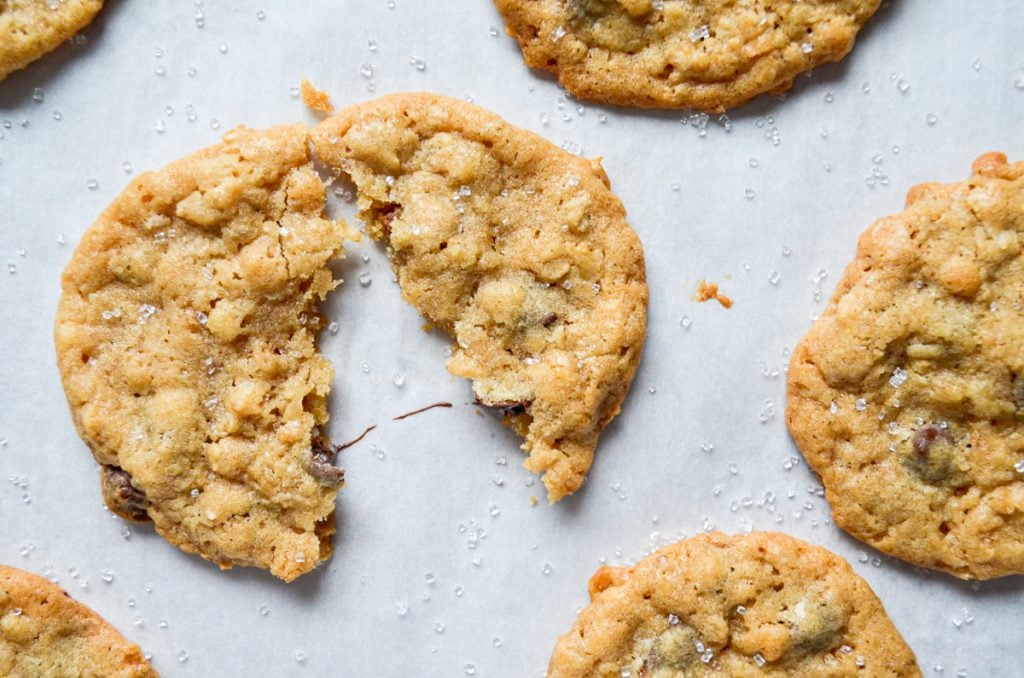 Why Are They Called "Buffalo" Chip Cookies?
I can't seem to find out exactly why they are called "buffalo" chip cookies, but it may have something to do with their size and how loaded they are with various add-ins. I can't seem to discern if maybe they are from Buffalo NY (I found these in a southern style cookbook 🤔) or if it is for some other non apparent reason. Either way, they are indeed called Buffalo Chip cookies and that they will stay!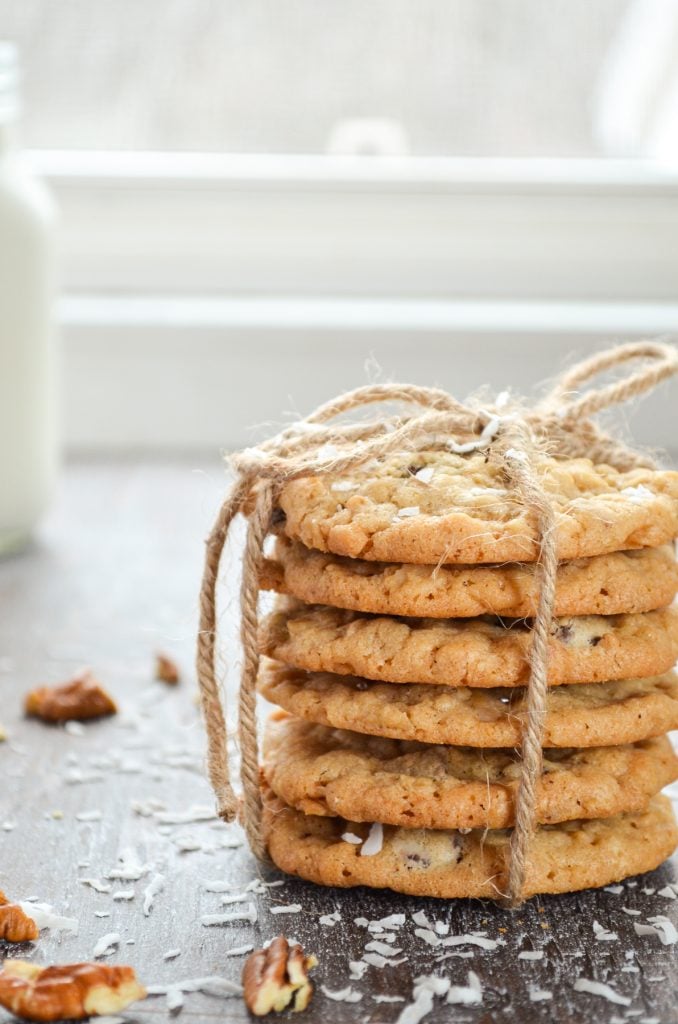 Can You Freeze Buffalo Chip Cookies
Yes.
If you read my introduction, you probably saw that this recipe makes a massive 90+ cookies! Yes, that's a whole lot of cookies! This is perfect for bake sales, potlucks, and for stocking your freezer! I'm sure you've heard of freezer meals, but freezer desserts are totally a thing too! It's kind of like the homemade from scratch version of place and bake cookies.
So there are two ways to freeze these cookies, and this works for just about every cookie recipe out there. You can freeze the unbaked dough, or you can freeze the baked cookie. Both work great, but I find the unbaked dough maintains its quality for longer in the freezer, and they have more of a fresh baked taste when you serve them. On top of that, freezing unbaked dough may help you avoid binging on all those delicious cookies in your freezer since you have to thaw and bake them first!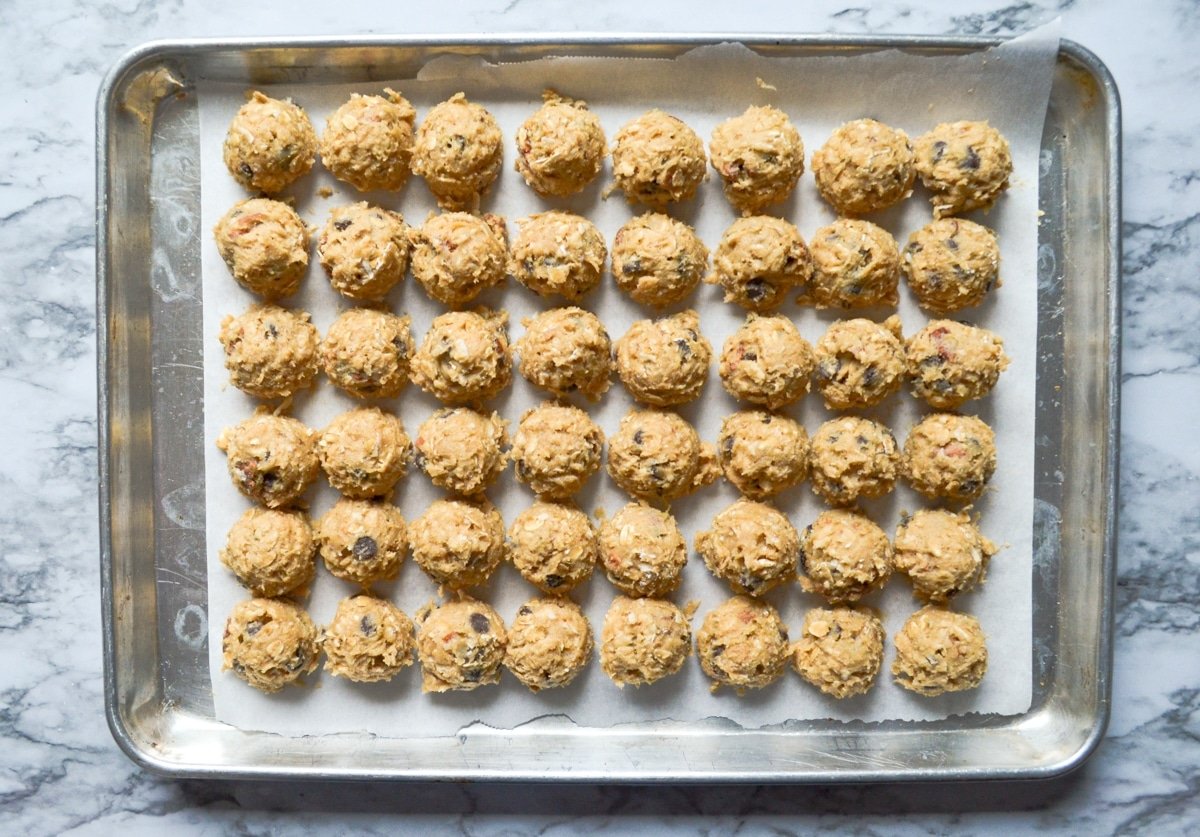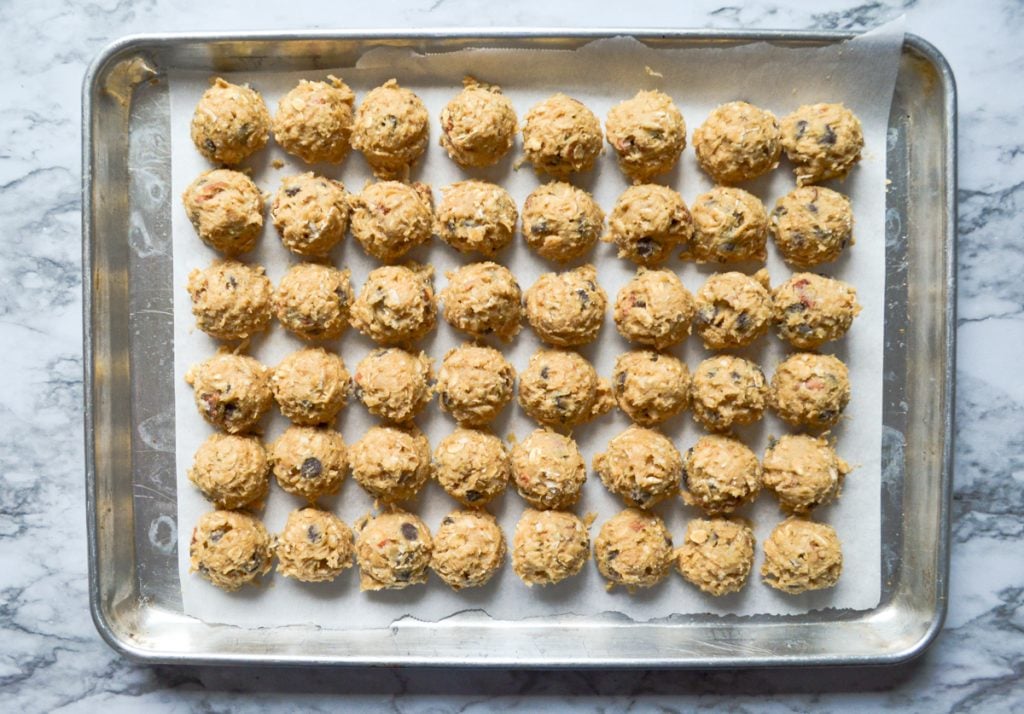 Freezing Unbaked Dough
Freezing unbaked cookie dough is a fairly straight forward process. Some people freeze the whole portion of dough and thaw it completely before scooping it into cookie sizes and baking. I prefer to do the scooping before I freeze the dough. That way I can take out the desired amount of cookie balls, thaw, and bake. The cookie dough thaws much quicker this way, and you are able to portion out exactly what you need to bake.
To freeze the cookie dough in individual portions, I use my trusty #40 (1 2/3 Tbsp) cookie scoop to portion out the dough.
How to Freeze on a Baking Sheet
Then place each portion on a parchment lined baking sheet. You don't have to space the cookie dough balls like you would if you were baking, so you can set them very close to one another. Once you have all your cookie dough portioned and placed on the baking sheet, you can place the baking sheet directly into your freezer.
Once the cookie dough is frozen through completely, transfer your cookie dough to medium or large sized freezer bags. Squeeze out as much of the air as possible, label, and place back in the freezer.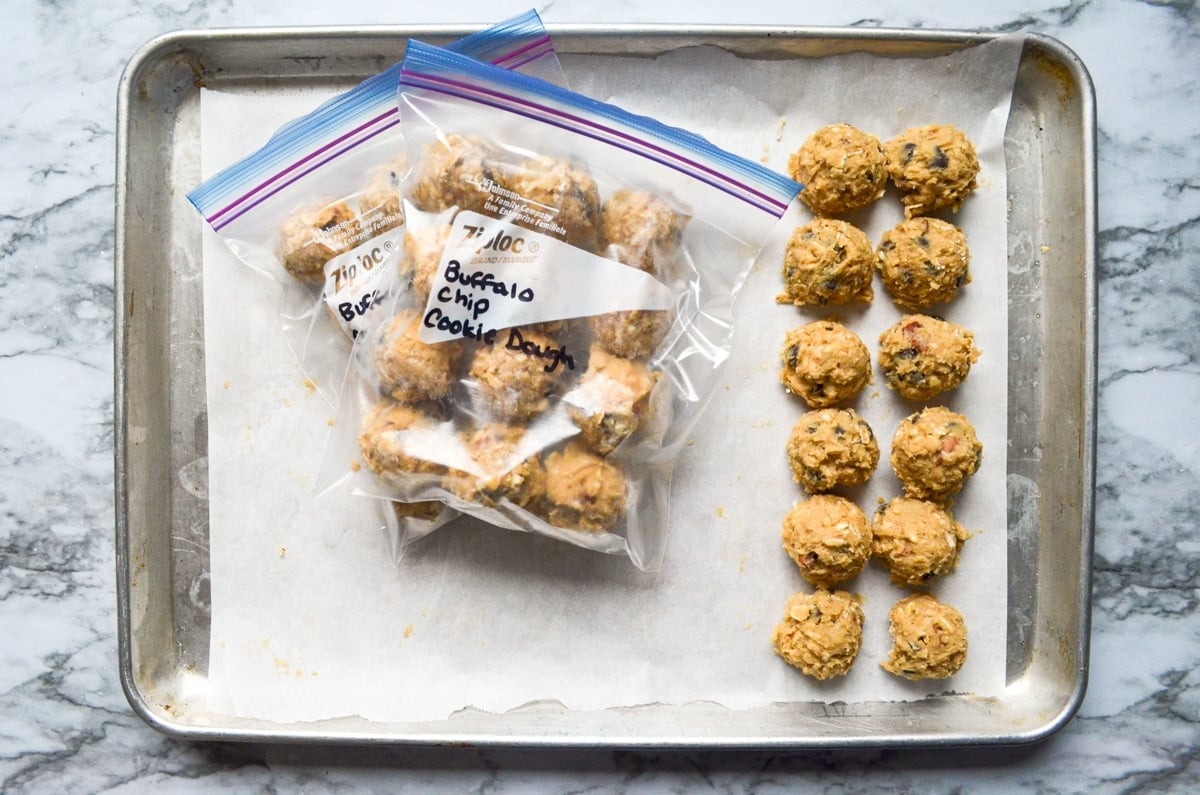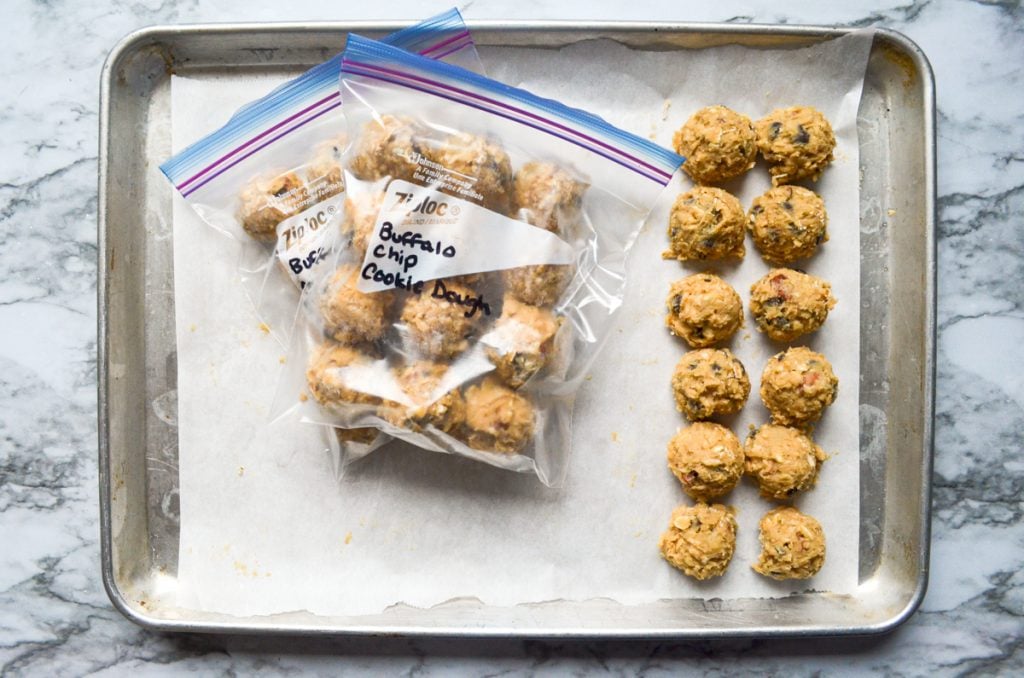 Freezing Baked Cookies
If you'd like to freeze your cookies so they are ready to thaw and eat, it's a pretty simple process! Let your cookies cool completely on the cooling rack. Once they are completely cool, you can transfer them to a medium or large freezer bag. Don't pack the cookies in too tightly, or they will freeze together.
When you're ready to serve the cookies, just let them thaw for 10-15 minutes at room temperature. They thaw very quickly! For best results, eat these frozen baked cookies within a month. This will help you avoid freezer burn and that "tastes like freezer" vibe.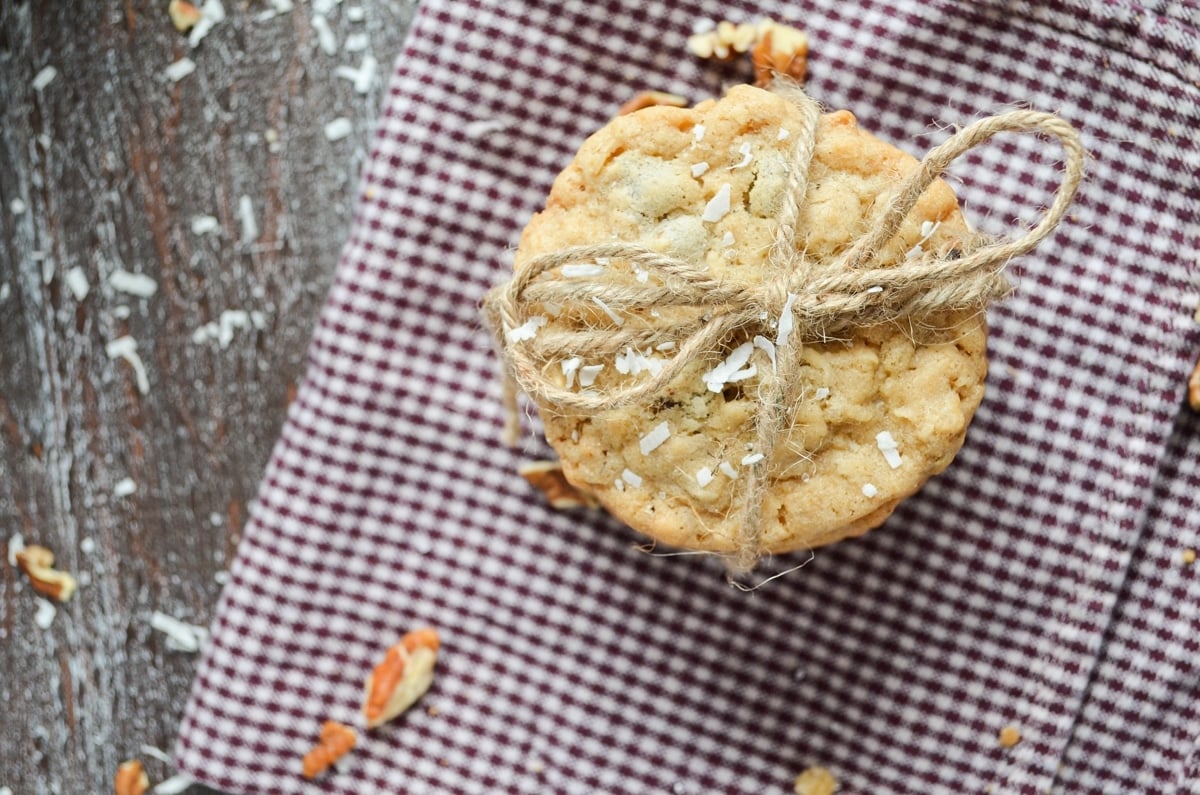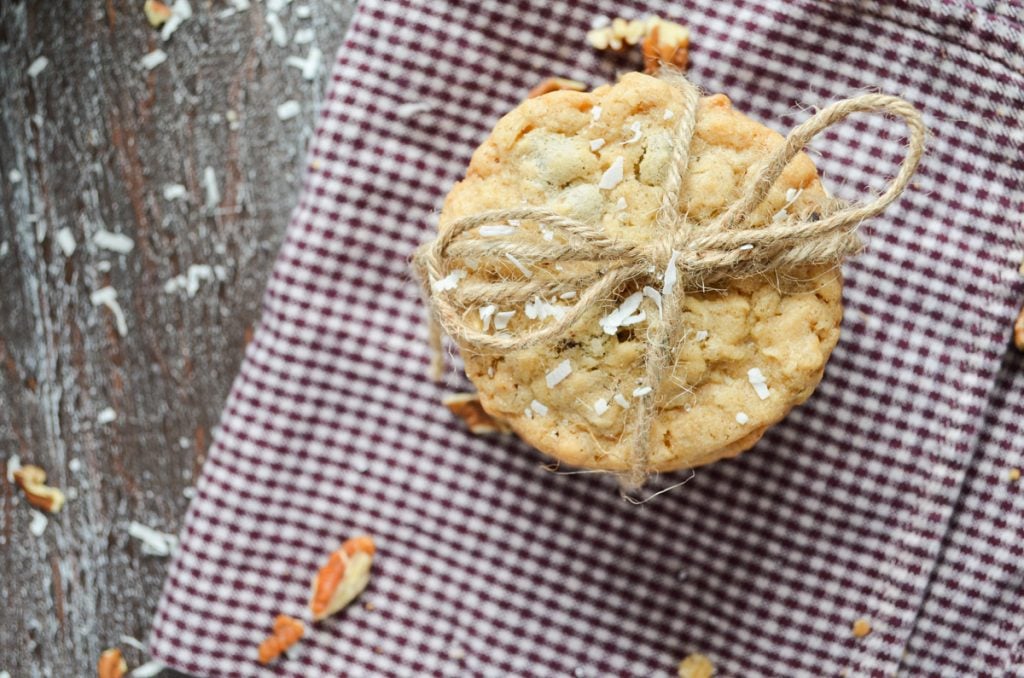 How to Bake Frozen Cookie Dough
If you've frozen your cookies unbaked, you will need to thaw them before baking. In theory, you could cook them from frozen, but they may not spread as well and you may have to tinker with the time a bit. My advice is to simply let them thaw at room temperature, which shouldn't take very long. Once they are thawed, place them on a parchment lined baking sheet and bake at 350F for 15 minutes, or until the edges are starting to just slightly brown.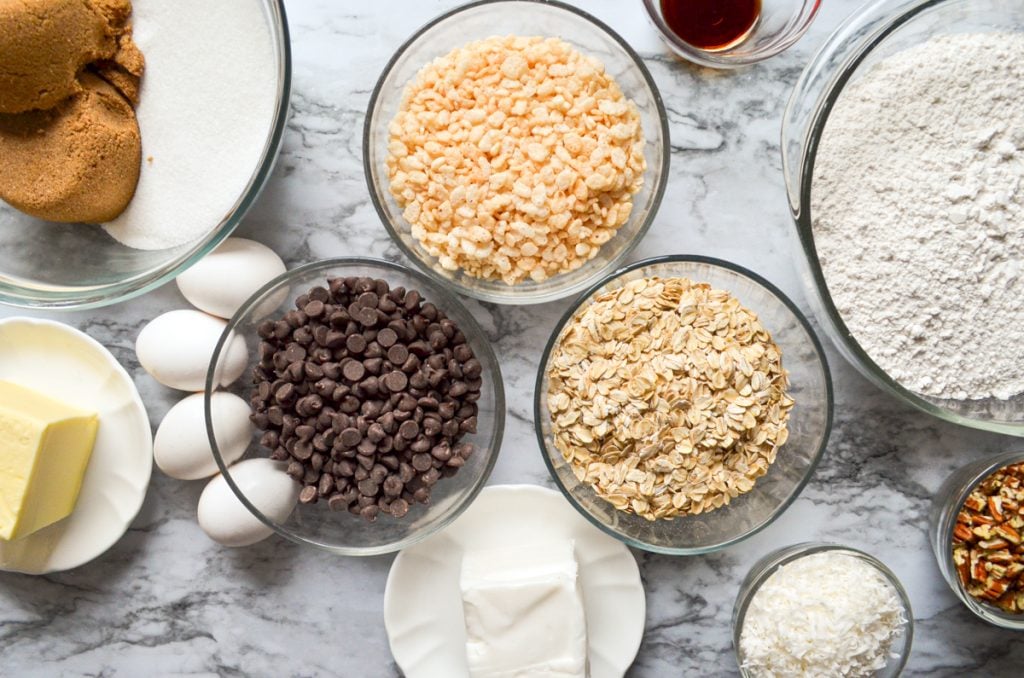 What Do I Need to Make Buffalo Chip Cookies?
There are a lot of ingredients to these bad boys, but it makes a lot of cookies! There are a few ingredients you may not be familiar with using, but are important to the success of the recipe, so I'll list them below and how to shop and look for these items if you're unfamiliar.
The Basics
Self-Raising Flour: This is probably the most obscure ingredient, but it is relatively easy to find, although not a staple of every kitchen. I found mine at a bulk food store, but if you're in the south it will probably be very easy to find. You can also find it at specialty stores if needed. If you can't find self-raising flour, you can make your own using this recipe. It's very important that you do not substitute all purpose in this recipe because self-rising flour contains leavening agents, while all purpose does not.
Butter: We use salted butter in this recipe, since there is no salt called for in the recipe. If you want to use unsalted butter, add some salt to the dry ingredients.
Lard or Shortening: I encourage you to use room temperature lard in this recipe. You can use shortening in this recipe, but I strongly recommend lard. I know there are some negative connotations concerning lard, but it really does make a wonderful cookie. You can find it in your baking aisle, and it can be stored at room temperature until opened.
Sugars: Both brown sugar and white granulated sugar are used in this recipe. Cookies that feature all brown sugar or all white sugar either stay too squat, or spread out too much. Featuring both types of sugar make for a perfect spread without too much rise. I used dark brown sugar, but you can use light brown sugar if that is what you have on hand.
Eggs: 4 large eggs is the perfect amount for this recipe. If you think ahead and can leave them out to warm to room temperature you get bonus points! If not, it's totally okay to use them as is. Just make sure to lightly beat them before you incorporate them into the batter.
Vanilla Extract: You can use either imitation or pure vanilla extract in this recipe. I usually use pure, but have been using imitation lately because the cost has gone up so much.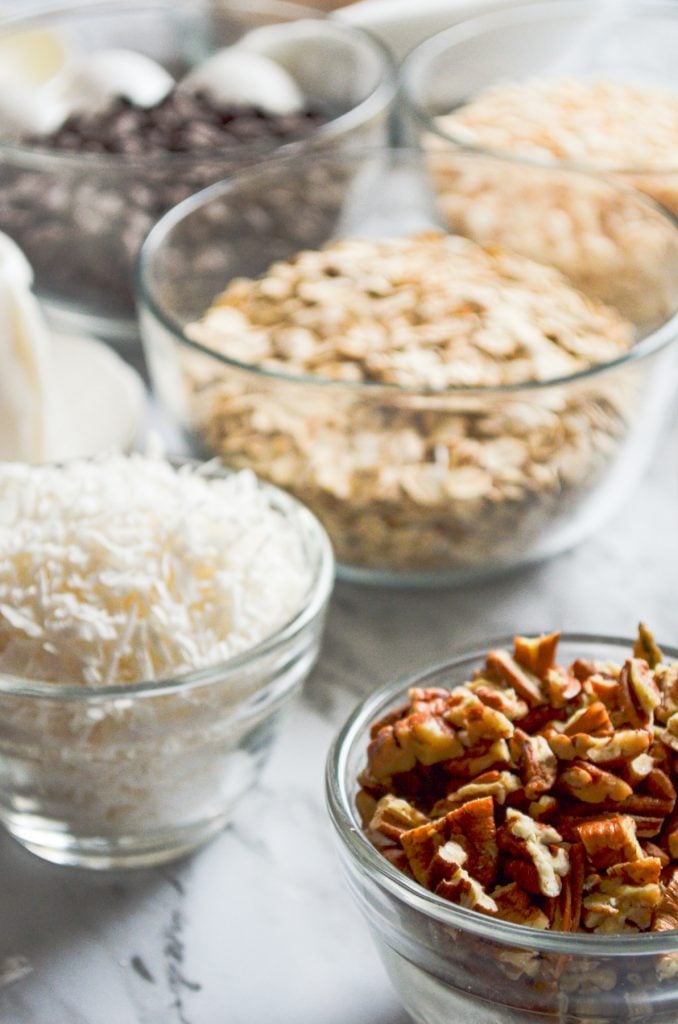 The Good Stuff
Flaked Coconut: Unsweetened flaked coconut is best in this recipe since there is already a lot of sweetness from the brown and white sugar. It can be difficult to find flaked coconut, but the texture is a perfect match for this cookie. Smaller coconut (like shredded coconut) just doesn't cut it for me, but you can substitute if needed. Some flakes are large, and others are a bit smaller. I prefer the smaller flakes (see above in my ingredient shot). If you can only find the larger flakes, you can add them to a blender and whiz for a few seconds to break them down. You can find unsweetened flaked coconut at health food stores and Trader Joe's.
Pecans: Coarsely chop your pecans so they are easy to bite and chew! I buy my pecans in halves and use a large knife to give them a rough chop. Perfection is not the goal. The various sizes of pecan pieces is what gives these cookies their old fashioned charm.
Chocolate Chips: For this massive batch of cookies, you only need one bag of semisweet chocolate chips! Can you believe that!? If you buy your chocolate chips in bulk, that will be about 2 cups.
Oats: Make sure to use Old Fashioned (also known as "rolled") oats in this recipe. Finer oats will not give that hearty texture that we are going for with these cookies. Finer oats also won't be accurate for measurement amounts, and may interfere with the absorption of liquids, resulting in a dry cookie.
Cereal: I use Rice Krispies in this recipe, but you can use an equal measure of cornflakes if you would prefer. The original recipe calls for cornflakes, but I prefer the texture and neutral taste that comes with Rice Krispies.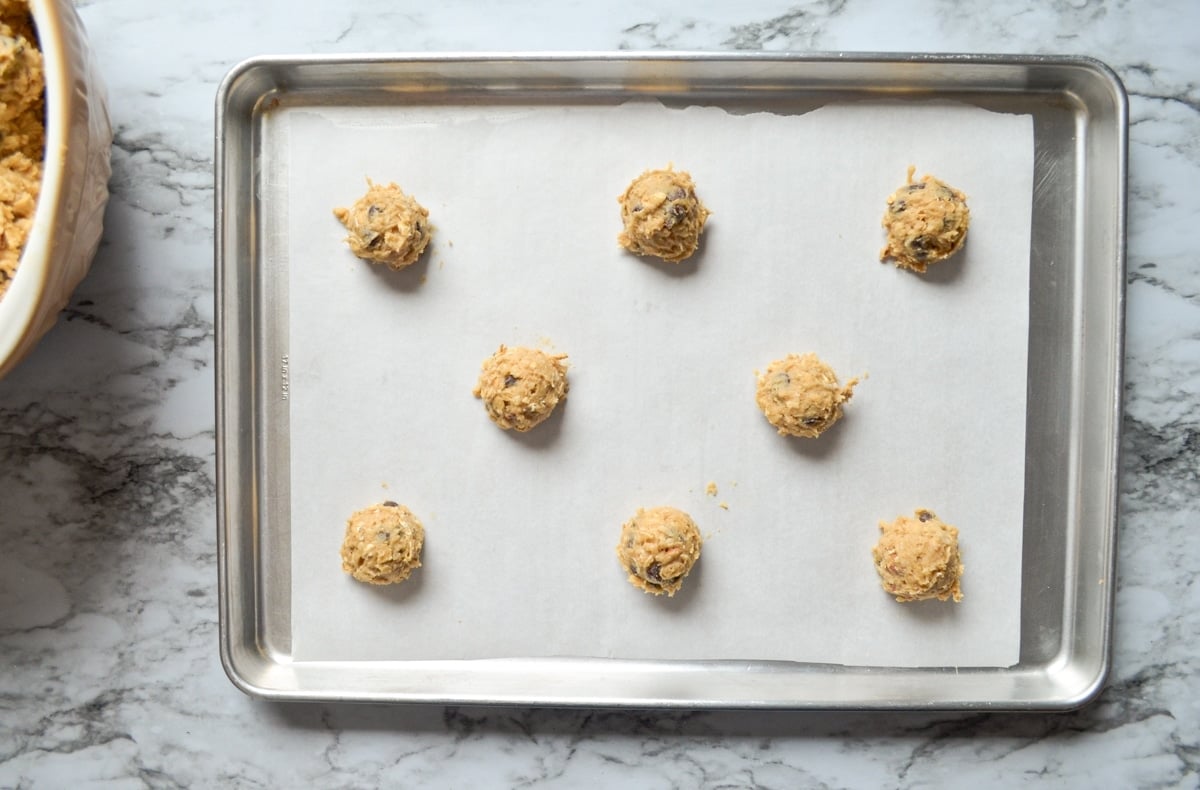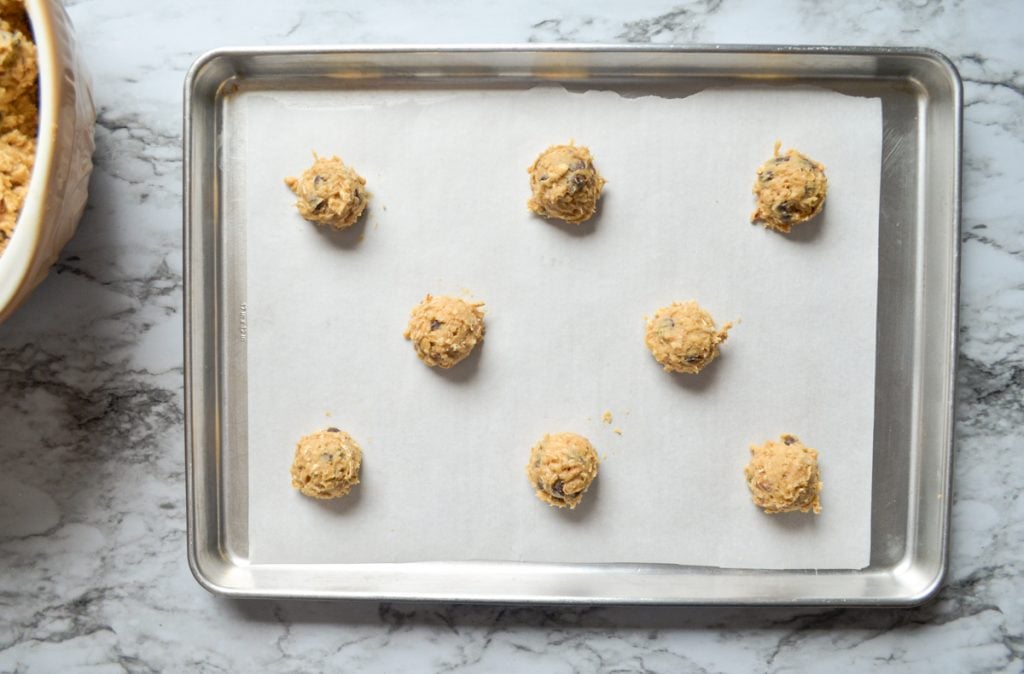 Equipment Needed:
Baking Sheet: A half size baking sheet or cookie sheet is perfect for these old fashioned cookies. I prefer the sheet pans with the lip because they can be used for a variety of applications like sheet pan meals, jelly rolls, and cookies. A traditional cookie sheet lacks the edges that sheet pans have and can only be used for cookies since they cannot contain liquids. These ones from Nordic Ware are top rated on Amazon!
Parchment Paper: I highly recommend using parchment paper when baking. It makes cleaning up a breeze and your cookies will not stick to parchment! I used to forgo it in the name of budget, but now I pick mine up in bulk from Costco and I love it!
Cookie Scoop: I use the #40 size scoop (1 2/3 tbsp.) for almost all my cookies, as well as cheesecake bites and a variety of other desserts. I also use it to portion my meatballs! The best way to get consistent results in the kitchen.
Silicone Spatula: This will help you clean the sides of the bowl, both during the mixing process and when you're trying to get every bit of cookie dough out of your bowl! It's also extremely helpful for folding in the whopping 8 cups of add-ins called for in the recipe! I love OXO products, and this silicone spatula has excellent ratings on Amazon.
Stand Mixer: While you can absolutely do this with a hand mixer, I recommend a stand mixer since it is such a bulky recipe! If you opt for using a hand mixer, just make sure to get a big bowl and really make sure that butter and lard are SOFT, but do not melt them. The cookies won't turn out if you use melted butter.
Large Bowl: Even with a stand mixer, you may need a large mixing bowl for combining the add-ins with the cooking dough. Some mixers may have a big enough bowl for this, but my standard kitchen aid mixer did not and I had to transfer to a large mixing bowl. Either way, you will need to incorporate the mix-ins by hand to prevent overworking the dough. It's mostly just a matter of bowl size to make sure you don't have too much overflow.
How to Make Buffalo Chip Cookies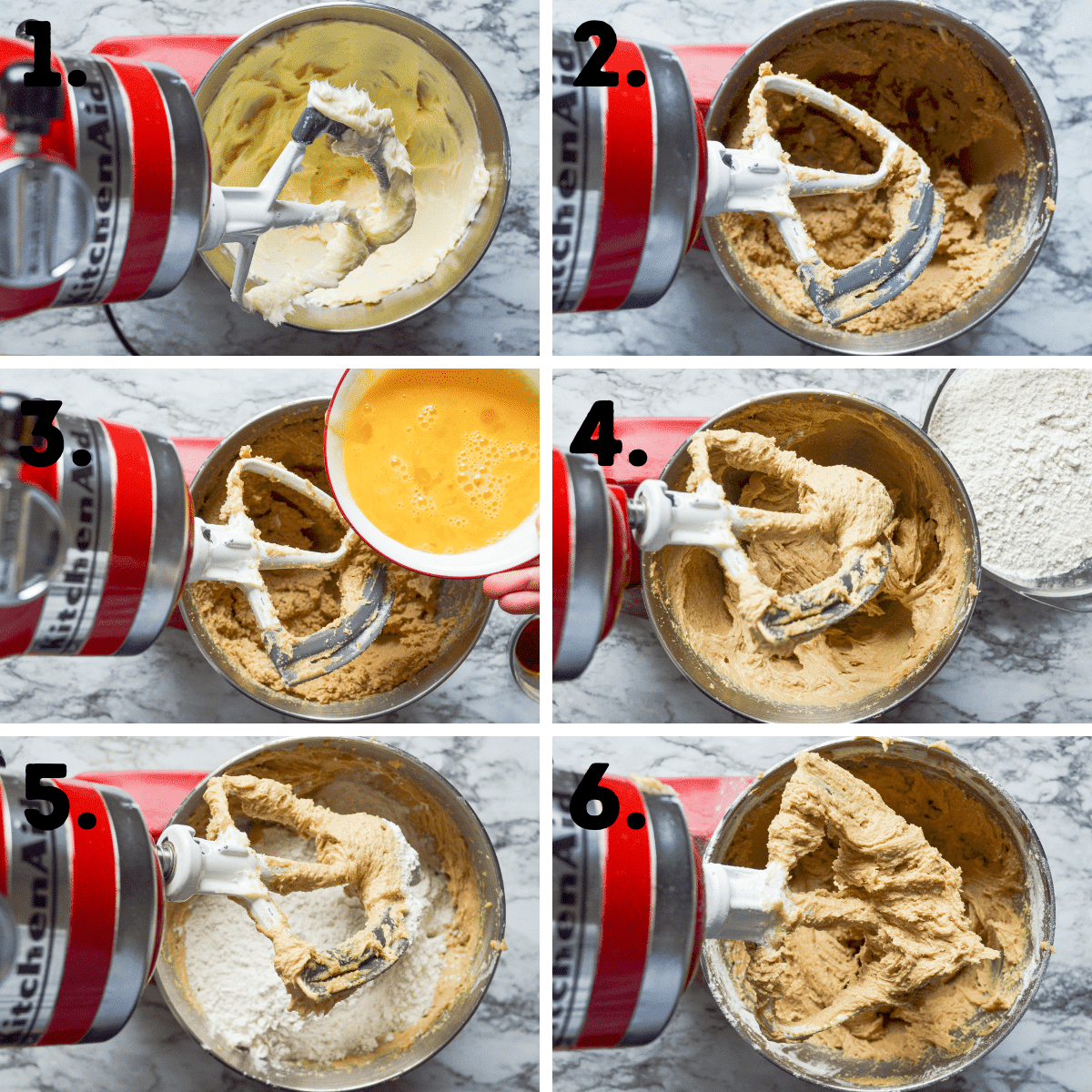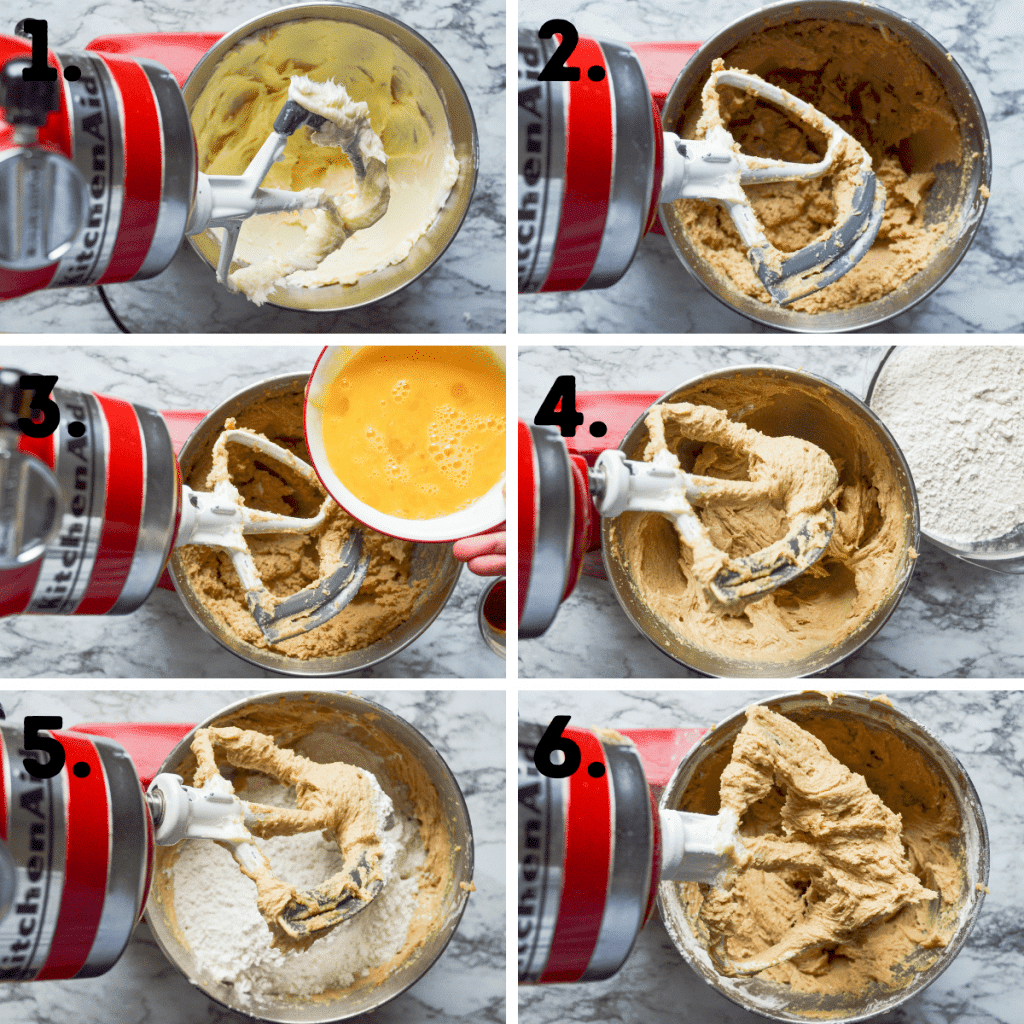 Instructions
Cream together the butter and lard (or shortening).
Add in the sugars and beat until smooth and creamy.
Add in the beaten eggs and vanilla. Whip until light and fluffy.
Scrape down the sides of the bowl.
Add the self-raising flour into the mixer. Use small, short mixing movements to incorporate the flour.
Mix just until moistened; do not overmix the dough!
Add the dough to an oversized mixing bowl.
Pour in the coconut.
Add the remaining mix ins.
Fold in by hand using a silicone spatula.
Line a baking sheet with parchment.
Portion dough using a scoop and place 2-3″ apart on your prepared baking sheet.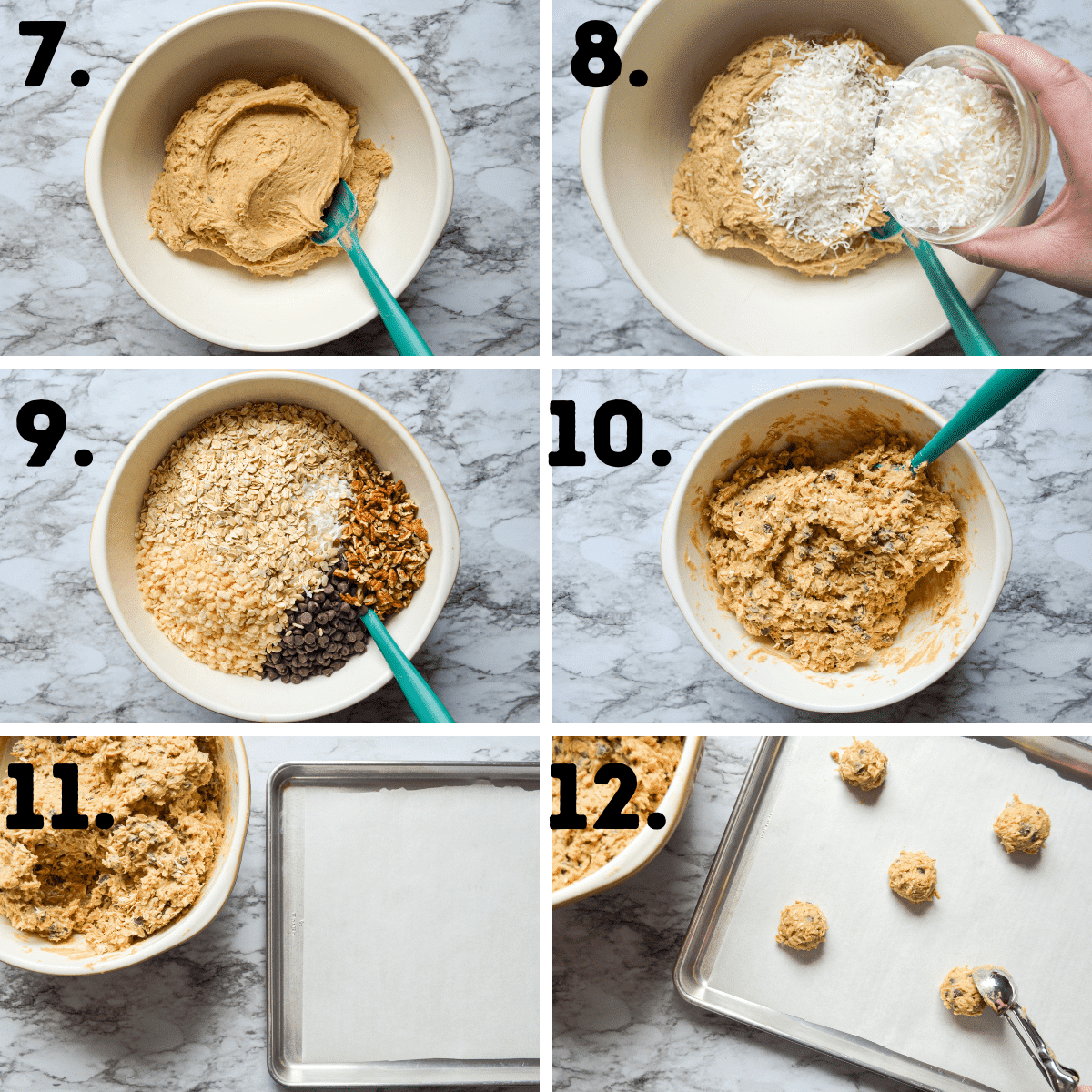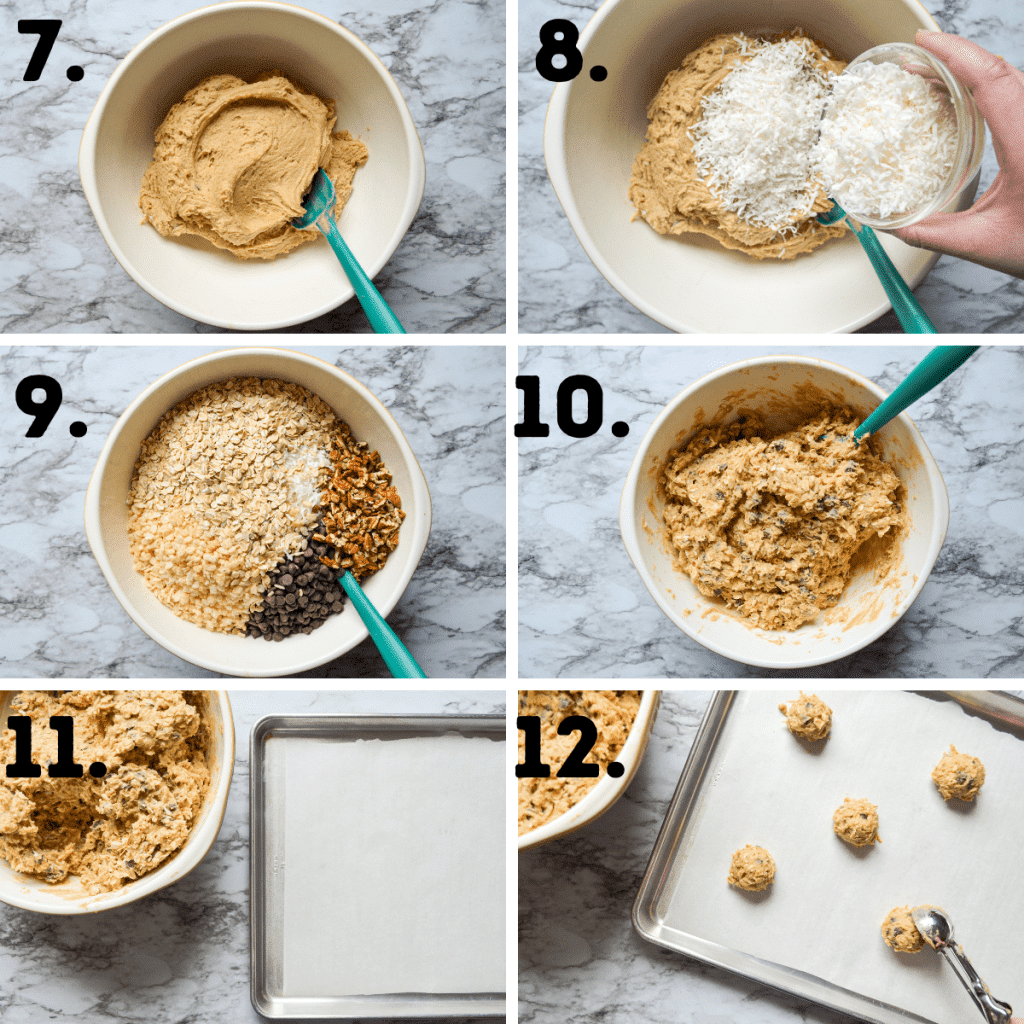 Baking Buffalo Chip Cookies
Bake at 350F for 15 minutes, or just until the edges are beginning to brown. Then cool for 5 minutes on the baking sheet before transferring to a wire cooling rack.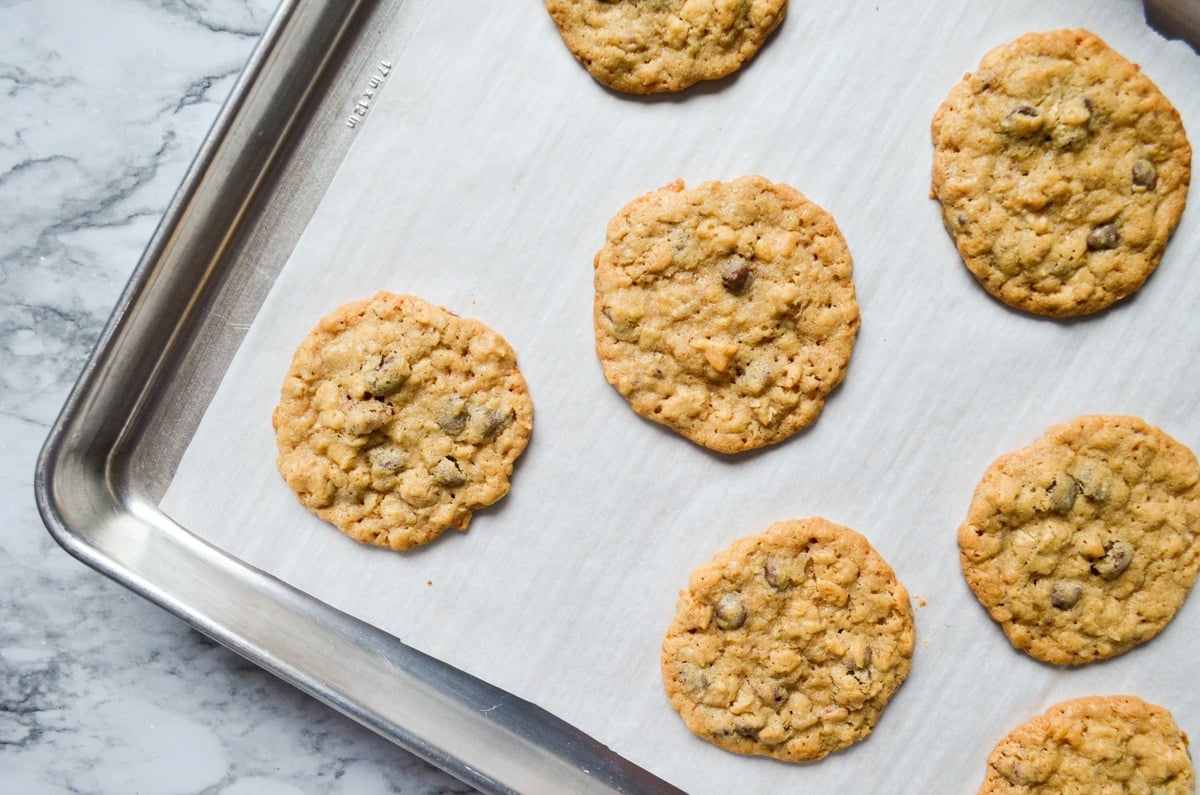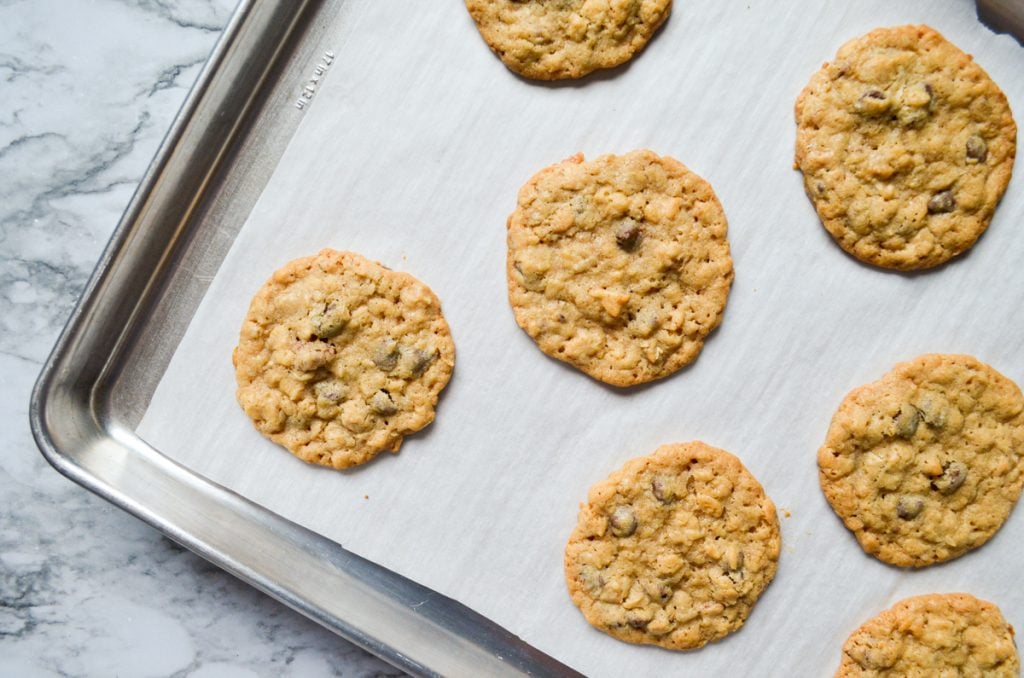 Questions and Answers:
Do I have to use pecans?
No. You can use the same measurement of coarsely chopped walnuts. I would not recommend any other nuts, since pecans and walnuts really are the best match for cookies. Almonds are on the hard side and not as pleasant as a cookie ingredient (in my opinion).
Can I make these nut free?
If you need to make these nut free for an allergy, you certainly can! Just substitute the 1 cup of coarsely chopped pecans for 1 additional cup of oatmeal or coconut.
Can I make these dairy free?
If you need to make these dairy free for allergy concerns, you can substitute the butter for a dairy free substitute or an additional 1 cup of lard or shortening. Be sure to add about 3/4 tsp. of salt to account for the salt in the butter. You will also need to substitute the chocolate chips for dairy free chocolate chips.
Can I half the recipe?
Yes you can! Since this makes a big batch, you may want to cut the recipe in half. You can do this because the leavening agent is contained in the self-raising flour and so the quantities are accurate. Just be sure to use self-raising flour or a homemade substitute. Do not use all purpose flour.
Can I freeze this?
Yes! See above for more information on how to freeze these cookies both unbaked and baked.
How long do these last?
A best practice is 2-3 days at room temperature in an airtight container or up to 1 week in the fridge. If you would like to store them for longer, you can opt for freezing them either baked or unbaked.
Can I use melted butter instead of softened butter?
No. Melted better will make for a very thin dough, and the cookies will not rise and spread properly. As an alternative, you can use melted butter and chill the dough until thick, but I would recommend waiting for the butter to soften properly first. If you don't have the time, see this post from Sally of Sally's Baking Addiction for a post on how to soften butter quickly.
Can I make these vegetarian?
Yes! Just substitute the lard for vegetable shortening or additional butter. I would opt to use unsalted butter for the lard portion, since you do not want salty cookies.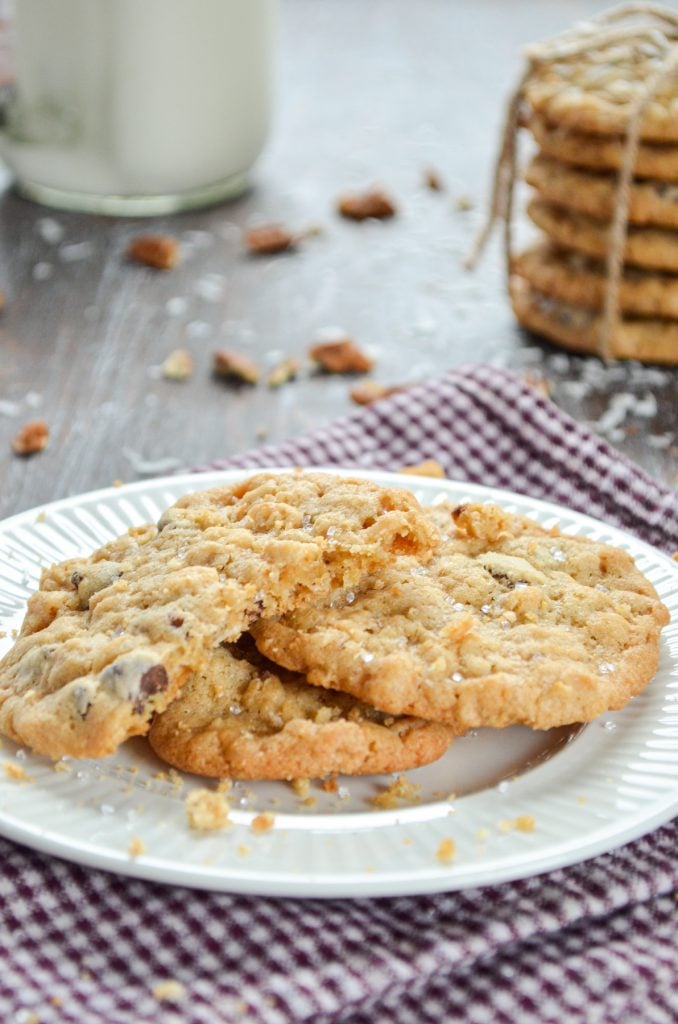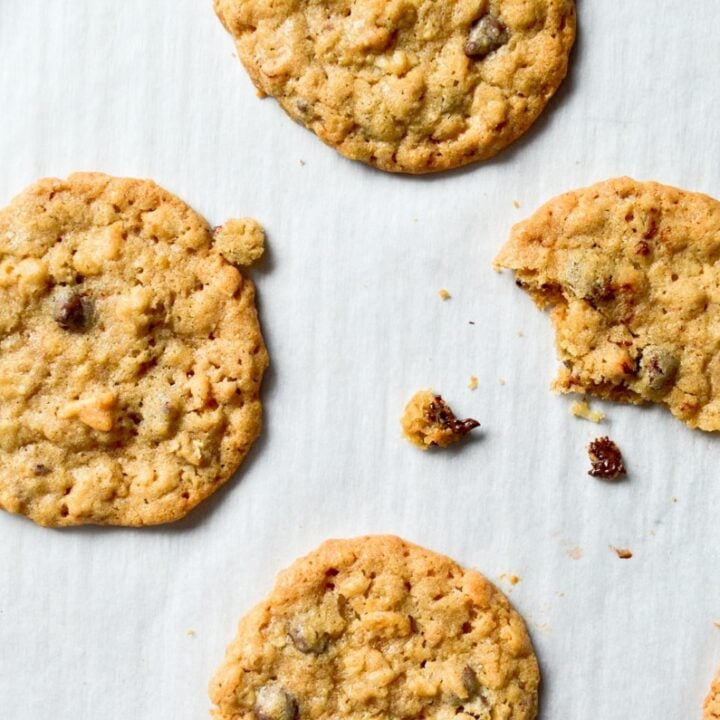 Old Fashioned Buffalo Chip Cookies
These old fashioned cookies are loaded with 8 cups of mix-ins including pecans, coconut, oatmeal, cereal, and chocolate chips! Buffalo chip cookies will be a new favorite in your home.
Ingredients
1 cup Salted Butter, softened
1 cup Lard or Shortening, room temperature
2 cups Granulated White Sugar
2 cups Dark Brown Sugar
4 cups Self Raising Flour
4 large Eggs, lightly beaten
2 tsp. Vanilla Extract
Mix-ins
1 cup coarsely chopped Pecans
1 cup Unsweetened Flaked Coconut
2 cups Rice Krispies cereal, or Cornflakes
2 cups Old Fashioned Oats
2 cups (approximately 1 bag) Semi-Sweet Chocolate Chips
Instructions
Preheat the oven to 350F and line 2 half size baking sheets with parchment paper.
Add the softened butter and room temperature lard or shortening to the bowl of a stand mixer fitted the paddle attachment. If using a hand mixer, use a very large mixing bowl.
Mix the butter and lard on high speed, until smooth and creamy.
Add the brown sugar and white sugar to the butter and lard mixture and mix on medium speed until light and fluffy.
Add the beaten eggs and vanilla to the mixture and mix on medium speed until lighter in color. Approximately 2-3 minutes.
Add the self-raising flour to the mixer and, using short and small movements***, incorporate just until the flour is absorbed and evenly distributed. Do not overmix.
Transfer your dough to an oversized mixing bowl.
Add the pecans, coconut, chocolate chips, Rice Krispies (or Cornflakes), and old fashioned oats. Use a silicone spatula to fold them in gently. Just until combined and evenly distributed.
Use a #40 (1 2/3 Tbsp.) size scoop to portion out the cookie dough. Place on the prepared baking sheet, spaced 2-3" apart. If using the half size baking sheet, you should have approximately 8 cookies per sheet.
Bake in the pre-heated oven for 15 minutes, or until the edges begin to brown ever so slightly.
While one baking sheet is in the oven, prepare the next baking sheet to go in when the first one comes out. Keep this rotation until all cookies are baked.
Once the cookies are finished baking, let them cool for 5 minutes on the baking sheet before transferring them to a wire cooling rack to cool completely.
Once completely cooled, store at room temperature in an airtight container for 2-3 days or in the fridge for up to 1 week. You may also freeze the cookies baked, or the dough in scooped portions.


Notes
***By short, small movements I mean using your hand to toggle the stand mixer from on and off in very small amounts. This prevents the flour from flying everywhere and ensures you do not overmix your dough. Just gently toggle from "off" to level one very quickly; less than one full turn of the beater.
Nutrition Information:
Yield:

96
Serving Size:

1 cookie
Amount Per Serving:
Calories:

97
Total Fat:

6g
Saturated Fat:

3g
Trans Fat:

0g
Unsaturated Fat:

3g
Cholesterol:

15mg
Sodium:

27mg
Carbohydrates:

11g
Fiber:

0g
Sugar:

9g
Protein:

1g
Nutrition information isn't always accurate and is an calculated estimate only.
How to Video for Buffalo Chip Cookies
Articles and Resources:
How to Make Self-Raising Flour – Charlotte's Lively Kitchen
How to Soften Butter Quickly – Sally's Baking Addiction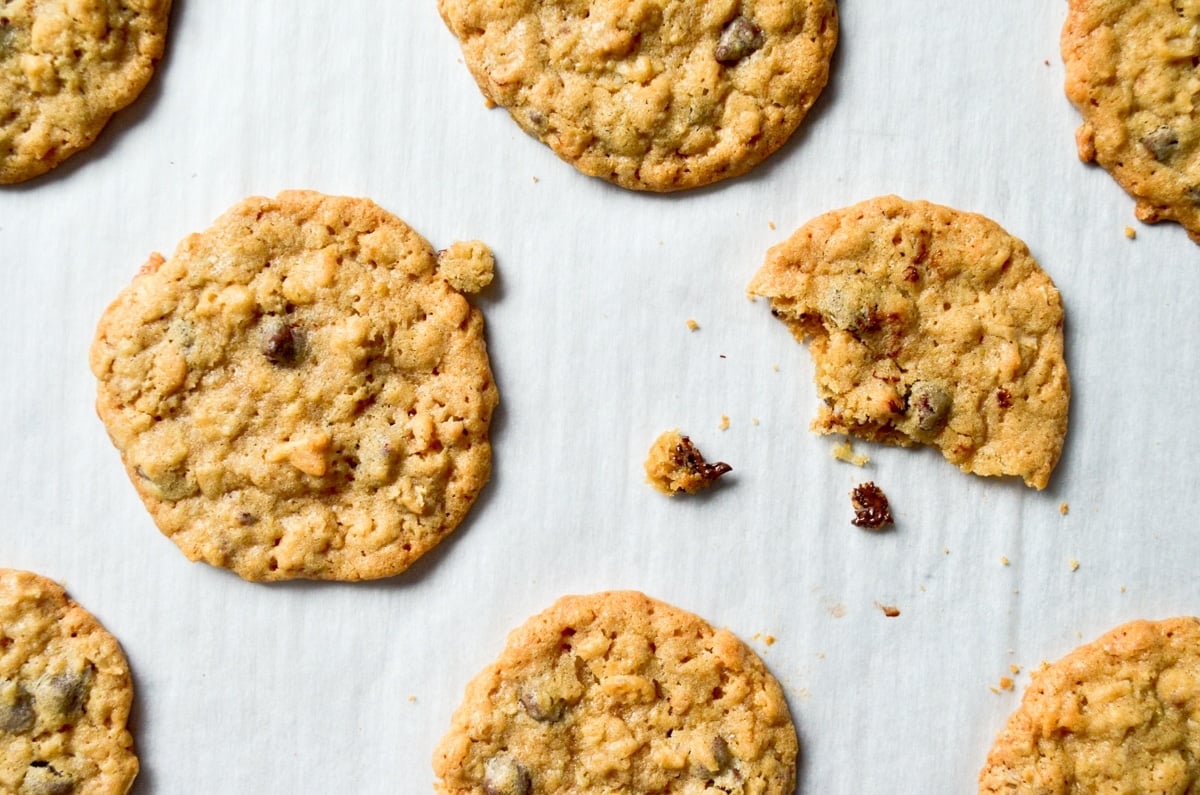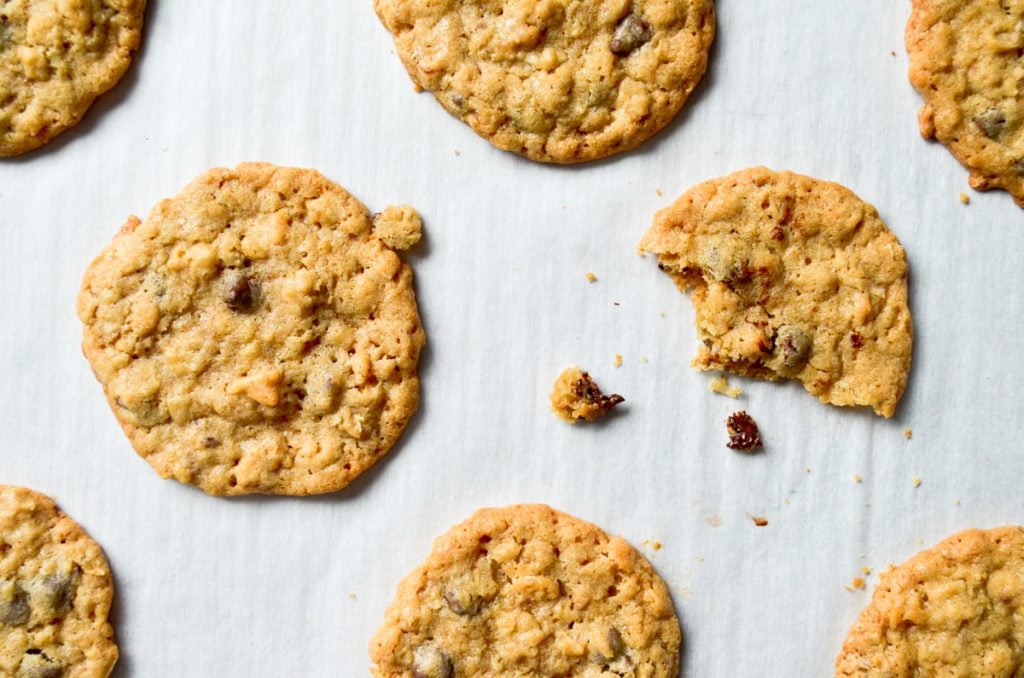 Pin it for Later