You just have to love how easy this no bake dessert is! Canned pumpkin, pumpkin spice, and cream cheese all combine to make a delicious Pumpkin Pie Cheesecake Bite! These are freezer friendly and so easy to whip up.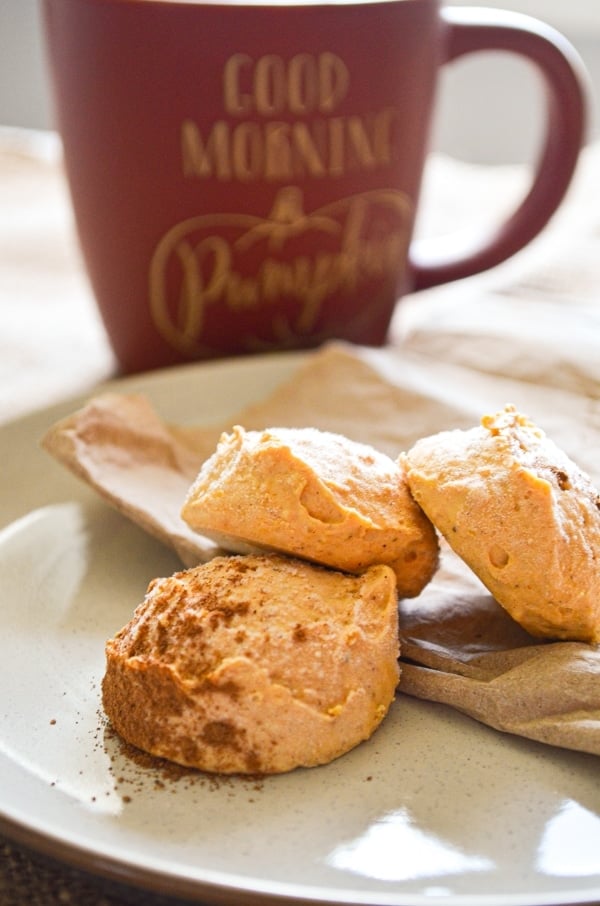 Please note that some of my blog posts here at Little Home in the Making may contain affiliate links. If you make a purchase through these links, I will get a small commission at no additional cost to you. See our disclaimer for more information.
There is no level of hunger I've had in my entire life compared to the intense hunger (and thirst!) I felt in the first few months of nursing my son. To illustrate what I mean: I would eat entire sleeves of crackers just because they were easy to grab and devour. I don't think I've ever been so hungry in my life, and yet to unable to actually fix myself something to eat! Since I love making so many things from scratch, it was a strange season and an odd adjustment for me.
I had to learn how to shop at the store with my intense hunger and restricted time in mind. I bought salad dressing for the first time in years (I always made it before!), granola bars, chips, whatever I could find that was easy to grab and had a long shelf life. Most of all? I needed to be able to eat it with one hand.
An Easy No Bake Dessert
I felt like I needed to make something that would be really satisfying for those midnight snackies in particular. That means it needed to be rich (read: fat), satisfying, and easy to grab. I searched and found a lot of things that I've made in the past, but have never really enjoyed (energy bites anyone?). Finally, I found a cheesecake bite recipe. Problem is? It was way too complicated. There was dipping of chocolate, there was drizzling, there were sprinkles (I think?). So in my desperation I peeled back all the complicated steps and made something incredibly simple, and yet so satisfying: the cheesecake bite.
Just 4 simple ingredients were included in my original base recipe: cream cheese, sugar, graham cracker crumbs, and vanilla. Best of all? I could mix them up and get them in the freezer in less than 15 minutes. This was of particular importance since my colicky baby hardly slept for more than 20 minutes at any given time. I finally found something that I could make at record speed, and have stored away in the freezer for later.
And then my husband discovered them.
I'm pretty sure us nursing ladies load our lactation treats with Brewer's Yeast and flax seed and all that for one simple reason: to keep our husbands and kids away from our snacks. Sure, they may be used as galactagogues, but who cares!? The most important thing is to trick our loving housemates into believing they are for lactating mothers only. Well, I failed to include some of those red tape ingredients, and my husband gave one a try. There was no going back from that. He absolutely loved them.
More Cheesecake Bite Flavors
My husband started dreaming up flavor ideas: peanut butter (of course, he's addicted to PB, see Peanut Butter Swirl Bars), coconut, chocolate, and so many others. But me? I was thinking of one delicious combination: Pumpkin Pie.
I'm probably the only person in the world who loves and craves pumpkin pie year round. Almost everyone can agree that it has a place at the Thanksgiving and Christmas table, but me? I could eat it in the middle of July. It's tied with Coconut Cream Pie (see my Coconut Cream Shortbread Bars) for my absolute favorite pie. Uh. So good. So I knew I had to give it a try.
Pumpkin Pie Cheesecake Bites to the Rescue!
Just 2 additional ingredients turned the basic, delicious cheesecake bite into it's older, more sophisticated sister: Pumpkin Pie Cheesecake Bites. Best of all? The addition of pumpkin puree bulked up the batter a little more, and I was able to get a few more cheesecake bites out of the deal. That is not at all a bad thing.
More than a year later and my intense hunger is (mostly) gone. I no longer need emergency snacks in the middle of the night. But when I get that little sweet tooth, I like to whip up an easy no bake dessert, and that dessert is almost always Pumpkin Pie (or plain!) Cheesecake Bites. I mostly eat them straight from the freezer, but letting them thaw for about 10 minutes makes them super soft and creamy.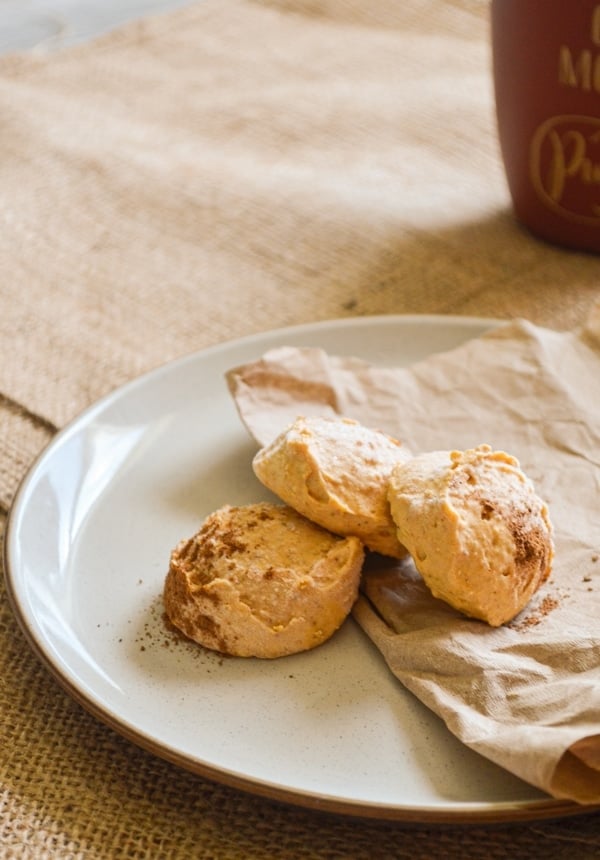 What Do I Need to Make Pumpkin Pie Cheesecake Bites?
Cream Cheese: I always like to use brick cream cheese in baking recipes, because it holds up really well and doesn't separate. This recipe calls for a softened brick. The easiest way to soften a brick of cream cheese is to leave it on the counter for a few hours, but you can also place it in a sealed freezer bag and dip it in a sink filled with hot water. Leave it for a few minutes and then check to see if it is soft.
Sugar: Just plain white sugar is all you need!
Graham Cracker Crumbs: I like to buy them pre-crushed, since it is so much easier.
Vanilla Extract: I like the flavor this adds. I don't think it would be the same without it! I use artificial often now that the price has gone up so much at Costco.
Pumpkin Puree: Just a little bit of pumpkin puree is used (1/2 cup). If you have leftovers from your can, you can freeze the excess, or make Pumpkin Crisp Baked Oatmeal!
Pumpkin Spice: You can purchase pumpkin spice, or you can make your own if you don't have any on hand.
What Equiptment Will I Need for This Easy No Bake Dessert?
2-3 Tbsp. Size Scoop: This will makes the bites a consistent size, and makes for a less messy experience. This large scoop for OXO would work well.
Hand Mixer: Whipping cream cheese is hard work with a whisk! I like to use a hand mixer, since it really doesn't require the power (or the clean up) of a stand mixer. I have this one and I love it!
Baking Sheet: Whatever size you have will work, as long as you can fit all of you cheesecake bites on them. I like to use the half sheet size. These Nordic Ware sheets are on my wish list.
Silicone Baking Mat: I have had my Silpat mat for over 10 years and it's still going strong! I use the half sheet size since it is the standard home baking sheet size. You can also use parchment paper if you prefer!
Freezer Bags: The bites are stored in freezer bags for later. You can also use freezer containers or your regular storage containers if you won't be freezing them for an extended period of time.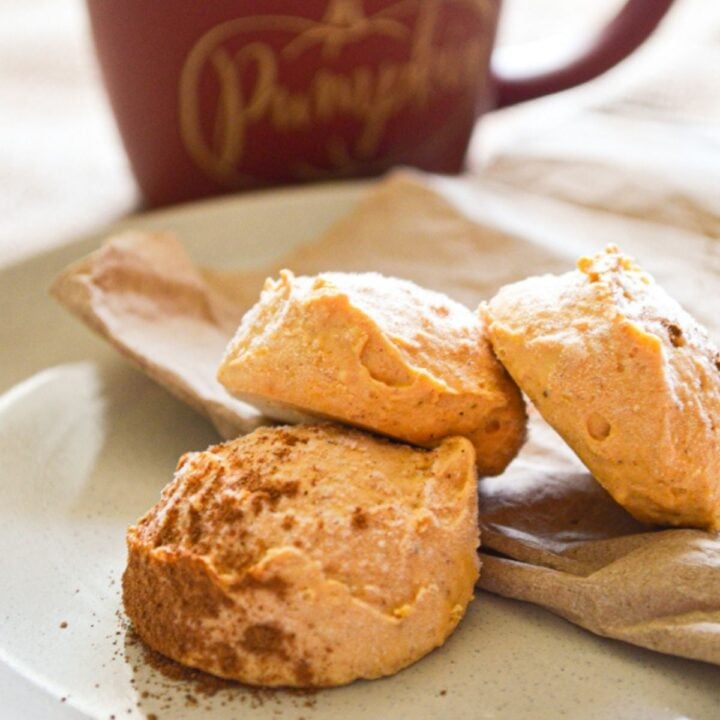 Pumpkin Pie Cheesecake Bites
Total Time:
2 hours
15 minutes
You just have to love how easy this no bake dessert is! Canned pumpkin, pumpkin spice, and cream cheese all combine to make a delicious Pumpkin Pie Cheesecake Bite! These are freezer friendly and so easy to whip up.
Ingredients
1 8oz Brick Cream Cheese, softened
½ cup Sugar
½ cup Graham Cracker Crumbs
1 tsp. Vanilla Extract
½ cup Pumpkin Puree
1 tsp. Pumpkin Spice
Instructions
Combine all ingredients in a medium bowl and blend until uniform with a hand mixer.
Line a baking sheet with parchment paper, or a silicone baking mat.
Use a 2 tbsp. size cookie scoop to scoop out batter and place on the cookie sheet, spaced about 1" apart.
Once all the batter has been scooped, dust the cheesecake bites with additional graham cracker crumbs (if desired).
Place the baking sheet in the freezer.
Freeze until form, then remove the bites and store them in a Ziploc bag. Return the Ziploc bag to the freezer, and store them until ready to serve.
To serve, remove the bites from the freezer and let them sit at room temperature 10 minutes before serving.
Notes
If you can't find Pumpkin Spice locally, or don't keep it on hand, try this recipe for Homemade Pumpkin Spice from Allrecipes!
Nutrition Information:
Yield:

22
Serving Size:

1 grams
Amount Per Serving:
Calories:

65
Total Fat:

4g
Saturated Fat:

2g
Trans Fat:

0g
Unsaturated Fat:

1g
Cholesterol:

10mg
Sodium:

42mg
Carbohydrates:

7g
Fiber:

0g
Sugar:

6g
Protein:

1g
Nutrition information is an estimate only.
Don't Forget to "Pin It" for Later!