Cheesy, creamy, and dreamy! This Low Carb Spinach, Mushroom, and Chicken Skillet meal is filled with flavor, but light on the carbs! This has become one of our family favorites, and it's the perfect low carb comfort food. Filled with vegetables, and topped with melty provolone. This is an easy skillet meal you're going to want again and again! Just 4 net carbs per serving.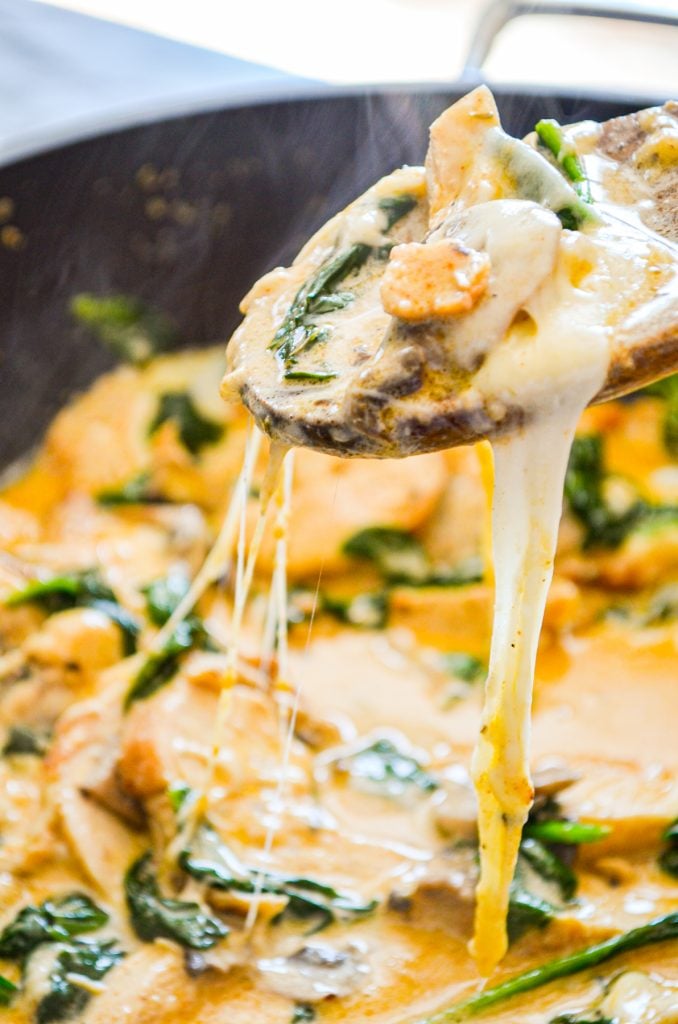 Please note that some of my blog posts here at Little Home in the Making may contain affiliate links. If you make a purchase through these links, I will get a small commission at no additional cost to you. Please see my Disclaimer for more information.
---
While I love to cook (obviously, hence the food blog stint), there is something so alluring about preparing a simple skillet meal. Skillet meals are my JAM because they can generally be made with minimal dishes, meaning that I have minimal dishes to clean up after the meal is eaten and enjoyed. Skillet meals are my go-to weekend meal, and I've been making my Grown Up Hamburger Helper pretty much every Sunday since I developed it. But as we make the needed changes to our diets, I'm finding that we need to reduce carbs in order to feel better and help us on the path to losing extra weight.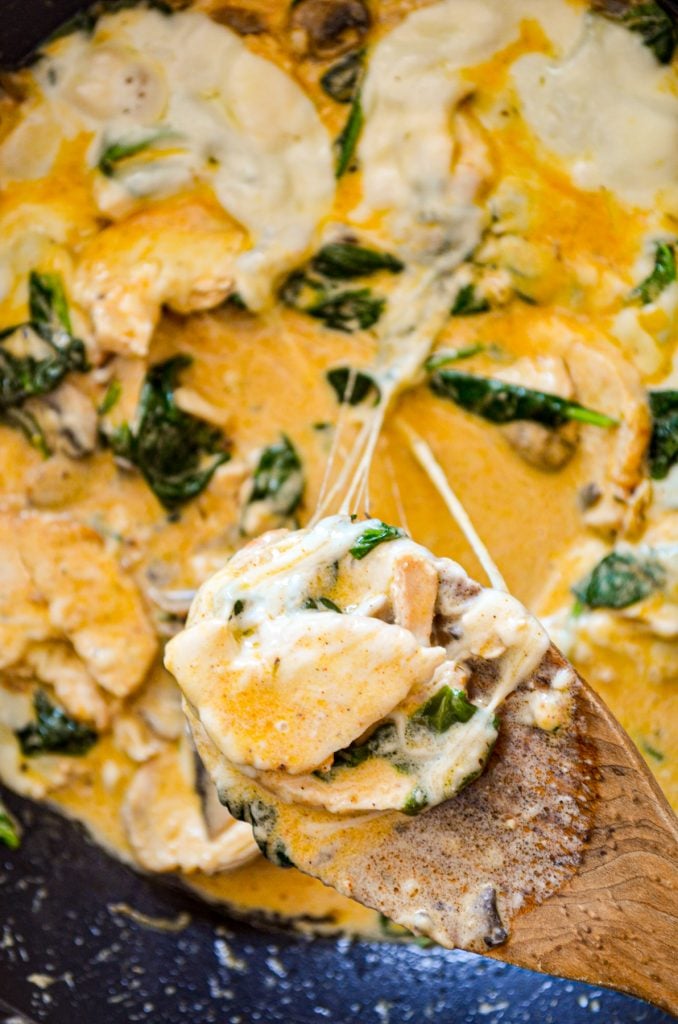 But less carbs doesn't meal less flavor. OH NO, you can have a low carb meal that is loaded with flavor and creamy goodness. This Spinach, Mushroom, and Chicken Skillet is low carb and all of the above. It's definitely moving up in the ranks as far as favorite meals go around here. If you're watching your carbs, I'm sure you'll enjoy it just as much as we do. And the minimal dishes are just an added bonus!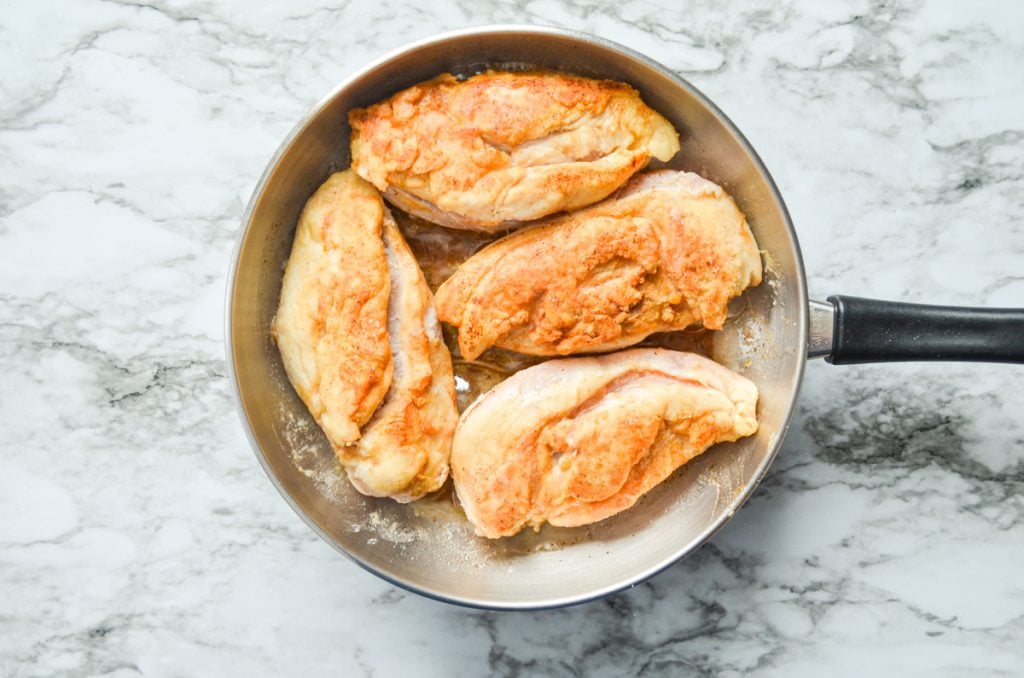 Using Pre-Cooked Chicken
In order to make this an easy, breezy skillet meal I love to use pre-cooked and sliced chicken. For this recipe, I opted to use leftover Juicy Baked Chicken Breasts, but you can use any sliced leftover chicken. Shredded rotisserie chicken isn't really the texture we're going for here, and I don't think the results would be quite as nice. My recipe for baked chicken breasts includes a flour coating, but if you are eating very low carb or keto, feel free to use almond flour OR any plain baked chicken breasts. You can even buy pre-cooked and sliced chicken in the deli section or freezer section.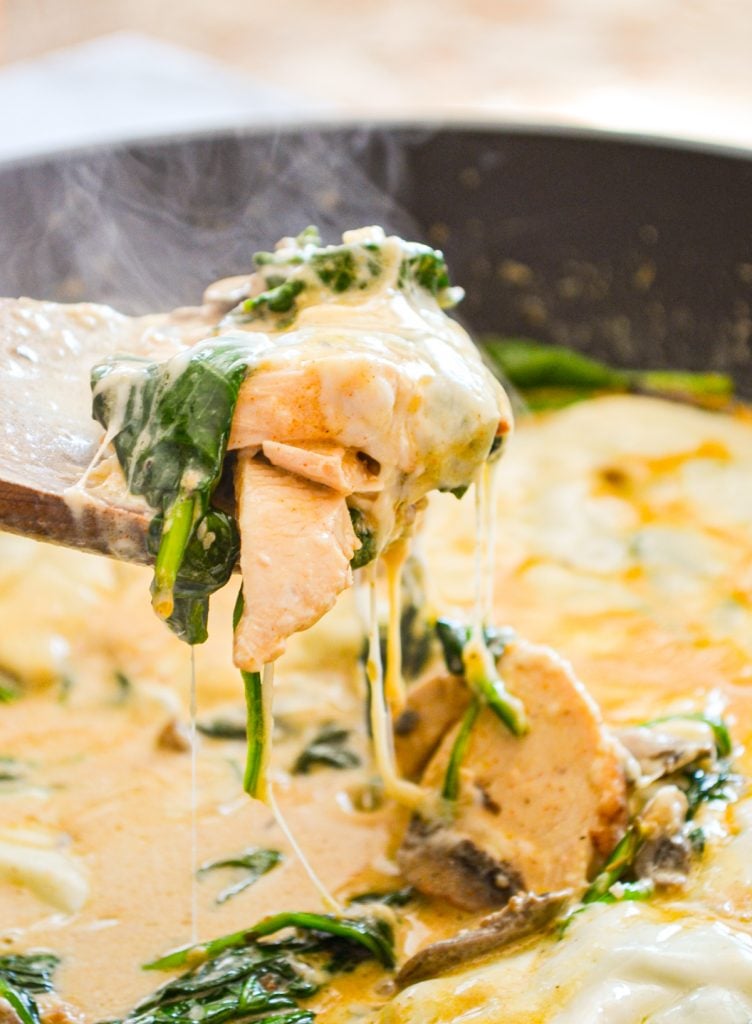 Spinach and Mushrooms: A Winning Flavor Combo
There are flavor combinations that just seem to be made for each other. Peanut butter and jelly, macaroni and cheese, tomato and basil, just to name a few. Among those classic flavor combinations would be spinach and mushrooms. I don't know what it is about this yummy vegetable duo, but they are a match made in heaven! The thick, sturdy mushrooms compliment the wilted, slightly bitter spinach perfectly. Add in a heaping dose of cheese and cream, and really, how can you go wrong!?
On top of this being a great flavor combination, it also provides a ton of nutrient dense vegetables. Who says you can't have your cake and eat it too!?
How to Make a Low Carb Chicken Skillet Meal
This simple spinach, mushroom, and chicken skillet is SO easy to make. You're going to love this as an easy weekday meal, or for a simple weekend dinner (without caving into the neon glow of the drive thru).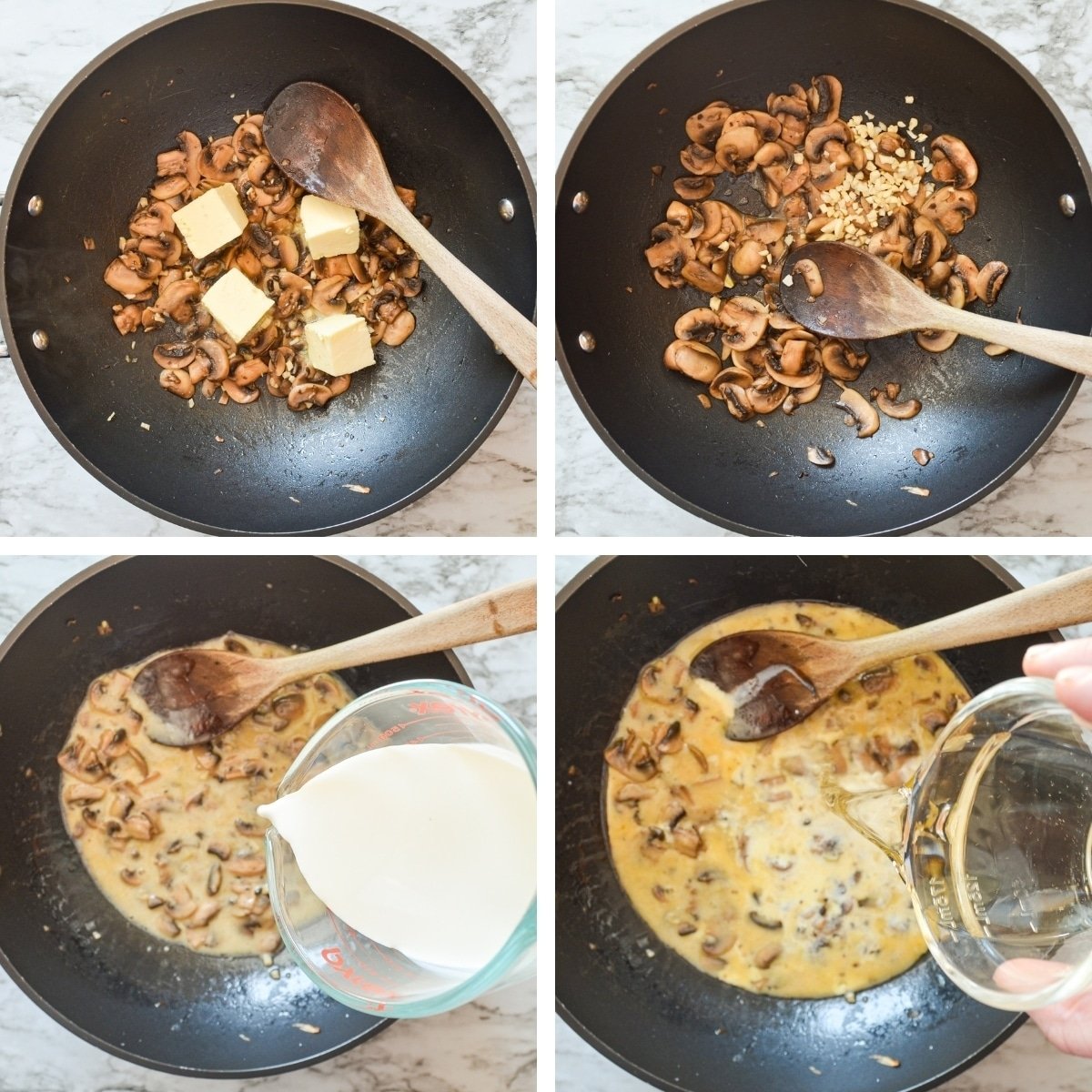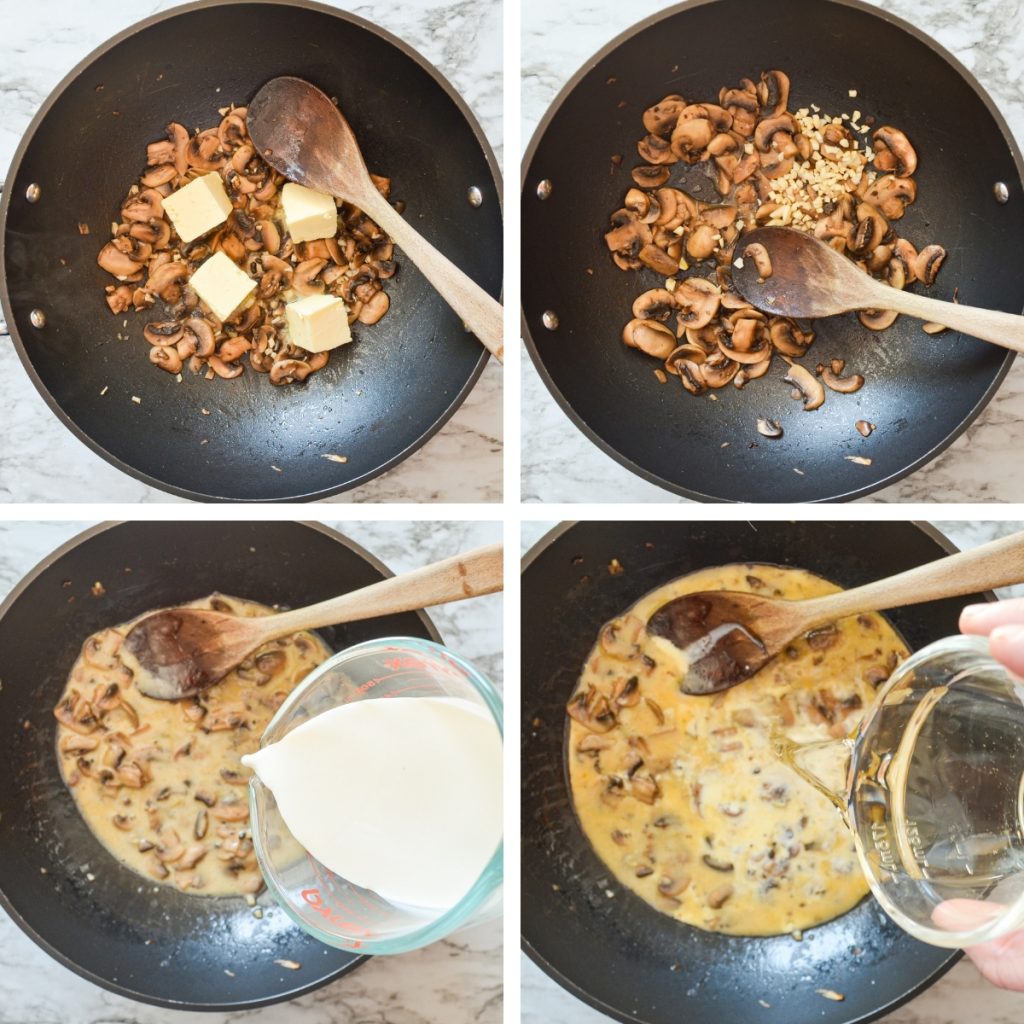 To get started, you'll need to slice up some mushrooms and mince some fresh garlic. Heat some butter in a skillet and sauté your mushrooms until lightly browned. After the mushrooms are browned, add the garlic and some big chunks of butter. Stir well until melted.
Then, add in some heavy cream and some dry white wine. If you're worried about the carbs in wine or are abstaining for any reason, feel free to use some chicken broth in its place.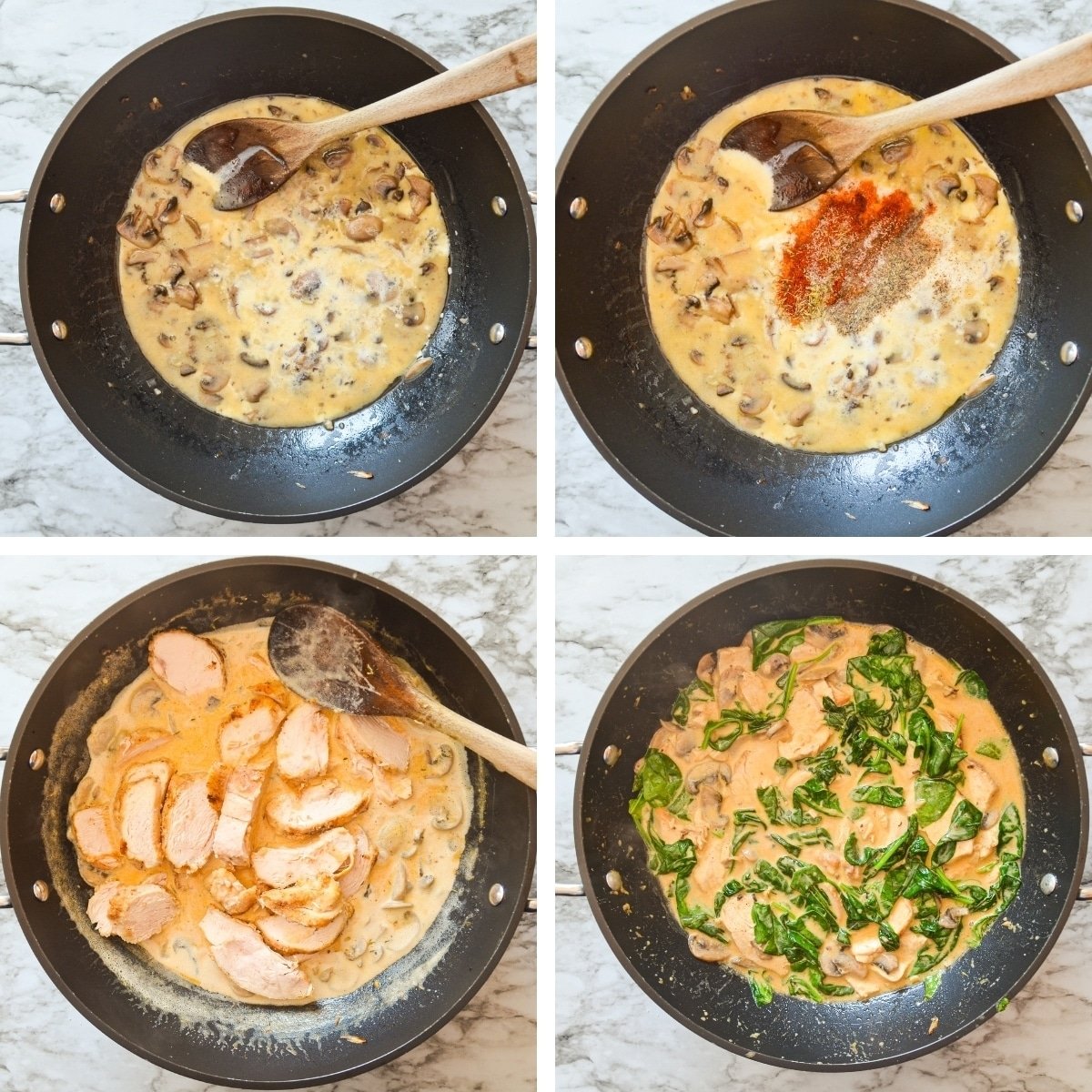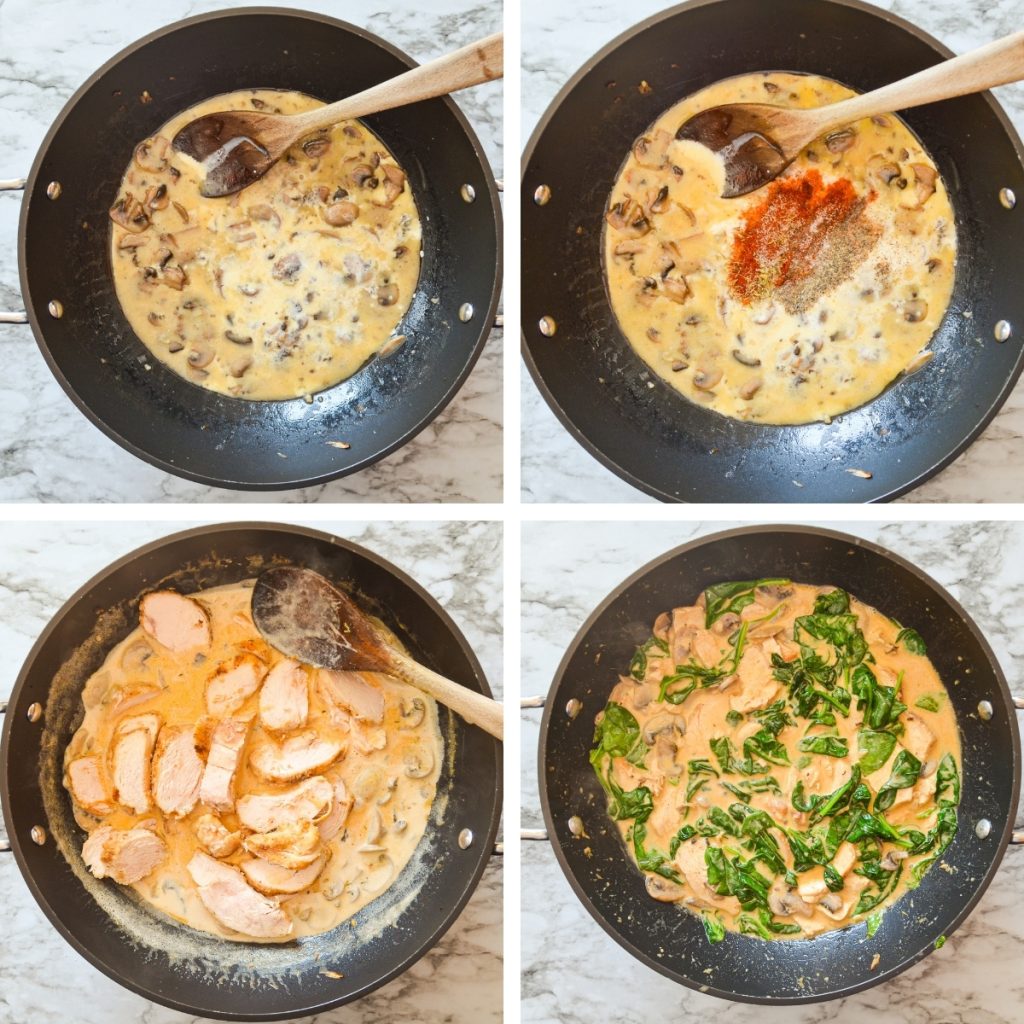 Stir up your skillet, and then add in some seasonings. Stir again to combine. Add the pre-cooked chicken breasts, and toss to combine.
Then, add in your spinach and toss well. Cook until the spinach is wilted and bright green, and the sauce is thickened. Be careful not to overcook the spinach!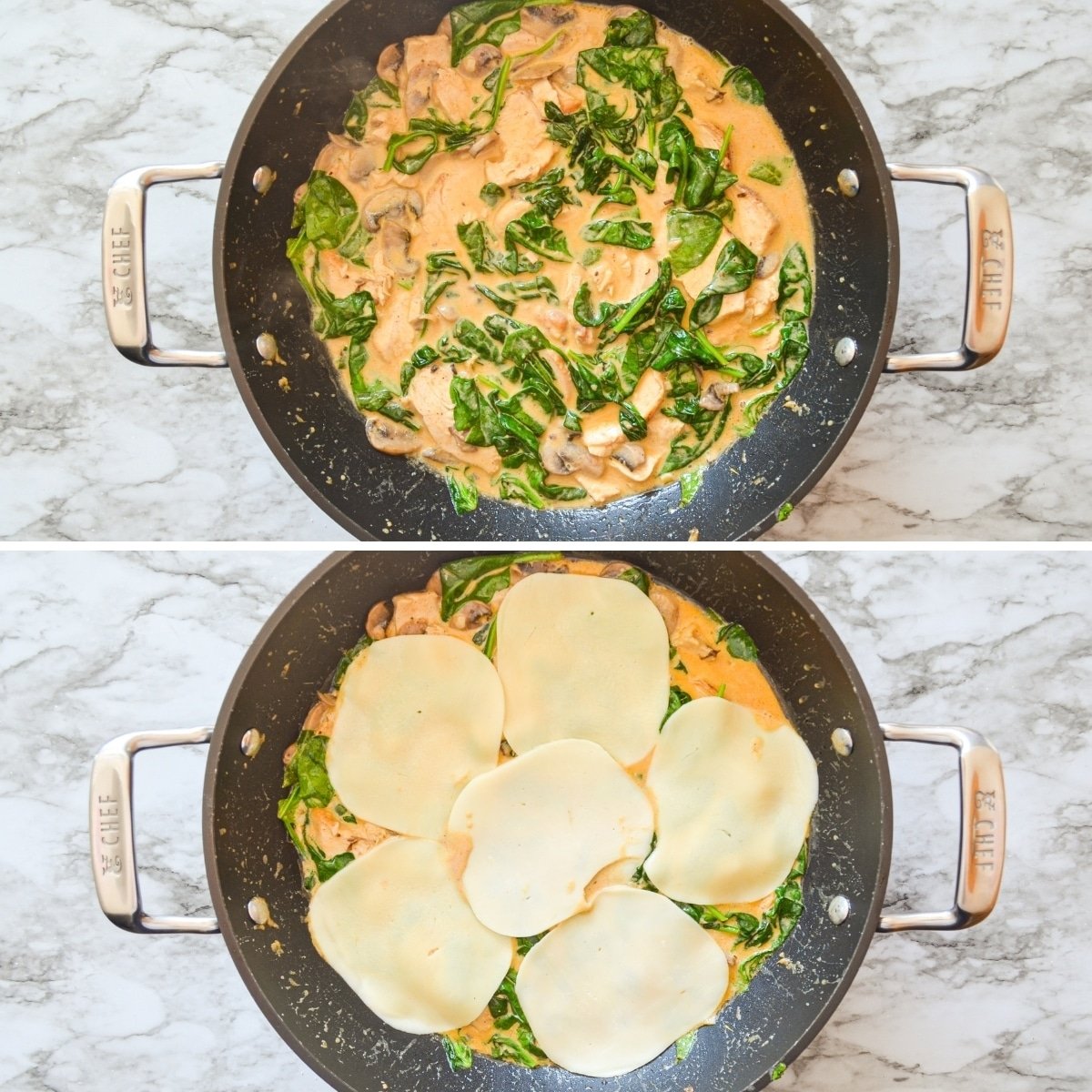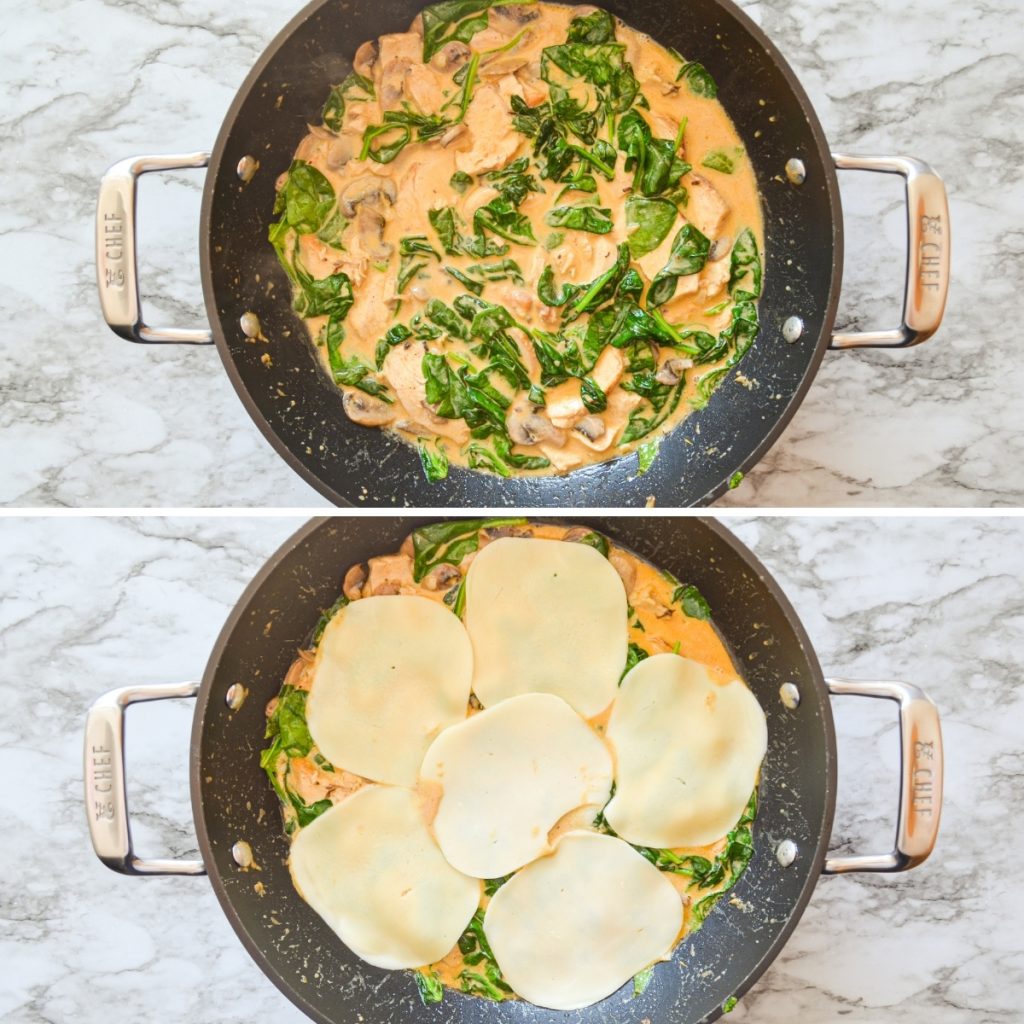 Once your low carb spinach, mushroom, and chicken skillet is cooked through and the sauce thickened, add the sliced provolone to the top of your skillet (about 6-8 round slices). Place the cover on your skillet and cook just briefly until the cheese is melted.
Serve immediately and enjoy!
Serving Suggestions
I really like to serve this low carb spinach, mushroom, and chicken skillet as a once-and-done meal. Since it has protein, veggies, and fat, I consider it a complete meal. If you'd like to stretch it a bit, or like a little more on your plate, here are some serving suggestions:
Cauliflower Rice (or make your own. This post from Love and Lemons shows you how!)
Cooked Rice (if not doing low carb)
Roasted broccoli (this recipe from Yellow Glass Dish is simple enough to be made on an everyday basis)
Quinoa (if not doing low carb)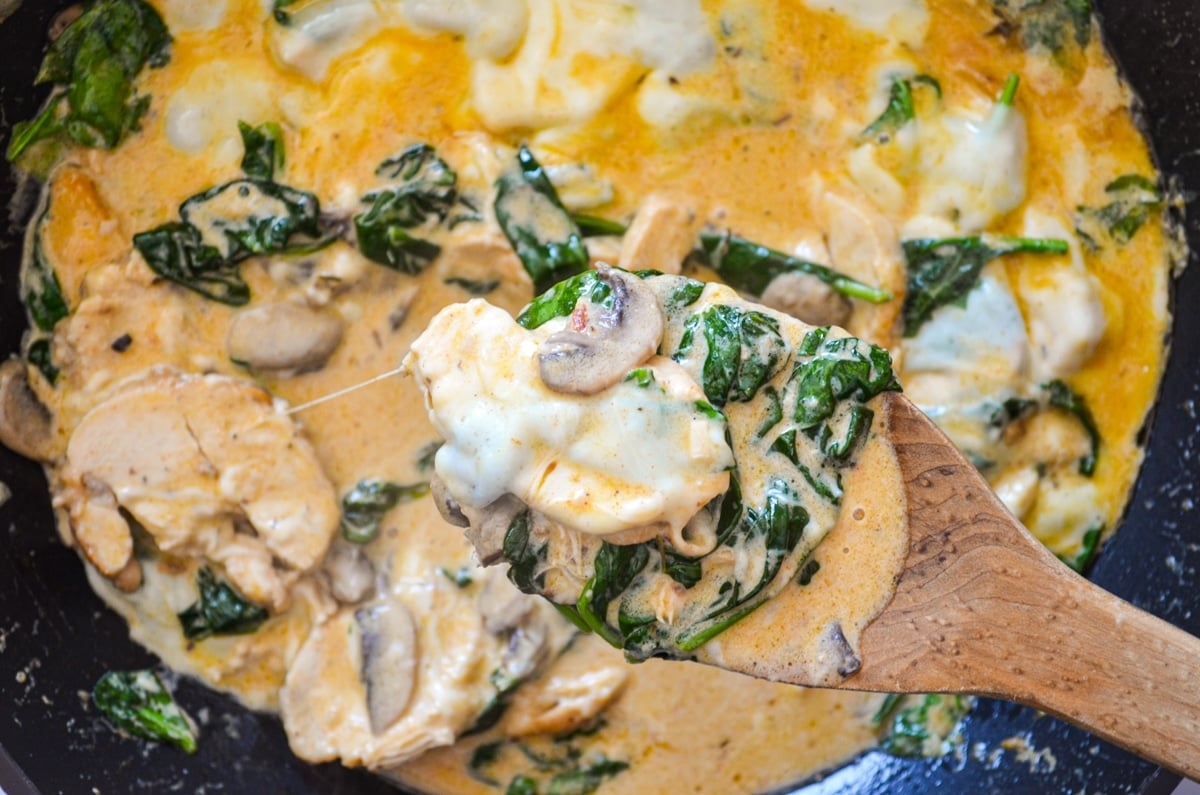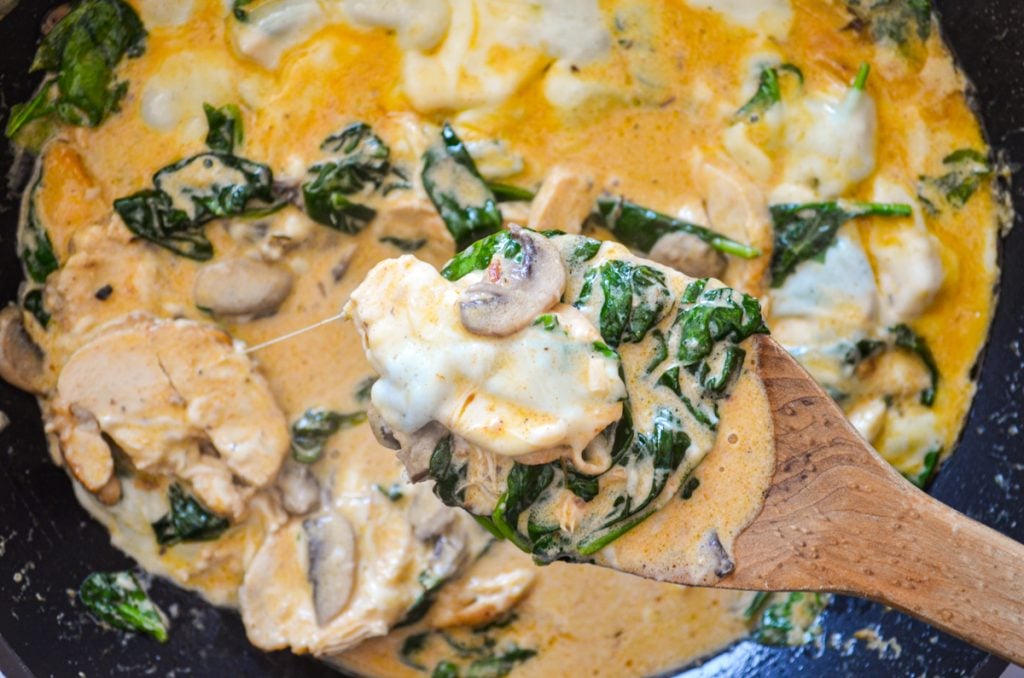 Substitutions and Questions
Can I use shredded rotisserie chicken?
I wouldn't recommend the use of leftover shredded rotisserie chicken. While they are great for adding to casseroles, their stringy texture is not suitable for many cream based skillet meals. Opt for cooked and sliced chicken, or use fresh chicken breasts.
Can I use fresh chicken breasts?
Yes. If you'd like to use fresh chicken breasts, simply slice them into bite sized pieces and heat the skillet over medium heat with some oil or butter. Cook each side of the chicken breast pieces until lightly browned and cooked through. Remove the chicken and proceed with the recipe as outlined in the printable recipe card.
What can I use instead of wine when cooking?
You can substitute chicken broth for wine very easily! Opt for a low sodium or homemade option if possible.
Can I substitute Provolone for another type of cheese?
You can use any good quality melting cheese like mozzarella or gruyere in place of the same quantity of provolone cheese.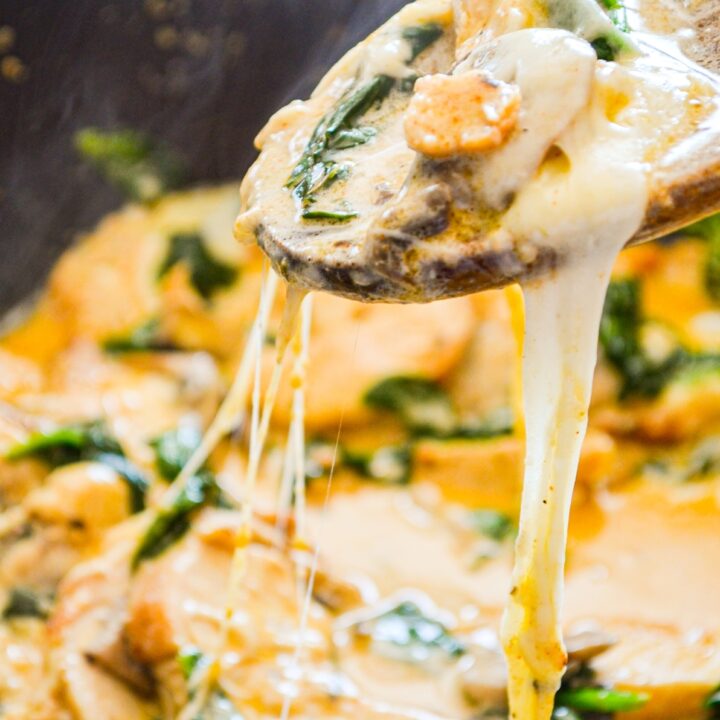 Low Carb Spinach, Mushroom, and Chicken Skillet
This Low Carb Chicken, Spinach, and Mushroom Skillet is the perfect creamy comfort food for those watching their carbs! The classic flavor combo of spinach and mushrooms gets amped up with plenty of cream and cheese. This is going to be a new family favorite for sure!
Ingredients
Mushrooms
2 Tbsp. Salted Butter
1 (8oz) Cremini or Button mushrooms, trimmed and sliced
Sauce
1/2 cup Salted Butter
8 cloves garlic, minced (approximately 1.5 Tbsp)
1 cup Heavy Cream
1/3 cup Dry White Wine or Chicken Broth
1/2 tsp. Paprika
1/2 tsp. Salt
1/4 tsp. Black Pepper
1/4 tsp. Dried Thyme
Chicken and Spinach
3 cooked and sliced chicken breasts
5oz Fresh Baby Spinach
6-8 Slices Provolone Cheese
Instructions
Heat a large skillet over medium heat. Add 2 tbsp. of butter and stir until melted. Add in the mushrooms and sauté until golden and soft, approximately 10 minutes.
Add in the remaining 1/2 cup of salted butter and stir until melted.
Add in the garlic and sauté until fragrant, about 1 minute.
Add in the cream, white wine, and seasonings. Stir well.
Add in the sliced cooked chicken breasts and the baby spinach. Cook, stirring often, until the sauce is thickened and the spinach is wilted, about 5 minutes.
Once the sauce has thickened and the chicken is warmed through, stir the contents of the skillet well. Top with 6-8 slices of provolone cheese and place the cover on the skillet.
Cook over medium heat for 1-2 minutes, or until the cheese has begun to melt.
Scoop out portions and serve immediately. If you are eating low carb you can serve as is or with cauliflower rice. If you are eating a standard diet you can serve over rice, pasta, or just serve as is! It's not a pretty looking dish, but it's very delicious!
Notes
Substituting Wine:
If you'd like to leave out the wine, feel free to use chicken broth in its place.
Substituting Provolone:
If you can't find provolone, you can use another high quality melting cheese like mozzarella or gruyere.
Using Fresh Chicken Breasts:
If you'd like to use fresh chicken breasts, simply slice them into bite sized pieces and sauté them in butter and olive oil on both sides until browned and cook through. Remove to a plate and proceed with the recipe as directed.
Nutrition Information:
Yield:

6
Serving Size:

1/6 of Recipe
Amount Per Serving:
Calories:

494
Total Fat:

44g
Saturated Fat:

28g
Trans Fat:

1g
Unsaturated Fat:

13g
Cholesterol:

139mg
Sodium:

873mg
Carbohydrates:

5g
Fiber:

1g
Sugar:

2g
Protein:

18g
Nutrition information is an estimate only.
Pin it For Later