This easy recipe for Baked Feta Gnocchi is a flavorful one dish meal that is perfect for dinner! Made with feta and cherry tomatoes, this meatless dinner is filled with mediterranean flavor and tender, chewy potato gnocchi. Easily adapted to be gluten free, this is a weeknight dinner idea that everyone will love.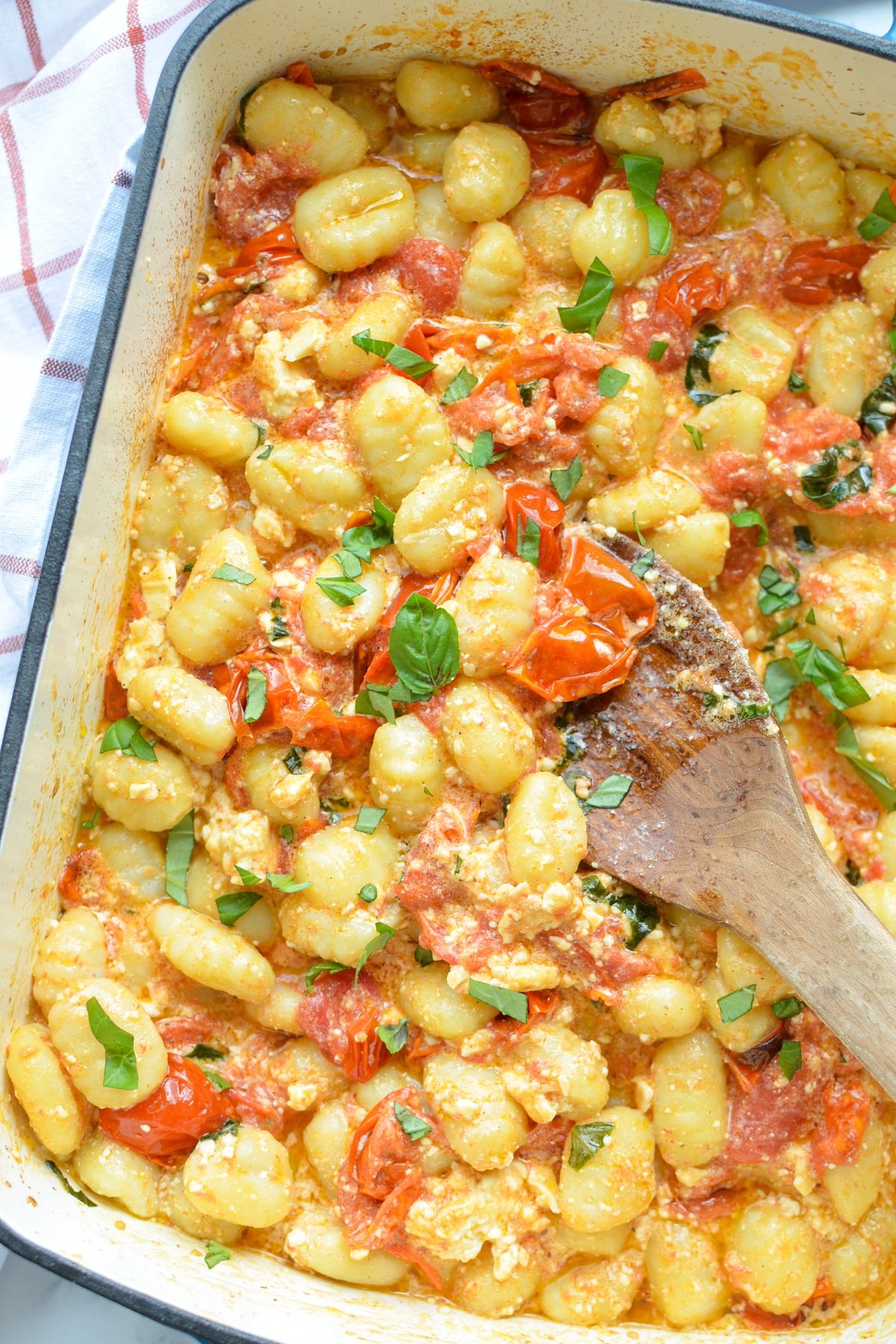 After hearing endlessly about the viral Baked Feta Pasta from TikTok, I finally tried it sometime last year. That was one viral recipe I was glad I tried, because it was absolutely amazing and became a quick favorite in my home!
I've been eating feta cheese LONG before it was ever cool. I mean, is it even cool now? Who knows. But I have been on that feta train for the better part of 2 decades. In fact, I introduced this sharp and firm cheese to my husband when we first started dating. Back then, he thought there were just two types of cheese: orange and white. Now, he knows better and enjoys all the various cheeses. Feta, especially.
So when I decided to put a spin on our favorite Baked Feta recipe and add gnocchi, he was totally on board. Having never tried gnocchi, he had some reservations, but when he learned they were made from potatoes, he knew it couldn't possibly go wrong.
Flash forward and now this easy dish is one of our favorites. Gnocchi is a great addition to this meatless meal, since the potatoes make it more satisfying than typical pasta. I'm keeping a stack of gnocchi in my pantry at all times, so we can make this easy dish at a moments notice (or some of my Pesto Chicken Gnocchi!).
Best part? It's SO easy and can be made mostly in one dish with just a few ingredients!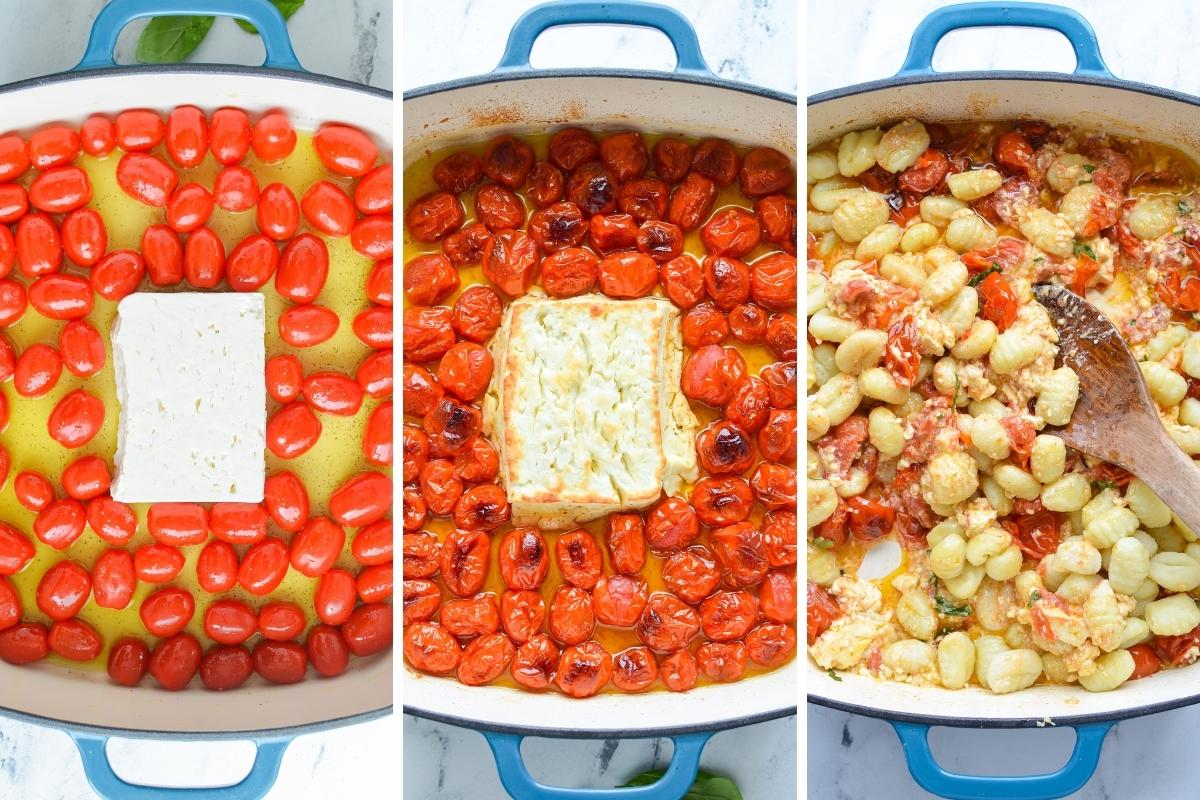 Why You'll Love this Recipe
It's an easy meatless dinner option that is totally satisfying.
Uses just a few simple ingredients, yet has BIG flavor!
Baked Feta Gnocchi is perfect for last minute dinners, since it requires no meat for thawing and gnocchi cooks in just 3-5 minutes!
It uses up any cherry tomatoes that might be sitting in your fridge.
The flavors are just amazing, and will soon become a favorite dinner request.
Ingredients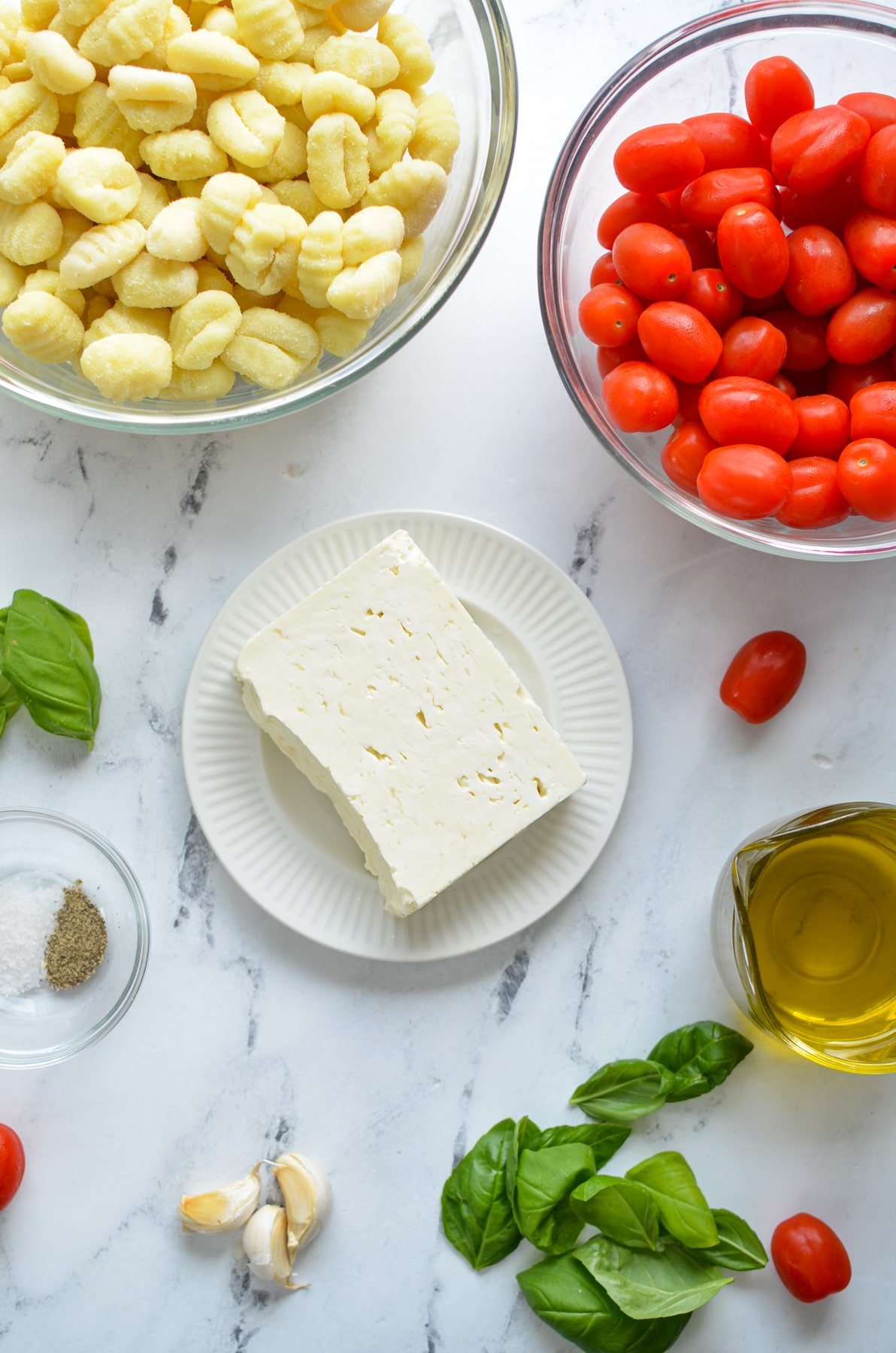 Feta cheese: You'll need an 8oz (227g) block of feta for this recipe. It's best if you leave it whole, but if you can only find crumbled feta, just mount it in the center and press it together with your hands. It will still totally work!
Cherry tomatoes: These blister perfectly and add just the right amount of sweetness. You'll need about 2 pints.
Gnocchi: Because you can't have baked feta gnocchi without out! Gnocchi, unlike other pastas, is purchased packaged and not quite dry. For this reason, it takes just 3-5 minutes to cook through, similar to fresh pasta. You can often find it in the pasta aisle of your grocery store, and you can also find it on Amazon.
Olive Oil: I really recommend using olive oil versus any other oil because the flavor is incomparable and perfectly suited to the sharp feta, sweet potatoes, and fragrant basil. Extra virgin is always preferred!
Garlic: This is a recipe you only want to use fresh garlic for. A few simple cloves minced or pressed, added after cooking, adds the perfect pungency and it's absolutely delicious.
Basil: A bit of fresh chopped basil added in the end is enough to make your eyes roll back in your head. Well, if you're as obsessed with fresh basil as I am!
Salt and Pepper: Just a little bit of S&P to round everything out.
How to Make Baked Feta with Gnocchi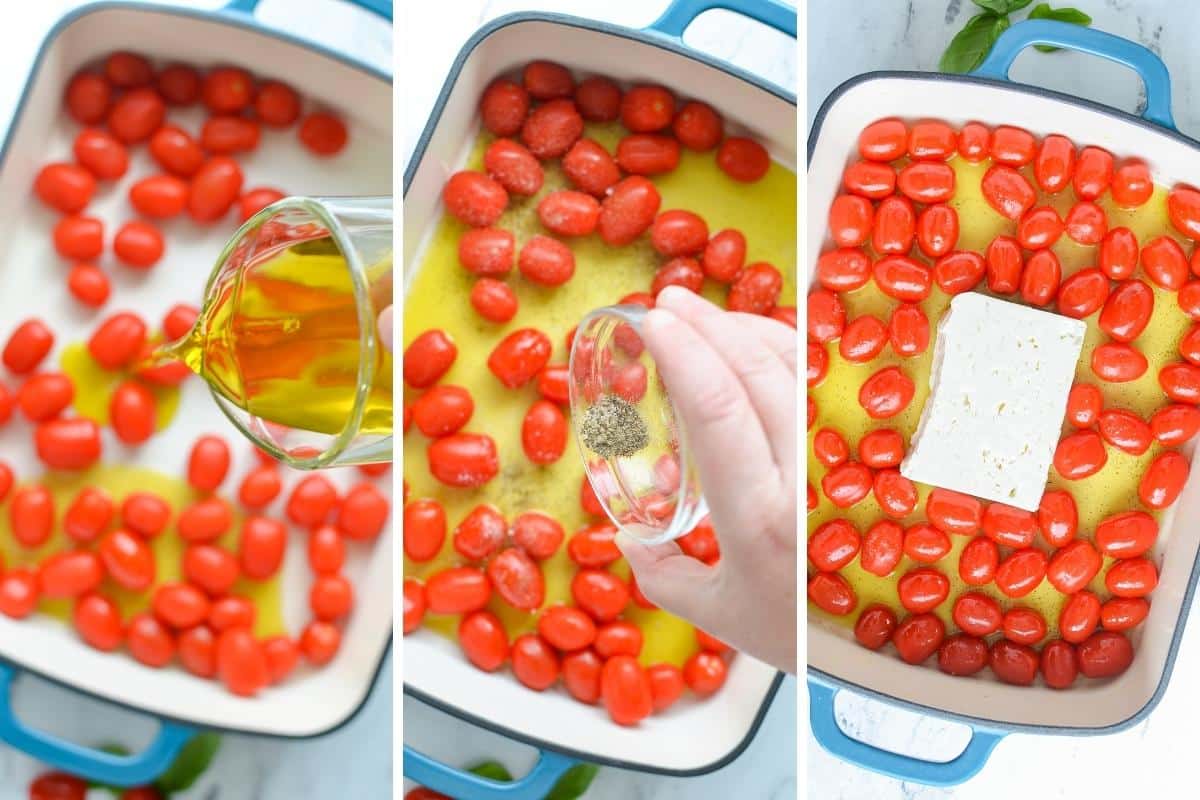 Preheat the oven to 425ºF and add your cherry tomatoes into a large baking dish. Pour in the olive oil.
Season with salt and pepper, and toss to coat.
Move your cherry tomatoes to the edges of the dish, leaving a space in the middle.
Add an 8oz block of feta cheese to the center of the dish.
Bake uncovered for 30-35 minutes, and then broil for 2-3 minutes (only if your baking dish is broiler safe).
With approximately 10-15 minutes left at the end of the cooking time, cook gnocchi according to package directions and drain in a colander in the sink.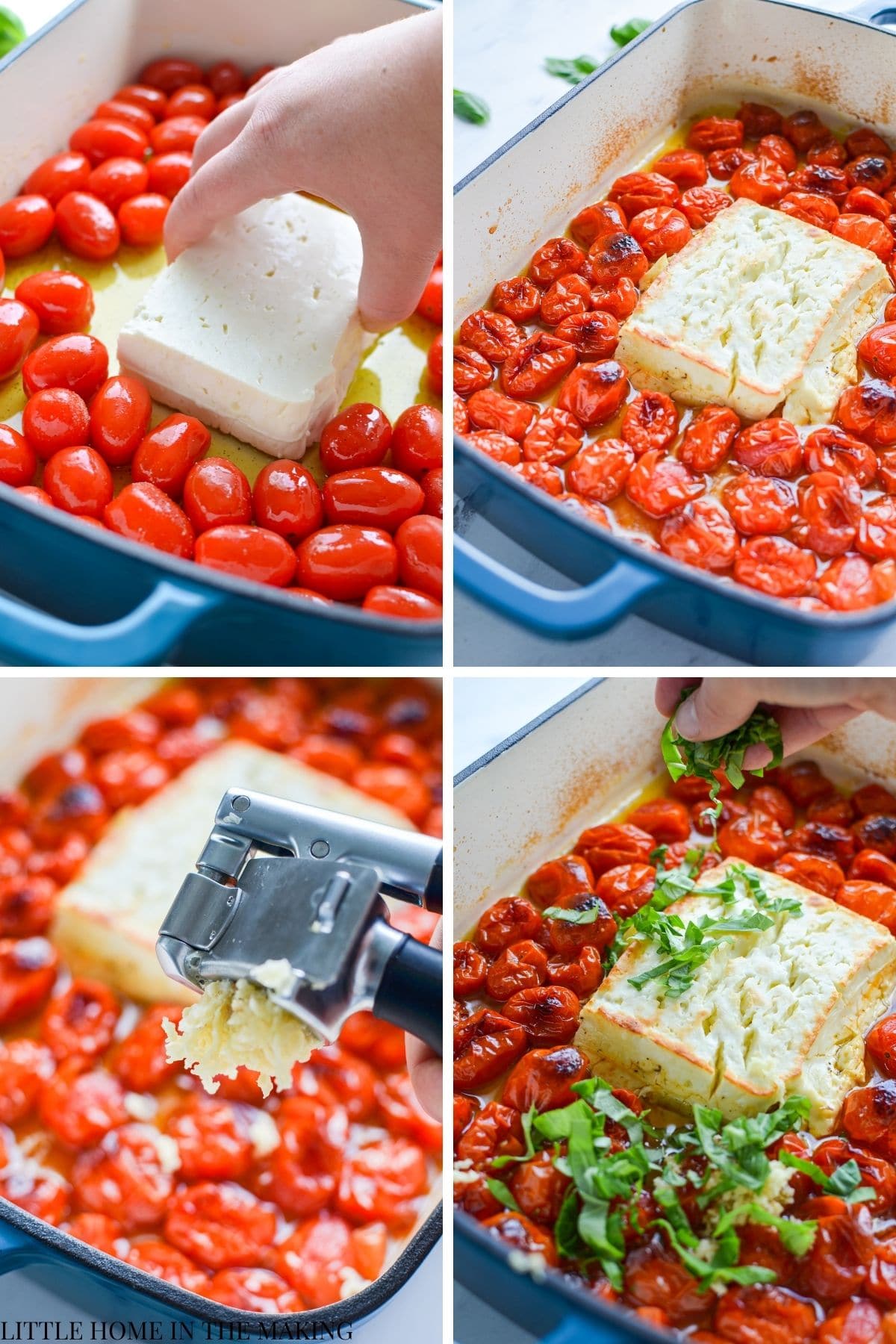 7. Once your feta and tomatoes are bubbly, hot, and blistered, remove them from the oven and add in the minced garlic and chopped fresh basil.
8. Break up the feta cheese and tomatoes with the edge of a wooden spoon, until it makes a chunky, but uniform sauce.
9. Add in the cooked gnocchi and stir to combine.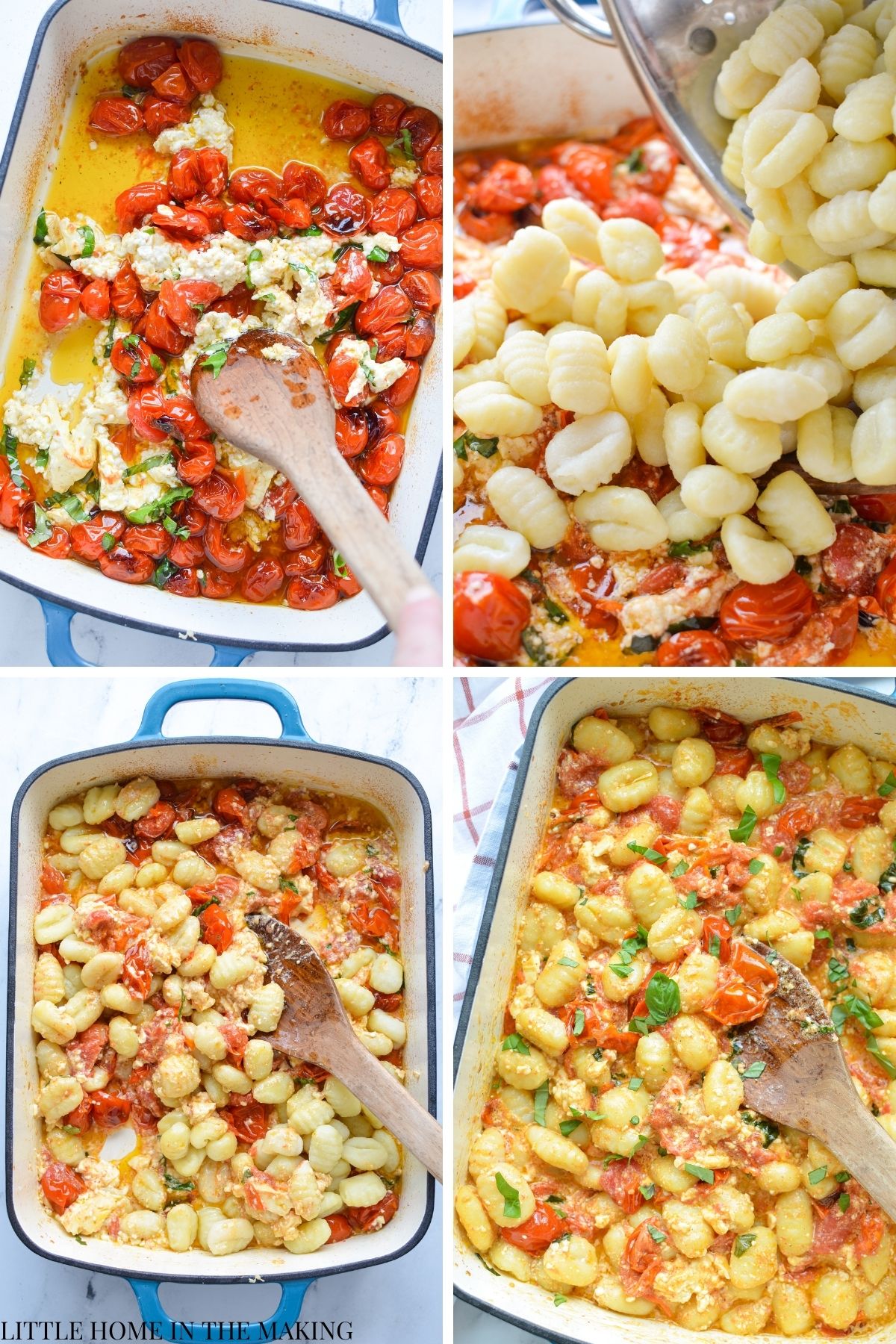 Once your gnocchi is added to the dish, stir to coat it evenly with the sauce and garnish with additional fresh chopped basil if desired!
Variations and Substitutions
Gluten free: Gnocchi is not typically gluten free, but it is very easy to find gluten free versions of gnocchi – even in your grocery store! You can also make your own gluten free gnocchi.
Traditional pasta options: If you don't want to use gnocchi for this recipe, you can very easily substitute dried pasta for the gnocchi. I recommend using 8oz of large pasta shapes like rotini, fusilli, penne, or cavatappi and cooking according to package directions.
With canned tomatoes: If you don't have access to fresh cherry tomatoes, you can use 2 (15oz) cans of cherry tomatoes in place of the fresh ones. They will not be as flavorful, but it can totally work! Just make sure to drain the cans, and use a good quality brand.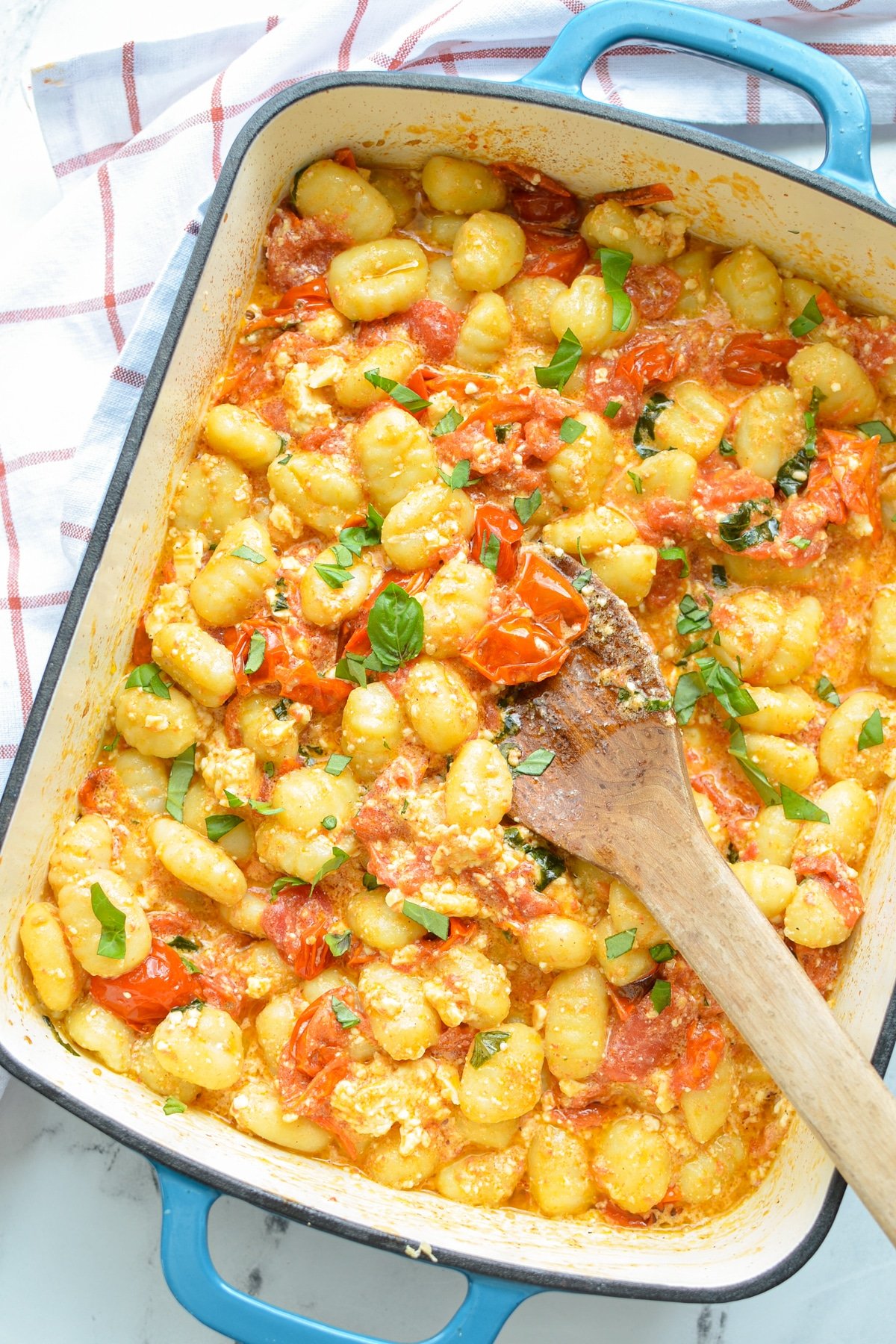 What To Serve with Baked Feta
Greek salad
Steamed or roasted asparagus
Steamed green beans
Marinated olives
Crostini
Breadsticks
Garlic bread
Hummus and pita chips
Toasted Italian bread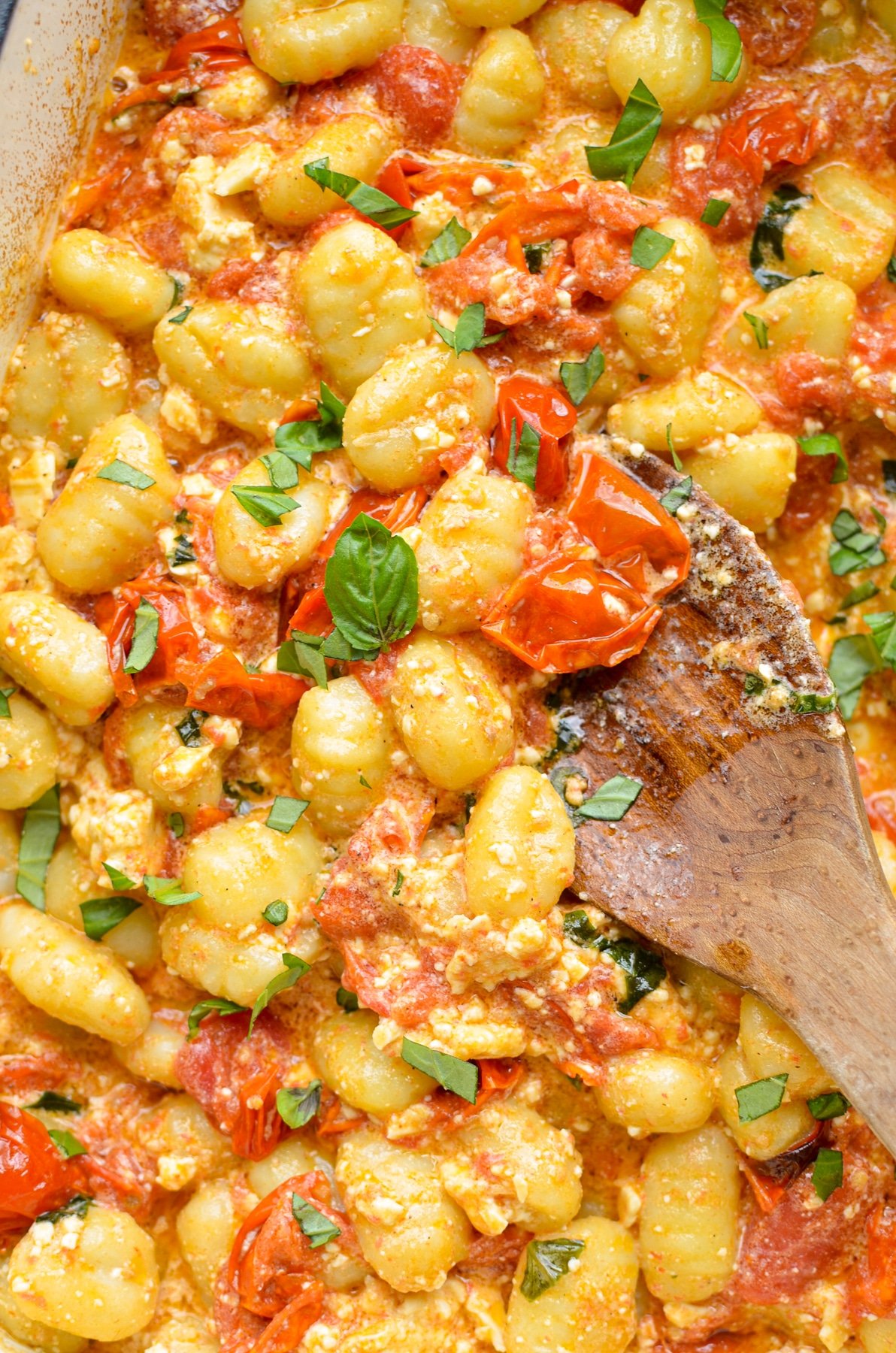 FAQ's
Is gnocchi healthier than pasta?
Gnocchi is made with mostly potatoes, some flour, and egg. Traditional dried pastas are made primarily of flour (semolina) and egg, and so gnocchi is comparable in terms of ingredients. If you prefer to reduce the amount of white flour you consume, gnocchi may be a better option for you. If you eat gluten free, it's very easy to find a tasty gluten free gnocchi, since there is very little flour used in its preparation.
Is gnocchi gluten free?
Most of the gnocchi that you find in the grocery store is not gluten free, but there are many gluten free brands readily available. Since the pasta is made primarily of potatoes, there is only a small amount of flour added to make gnocchi. It's an easy swap for manufacturers and so most grocery stores should have a gluten free gnocchi available in addition to traditional gnocchi.
Is gnocchi vegetarian?
Gnocchi is vegetarian, since it contains just three ingredients: flour, potatoes, and eggs. If you prefer not to eat eggs, you can find a vegan gnocchi brand or make it yourself.
More Easy Dinner Recipes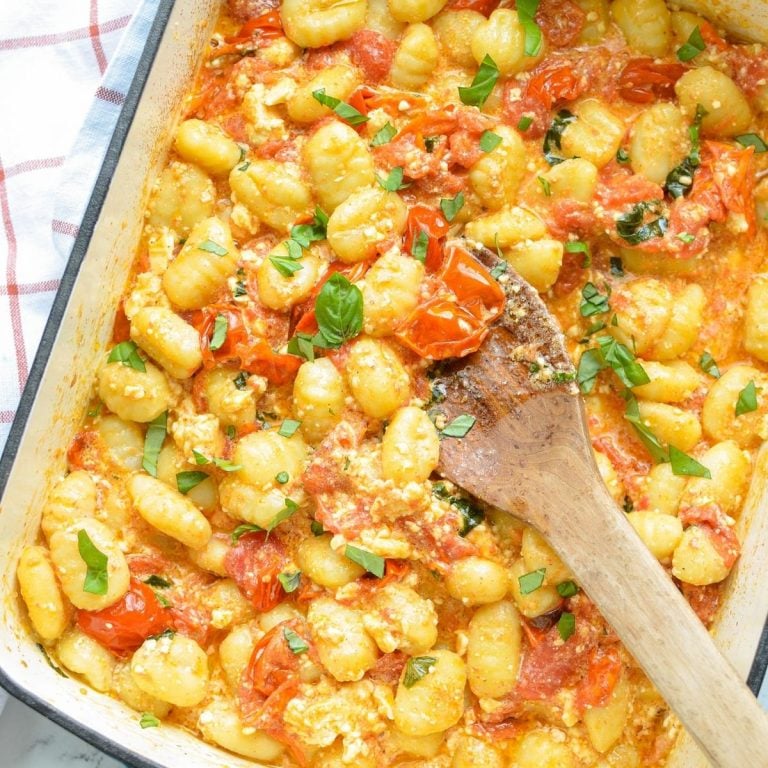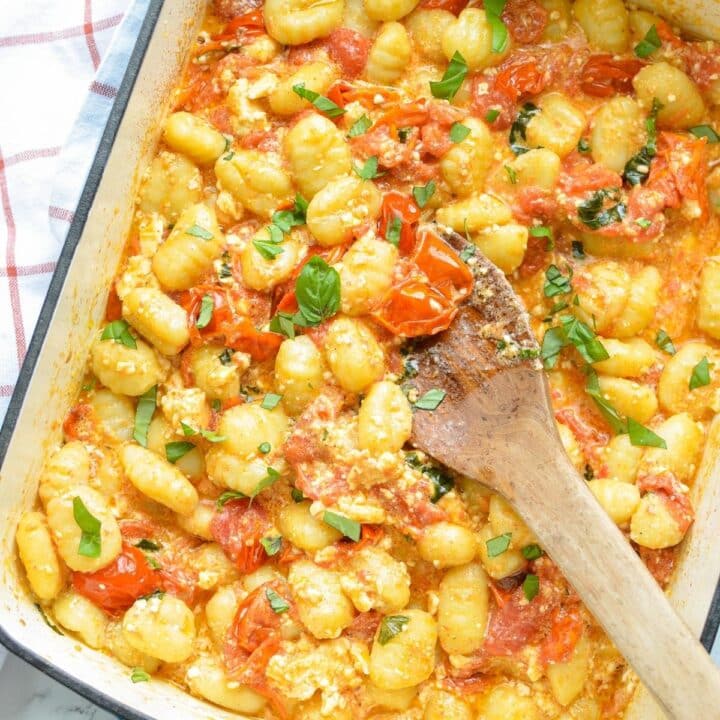 Baked Feta Gnocchi
This easy recipe for Baked Feta Gnocchi is a flavorful one dish meal that is perfect for dinner! Easily adapted to be gluten free, this is a weeknight dinner idea that everyone will love.
Ingredients
2 pints (682g) cherry tomatoes
1/2 cup extra virgin olive oil
1 8oz (227g) block feta cheese
1/2 teaspoon kosher salt
1/4 teaspoon ground black pepper
3 cloves garlic, minced
1/4 cup chopped basil leaves (plus more for garnish, if desired)
Gnocchi
1 1/2 pounds (750g) packaged gnocchi (approximately 5 1/2 cups)
Boiling salted water
Instructions
Preheat your oven to 425ºF.
Add your cherry tomatoes to a large 9X13 baking dish.
Add the olive oil, salt, and pepper to the baking dish. Toss to coat the cherry tomatoes with the oil and seasonings.
Clear a section in the middle, and place your entire block of feta cheese into the center of the baking dish.
Bake in the preheated ove for 30-35 minutes, or until bubbly.
When there is 10-15 minutes left, bring a large pot of hot tap water to a boil. Salt well after it comes to a boil.
Add the gnocchi to the boiling salted water, and cook for 3-5 minutes, or until they float to the top. Set a collander over the sink, and remove the gnocchi as they float, until all are cooked.
Once the cooking time is up, *ONLY IF your baking dish is broiler safe, set the oven to broil and cook for 2-3 minutes, or until super bubbly and the tomatoes have begun to blister and the feta brown. Watch very closely, as it can burn quickly.
Remove from the oven and add in the minced garlic and fresh chopped basil. Stir to combine, using a wooden spoon or spatula to break up the feta cheese and tomatoes.
Once you have a chunky sauce, and it's mostly uniform, add the cooked gnocchi and toss well to combine.
Serve immediately, and garnish with additional basil if desired.
Nutrition Information:
Yield:

4
Serving Size:

1
Amount Per Serving:
Calories:

368
Total Fat:

29g
Saturated Fat:

5g
Trans Fat:

0g
Unsaturated Fat:

23g
Cholesterol:

20mg
Sodium:

235mg
Carbohydrates:

23g
Fiber:

2g
Sugar:

2g
Protein:

5g
Nutrition information is an estimate only.
Please note that some of my blog posts here at Little Home in the Making may contain affiliate links. If you make a purchase through these links, I will get a small commission at no additional cost to you. Please see my Disclaimer for more information.