This mac and cheese is made from scratch with REAL cheddar cheese. A creamy, silky mac and cheese that is sure to satisfy…without Velveeta! This from scratch macaroni and cheese features tons of real cheddar cheese, tender pasta, and a crispy breadcrumb topping. Your family is going to love this, and you're going to love the rave reviews!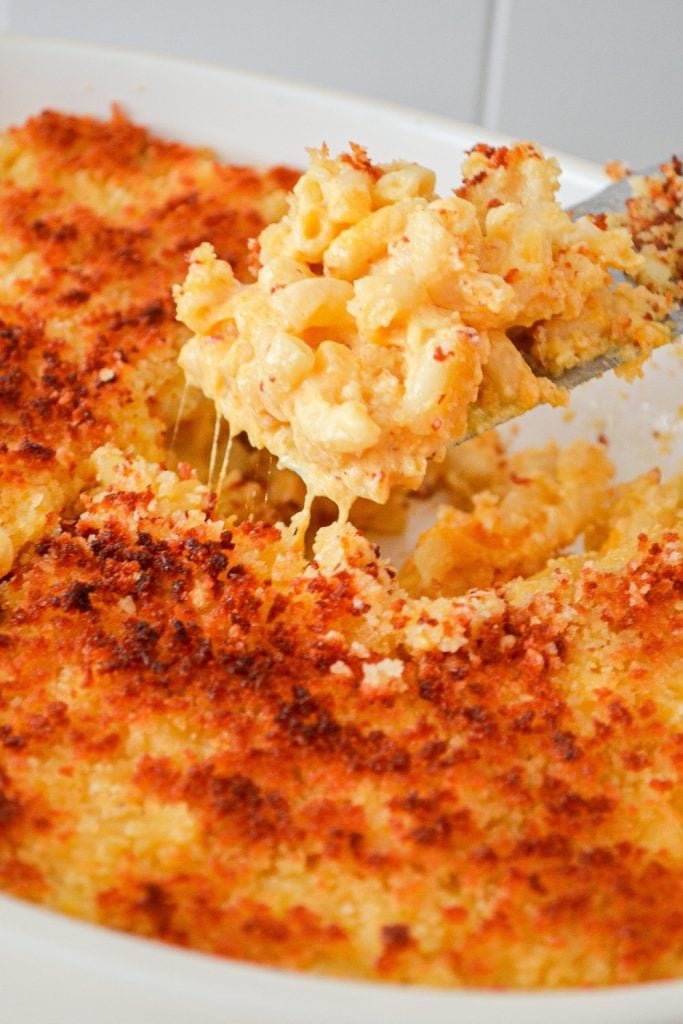 Please note that some of my blog posts here at Little Home in the Making may contain affiliate links. If you make a purchase through these links, I will get a small commission at no additional cost to you. Please see my Disclaimer for more information.
---
My favorite comfort food of all time HAS to be Macaroni and Cheese. I've always had a love for baked macaroni and cheese with a breadcrumb topping, but I could never find a from scratch recipe that I LOVED. Well friends, that changed some time ago and I'm ready to share with you my final favorite recipe for from scratch macaroni and cheese!
This version is packed with cheesy flavor without the addition of Velveeta or other processed cheese products. This is made 100% from scratch, using normal every day ingredients. Never grainy, and always creamy, smooth, and cheesy. This is the ultimate mac and cheese recipe and I couldn't be more pleased! I hope your family enjoys this as much as we do.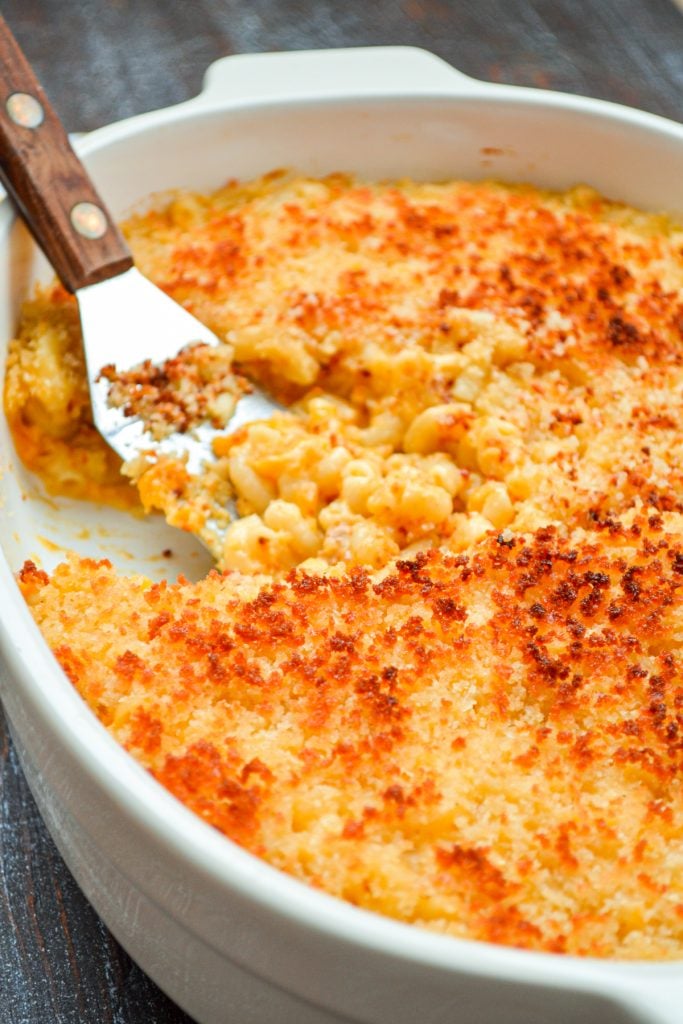 How to Make Macaroni and Cheese From Scratch
It's pretty simple to make macaroni and cheese from scratch if you have a good grasp on how to make a roux. If you've successfully made a roux, you can successfully make mac and cheese!
My tips for a successful roux:
Use a heavy bottomed saucepan: Even though I'm experienced with making sauces, I still burn my roux when I use a cheap saucepan! For the best results, use a saucepan with a heavy bottom. Stainless steel works very well, but you can use a Dutch oven if your saucepans are on the thin side.
Whisk often: While letting your flour cook, whisk often to prevent burning and to ensure even cooking.
Wait for a color change: to ensure your flour is cooked and your roux is ready, cook your roux, stirring often, until it begins to change color ever so slightly. You are looking for a very light brown, almost beige color. This indicates that there will be no "flour-y" taste left behind.
Pour the milk in slowly: When it comes time to add your milk, pour it in very slowly. I like to add just a little bit, whisk, and then add a bit more, and whisk again. This helps create a lump free sauce because you are whisking until smooth in several separate additions, rather than all at once. Some recommend that you heat your milk before adding it to the roux, but I find that adding the milk and whisking in stages works perfectly.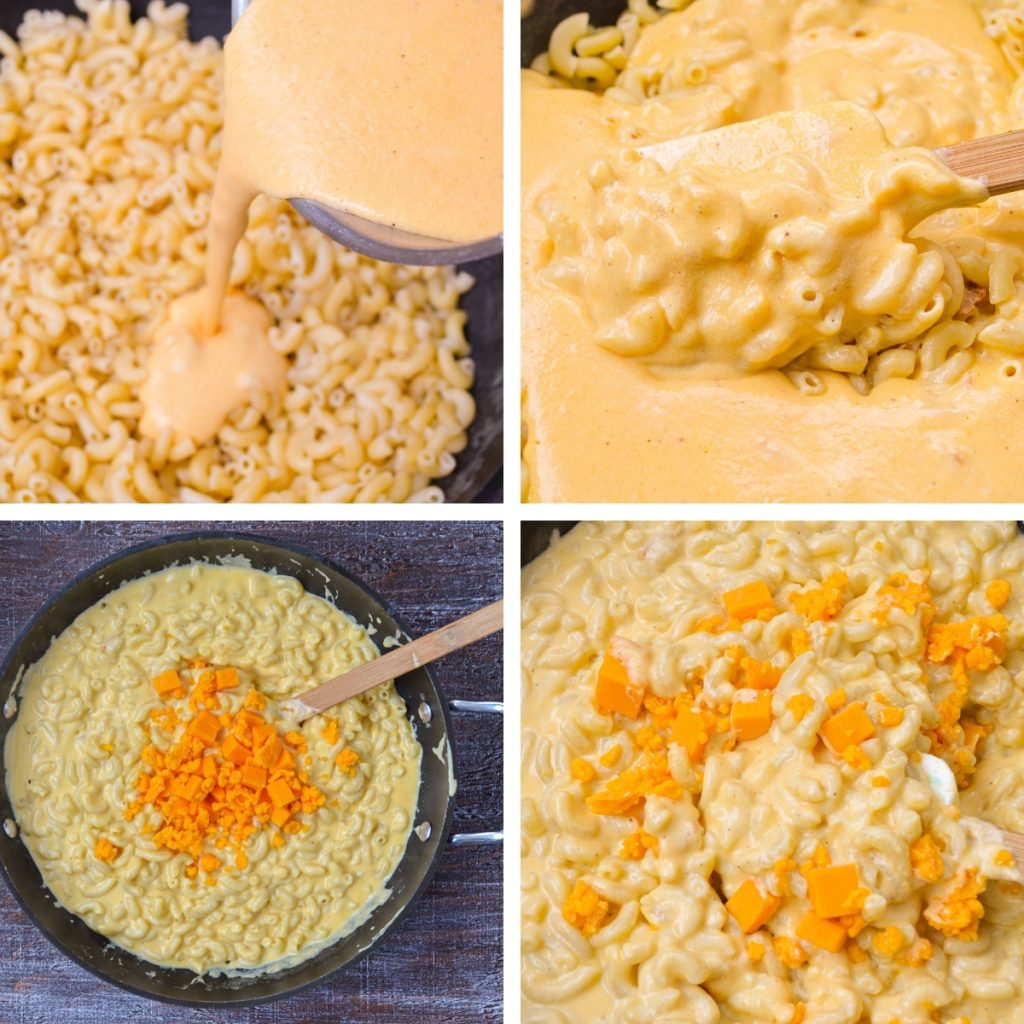 The Secret to Ultra Cheesy Homemade Mac and Cheese
If you are making homemade macaroni and cheese without Velveeta or processed cheese, you may be wondering how you can give it that extra cheesy punch. I learned this secret from making Rootitoot's Instant Pot Mac and Cheese, and it's now a secret weapon I use in all of my Mac and Cheese creations.
If you look in the images above, you can see that there are chunks of cheddar cheese being tossed into the pasta and sauce. THIS is the way to create wonderful pockets of cheesy goodness. The cubed cheese is tossed in after the sauce is added to the pasta, and then immediately placed in a baking dish. As the casserole cooks, the cheese cubes melt and make the mac and cheese ultra cheesy and delicious.
How to Make Baked Macaroni and Cheese
Once your sauce, pasta, and cheese cubes are combined, pour it into a greased 9X13 baking dish. Now you're ready to prepare a breadcrumb topping.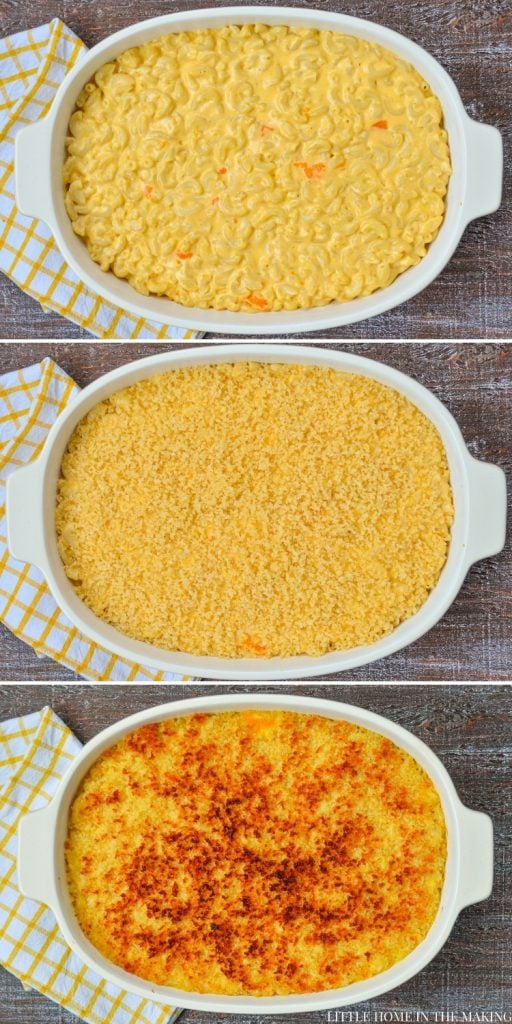 Preparing a Crispy Breadcrumb Topping:
Melt 1/4 cup of butter in a small saucepan or in the microwave.
Place 3/4 cup of Panko breadcrumbs into a small bowl.
Add the melted butter to the panko breadcrumbs and stir well until all of the breadcrumbs are coated with the melted butter.
Add the topping to your casserole dish, and spread it out as evenly as possible.
Bake your macaroni and cheese as directed in the recipe, and broil the casserole at the end of the baking time for 1-2 minutes.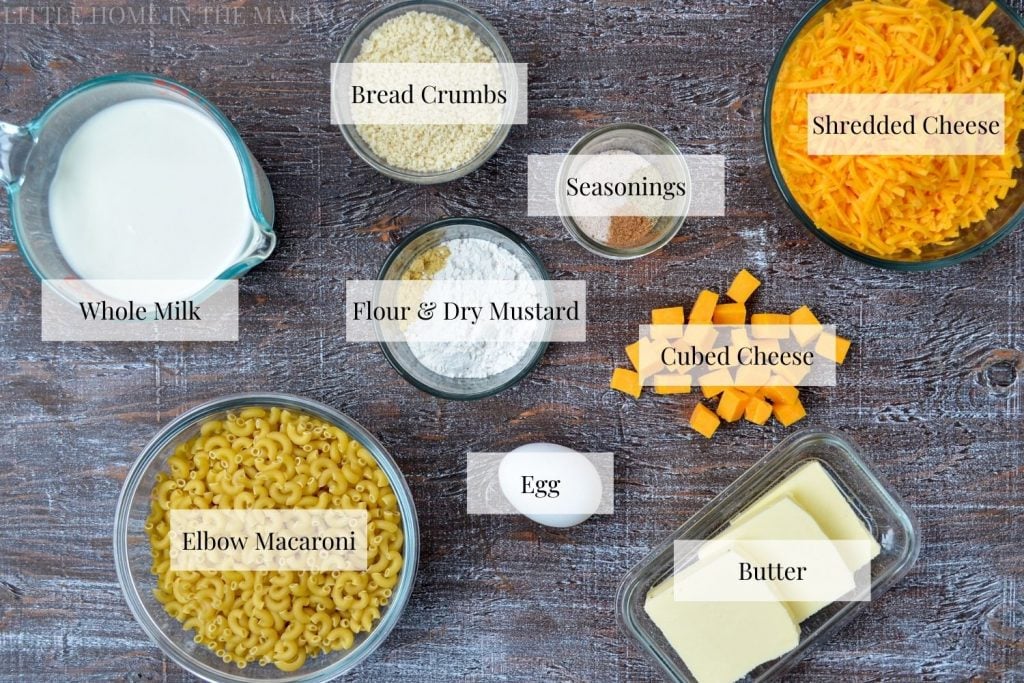 What Ingredients Do I Need?
You can make the most delicious, creamy mac and cheese just by using a few basic ingredients. With proper technique and good quality cheese, you'll be surprised what you can make from scratch in your own kitchen!
For the Pasta:
Elbow Macaroni: While it can be tempting to make substitutions for elbow macaroni, I'm going to suggest that you stick to the type of pasta listed in the recipe. Different pastas expand in different ways, and measurements just aren't as accurate as weights for making substitutions. If you absolutely cannot stand elbow macaroni, feel free to use another pasta of a small size like small shells.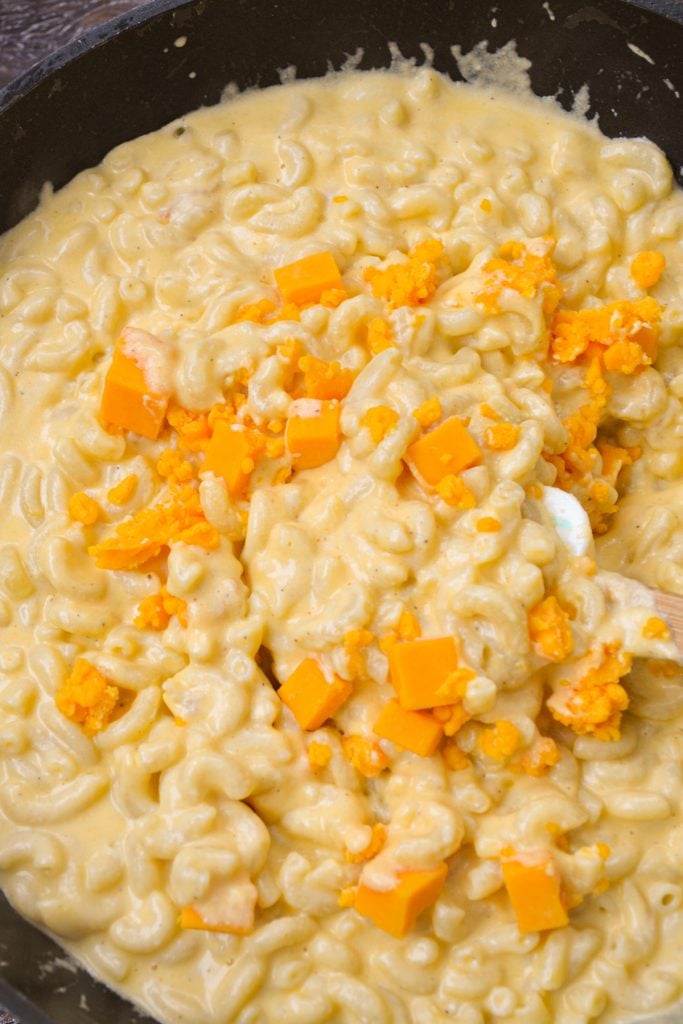 The Cheese:
Cheese: Sharp cheddar is the classic "macaroni and cheese" cheese. I like to use it because it's economical, classic, and widely available. I will insist that you purchase a block of sharp cheddar and grate it yourself. Pre-shredded cheese is a great convenience item, but it just doesn't make the cut when it comes to making macaroni and cheese from scratch. Because it is coated with anti-caking agents, it just doesn't melt effectively and you can end up with a grainy cheese sauce. Instead, opt to shred your cheese yourself or use a food processor with the shredding attachment for ease. A portion of the cheese will be cubed, which allows for nice little pockets of cheesy goodness to surprise you as you bite into this wonderful, cheesy concoction of goodness.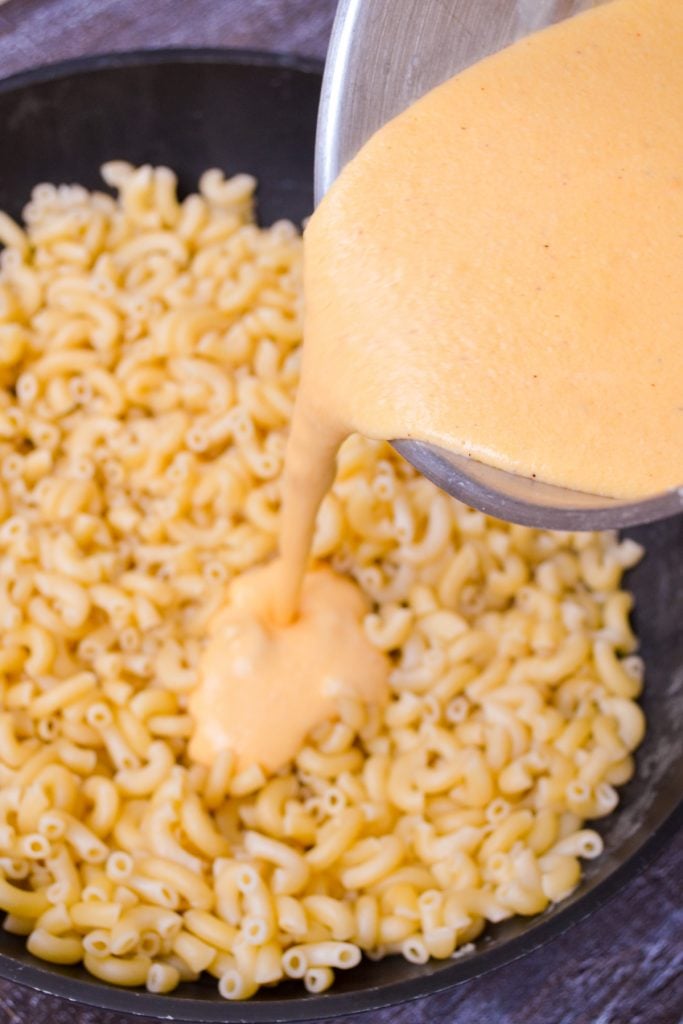 The Sauce:
Butter: You absolutely MUST use the real thing for macaroni and cheese! I recommend salted butter for this savory pasta dish, but you can substitute unsalted in a pinch. Just add a bit more salt when you add in the seasonings during the sauce portion of the recipe.
Flour: All you need is regular old all purpose flour! You can use standard or unbleached, but I wouldn't recommend whole wheat flour or alternative grains.
Dry Mustard Powder: For some reason, this is the very best friend of cheese. On its own, it's not very exciting, but it adds a special flavor to dishes that focus in on cheese as the predominant flavor. Dry mustard compliments and enhances the cheese flavor, but also amps up that orangey yellow color just a little bit. This is a bit of a secret ingredient!
Milk: I suggest using whole milk in this recipe. While some make use of heavy cream, I like to be able to make this on a regular basis and so whole milk works both for the budget, and for the waistline (well, kinda 😂). The sauce is made using a roux, and we let it simmer to thicken, so you don't have to worry that you will have a runny sauce.
Seasonings: Since we don't want to hide that delicious cheese flavor, all we need is a few complimentary seasonings: black pepper, seasoned salt, and nutmeg. Just a pinch for that hint of something special!
Egg: This is an optional ingredient, but adds a special richness to this dish. I have made my macaroni and cheese without egg for many years, but recently made this addition and we are totally obsessed.
And the Topping:
Breadcrumbs: We like the added crunch factor of panko style bread crumbs, but you can use standard breadcrumbs if that is what you have on hand. What makes them extra special is the addition of melted butter. This ensures they get wonderfully crispy and totally delicious.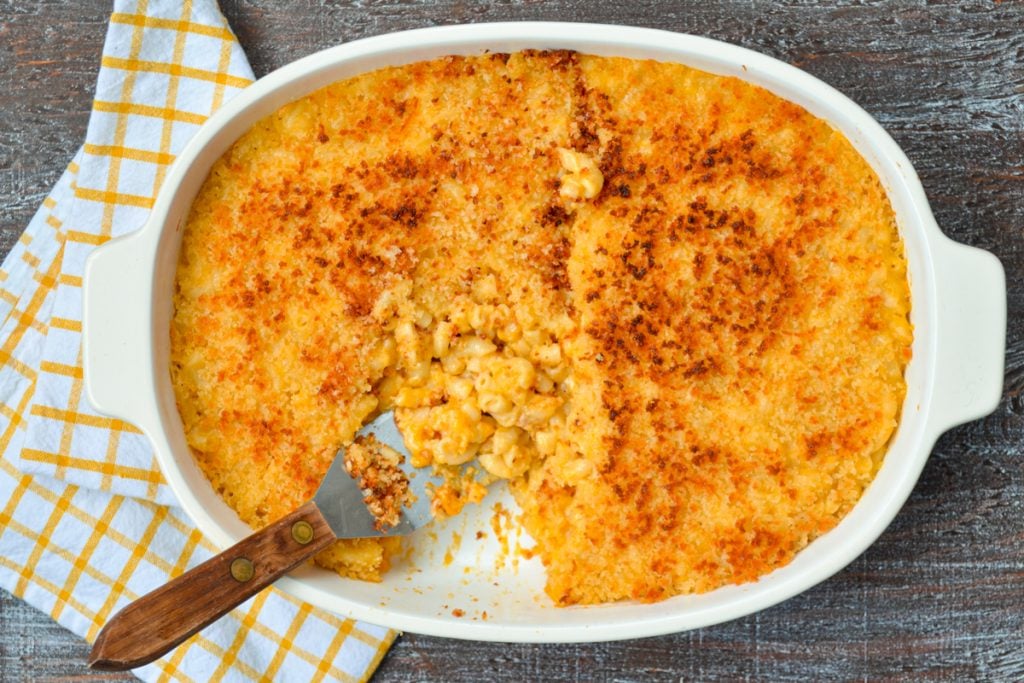 What goes Good with Macaroni and Cheese?
There's a lot of debate as to whether macaroni and cheese is a main dish or a side dish. Many folks fall on the "side dish" side of the debate, but I happen to think of it as a main dish. After all, it is my favorite food! What you choose to compliment your from scratch macaroni and cheese largely depends on how you view it: side dish, or main dish! Here are some suggestions for various foods that go well with macaroni and cheese:
Fried Chicken
Coleslaw (like my Southern Style Buttermilk Coleslaw 😋 Yum)
BBQ or oven baked ribs
Meatloaf
Grilled meats
Smoked sausages
Hot dogs
Hamburgers
Meatballs (like my Freezer Meatballs, which are made ahead and frozen for easy prep) with BBQ sauce, sweet and sour, or gravy and mushrooms
Sloppy Joes (this recipe from The Chunky Chef is looking like one I want to try!)
Tossed salad
Roasted veggies
Or just as is, in all its cheesy, wonderful glory!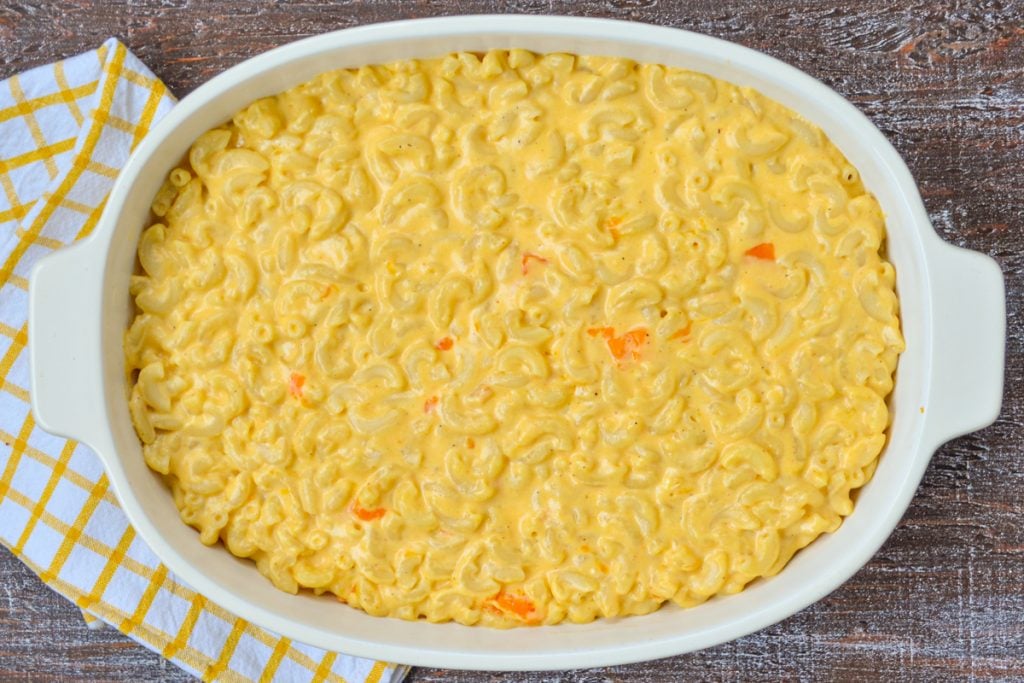 Frequently Asked Questions About Making Macaroni and Cheese From Scratch
Can you freeze macaroni and cheese?
Yes, you can freeze macaroni and cheese! I recommend freezing it before the baking stage, and once it has completely cooled down. Once the casserole is cooled, top with aluminum foil and place in the freezer on a flat surface. Once it has frozen completely through, you can move it to a deep freezer for longer storage. If you can avoid adding the breadcrumb topping until the baking day, I would highly recommend that.
How do you cook homemade mac and cheese that's been frozen?
Start by thawing the macaroni and cheese completely. Then, heat your oven to the baking temperature of the original recipe (approximately 375F) and bake covered for 25-35 minutes if thawed at room temperature. Add 15 minutes if you thawed your casserole in the fridge. Remove the cover and broil for 1-2 minutes. Cool for 5 minutes, then serve and enjoy!
What is the best cheese to use for macaroni and cheese?
The classic cheese to use in homemade macaroni and cheese is sharp cheddar cheese, but there are many more you can use. Sharp cheddar is lower on the price scale than other melting cheeses, making it a tasty and affordable option for home cooks. Gruyere, Fontina, Gouda, and Muenster cheese are all great options if you have a little more room in your budget.
Can you use evaporated milk in macaroni and cheese?
Since evaporated milk is thick, it can make a good substitute for whole milk or cream when making macaroni from scratch. The caveat is that it has a "processed" taste and that tends to come through in the final product. Whole milk is recommended when possible, but you can substitute for evaporated milk cup for cup in a pinch.
Do you have to put eggs in macaroni and cheese?
You do not have to put eggs in macaroni and cheese! While the addition of egg adds a lovely richness and color, it is by no means a necessary ingredient and can be omitted without substitution.
What spices are good in macaroni and cheese?
Since you want the cheese to be the main flavor, you want to keep spices to a minimum in homemade macaroni and cheese. Salt, pepper, and nutmeg (just a pinch) are great additions. Seasoned salt, paprika, and cajun seasoning can be a great addition if you'd like a little extra touch of flavor. Be prudent with the amounts, however. It's very easy to over season macaroni and cheese.
What can you add to macaroni and cheese to make it creamier?
Since most macaroni and cheese recipes call for the use of a roux, you have a creamy base to start with. To make it that extra bit creamier, you can add an egg, extra egg yolks, cream cheese, extra cheese, or heavy cream.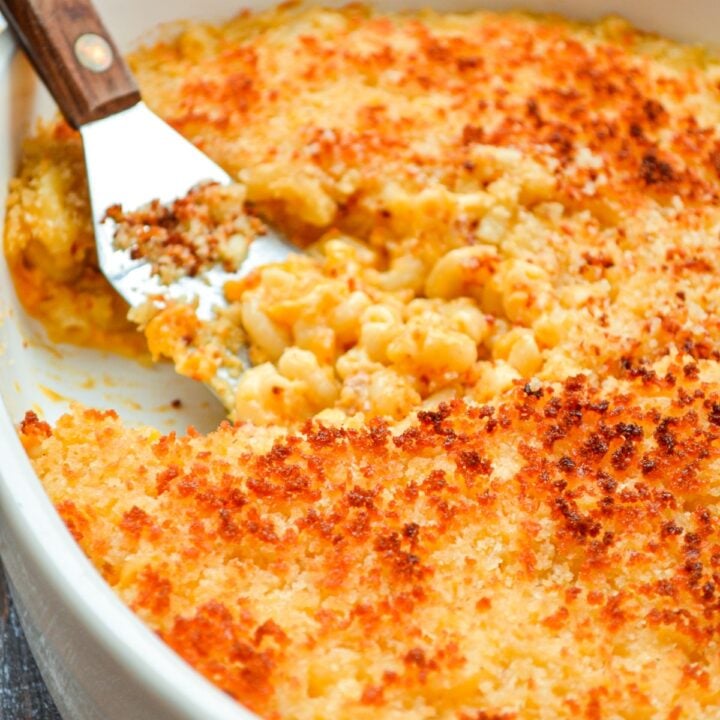 From Scratch Macaroni and Cheese
This creamy, dreamy from scratch macaroni and cheese is made with REAL cheese, pasta, and a homemade roux. A mac and cheese recipe without velveeta that is loaded with real cheese flavor.
Ingredients
Pasta
3 cups dried elbow macaroni noodles
1 tsp. salt
1 tbsp. salted butter
Sauce
1/4 cup salted butter
3 tbsp. All-purpose flour
3 1/3 cups whole milk
1 tsp. dry mustard powder
1 large egg, beaten
12oz block Sharp Cheddar Cheese (10oz grated, 2oz cubed)
1 tsp. seasoned salt
1/4 tsp. ground black pepper
1/8 tsp. ground nutmeg
Topping
3/4 cup Panko breadcrumbs
1/4 cup salted butter, melted
Instructions
Preheat the oven to 375F and grease a 9X13 baking dish with butter.
Bring a large covered pot of water to a boil over high heat. Add 1 tsp. of salt, 1 tbsp. of butter, and the elbow macaroni. Stir well and let the macaroni cook for 7-9 minutes, or just until al dente.
Drain the macaroni and stir well. Add the macaroni back to the empty pot and replace the cover to keep it warm while you finish the sauce.
While the macaroni is cooking, begin to prepare your cheese sauce. Add 1/4 cup salted butter to a heavy-bottomed saucepan over medium heat. Whisk until melted and bubbly.
Add 3 tbsp. of flour to the butter and whisk into the melted butter until smooth. Continue whisking until the flour and butter is a gentle golden color and smooth, about 5 minutes. Be very careful not to burn the roux at this stage, as it can be easy to do. That's why I suggest a heavy bottomed pan, and to whisk often. If you need to lower your heat a little bit, feel free to do so.
Once the flour and butter have cooked for 4-5 minutes, slowly begin to pour in the milk. Add 1/4 cup at a time and whisk well until smooth and lump free, then add another 1/4 cup. Continue to do this until you have added all of the milk. This makes for a smooth sauce, rather than a lumpy one.
Continue to cook your sauce for about 10 minutes over medium heat, being sure to whisk and stir often to prevent burning. Again, feel free to lower your stove temperature if you feel it is cooking too quickly. During this time your sauce will thicken and will be the consistency of heavy cream.
Once the sauce has cooked and is thick, it is time to temper the egg. This sounds a lot harder than it is. Add the egg to a medium sized bowl and whisk well. Slowly, at a drizzle, begin adding some of the sauce while whisking constantly. Continue adding the sauce at a slow drizzle, whisking constantly, until you have added about 1 cup of sauce to the beaten egg. Pour the tempered egg and sauce back into the pot and whisk well to combine. Do not return your sauce to the burner.
Add the shredded portion of your cheese to the sauce and whisk well until smooth and incorporated.
Add the seasoned salt, black pepper, and nutmeg to your cheese sauce. Whisk well and taste. Adjust your seasoning and salt if desired. Be sure to taste it, because you want it to be adequately seasoned. Whisk in the seasonings.
Remove the cover from the cooked macaroni and stir it well with a silicone spatula to break up any clumps of noodles. Add the cheese sauce to the macaroni and stir well until all of the macaroni is coated in sauce.
Add the cubed portion of cheddar to the macaroni and sauce and give it a quick stir. These cubes will leave lovely little chunks of cheese to bite into once the baking time is through. This is the best part!
Pour the macaroni and cheese sauce mixture into your prepared 9X13 baking dish and spread it out evenly.
In a small bowl over medium heat, melt the remaining 1/4 cup of salted butter. Once melted, stir in the panko breadcrumbs and mix until all the bread crumbs are coated in butter.
Spread the panko breadcrumbs in an even layer over the macaroni and cheese, ensuring you get the corners and edges of the dish as well.
Bake in the pre-heated oven for 20 minutes.
Switch you oven to "Broil" and heat for 1-2 minutes, or until the breadcrumbs are lightly toasted. This makes for a lovely crunch topping, but you must watch your oven very carefully because things can get out of hand on broil!
Divide into 8 squares and serve immediately!
Notes
Cheese:
I am insisting here that you only use cheese from the block, meaning you shred it yourself. Pre-shredded cheese is coated to help lengthen the shelf life, which is a lovely convenience, but makes it less than ideal for sauces that need a smooth melting cheese. Also, I use some portion of the cheese cubed in this recipe, which is one of our absolute favorite parts! You just can't get that with shredded cheese! I measure out the 2oz of cubed cheese first, set that aside, and then shred the remaining 10oz of sharp cheddar. You can use your food processor to make quick work of it. I recommend you shred and cube your cheese before you get started with the recipe, which is why it's listed as such in the ingredients list.
Nutrition Information:
Yield:

8
Serving Size:

1
Amount Per Serving:
Calories:

423
Total Fat:

29g
Saturated Fat:

17g
Trans Fat:

1g
Unsaturated Fat:

9g
Cholesterol:

100mg
Sodium:

941mg
Carbohydrates:

25g
Fiber:

1g
Sugar:

1g
Protein:

16g
Nutrition information is an estimate only.
Pin it For Later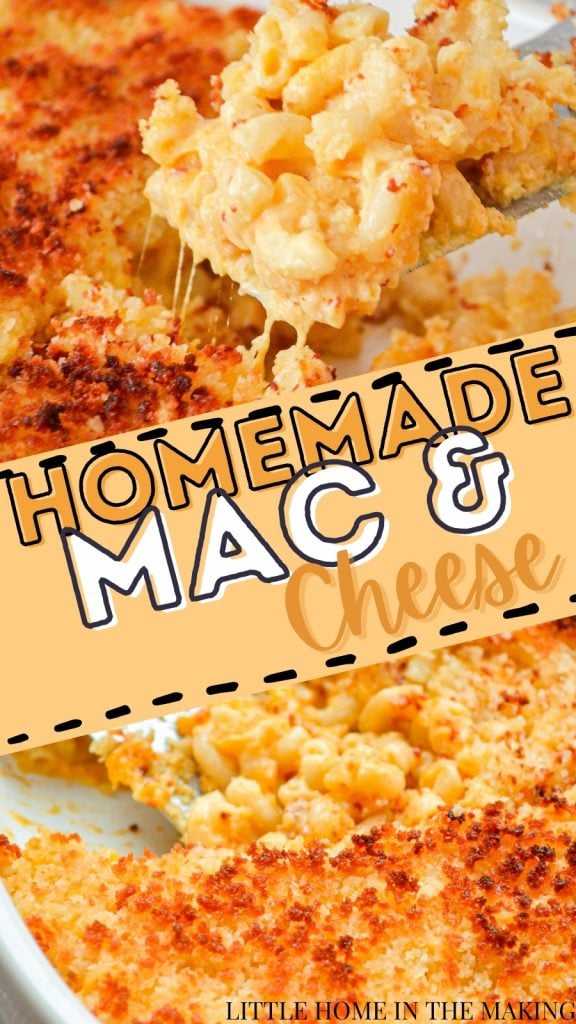 wp-recipe-maker/recipe {u0022idu0022:3142
Additional Reading:
Origin of Macaroni and Cheese – Clifford A. Wright