This homemade salt scrub requires just 4 simple ingredients and about 5 minutes of your time! It's the perfect easy DIY gift idea, or just a fun homemade project for treating yourself to a mini spa day. Great for scrubbing rough patches of skin, and smells amazing!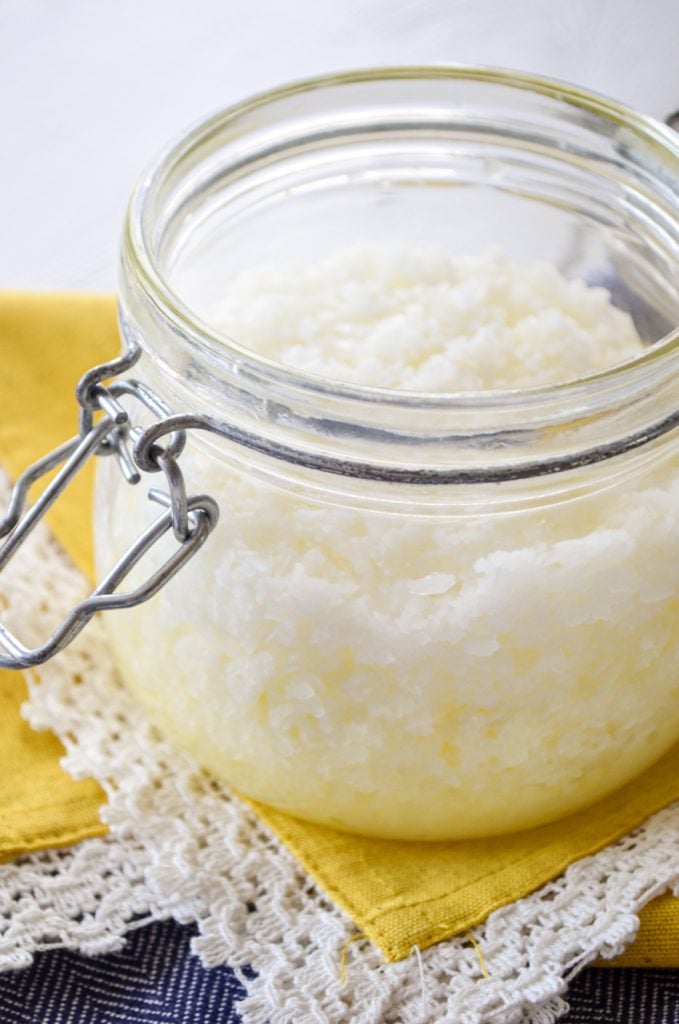 Please note that some of my blog posts here at Little Home in the Making may contain affiliate links. If you make a purchase through these links, I will get a small commission at no additional cost to you. Please see my Disclaimer for more information.
---
One of my favorite things to do is to make things from scratch. This is in part the reason I have a blog, and I just love creating new things to feature here. While I've done a lot of food recipes, I also love crafting homemade skincare products too! I like to keep things simple when it comes to homemade products (thus keeping the cost down), and such is the case with this 4 ingredient homemade salt scrub.
This easy salt scrub can be made in less than 5 minutes and is a great DIY gift idea. Whether you're looking to treat someone for Mother's Day, their birthday, or Christmas, this DIY salt scrub is an excellent choice.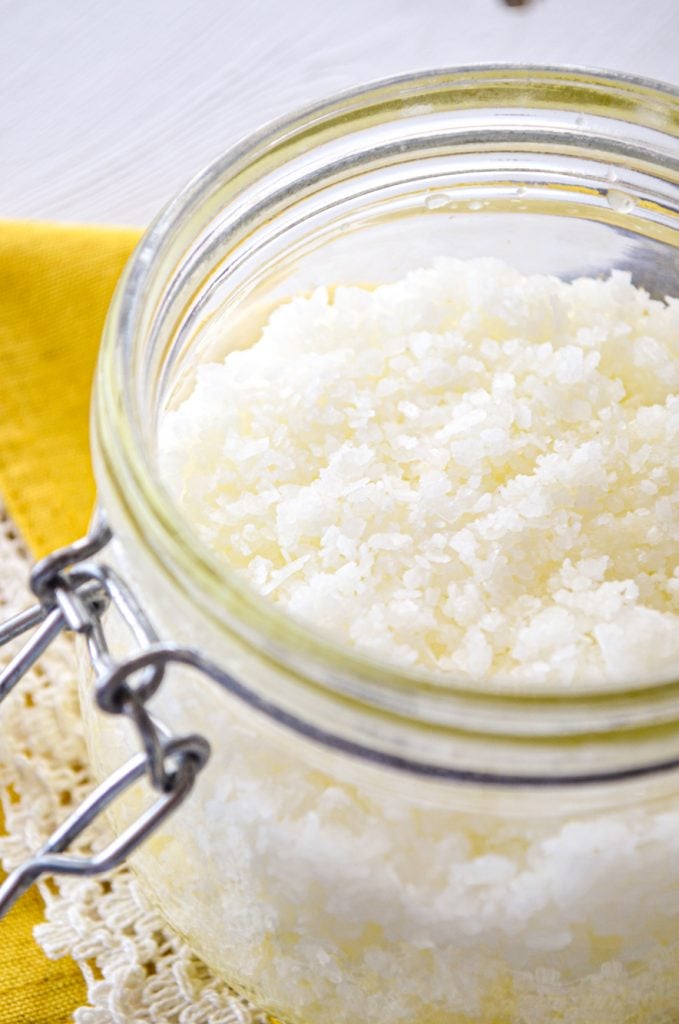 Does Homemade Salt Scrub Make a Good Gift?
Yes! Not only does homemade salt scrub have a long shelf life, but it's a budget friendly DIY gift idea that your friends and family will love. Who doesn't love soft, smooth skin? Most of us need to take more time to treat ourselves to small indulgences. When you give someone homemade skincare as a gift, you are giving them the chance to take some special time for themselves. Also, what shows love more than making a handcrafted gift for the people you love and care about?
To package homemade salt scrub as a gift, simply transfer it to a decorative jar. You can trim the jar with ribbon, twine, or lace. You could even make a handwritten paper tag or print a custom label for the jar. To complete the gift, you could add a luxurious facecloth and a bar of homemade or artisan soap. Now that's a homemade gift that ANYONE would love to receive!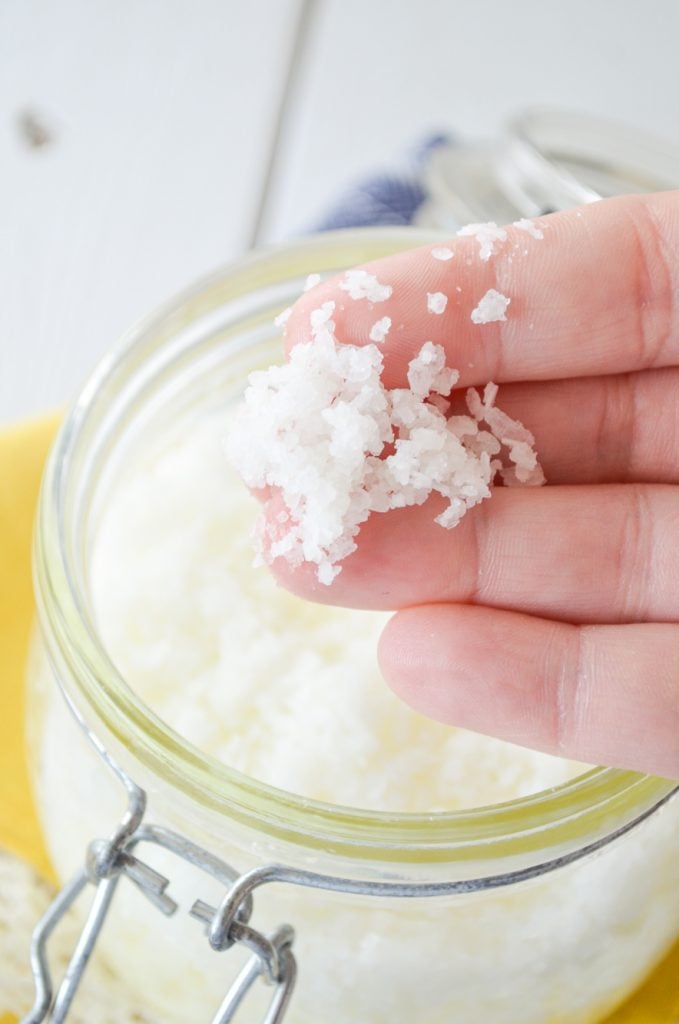 Frequently Asked Questions
Are salt scrubs good for your skin?
Salt scrubs are great for exfoliating tough areas of your skin like dry patches, feet and elbows. I like to use mine anywhere I feel I need a little extra scrubbing. I have even used it on my face, although not very often. Salt scrubs are used occasionally for exfoliation, rather than daily as a cleanser. In this capacity, they can be part of a healthy skin routine.
Is salt good for a face scrub?
Salt is not ideal for a face scrub. Although you can use it as a face scrub occasionally, salt scrubs are a little on the rough side when it comes to exfoliation. If you do choose to use it on your face, you should take care to only do so infrequently when a heavier amount of exfoliation is needed.
What kind of salt do you use for a body scrub?
The best salt to use for a body scrub is one with a coarse texture like kosher or flaked salt. This provides a good level of exfoliation and is easy to apply.
Can I substitute table salt for coarse or kosher salt in a body scrub recipe?
It's not recommended to substitute table salt for the coarse salt often called for in body scrub recipes. It lacks the sharp angles of coarser salts and thus does not exfoliate in the same way. It is also hard to convert measurements accurately, making table salt a poor choice for body scrubs.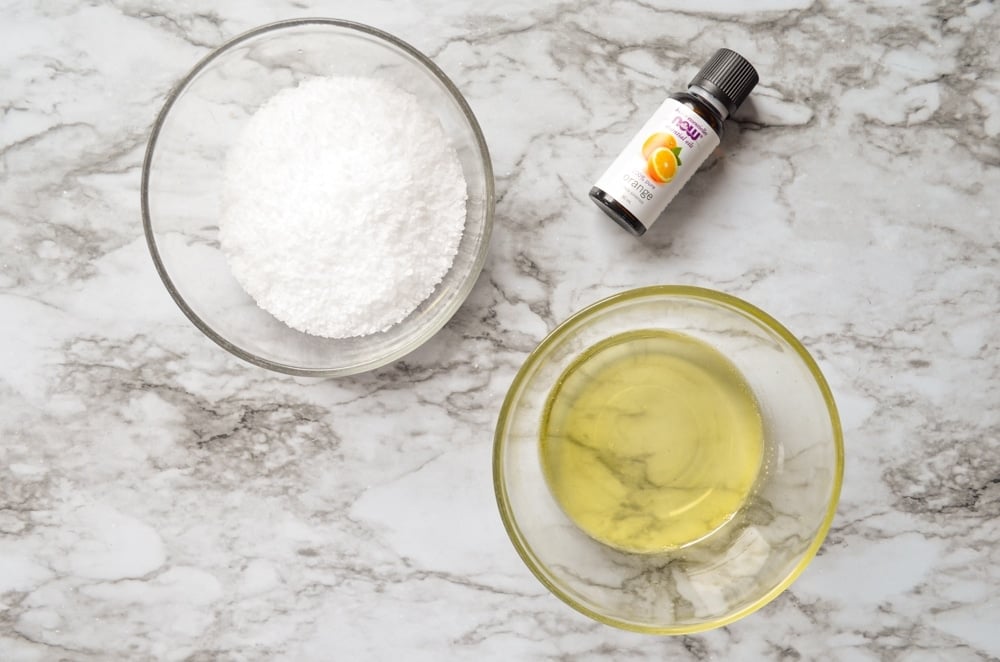 What Will I Need?
This homemade salt scrub uses just 4 simple ingredients:
Coarse Salt: I went with kosher salt because it's easy to find and I had it on hand! You can use any coarse or flaky salt you have available, but avoid any salt crystals or large pieces. They will not be suitable for use on your skin.
Coconut Oil: I used the coconut oil I keep on hand for cooking and baking, which is virgin. Virgin coconut oil has a nice coconut scent, which works well for this homemade salt scrub. You could also use refined coconut oil with good results.
Jojoba Oil: This is the QUEEN of skincare oils. It's anti-inflammatory and leaves behind a soft, smooth feeling. This is perfect for exfoliation because the exfoliation process often leaves behind dry skin. Including jojoba oil in your exfoliating salt scrub means that you will be adding moisture back in. This is the brand I recommend if you're buying from Amazon.
Orange Essential Oil: You can use any skincare safe essential oil in this recipe, but be sure to seek out a credible source to ensure you are using your essential oil of choice safely. Orange essential oil is called for here because of its brightening effect on skin and lower price point (I use this brand from Amazon). This keeps this DIY gift idea on the more affordable side, and it smells amazing too! While some Citrus oils do increase sensitivity to sun when applied to the skin, sweet orange doesn't appear to be one of them. Even so, be sure to avoid applying this before sun exposure. You could also cover the area with clothing if desired.
Amazon Links:
How Do You Make a Homemade Salt Scrub?
You're not going to believe how easy it is you make your own homemade salt scrub! From start to finish, this takes less than 5 minutes. All you have to do is melt the coconut oil, mix in the other ingredients, and you're done!
Here's the step-by-step process:
Step One:

Add the melted coconut oil, jojoba oil, and coarse salt to a small bowl.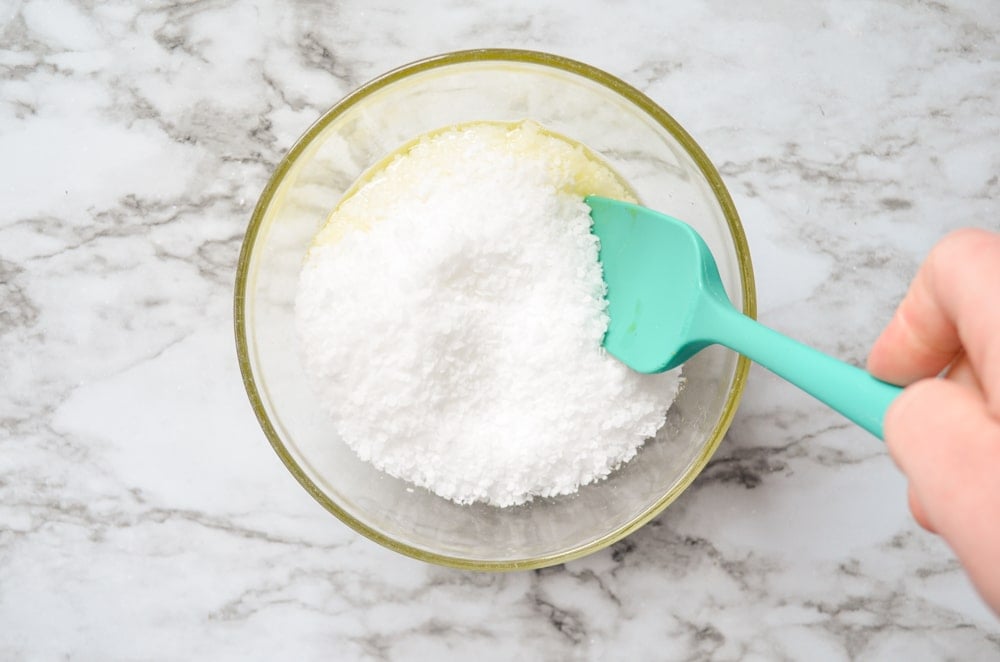 Step Two:

Stir the oils and coarse salt together with a silicone spatula. Keep stirring until it looks like this: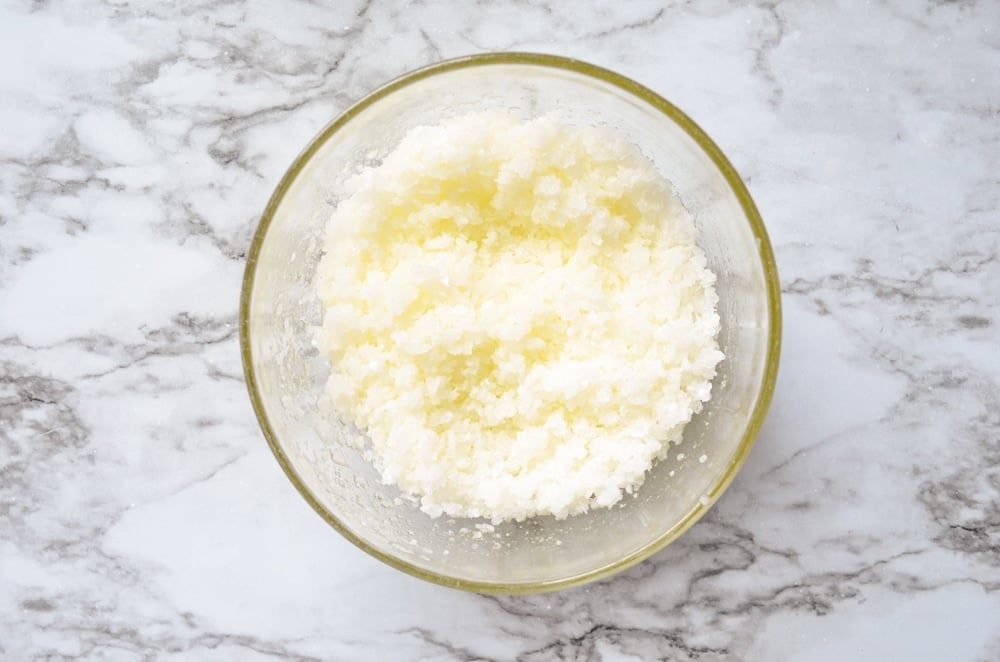 Then,
Step Three:

Add in the Sweet Orange essential oil (or skin friendly oils of your choice).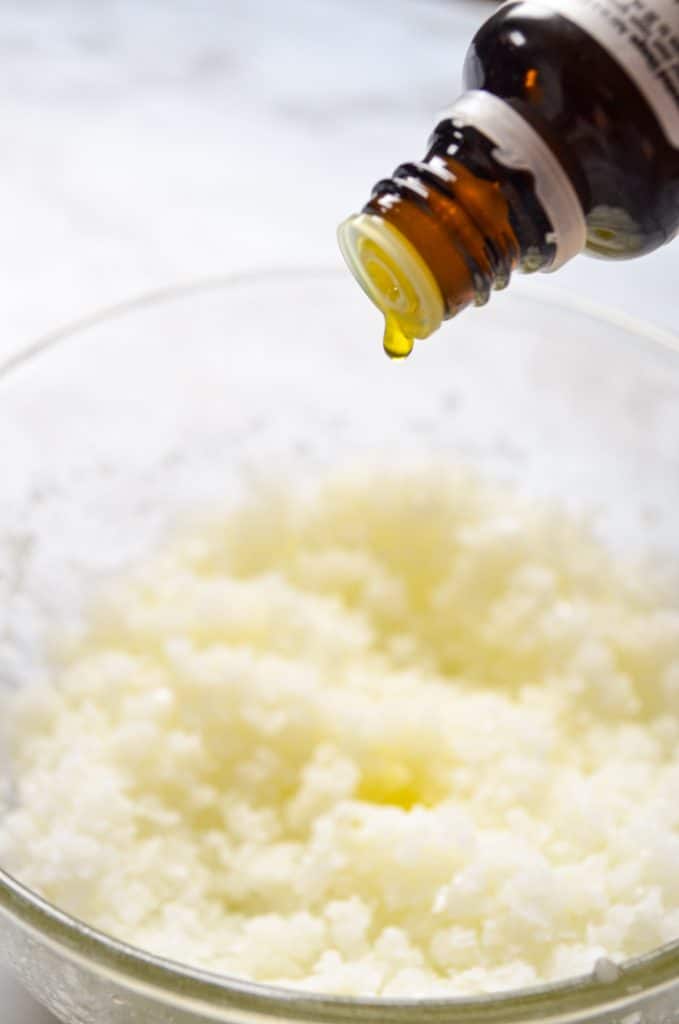 Step Four:

Stir again to distribute the essential oil evenly.
Step Five:

Add to an airtight storage jar.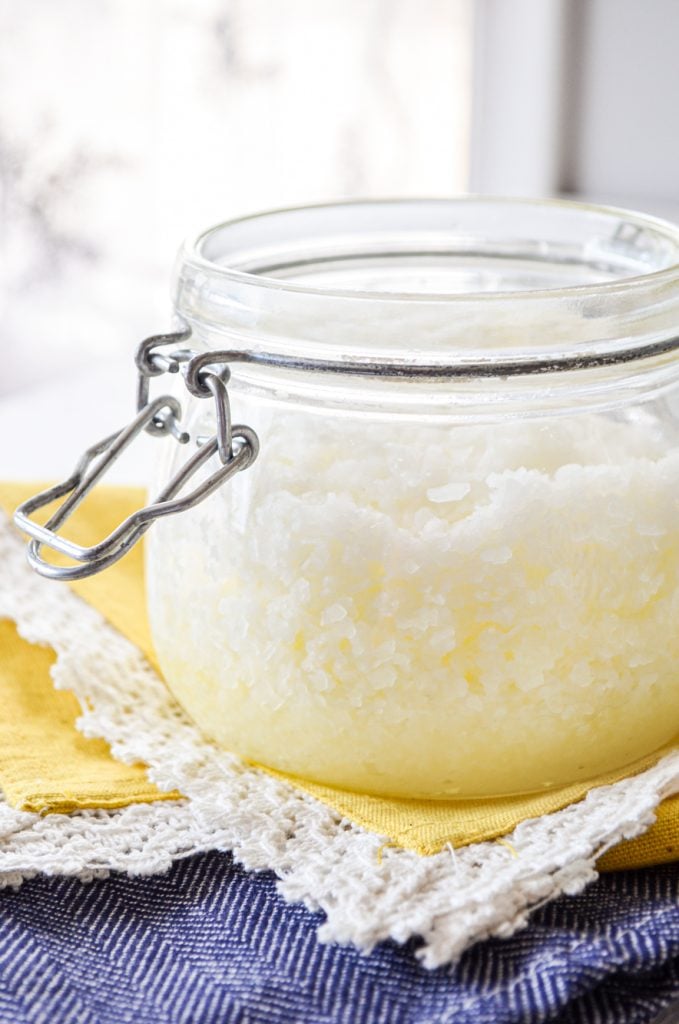 Find the printable recipe card below! 👇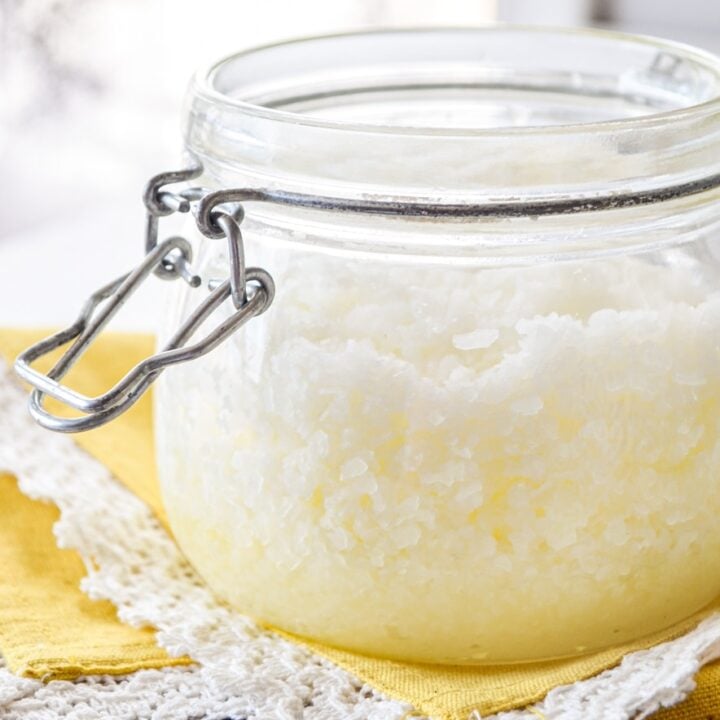 Easy Homemade Salt Scrub
Yield:
Approximately 1 cup
This Homemade Salt Scrub makes the perfect DIY gift or self-care project. All you need is 4 simple ingredients and about 5 minutes. Put your homemade scrub in a pretty jar with a piece of ribbon, twine, or lace for an extra special touch.
Ingredients
1/4 cup Melted Coconut Oil
1 Tbsp. Jojoba Oil
1 cup Coarse Salt
10-20 Drops Sweet Orange Essential Oil
Instructions
Add the melted coconut oil to a medium sized bowl.
Stir in the jojoba oil.
Add the coarse salt and fold it into the oils with a silicone spatula.
Add the essential oil, and fold once again to combine the essential oil with the salt scrub.
Transfer the salt scrub to a clean glass container with an airtight lid.
To use, distribute some of the salt scrub onto the tips of your fingers. Apply this to your skin and rub it in with your finger tips. Exfoliate your targeted area and rinse with a warm washcloth. Dry the skin completely and apply a moisturizer if desired.
Notes
Salt scrub is abrasive and should be used occasionally for exfoliation, rather than daily.
More Skincare and DIY Gift Ideas to Try:
Resources:
The Difference Between and Benefits of Sugar Scrub and Salt Scrub – Briana Soap
Phototoxic – Citrus Essential Oils and the Sun – One Essential Community