This Cedarwood and Citrus Beard Oil is the PERFECT gift for Father's Day, Birthdays, Christmas and more! An all natural DIY gift made with jojoba oil, sweet almond oil, essential oils, and love! An easy homemade gift that is fun to make, and even more fun to give away! Includes free printable labels for that polished, professional look.
Updated September 8th, 2021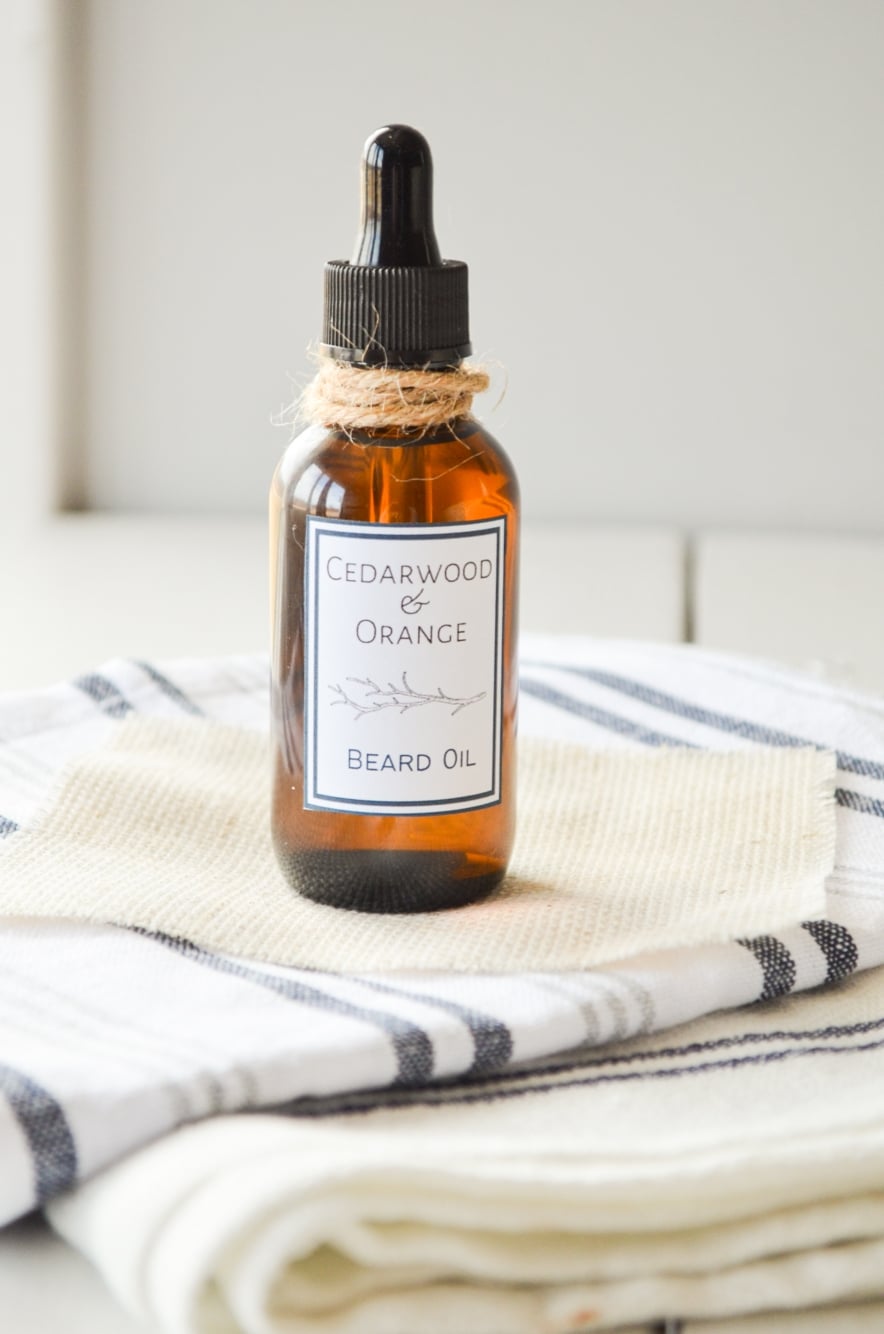 This post contains affiliate links, which means that if you click a link and make a purchase, we receive a commission at no additional cost to you. See our disclaimer for more information. For entertainment and informational purposes only, and is not intended as medical advice. Always seek the advice of your health provider.
---
When it comes to finding the perfect gift for my husband, it can be difficult. If we had an unlimited budget, it would be totally easy! A new TV, a tractor, a new truck: these are all things he would love! But unless we win the lottery (which we don't play 😂) anytime soon, that's just not going to happen.
Instead, like many of us, I need to work within the confines of a reasonable budget. I also want to give him something special, and something that shows him I care. Enter the handmade DIY gift.
Is Cedarwood Beard Oil a Good Father's Day Gift?
I love making gifts for my husband, and he loves to receive them! From everything to hand knit mittens, to this carefully crafted beard oil, it's so much fun to create with your own two hands.
Handmade gifts take time, consideration, and preparation. Nothing shows how much you care more than making a gift, especially for the one you love and care about. And when it comes to Father's Day, I want it to be all about him. My husband works 10 hour days and travels 2 hours a day to provide for his family. He works hard to make sure we have what we need, and I want to make sure he has something special just for him. This Father's Day Beard Oil fits the bill.
Not only is it hand crafted, it's an all-natural formulation that treats his skin and beard right. Jojoba oil, sweet almond oil, and avocado oil all combine with the luxurious scents of cedarwood and orange to create a moisturizing beard oil that isn't greasy. It coats coarse beard hairs with smoothing oils without weighing it down. It pairs perfectly with a wooden comb for the perfect Father's Day Gift.
It's also fitted with a customized label, which I've designed and included in a PDF format so you can give the special man in your life a polished and pretty (ahem, *manly) bottle of Cedarwood and Orange Beard Oil.
This is one handmade gift you can be proud to give.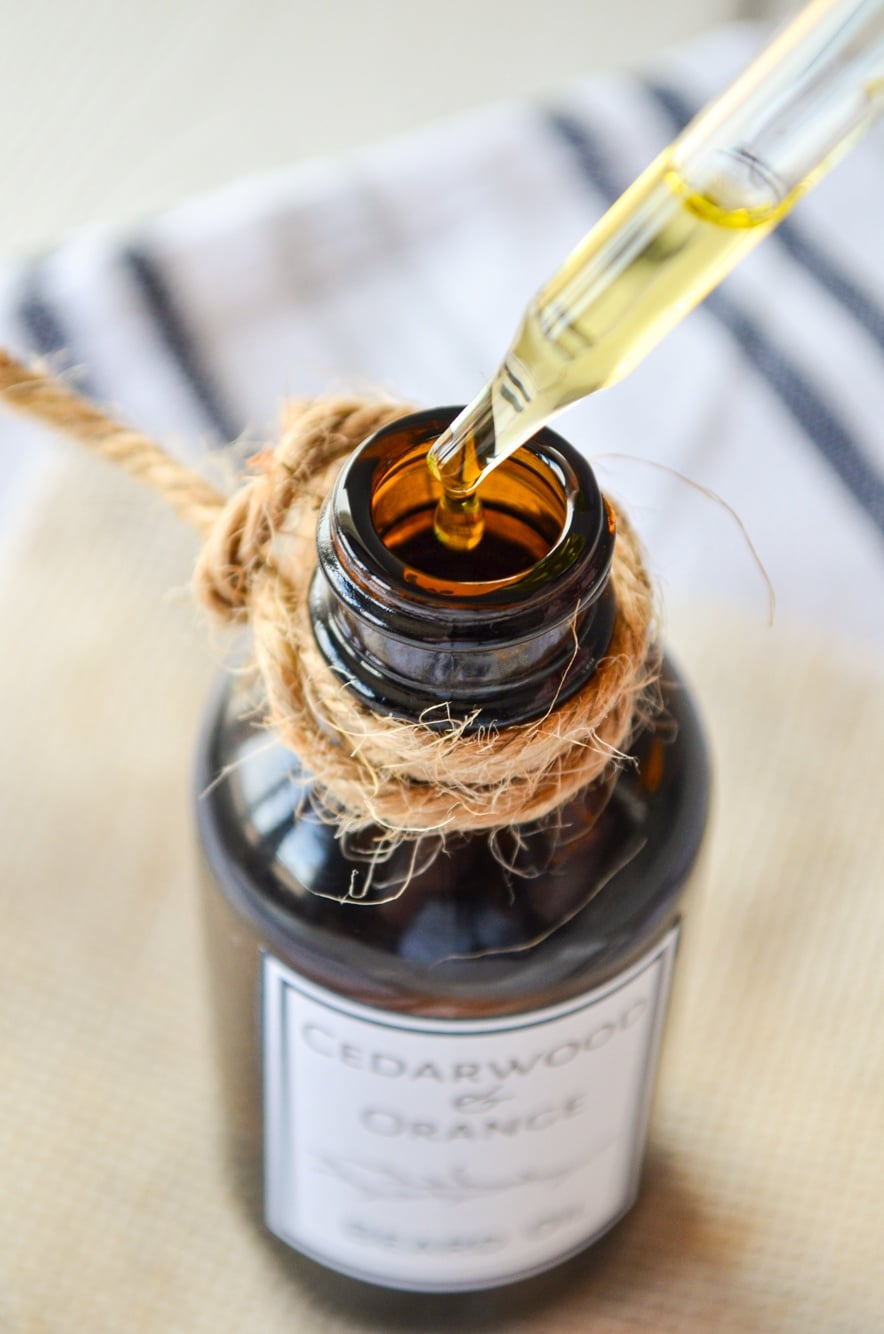 How to Make Beard Oil for Father's Day
Making this Father's Day Beard Oil is SOOOO simple. Once you have your ingredients and supplies (see below), all you have to do is combine, decant into an amber glass bottle, print and place the label, and ta-da! You're done! This whole process takes less than 10 minutes!
Once you have the base ingredients for the beard oil, you can come up with all sorts of scents and formulations. You could even ask your hubby to help you find the perfect combo of scents for him!
How to Apply Beard Oil
Use the dropper portion of the amber glass bottle to squeeze a few drops of oil into your finger tips. Massage gently with the opposite hand, and apply evenly to the beard. Use a wooden comb (like this one) to work the oil in evenly. Then set it and forget it! It's as simple as that.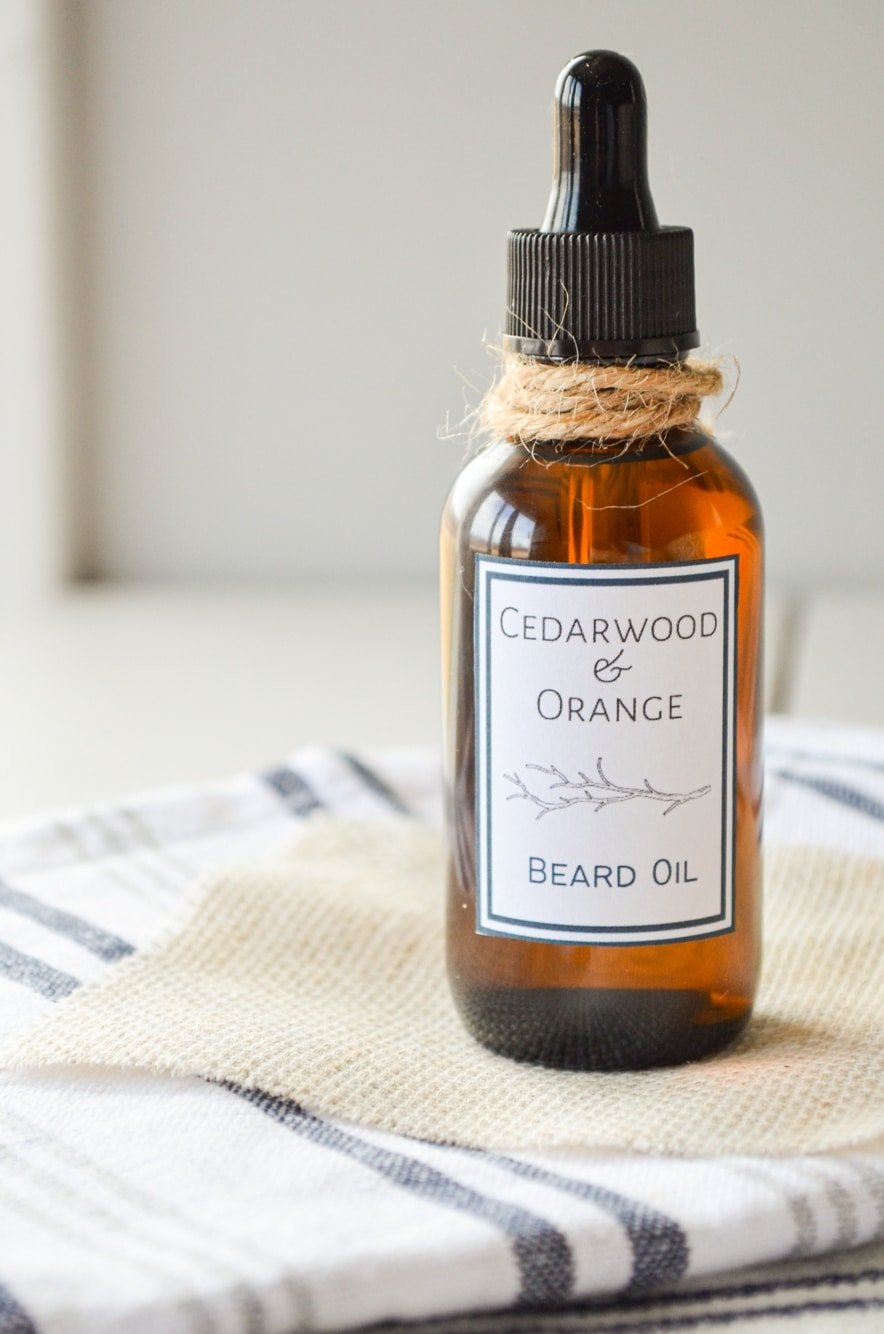 Ingredients Needed to Make Cedarwood and Orange Father's Day Beard Oil: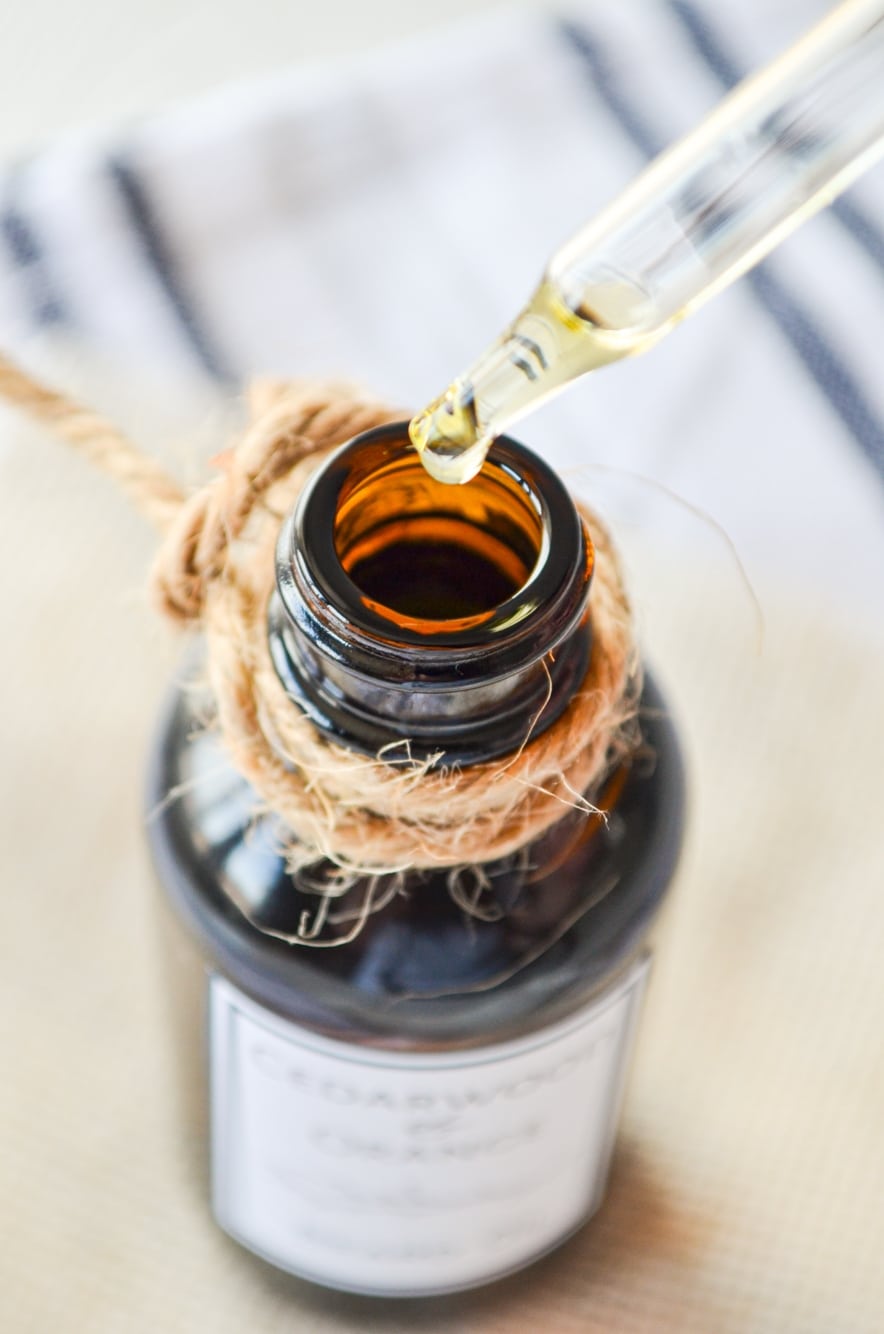 Tools and Equipment Needed: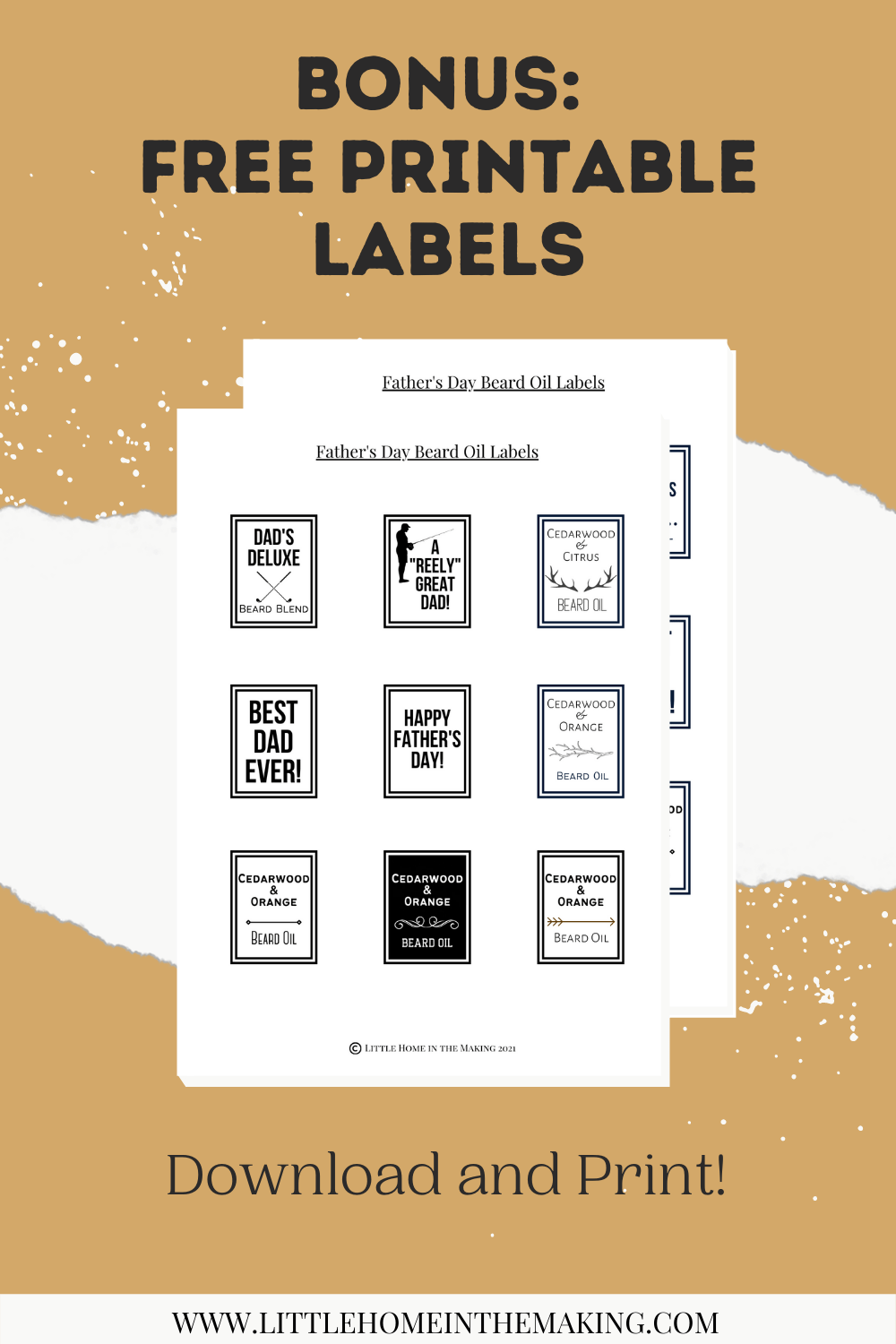 How to Print Your Free Labels
It's very easy to print your free labels! I've included two different PDF documents, which each have 9 different labels for your Father's Day Beard Oils. The first sheet contains a variety of 9 different labels, including some with the "Happy Father's Day" and "Best Dad Ever" message. The second sheet contains 3 different designs, in 3 different colors.
All you have to do to print the labels is to download the PDF documents, load your printer with sticker paper (like this vinyl paper) and print the document.
Download the Free Printable Label PDF's Here: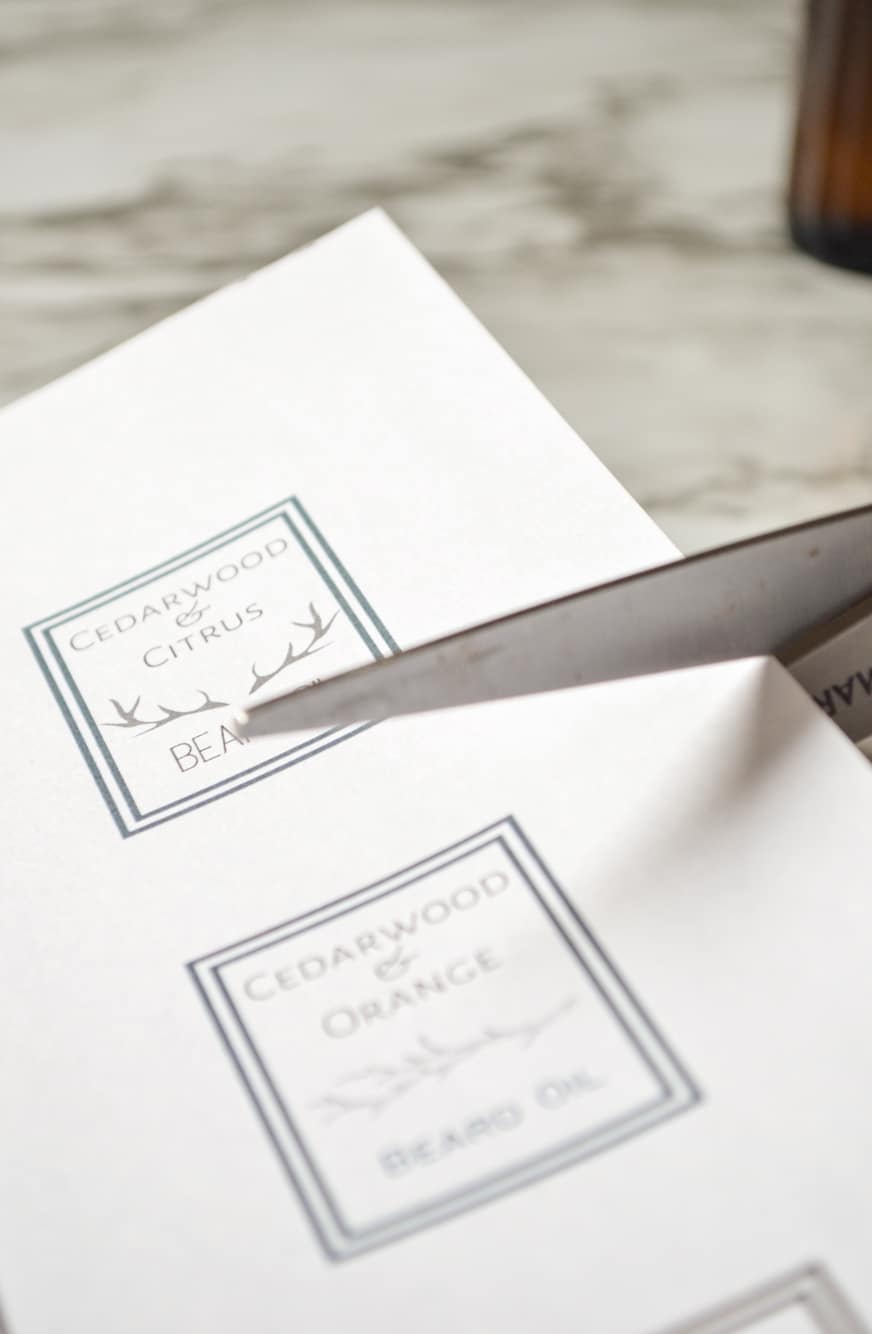 How to Cut the Labels
Once you've printed the labels, use a pair of sharp scissors to carefully cut around the outline box.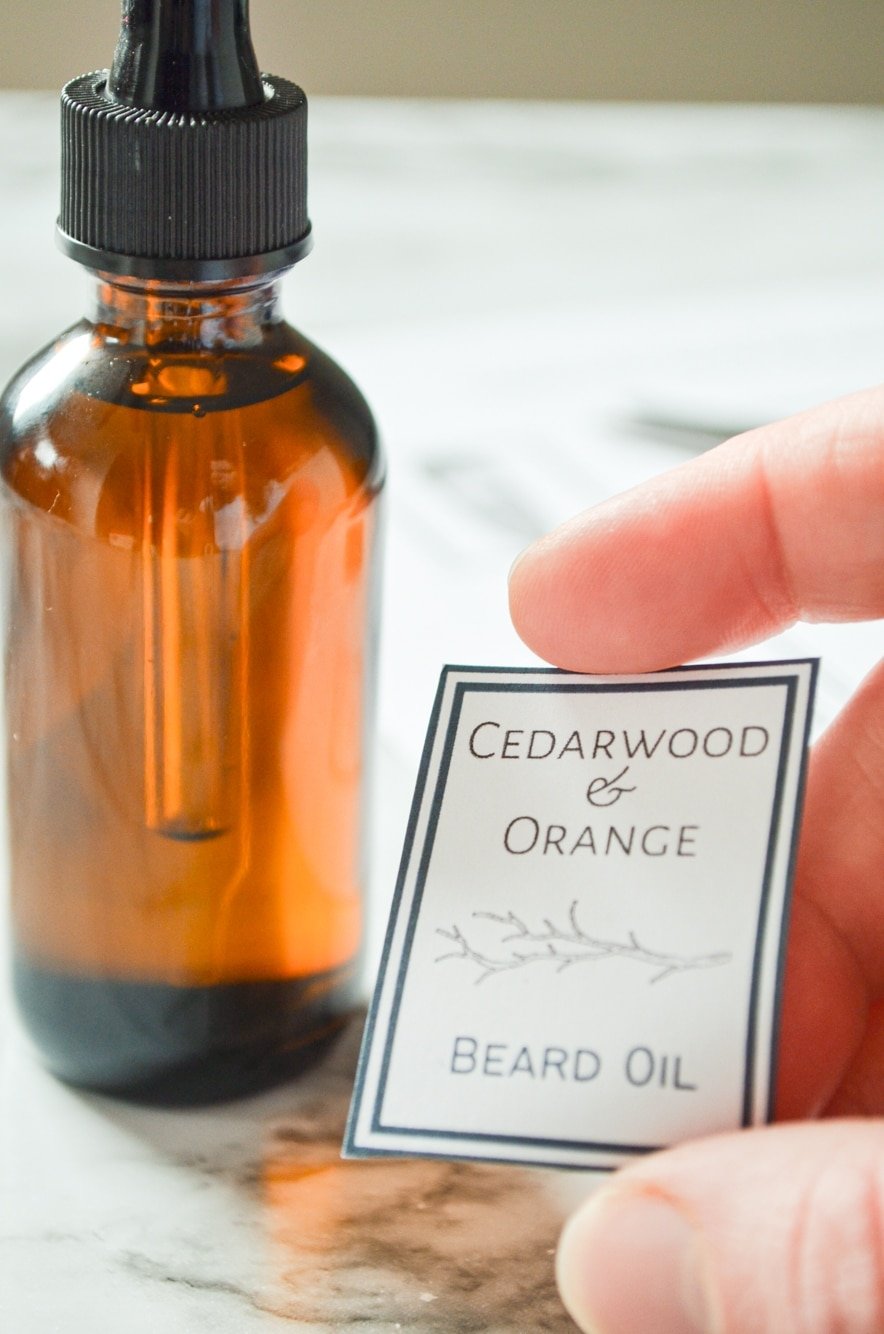 How to Place the Labels
Peel the back off the sticker paper gently, and use your eye to center the label on the amber bottle. These labels are designed for 2oz amber bottles; they will be oversized if you use 1oz bottles.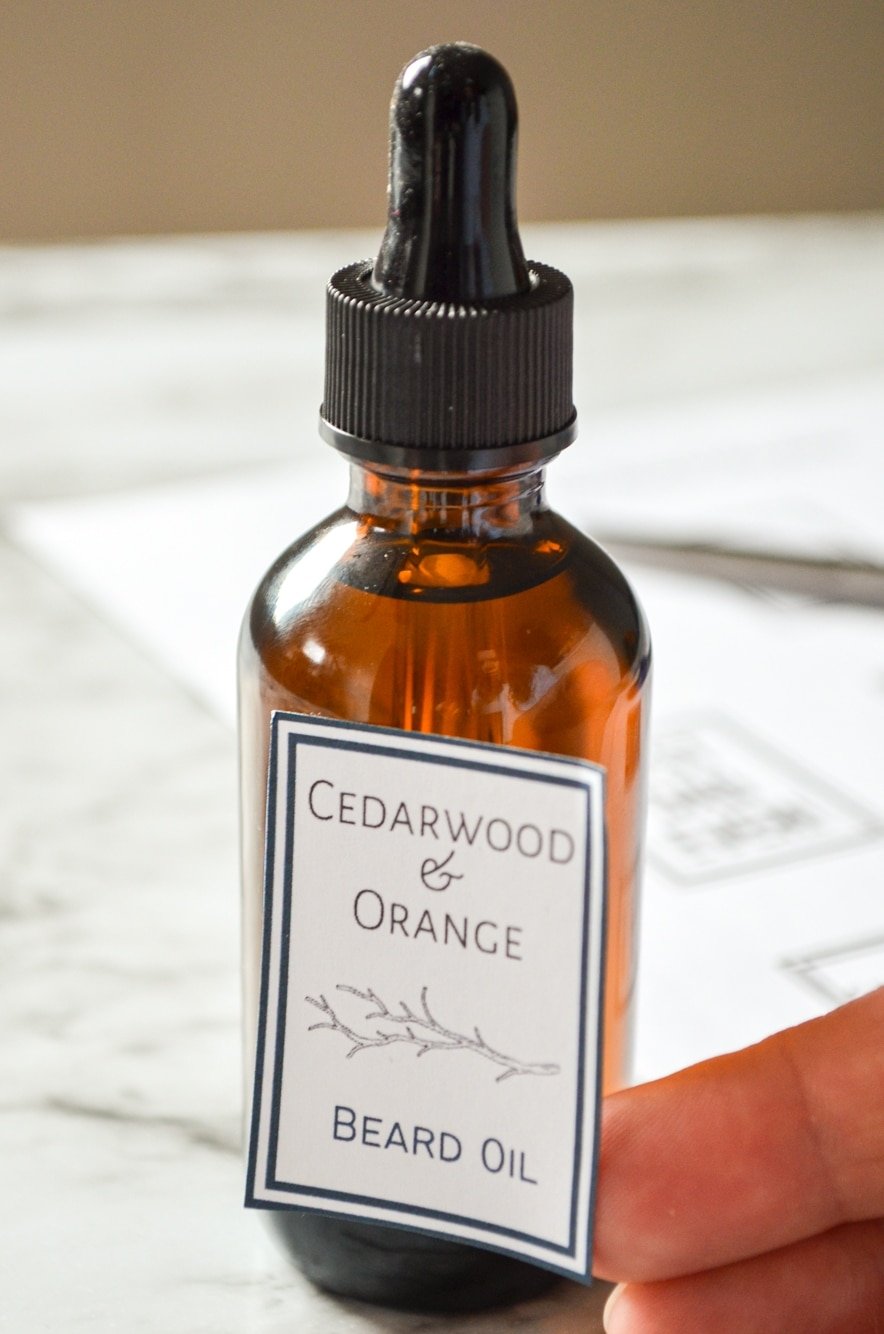 How to Seal the Labels
If you purchased vinyl sticker paper, you can use a UV sealing spray. If you've used plain white paper, or matte sticker paper, you can place a square of clear packing tape over the label to help add a waterproof layer. Be sure to do so gently, because it's very easy to get wrinkles and creases when placing the packing tape.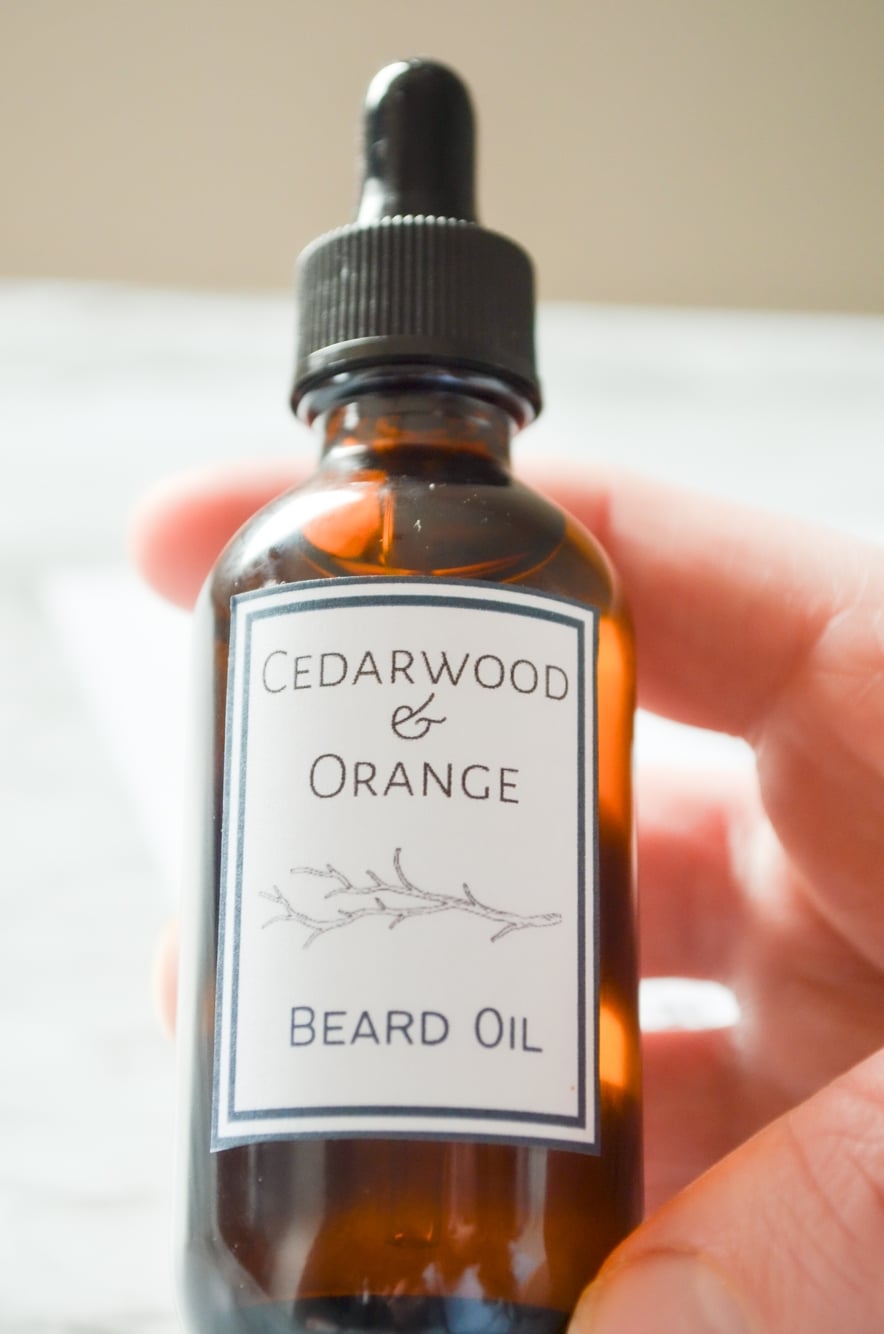 Complete the Gift
Add on to your DIY Father's Day Gift with a few inexpensive items:
Wooden Comb: The helps distribute the beard oil evenly and can be tied onto the bottle with a piece of twine for an attractive look.
Safety Razor: Perfect for cleaning up around the sides of a beard or mustache. My husband says that he will never go back to modern razors!
Shaving Set: Great for that vintage vibe!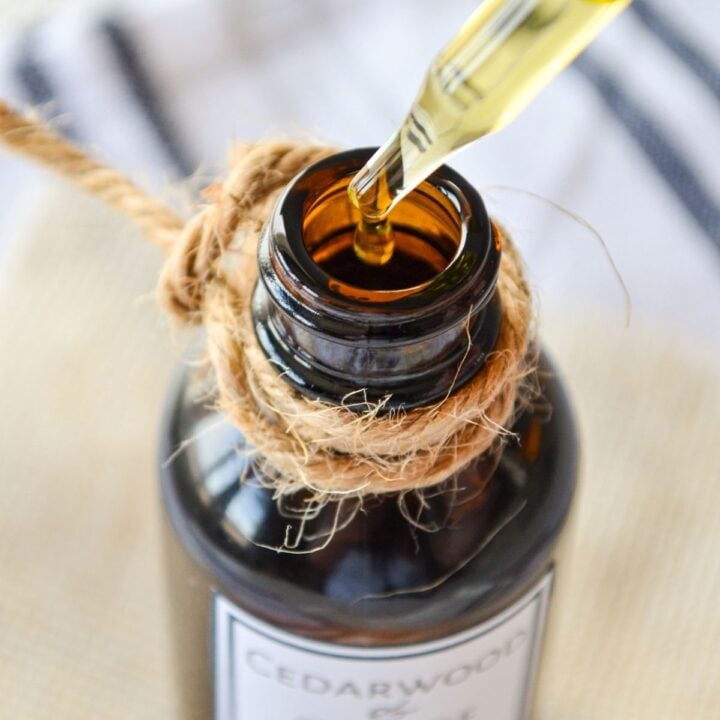 Cedarwood and Orange Beard Oil
The best homemade DIY Father's Day gift or Christmas stocking stuffer. This Cedarwood and Orange Beard Oil is all natural, silky, smooth, and soft without greasiness or heaviness. The perfect gift for the man who has everything.
Ingredients
3/4 oz Jojoba Oil
1/2 oz. Sweet Almond Oil
1/2 oz. Avocado Oil
25 drops Cedarwood Essential Oil
10 drops Orange Essential Oil
Instructions
In a small measuring cup with a pouring spout, combine all of the listed ingredients.
Stir gently to combine.
Fit a 2oz amber bottle with a mini funnel and pour the beard oil mixture into the funnel, slowly so as not to overflow.
Secure the dropper lid and wipe off any oils that have dripped down the side.
Once the glass is clean and dry, add your printable label of choice (if using).
To use, add some beard oil to your fingertips using the dropper. Massage it using the fingers from your other hand and work the oils into the beard evenly.
Notes
Printable Labels: If you haven't already, locate the free pdf printables by clicking here, and here. You can also see the typed URL at the bottom of the note section.
Nut Allergies: For those with nut allergies, you can substitute the sweet almond oil for an additional 1/2 oz. of jojoba oil.
Avocado Oil: You can substitute the avocado oil in this recipe for extra virgin olive oil, if desired. Note that olive oil will have a stronger scent, and so that will be more evident in the scent of your finished beard oil.
Containers: The best containers to store your beard oil in are the amber 2oz dropper bottles. This is great for both application (since they have the dropper), and for storage since the dark bottles prolong the shelf life and slow the oxidization of the oils.
Essential Oil Brands: Use a brand of essential oil that you trust. Common brands include NOW, doTerra, and Plant Therapy, among others.
URL's for Printable PDF Files:
https://www.littlehomeinthemaking.com/wp-content/uploads/2021/03/Fathersdaylabels2.pdf
https://www.littlehomeinthemaking.com/wp-content/uploads/2021/03/Fathersdaylabels.pdf
Note for Pregnant and Nursing Women
There is little literature on the effect of essential oils on pregnant and nursing women. Some essential oils (like Clary Sage, Pennyroyal, and Basil) are considered dangerous. If you are pregnant and nursing and would like to make this Father's Day Beard Oil, consult with your care provider or midwife first to ensure it is safe for you to do so.