If you're looking for easy meal ideas, look no further than these skillet sausage and peppers! Ready in less than 25 minutes (chopping included!), it's the perfect weeknight meal. Low carb, easily gluten free, and just 5 ingredients! A great addition to the weekly meal plan.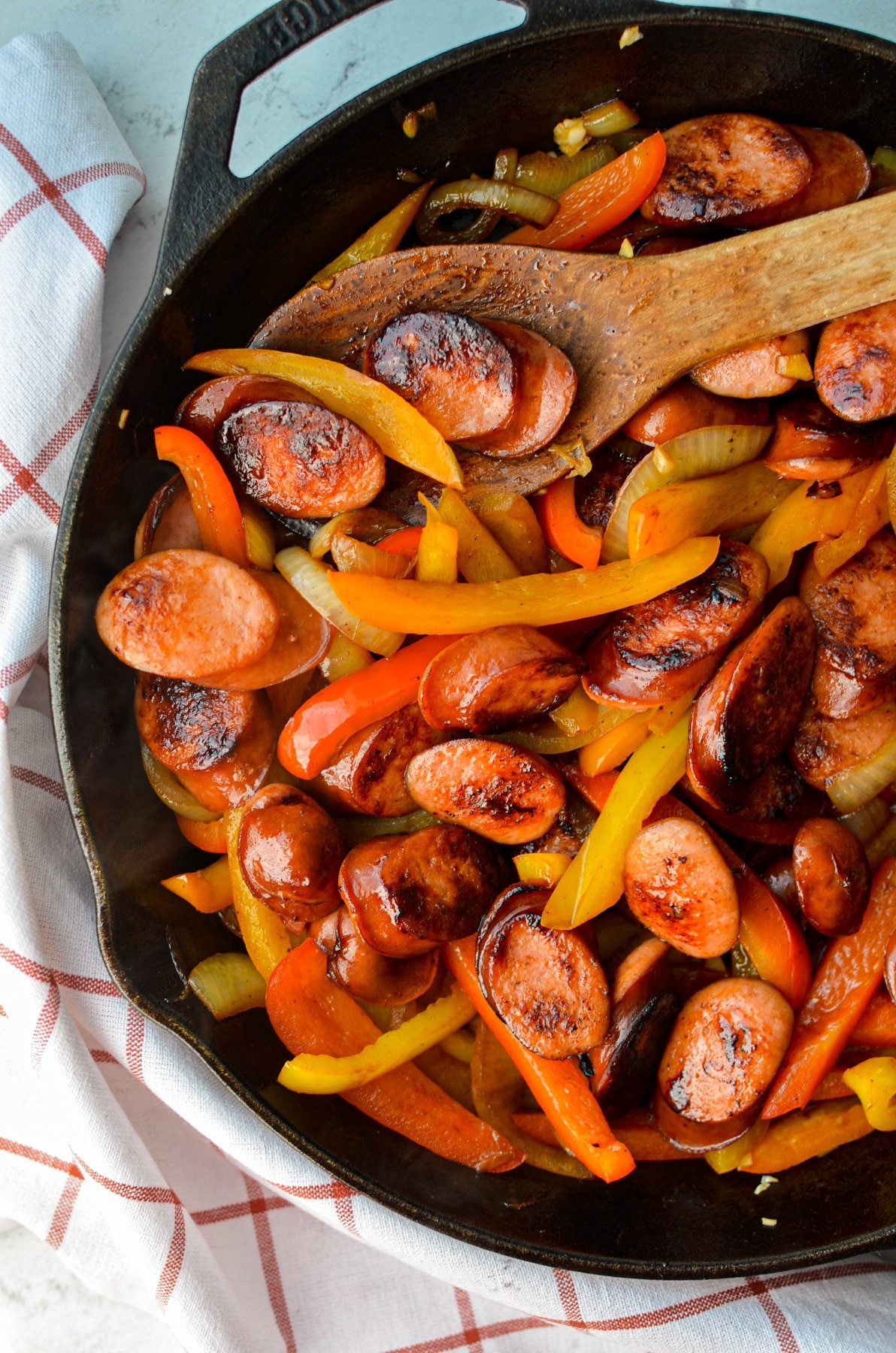 Most of us are looking for some easy weeknight meals, right? Even if you love cooking, the reality of time available to actually do it is quite crushing. After working or chores or childcare or a combination of all three, we're wiped out at the end of the day and ready for a quick and easy meal on the table.
But quick and easy doesn't have to mean flavorless and unhealthy! This recipe for Skillet Sausage and Peppers uses just 5 ingredients and takes around 25 minutes to make (chopping included). It combines smoked sausage, bell peppers, onions, and a touch of garlic for a simple yet flavorful meal that can be served on its own, or with rice or pasta.
This recipe is low carb and generally dairy free and gluten free as long as you select high quality sausages with no fillers. For families with allergies or food restrictions, these kinds of meals can be a lifesaver because it's something the whole family can enjoy with their choice of sides.
The tender peppers, soft onions, and fragrant garlic are the perfect partner with salty, smoky sausage. Together they come together in just about the easiest meal ever. This one has become a regular on our weekly meal rotation!
Let's get started, and I'll show you how easy it is to make.
Ingredients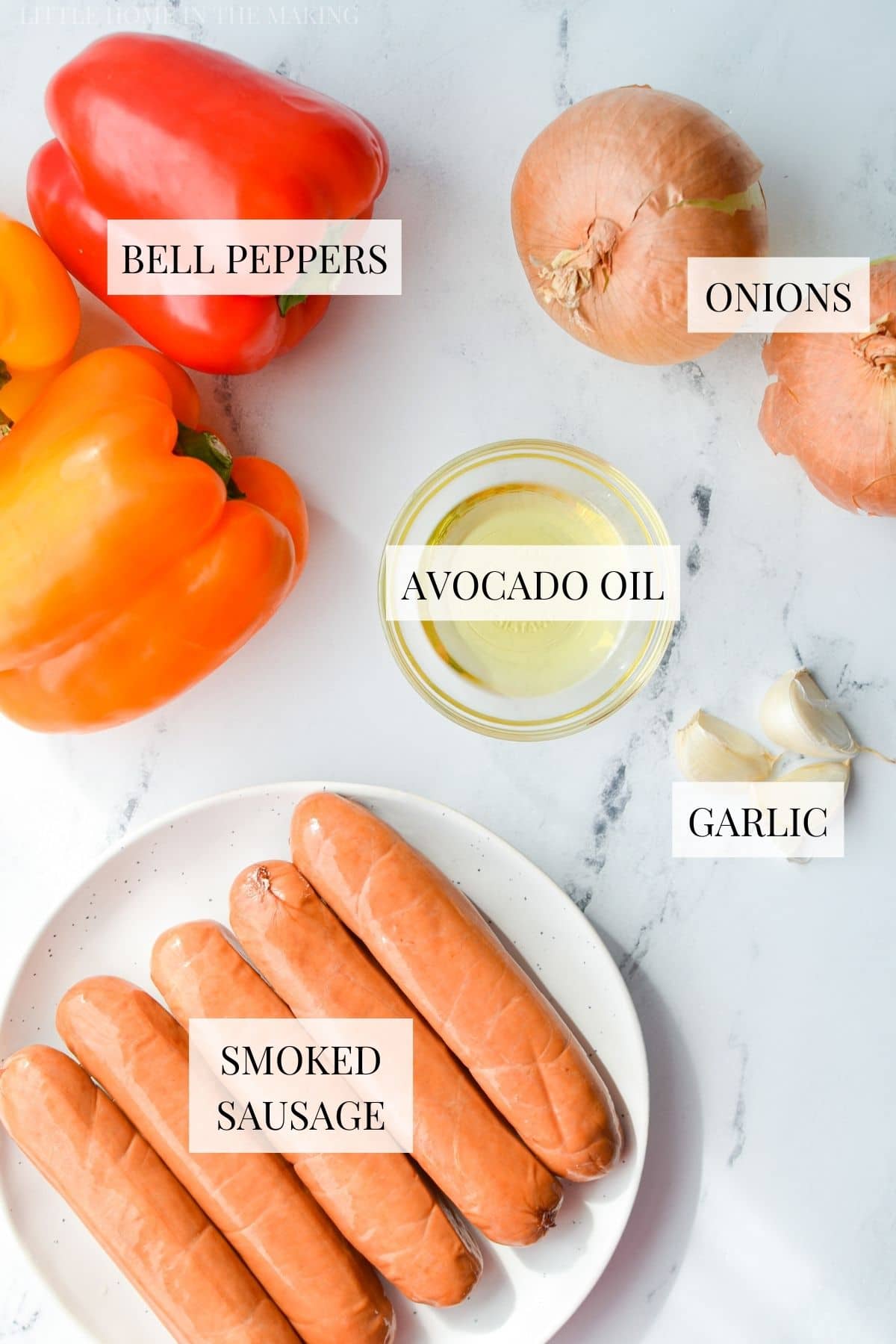 Sausage: You'll need 1 pound (454g) of smoked sausage, which typically equals out to 5 regular sized sausages. Smoked sausages are fully cooked, so be sure to confirm that on the label. Keep in mind since the recipe doesn't involve many other ingredients, the quality of your sausage is super important. Use a high quality sausage that you enjoy the flavor of.
Bell Peppers: I like to get really colorful here so I use yellow, red and orange, but you can use any combination of colors that you enjoy.
Onions: You'll need two onions, peeled and sliced. Yellow cooking onions are just fine, but you could use some red onion for additional color.
Garlic: A few minced cloves of garlic added at the end adds a delicious flavor.
Oil or Ghee: I prefer to use ghee for this recipe, but it's not a common ingredient in every kitchen so my other recommendation is avocado oil. You could also use olive oil if desired.
Equipment Needed:
Heavy bottomed or cast iron skillet (this is the one I use and love)
Metal tongs
How to Make Sausage and Peppers in a Cast Iron Skillet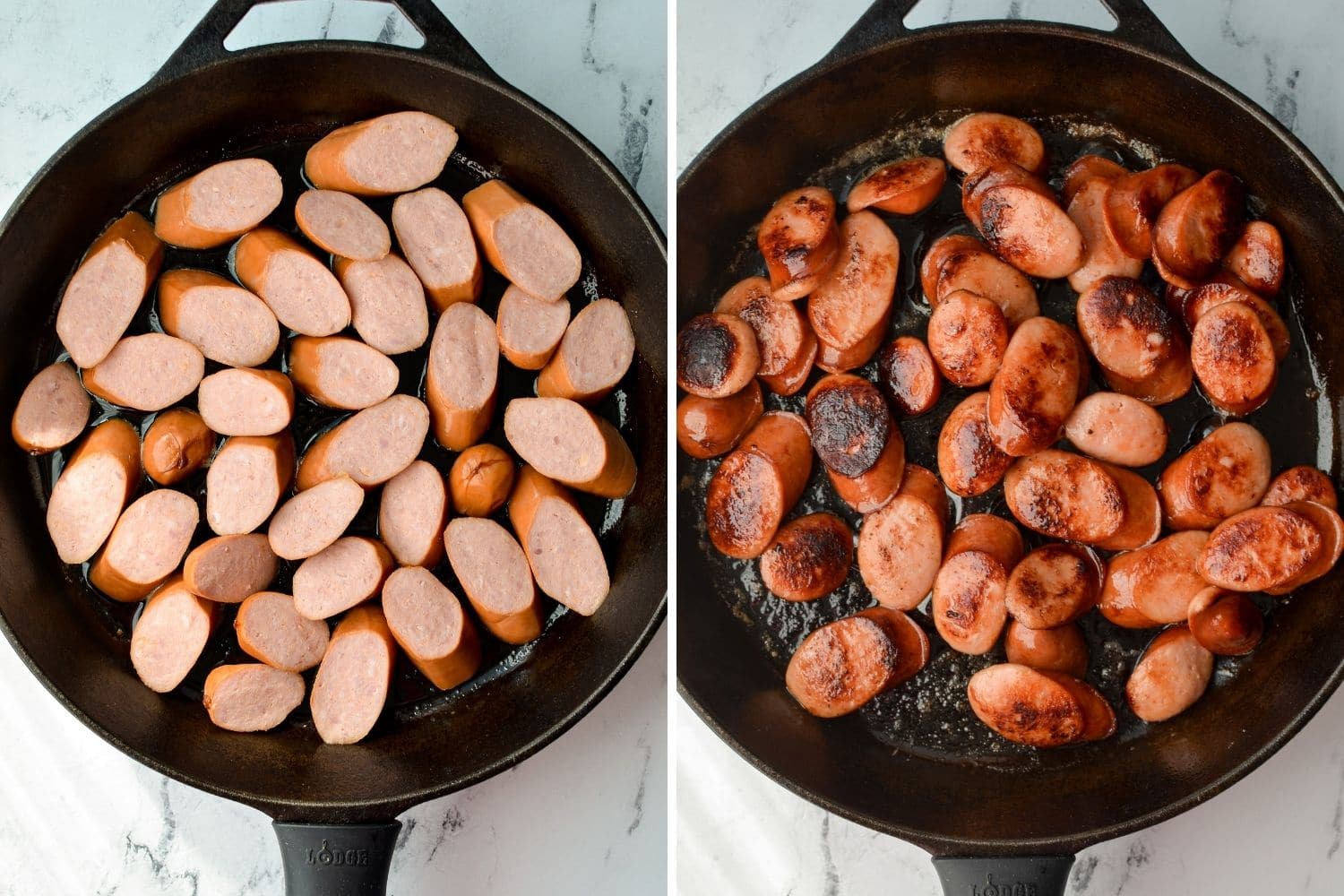 To get started, heat your cast iron skillet over medium heat until heat radiates off the bottom when you hover a hand above.
Add the ghee (or avocado oil) to the pan and swirl around to coat the pan.
Add the sliced sausages and cook for 2-3 minutes per side, or until browned.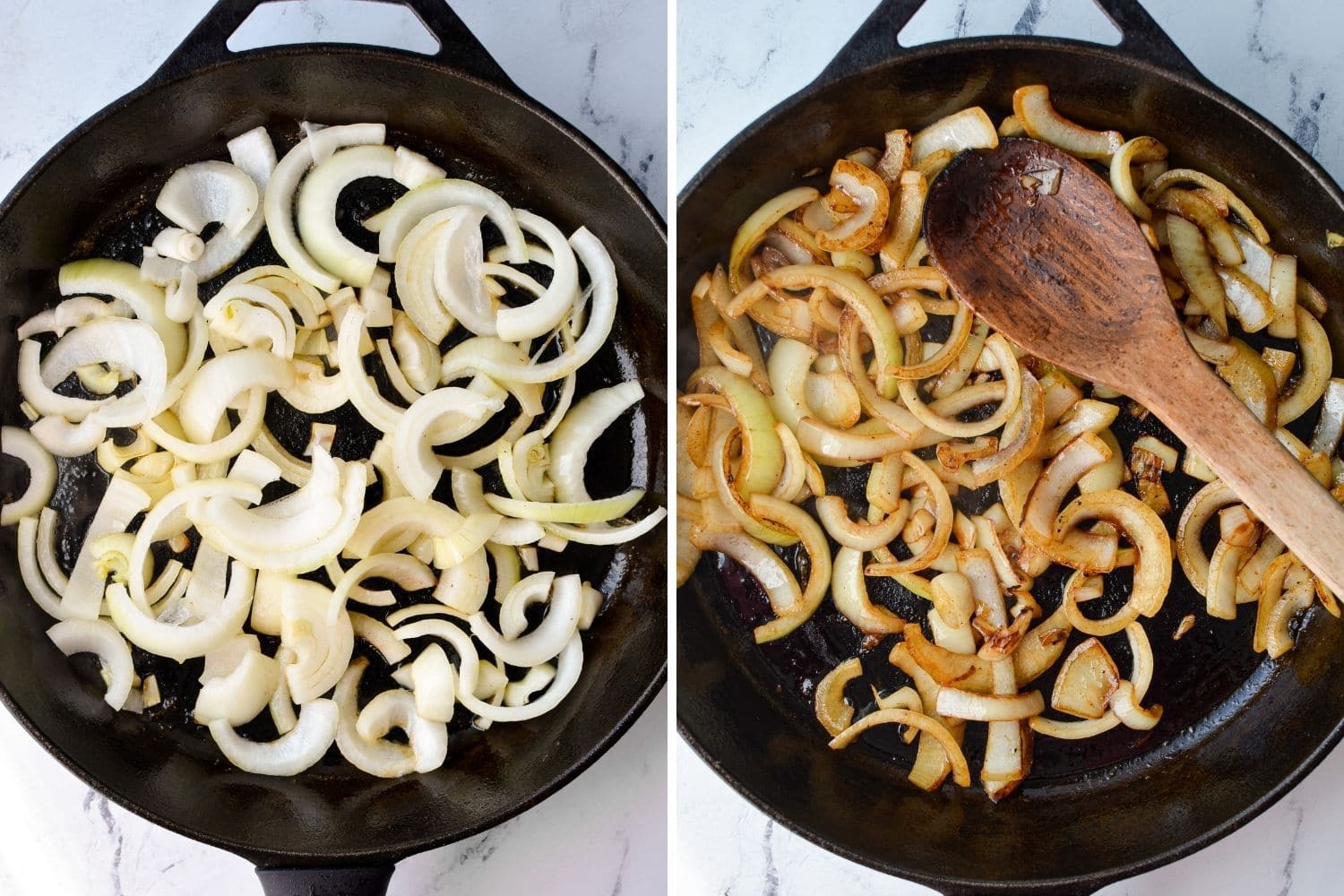 Remove the sausage slices to a plate and add the sliced onions to the skillet. Toss to coat with the oil.
Sauté for 5 minutes, or until the onions are soft and semi-translucent, tossing frequently to prevent burning.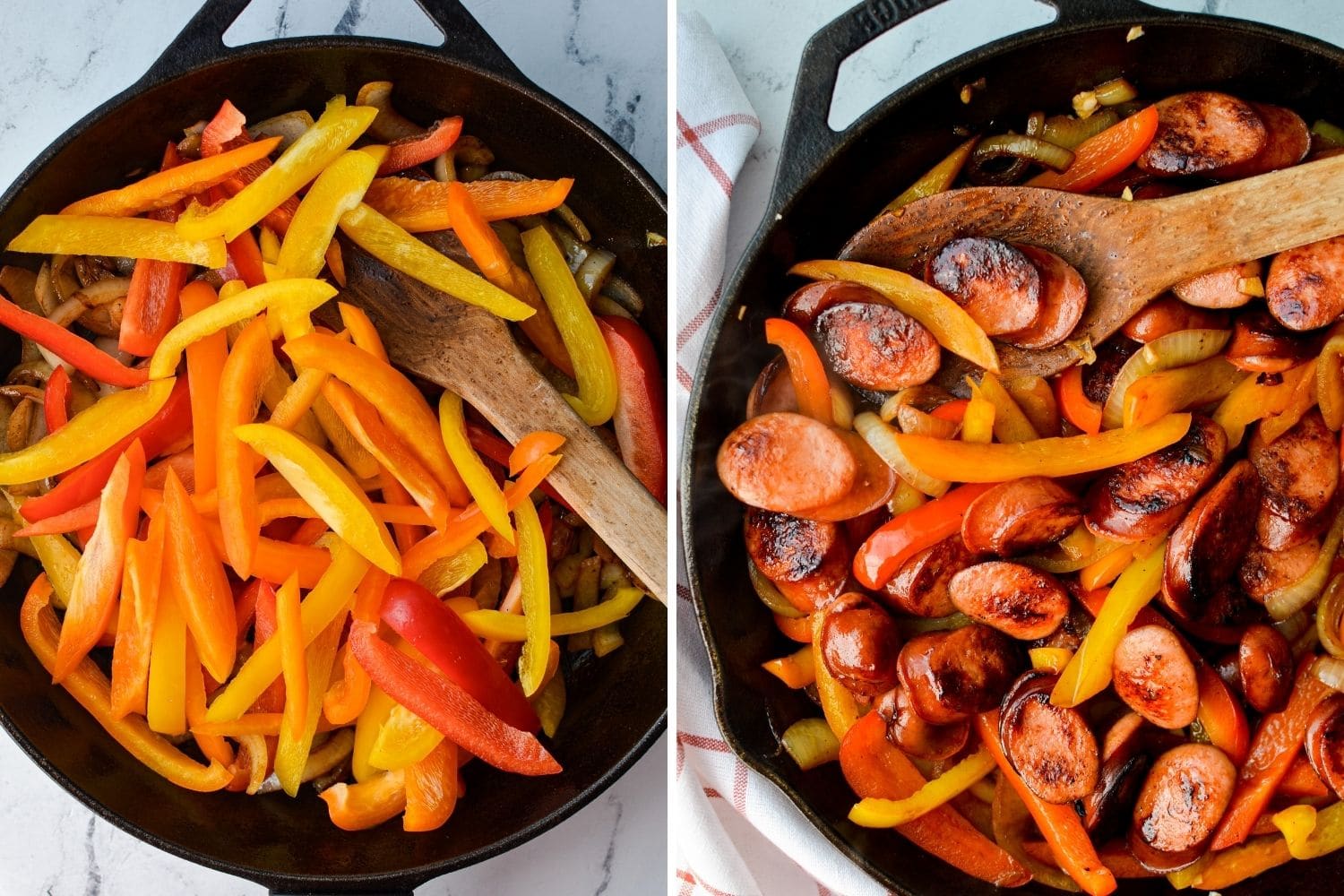 Add the sliced peppers and toss well to combine. Cook for another 4-5 minutes or until the peppers are soft and warm, but not limp.
Add the minced garlic and sauté for 1 minute, or until fragrant, tossing to combine.
Add the smoked sausage slices back into the skillet and mix everything together. If the sausages have cooled down too much, cook for an additional 1-2 minutes to warm through.
Serve and enjoy!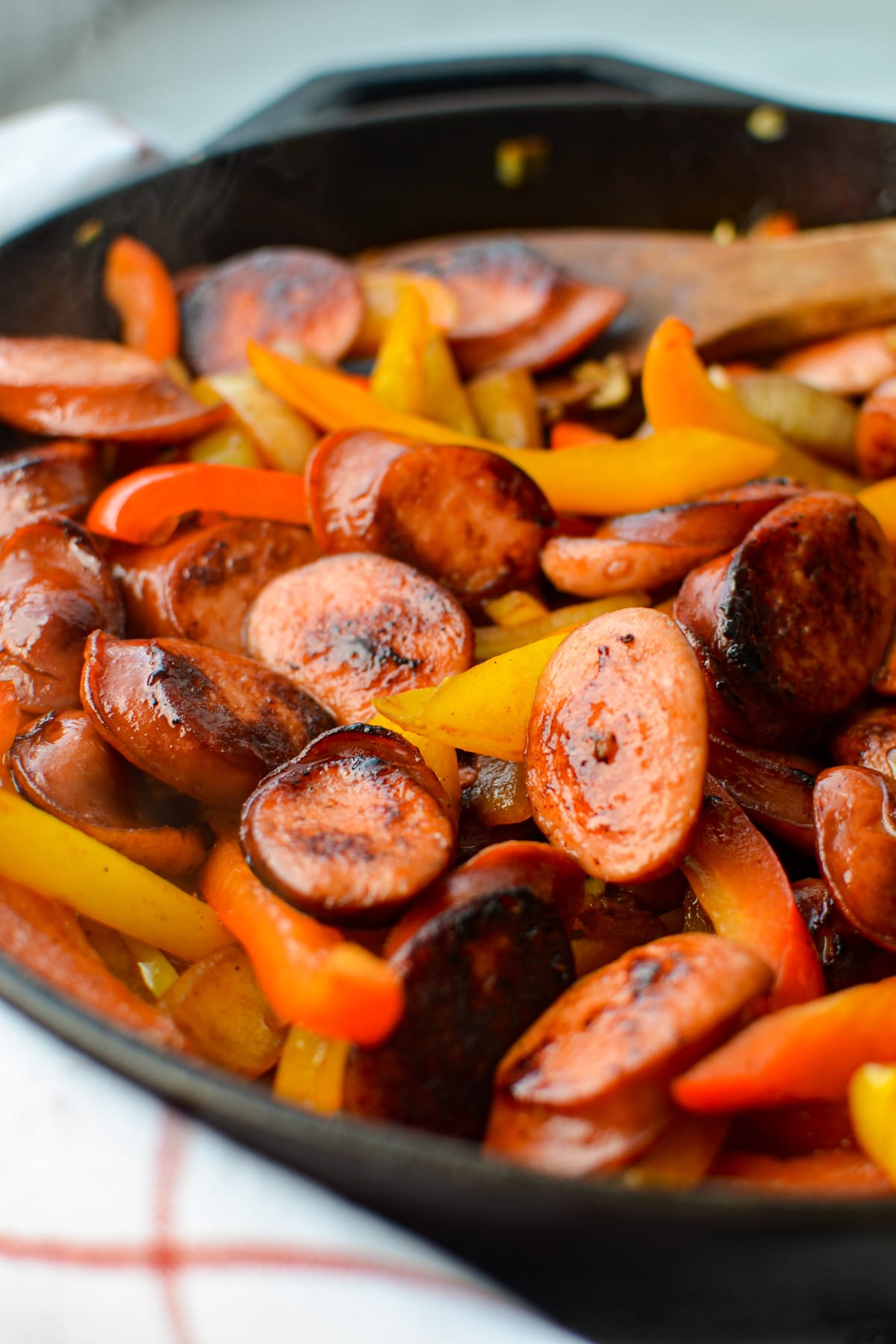 Variations and Substitutions
With Rice: If you want to serve your sausage and peppers with a starchy side, serving it over rice is a delicious option! You could do hot cooked white rice, brown rice, or even quinoa if desired.
With Pasta: If you prefer something a little more hearty, try serving your sausage and peppers over hot cooked pasta. You can use any type of pasta you like, whether that is standard, whole wheat, or einkorn pasta.
With Marinara: Many takes on sausage and peppers feature Italian flavors and the addition of a marinara sauce. Particularly if you want to serve your dish over rice or pasta, adding in some marinara sauce could be a good choice. Add it after the peppers and onions have softened and you've added the sausage back into the skillet. Toss to coat everything in the marinara, and heat until it's warmed through.
What to Serve with Sausage and Peppers
Although sausage and peppers can stand on their own as a light meal, there are a variety of options of side dishes that go really well with this popular skillet meal. Here are a few of the best ones:
Mashed potatoes
Rice
Quinoa
Pasta
Egg noodles
Garden salad
Greek salad
Steamed green beans
Steamed cauliflower
Roasted potatoes
Rice pilaf
Risotto
Tortillas
Hoagie or ciabatta buns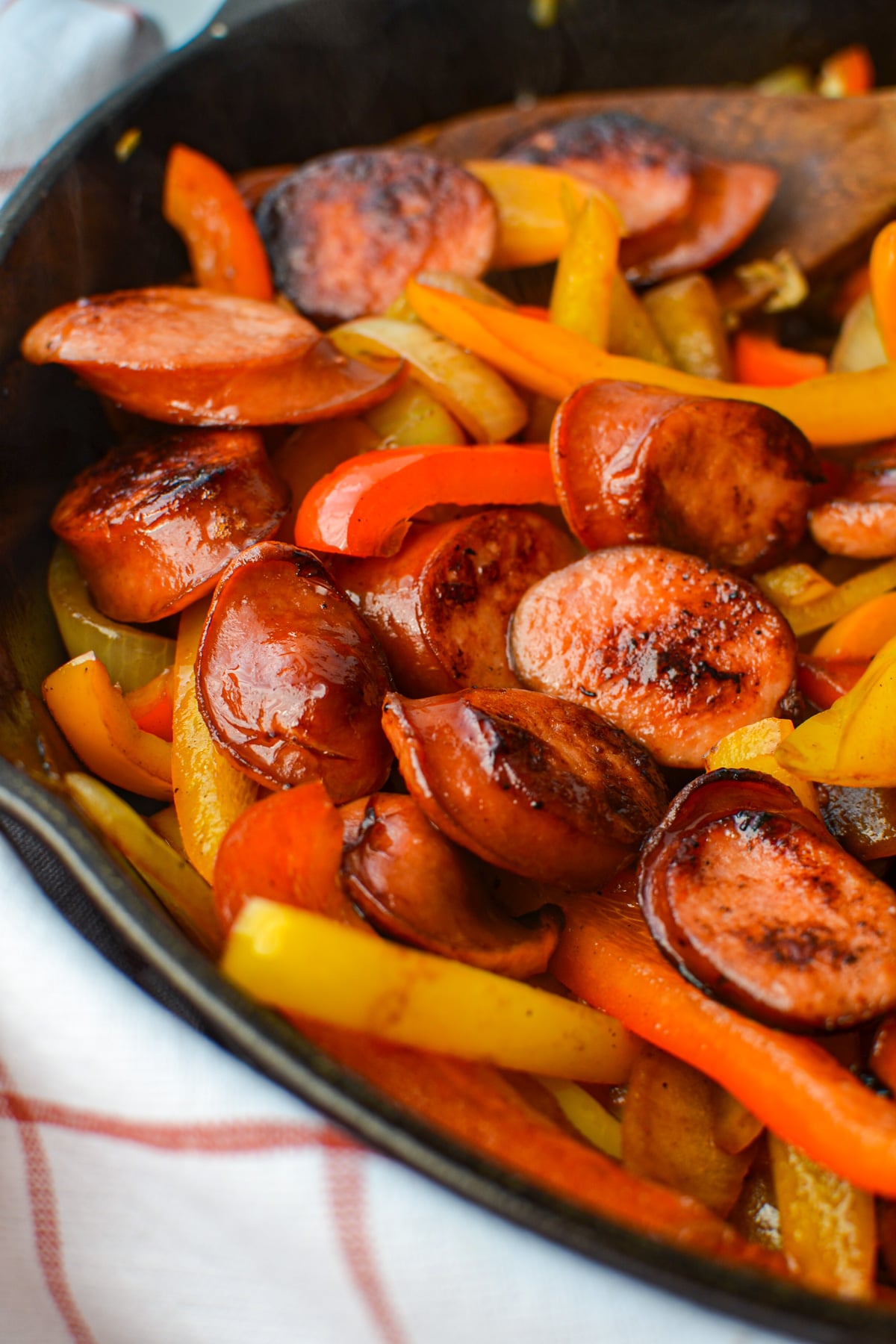 Storing Leftovers
Allow your sausage and peppers to cool completely before adding to a container with a lid. Store in the fridge for up to 3 days.
More Easy Dinner Recipes
Skillet Sausage and Peppers
Skillet sausage and peppers is an easy and flavorful weeknight meal. It requires just 5 ingredients and less than 25 minutes to prepare!
Ingredients
1 pound smoked sausage, cut into 1/2" slices
1 tablespoon avocado oil or ghee
2 large yellow onions, peeled and sliced
3 rainbow bell peppers, seeded and sliced
3 garlic cloves, minced
Instructions
Heat a large cast iron skillet over medium heat.
Add the avocado oil or ghee to the hot skillet, and add the sliced smoked sausage in a single layer. Cook for 2-3 minutes, and then flip to cook the other side for another 2-3 minutes.
Remove the browned sausage slices to a plate, and add the sliced onions to the hot skillet. Cook until soft, stirring often, for approximately 5 minutes.
Add in the sliced peppers, stirring to combine well with the onions. Cook until soft, yet still slightly crisp, about 4-5 minutes.
Add the minced garlic and toss well. Cook for 1 minute, or until fragrant.
Add the cooked sausage slices back into the skillet and stir in with the onions and peppers.
Serve and enjoy!
Notes
Serving suggestions: You can serve as is, or you can serve over a starchy side like cooked hot rice, egg noodles, or pasta.
Gluten Free: Use gluten free smoked sausages to make this dish easily gluten free! Serve with rice or gluten free pasta if desired.
Storage: Allow your sausage and peppers to cool completely before adding to a container with a lid. Store in the fridge for up to 3 days.
Nutrition Information:
Yield:

4
Serving Size:

1
Amount Per Serving:
Calories:

464
Total Fat:

39g
Saturated Fat:

13g
Trans Fat:

0g
Unsaturated Fat:

21g
Cholesterol:

77mg
Sodium:

942mg
Carbohydrates:

14g
Fiber:

2g
Sugar:

6g
Protein:

15g
Nutrition information is an estimate only.
Please note that some of my blog posts here at Little Home in the Making may contain affiliate links. If you make a purchase through these links, I will get a small commission at no additional cost to you. See our disclaimer for more information.