Why buy from the store when you can make your own Homemade Thousand Island Dressing from scratch? You won't believe how easy it is!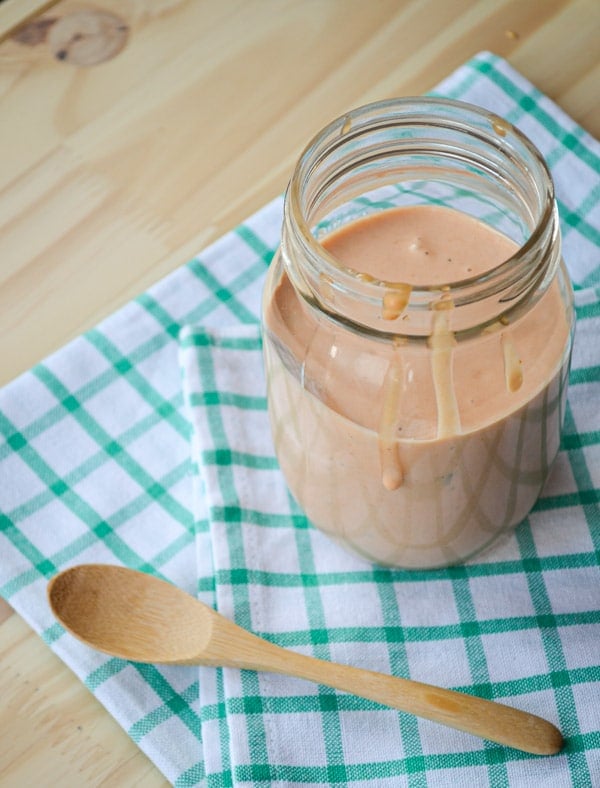 Please note that some of my blog posts here at Thrifty in the Kitchen may contain affiliate links. If you make a purchase through these links, I will get a small commission at no additional cost to you.
One of the things that seems to save me the most money in my home, is making my own dressings, condiments and sauces. Not only does the bottled stuff cost a lot more, I find it goes to waste too! I like some variety in my salad dressings, so I often find old bottles in my fridge that expired long before I could use them up. I keep a pretty well stocked pantry, so I often have all the ingredients I have on hand for most of my favorite dressings. The ingredients for Thousand Island Dressing are so simple, you probably have the ingredients on hand too!
Thousand Island Dressing is a great option for my Deluxe Cheeseburger Salad (recipe coming soon!) or just your basic everyday salad! For summer BBQ's I like to serve salad with a variety of dressings so that everyone can pick a dressing of their choice. I always include Thousand Island Dressing, Ranch Dressing, and Italian Dressing. That normally covers most tastes and preferences!
I keep my dressings in the fridge for 1-2 weeks in pint sized mason jars with plastic screw top lids on them. This keeps them sealed airtight! I love using glass mason jars for storage because they are easy to clean and available just about everywhere!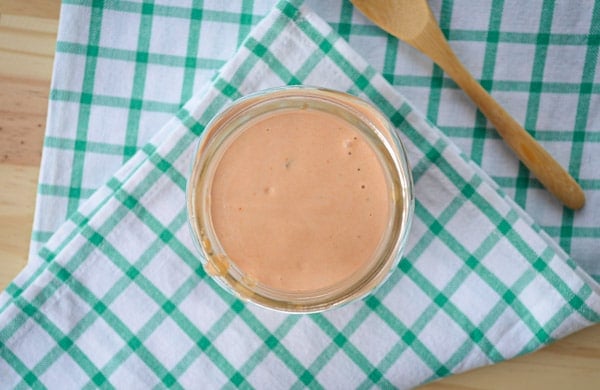 What Do I Need to Make Thousand Island Dressing?
Real Mayonnaise: It's all about the real mayonnaise! Real mayo adds a depth of flavor and doesn't have the "tang" (read: ew) that the imitation stuff has.
Ketchup: Everyone has ketchup in their house, right!?
Relish: I use sweet relish in this recipe, but I've used pickle relish with success as well. Just add a little extra sugar.
Sugar: Just a little bit of sugar to add some sweetness.
Seasonings: All you need is onion powder, salt, and black pepper!
Vinegar: A touch of vinegar balances the flavors and helps create the signature thousand island dressing.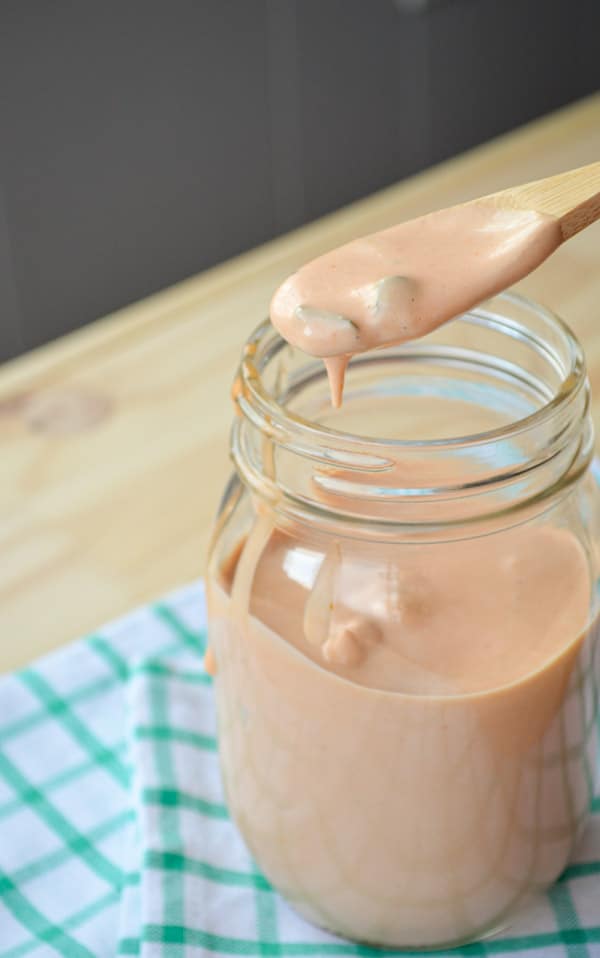 Homemade Thousand Island Dressing
Why buy from the store when you can make your own Homemade Thousand Island Dressing? You won't believe how easy it is!
Ingredients
1 cup Real Mayonnaise
1/4 cup Ketchup
2 tbsp. Sweet Relish
1 tbsp. Sugar
1/2 tsp. Onion Powder
1/8 tsp. Table Salt
pinch Black Pepper
1 tbsp. White Vinegar
Instructions
In a small bowl, combine the real mayonnaise and ketchup and mix until well combined.
Add the sweet relish, sugar, onion powder, salt, and pepper. Mix well.
Add the vinegar and stir gently, until it is fully combined. Taste and adjust salt and pepper to your liking.
Allow to chill for 30 minutes if possible, then serve with your favorite salad.
Notes
Keeps 1-2 weeks in an airtight container in the fridge.
Nutrition Information:
Yield:

12
Serving Size:

1 grams
Amount Per Serving:
Calories:

138
Total Fat:

14g
Saturated Fat:

2g
Trans Fat:

0g
Unsaturated Fat:

11g
Cholesterol:

8mg
Sodium:

205mg
Carbohydrates:

3g
Fiber:

0g
Sugar:

3g
Protein:

0g
Nutrition information is an estimate only.
Make Sure to "Pin It" to Pinterest!