These sourdough lemon poppy seed muffins are the ultimate grab-and-go snack, or an add on to your favorite breakfast. Made with fresh lemon zest (and juice), sourdough discard, and poppy seeds, these Spring-inspired muffins are sure to be a favorite all year round.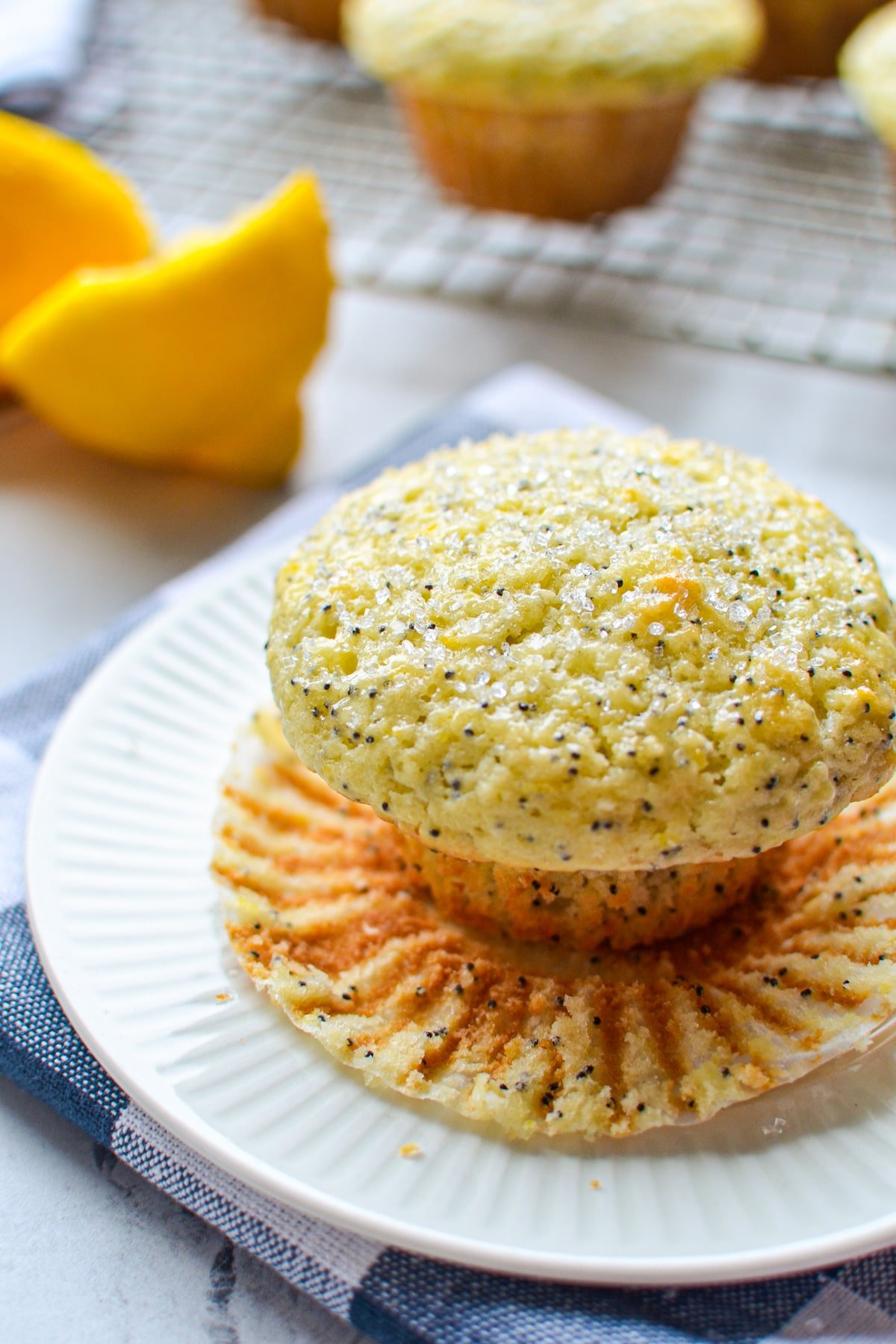 There is just something about a lemon poppy seed muffin that is absolutely cheerful! I don't know if it's the yellow hue, the tiny flecks of poppy seed, or the bright and fresh flavor of lemon zest, but it brings joy to my heart!
Isn't it a wonderful thing that we can bake something that can bring a smile to a child's face? Or even an adult, for that matter!? That's the power of baking, and actually a lot of the domestic work we do that goes generally unnoticed. It can make someone's day to have a clean set of sheets, or a bite of a sweet and lemony muffin.
These sourdough lemon poppy seed muffins are a new Spring time favorite! They are filled with bright, fresh lemon flavor, and use some of that pesky sourdough discard I always happen to have hanging around!
They are perfect for making and freezing as an on-the-go snack or quick and easy breakfast, and have a true bakery-style feel with a little bit of sourdough tang for fun AND to help work a bit of those sourdough benefits into our daily routine.
If you're loving these sourdough muffins, you have to try some of my other recipes like my sourdough applesauce muffins and sourdough apple walnut muffins. They are so great for kid-friendly snacks!
Ingredients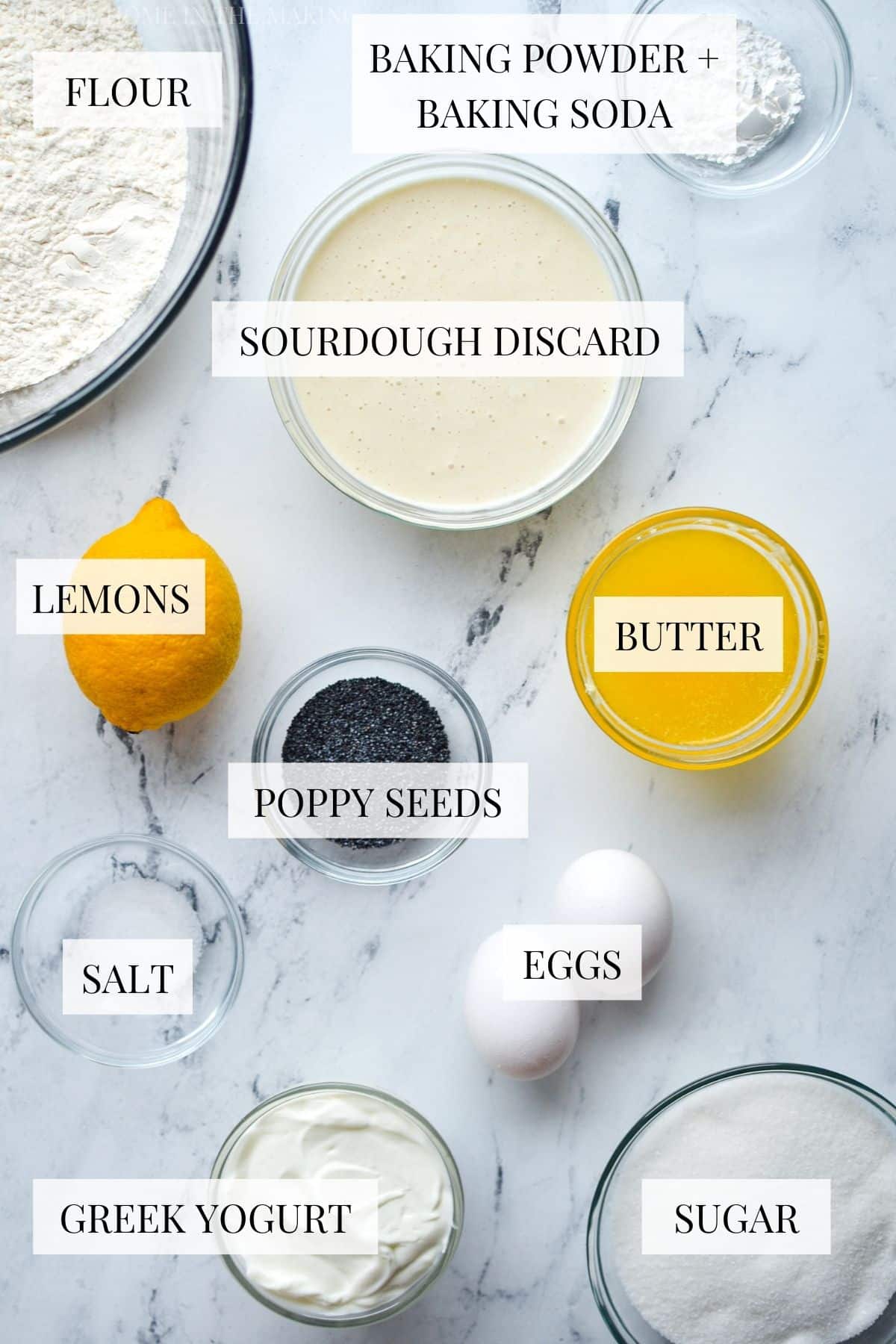 Sourdough: This can be freshly discarded, or it can be stored in the fridge from a previous discard.
Lemon: Fresh lemon is required for this recipe, because you'll need the zest to give it that fresh, lemony zing! You'll need about 2 lemons.
Poppy seeds: These wouldn't be lemon poppy seed muffins without them!
Greek yogurt: One of the secret ingredients to a moist and delicious muffin is Greek yogurt! You can use sour cream or crème fraiche in its place if you don't have it on hand.
Butter: Because everything is better with butter!
Pantry basics: like eggs, unbleached flour, sugar, salt, baking powder, and baking soda.
How to Make Lemon Poppy Seed Muffins with Sourdough Discard
To get started, preheat your oven to 375­­°F and line a 12 cup muffin pan with paper liners.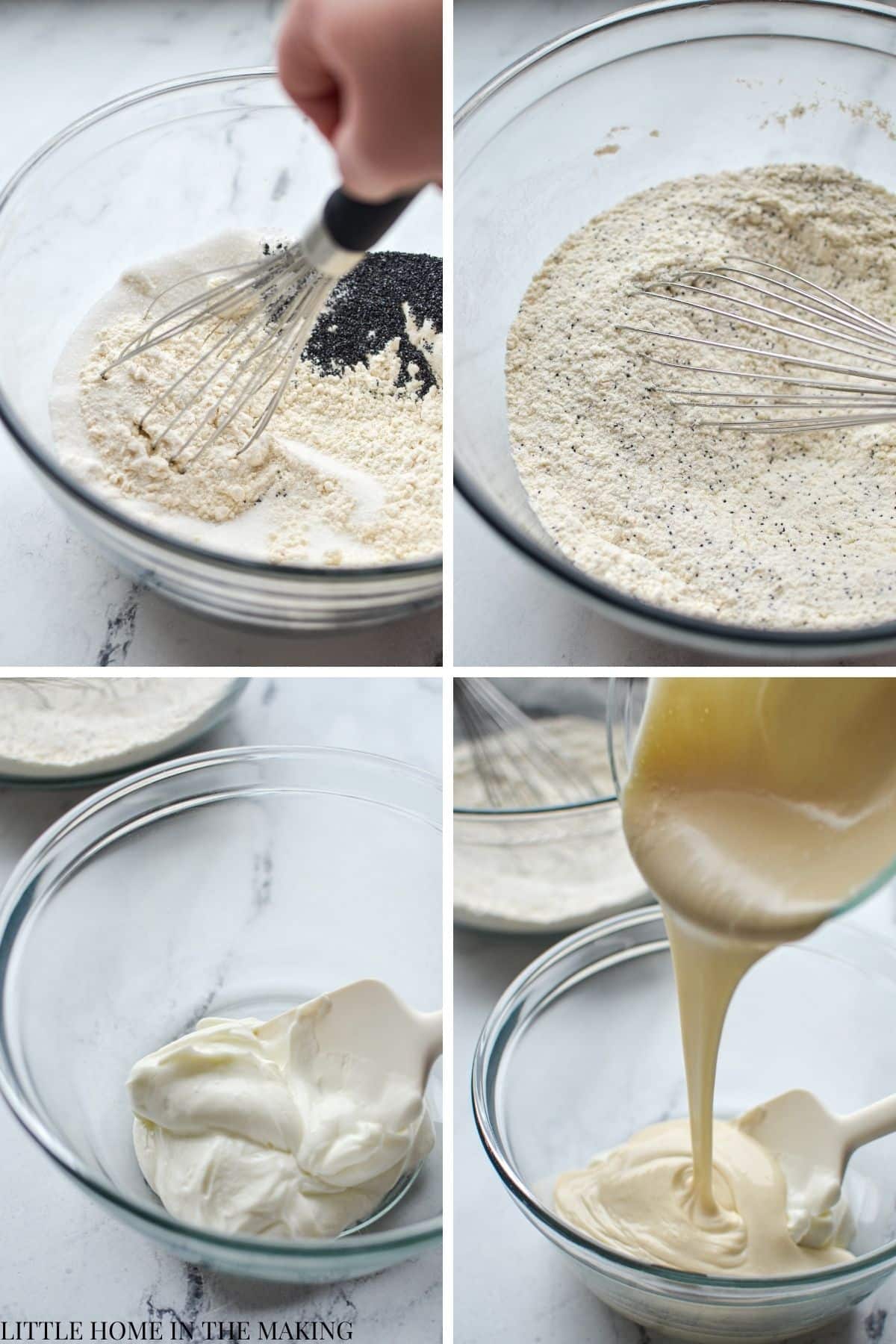 Add your flour, baking powder, baking soda, poppy seeds, sugar, and salt to a large bowl and stir to combine.
Add the Greek yogurt to a separate medium sized bowl, and then add in your sourdough discard.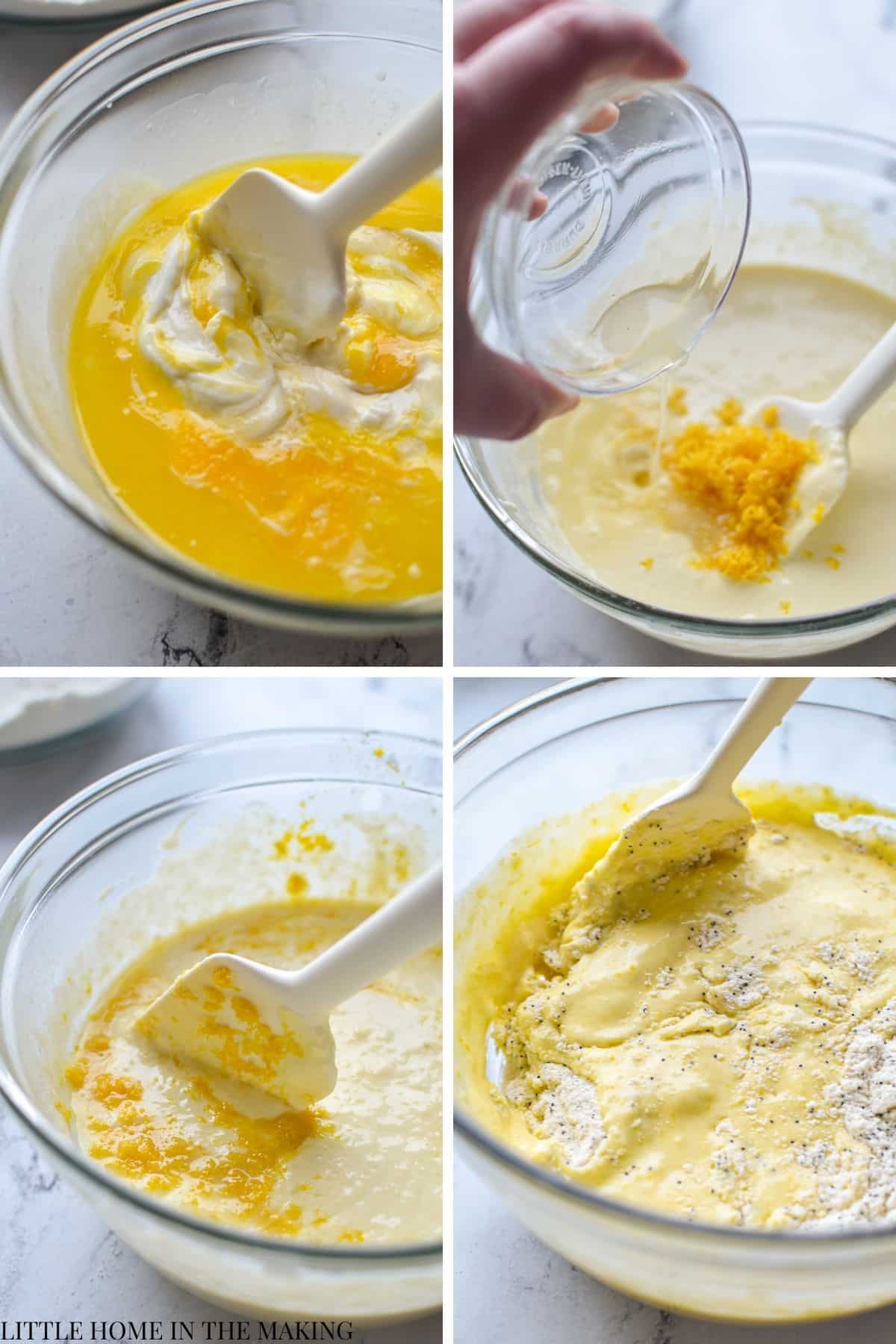 Add the eggs to the greek yogurt and sourdough discard mixture, and stir well to combine.
Add in the lemon juice and lemon zest. Stir until everything is well mixed.
Add the wet ingredients to the dry ingredients, and fold everything together gently just until no more flour remains.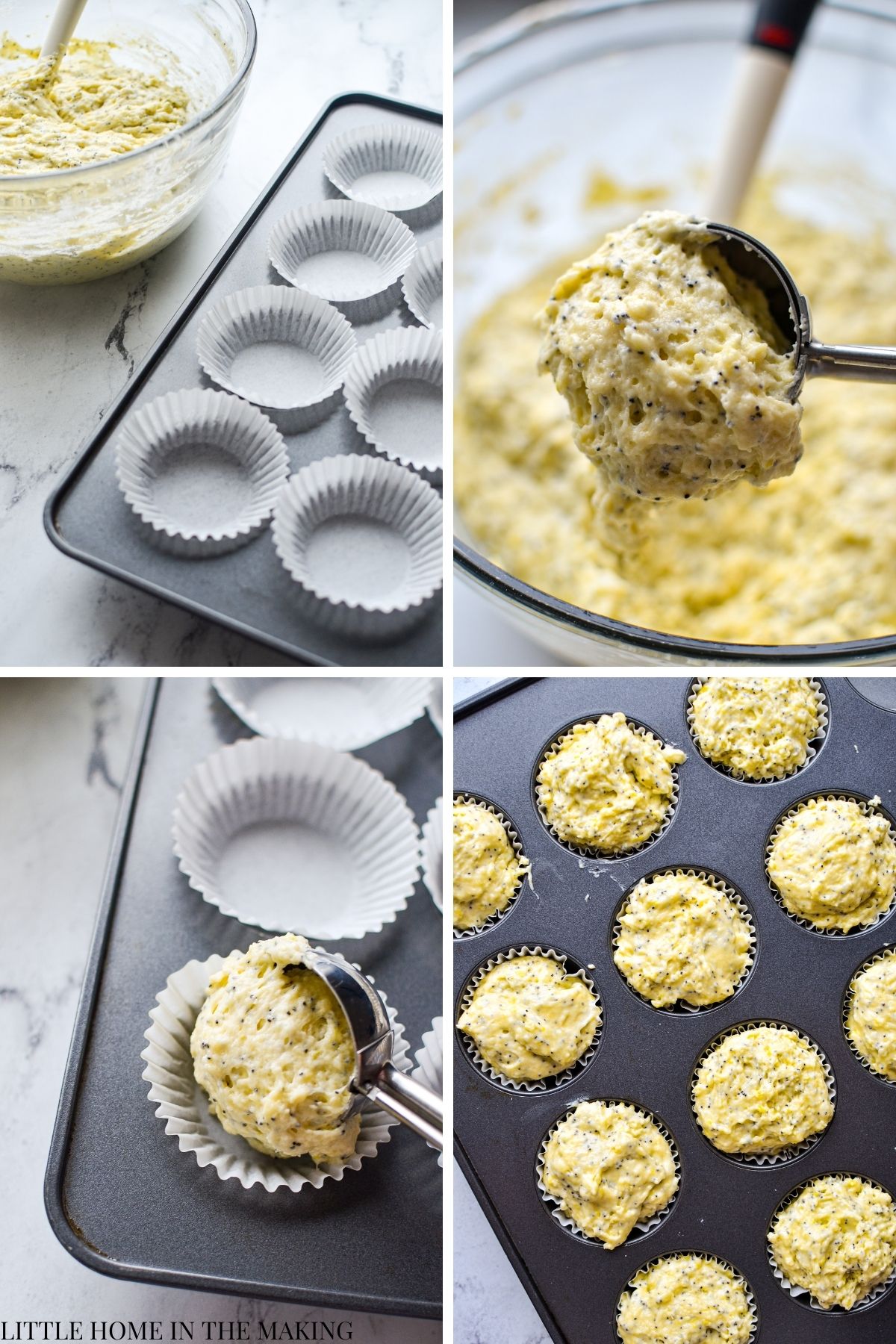 Then, bring your bowl of lemon poppy seed batter over to the lined muffin tin, and use a large scoop to portion the batter into the muffin cups.
Since the batter is quite fluffy thanks to the reaction with the sourdough starter and baking powder/baking soda, you'll have to heap the batter slightly compared to regular muffins.
Baking Your Sourdough Lemon Poppy Seed Muffins
Once all of the batter is evenly distributed into the muffin cups, bake in the preheated oven until very lightly browned around the edges. This should take about 20-23 minutes, or until a toothpick comes out clean when inserted into the middle.
Remove the pan from the oven and set aside for a few minutes while you prepare the glaze.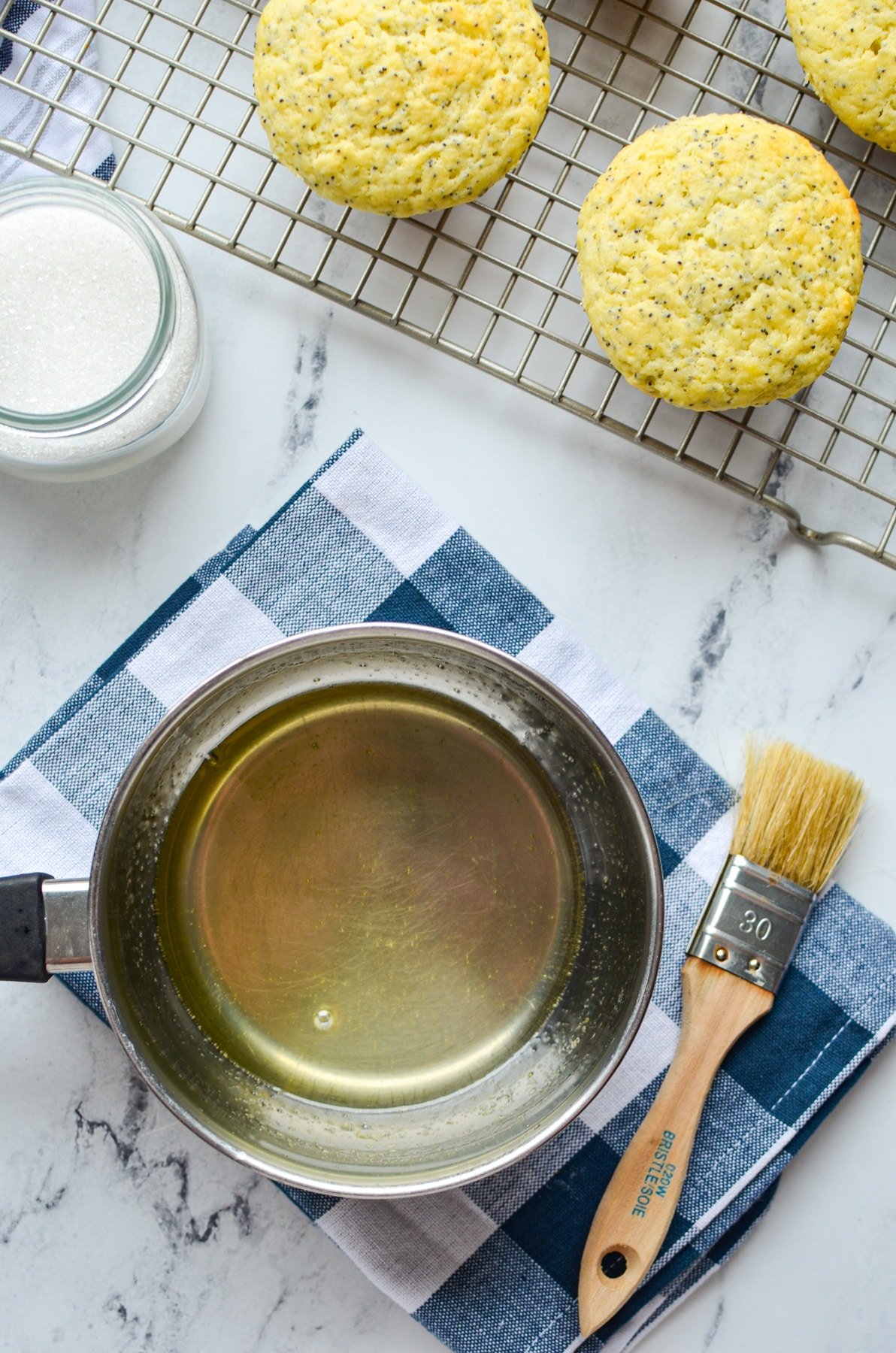 Making and Adding a Lemon Glaze
To make your lemon poppy seed muffins ultra moist and delicious, we top them with a sweet lemon glaze.
All you have to do is combine 1/4 cup of sugar and 1/4 cup of lemon juice in a small saucepan over medium high heat. Whisk often, to prevent burning, and bring the mixture to a very low boil.
Once a light syrup forms, remove from the heat set aside.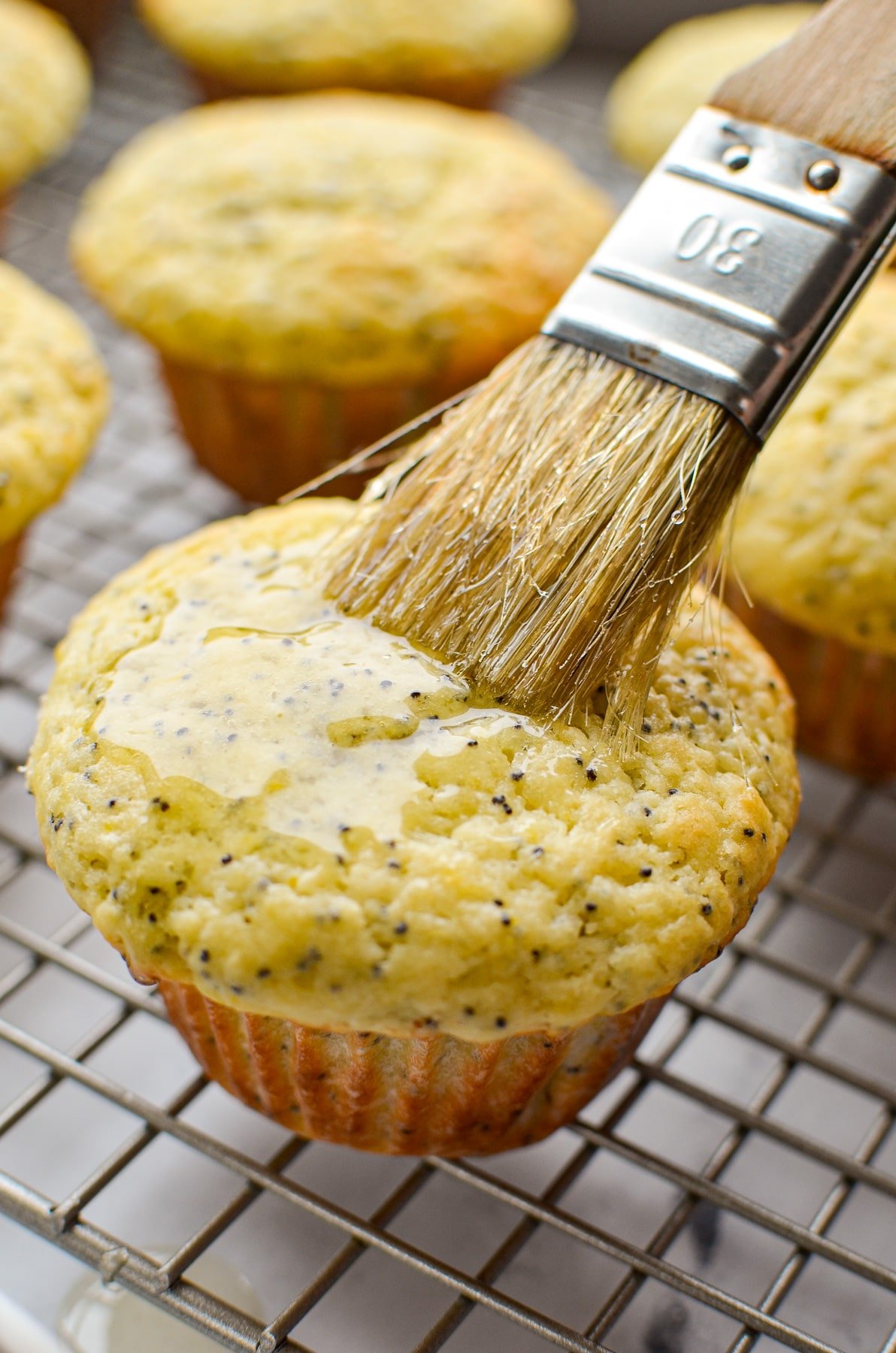 Use a pastry brush to brush each of the sourdough muffins with the lemon glaze. I recommend leaving the muffins in the pan for an easier clean up, but if you removed them to a wire rack, that's okay too.
Once each muffin has been brushed with a lemon glaze, sprinkle the top with some coarse sugar. This step is optional, but recommended since it gives that bakery style finish!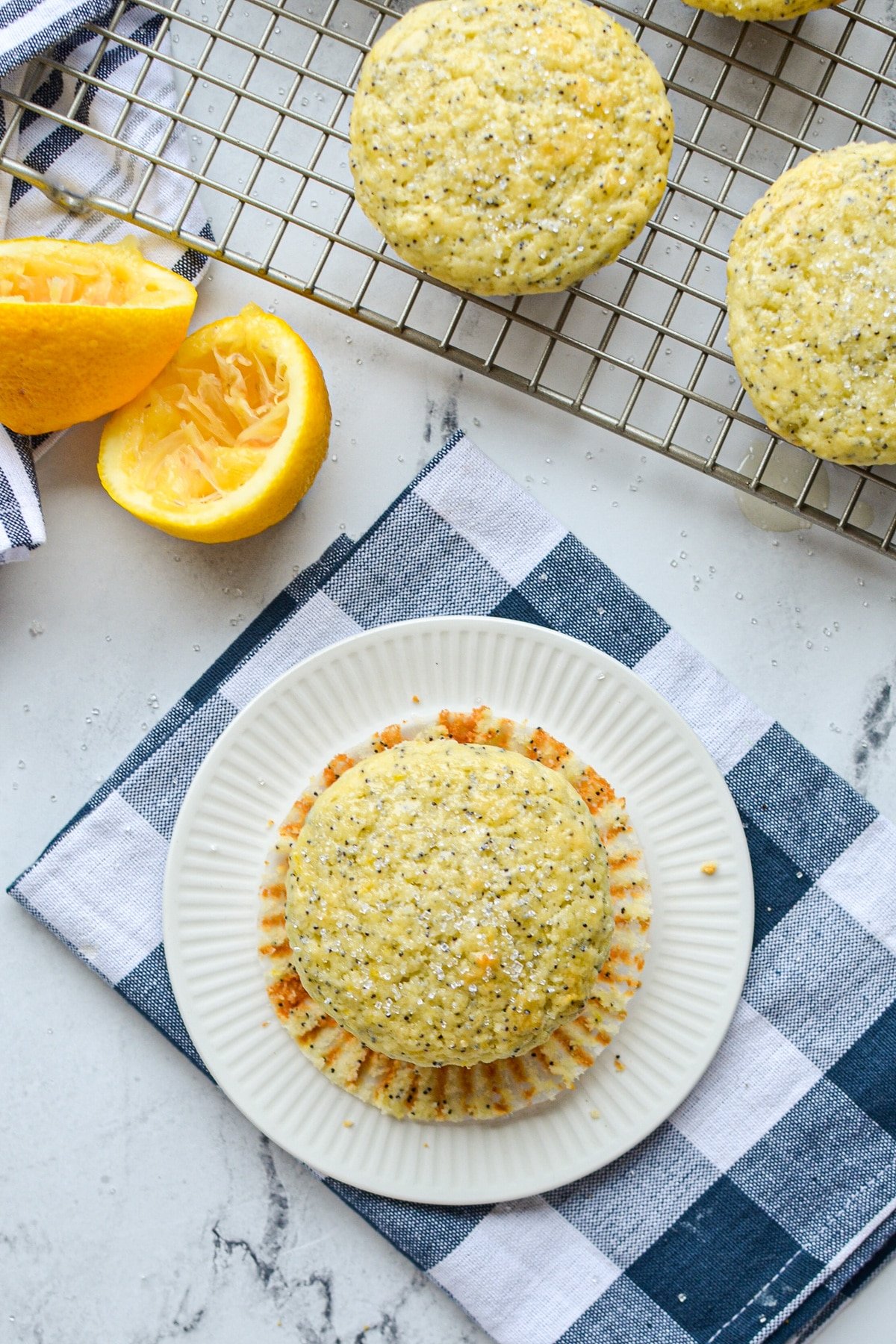 Expert Tips
Use a large cookie or dough scoop (like this one) to transfer the muffin batter. This reduces the mess that comes with using a standard spoon, and grabs a good amount of batter at once.
Bake your muffins just until very (very) lightly browned around the edges. A better indicator is to use a toothpick or cake tester to test the inside of each of the muffins. Once the tester comes out clean, your muffins are cooked through and can be removed from the oven.
You can use either sourdough discard, or active sourdough starter for this recipe. I prefer to use discard, since these muffins do not require any additional lift from active starter.
If your stored sourdough starter from the fridge is very old and sour, make sure to revive your sourdough starter with several feedings before using in a recipe.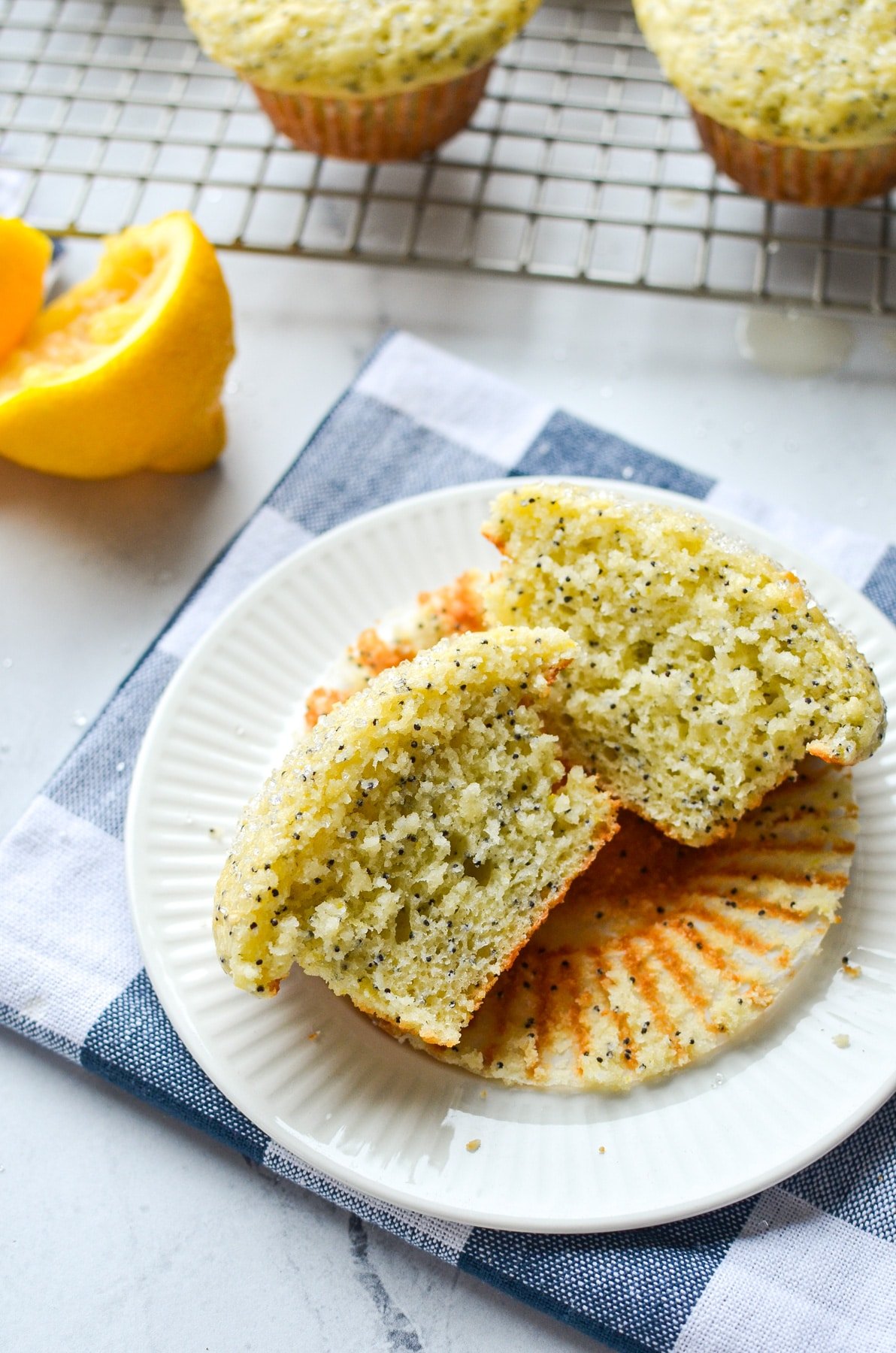 Frequently Asked Questions
How long does sourdough discard last?
If you're storing your sourdough discard at room temperature, make sure to feed it within 1-2 days. If storing in the fridge, your sourdough discard should last for 1-2 weeks or more, and indefinitely when stored in the freezer. If you have sourdough discard that you would like to last a little longer, give it a single feeding and place back in the fridge to extend its storage life.
What is sourdough discard?
Discard is the portion of the starter that has been removed from the active, maintained starter just before feeding time. This can be "discarded" (as the name implies), or it can be used in a variety of sourdough discard recipes that require no rising or wait time. If these recipes require rise, they will often include yeast or other leaveners such as baking soda or baking powder.
Can you make lemon poppy seed muffins without yogurt?
If you do not have the yogurt called for on hand, you can easily substitute it for sour cream or crème fraiche. These are both excellent substitutes for Greek yogurt, and can be thinned out with buttermilk or milk to create a consistency closer to regular yogurt if desired.
More Sourdough Discard Recipes: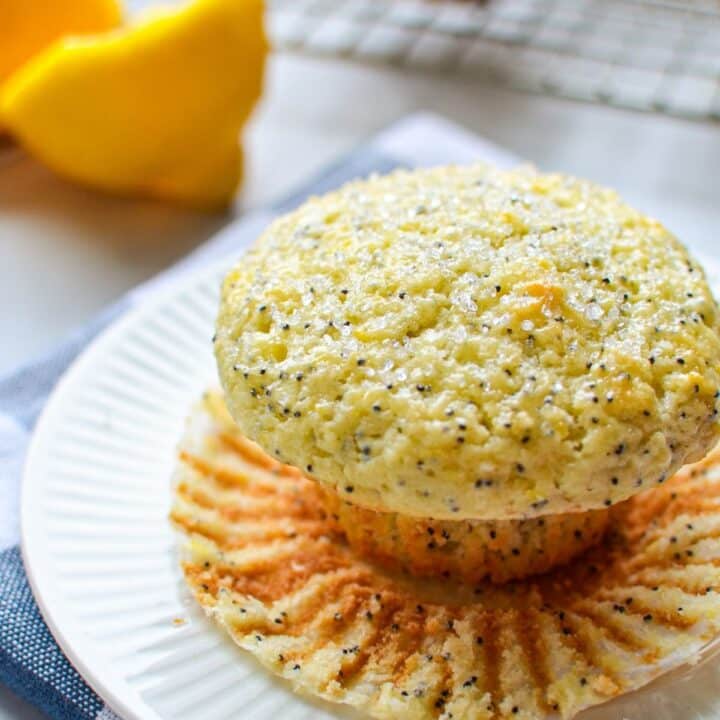 Sourdough Lemon Poppy Seed Muffins
Additional Time:
10 minutes
If you're looking for a bright, fresh and delicious sourdough muffin, look no further than these Lemon Poppy Seed Muffins made with discard! Perfect for an on-the-go breakfast or snack.
Ingredients
2 ¼ cups all purpose unbleached flour
1 cup granulated sugar
2 tablespoons poppy seeds
1 tablespoon baking powder
½ teaspoon baking soda
½ teaspoon salt
1 cup greek yogurt
2 tablespoons lemon juice
1 ½ tablespoons lemon zest
2 large eggs
½ cup melted and cooled salted butter
1 cup sourdough discard
Lemon Glaze
¼ cup sugar
¼ cup lemon juice
Coarse sugar, for sprinkling (optional)
Instructions
Preheat the oven to 375F and line a 12 cup muffin pan with paper or silicone liners.
Add the flour, sugar, poppy seeds, baking powder, baking soda, and salt to a large bowl. Whisk to combine.
In a separate medium bowl, add the Greek yogurt, lemon juice, lemon zest, eggs, melted butter, and sourdough discard. Mix well to combine.
Pour the wet ingredients into the dry ingredients, and fold them in gently using a silicone spatula.
Use a scoop to transfer the batter to the lined muffin cups. Distribute the batter evenly, which will likely fill the muffin cup completely. They may even be slightly mounded, but they won't overinflate during the baking process.
Bake for 20-23 minutes, or until a toothpick comes out clean when inserted into the middle.
Remove from the oven and set aside.
Add the lemon juice and sugar to a small saucepan. Whisk well and heat over medium-high heat until a light syrup forms.
Remove the syrup from the heat, and brush onto the tops of each muffin. This will give them added sweetness, lemony flavor, and a moistness.
Sprinkle with coarse sugar, if desired.
Remove the muffins from the pan and allow them to cool completely on a wire rack before serving.
Notes
*If you don't have Greek yogurt on hand, you can use an equal amount of sour cream or crème fraiche in its place.
Nutrition Information:
Yield:

12
Serving Size:

1
Amount Per Serving:
Calories:

298
Total Fat:

17g
Saturated Fat:

10g
Trans Fat:

1g
Unsaturated Fat:

6g
Cholesterol:

73mg
Sodium:

427mg
Carbohydrates:

33g
Fiber:

1g
Sugar:

22g
Protein:

5g
Nutrition information is an estimate only.
Please note that some of my blog posts here at Little Home in the Making may contain affiliate links. If you make a purchase through these links, I will get a small commission at no additional cost to you. See our disclaimer for more information.