If you're looking for a chewy, slightly sweet, and deliciously hearty dessert, you've found it with these Sourdough Oatmeal Raisin Cookies! Easy to make with pantry staples and a little bit of sourdough discard. Bake up some memories with these yummy and classic cookies…made even more fun with the addition of tangy sourdough.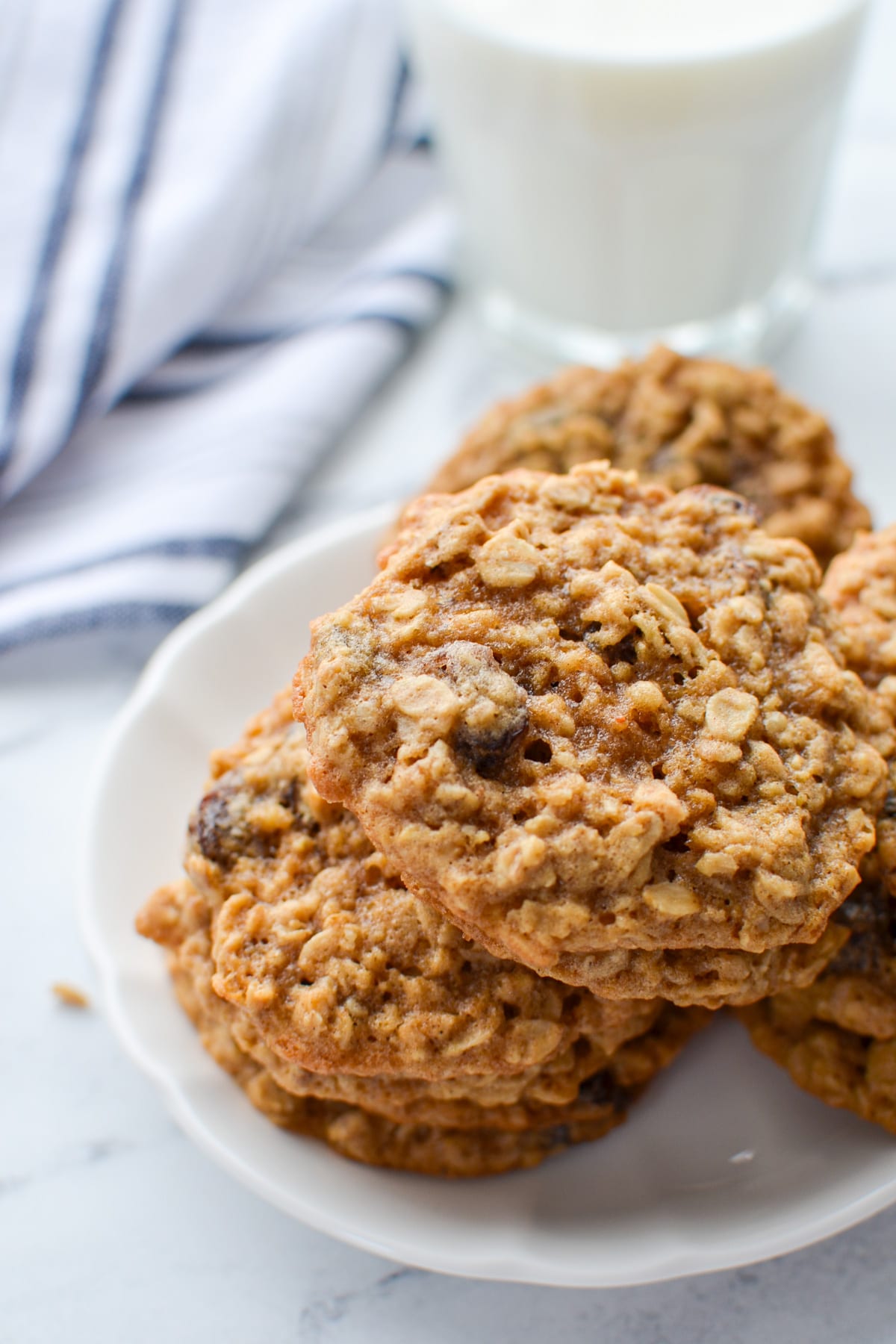 Please note that some of my blog posts here at Little Home in the Making may contain affiliate links. If you make a purchase through these links, I will get a small commission at no additional cost to you. Please see my Disclaimer for more information.
Something that I love doing with my toddler is baking! Although it sounds like an absolute nightmare, I promise the results can be worth it.
While he is far more interested in licking the beaters than anything else, learning how to measure and pour brings him a fair bit of delight, and he's even more excited when he sees some yummy cookies coming out of the oven!
A Classic Cookie Made with Sourdough Starter
My favorite cookie is undoubtably the humble chocolate chip cookie, but my husband and my son treasure the chewy goodness of the love-it-or-hate-it oatmeal raisin cookie. So I knew I had to turn their favorite into a sourdough version, and I couldn't be more excited with the results!
My husband was certainly skeptical, since he's not a fan of change, but after a reluctant bite he declared them absolutely delicious. The rest of the batch was promptly eaten by our family over the next several days, and we've been talking about them ever since!
I know your family is going to love these hearty sourdough oatmeal raisin cookies as much as ours did!
Let's get started!
Ingredients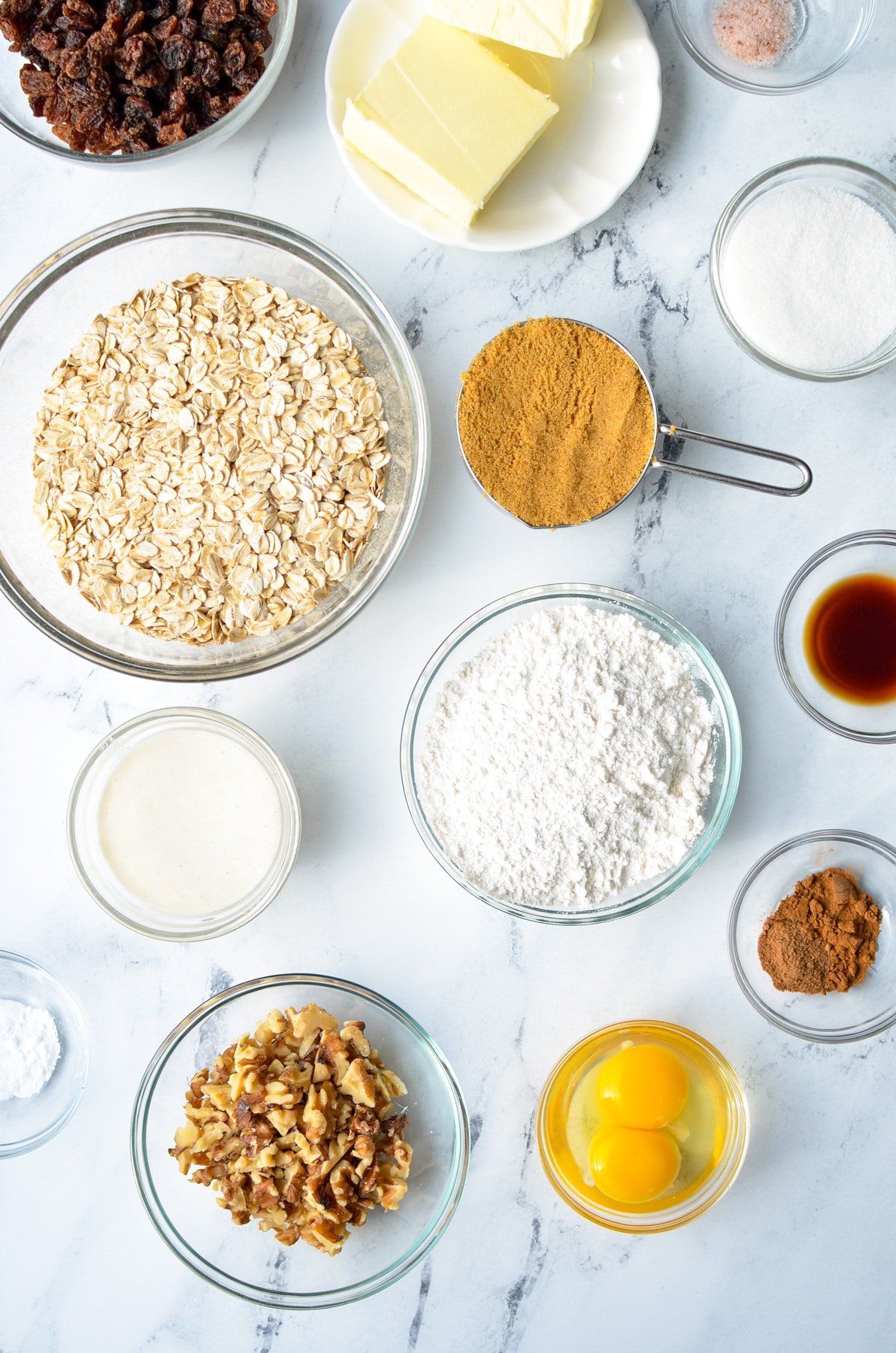 The beauty of these chewy sourdough oatmeal raisin cookies is that they are made with mostly pantry staples! Avid bakers will likely have most of these ingredients on hand, and will just need to remember to take the butter out to soften!
Oatmeal: This has the biggest margin for error. It is imperative that you use the right oatmeal for these cookies, since using a different kind can throw off the consistency quite a bit. You want to use old fashioned rolled oats, which are the kind that come in large flakes. Do not use quick, instant, or steel cut oats.
Raisins: Any seedless kind will do! Just make sure you don't soak them in water to soften. While many recipes call for that extra step, for this recipe we need to keep the extra liquid to a minimum because of the addition of sourdough discard.
Sourdough Discard: This can be taken straight from an active starter, or from sourdough discard stored in the fridge.
Eggs: We are using 1 full egg + 1 egg yolk.
Butter: I like to use salted butter, but you can use anything you have on hand. Just make sure it is softened well.
Our other pantry basics include flour, brown sugar, white cane sugar, salt, baking soda, cinnamon, nutmeg, vanilla, and chopped walnuts.
How to Make Sourdough Oatmeal Raisin Cookies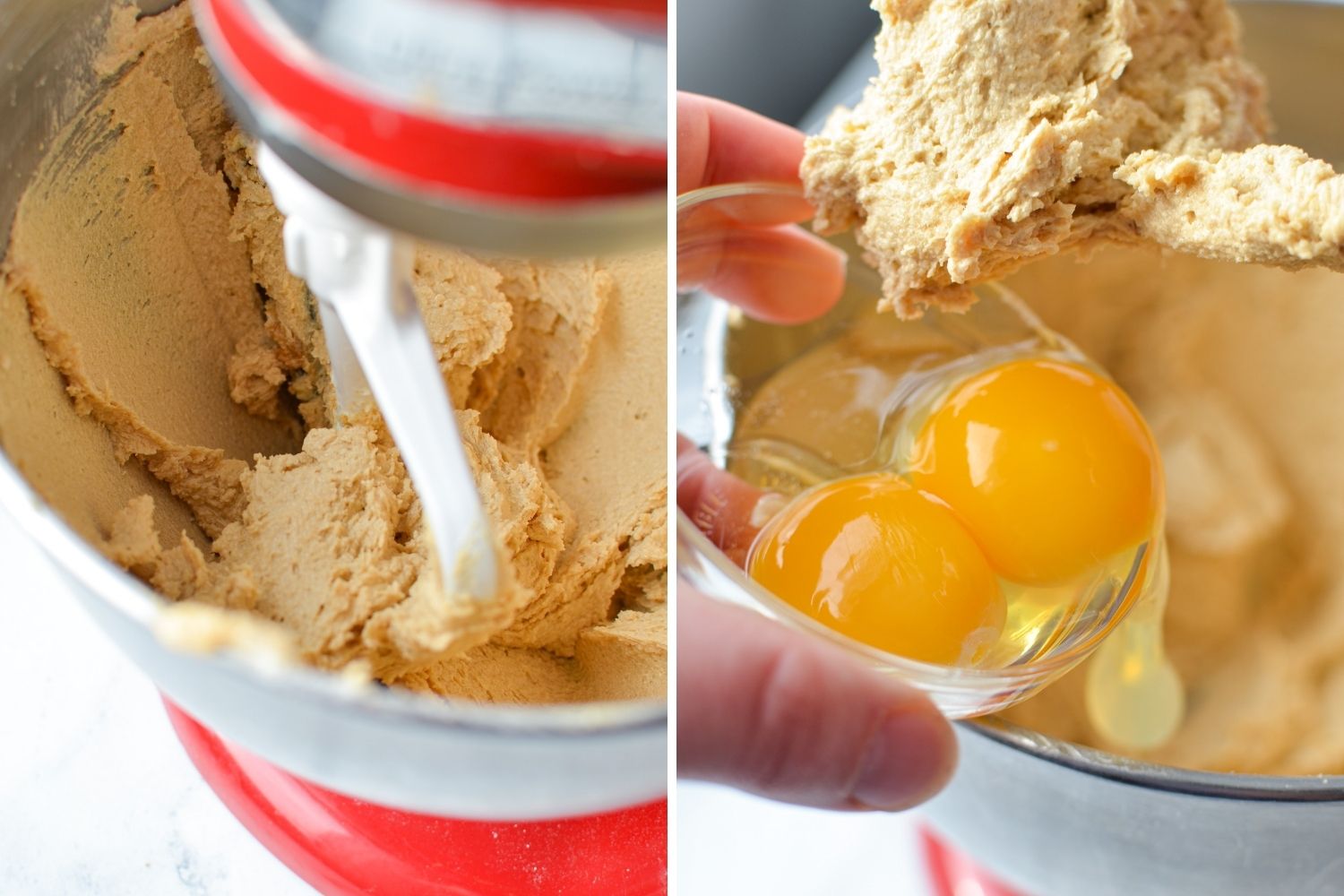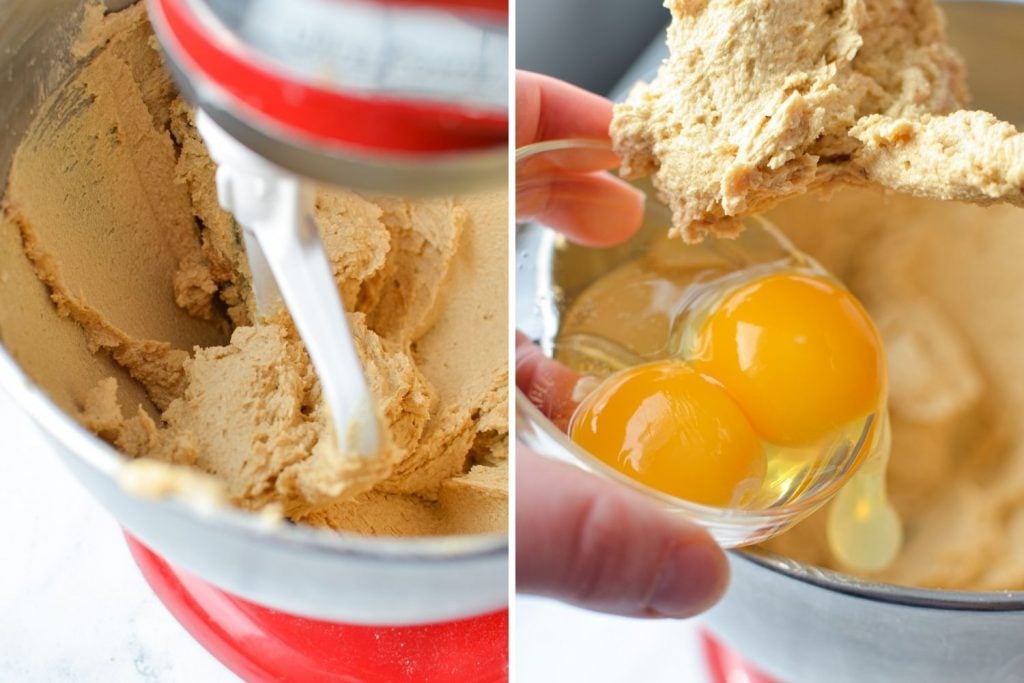 To get started, you're going to want to whip your butter until creamy and fluffy. Then, add in the brown sugar and white sugar and cream them together until airy and light in color. Scrape down the edges of the bowl as needed.
Add in the large egg + egg yolk and mix well to combine.
Add in your sourdough discard and the vanilla extract. Mix once again.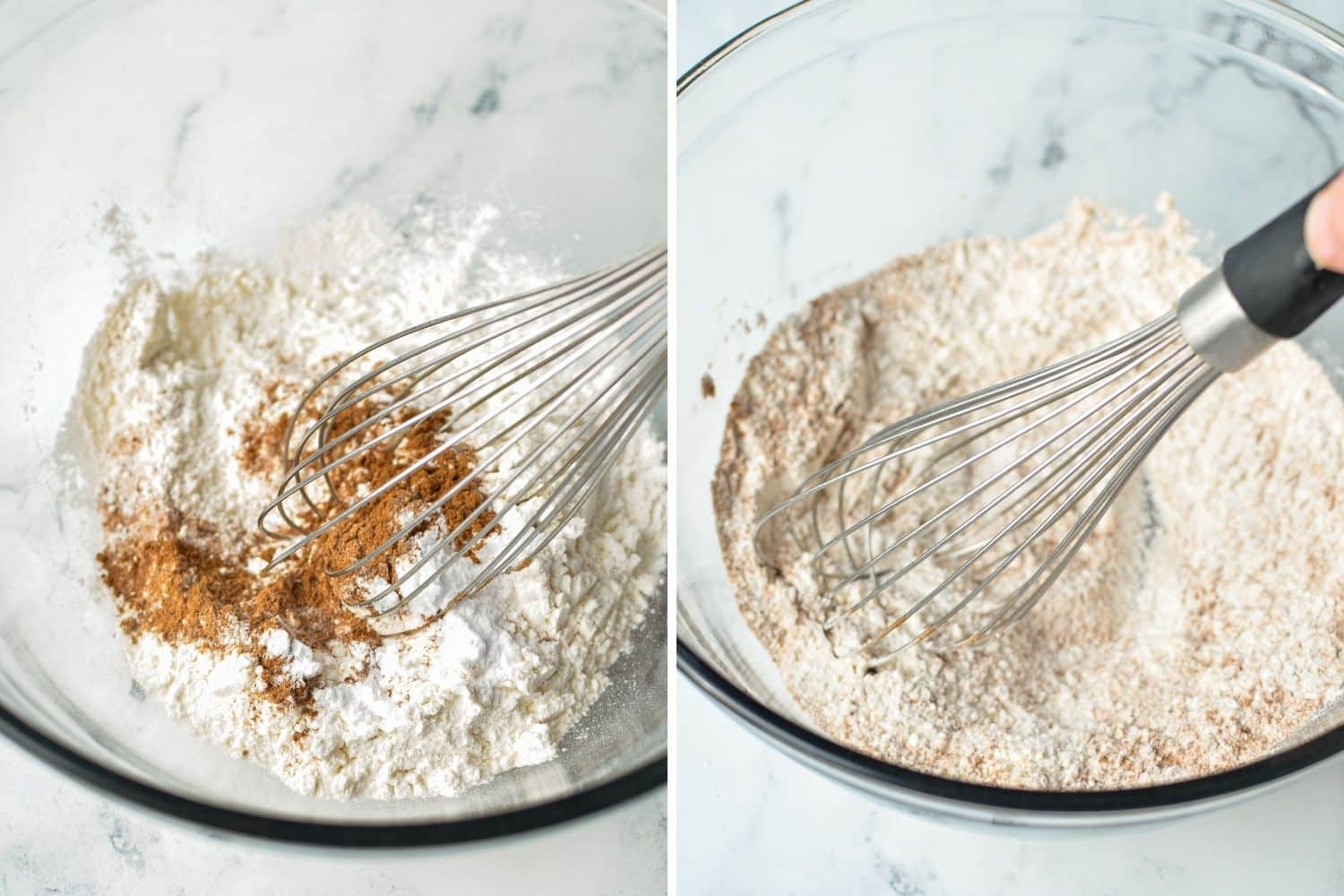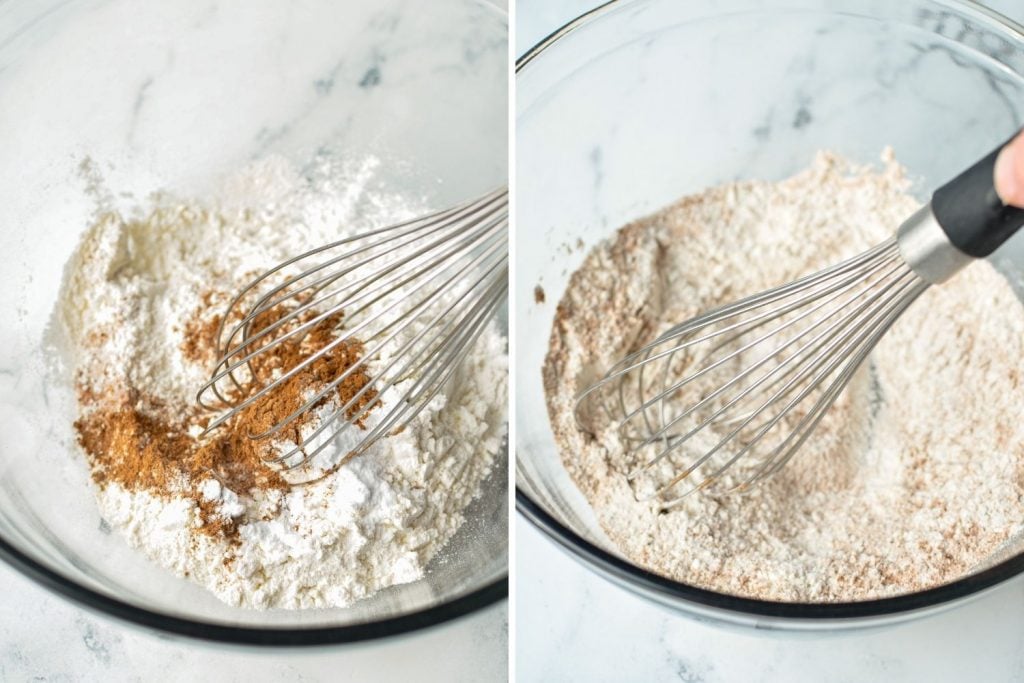 In a separate large bowl, add the flour, salt, baking soda, cinnamon and nutmeg.
Whisk well to combine.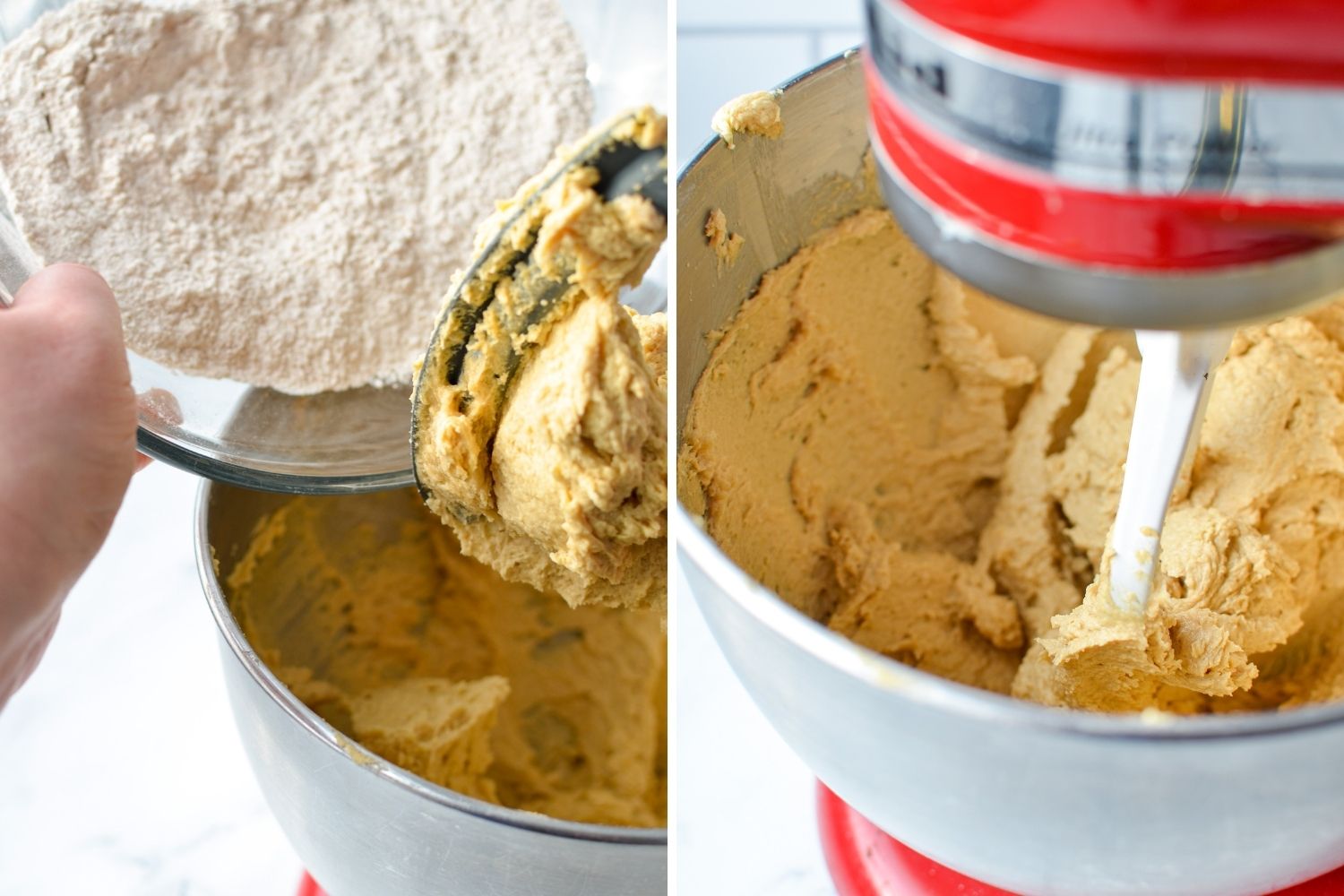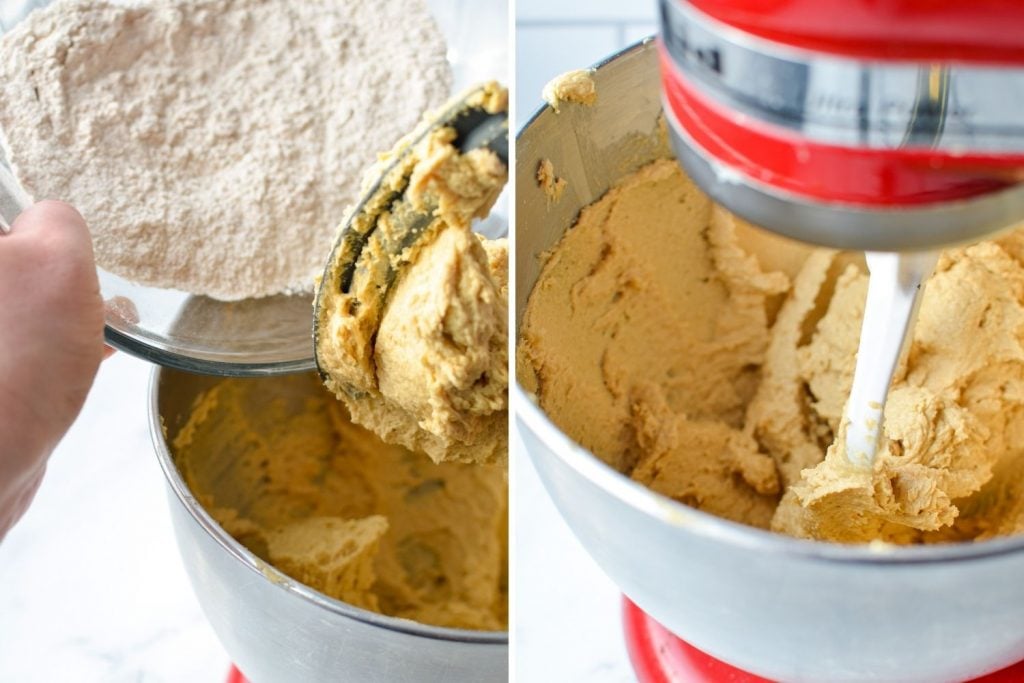 Add the dry ingredients to the creamed wet ingredients, and mix just until combined. Be sure to not overmix!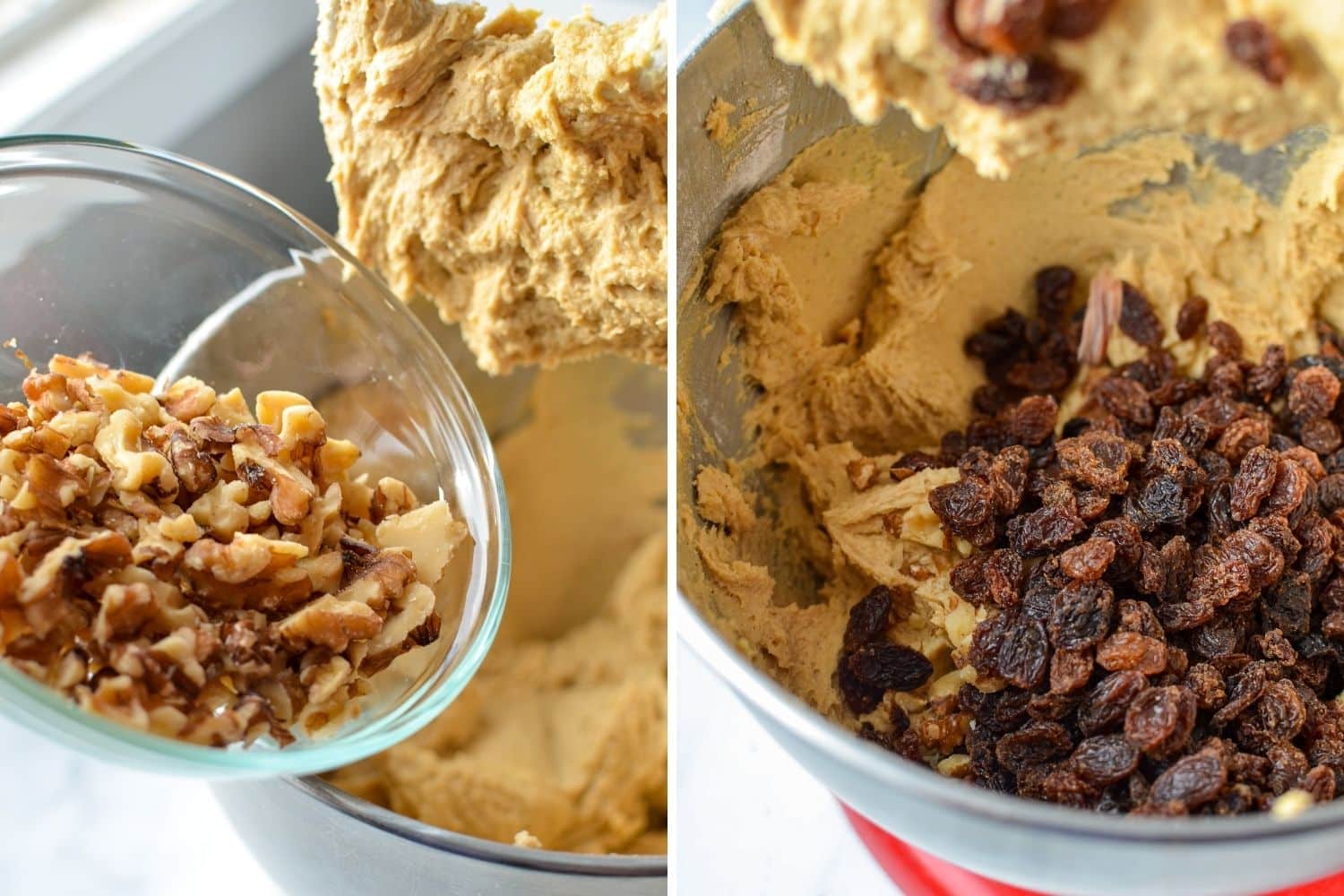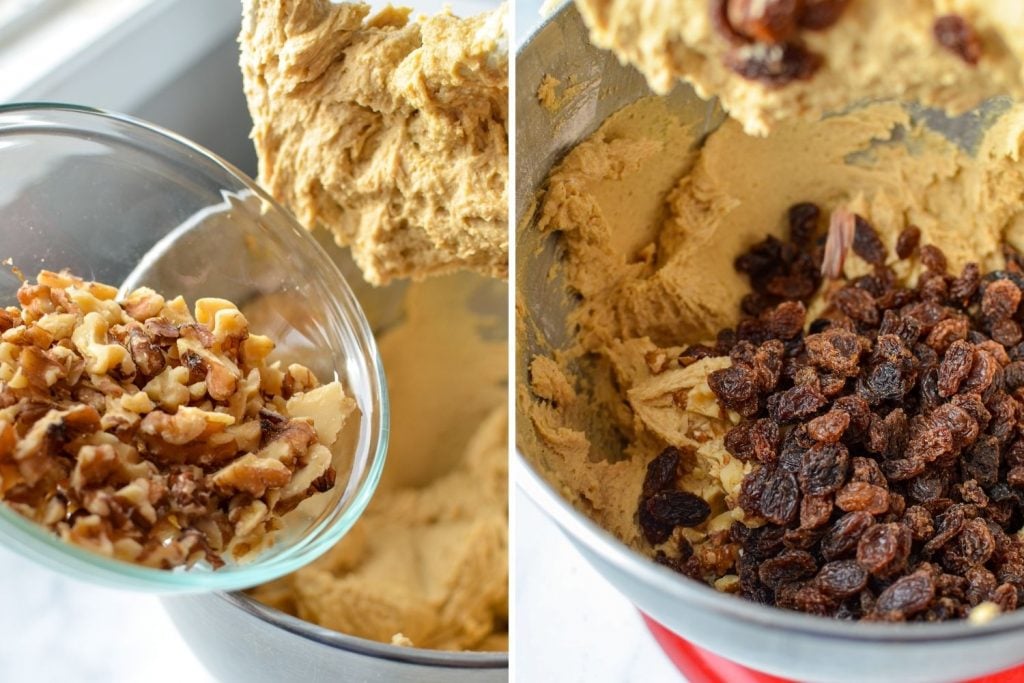 Add in the chopped walnuts, and the raisins.
Mix on low speed until everything is evenly distributed.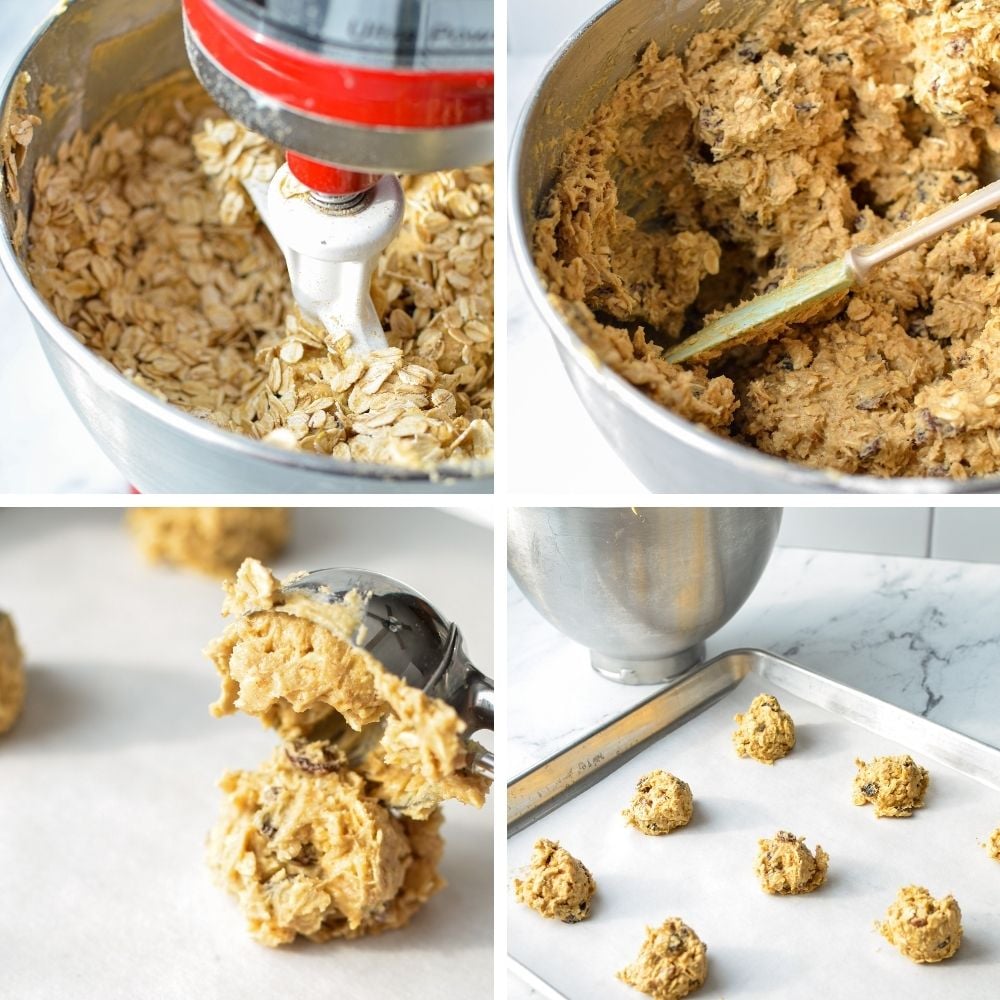 Add in the oatmeal and mix once again just until everything comes together.
Scoop the dough into portions using a cookie scoop or tablespoon, and space them 2″ apart on a parchment paper lined baking sheet.
Bake in a preheated oven for 10-12 minutes, or just until the edges are starting to brown.
Allow the cookies to cool for 3-5 minutes on the baking sheet before transferring to a wire rack to cool completely.
Repeat until all of your cookie dough is used; you should end up with about 42 cookies!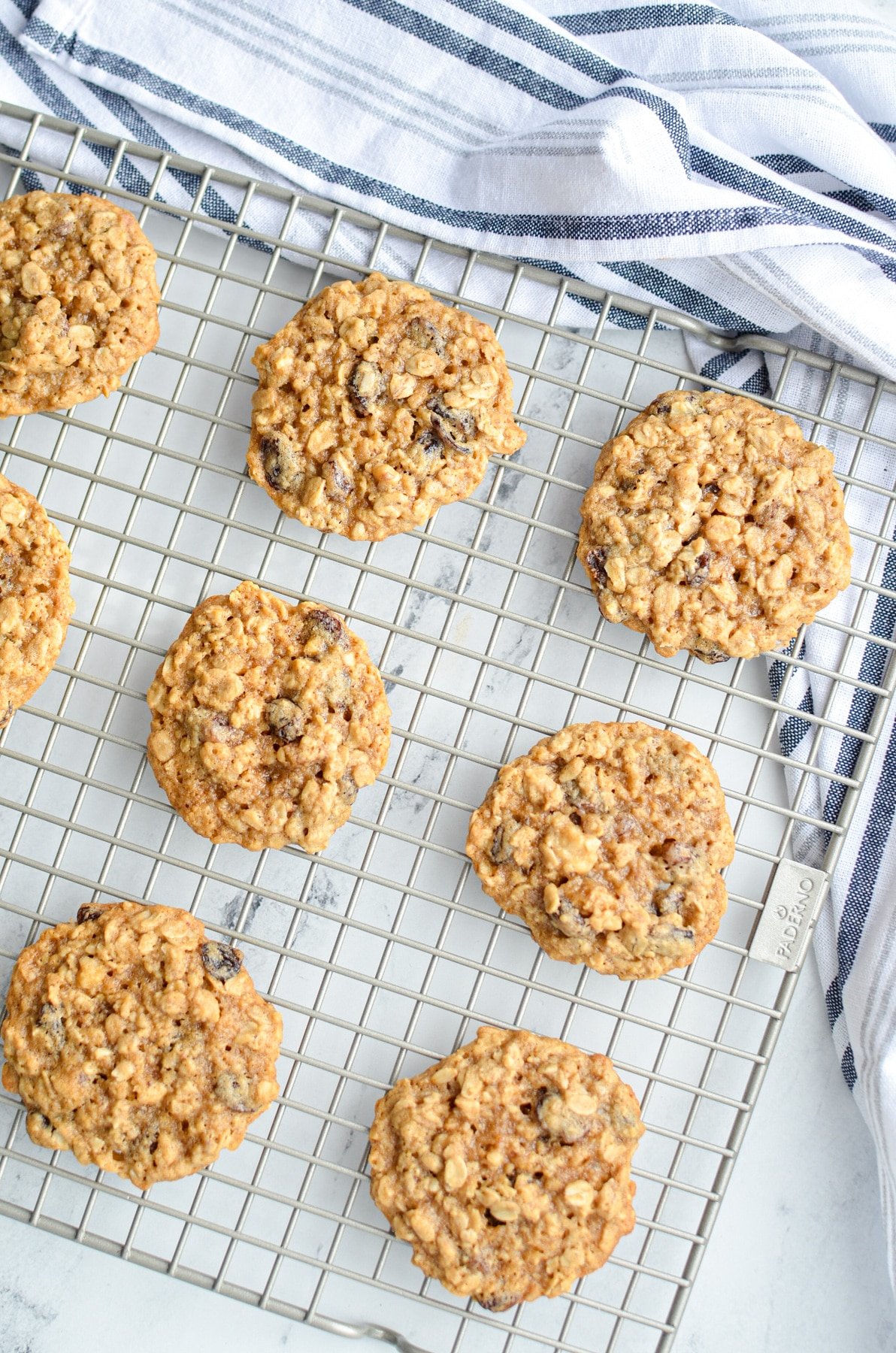 Storage Tips
Allow your sourdough oatmeal raisin cookies to fully cool before adding them to any sort of container or bag for storing.
Once your cookies have cooled completely, store them in an airtight container or zipper bag on the counter for up to 4 days, or in the fridge for up to 7 days. Your cookies will be on the firmer side if stored in the fridge.
For longer storage, pack your cooled cookies into freezer bags and store in the freezer for up to 3 months.
I don't recommend freezing unbaked dough. While typical cookies freeze very well unbaked, I haven't tested this with sourdough cookies yet, and so I would hold off and opt for storing them baked and cooled.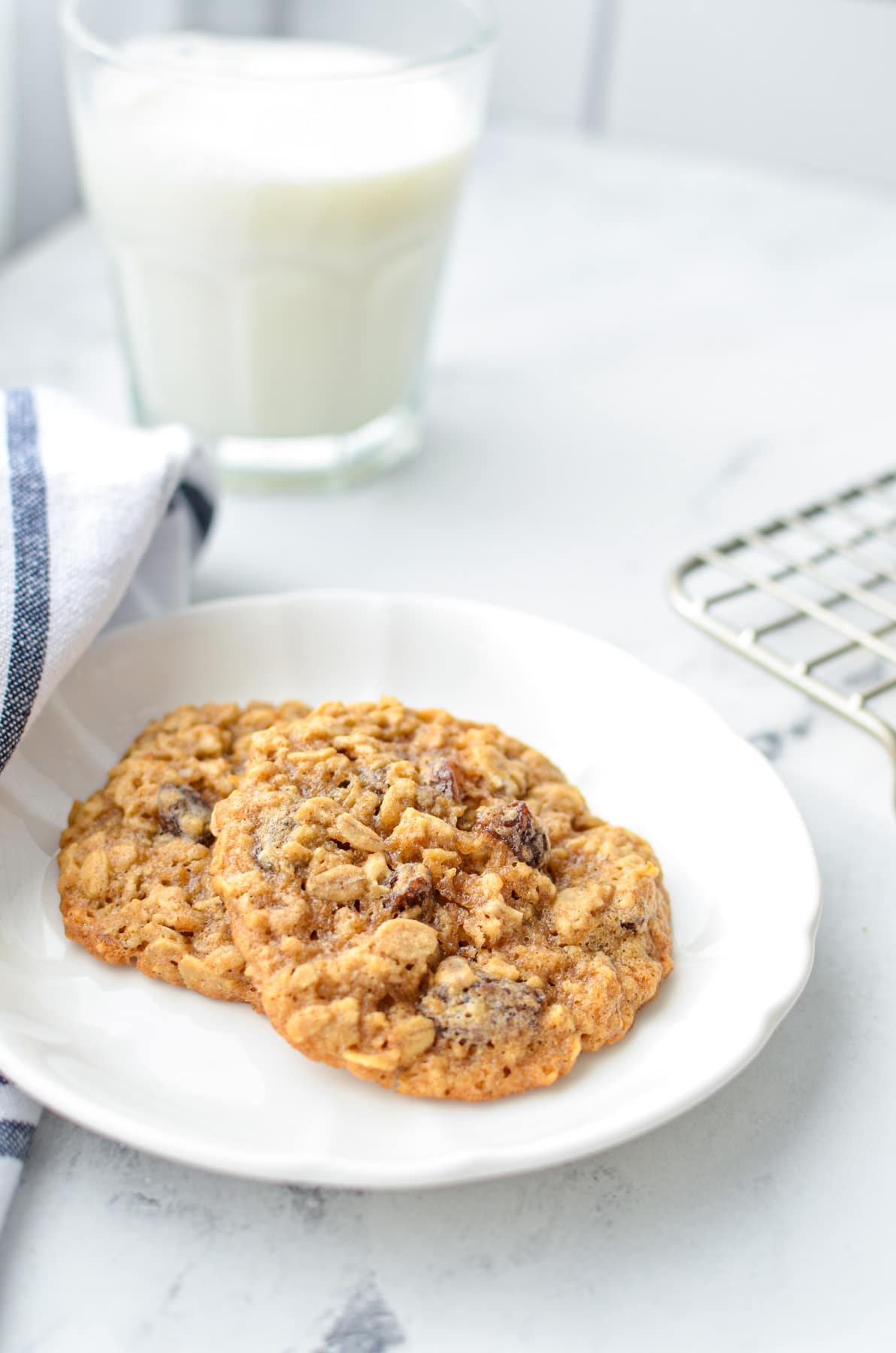 Expert Tips
It's important that you measure all of your ingredients correctly for the best possible results for these sourdough oatmeal raisin cookies. This means to not pack your flour in tightly, and keep a close note on what the recipe instructs to do (for example, using 1 egg + 1 egg yolk rather than two eggs or just one egg)
If your mixture is too crumbly and won't form into balls, too much flour has likely been added. This is a typical culprit because everyone measures flour differently, and some flours are more dense than others. The best way to measure is to scoop and level your flour.
Bake your sourdough oatmeal cookies until just the edges begin to brown. The rest of the cookie will look underdone, but this is okay! They will set up while cooling on the pan, and later on the cooling rack.
These cookies are crumblier than typical oatmeal raisin cookies, so just be careful when holding them. Otherwise, they taste just as good and are delightfully chewy!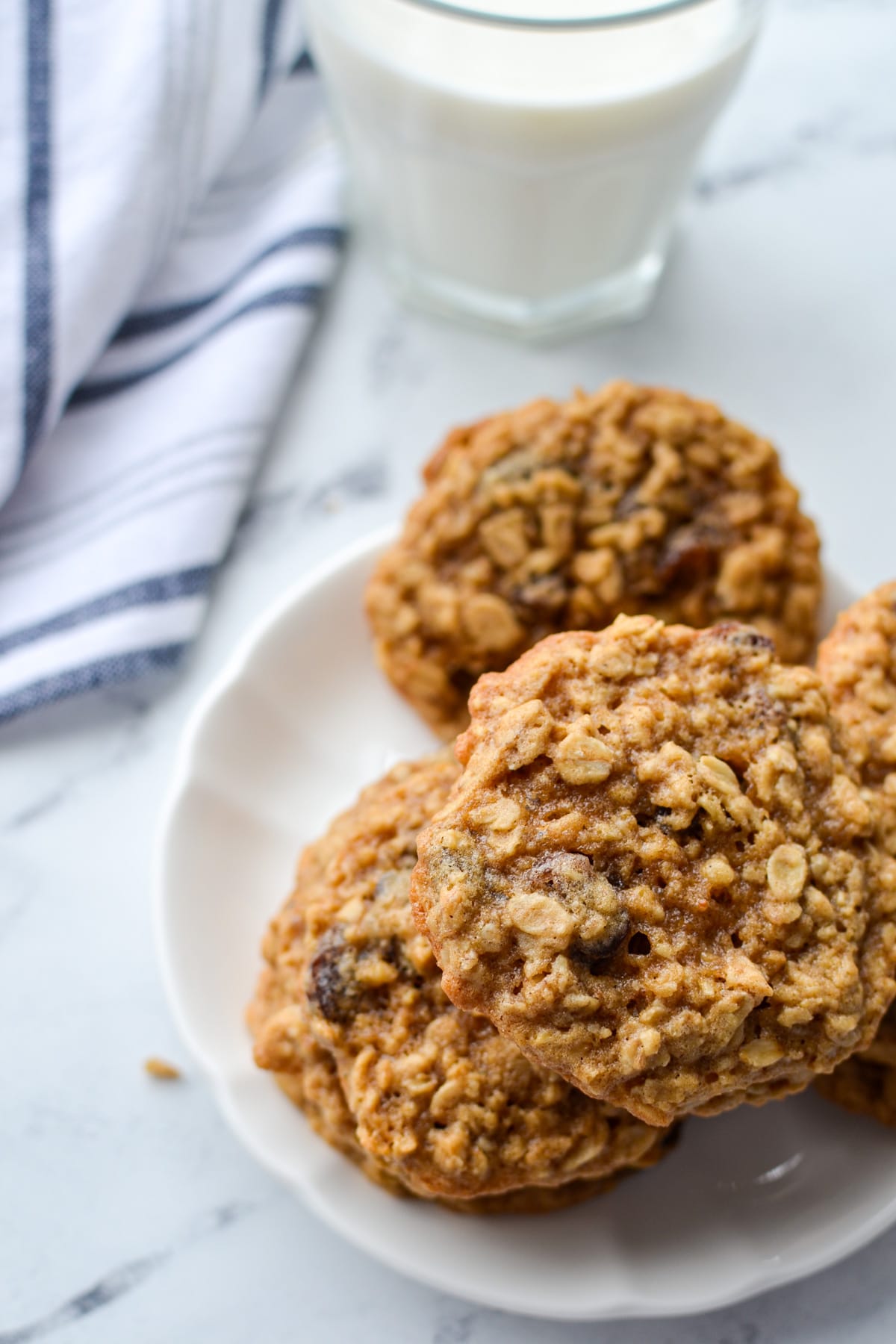 More Sweet Sourdough Recipes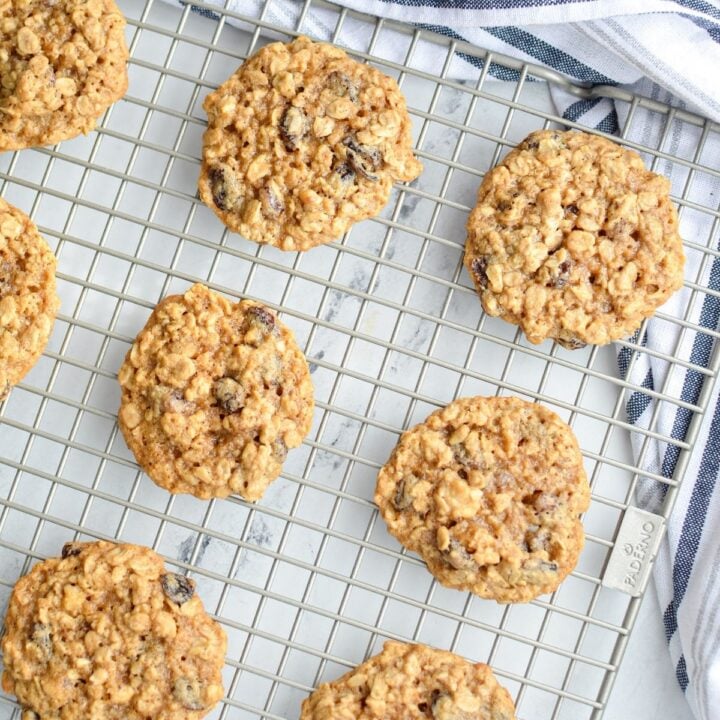 Sourdough Oatmeal Raisin Cookies
These Sourdough Oatmeal Raisin cookies are hearty, chewy, and so easy to make! All you need is some leftover sourdough starter and some pantry basics to get started!
Ingredients
1 cup softened butter
1 cup packed brown sugar
1/2 cup white cane sugar
1 large egg + 1 egg yolk
2 teaspoons vanilla extract
1/2 cup sourdough discard
1 cup + 2 tablespoons all purpose flour
1/2 teaspoon salt
1 teaspoon baking soda
1 teaspoon ground cinnamon
1/2 teaspoon nutmeg
1 1/2 cups seedless raisins
1/2 cup chopped walnuts (optional)
3 cups old fashioned rolled oats
Instructions
Preheat the oven to 350F and line two cookie sheets with parchment paper or a silicone liner.
Add the butter to a stand mixer that has been fitted with the paddle attachment. Whip the butter on medium-high speed until ultra fluffy, about 3 minutes. Stop and scrape down the sides of the mixer bowl one to two times during the process.
Add the brown sugar and white sugar to the stand mixer, and cream the sugars and butter together until light and fluffy, about 3-4 minutes. Scrape down the edges of the bowl as needed.
Add the egg and the egg yolk to the butter and sugar mixture, as well as the vanilla extract. Beat briefly on medium speed until the egg is fully incorporated.
Add the sourdough discard and mix briefly again, just until the mixture is uniform.
In a separate large bowl, add the flour, salt, baking soda, cinnamon, and nutmeg. Whisk to combine.
Add the dry ingredient mixture to the wet ingredients and mix on medium speed just until combined.
Add in the walnuts (if using) and raisins. Mix again just until the walnuts and raisins are evenly distributed.
Scrape down the edges of the bowl and add the rolled oats. Mix until just combined, and be careful not to overwork the dough. You are looking for a dough that easily sticks together when formed into a ball, although it won't be perfectly smooth.
Using a cookie scoop or tablespoon, portion the dough into 1 1/2" rough mounds.
Place on the prepared cookie sheets, 2" apart, and at about 12 cookies per half size sheet.
Bake the first cookie sheet in the oven for 10-12 minutes, or until just the edges are beginning to brown ever so lightly. They will look slightly undone and soft in the middle, and this is okay!
Remove the cookies from the oven, and bake the next prepared sheet of cookies for 10-12 minutes.
Allow your cookies to cool on the baking sheet for 2-5 minutes before transferring to a wire cooling rack to cool completely.
Once the baking sheet has cooled, prepare the next batch of cookies for the oven. Rotate the sheets back and forth until all of your cookies are baked.
Notes
Raisins: While many recipes for oatmeal raisin cookies call for soaking raisins to plump them up, be sure to use them as is for this sourdough version. Since we have added sourdough starter to the cookie dough, we want to make sure we don't add any additional liquid, which would throw off the consistency of the cookies.
Freezing: I would recommend if you want to freeze these cookies, to bake them, cool them, and store in freezer bags. I would not recommend freezing unbaked dough, since I haven't tested how that works with cookies with sourdough discard yet.
Nutrition Information:
Yield:

42
Serving Size:

1 Cookie
Amount Per Serving:
Calories:

119
Total Fat:

6g
Saturated Fat:

3g
Trans Fat:

0g
Unsaturated Fat:

3g
Cholesterol:

20mg
Sodium:

97mg
Carbohydrates:

16g
Fiber:

1g
Sugar:

10g
Protein:

2g
Nutrition information is an estimate only.