If you love the classic apple pie, you're going to be obsessed with this slightly tangy sourdough apple pie recipe! Made with sourdough pie crust, and filled with sliced fresh apples and a warm blend of spices. A delicious way to use up extra sourdough starter!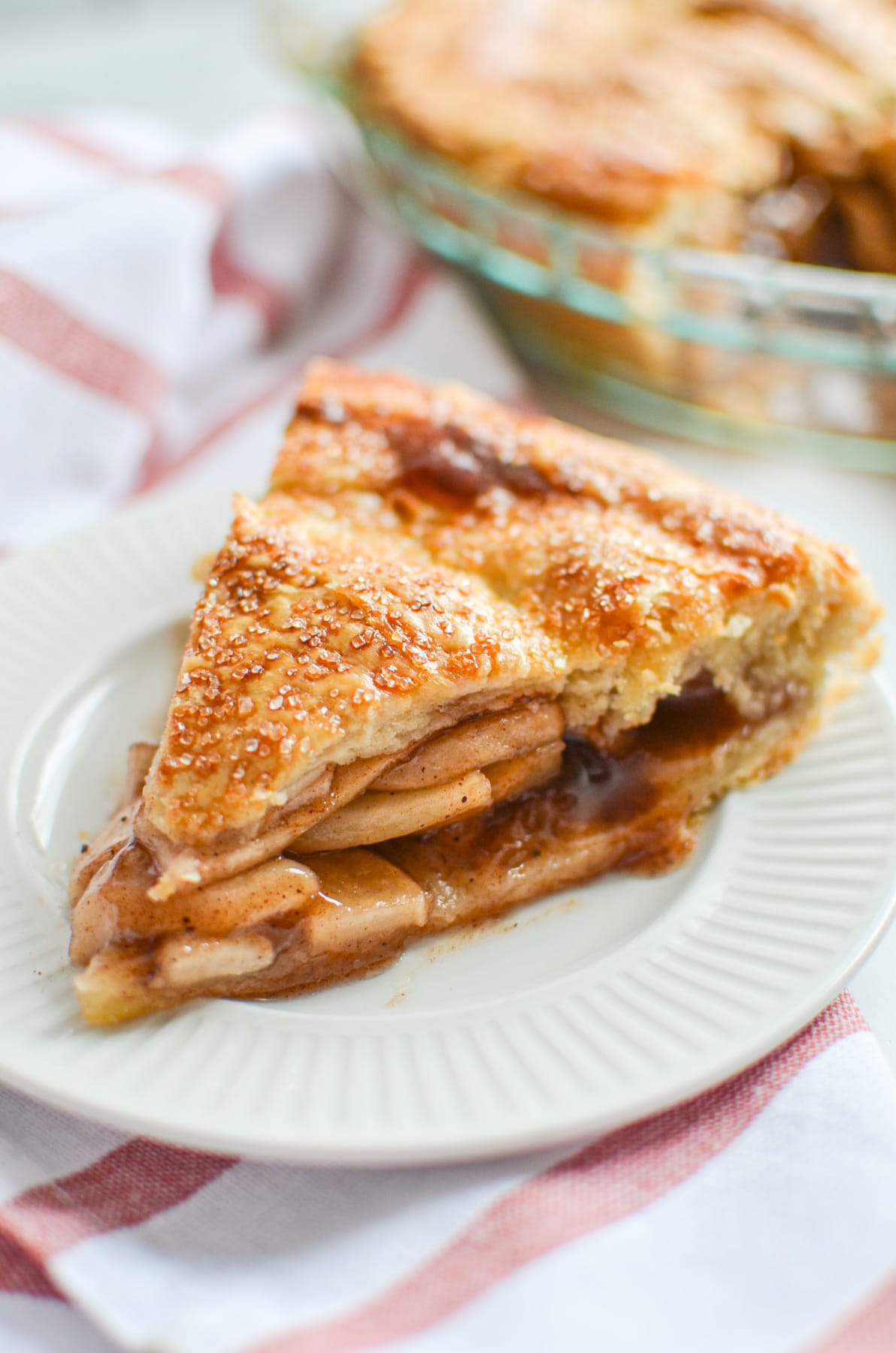 One of the things I like most about baking with sourdough is actually using the discard in some of my favorite baked goodies. Constantly having discard to use inspires me to get into the kitchen and recreate some of our favorite recipes using sourdough discard.
I've made sourdough oatmeal raisin cookies, sourdough lemon poppy seed muffins, and even sourdough Texas sheet cake! And it doesn't stop there, I've got tons of recipes dedicated to using your extra sourdough starter, and there will probably be many more to come.
One of my new favorite recipes is this classic inspired sourdough apple pie. It features a buttery, flaky sourdough pie crust with freshly sliced apples (I used Cortland and Granny Smith) and a warm blend of spices. Of course a little bit of cane sugar for sweetness, and a touch of maple syrup just because I love it so much.
If you're looking for a delicious sourdough dessert, I strongly encourage you to make this sourdough apple pie! Perfect for anytime of year, but it's especially delicious during the Fall and Winter months and makes a beautiful addition to the holiday table.
Let's get started!
Ingredients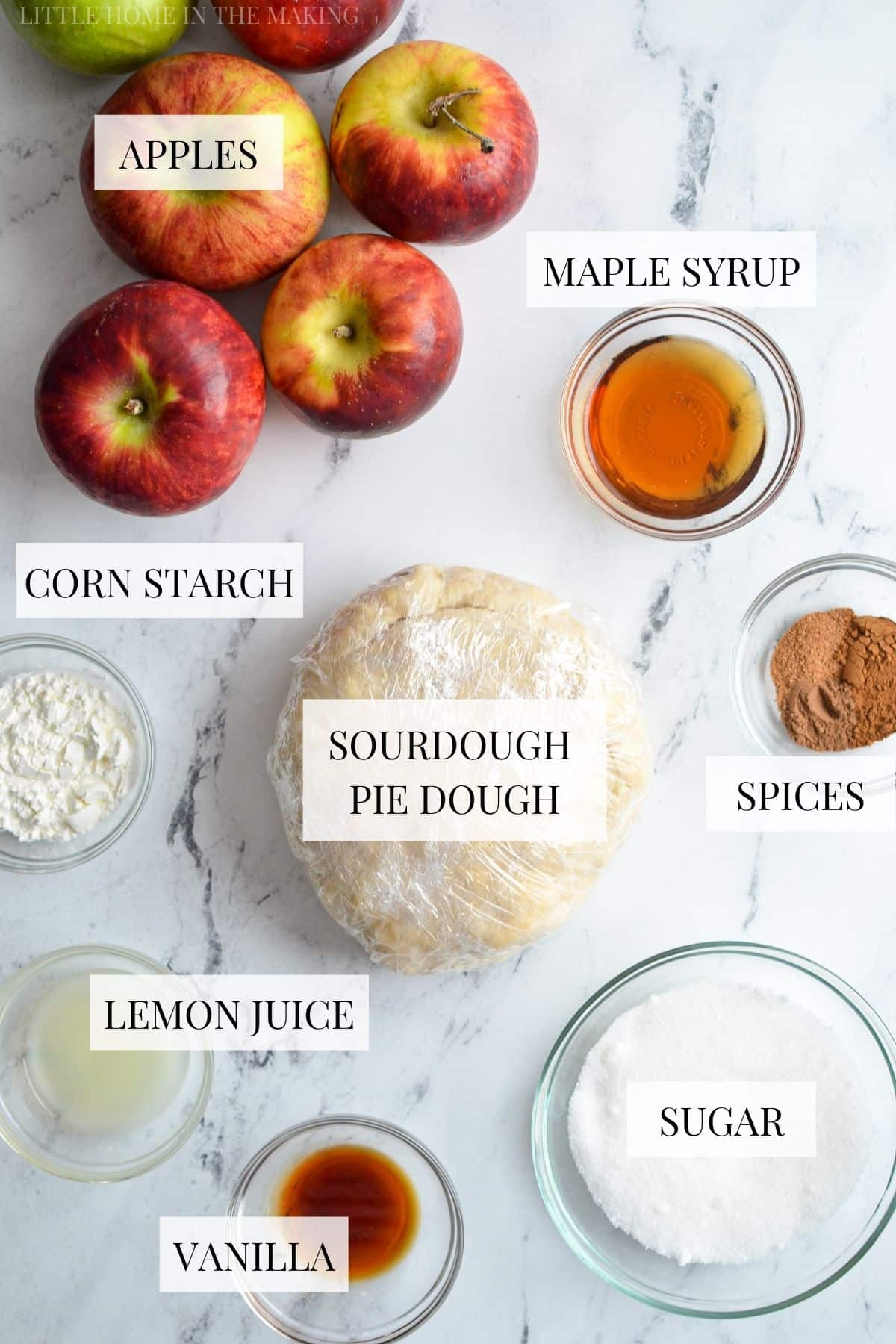 Sourdough pie crust: You'll need a double crust portion of sourdough pie crust. You can find my full recipe and tutorial in the dedicated post, OR you can see a summarized version in the recipe card.
Apples: About 3 pounds of apples is the perfect amount for this recipe. Use apples that hold up well in baking like Granny Smith, Jonagold, Honeycrisp, or Cortland. OR a combination of several.
Sugar: Some cane sugar to add sweetness.
Maple syrup: Just a little bit for a robust flavor. If you can't find real maple syrup, feel free to add brown sugar instead.
Cornstarch: or arrowroot starch. If don't have either of those, you can definitely use 3 tablespoons of unbleached flour in its place.
Spices: You'll need cinnamon, nutmeg, and allspice to get the classic warm flavors of apple pie.
Lemon juice: Either fresh or a good quality bottled lemon juice is fine.
Vanilla extract: Are you even baking if you're not using vanilla!?
How to Make Apple Pie with a Sourdough Crust
Before you start making the filling for your apple pie, you will need to have a prepared sourdough pie crust that has been chilled for at least 2 hours (or up to overnight).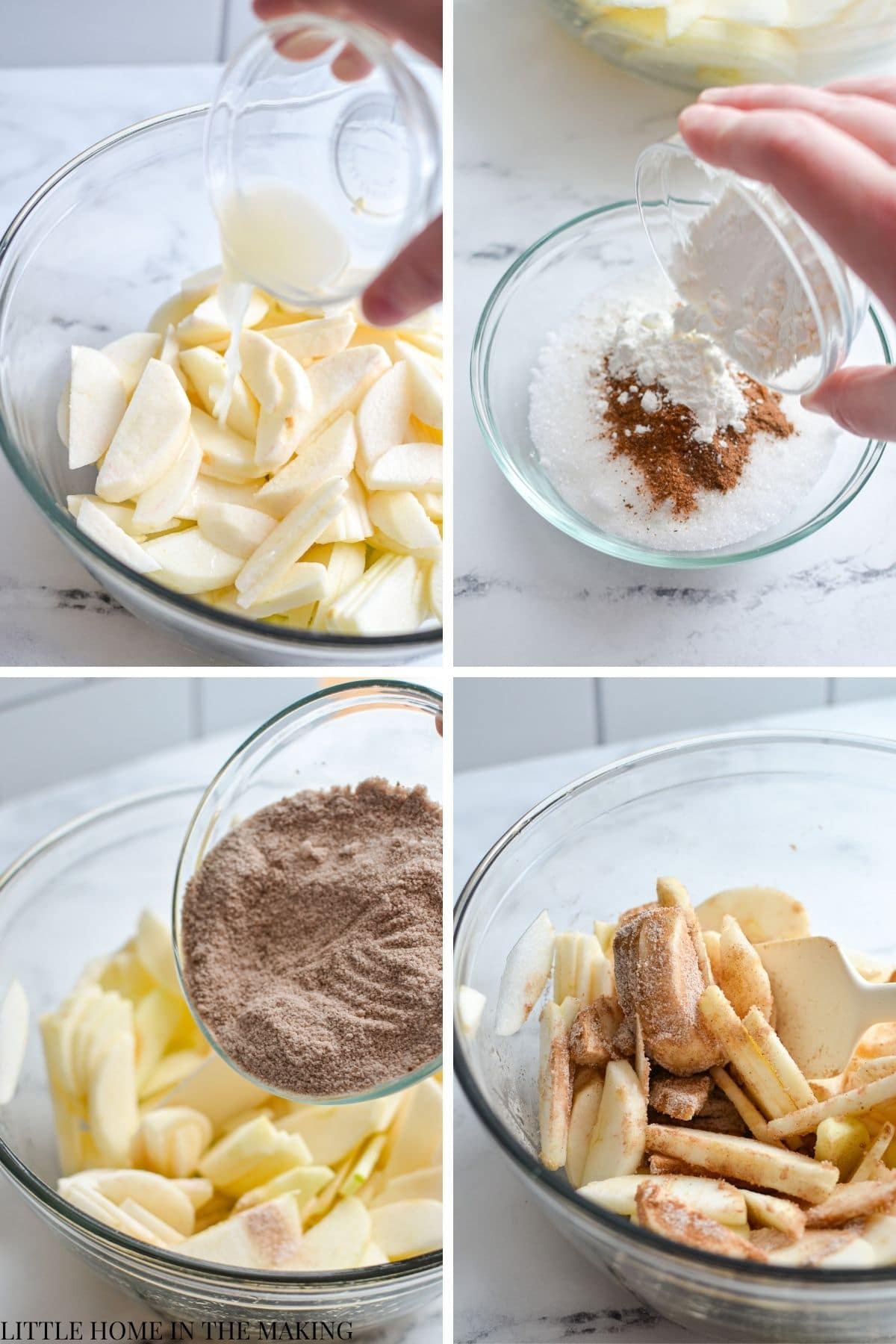 Preparing the Apples
To get started, peel and slice your apples into 1/4″-1/2″ slices. Add them to a big bowl and toss with lemon juice. This will prevent browning while you get the rest of the ingredients together.
Then, combine the sugar with the spices and corn or arrowroot starch. You could also use 3 tablespoons of flour if you don't have either of those ingredients on hand.
Add the sugar and spice mixture to the apples and toss well to combine.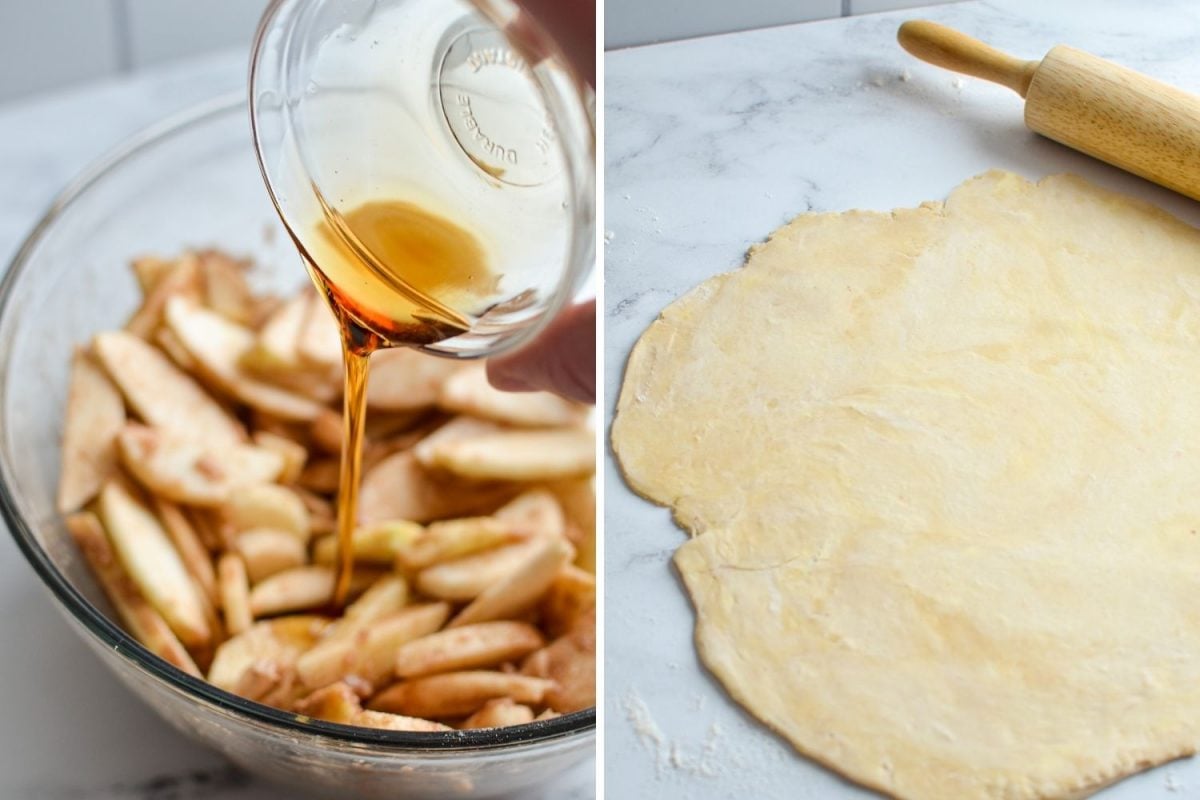 Add the vanilla extract and maple syrup to the apples and toss well to combine. Set aside.
Divide your chilled sourdough pie crust in half. Lightly flour the counter and roll one half of the dough into a large circle, or about 2″ larger than the diameter of your pie plate.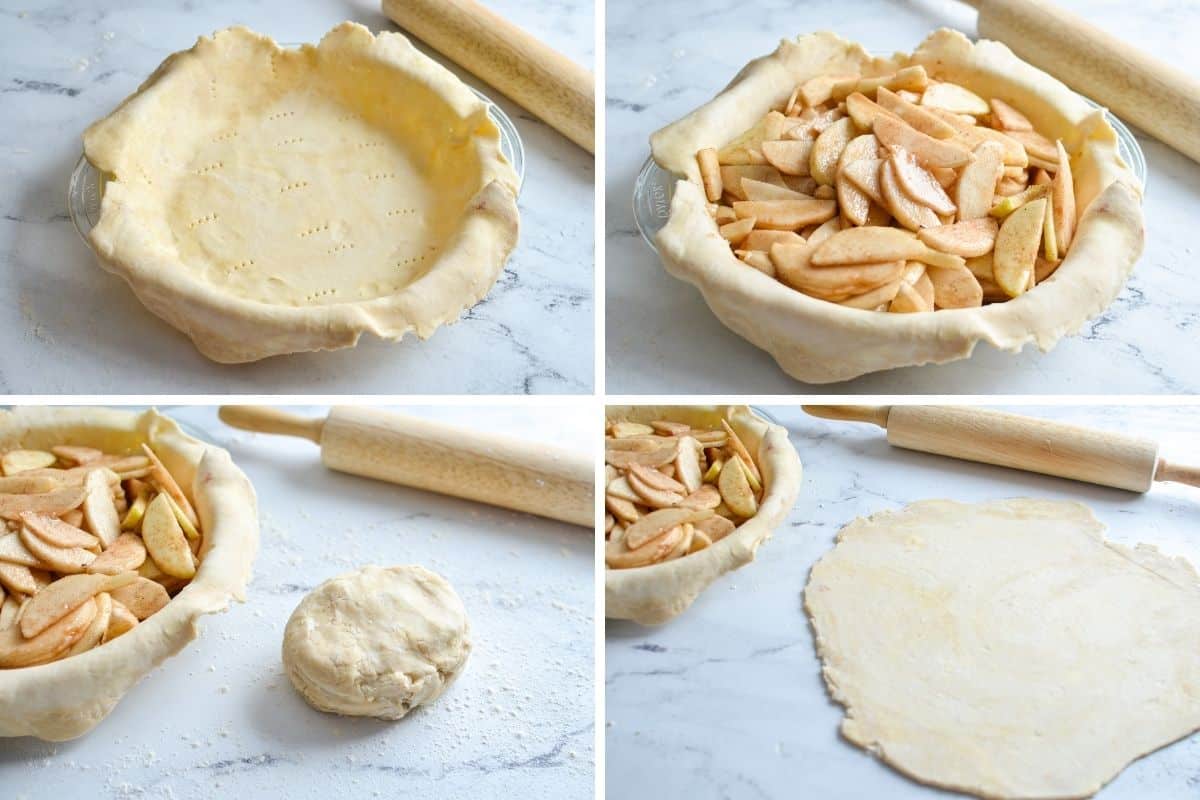 Filling the Pie
Place the rolled out dough into your pie plate, and press it into the bottom and up the sides using your hands. Prick the surface of the bottom and sides with the tines of a fork.
Add the coated apple filling to the pie shell, spreading it out evenly.
Roll the remaining half of the dough out on a lightly floured counter, until it is about 1 1/2″ larger than the widest diameter of your pie plate.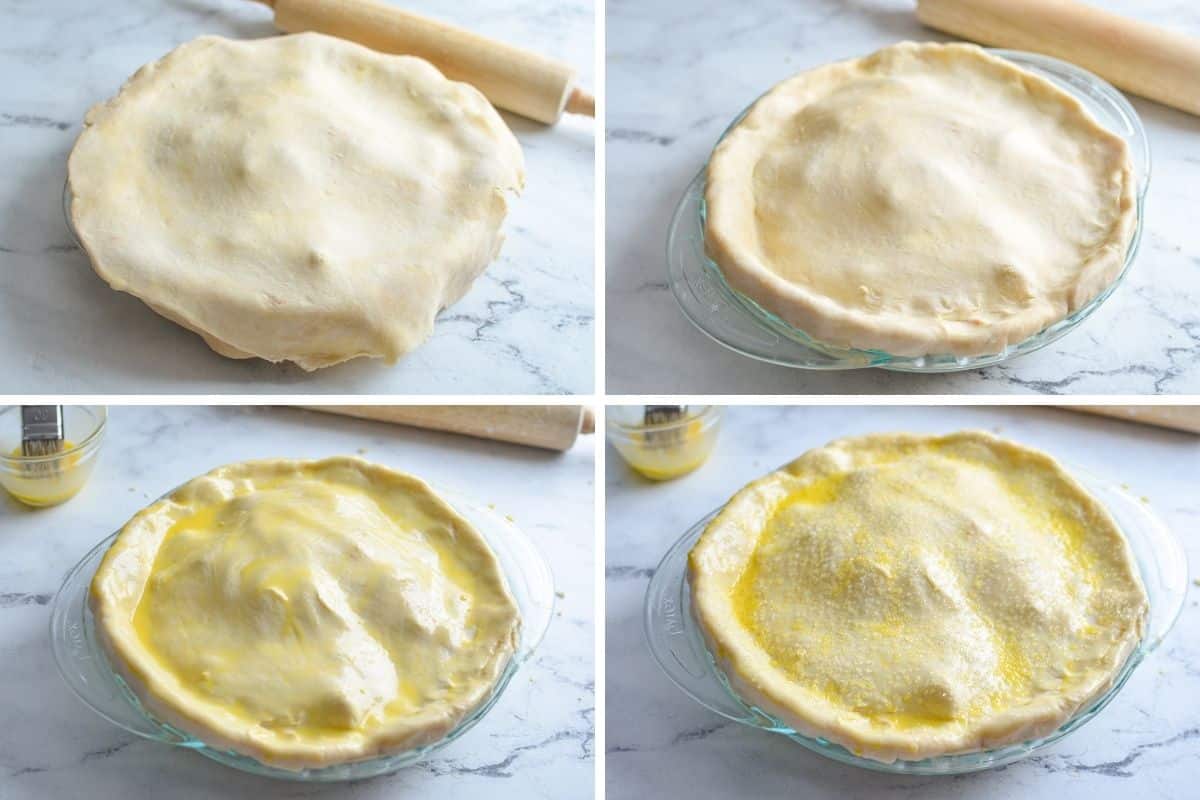 Drape your dough circle over the filled apple pie, and press along the edges to seal with the bottom crust.
Trim the edges so that the overhang on any side does not exceed 1″. Tuck the edges of the dough under themselves, and pinch together to form an edge. If desired, you can make a pretty pattern using your thumb but I like to keep it simple!
Combine 1 egg yolk with some milk in a small bowl and whisk until combined. Brush the surface of the pie with the egg wash using a pastry brush.
If desired, sprinkle the top of the pie with coarse sugar. This gives it a real bakery style feel!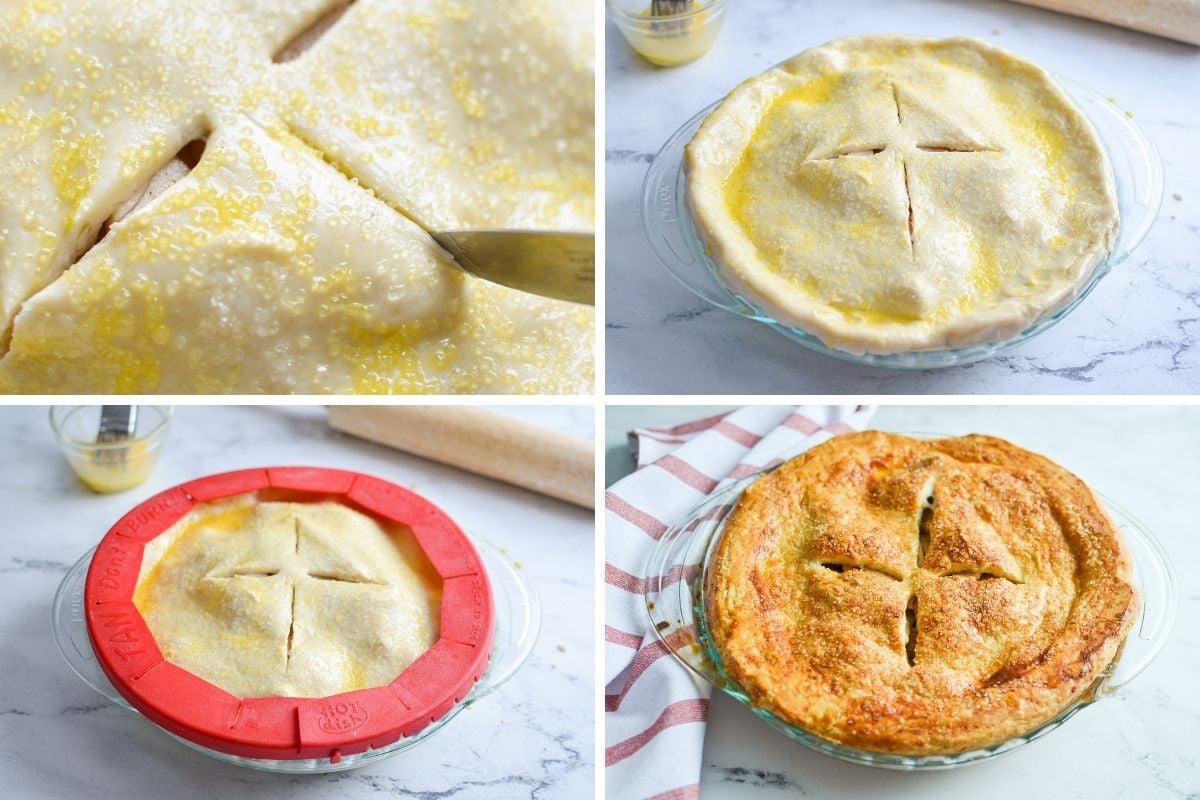 Baking the Pie
Use a sharp knife to cut 4 vent holes in the top of the pie.
Place a pie shield around the edge of the pie, to prevent the edges from burning.
Bake in an oven preheated to 375­°F for 20 minutes, placing your pie in the bottom third of the oven.
When the 20 minutes is up, reduce the heat to 350F and bake the pie for an additional 50 minutes, removing the pie shield during the final 20 minutes of cooking. Using the pie shield in this way will prevent burning, but then allow a gentle browning towards the end of the baking time.
Remove your pie from the oven and allow to cool for at least one hour before slicing and serving.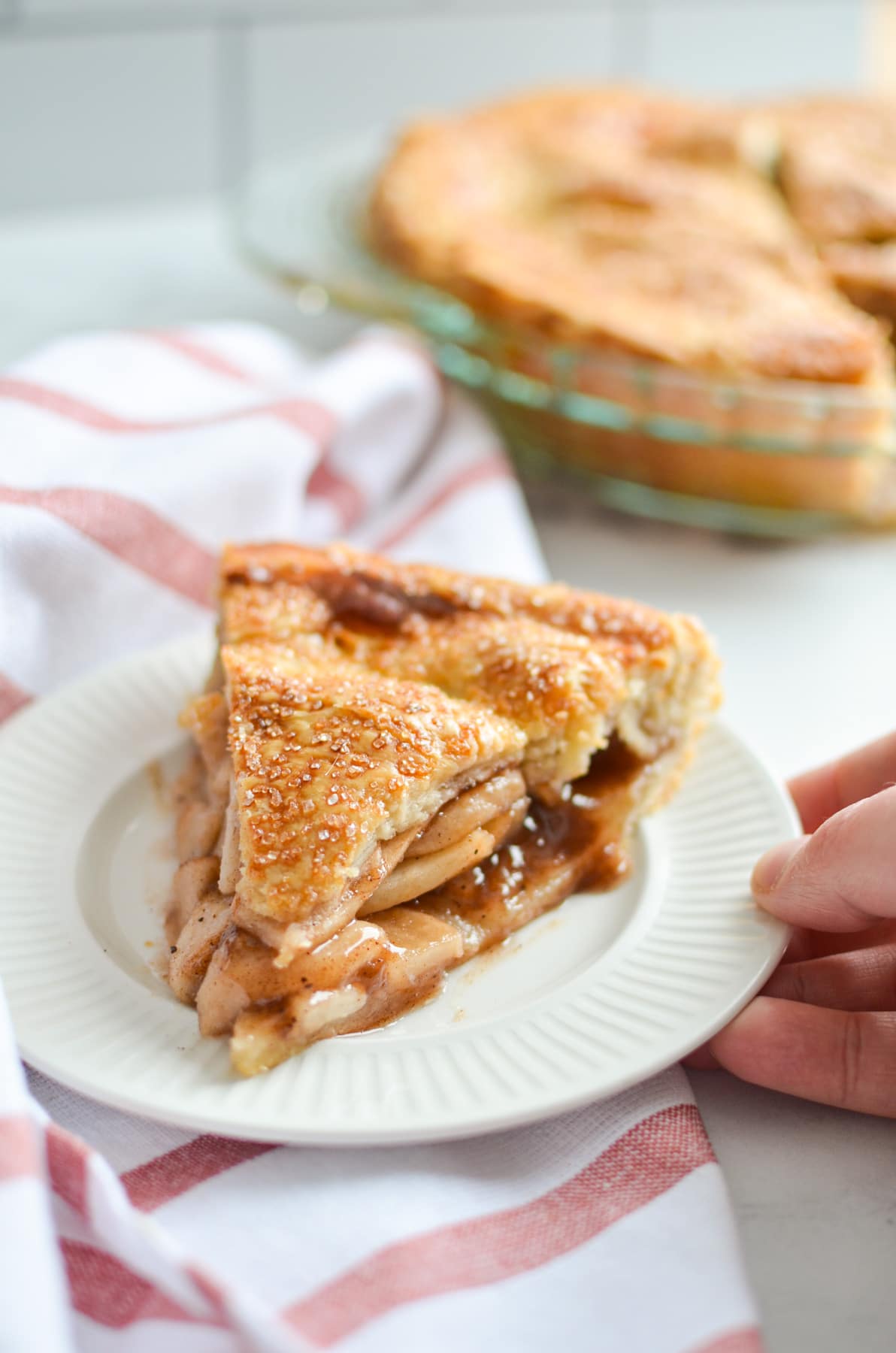 Expert Tips
A pie shield is a good investment for the baker who enjoys the occasional (or frequent) pie. It shields the vulnerable edges from the heat of the oven, and prevents it from becoming burned while the rest of the pie becomes a golden brown. When you bake with a pie shield, you have the ability to control how much heat and browning the edges will have. This has been a great tool to have in my kitchen and costs around $8!
The easiest way to roll a pie crust is to turn it clockwise and flip it over often. Once you've practiced rolling a few times it does get easier, and the circle does NOT have to be perfect. It's easy to trim off the excess, so don't worry about forming the perfect circle.
The key to a sourdough pie crust that is easy to roll out and flaky, is COLD. Cold water, cold butter, and cold lard. These things will help your pie dough come together well and make it easy to roll out.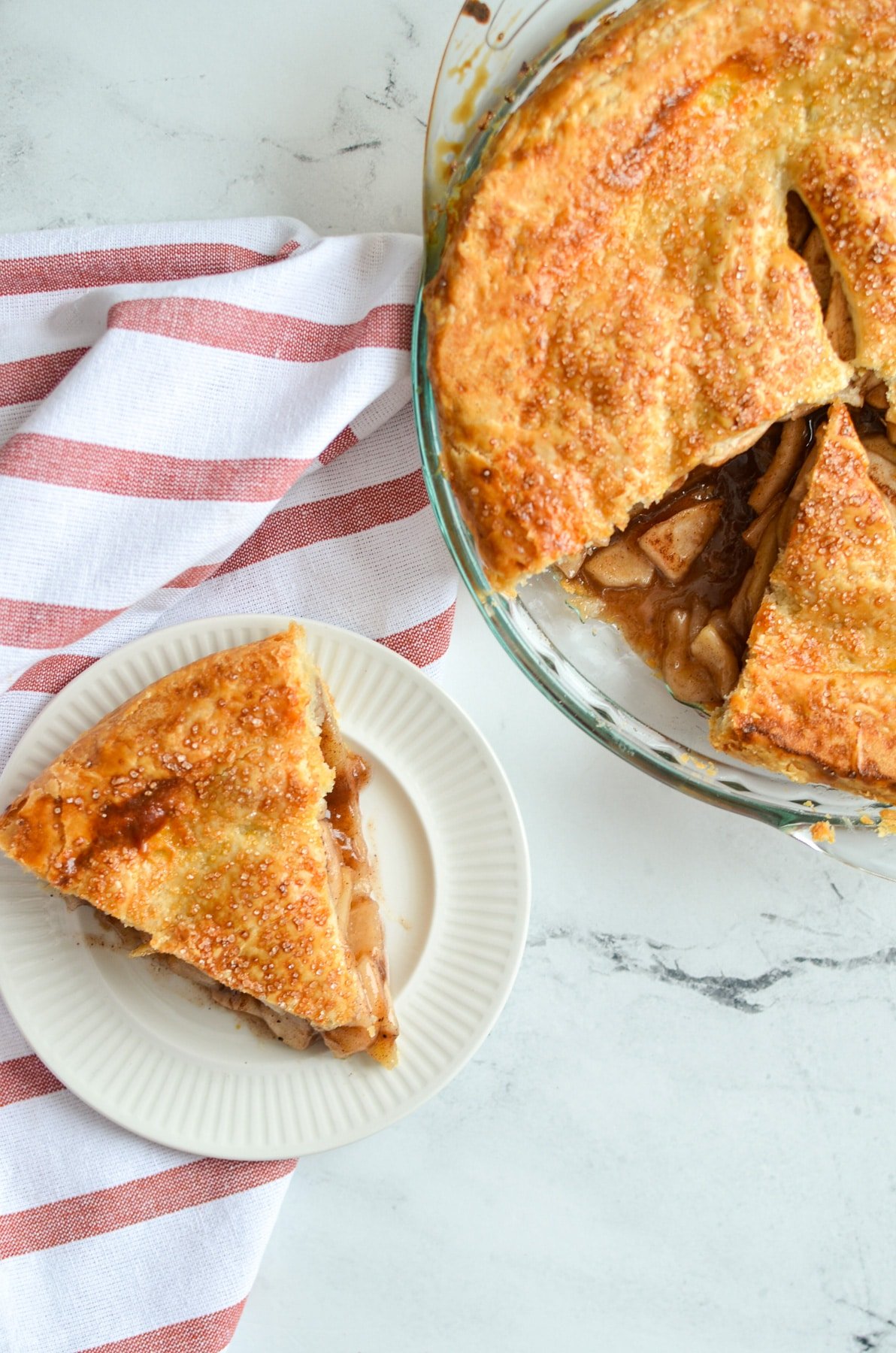 Frequently Asked Questions
Do you cook apples before putting them in a pie?
The general answer is no, you do not need to cook apples before adding them to a pie. Although certain recipes may call for caramelizing the apples before adding them to the prepared pie shell, most recipes just add the sliced apples along with some spices, sugar, and a few other ingredients.
How do you keep the bottom crust of apple pie from getting soggy?
The best way to prevent the bottom of your pie crust from getting soggy is to make sure you add your filling just before you're ready to bake, and start off your baking time in the bottom third of the oven. This gives the bottom pie crust a chance to crisp up and hold its own against the moist filling.
What kind of apples are best for making apple pie?
The best apples for making apple pies are the ones that tend to hold up the best during baking. This includes Granny Smith, Jonagold, Honeycrisp, Braeburn, Cortland, Golden Delicious, and Gala apples.
How do you thicken apple pie filling?
You can thicken your apple pie filling by adding 1-2 tablespoons of cornstarch or arrowroot powder, or up to 3 tablespoons of all purpose flour.
More Desserts Using Sourdough Discard: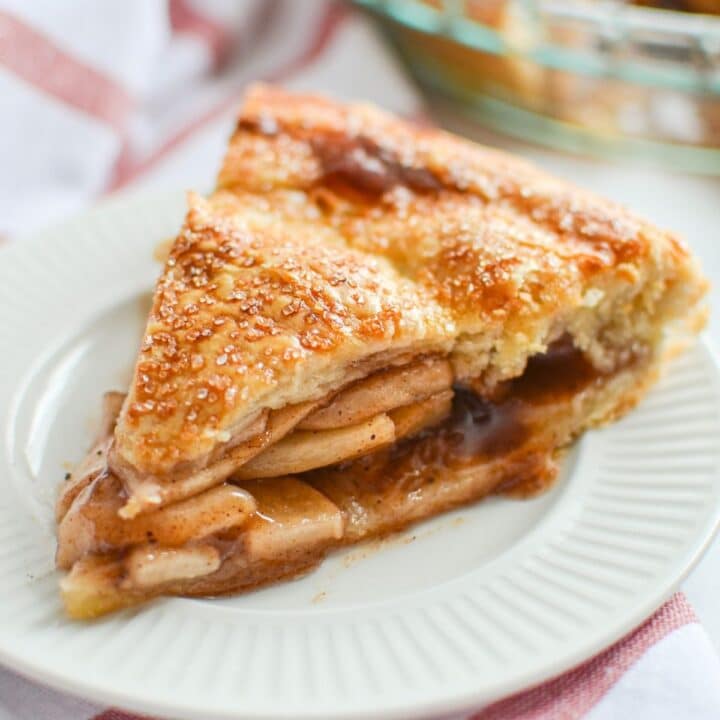 Sourdough Apple Pie
Cook Time:
1 hour
10 minutes
Total Time:
1 hour
25 minutes
This classic sourdough apple pie is filled with warm flavors, slight sweetness, and a delicious tang thanks to the addition of sourdough starter.
Ingredients
6 large apples (approximately 3 pounds)
1 tablespoon lemon juice
½ cup cane sugar
2 tablespoons cornstarch (or arrowroot powder, OR 3 tablespoons flour)
1 teaspoon cinnamon
¼ teaspoon allspice
¼ teaspoon nutmeg
2 tablespoons maple syrup
1 teaspoon vanilla extract
Sourdough Pie Crust, chilled
Egg Wash
1 egg yolk
1 tablespoon milk
Coarse sugar, for sprinkling (optional)
Instructions
Place one of your oven racks in the bottom third of the oven. Place the second rack under that one, and place a baking stone or sheet on the bottom rack.
Preheat the oven to 375F.
Peel, core, and slice your apples, and place in a large bowl.
Add lemon juice to the apples and toss to combine. This will prevent the apples from browning.
Add the sugar, cornstarch, cinnamon, allspice, and nutmeg to a small bowl. Whisk to combine.
Sprinkle the sugar and spice mixture to the bowl of apples and toss well to coat the apples.
Add the maple syrup and vanilla extract and stir well. Set aside.
Cut your chilled sourdough pie crust in half, and roll it out on a lightly floured counter or pastry mat.
Roll your sourdough pie crust into a circle, and drape into an ungreased pie plate. Press the dough into the plate to fit, and poke the surface several times with the tines of a fork.
Add the apple pie filling into the pie shell, and spread it out evenly. Make a slight mount of apples in the middle.
Flour the counter and roll the remaining pie dough into a circle, and place on top of the apples and the bottom crust. Press the two layers together.
Use a pair of kitchen scissors to trim the pastry so the edge hangs no more than ¾" over the edge of the pie plate.
Fold the edges under themselves, and form a crust with the lip. Crimp using your thumbs, or a fork if desired.
Combine the egg yolk with 1 tablespoon of milk, whisking well.
Brush the egg wash on top of the pie crust, and alongside the edges. Brush on just enough to coat lightly, and discard the rest.
Sprinkle with coarse sugar (if desired), and add 4-5 large slices in the middle of the pie with a sharp knife.
Fit the edges with a pie shield and bake in the oven for 20 minutes.
Reduce the heat to 350F and bake for an additional 50 minutes, removing the pie shield and rotating the pie 25 minutes before the end of the baking time.
Once your pie is browned and the filling is lightly bubbling, remove from the oven and cool for at least 1 hour, or until room temperature.
Slice and serve as desired!
Notes
Sourdough Pie Crust: Find the full instructions in the dedicated recipe post for sourdough pie crust.
Ingredients:
2 cups + 2 tablespoons all purpose unbleached flour
½ teaspoon salt
½ cup cold, cubed lard
½ cup cold, cubed butter
½ cup sourdough starter or discard
Ice water
Add the flour and salt to a bowl. Whisk well to combine.
Add the cold, cubed butter and lard and cut in with a pastry blender until it resembles coarse crumbs.
Add the sourdough discard and fold it in until combined.
Add ice water, 1-2 tablespoons at a time, until the dough comes together when worked with your hands.
Wrap your sourdough pie dough tightly in plastic wrap and chill in the fridge for at least 2 hours, or up to 4 days.

Nutrition Information:
Yield:

8
Serving Size:

1
Amount Per Serving:
Calories:

288
Total Fat:

7g
Saturated Fat:

2g
Trans Fat:

0g
Unsaturated Fat:

4g
Cholesterol:

23mg
Sodium:

143mg
Carbohydrates:

57g
Fiber:

5g
Sugar:

35g
Protein:

3g
Nutrition information is an estimate only.
Please note that some of my blog posts here at Little Home in the Making may contain affiliate links. If you make a purchase through these links, I will get a small commission at no additional cost to you. See our disclaimer for more information.