This flaky sourdough pie crust recipe is the perfect classic pie crust for using in both sweet and savory pies. Made with butter, lard, and a few pantry basics, this sourdough pie crust uses no yeast and is perfect for everything from a sweet apple pie, to a creamy chicken pot pie. Flaky, simple, and easy to roll out, it's sure to become a new favorite!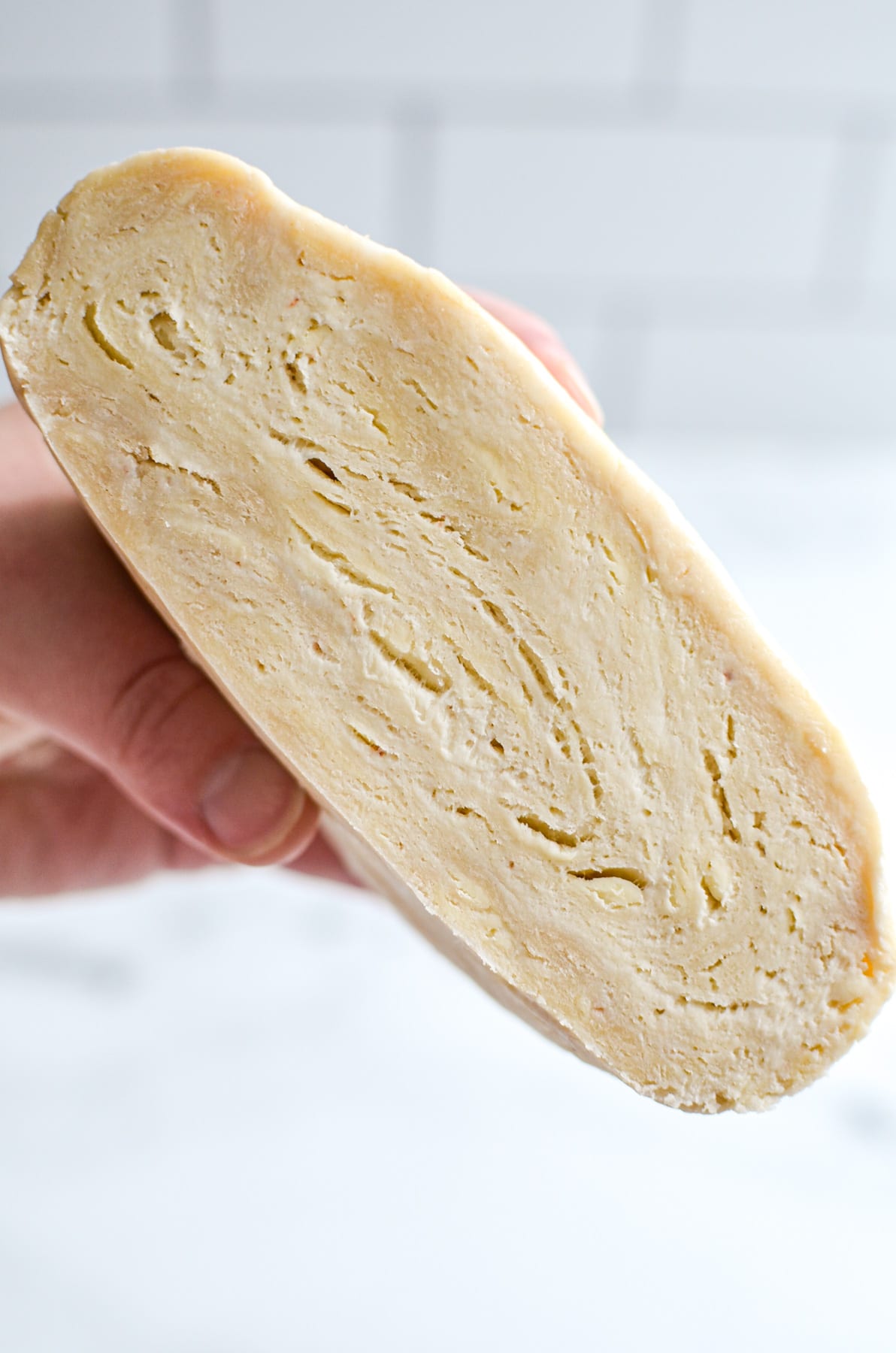 I've been making a version of this sourdough pie crust for over 12 years. Over those years I've learned all kinds of tips and tricks for getting a flaky and delicious result every time. I've been experimenting with various sourdough pie crust recipes over the past several years of being a sourdough baker, but I thought it was time to convert my own much beloved recipe.
This classic pie dough combines both butter and lard for a super flaky, flavorful, and semi-sturdy pie crust that always gets rave reviews. When my husband's Grandfather was alive, I would bring the occasional pie to Sunday dinner or the odd family event, and he always raved about my pie crust, and how it was just like Granny's. My husband happens to think it's better than Granny's, but we will keep that a tightly lipped secret!
Adding Sourdough Discard
This variation of my classic crust features the addition of sourdough discard. Not only does this add a pleasant tang and use up a bit of leftover starter, but it also has the added benefit of providing a very slow fermentation when stored in the fridge over several days. This recipe is not fully fermented, but some of the benefits typically attributed with sourdough will be present, AND it's better than a fully unfermented, standard pie crust.
Note: If you want your pie dough to have more of the fermentation benefits, you can use active starter and allow your dough to rest at room temperature for several hours before moving to the fridge for a cold fermentation for 3-4 days.
Ingredients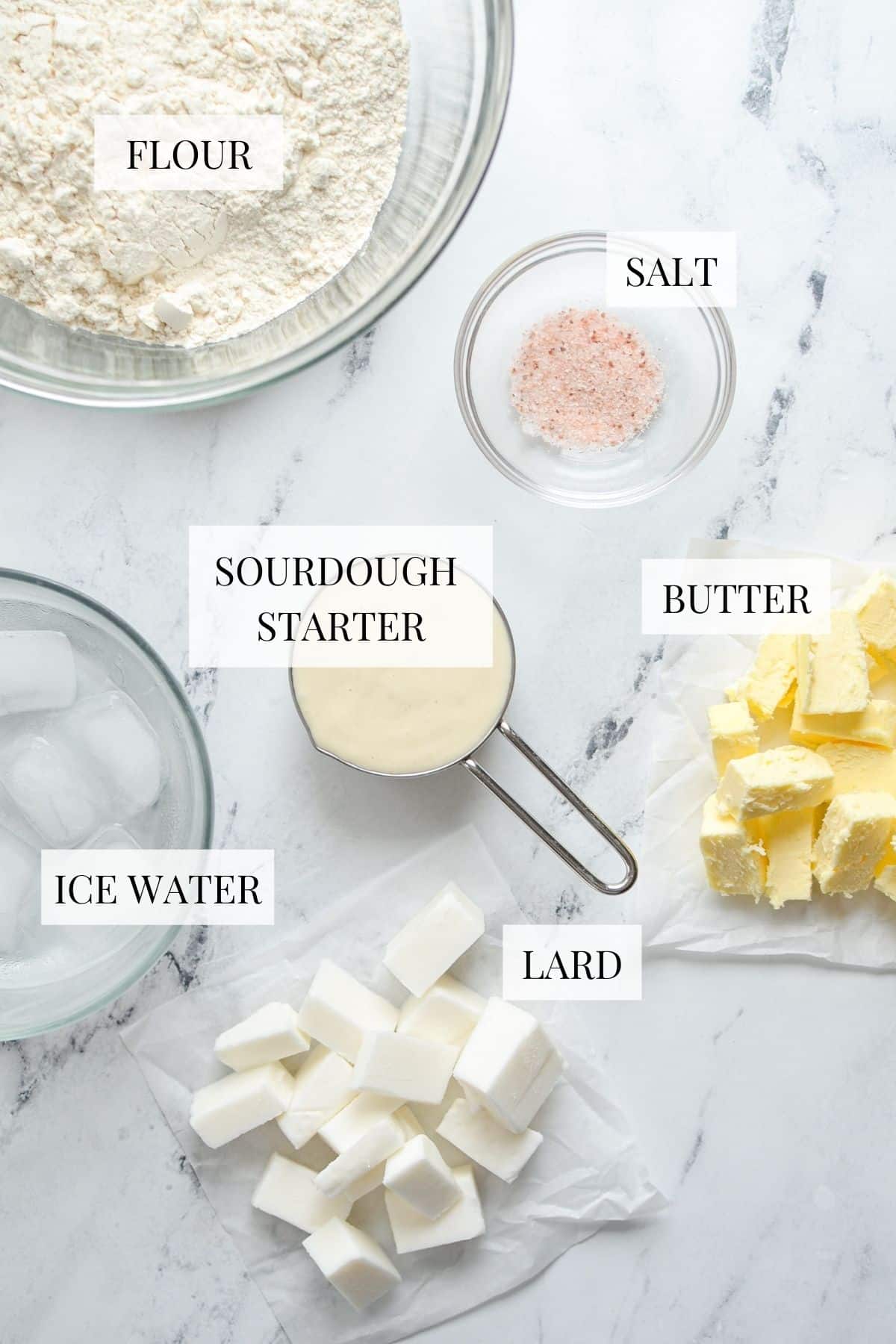 Sourdough starter: For this recipe, you can use either active starter or discard. I like to use discard since I always seem to have some available.
Butter: I like to use unsalted butter in my pie crust recipes, but salted works just fine too! Unsalted allows you to have more control and flexibility.
Lard: In my opinion, this is one of the secrets to a delicious pie crust. Either store bought, or homemade, lard adds a flaky texture to your pie crust and mixes perfectly with the butter for a balanced fat profile. You can definitely do all butter if you want, but I have made my pies with half and half for years and always get rave reviews!
Flour: All purpose unbleached is what I used, and what I recommend for most sourdough baking.
Salt: Any style of salt works, but I like Redmond's Real Salt best.
Ice water: Prepare a small bowl of ice water just before getting started. Using very cold water is essential to bringing your pie crust together and making it flaky and easy to roll.
Equipment:
Whisk
Pastry blender – An essential tool if you plan on becoming a pie baker! You can use two forks in a pinch, but a pastry blender makes things 1000% easier.
Rolling pin
Pie shield – This protects the edges of your pie crust, meaning that the edges will not burn while you wait for the rest of the pie to brown. You can see how this works in my recipe for Sourdough Apple Pie.
How to Make a Pie Crust with Sourdough Starter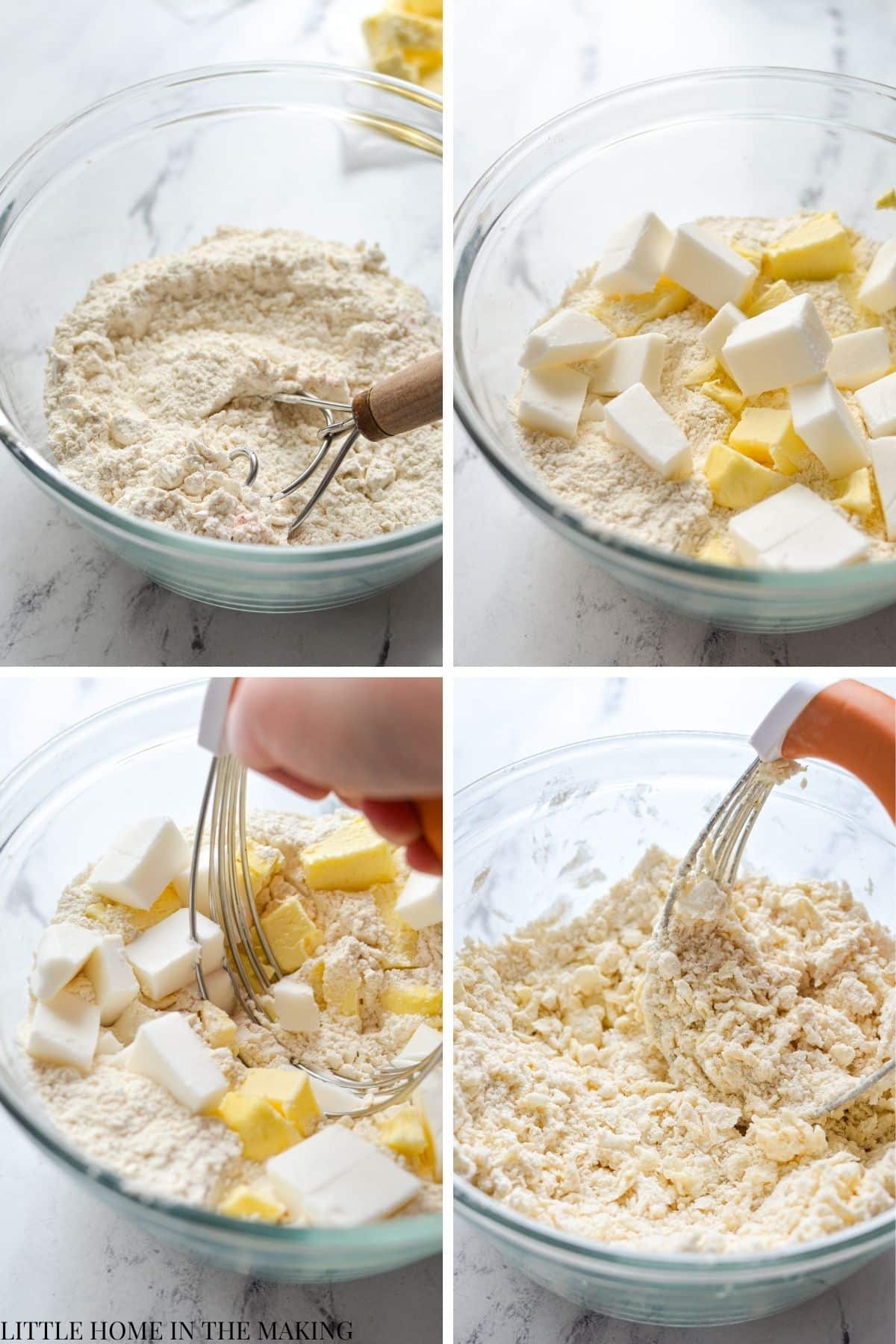 To get started, get a large bowl and add in your flour and salt. Give it a good whisk to combine. I like to use a Danish dough whisk for my sourdough baking, but you can use a standard whisk for this very easily!
Add in the cold cubed butter and lard. It's very important that these are super cold, so make sure you leave them in the fridge until you're ready to add them in.
Use a pastry blender (or two forks) to cut the butter and lard into the flour mixture, pressing the cubes through the blender again and again until the mixture resembles coarse crumbs.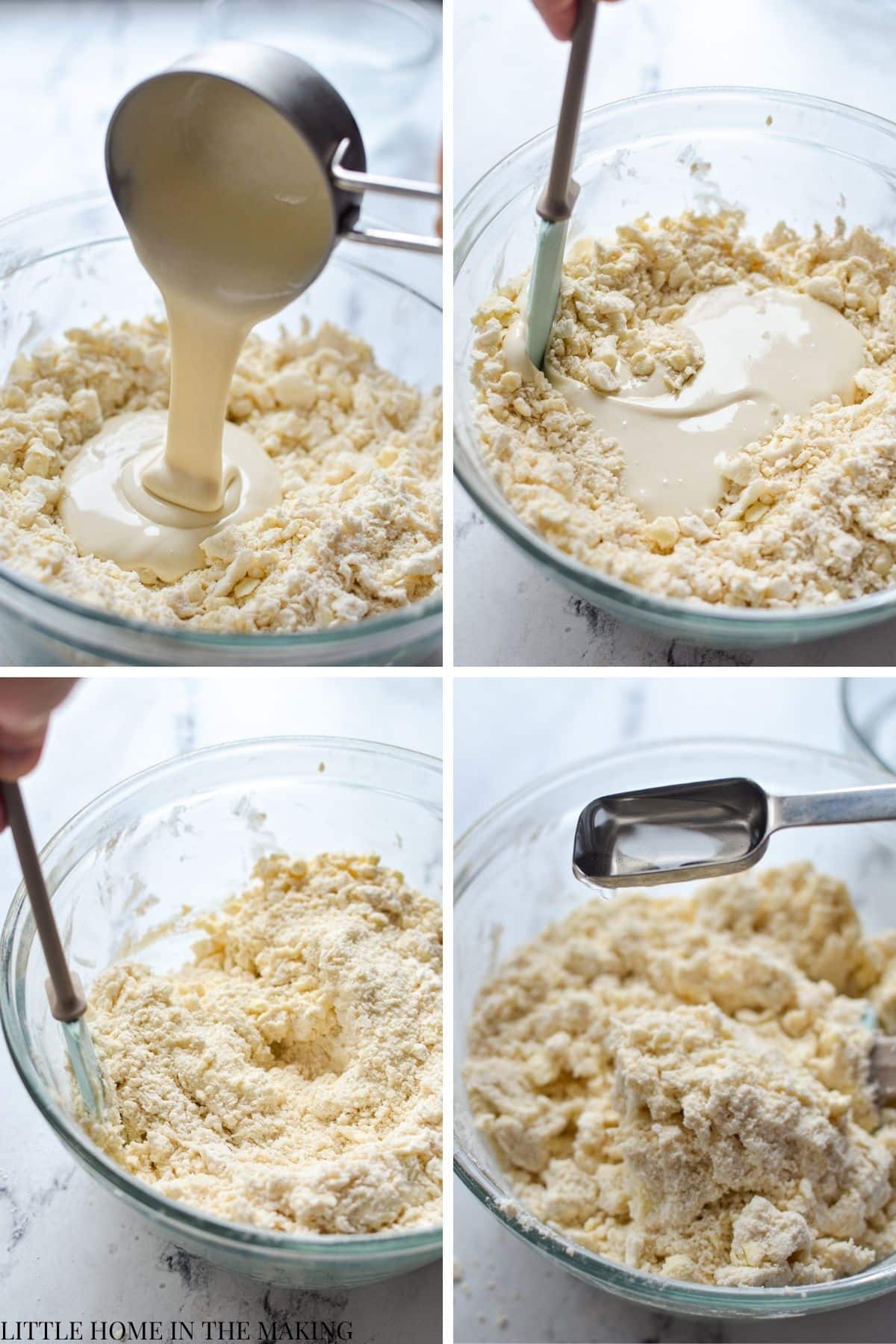 Once your butter and lard have been cut into the flour, add your sourdough discard to the flour and fat mixture.
Fold the sourdough starter in gently, until well distributed.
Add in two tablespoons of ice water to the mixture, and fold it in to combine.
Add the ice water, one tablespoon at a time, and then mixing it in, until the dough starts to come together.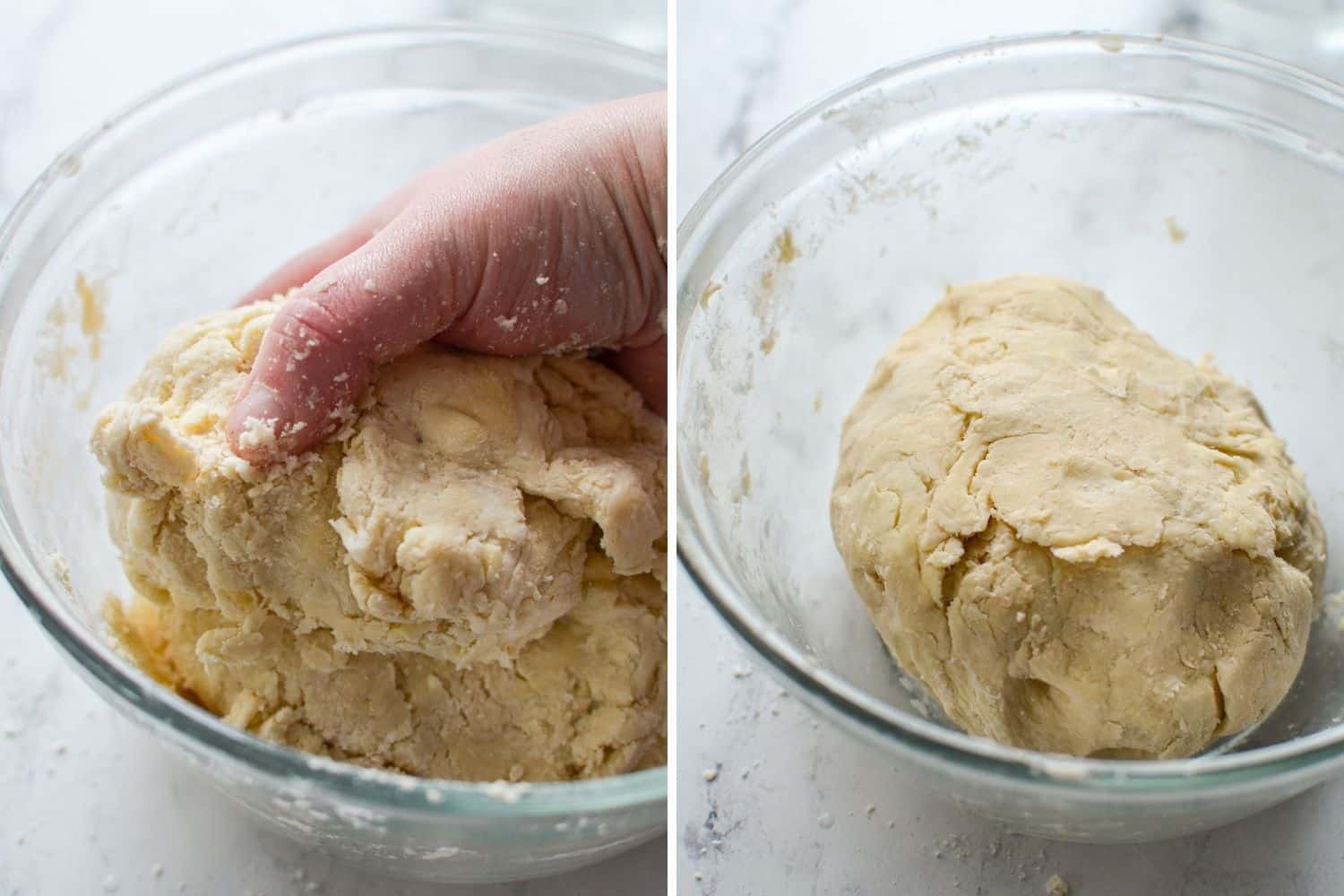 Bringing the Pie Dough Together
Once the dough starts to show signs of coming together, use your hands to bring it into one cohesive shape. If it is still very dry, add some water and mix it in with your hands.
You are looking for a dough that is not dry, but not very wet or smooth either. Overall, it should be slightly shaggy but definitely one solid mass.
Chilling the Dough
Once your dough comes together, place a sheet of plastic wrap on the counter and add your dough ball. Pat it into a disc, and wrap the plastic around it tightly.
Place your sourdough pie crust in the fridge to chill for a minimum of 3 hours, or for up to 4 days.
Rolling and Baking Your Sourdough Pie Crust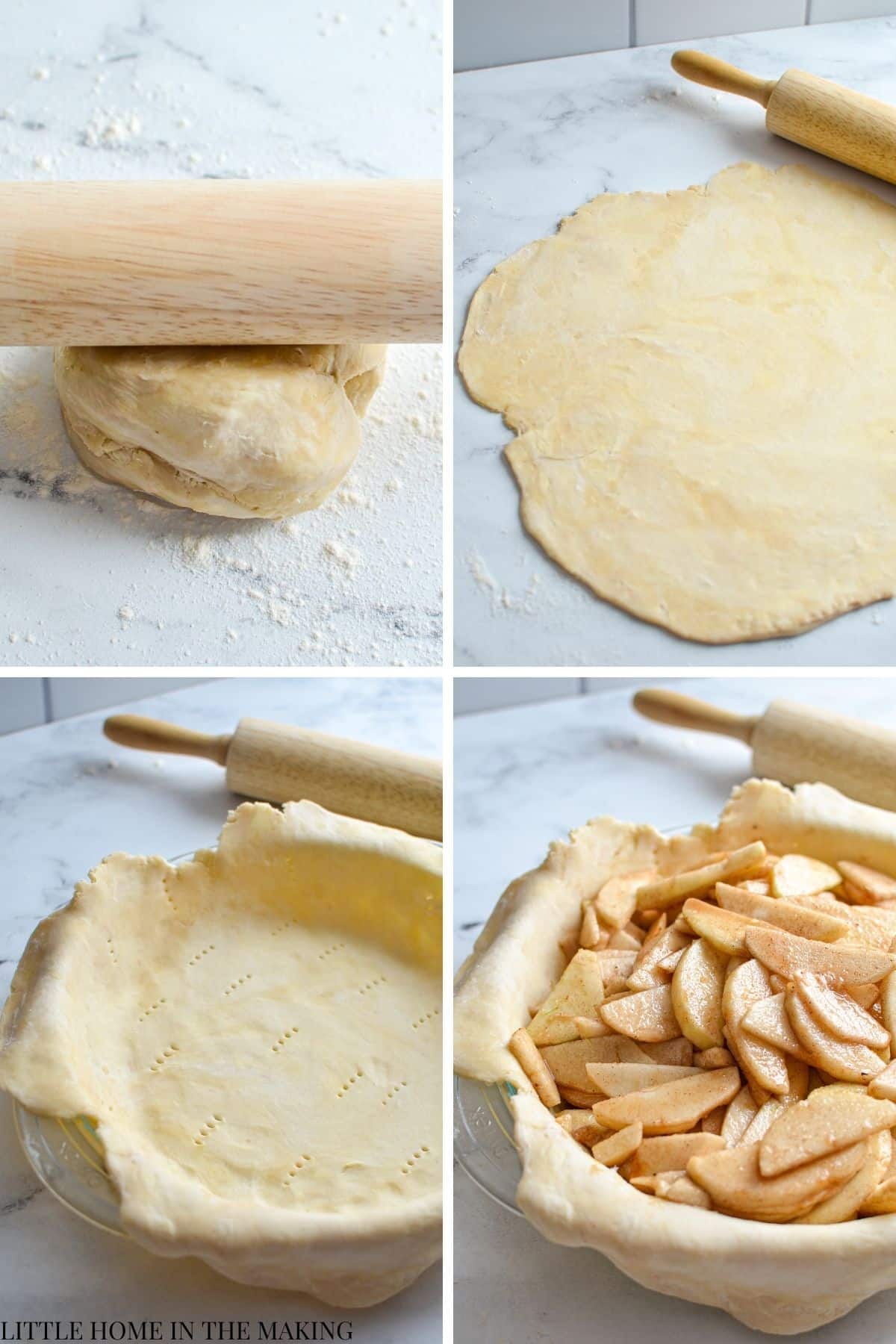 Once your pie dough has chilled for at least 2 hours (although overnight or more is ideal), you're ready to use it in your favorite recipes. This dough is super versatile and can be used in traditional sweet pie recipes, or savory pie recipes like chicken or beef pot pie.
Cut your dough in half, and pat it into a rough circular disc. Lightly flour the counter, and use a rolling pin to roll the disc into a rough circle.
The best way I've found to roll a circle is to turn the dough 1/8 turn each time you roll, and flip it upside down each time as well. This ensures you roll the dough from every angle.
Once the dough has been rolled into a rough circle, drape it into your pie pan and press it into the bottom using your fingers.
Prick the bottom and sides of the pie with the tines of a fork, and then add your desired pie filling OR fill with pie weights and blind bake if that is what your recipe calls for.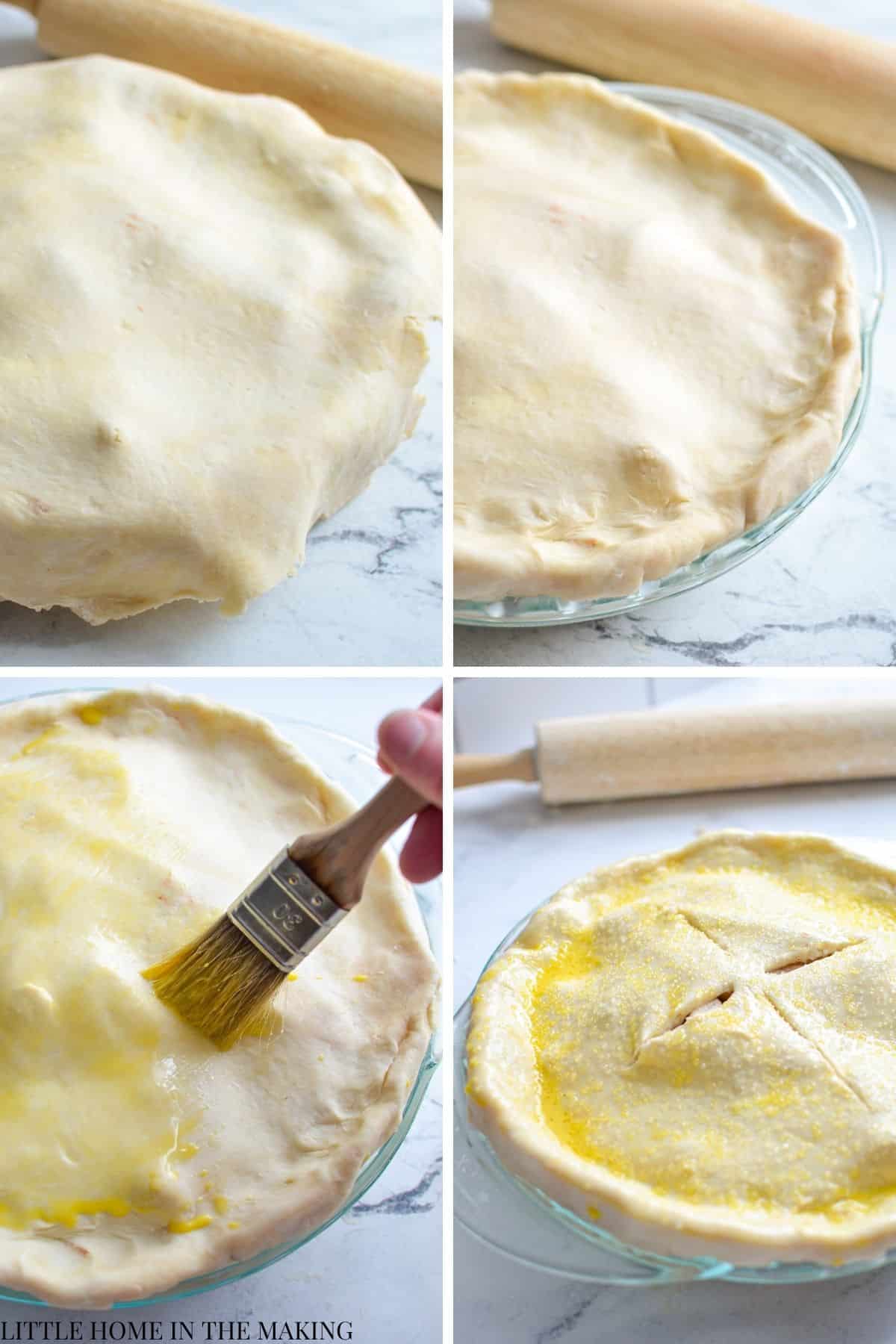 Assembling the Pie
If you're preparing a double crust pie (like an apple pie), roll out the remaining half of the dough and drape it over the filled pie crust.
Press the two layers of dough together around the edges using your hands, and then use a pair of kitchen scissors to trim around the edges of the pie anywhere there is more than a 3/4″ overhang of dough.
Tuck the edges of the pie under themselves to form an edge, and pinch it together using your forefinger and thumb, OR get fancy and make a beautiful design.
Brush with an egg wash (if desired), sprinkle with coarse sugar (if using for a sweet pie filing), and cut some lines with a very sharp knife for venting.
Bake as directed in your pie recipe, using a pie shield if needed.
Storage and Freezing
One of the best things about homemade pie crusts, is that they can actually be stored in the freezer for a long time! While you may think its way more convenient to have a store bought crust ready and waiting for you, you might be surprised how easy it is to store homemade crusts with better quality ingredients. And while it is slightly less convenient, it's a pretty straight forward process that will have a homemade pie (sweet or savory) on your table in less time than if you started from scratch.
All you have to do to prepare your pie crust for freezing is to wrap it tightly in plastic wrap, and then slip that into a freezer bag. Then, you're good for up to 3 months! Just remove your pie crust, thaw in the fridge overnight, roll it out, and bake!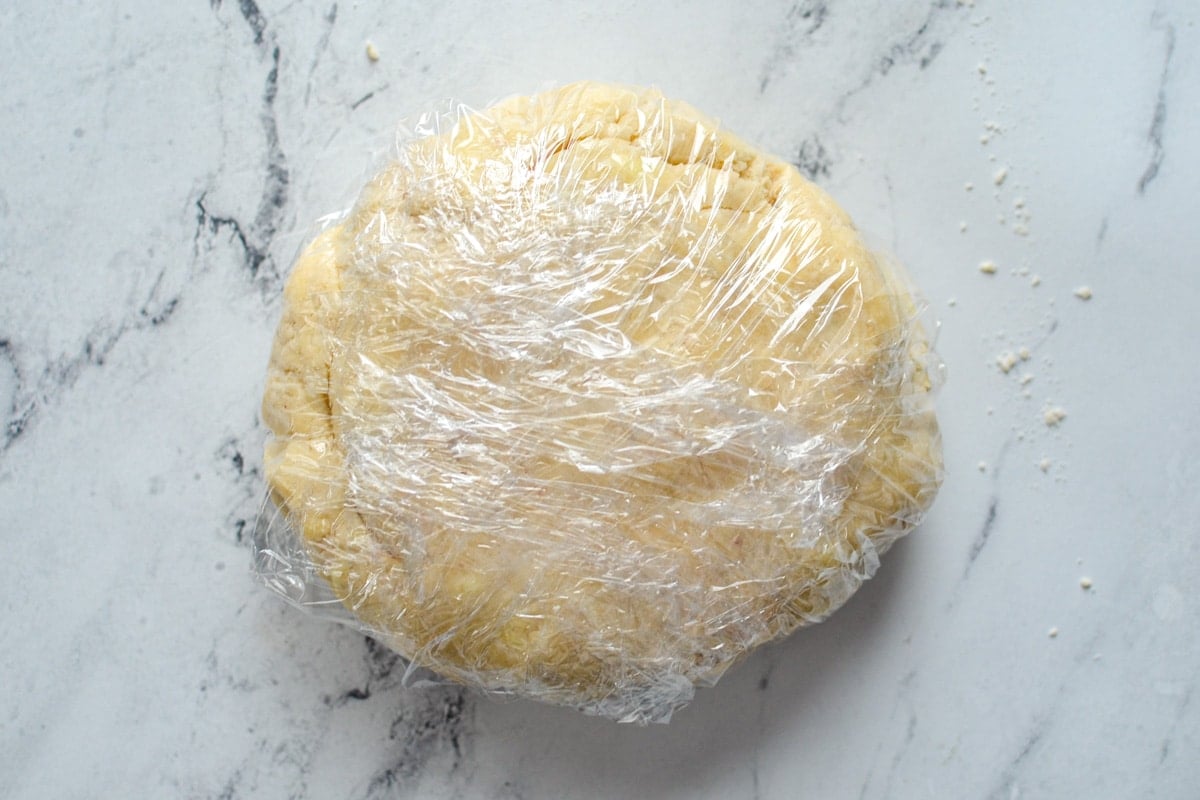 If you make a lot of single crust pies, divide the dough in half and wrap into two separate discs. If you need just one layer of pie crust, you'll take out one disc, and two discs if you need two layers of pie crust.
Super simple, right!?
Fridge Storage
Your pie dough, when wrapped tightly, will last for up to 4 days in the fridge. I like to make my sourdough pie crust dough early in the week, and then stick it in the fridge. Then, it's ready and chilled for whenever I pull it out. For an easy weeknight, I might make a yummy chicken pot pie. If it's a weekend or special event, maybe I'll make a sweet and sticky apple pie for dessert. It's totally up to you how you use your pie crust!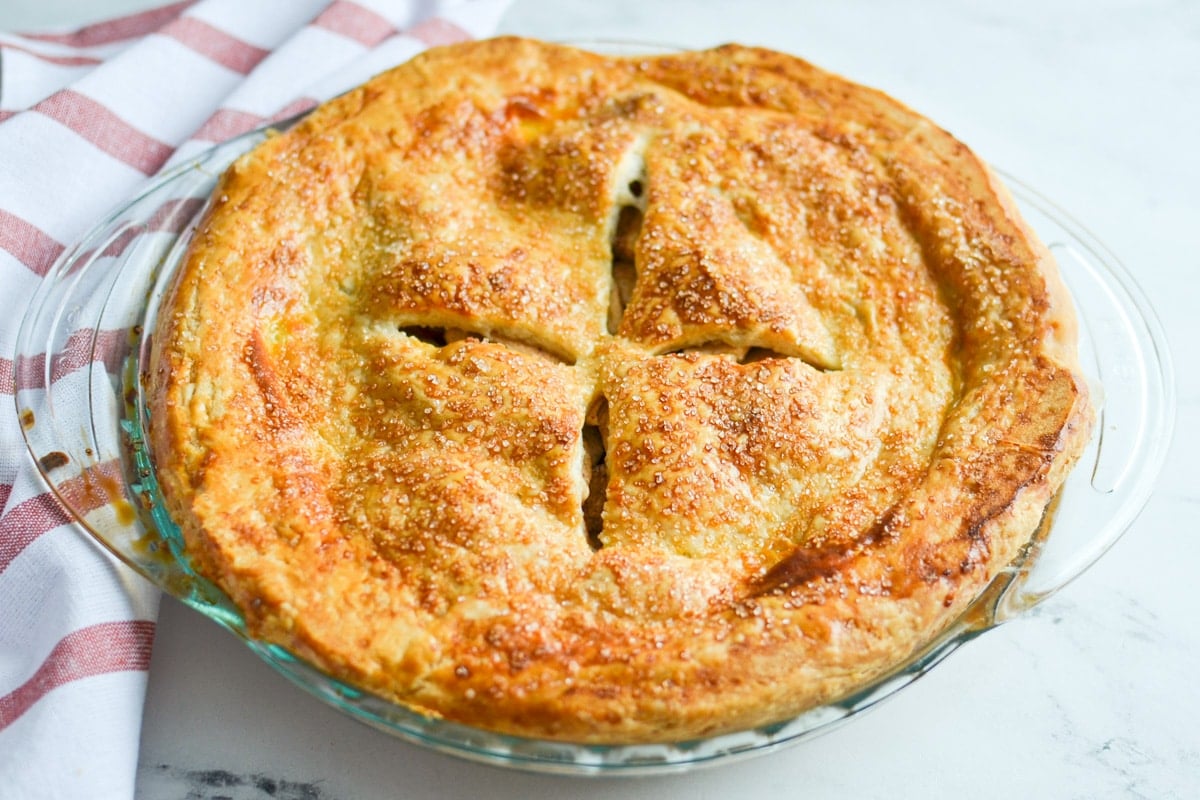 Expert Tips
The most important thing to remember when making pie dough of all sorts, is that cold is king. Ensuring you use cold fats means your pie dough will be super flaky and delicious.
To prepare your ice water, fill a small bowl with ice cubes and poor in cool water. Allow to chill while you prepare the dry ingredients and cut in the fat.
If you are interested in the benefits of sourdough and the fermentation process, you can get some of those benefits by using an active starter. You will still get some from using discard, but your dough will ferment a little better with an active starter. Allow your dough to rest on the counter for 2 hours. Then,

wrap tightly and plac

e in the fridge for a cold ferment for up to 4 days.
If you don't have a recipe, a good rule of thumb is to start off at 375°F for 20 minutes. Then, continue the rest of the baking time at about 350°F (about 30-50 minutes for most pies). This ensures a nice, golden crust while still having a fully baked inside. Cover the edges with a pie shield OR a ring of foil.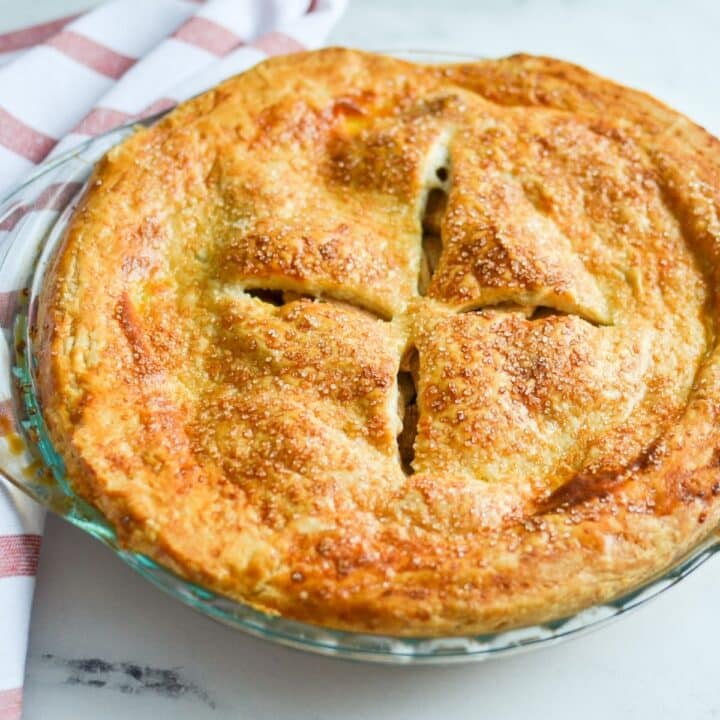 Sourdough Pie Crust
Total Time:
2 hours
15 minutes
If you're looking for the ultimate flaky, classic pie dough recipe, you've found it with this slightly tangy sourdough pie crust. Great for both sweet and savory pies!
Ingredients
1 cup + 2 tablespoons all purpose unbleached flour
1/2 teaspoon salt
1/2 cup cold lard, cubed
1/2 cup cold butter, cubed
1/2 cup sourdough discard or starter
Ice water
Instructions
Add the flour and salt to a medium sized bowl and whisk to combine.
Prepare a bowl of ice water by pouring 1 ½ cups of cool water to a bowl filled with ice cubes. Set aside.
Add the cold lard cubes and the cold butter cubes to the bowl of flour and salt.
Use a pastry cutter to cut the fat into the flour, blending until the mixture resembles coarse crumbs.
Once the mixture has even, pea sized crumbs (or smaller), add in the sourdough starter and fold it in using a silicone spatula. Mix gently, aiming to bring the dough together.
Add 2 tablespoons of ice water, and mix the dough.
If the dough has not yet come together, add the ice water 1 tablespoon at a time, and gently mix, until the dough comes together in a mostly solid mass.
Use your hands to bring the dough together, and mold it into a large disc or ball.
Wrap tightly in plastic wrap and chill for at least 2 hours, but overnight is preferable.
When you're ready to roll the dough out, cut the dough in half and roll into a circle on a lightly floured surface.
This recipe makes enough for 1 double crust pie, OR 2 single crust pies.
Use the chilled pie dough in your favorite pie recipes, and bake according to your recipe instructions.
Notes
All Butter: If you would like to make a sourdough pie crust with all butter, feel free to substitute the cold cubed lard, for additional cold cubed butter in the same quantity.
Bake Time: If you don't have a recipe you're using, a good rule of thumb for pie baking is to start off at 375°F for 20 minutes, and then the rest of the baking time at about 350°F (about 30-50 minutes for most pies). This ensures a nice, golden crust while still having a fully baked inside. Cover the edges with a pie shield OR a ring of foil.
Nutrition Information:
Yield:

8
Serving Size:

1
Amount Per Serving:
Calories:

228
Total Fat:

24g
Saturated Fat:

12g
Trans Fat:

0g
Unsaturated Fat:

11g
Cholesterol:

43mg
Sodium:

241mg
Carbohydrates:

2g
Fiber:

0g
Sugar:

0g
Protein:

1g
Nutrition information is an estimate only.
Please note that some of my blog posts here at Little Home in the Making may contain affiliate links. If you make a purchase through these links, I will get a small commission at no additional cost to you. See our disclaimer for more information.