This grilled chicken is perfectly moist and uses an unusual ingredient: leftover pickle juice! The perfect main dish for a summer meal, and a real conversation starter at barbeques, this unique brined chicken is sure to satisfy.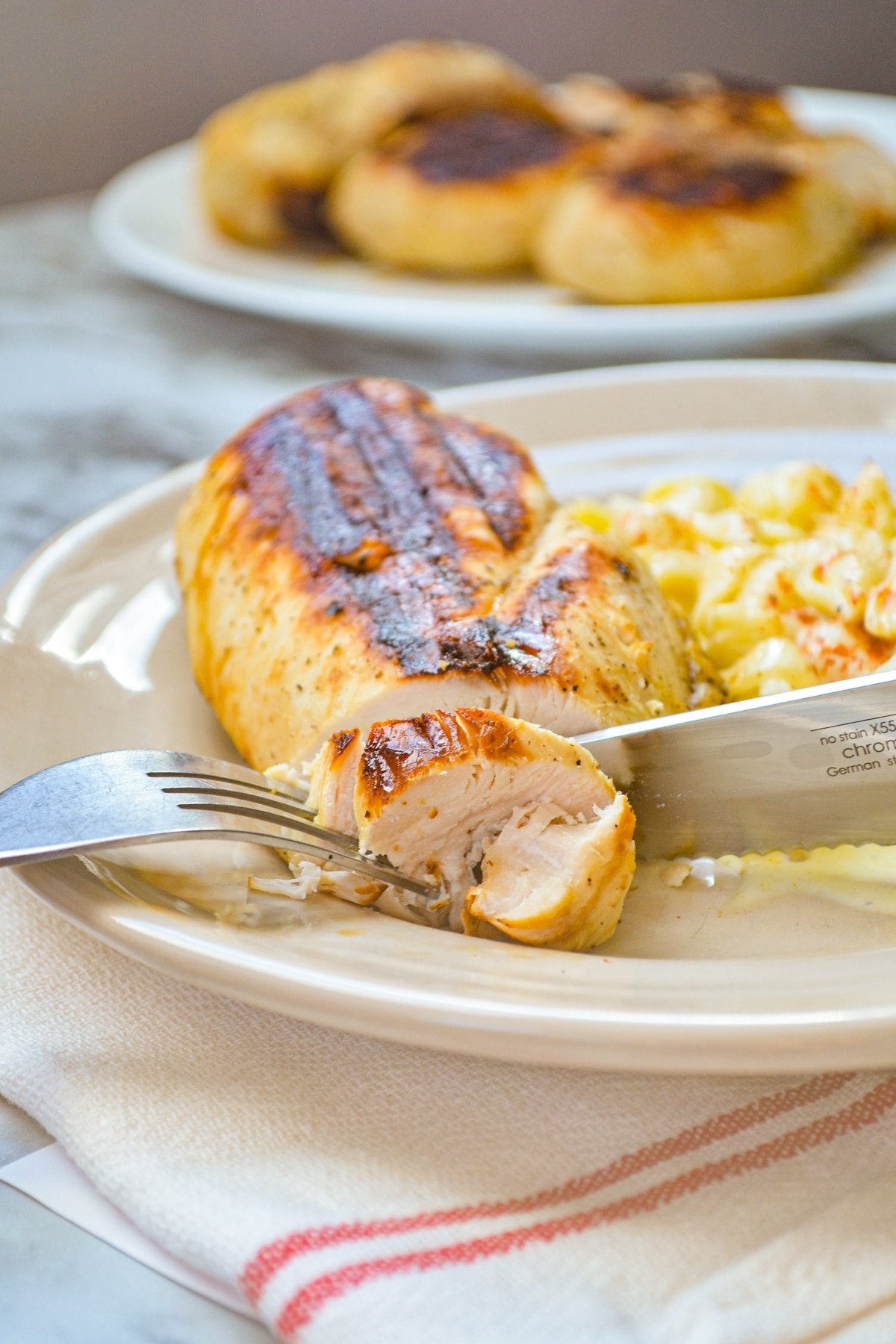 Please note that some of my blog posts here at Little Home in the Making may contain affiliate links. If you make a purchase through these links, I will get a small commission at no additional cost to you. Please see my Disclaimer for more information.
---
With summer quickly approaching, it's time to start thinking about (and trying out) some yummy recipes for the grill. Making grilled meats is the perfect way to avoid heating the house up in the summer time. It's often a way us ladies can get the night off cooking 😉. Well, kinda, because we still need to prepare the sides and salad 😂.
This grilled chicken recipe is unique in that it uses an ingredient we often have leftover in the fridge. This magic ingredient has far too few uses: pickle juice. Yes, the brine that is leftover after you eat up all of those delicious dill pickles can be used to marinate chicken!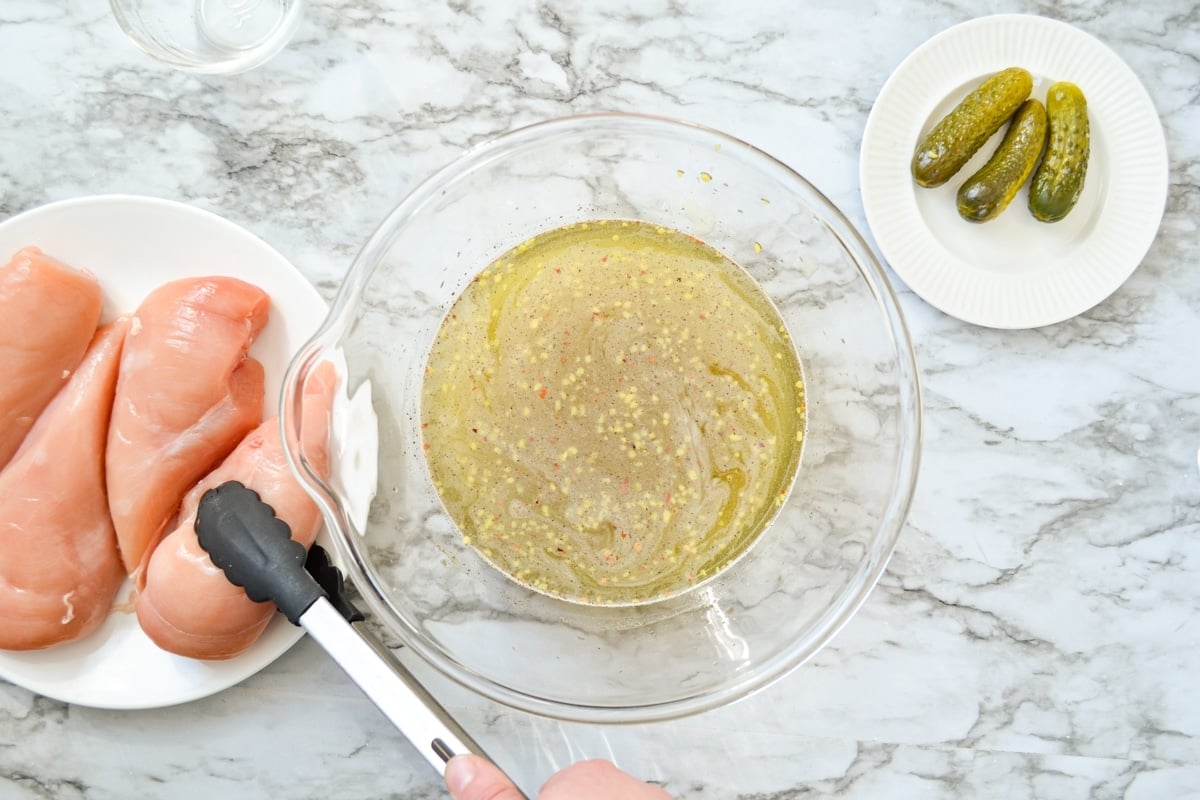 Will It Have a Strong Dill Pickle Flavor?
While you may think this means you will have a very pickle-y piece of chicken, you'll be surprised to know that is not at all true! Since the pickle juice is used as a marinade and a brine, your chicken breast only absorbs a small portion of the flavoring. While there is a hint of dill pickle flavor, it's not at all strong. My husband didn't even suspect a thing! 😂 Just juicy, moist, perfectly seasoned chicken breast.
Now that's my idea of a good meal!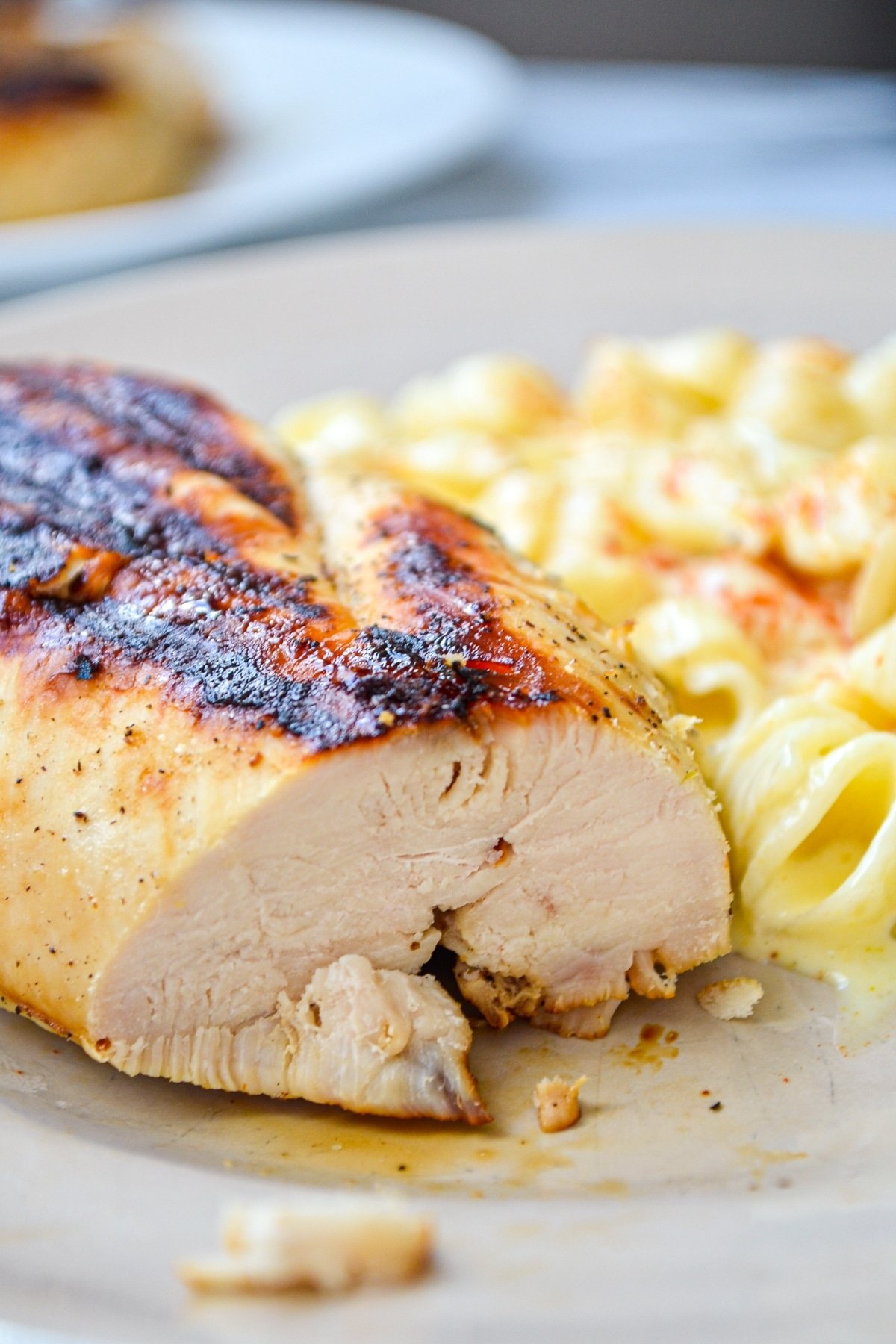 What Do I Need to Make Pickle Juice Chicken?
Pickle Juice is just as simple as it sounds! You need just a few ingredients to make this juicy, perfectly seasoned grilled chicken recipe.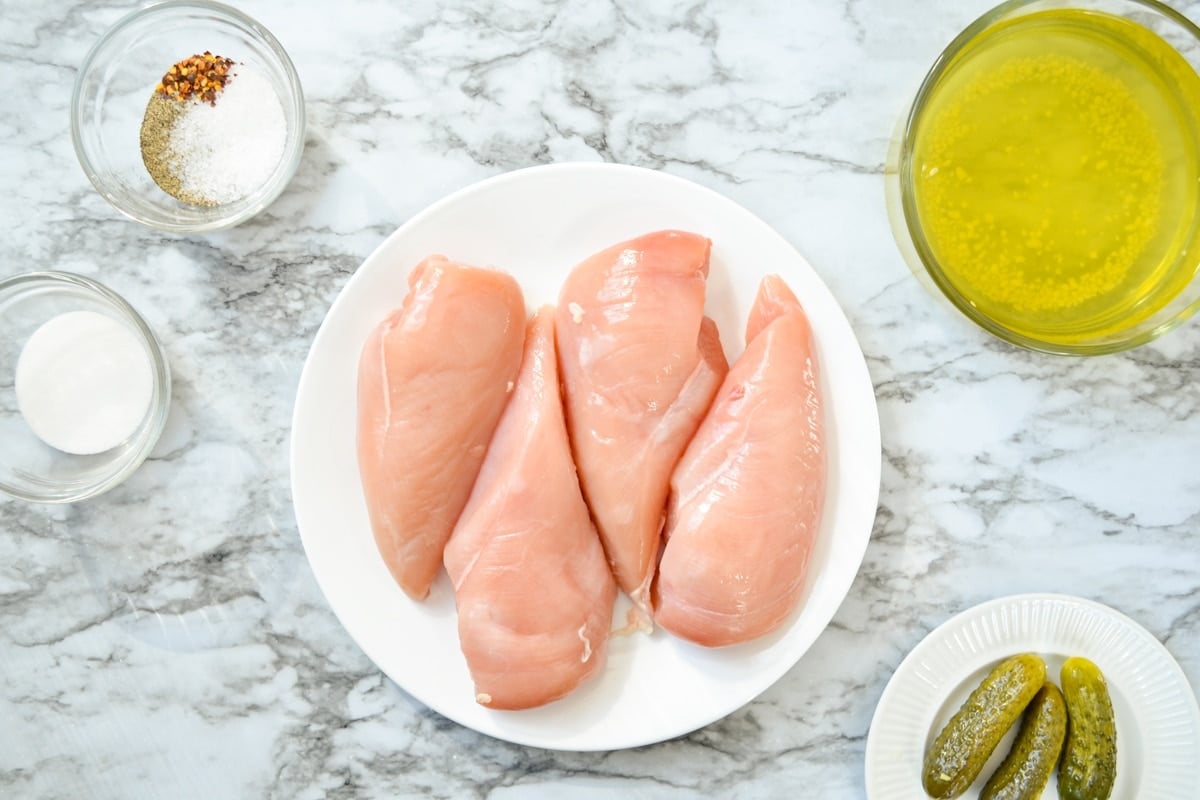 Chicken Breasts: The best chicken for this recipe is boneless, skinless chicken breasts. They grill quickly, and they absorb marinades quickly as well. Boneless skinless breasts also are perfect for slicing and serving over salads. This is a great use for leftover pickle juice chicken.
For the Brine:
Pickle Juice: Also known as pickle brine, this is the vinegary liquid left behind after eating a jar of pickles. Its not recommended to use sweet pickle brine like that is used for bread and butter pickles. Dill pickle juice has a flavor profile that is much more complimentary to grilling than its sweeter counterpart.
Sugar: We use white granulated sugar in this recipe for a clean, neutral taste, but you can use brown sugar in its place if desired. The small amount of sugar is for balancing out the flavor, but your chicken will not be sweet tasting as a result. You can omit if you need to for dietary reasons (like diabetes, low carb, keto, etc), but if you're not limiting sugar I highly recommend keeping it in the marinade.
Olive Oil: A little bit of fat is essential to getting a good outside texture. We brush the outsides of the chicken breasts with olive oil, but you can use melted butter, ghee, or avocado oil if desired.
Kosher Salt: It seems strange to add salt to already salty pickle juice, but since we are using it as a brine, we want to increase the salt content a bit. Note that your chicken breasts will not absorb all of the marinade (its estimated to be only about 10-30%), so you won't end up with a super salty chicken breast. If you need to use table salt, use only half of the amount of total kosher salt called for.
Black Pepper: Just your basic ground black pepper is all that is needed. You can use freshly cracked black pepper if you're feeling fancy.
Red Pepper Flakes: Just a smidge of this is called for. Adds a little bit of color and the tiniest bit of flavor. Don't worry, this doesn't make for spicy chicken at all so it's safe for even the most delicate of palates.
How to Marinate Chicken Breasts with Leftover Pickle Juice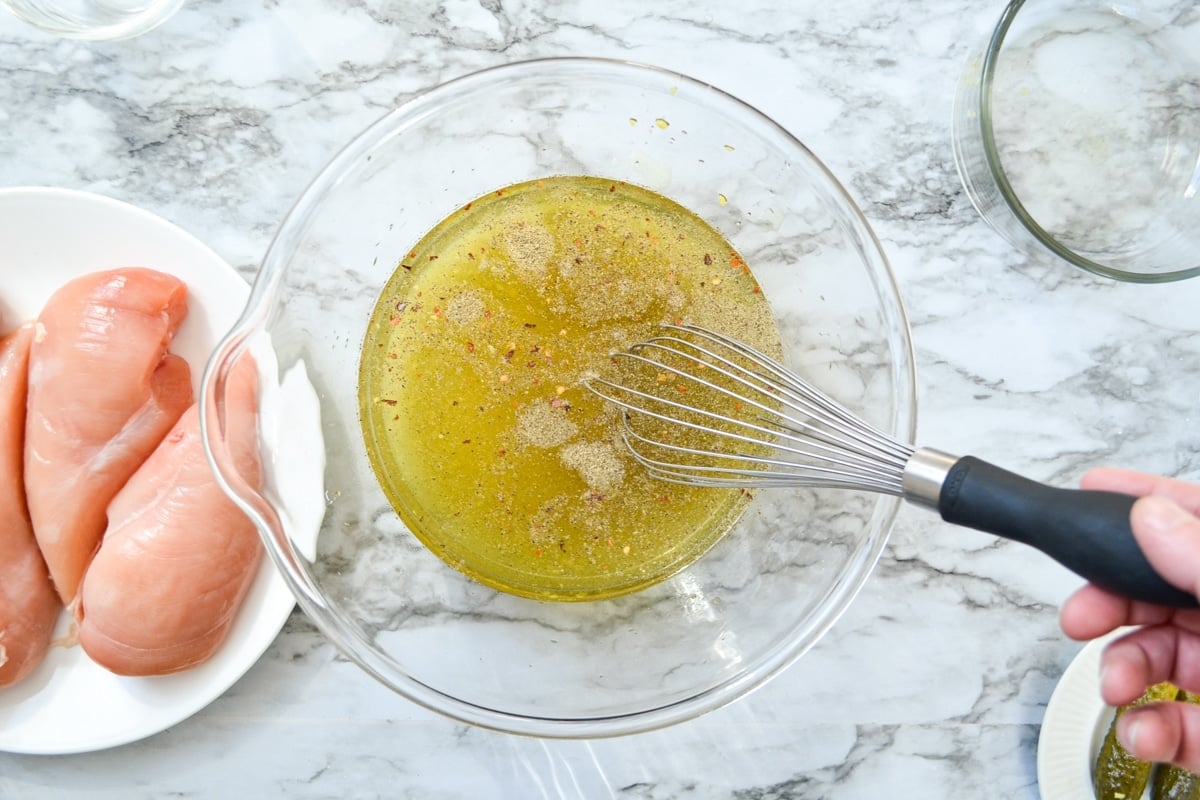 It's so easy to use leftover pickle juice to marinate your chicken breasts. It's a super budget friendly recipe since you are using up something that would normally go to waste in your kitchen. It also makes great use of one of the least expensive protein options: boneless, skinless chicken!
All you need to do is whisk together your pickle juice, sugar, salt, pepper, and red pepper flakes.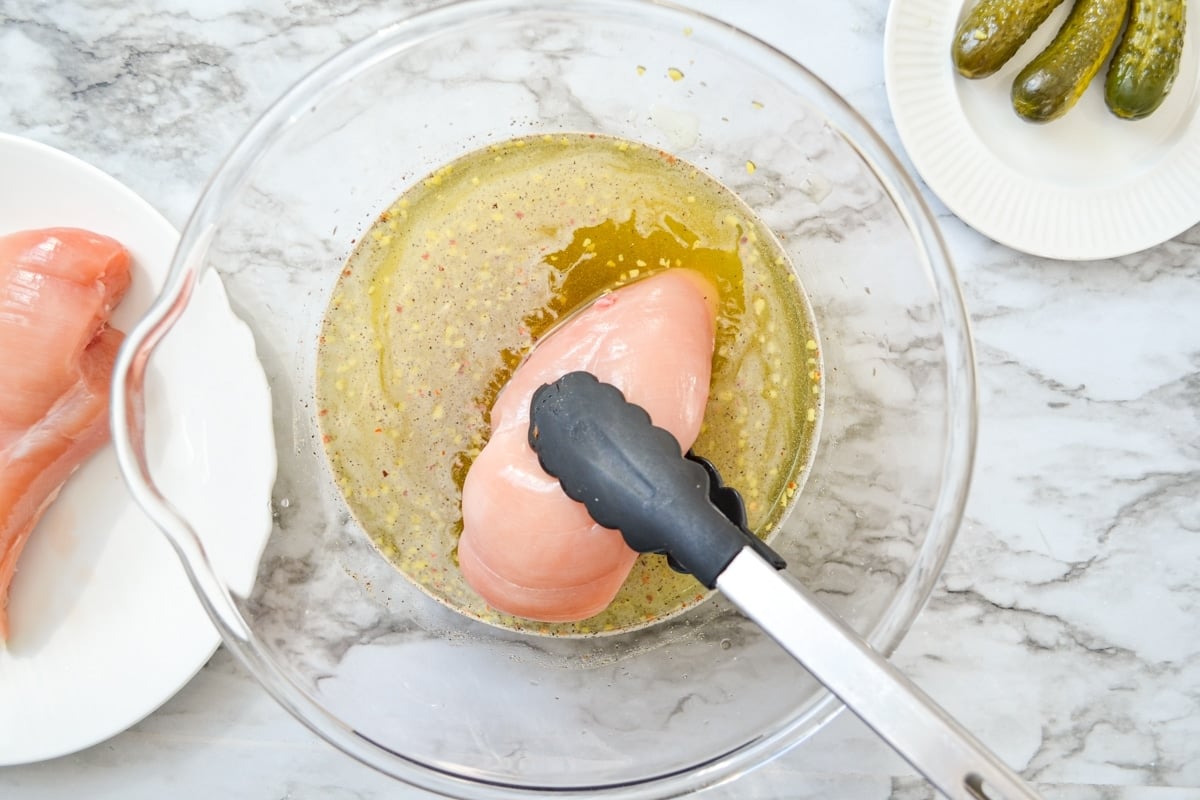 Then add your chicken breasts to the pickle brine. Ensure they are fully submerged in the brine.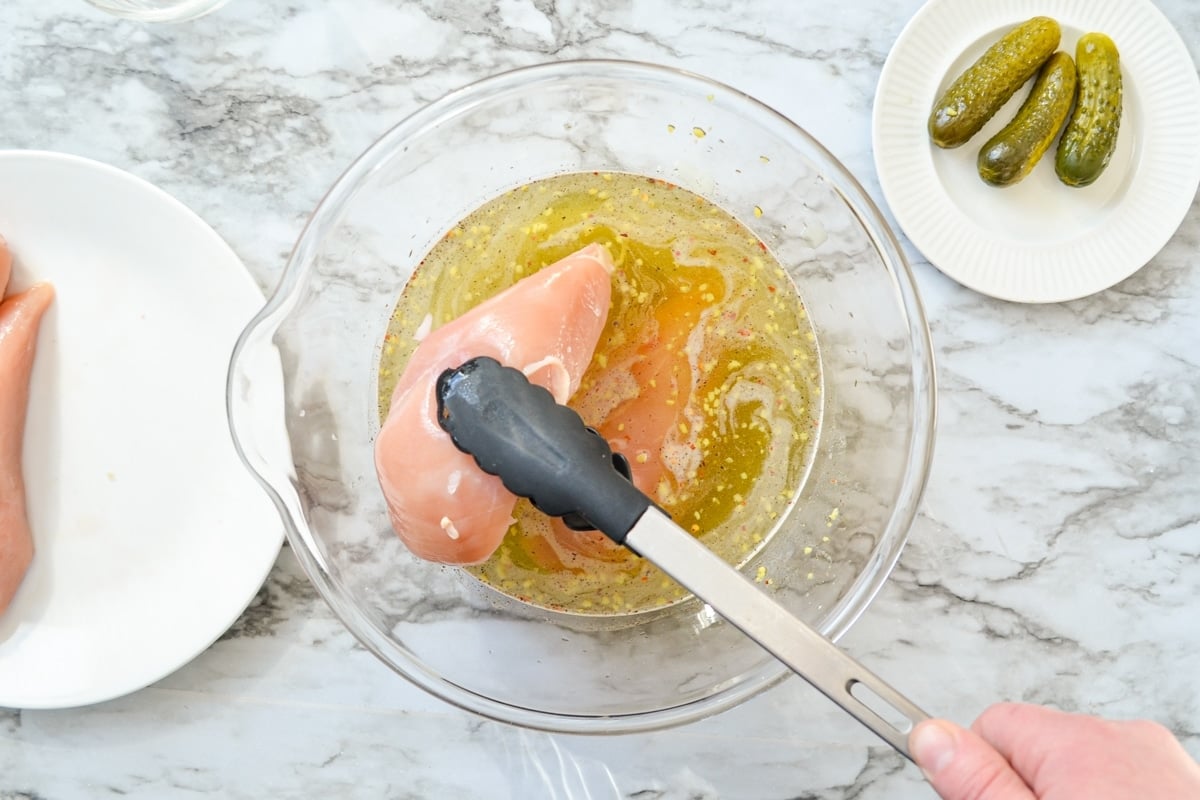 Keep adding the chicken, and submerge each breast as you go. Once all of your chicken breasts are added to the brine, push them down and cover the bowl tightly with plastic wrap or a lid.
How Long Should I Marinate My Chicken?
Place the bowl in the fridge and let your chicken marinate in the pickle juice brine for 4 hours. If you're short on time, you can reduce the time to 1-2 hours. While the shorter time is fine, 4 hours is highly recommended. You can even go as long as 24 hours if you'd like to prep your chicken breasts the day before.
How to Prepare Brined Chicken for the Grill
Once your chicken has been brined in the pickle juice, you need to prepare it for the grill. If you were to remove it from the brine and place it directly in the grill, you would have trouble getting a nice crispy outside. Before you place your chicken on the grill, you'll want to take a few steps to prepare it properly.
Preheat the grill and gather the supplies needed for grilling.
Remove your chicken breasts from the brine and place them on a cutting board or a clean plate.
Use a paper towel or clean lint free cloth to dab the surface of the chicken until dry.
Use a pastry brush to apply a thin coat of olive oil on each of the chicken breasts.
Season with additional salt and pepper, to your taste.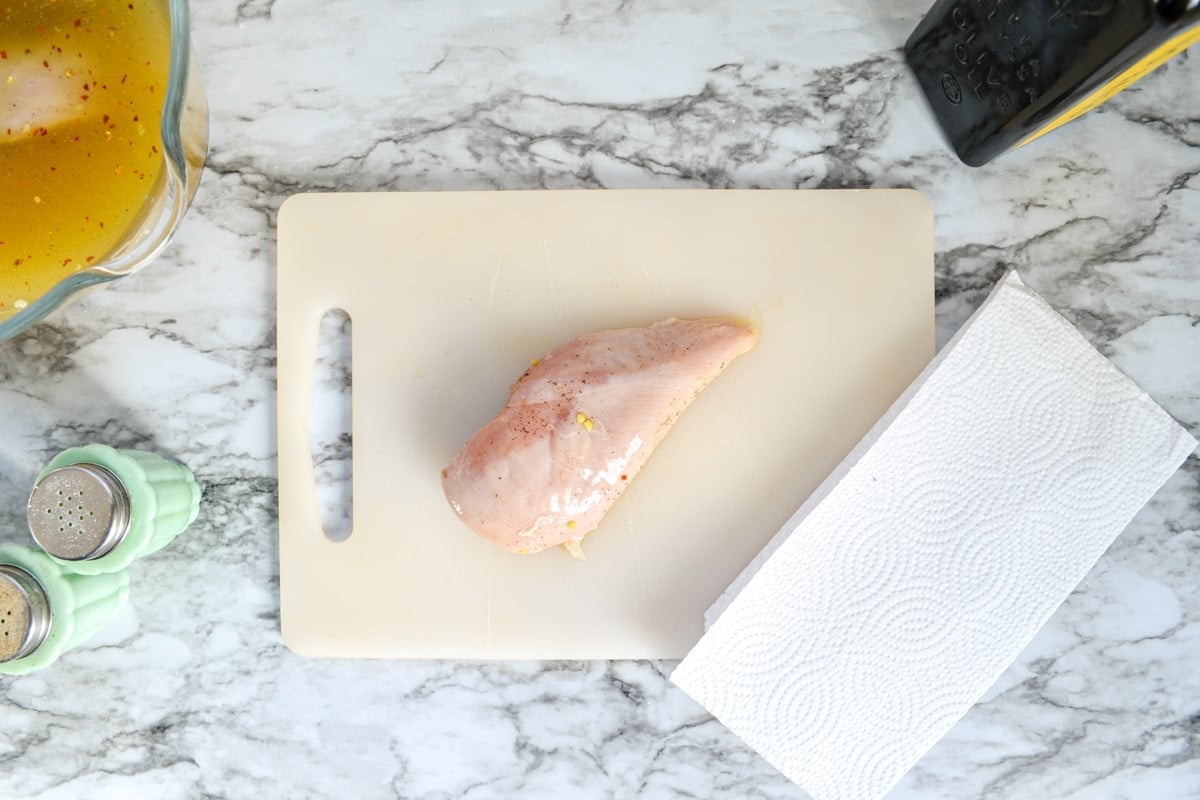 Side Dishes for Pickle Juice Chicken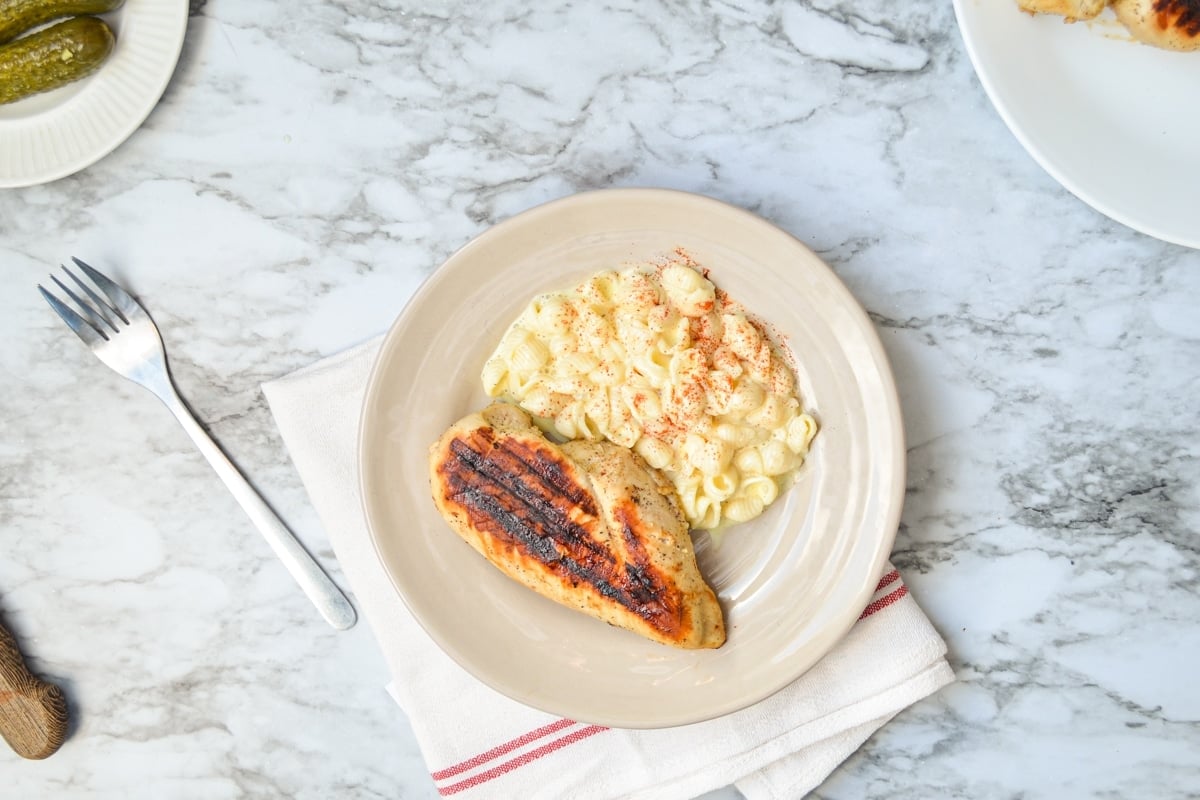 Since Pickle Juice Chicken doesn't hold a lot of the dill pickle flavor from the marinade, you have a lot of flexibility when it comes to side dishes. I served mine with a classic macaroni salad. Feel free to serve it with anything that you would normally serve with grilled chicken. Here are some ideas:
Frequently Asked Questions
Does pickle juice go bad?
Pickle juice has a high salt content, meaning it can last for a long time! The general recommendation is to consume refrigerated pickle juice within 3 months of opening.
How long can you leave chicken in pickle juice?
It's not recommended to leave chicken in a marinade or brine in excess of 24 hours. Because of the acidity of the pickle juice, the best results are when you marinate the chicken for 6 hours or less.
Can I use the brine from homemade pickles?
Yes you can! If you've made water bath canned pickles using vinegar, this recipe will work equally as well as using brine from store bought pickles. If you've made lacto-fermented pickles, I would not recommend using that liquid to marinate chicken. It's a much different flavor that vinegar-based brines. You can use it as a starter for other ferments though!
What does pickle brine do to chicken?
I'm not an expert in this at all. All I know is that it tastes good and is a great way to use up leftover pickle juice! This article from 10best.com explains it perfectly, and certainly much better than I could!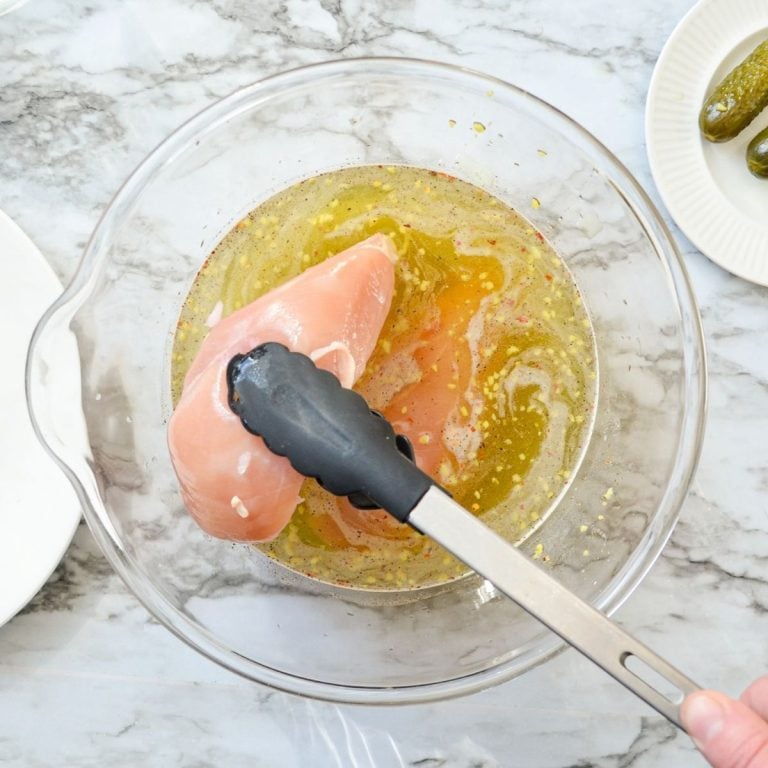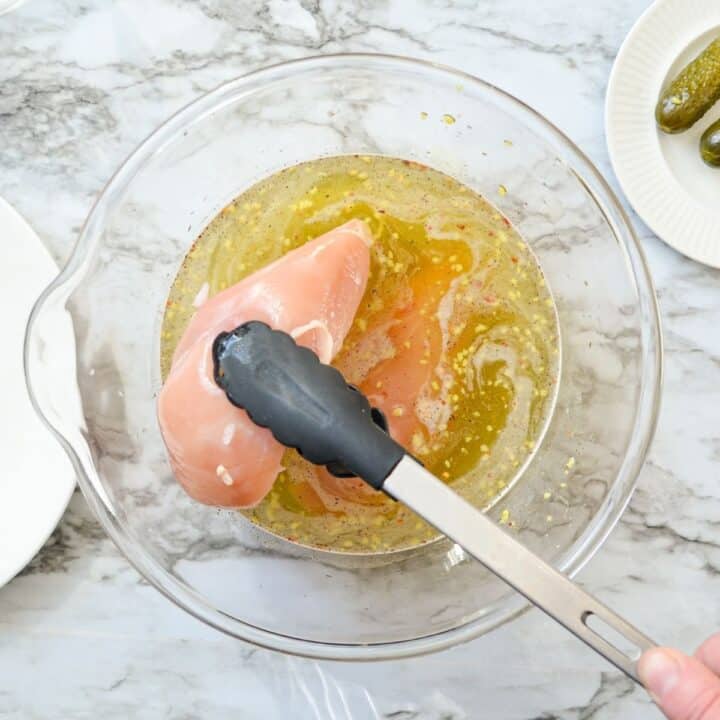 Pickle Juice Chicken
Total Time:
4 hours
30 minutes
Ingredients
4 boneless, skinless chicken breasts
3 cups dill pickle juice
2 tbsp. white granulated sugar
1 tbsp. kosher salt
1 1/2 tsp. ground black pepper
1/4 tsp. red pepper flakes
2 tbsp. olive oil
Salt and pepper, to taste
Instructions
Whisk together your dill pickle juice, sugar, salt, black pepper, and red pepper flakes in a medium to large sized bowl.
Use a pair of tongs to transfer your chicken breasts to the bowl, and press them into the brine until fully covered.
Cover with plastic wrap or a tight fitting lid and place your bowl in the fridge.
Allow your chicken breasts to marinate in the brine for 4 hours, turning once if possible. If you cannot marinate for 4 hours, make sure you do so for at least 1-2 hours.
Preheat an outdoor grill to medium-high and oil the grates.
Remove the chicken from the pickle juice brine, and pat dry with paper towels.
Brush the chicken breasts evenly with olive oil, and season with salt and pepper to your taste.
Grill the chicken for 5-7 minutes per side, or until the thickest part of each chicken breast reaches 165F.
Remove the chicken to a plate and let them rest for 5 minutes before serving.
Nutrition Information:
Yield:

4
Serving Size:

1
Amount Per Serving:
Calories:

434
Total Fat:

11g
Saturated Fat:

2g
Trans Fat:

0g
Unsaturated Fat:

8g
Cholesterol:

102mg
Sodium:

7169mg
Carbohydrates:

43g
Fiber:

1g
Sugar:

40g
Protein:

38g
Nutrition information is an estimate only. Note that this information includes the total count of the marinade, while only a small portion of the marinade will be absorbed by the chicken.