Eating a whole foods diet is possible on a budget! Learn how to stretch a whole chicken into 3 delicious meals PLUS ideas for healthy sides.
This post contains affiliate links, which means that if you click a link and make a purchase, we receive a commission at no additional cost to you. See our disclaimer for more information. Any nutritional information is for entertainment and informational purposes only, and is not intended as medical advice. Always seek the advice of your health provider.
---
Most of us are limited by our grocery budget in one way or another. Some have very strict budgets, and others are a little more ample. But very few of us have an unlimited grocery budget, and so it's important to be prudent with our choices. For those of us who are seeking to feed our families a whole food diet, it can be difficult to fit so much nutrient dense food into a smaller budget. Difficult yes, but not impossible. There are some tips and tricks for making a smaller grocery budget work with a whole food diet. One of those ways is learning how to stretch a whole chicken!
Not only are whole chickens much less expensive than individual cuts, but they offer a multitude of other benefits as well. When you purchase a whole chicken, you are eating the meat as intended (bones and fats included), and you're also able to use the bones to make a delicious bone broth.
If you have a smaller family (like I do) a single whole chicken could last you as many as three meals. If you have a larger family you may want to try roasting two chickens. I've outlined below a "schedule" of sorts that I follow on the weeks that I make a whole chicken. This is a regular occurrence in the fall and winter in my home. Learning how to stretch a whole chicken has helped me stretch our grocery budget as far as possible so I can buy other needed staples. I hope you find this post informative and helpful! Be sure to let me know any money saving tips you have in the comments.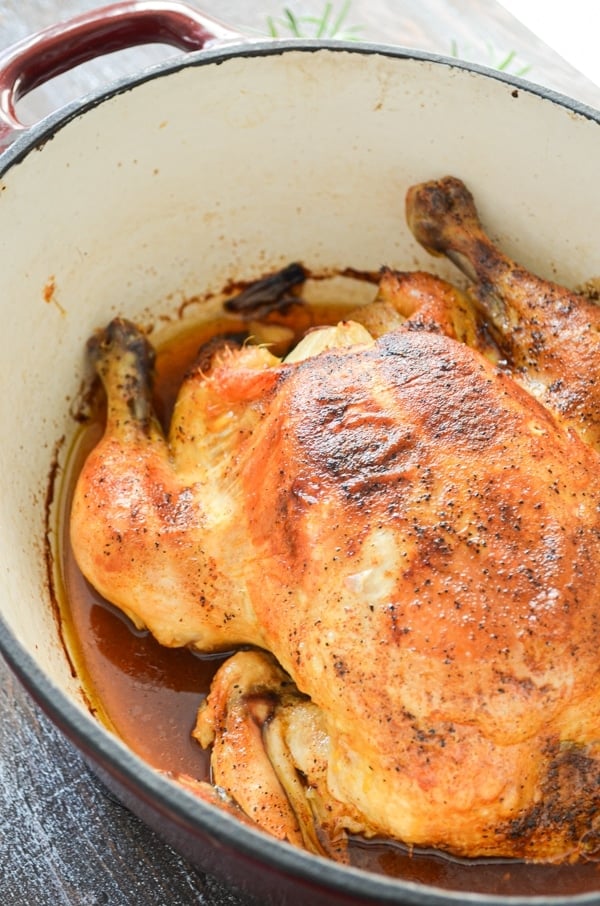 Day One: A Traditional Chicken Dinner
To keep it simple, I like to roast a chicken on a Monday and serve it like a traditional roast chicken dinner. It's really important that you strategize with this meal to ensure as much of the chicken is leftover as is possible. Just serving the chicken and a single side is probably not going to make for a lot of leftovers.
Some people call what I'm about to describe a "Rubber Chicken Dinner", which basically means you'll serve so many filling sides that the chicken could be rubber and no one would be the wiser. Obviously, this isn't literal, but you get the point. You can lose the forest for the trees though, if you don't focus on serving inexpensive and filling sides. We have all served a side dish that ends up being more pricey than the actual main dish, and we really want to stay away from that here. Stick to traditional sides that maybe your Grandma would have served. You also want a good quantity of them.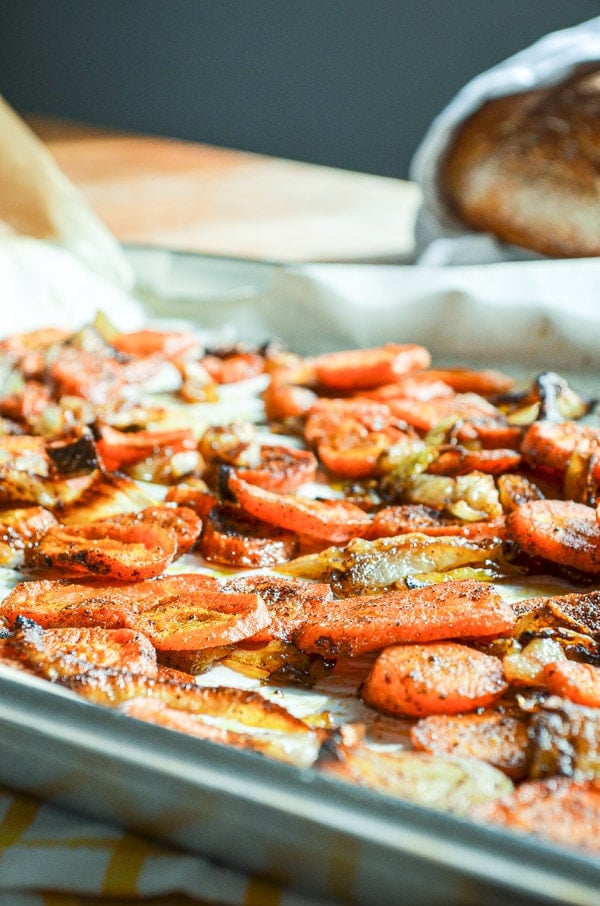 Ideas For Inexpensive and Filling Sides to Stretch a Whole Chicken
Cooked Carrots: Always available, and almost always inexpensive. Cooked carrots are a great option for an inexpensive side. Farms sell them by the 50lb bag in my area, and they store for a very long time.
Roasted Vegetables: You can make a big batch of roasted vegetables and serve them several times through the week. This is one of my favorite things to do. I'm working on getting a recipe up for this ASAP!
Baked Potatoes: The Instant Pot makes easy work of this. I love chopping up leftover potatoes for fried potatoes or home fries. These make delicious options to serve later on in the week.
Mashed Potatoes: I mean, who doesn't love mashed potatoes? Another side the Instant Pot can make easy work of.
Baked Sweet Potatoes: If you don't like to eat white potatoes, sweet potatoes can be a great option. They are also great for a change if you eat a lot of white potatoes.
Mashed Sweet Potatoes: A little bit of cinnamon and butter makes these a real treat!
Cooked Brown Rice: I love love love making my rice in the Instant Pot, and I finally found a foolproof method for cooking brown rice in the Instant Pot. No more gummy, wet rice!
Bread and Butter: Always filling! The fats from the butter are extra satisfying.
Rolls: I'm loving how delicious this recipe for Sourdough Pull Apart Rolls looks. Yum!
Biscuits: These can be made up very quickly, and are excellent leftover for breakfast the next morning.
Gravy: You can use leftover bone broth, bouillon, or if your chicken puts off a lot of juices, you could make a gravy with that. Great for pouring over mashed potatoes or biscuits.
Pickles: Pickled beets, traditional cucumber pickles, mustard pickles. These all add flavor and satisfaction.
Ferments: The truly traditional pickle! Sauerkraut, fermented beets, and fermented carrots all make perfect add-on's to your roast chicken dinner.
Time Saving Side Dishes
You'll see that I mentioned the Instant Pot several times in some of my side suggestions. Honestly, it took FOREVER before I finally decided it was time to order an Instant Pot. When I finally bit the bullet and ordered one, I wondered why it took me so long! I bought one when I was postpartum with my son, hopeful that it would help me prepare meals quickly, and it helped so much. Turns out, I actually ended up asking for the 6 qt model for Christmas, so now I have two Instant Pots and I have definitely made great use of them.
My Instant Pots are used mostly for making bone broth, cooking sides (like rice and potatoes), and soups (like my Olive Garden Copycat: Zuppa Toscana). I like using the Instant Pot because it is hands off, and makes particularly short work of potatoes. Even if you don't have an Instant Pot, you can make up a lot of sides, it just may take a little more hands on work. It will pay off when you're able to reuse those leftovers through the week, rather than cooking a new meal from scratch.
My Instant Pots:
Pioneer Woman 6 Qt Instant Pot
Wrapping Up Day One
At the end of the meal, I like to pull off all of the leftover chicken meat. I like to keep a separate bowl ready, where I put all of the leftover chicken bones, fat, and giblets. Both get covered and placed in the fridge. Tomorrow, I'll work on making those bones into bone broth, and soon that leftover chicken meat will be the beginning of a second meal.
This meal is often hard work, so I like to wash up from supper and relax for a while. I always am grateful I put the hard work in early on in the week, so I can coast a little bit during the remaining days.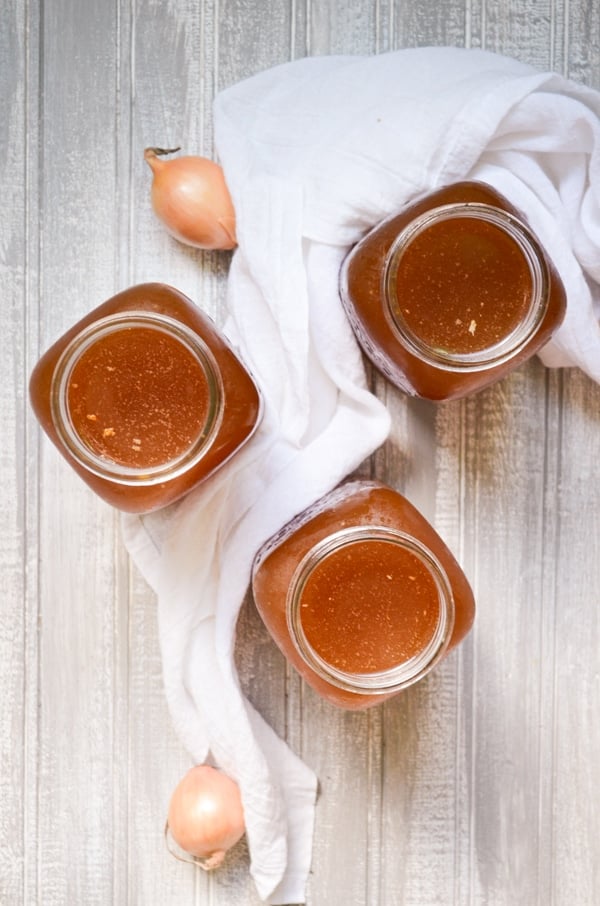 The Next Day: Bone Broth and Something Different
The next day, usually a Tuesday, I tend to like to do something a bit different since I don't want things to be too monotonous. I like to do a beef dish if I can, to kind of break up all the chicken we will be eating during the week. I also like to do a "Taco Tuesday" theme, so I may do a Ground Beef Taco, or our favorite Skillet Chicken Fajitas if I feel like we can handle lots of chicken.
On Tuesday I also like to take the opportunity to make up some bone broth using the bones from our leftover chicken. I almost always use my Instant Pot Bone Broth method because it is easy, hands off, and yields a great flavored and thick broth. This bone broth will often be used in our third meal, stretching that single chicken as far as it can possibly go.
Since the bone broth needs to chill (so I can remove excess fat), I like to do it on this day. This ensures it is prepared for what is often our Thursday night meal.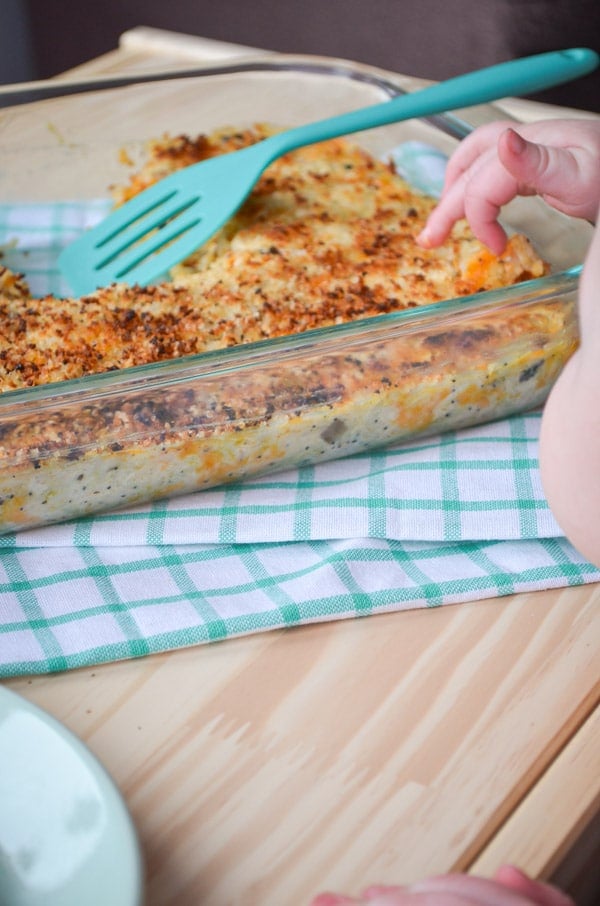 Meal Two: A Casserole or Pot Pie Helps to Stretch a Whole Chicken
On the Wednesday, I like to use some of that meat I pulled off the bone to make a casserole or pot pie. One of my favorite casseroles to make is my Poppy Seed Chicken and Rice Casserole since it also uses up leftover rice, and only uses a small quantity of chicken. A pot pie is also a great choice, because it uses very little meat and you can use some of that broth you made to make the pot pie filling.
When I make my Wednesday casserole, I like to save about a cup or two of meat if I can. I like to use this for my soup that I'll use to make the third meal from our chicken. If I can't scrounge up enough meat to save, that's fine in my books too. You can always make it work.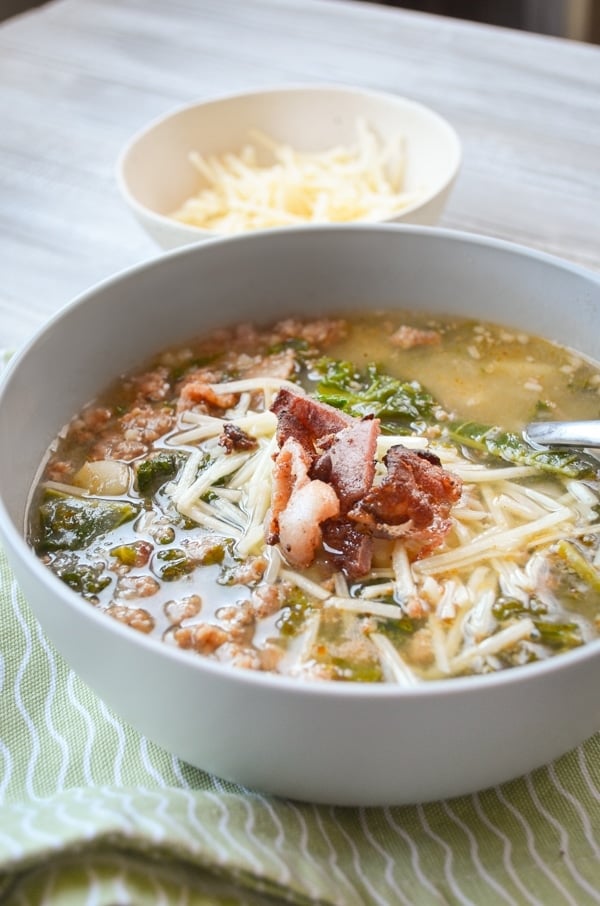 Meal Three: It's Time for Soup!
On the Thursday, I get around to using that chicken broth and use the very last bit of that whole chicken we cooked up on Monday. If I have meat left, I may make a Chicken Pot Pie Soup (I love this recipe from Gimmie Some Oven) or a Chicken Stew. If I'm lacking in the meat department, I like to use my leftover chicken broth to make a meatless soup. Potato Soup is always a good choice, since dairy is often added in, making it a complete protein. This recipe for Dill Pickle Soup from Nobel Pig is also a family favorite!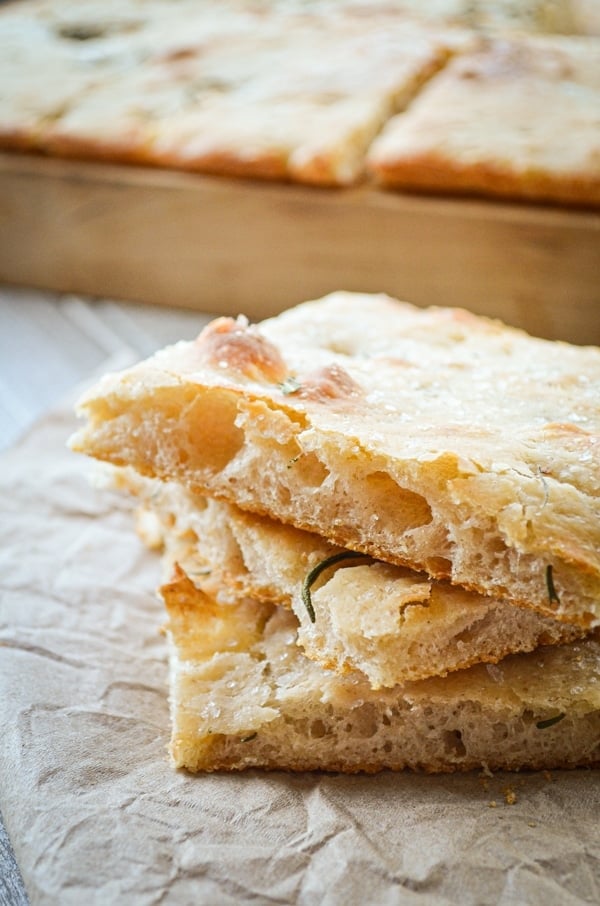 A great addition to your soup meal are delicious biscuits, breads, and crackers. These are particularly helpful to add to a soup that is meatless, since it adds bulk to an otherwise lighter meal.
These are some of my favorite sourdough options:
The best part of having a soup night later in the week is that there are often leftovers that are perfect for serving for lunch on the weekends. If you have a larger family, you may want to make a double batch of soup for this very reason.
In Conclusion
I hope you found this post helpful and informative! I hope that you have some new inspiration and have learned how to stretch a whole chicken and make the most of what you have. It's a wonderful skill to have, and it will serve you well, no matter your grocery budget.
Make sure you follow Little Home in the Making on Pinterest for more healthy whole food recipes, farmhouse cottage living, and all things vintage made new!