This homemade poppy seed dressing is a great healthy whole food option for topping your favorite salad. It is naturally sweetened with honey, making for a delicious dressing you can feel good serving your family!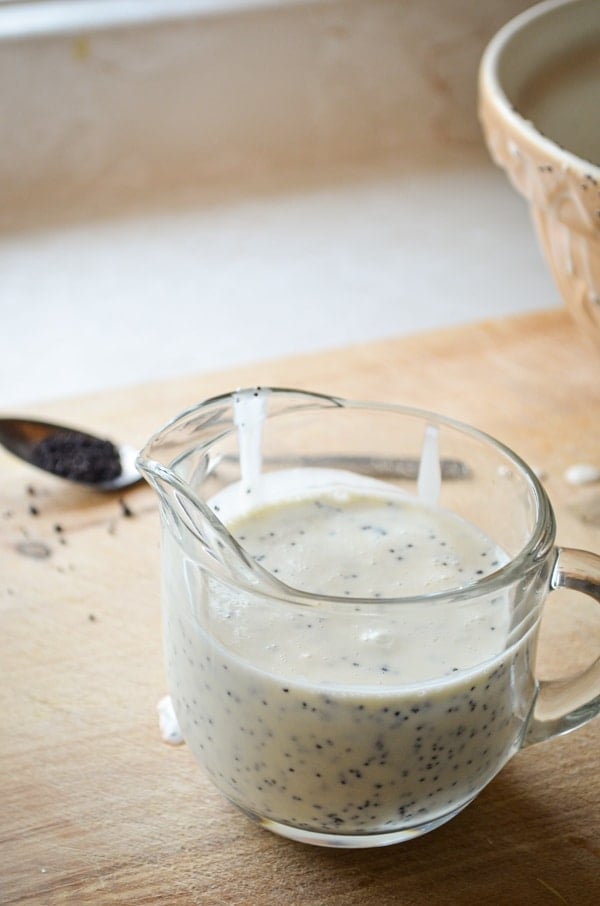 This post contains affiliate links, which means that if you click a link and make a purchase, we receive a commission at no additional cost to you. See our disclaimer for more information. Any nutritional information is for entertainment and informational purposes only, and is not intended as medical advice. Always seek the advice of your health provider.
---
One of the challenges of avoiding refined sugars and oils is finding condiments and dressings that meet your personal standards. Here in North America, we live in a world where we buy our ketchup, mayonnaise, and ranch dressing at the grocery store. While this is super convenient, these products are made for a long shelf life, not for optimal nutrition. It takes all kinds, and having some products with an extended shelf life is a wonderful blessing that I'm glad we have.
Making Salad Dressing From Scratch
But for every day use, it's nice to have options that meet your nutritional ideals. For my family, that means naturally sweetened and using healthy whole food oils and fats. While I certainly buy store bought when it serves us well, I try to make as much as I can at home from scratch. While there are some great Caesar and Ranch commercial products, the same can't be said for sweeter dressings like Poppy Seed or French. So, I end up in my kitchen, adapting recipes to make them work.
The good news? This is my passion and I love doing it, and I would do it even if I didn't have a blog to share it on. The better news? I do have a blog, and I'm able to share these recipes with the entire world! So my kitchen experiments are not in vain, and instead I'm able to share them with you and hope that they help your family and fit your needs the way they have fit mine!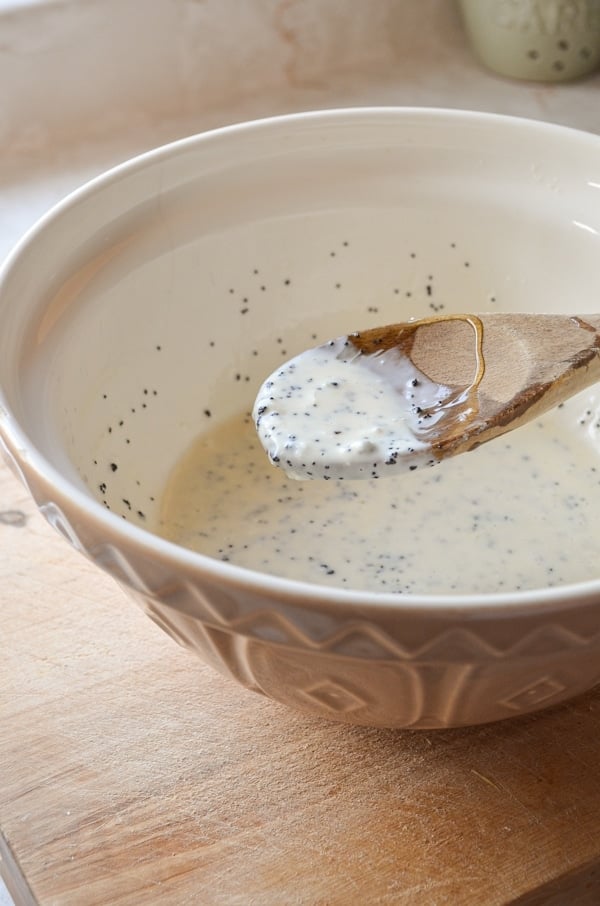 Salad Dressing Made with Healthy Fats
Other than the sugar, fats in commercial products are often heavily refined. This means that I try to avoid them for the most part. I'm not a fan of things like soybean oil or canola oil, and since so many of my favorite dressings are based with these oils, it can make it difficult to find a product that I'm really excited about. Thankfully, making our own condiments and dressings at home is a fairly easily process once you have the basic ingredients. Most dressings have a similar composition, so it's pretty easy to build up a pantry of from-scratch-friendly ingredients.
My Top Pantry Staples to Have on Hand:
Olive oil
Avocado oil
Homemade or avocado oil mayonnaise
Apple cider vinegar
White vinegar
White wine vinegar
Red wine vinegar
Balsamic vinegar
Dijon mustard
Honey
A good variety of herbs and spices
Mineral salt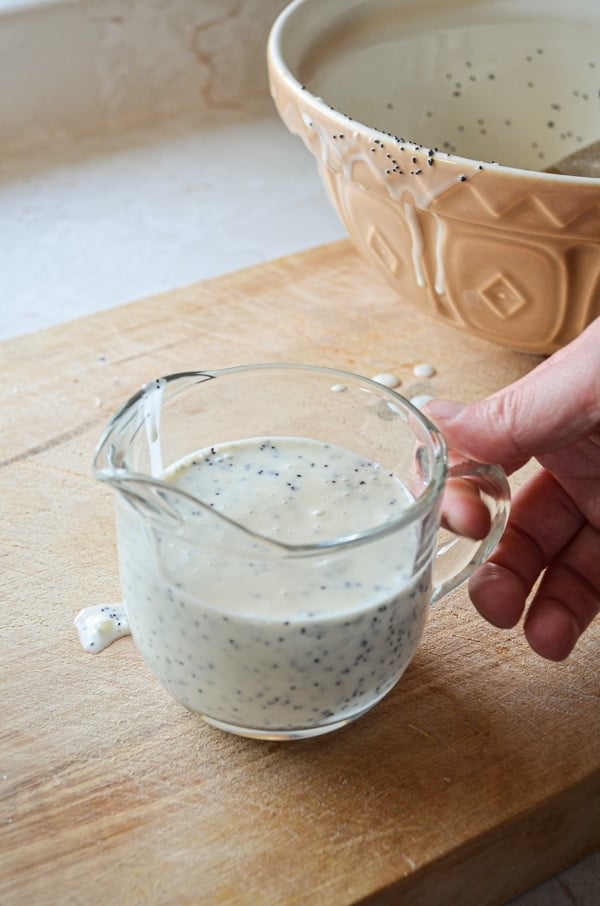 Is Mayonnaise Healthy?
Most mayonnaise available commercially contains highly refined oils like canola and soybean oil. These are also crops that are likely to be GMO, which is concerning for some of us. Although the evidence against GMO crops is limited, some of us aren't comfortable using them. I have a complex opinion about GMO crops, which lands me somewhere in the middle of the "for" and "against" argument, but I do try to avoid them as a personal choice for my family.
I like to opt for healthy and whole fats in our home. This includes butter, olive oil, avocado oil, tallow, animal fats, dairy fats, and coconut oil, in addition to a few others. Because of this, it can be difficult to find a mayonnaise that I consider "healthy" for my family. Healthy is a subjective term, so you will need to evaluate your nutritional needs and philosophies against the foods you choose to serve your family.
Chosen Foods, Primal Kitchen, and Sir Kensington's Mayonnaise make store bought mayonnaises that meet my standards for a "healthy" mayonnaise, since they are made with avocado oil.
I prefer to purchase avocado oil however, to make my own mayonnaise. The shelf life is considerably less time than a commercial product, but it's a great option if you know you will be using it up within a short period of time. It's also a lot less expensive that buying it.
How to Make Healthy Mayo
I haven't yet posted a recipe for an avocado mayonnaise, but this method from Tastes Lovely is very similar to the method I use for making mayonnaise. I'll try to get my recipe up within the next few months, so long as I can remember! I have a little trick for extending the shelf life, but you'll have to wait for that little secret!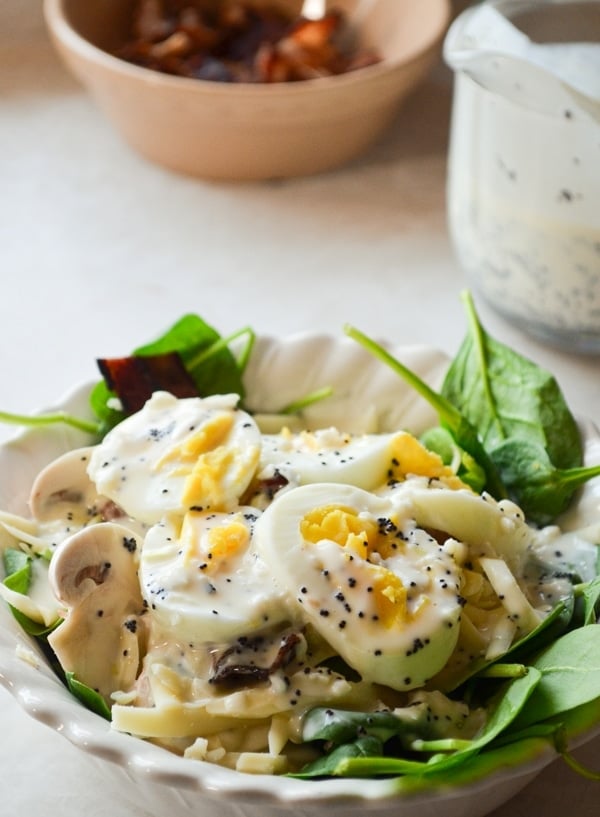 What Salads are Best for Healthy Poppy Seed Dressing?
Poppy seed salad dressing is good on just about any salad, but tends to pair particularly well with berries, fruit, nuts, soft cheeses, and eggs. Bright, spring greens, kale, and spinach are excellent for featuring with a delicious healthy homemade poppy seed dressing.
Here are some recipe ideas for salads that work especially well:
What Do I Need to Make a Healthy Homemade Poppy Seed Dressing?
Mayonnaise: If you're trying to avoid highly processed oils (like we are), you're going to want to opt for an avocado oil mayonnaise if possible. Chosen Foods sells a mayonnaise that is made with avocado oil, as does Primal Kitchen. These are both great options, but I prefer to buy some avocado oil and make some myself. This recipe from Tastes Lovely is similar to the method I use.
Onion: I like to puree my onion. This makes for a smooth dressing, rather than one with little chunks of raw onion. I use a small Ninja food chopper for this task, but you can also very finely mince the onion and crush it with the back of a knife to release some of the juices. Note that this recipe calls for 1-2 tbsp. This is because raw onion is a strong flavor. If you prefer a mild onion flavor, opt for the 1 tbsp. of pureed onion to start with.
Apple Cider Vinegar: I like to use raw apple cider vinegar in this recipe. The signature flavor of ACV gives the salad dressing a lovely tang.
White Vinegar: In order to balance out the sour taste, some white vinegar is used in addition to apple cider vinegar. White vinegar has a more neutral taste.
Honey: Poppy seed dressing needs a touch of sweetness, and honey is the perfect choice for those seeking natural sweeteners.
Poppy Seeds: It wouldn't be poppy seed dressing with poppy seeds! These can be found in the herbs and spices at your local grocery store, or at a health food store in the bulk bins.
Scroll down for the printable recipe 👇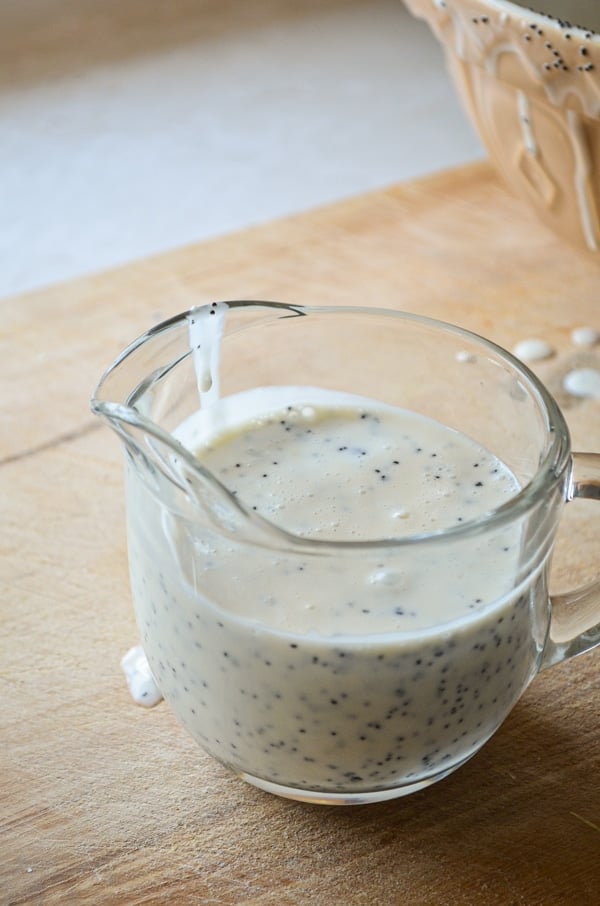 Healthy Poppy Seed Salad Dressing
This homemade poppy seed dressing is a great healthy whole food option for topping your favorite salad. It is naturally sweetened with honey, making for a delicious dressing you can feel good serving your family!
Ingredients
⅔ cup Real Mayonnaise , use avocado mayo or homemade if possible
1-2 tbsp. Finely minced onion, or pureed
1 tbsp. Raw Apple Cider Vinegar
1 tbsp. White Vinegar
3 tbsp. Honey
1 tbsp. Poppy Seeds
Instructions
Finely mince the onion using a sharp knife, or blending in a small blender until pureed.
Add the mayonnaise to a medium sized bowl.
Add the onion, apple cider vinegar, white vinegar, honey, and poppy seeds. Whisk until well combined.
Transfer to a pourable container and cover with an airtight lid. Refrigerate for approximately 30 minutes before serving.
Notes
Raw onion is a strong taste, hence why the recipe calls for 1-2 tbsp. of very finely minced (or pureed) onion. If you don't like a strong onion taste, opt for the 1 tbsp. of onion and see how you like it. You can always increase the onion later on, or decrease it for your next batch of dressing if desired.
Nutrition Information:
Yield:

6
Serving Size:

1/6 of Recipe
Amount Per Serving:
Calories:

279
Total Fat:

26g
Saturated Fat:

4g
Trans Fat:

0g
Unsaturated Fat:

21g
Cholesterol:

11mg
Sodium:

174mg
Carbohydrates:

13g
Fiber:

3g
Sugar:

9g
Protein:

1g
Nutrition information is an estimate only.