You just have to love these Easy Pizza Pinwheels! Just 5 ingredients and 20 minutes delivers a quick lunch or an appetizer to accompany a fun meal. Kid friendly too!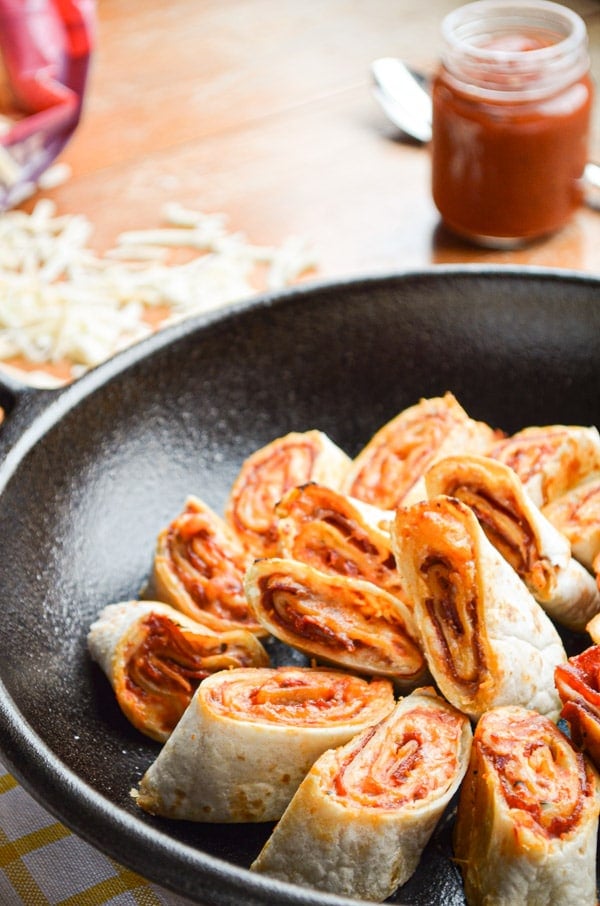 Please note that some of my blog posts here at Little Home in the Making may contain affiliate links. If you make a purchase through these links, I will get a small commission at no additional cost to you. See our Disclaimer for more information.
---
Like Tuna Melts and Antojitos, these delicious Easy Pizza Pinwheels make an easy and quick lunch. You can even serve them as a light supper if you include several vegetable sides like a salad or veggies and dip. Just 5 ingredients come together to make an easy, kid-friendly meal.
Tortillas are such a great item to have on hand in your kitchen. I have turned leftovers into delicious quesadillas, thereby stretching two meals into one with just a few extra ingredients. This recipe for Easy Pizza Pinwheels uses just two large tortillas (leftover from Fajita night), rolled up with pizza ingredients and baked until crisp and melty.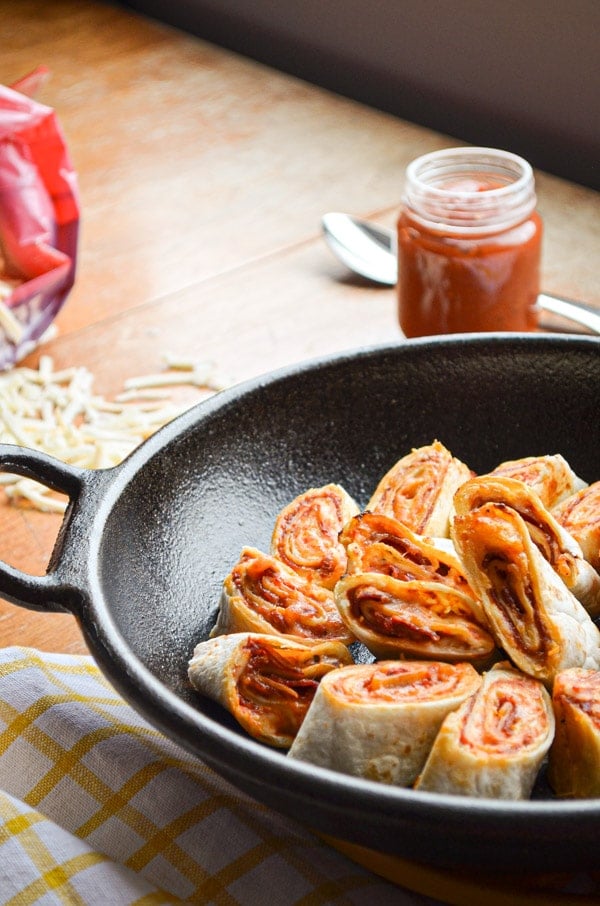 What About Pizza Sauce?
An item that I love to keep on hand is canned pizza sauce. I used to be pretty committed to making everything from scratch for our homemade pizza, but I soon realized that pizza night was supposed to be easy. Pizza dough will always be made from scratch in my home, but shredding all the cheese and making the pizza sauce from scratch was adding a lot of work to what was supposed to be an easy meal. I switched to canned pizza sauce (I buy the Great Value brand from Wal-mart), and it has made for a lot of time-saving meals in my home. My upcoming recipe for Pizza Toast makes use of canned pizza sauce, and it couldn't be more convenient!
What Do I Need to Make Easy Pizza Pinwheels?
Tortillas: I use 2 large (12″) tortillas in this recipe.
Cream Cheese: This adds a creaminess to the pinwheels and prevents the tortilla from becoming soggy.
Pizza Sauce: I use canned or jarred pizza sauce in this recipe for ease and convenience.
Pepperoni: sliced pepperoni gives a true "pizza" flavor to these Easy Pizza Pinwheels.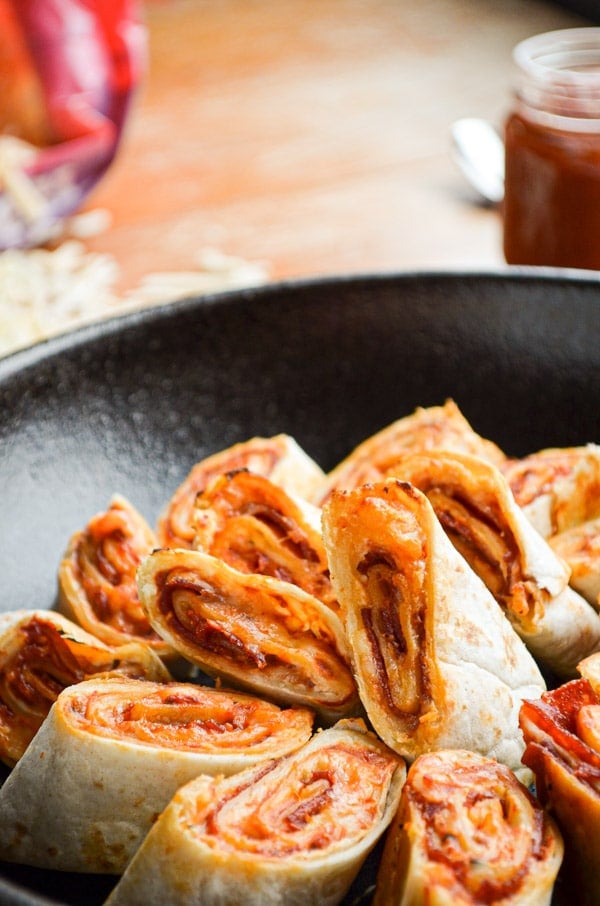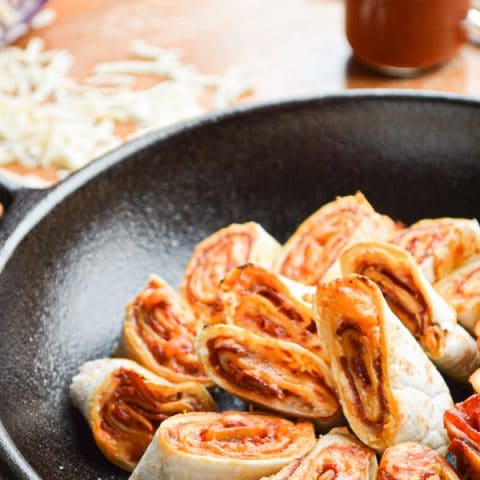 Easy Pizza Pinwheels
You just have to love these Easy Pizza Pinwheels! Just 5 ingredients and 20 minutes delivers a quick lunch or an appetizer to accompany a fun meal. Kid friendly too!
Ingredients
2 large Flour Tortillas
2 oz Cream Cheese, softened
6 tbsp. Prepared Pizza Sauce
2/3 cup Shredded Italian Cheese Blend
18 slices Pepperoni
Instructions
Preheat the oven to 450F. and line a cast iron skillet or sheet pan with parchment paper.
Spread half of the cream cheese on one of the tortillas, leaving an edge of about 1" all the way around.
Spread 3 tbsp. Of pizza sauce on top of the cream cheese, maintaining the 1" border.
Sprinkle 1/3 of the shredded cheese on top of the sauce.
Place 9 slices of pepperoni, spaced evenly, on top of the shredded cheese layer.
Starting at one end of the tortilla, roll it up tightly. Use a sharp knife to score the tortilla diagonally into 8 evenly spaced sections.
Place the scored tortilla roll on the sheet pan or skillet and bake for 10 minutes.
Remove from the oven and cool for a few minutes before slicing along the scored lines.
You may serve immediately, or you may return the sliced pinwheels to the oven for 5 minutes to crisp.
Nutrition Information:
Yield:

2
Serving Size:

1 Tortilla Wrap
Amount Per Serving:
Calories:

509
Total Fat:

33g
Saturated Fat:

16g
Trans Fat:

0g
Unsaturated Fat:

13g
Cholesterol:

82mg
Sodium:

899mg
Carbohydrates:

34g
Fiber:

3g
Sugar:

3g
Protein:

19g
Nutrition information is an estimate only.
Don't Forget to "Pin It" for Later!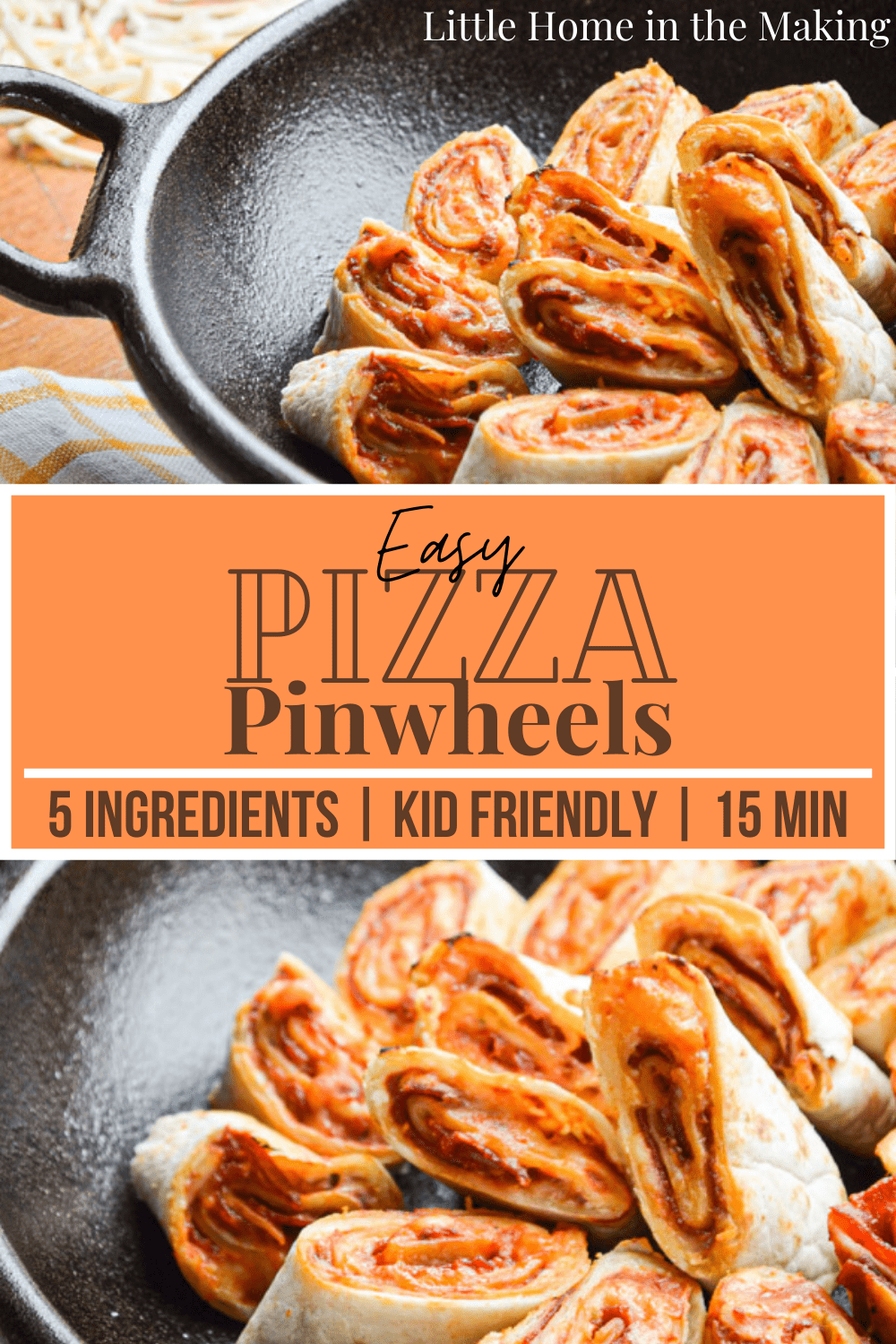 Other Recipes to Try: