Forget Drive Thru! Try this yummy and healthier Deluxe Cheeseburger Salad! Romaine lettuce is topped with all your favorite Deluxe Cheeseburger toppings for an easy, quick, and healthier-than-drive-thru meal.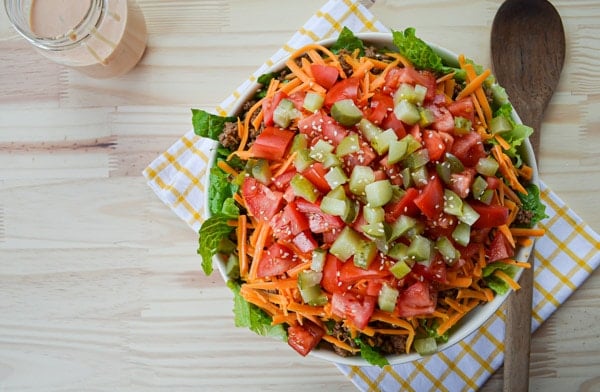 Please note that some of my blog posts here at Little Home in the Making may contain affiliate links. If you make a purchase through these links, I will get a small commission at no additional cost to you. See our disclaimer for more information.
When I first met my husband, he wasn't too fond of salads. His salads were comprised of a tiny teaspoon of lettuce, copious amounts of shredded cheese, crackers and/or croutons, bacon bits, and about 3 quarts of ranch dressing. I called them Man Salads. This Deluxe Cheeseburger Salad is what I may consider a Reformed Man Salad, or a happy compromise.
This scrumptious Deluxe Cheeseburger Salad is served with an ample amount of romaine lettuce, chopped tomatoes, softened onion, and diced pickles. I feel like the vegetable to meat and cheese ratio is pretty good in this one. On top of all that, it tastes just like a Drive Thru burger…without the bun! I love to pour my Thousand Island Dressing all over mine for a Big Mac kind of vibe, but my husband loves his with Buttermilk Ranch Dressing (an adaptation of my Ranch Dip recipe).
Oh, the Onions…
Perhaps my favorite part of this salad are the softened, cooked onions. When making this salad one night, I was completely distracted and let the onions cook entirely too long! That was a happy accident. In the recipe below I include the directions for cooking the onions just right, but I often make this salad with my fully caramelized onions. Actually, I created a separate recipe for it: Caramelized Onion Spread.
Not only are these onions delicious in this Deluxe Cheeseburger Salad, but they are absolutely to-die-for spread on sourdough bread, hot dogs, sausages, and pizza. Uh, I'm totally drooling right now thinking about it.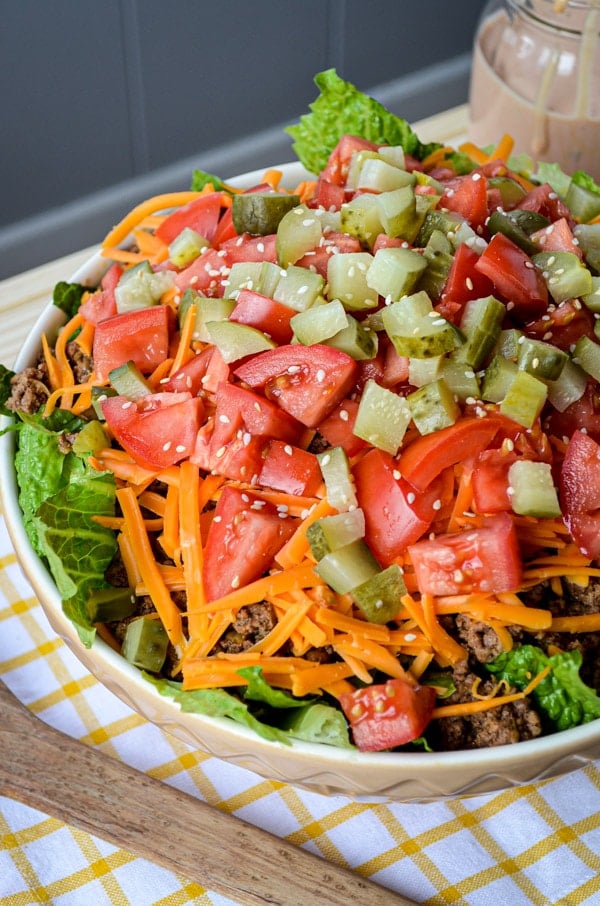 What Do I Need to Make Deluxe Cheeseburger Salad:
Lean Ground Beef: Using lean means you don't have to drain as much fat off your beef.
Onions: These need to be very finely diced. Each piece should be smaller than your pinky fingernail. I use this small Ninja Food Chopper to get mine small enough.
Butter: Gotta have butter!
Seasonings: This recipe keeps it very simple in the seasoning department. All you need is salt, paprika, black pepper, garlic powder, and onion powder.
Worcestershire Sauce: I just love adding this to beef! I find it really compliments the flavor and adds a nice saltiness.
Romaine Lettuce: Chopped romaine is the base of our salad. Romaine is sturdy and stands up to all the delicious toppings in this recipe. To prevent browning and for easy prep, I cut all my lettuce with this lettuce knife. So cheap and I use it all the time!
Roma Tomatoes: I always use Roma tomatoes when I'm preparing a salad. Roma tomatoes don't have as many seeds, so you don't have to seed them and they don't get really soggy. If you can find San Marzano tomatoes, those are great too!
Dill Pickles: Just a few regular dill pickles, chopped up!
Sharp Cheddar Cheese: I love grating mine off the block, but you can use a pre-shredded cheese here if you like. Just make sure it is a sharp cheddar cheese.
Thousand Island or Ranch Dressing: What kind of dressing would you put on a Cheeseburger if you could? Thousand Island, Ranch? Something else? Add that to your Deluxe Cheeseburger Salad!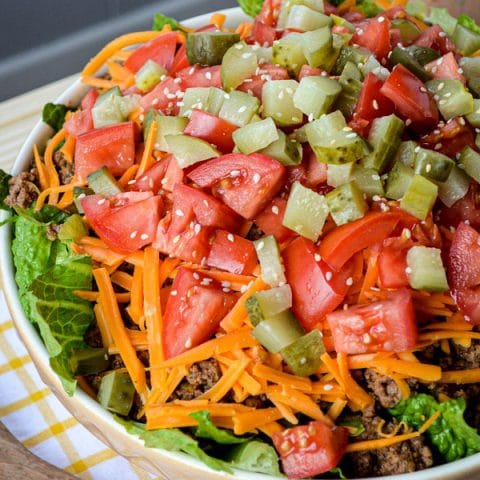 Deluxe Cheeseburger Salad
Forget Drive Thru! Try this yummy and healthy Deluxe Cheeseburger Salad! Romaine lettuce is topped with all your favorite Deluxe Cheeseburger toppings for an easy, quick, and healthy meal.
Ingredients
Onions
1 tbsp. Salted Butter
2 medium Yellow Onions, finely diced
Cheeseburger Crumble
1 1/2 lbs Lean Ground Beef
1/2 cup Water
2 tsp. Paprika
1 tsp. Salt
1/2 tsp. Ground Black Pepper
1/4 tsp. Garlic Powder
1/4 tsp. Onion Powder
4 tsp. Worcestershire Sauce
1 tbsp. Salted Butter
Salad and Toppings:
2 heads Romaine Lettuce, washed and chopped
2 Roma Tomatoes, stemmed and chopped
2 Dill Pickles, chopped
6 oz Sharp Cheddar Cheese, shredded
Thousand Island or Ranch Dressing, for serving
Sesame seeds, for garnish (optional)
Instructions
Onions
In a medium saucepan over medium heat, add 1 tbsp. of butter. Once it has melted, add the finely diced onion and stir to coat. Saute for 5 minutes, stirring often to prevent burning.
Reduce the heat to low and cook for an additional 10 minutes, until the onion is soft. Ensure that you stir often to prevent scorching.
Cheeseburger Crumble
In a large skillet over medium heat, brown the ground beef, breaking it up as you go.
Once the ground beef is no longer pink, drain the meat of any excess fat.
Add the water to the beef and stir well.
Add the paprika, salt, black pepper, garlic powder, onion powder, and Worcestershire sauce.
Simmer on low for 5-10 minutes, stirring often.
Add 1 tbsp. of butter and stir until melted.
Remove from the heat.
Stir the cooked onions into the ground beef mixture.
Assembling the Salad
Once all of your vegetables are chopped as directed in the ingredients list, you can assemble your salad. You can assemble it as one large family style salad in a serving bowl, or you can assemble individual salads for each family member.
If you would like to assemble individual salads, add each topping to a small serving bowl and the lettuce in a large serving bowl. Have your family assemble their salads using these bowls of prepared toppings. Serve with a variety of dressing options.
For a larger family style salad, add the lettuce to a large serving bowl. Top with the ground beef and onions, then shredded cheese, chopped tomatoes, chopped pickles, then sprinkle with sesame seeds for garnish. Serve salad dressing on the side. I recommend Thousand Island, but my husband's preference is Ranch!
Nutrition Information:
Yield:

6
Serving Size:

1 grams
Amount Per Serving:
Calories:

539
Total Fat:

34g
Saturated Fat:

14g
Trans Fat:

1g
Unsaturated Fat:

16g
Cholesterol:

142mg
Sodium:

945mg
Carbohydrates:

15g
Fiber:

6g
Sugar:

6g
Protein:

43g
Nutrition information is an estimate only.
Don't Forget to Pin It to Pinterest!