This vintage recipe for Chicken Divine Casserole is made with chicken, rice, and condensed soup. Topped with crushed crackers, and baked until bubbly. It's the perfect comfort food casserole!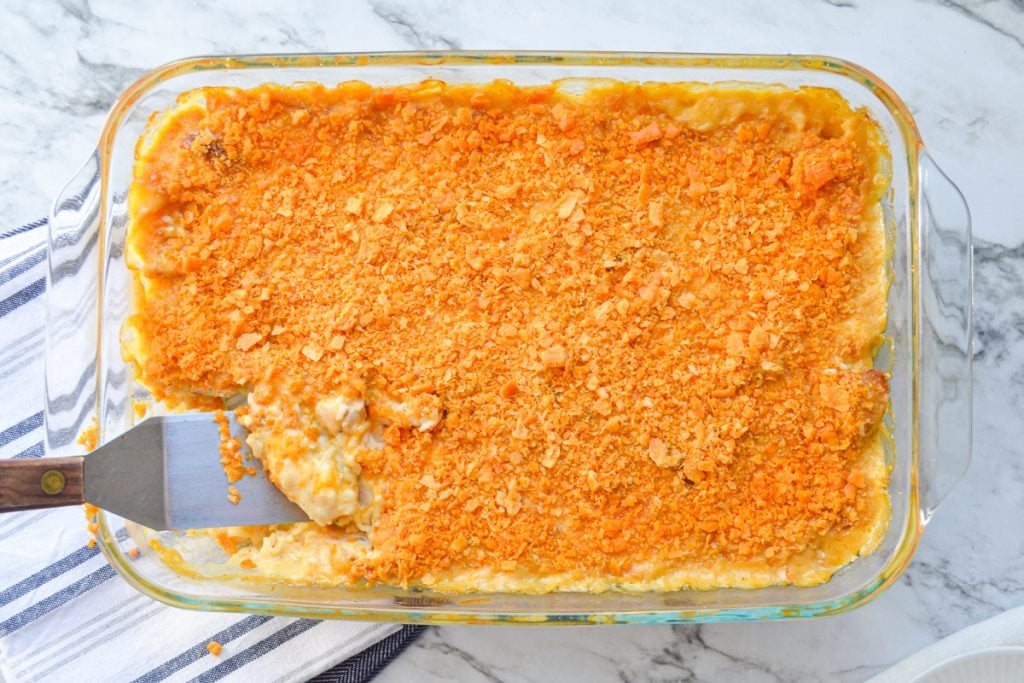 Please note that some of my blog posts here at Little Home in the Making may contain affiliate links. If you make a purchase through these links, I will get a small commission at no additional cost to you. Please see my Disclaimer for more information.
---
Lest you accuse me of irreverence, this chicken casserole is not at all truly "divine". Rather it has been given that name by a woman who submitted the recipe to a vintage (circa 1970's) collective cookbook. Since the internet is flooded with casseroles of the "chicken and rice" variety, I wanted to ensure that I gave it the name it was given, just in case someone went scouring google, looking for the exact recipe their Granny used to make for them. While there have been some minor tweaks, this is the OG "Chicken Divine" (NOT Chicken Divan) casserole that you may have encountered during the condensed soup casserole golden years.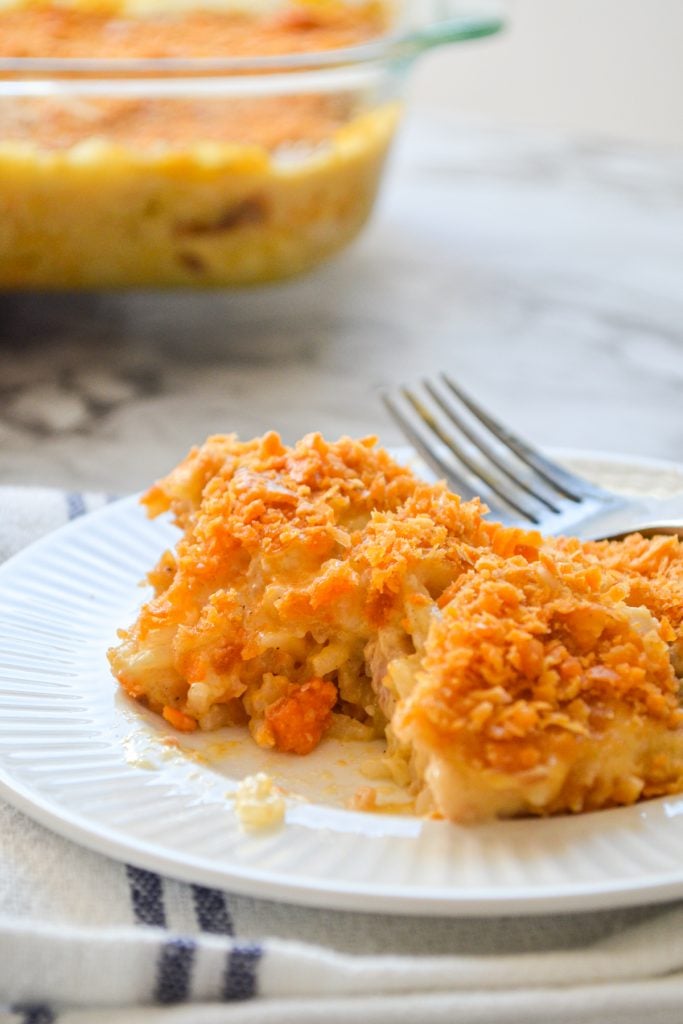 A Crushed Cracker Topping
And so this recipe, while a standard chicken and rice style casserole, is a little bit different from others I've seen. While the original recipe calls for crushed buttery round crackers (aka Ritz crackers), I've opted instead for crushed Cheez-its since it's what I have on hand. I have an incredible weakness for these crackers, and my mother had given us a few boxes on her most recent visit. I've since determined that they are not an item I can exercise self-control with, and as such they have been banned! You can use any variety of cracker here, so long as it has a higher fat content. You could also use buttered breadcrumbs with great results. That will probably be my method going forward.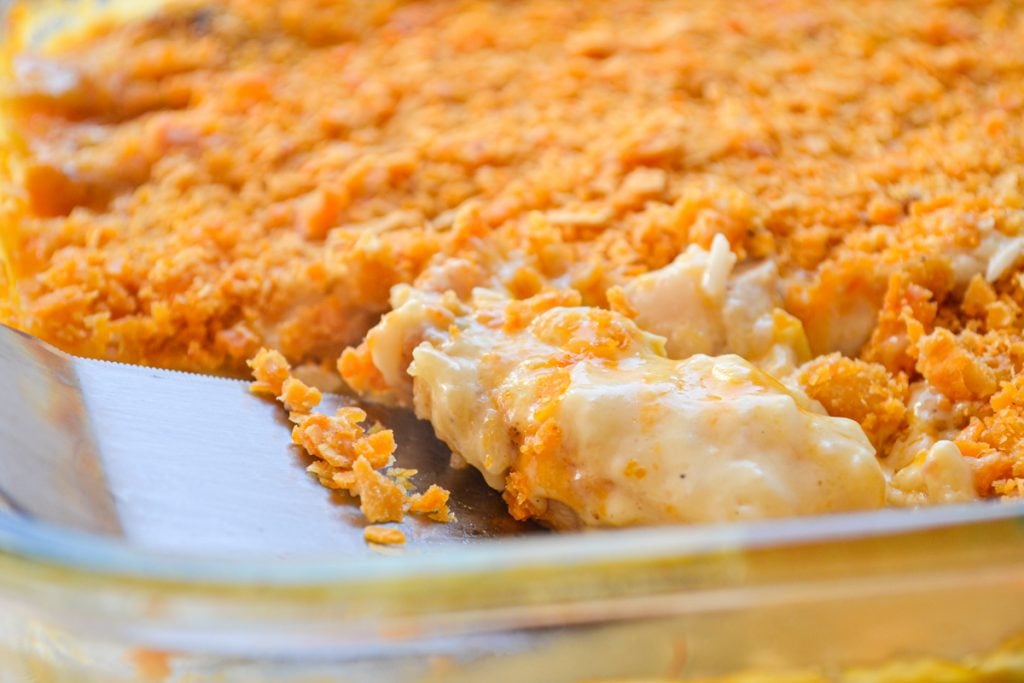 Using Precooked Chicken Breasts
This recipe makes excellent use of pre-cooked chicken breasts. I used my Juicy Baked Chicken Breasts and sliced them thinly to include in this casserole. It was absolutely lovely this way, and the chicken stayed moist through the casserole baking time. You could also use leftover shredded rotisserie chicken, although that may be a bit on the dryer side comparatively.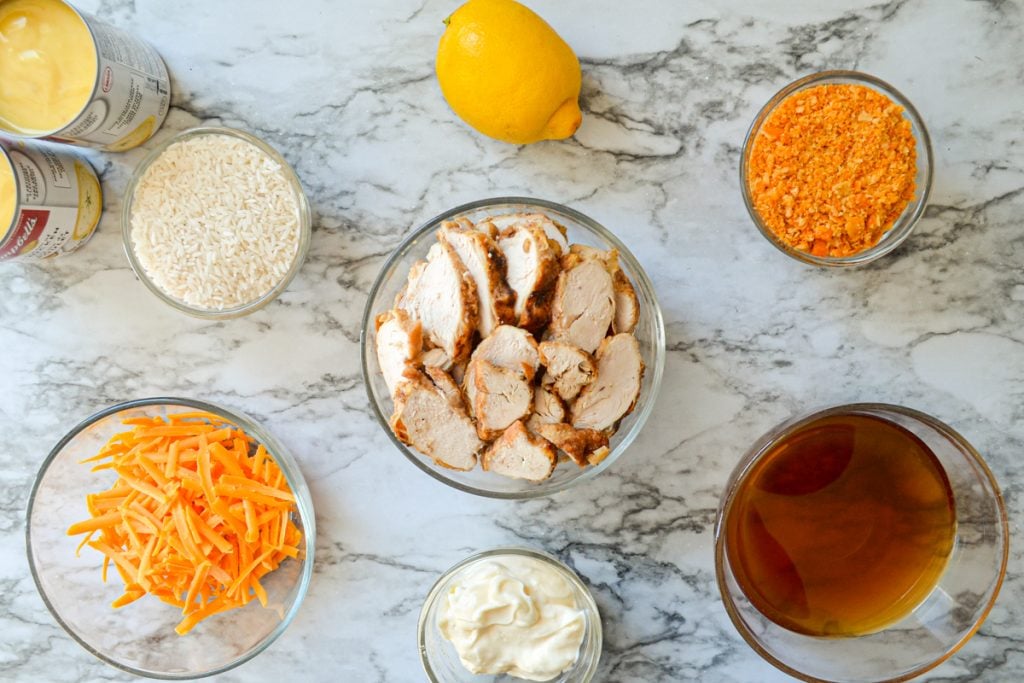 What Ingredients Will I Need?
Cooked chicken breasts: I used my Juicy Baked Chicken Breasts for this recipe, which makes for a casserole without dried out chicken. You can use any method for cooking your chicken, and you could even use leftover rotisserie chicken.
Mayonnaise: Use a real mayonnaise, or homemade if preferred.
Cream of Chicken soup: You need about 2 cans of cream of chicken soup for this recipe. You could also substitute some of my Homemade Condensed Cream of Mushroom Soup if desired.
Lemon juice: An unexpected addition, but creates a bright flavor! You can use fresh or bottled for Chicken Divine Casserole.
Rice: Long grain white rice is used in this recipe, but you could use instant rice if that's what you have on hand. The original recipe uses instant rice, but we don't keep that in our pantry so I used long grain.
Chicken broth: A little bit of chicken broth helps add some liquid, which will be absorbed by the rice. You can use store-bought, or homemade (like my Instant Pot Chicken Bone Broth)
Shredded cheese: I recommend using a cheddar cheese block and grating it yourself. Shredded cheese contains anti-caking agents, which makes it poor for melting and can result in grainy sauces. I recommend using old or sharp cheddar cheese for this recipe.
Crushed cracker crumbs: Any buttery or cheesy flavored cracker will work well for the topping. You can also used buttered breadcrumbs or cornflakes if desired.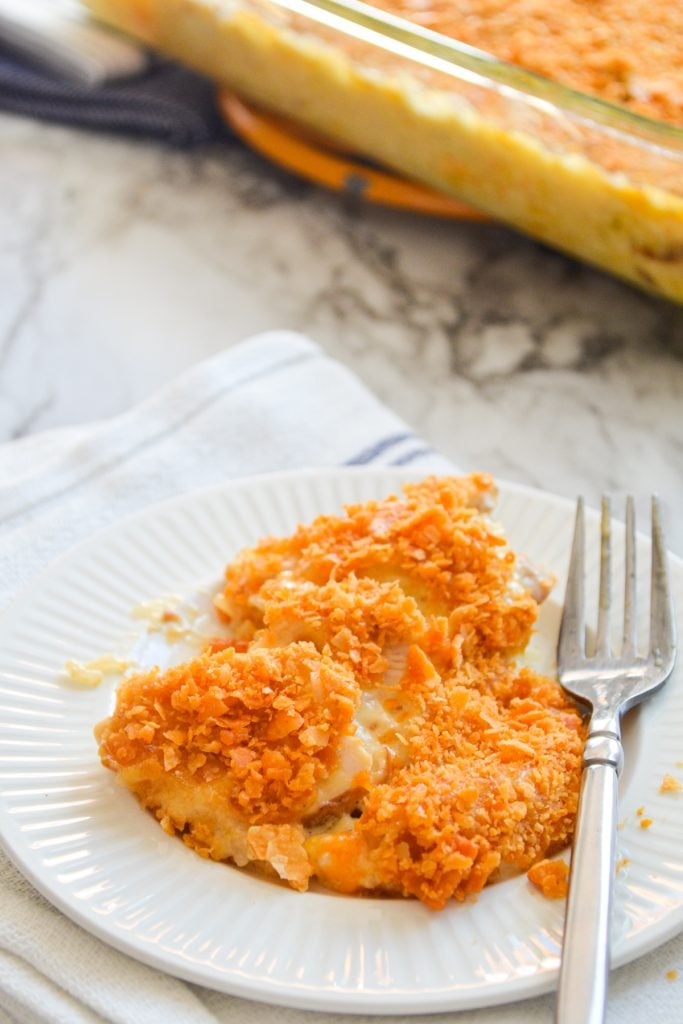 How to Make Chicken Divine Casserole
Making Chicken Divine Casserole is so easy and simple! This comforting vintage casserole is made using one bowl (for mixing) and one baking dish (for baking).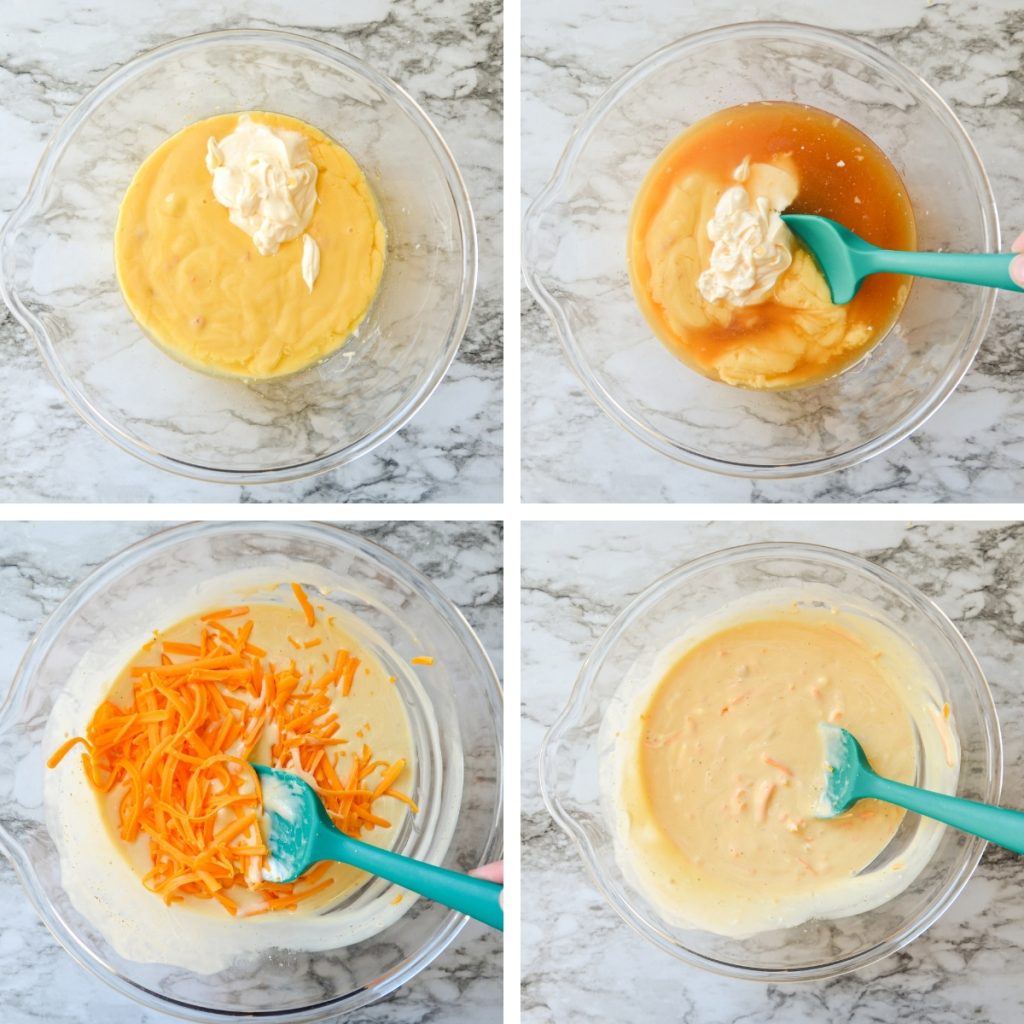 Add the Cream of Chicken soup, mayonnaise, lemon juice, and chicken broth in a bowl. Mix well to combine.
Add the shredded cheddar cheese and fold it in.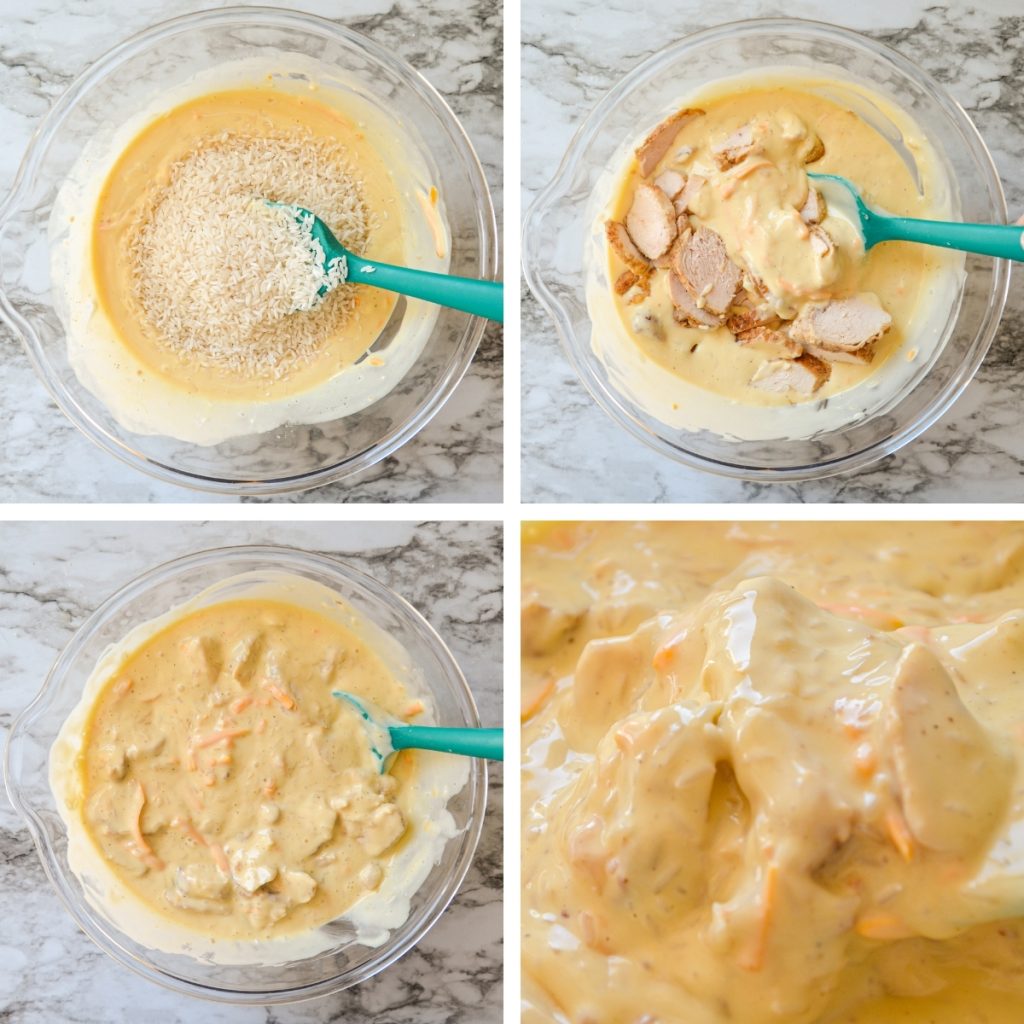 Then, add the rice. Stir well.
Add the cooked chicken breasts and fold them in to coat them completely in the sauce.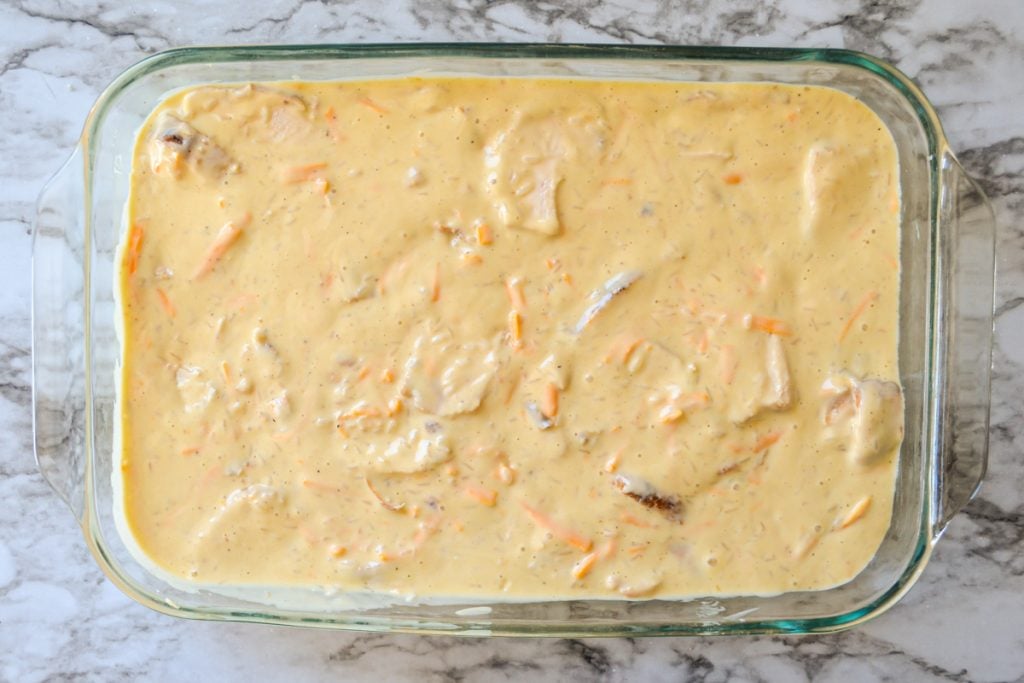 Spread your mixture into a 9X13 glass baking dish (we love Pyrex).
Bake for 65-70 minutes, or until the rice is cooked through.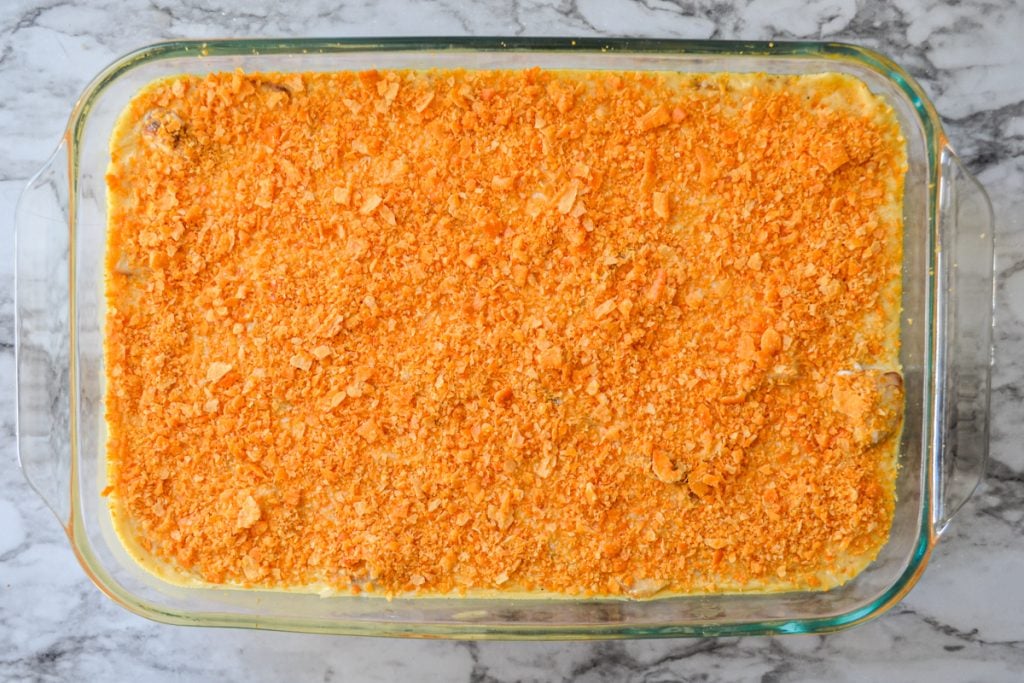 Once cooked through, remove the foil and top with the crushed crackers. Return to the oven and broil for 1-3 minutes, keeping a close eye to avoid burning.
Questions and Answers
Can I substitute instant rice?
Yes! If you'd like to use instant rice, lower the baking time to 30-35 minutes. Baking much longer will result in very mushy rice.
What other toppings can I use?
Any crushed cracker topping is fine, but the best results will come from those crackers that are buttery or cheesy in flavor. You could also used buttered breadcrumbs, cornflakes, or panko. French fried onions would probably make a lovely topping as well!
Should I bake casseroles covered or uncovered?
It really depends on the particular recipe, but most casseroles should be baked covered to avoid drying out. If there is a crispy topping, it's best to remove the cover during the last 10-15 minutes of baking OR to broil the casserole (cover removed) at the very end for several minutes.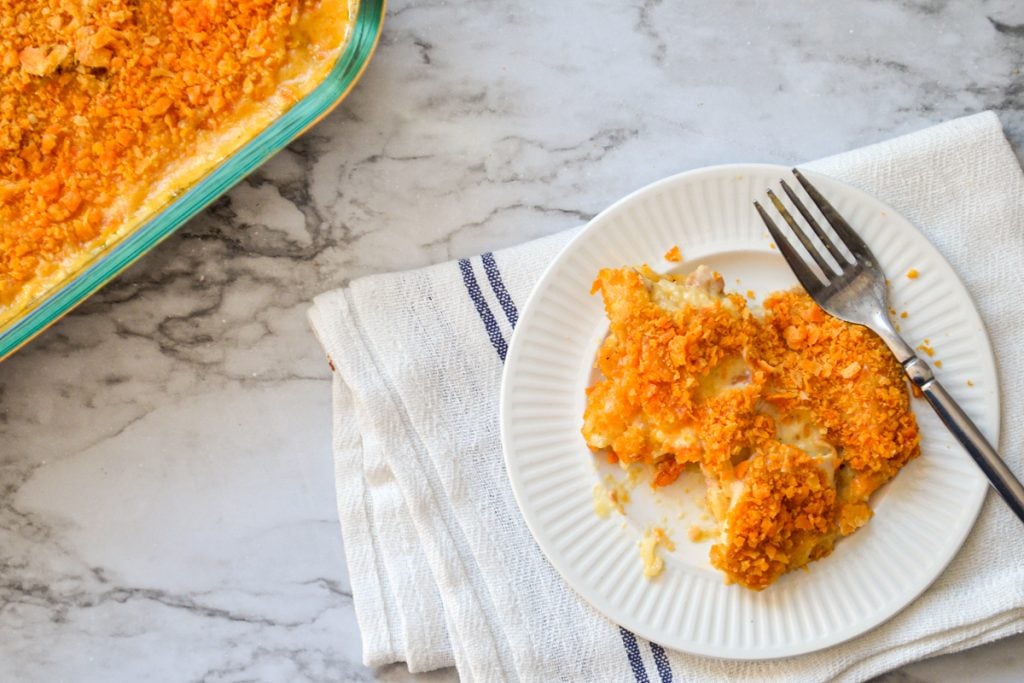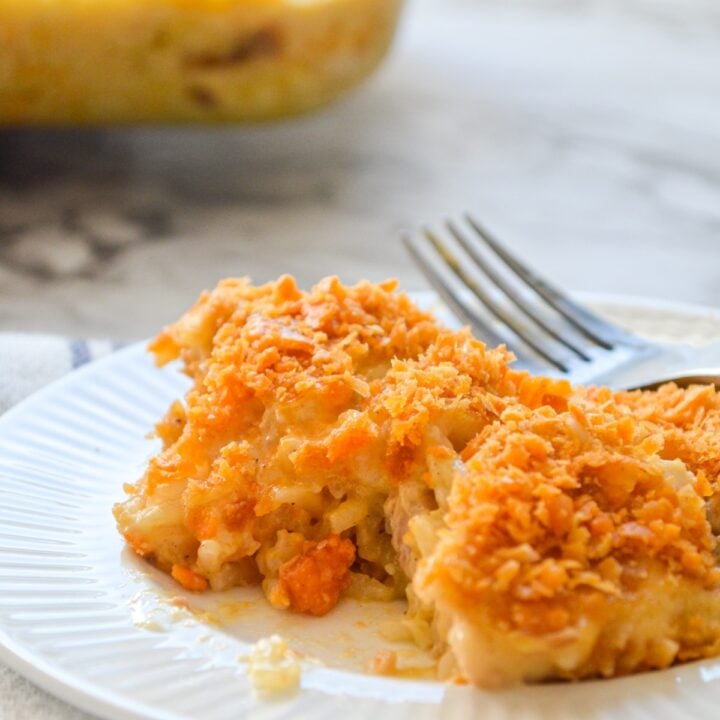 Chicken Divine Casserole
Cook Time:
1 hour
5 minutes
Total Time:
1 hour
25 minutes
This vintage recipe for Chicken Divine Casserole is a yummy chicken and rice casserole that is made using just one bowl and one baking dish. A great comfort casserole with an easy clean up, this one is freezer friendly too!
Ingredients
4 boneless, skinless chicken breasts, cooked and sliced
2 (10oz) cans Cream of Chicken soup, undiluted
1/2 cup real mayonnaise
1 tbsp. lemon juice
1 cup chicken broth
1 cup long grain white rice
1/8 tsp. ground black pepper
1 cup shredded cheddar cheese
1 cup crushed butter or cheese flavored crackers
Instructions
Preheat the oven to 400F and grease a 9X13 glass baking dish.
Add the Cream of Chicken soup, mayonnaise, lemon juice, chicken broth, and black pepper to a medium sized bowl. Toss well to combine.
Add the long grain white rice and stir well.
Then, add in the shredded cheddar cheese, followed by the sliced chicken breasts.
Pour this mixture into your prepared baking dish.
Cover tightly with foil and bake for 65-70 minutes, or until the rice is cooked thoroughly.
Remove the foil and top with the crushed cracker topping.
Return to the oven and broil for 1-3 minutes, or until the topping is crunchy, but not burned. Make sure to keep a close eye!
Notes
If Using Instant Rice:
You may substitute instant rice for the long grain rice if desired. You will need to shorten the baking time to about 30-35 minutes, rather than the full amount that is indicated in this recipe.
Alternative Toppings:
You can use any type of crushed cracker crumbs for this Chicken Divine Casserole. You want something buttery or cheesy in nature, but you do have the option of tossing your desired topping with some melted butter for extra richness. Buttered breadcrumbs, cornflakes, or panko are all great options. I bet French fried onions would be tasty too!
Cooked Chicken:
You can use any type of cooked chicken in this recipe, but cooked and sliced chicken breasts provide the best flavor and texture. Be sure that they are not overbaked, since they may dry out when cooked a second time.
Nutrition Information:
Yield:

8
Serving Size:

1/8 of Recipe
Amount Per Serving:
Calories:

512
Total Fat:

42g
Saturated Fat:

20g
Trans Fat:

1g
Unsaturated Fat:

19g
Cholesterol:

137mg
Sodium:

660mg
Carbohydrates:

8g
Fiber:

0g
Sugar:

0g
Protein:

24g
Nutrition information is an estimate only.