These Brown Sugar and Cinnamon Roasted Carrots are a delicious and sweet way to enjoy the humble carrot. Carrots are sliced diagonally and drizzled with olive oil and sprinkled with a delicious seasoning blend that highlights the natural sweetness found in carrots.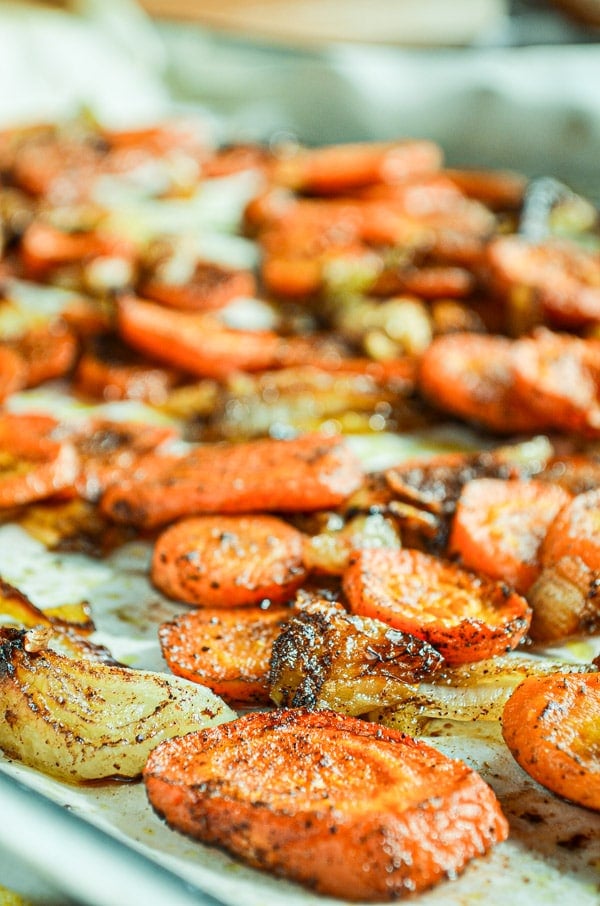 Please note that some of my blog posts here at Little Home in the Making may contain affiliate links. If you make a purchase through these links, I will get a small commission at no additional cost to you. See our disclaimer for more information.
It seems like hiding vegetables is a common theme in recipes intended to be "family friendly." The idea is that we must trick our families into enjoying vegetables. Certainly, many children (and adults) are particularly fussy about eating their vegetables, this is true. Most vegetables, in their natural state, can be more of an acquired taste rather than "love at first bite."
Making Vegetables Delicious
I'm not a big fan of hiding vegetables or sneaking them into things. I think there is a way to make pretty much any vegetable tasty, all you have to do is keep trying different ways of seasoning and preparing it! Squash, for example, has for a long time been my husband's least favorite food in the world. Finally, after many attemps at different recipes and preparations, I found that my husband really enjoyed squash when it was cubed and roasted with other fall and winter vegetables (like beets, sweet potatoes, carrots, and onions).
Carrots aren't one of those vegetables that is particularily hard to like. After all, carrots are absolutely delicious when drizzled with just a little melted butter. But even the most delicious of meals can be boring and uninspired when it is too frequent. Carrots are available fresh year round, and are very inexpensive in most areas. For this reason, carrots are somewhat of a cornerstone in my vegetable arsenal. They can get awfully boring if you're eating them two or three times per week, so it is a great idea to find new ways of preparing them. Which is where this tasty recipe for Brown Sugar and Cinnamon Roasted Carrots comes in!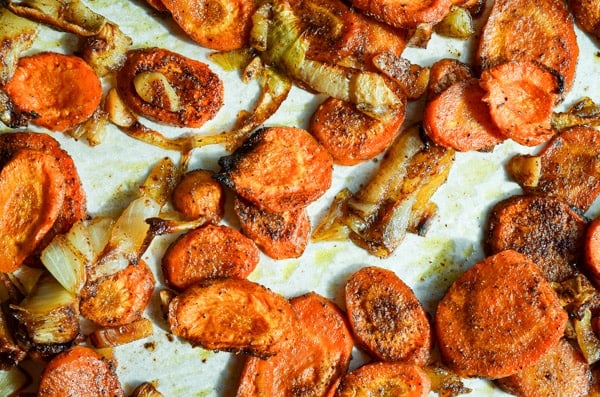 What Do I Need to Make Brown Sugar and Cinnamon Roasted Carrots?
Carrots: I use 6 large carrots. Using peeled carrots means less scrubbing.
Yellow Onions: Just your average cooking onion works in this recipe!
Garlic: Fresh garlic cloves are an absolute must here. I'm not a garlic snob for the most part, but when it comes to roasting, fresh garlic cloves are necessary. I would sooner forgo garlic than use the minced jarred stuff.
Olive Oil: This coats the vegetables and contributes a great deal of flavor. I use extra virgin, but any olive oil will do. Avocado oil will also work well.
Brown Sugar: Adds a sweetness and a robust flavor to the carrots.
Cinnamon: It's in the title, after all!
Seasonings: Garlic powder, kosher salt, and black pepper.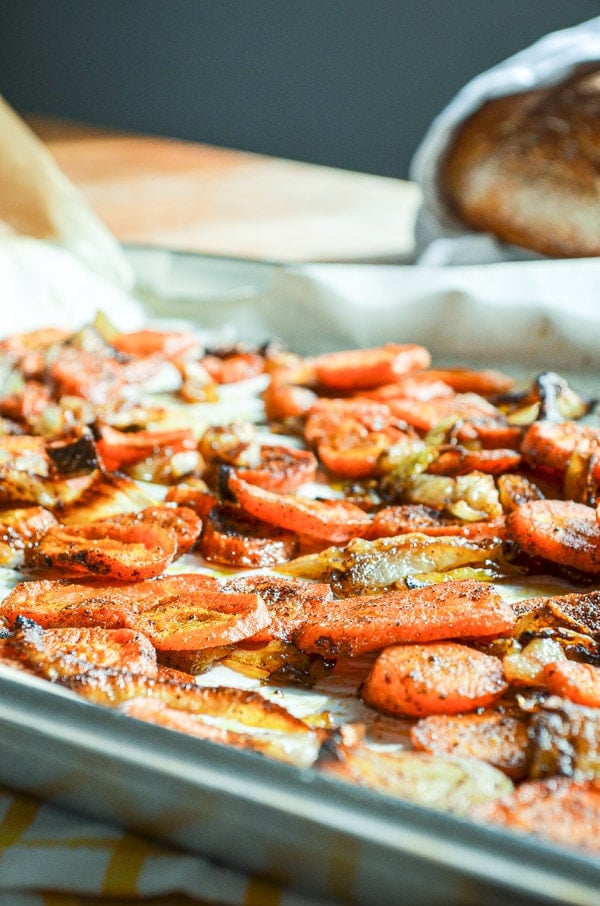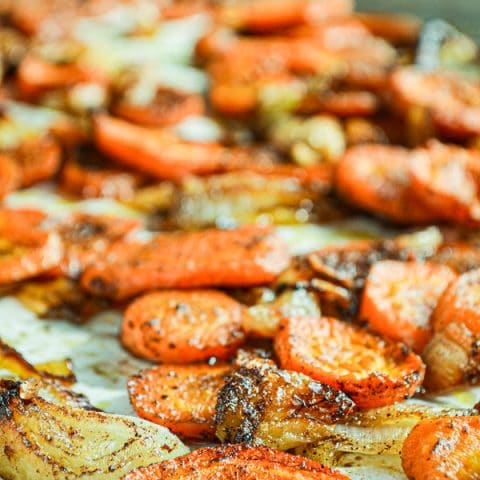 Brown Sugar & Cinnamon Roasted Carrots
Total Time:
1 hour
10 minutes
The humble carrot is roasted with onions and sprinkled with a brown sugar and cinnamon mixture for a delicious result!
Ingredients
6 large Carrots, peeled and sliced on the diagonal
2 medium Yellow Onions, peeled and sliced
4 cloves Garlic, roughly chopped
1/3 cup Extra Virgin Olive Oil
2 tbsp. Brown Sugar
1 tsp. Ground Cinnamon
1/2 tsp. Garlic Powder
1 tsp. Kosher Salt
1/2 tsp. Ground Black Pepper
Instructions
Preheat the oven to 450F and line a sheet pan with parchment paper.
Add the sliced carrots, onion, and garlic to a large bowl. Drizzle with olive oil and toss to coat.
Spread the vegetables onto the parchment lined sheet pan and disperse evenly.
In a small bowl combine the brown sugar, cinnamon, garlic powder, salt, and pepper. Mix well.
Sprinkle the seasoning mixture over the surface of the vegetables and toss to coat.
Bake for 1 hour, checking at the halfway point and tossing the vegetables briefly to ensure even cooking.
Serve and enjoy!
Notes
If you do not have Kosher Salt on hand, you can use 1/2 tsp. of table salt as a substitute.
Adapted from: Glazed Pork Chops with Apples by The Food Charlatan
Nutrition Information:
Yield:

4
Serving Size:

1 grams
Amount Per Serving:
Calories:

232
Total Fat:

18g
Saturated Fat:

2g
Trans Fat:

0g
Unsaturated Fat:

15g
Cholesterol:

0mg
Sodium:

359mg
Carbohydrates:

18g
Fiber:

3g
Sugar:

10g
Protein:

1g
Nutrition information is an estimate only.
Don't Forget to "Pin It" for Later!