This hearty BLT salad is filled with tender vegetables, and topped with creamy cheese and crispy bacon for the most delicious salad ever! BLT Salad is keto, low carb, and gluten too! Perfect for meal prep, or for a no-cook Summer meal idea. Add on some cooked rotisserie chicken for a boost of filling protein!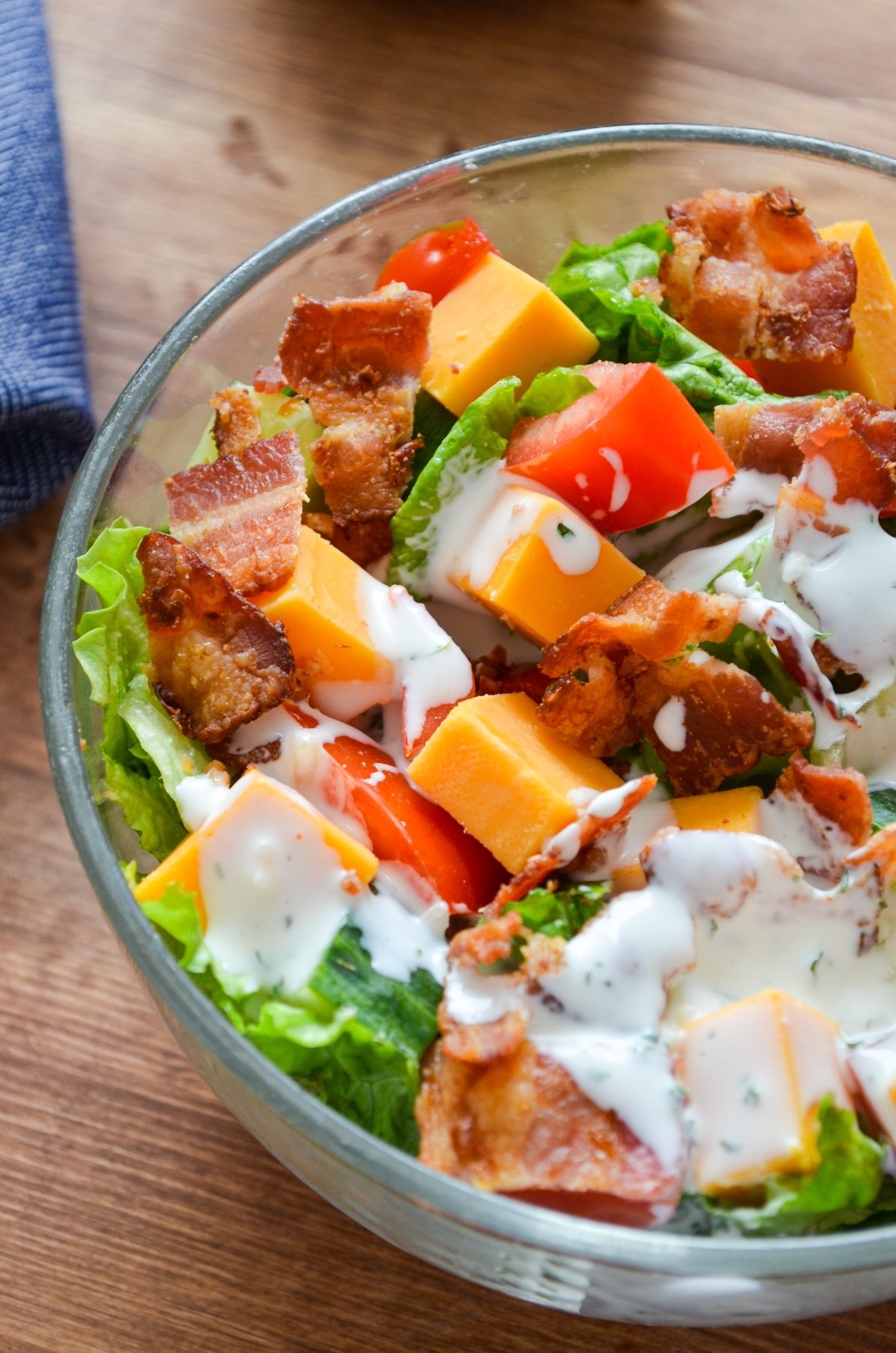 Please note that some of my blog posts here at Little Home in the Making may contain affiliate links. If you make a purchase through these links, I will get a small commission at no additional cost to you. Please see my Disclaimer for more information.
Everyone has those nights when you're too tired to cook a large meal. While it's certainly easy to throw in the towel and grab a pizza, there are some quick and easy options! This BLT Salad is a great for one of those days. You can even throw in a handful of rotisserie chicken to boost the protein and make it more filling, but it makes a great hearty lunch or light supper just on its own.
This is a favorite in my house, because it tastes JUST like a BLT Sandwich, but in salad form! Tender lettuce is topped with crisp cucumber, flavorful tomato, creamy cheddar cheese, and incredible crispy bacon. Then, it's all topped off with a creamy dressing of your choice (Buttermilk Ranch for me!). What more can you ask for!?
Ingredients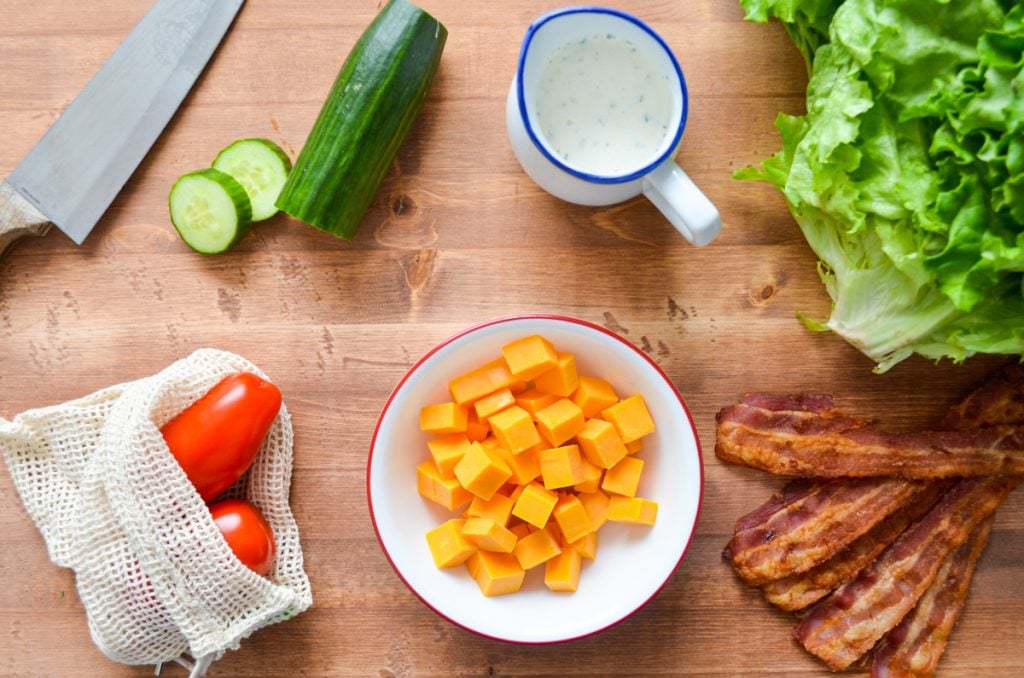 Lettuce: The base for our salad! I recommend using Romaine or green leaf lettuce for the most neutral flavor.
Tomato: Use chopped Roma tomatoes or cherry tomatoes. These cultivars have less seed, and make sure your salad stays crisp, not soggy.
Bacon: You will need some cooked and chopped bacon, but you can use commercially prepared bacon bits if desired.
Cheese: Cheddar goes best with the classic BLT flavor combos, and so that is the cheese I recommend here. You can use Colby, or even shredded cheese if desired.
Cucumber: This is optional, but I love the "crunch" that fresh cucumbers deliver.
Buttermilk ranch dressing: Buttermilk ranch dressing is a classic addition, but you can use whatever dressing you like best. Standard ranch dressing is a great option, too!
How to Make Salad with Bacon, Lettuce, and Tomato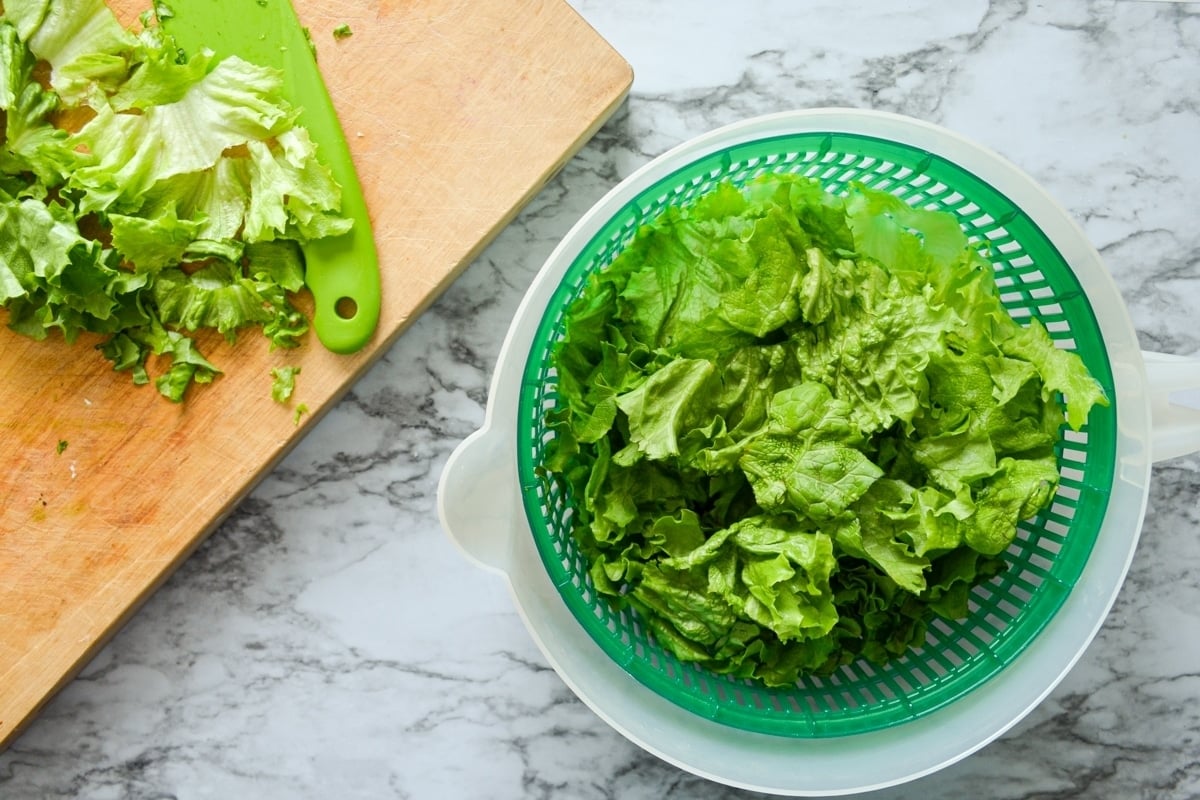 Chop your lettuce using a lettuce knife, or tear gently with your hands.
Place it into the bowl of a salad spinner, and wash and spin the lettuce dry 2-3 times.
Add the lettuce to a large bowl, OR several smaller sized bowls.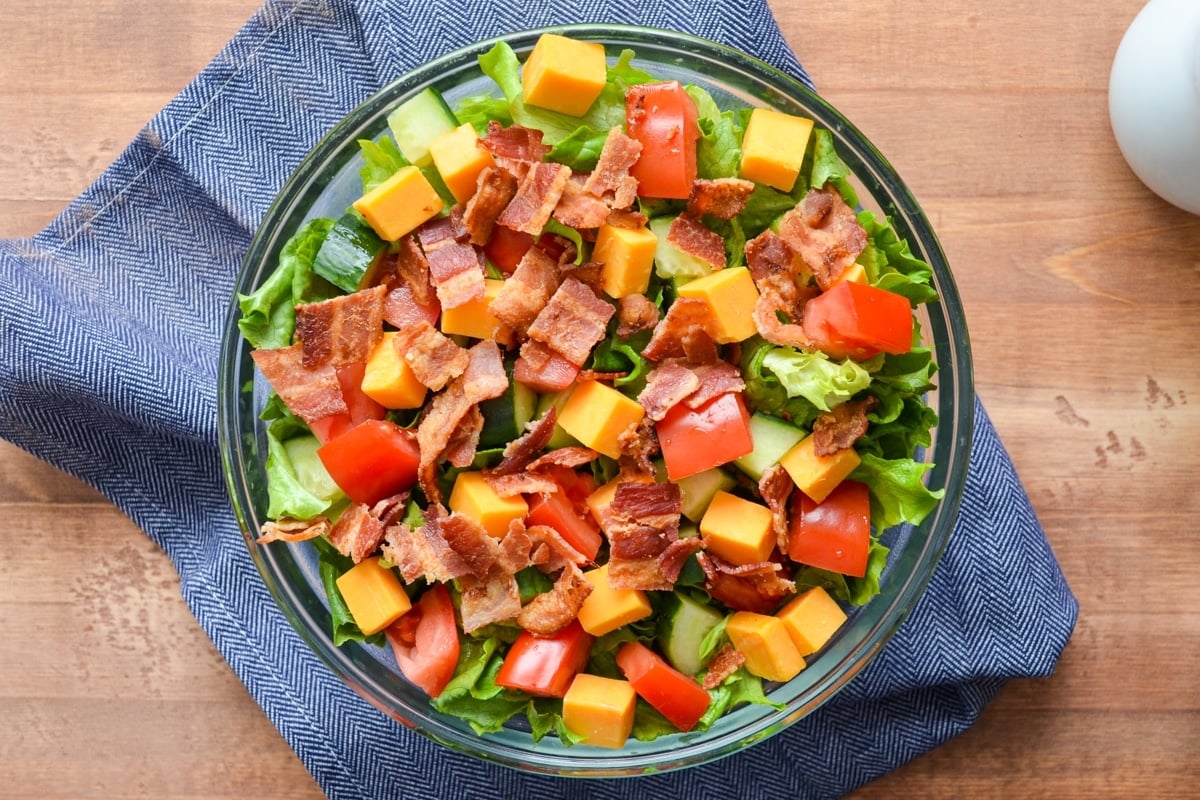 Top with the chopped cucumber, cubed cheddar cheese, chopped tomato, and chopped cooked bacon!
Serve and enjoy with your dressing of choice!
Best Dressing for BLT Salad
While this is completely up to your preferences, I think the BEST dressing for BLT Salad is Buttermilk Ranch Dressing. It's creamy, tangy, and is just a classic when it comes to all things bacon, lettuce, and tomato.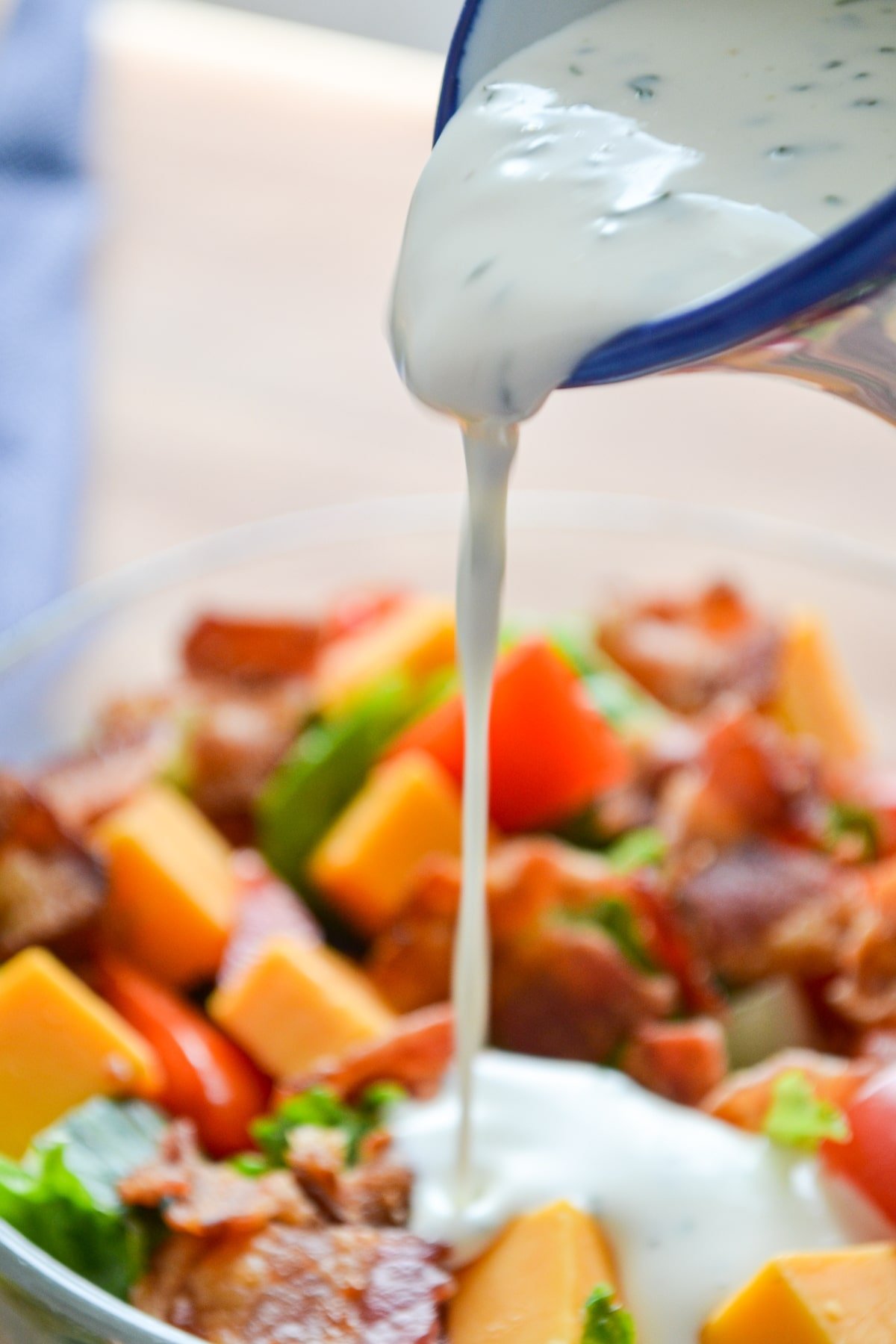 Low Carb and Keto Option
Buttermilk is a little higher in carbs, so if you are needing to keep your carbs lower for any reason, feel free to substitute it with sour cream. This will make for a thicker dressing, but will be a little lighter in carbs. That being said, the small amount of buttermilk isn't really significant, so that may not be necessary depending on your dietary needs.
Since I don't watch my carbs closely any more, I just go with the Buttermilk Ranch dressing and enjoy it freely.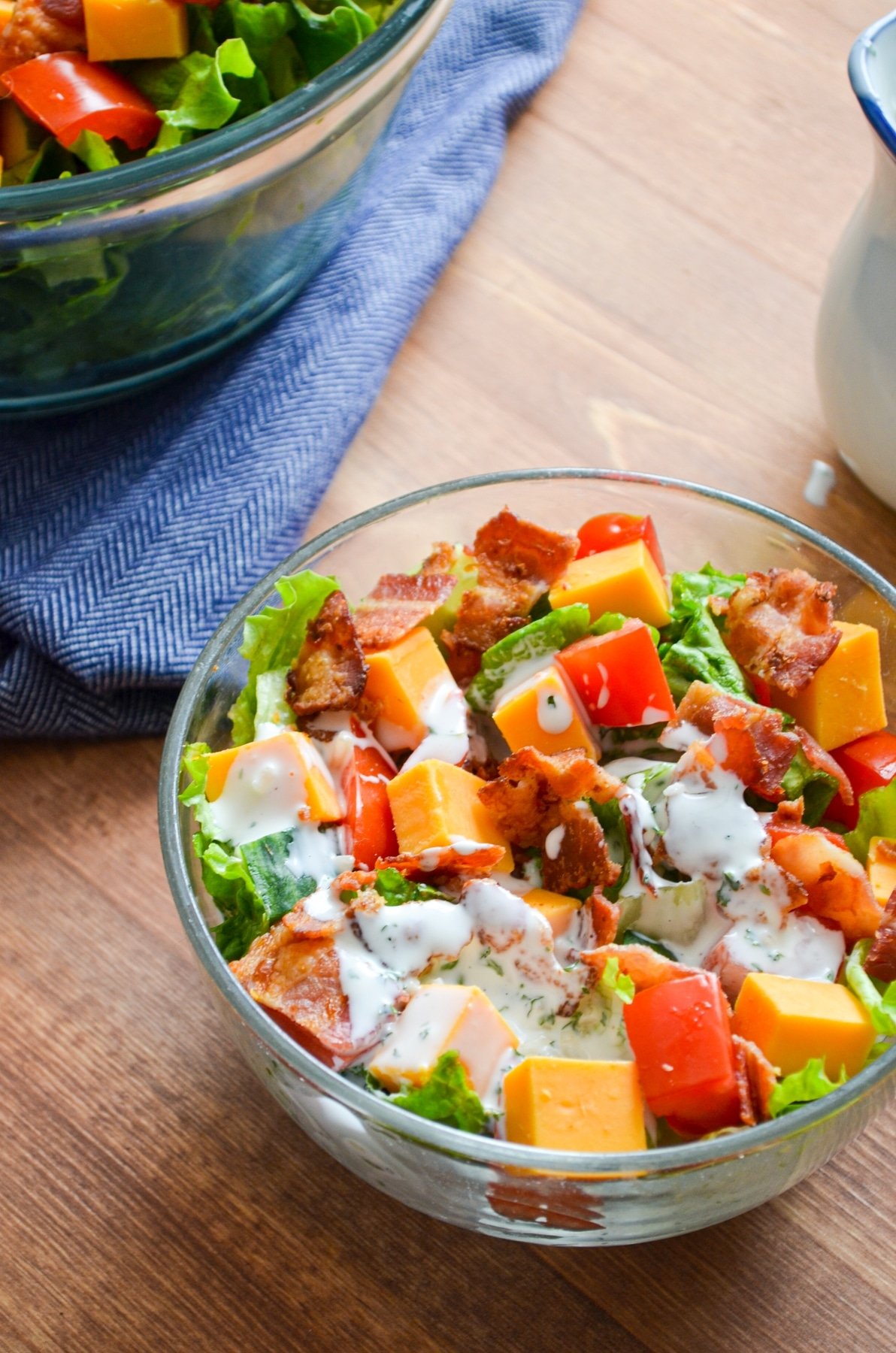 Chicken BLT Salad
If you would like to make a hearty and meal style BLT salad, feel free to add chopped or sliced cooked chicken breasts to your salad. This adds a great source of protein, and is great for meal prep or for a quick Summer meal idea.
BLT Salad Bowl
You can make a BLT Salad Bowl by adding a small amount of lettuce to the bottom of the bowl, and arranging your toppings on top of the lettuce. Add a serving of ranch dressing on the side for the full experience, as well as optional sliced cooked chicken breast.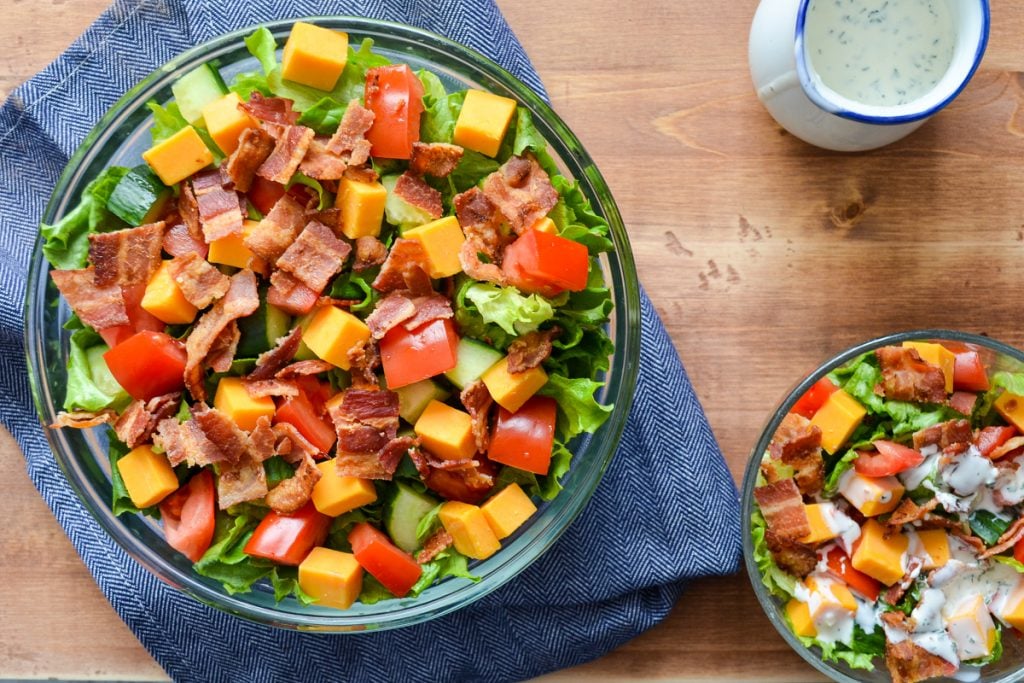 Frequently Asked Questions
Is BLT Salad Keto?
If you need to keep your carbs low, a BLT salad is a great option. Made with bacon, lettuce, tomato, and cheddar cheese, it is a low carbohydrate salad. The addition of tomato and cucumber are a great way to get additional vegetables, but still keep it low in carbs and a good fit for a keto style diet.
Can I substitute bacon bits for cooked bacon?
Yes. If you'd like to substitute store bought bacon bits for chopped, cooked bacon, substitute approximately 3 tablespoons per 1 slice of cooked bacon called for.
Hearty BLT Salad
This hearty and healthy BLT Salad is keto, low carb, and gluten free. A filling and satisfying salad that eats like a meal, it's the perfect recipe for meal prep or an easy summer meal idea. Give a boost of protein by adding sliced cooked chicken breasts!
Ingredients
Romaine or green leaf lettuce
Roma tomatoes, chopped
1/2 of an English cucumber, chopped
5 slices of cooked bacon, chopped
8oz of cheddar cheese, cubed
Buttermilk ranch dressing, for serving
Instructions
Chop your lettuce with a lettuce knife, or tear gently with your hands.
Place your lettuce into the bowl of a salad spinner and wash and spin it dry 2-3 times.
Add the lettuce to a large bowl, or 4-6 smaller bowls.
Top the lettuce with the tomatoes, cucumber, cheddar cheese, and cooked bacon.
Serve with Buttermilk Ranch dressing, or your favorite dressing, on the side.
Notes
Chicken BLT Salad: Add chopped or sliced cooked chicken on top of your salad for additional protein.
BLT Salad Bowl: Add a small amount of lettuce to the bottom of a bowl. Arrange the various toppings on top of the lettuce in sections, and serve with a side of your favorite dressing.
Low Carb/Keto: opt for a traditional ranch dressing, OR use a small amount of Buttermilk Ranch Dressing OR substitute the buttermilk for full fat sour cream.
Cooked Bacon Substitute: If you would like to use bacon bits in place of the cooked bacon, use approximately 3 tablespoons of bacon bits in place of each slice of bacon.
Gluten Free: This recipe is gluten free as written! Verify the dressing you use is free from fillers or contact with gluten if you are celiac and need to avoid gluten completely.
Nutrition Information:
Yield:

4
Serving Size:

1
Amount Per Serving:
Calories:

341
Total Fat:

27g
Saturated Fat:

13g
Trans Fat:

1g
Unsaturated Fat:

12g
Cholesterol:

72mg
Sodium:

686mg
Carbohydrates:

5g
Fiber:

1g
Sugar:

2g
Protein:

19g
Nutrition information is an estimate only.