Skip the long list of preservatives and additives: make your own ice cream at home! This Orange Creamsicle Ice Cream is bursting with refreshing orange flavor, and has a wonderful creamy texture. The perfect homemade ice cream flavor for summer, and SO easy to make too!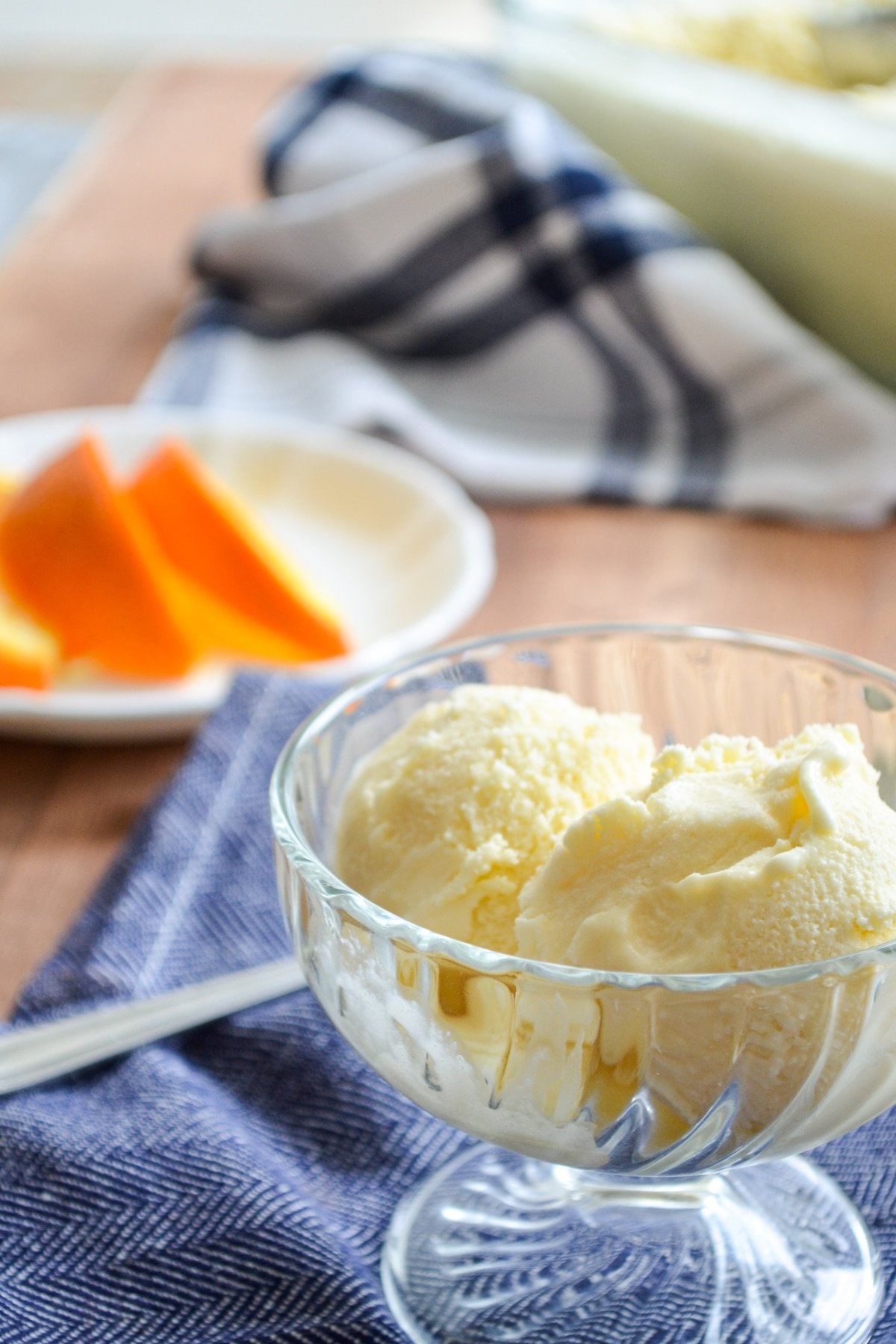 Please note that some of my blog posts here at Little Home in the Making may contain affiliate links. If you make a purchase through these links, I will get a small commission at no additional cost to you. Please see my Disclaimer for more information.
---
Summer is officially here, and it's time to break out the ice cream maker.
When that first heat wave hits, I'm faced with the reality of what will be a very long and very hot summer. In the midst of all that, I still need to prepare food for my family, AND develop recipes for this blog. The kitchen gets HOT, even when I'm avoiding my oven. There really is only one way to seek respite and replenishment from the (possible) torture that is summer cooking: ice cream. 🤤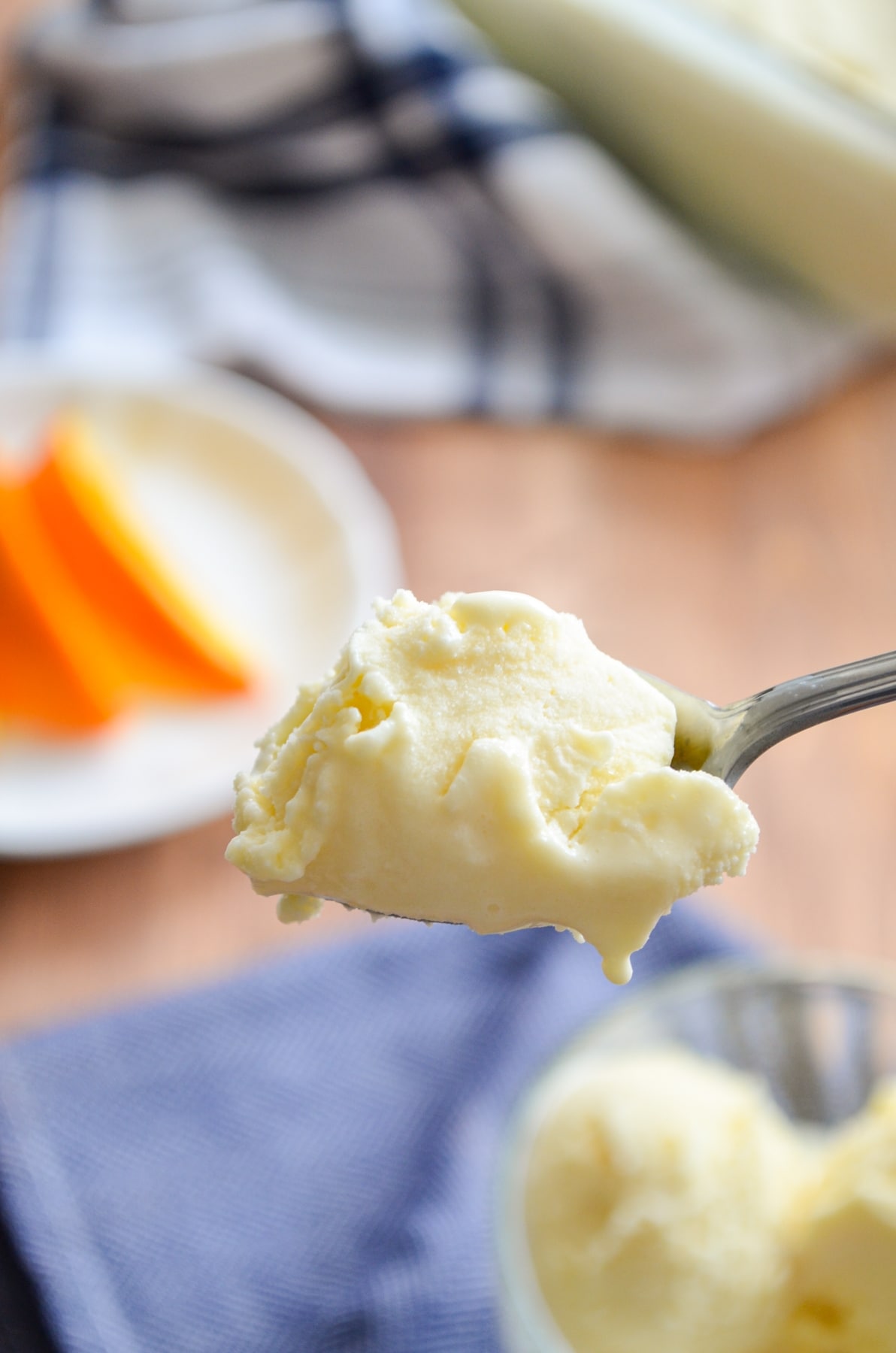 This Orange Creamsicle Ice Cream is a port in a storm. Not only is it creamy and cool, as all ice cream should be, it also features the oh-so-refreshing flavor of orange. When combined with the creamy ice cream base, and the addition of vanilla, this homemade ice cream tastes just like an orange creamsicle. And I don't know about you, but to me that is a good thing. A very, very, good thing.
Oh and psst, if you want your creamy orange fix RIGHT NOW, try out my Copycat Orange Julius recipe. It's SO refreshing and can be made without any advance prep.
Is homemade ice cream worth it?
Yes! While homemade ice cream requires a little bit of work and (generally) an ice cream maker, the benefits far outweigh the negatives. Homemade ice cream is higher quality than most store bought ice creams, and you can make any adjustments needed to fit your dietary needs. It's also great for families with allergies, since you know exactly what is going into the final product.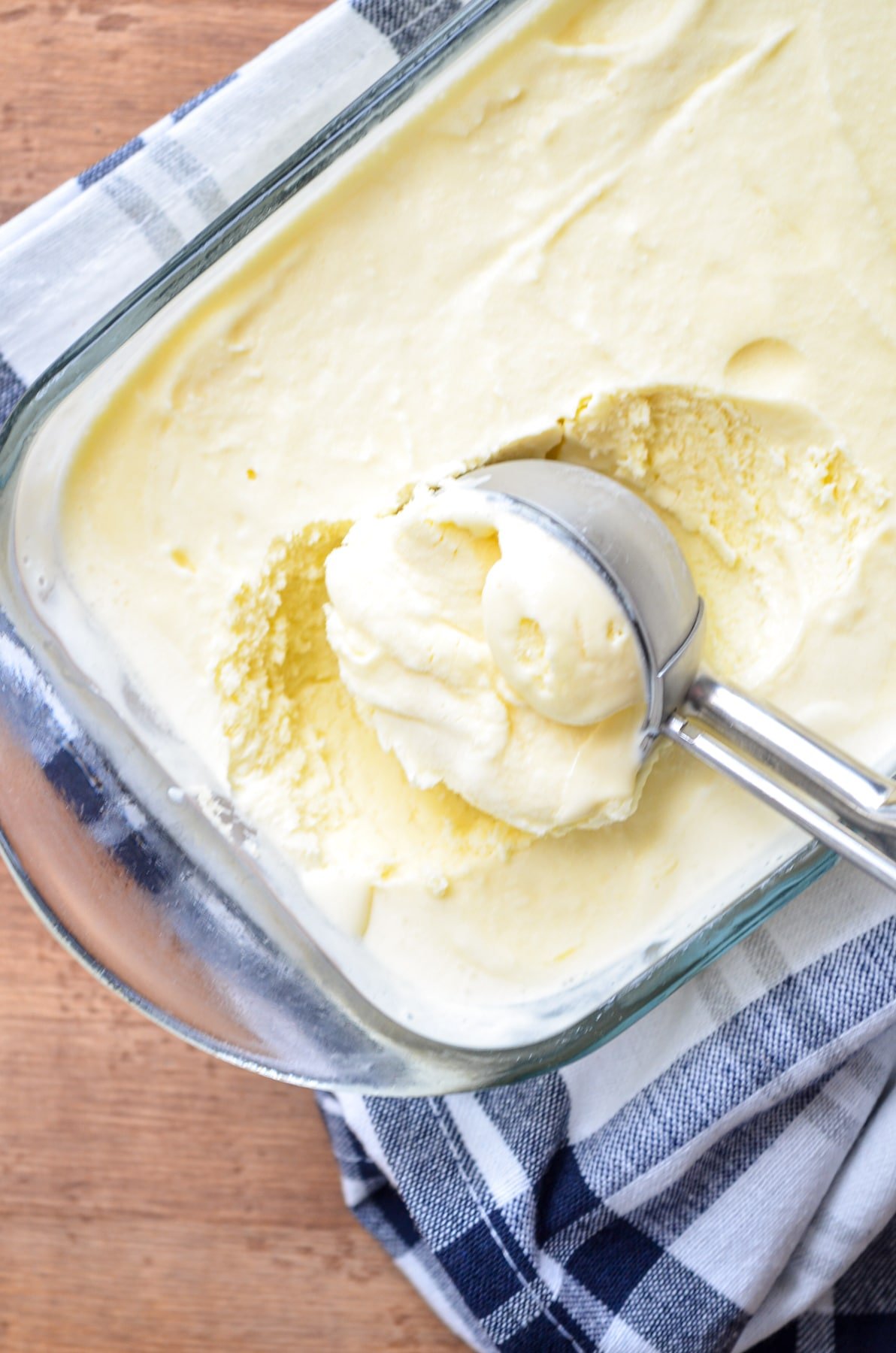 What Ingredients Do I Need?
One of the best things about making homemade ice cream is how simple the ingredients are. If you look at the ingredients list of a typical ice cream brand, you'll see a huge list of strange ingredients. When you make your own at home, you can bypass those additives and make ice cream the old fashioned way!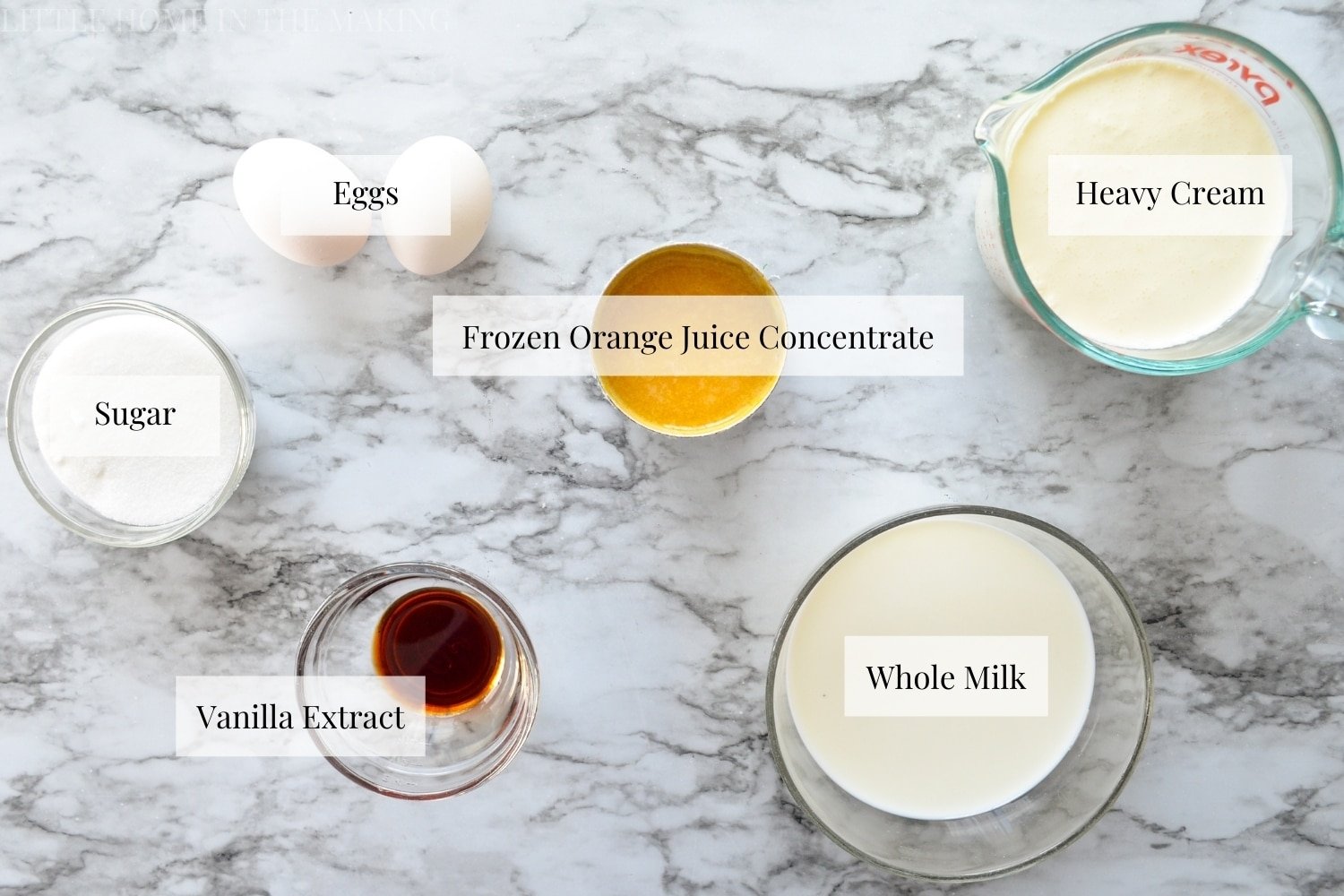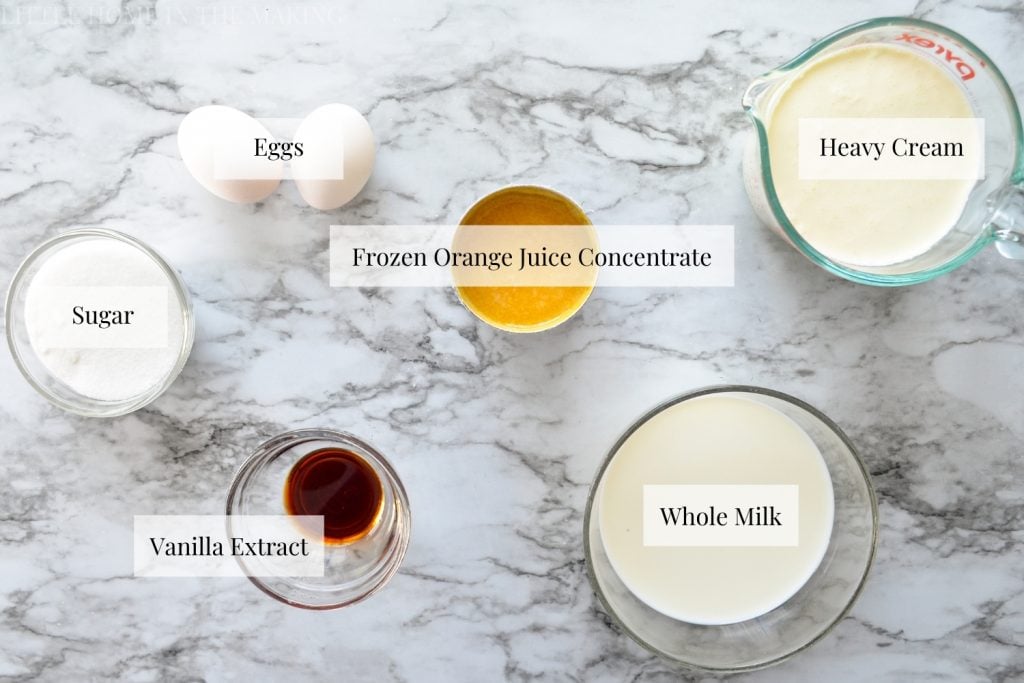 All you need is:
Eggs: Since the eggs are going to be consumed without cooking, be sure that you are using high quality eggs from a source you trust. You'll want farm fresh eggs that have been thoroughly washed. If you're at all uncomfortable with this, I would instead find an ice cream recipe without eggs. This is definitely something you do at your own risk, so be careful and considerate. Particularly if you're pregnant or immune compromised, you may want to forgo this recipe.
Sugar: Regular granulated sugar works best in homemade ice cream recipes. I prefer organic cane sugar, but you can use whatever you like! Plain white cane sugar works great, and was used to photograph this recipe.
Heavy cream: This is often labeled "heavy cream" or "whipping cream" and has at least 30% milk fat.
Milk: I strongly recommend using whole milk for this recipe. But if you have 2% on hand, that should be fine. Using ample amounts of fat in ice cream reduces the ice crystals, and therefore that "icy" taste and texture you can get with cheaper ice creams.
Frozen orange juice concentrate: Any brand of frozen orange juice concentrate is fine here. Just make sure has no added sugar. You just want the orange concentrate! This is not the same thing as orange juice from concentrate.
Vanilla extract: Either artificial or pure works well for this recipe. This gives it that classic orange creamsicle flavor when combined with the orange juice concentrate.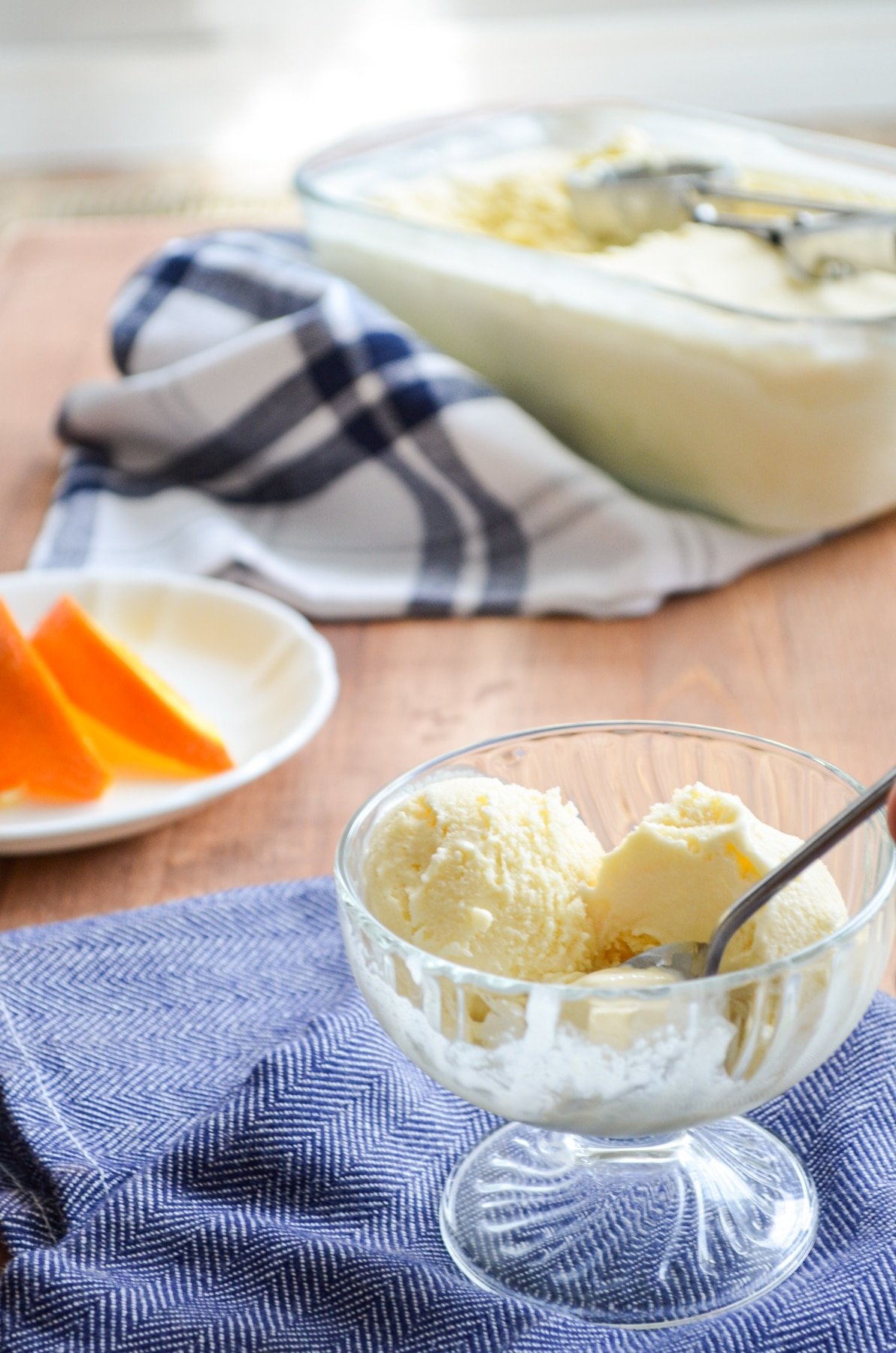 Recommended Equipment
Ice Cream Maker: I am so glad that I finally bought a quality ice cream maker! Making ice cream at home has been a lovely treat for my family, and I can be sure to pick the highest quality of ingredients (and scale back on the sweetness a little too). This Cuisinart model is the one that I use and I absolutely love it! Easy to clean and easy to use. All you have to do is place the removeable bowl in the freezer about 24 hours before you make ice cream. I just leave my bowl in the freezer at all times, that way I'm ready to make some homemade ice cream whenever the mood strikes me.
Ice Cream Scoop: I've been using my cookie scoop, but it's time to upgrade to a proper ice cream scoop. This is the one I'm looking at picking up!
Ice Cream Storage Container: These have been on my wishlist for a while, and now that I have a great ice cream maker I want to invest in a way to keep my homemade creations stored and ready for a nighttime snack. You can also use a freezer safe loaf pan for storing your ice cream! Just ensure that you eat it within 1 week of making it for best results.
How To Make Orange Creamsicle Ice Cream From Scratch
Once you have an ice cream maker, you're not going to believe how easy it is to make your very own ice cream at home. All you need is a basic whisk and a medium mixing bowl to get started.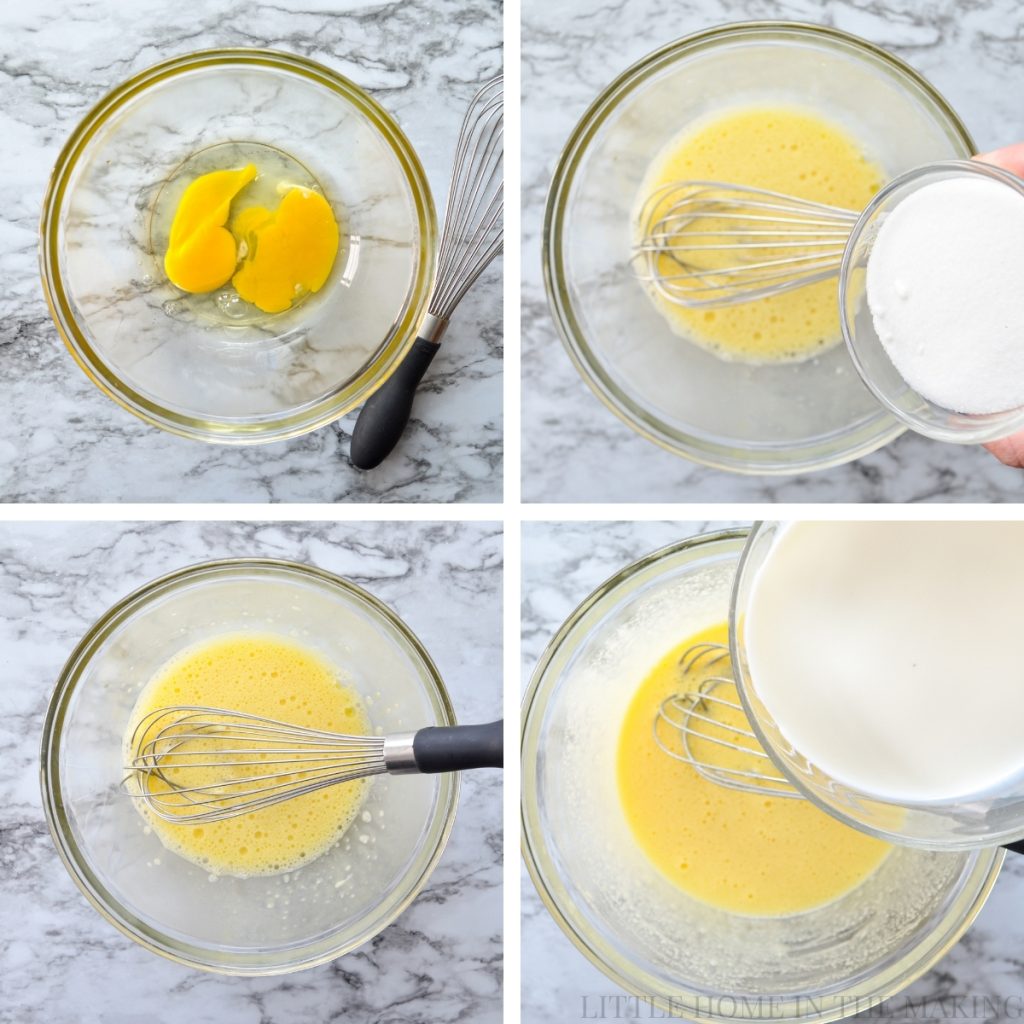 Add your eggs to your mixing bowl and whisk well until light and fluffy. This normally takes about 1-2 minutes.
Then, add your sugar a little bit at a time, whisking in between.
Once your sugar is incorporated, whisk for an additional minute or so to really get a good blend going.
Now, it's ready to add your heavy whipping cream.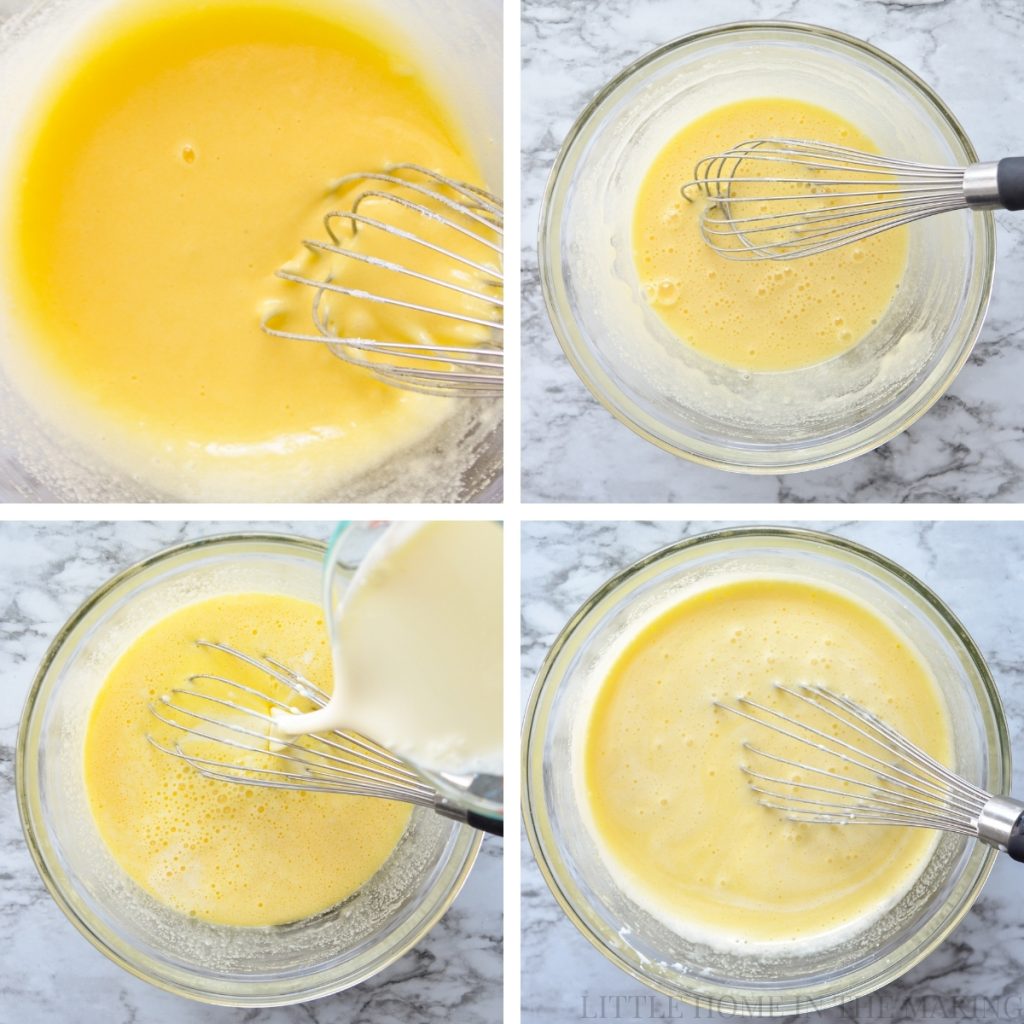 Whisk really really well, and then add the milk.
Whisk again to combine.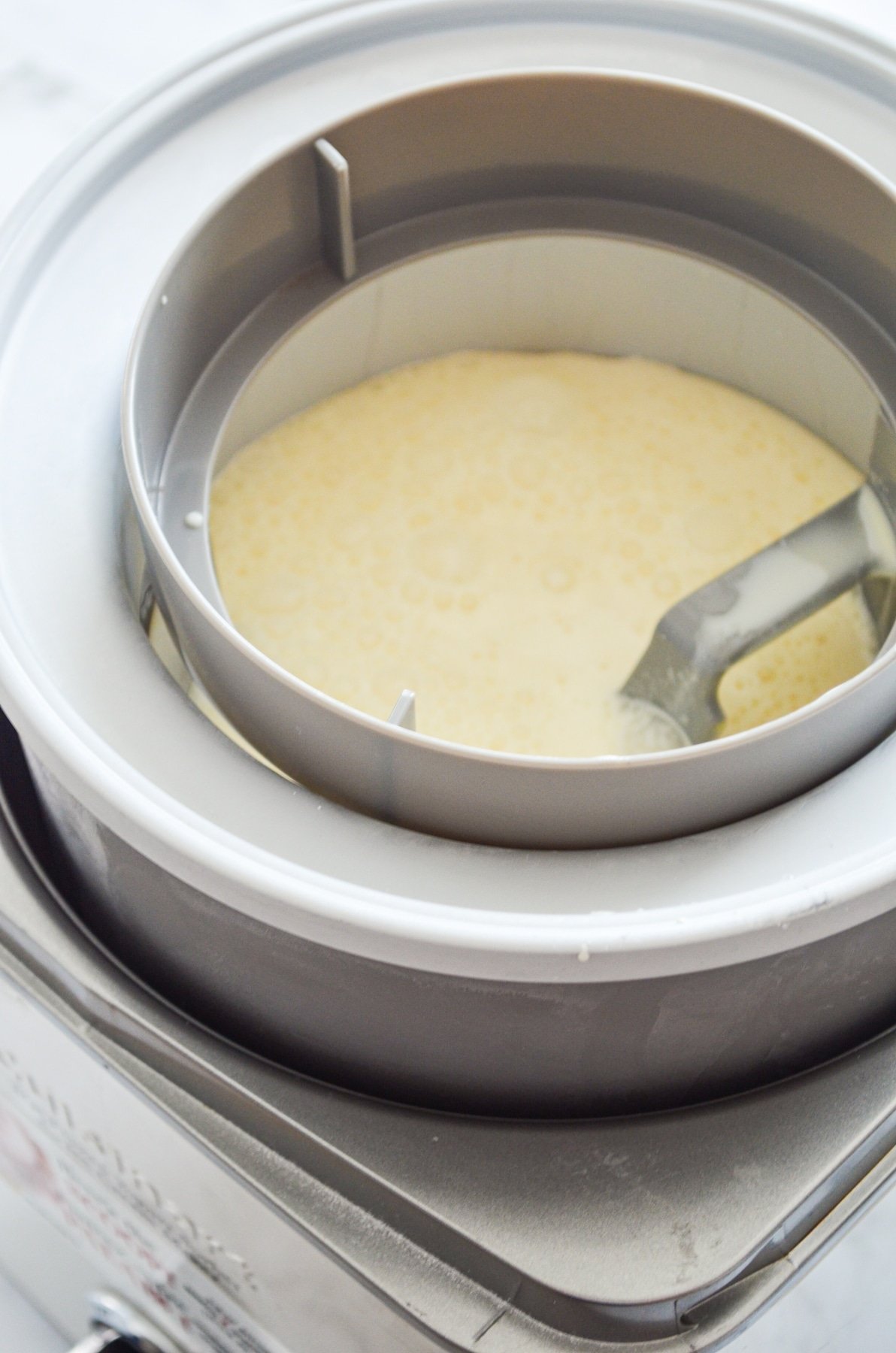 Then, pour it into your ice cream maker, according to your manufacturers instructions.
Let it churn for about 20-30 minutes, depending on the make and model of your particular ice cream maker.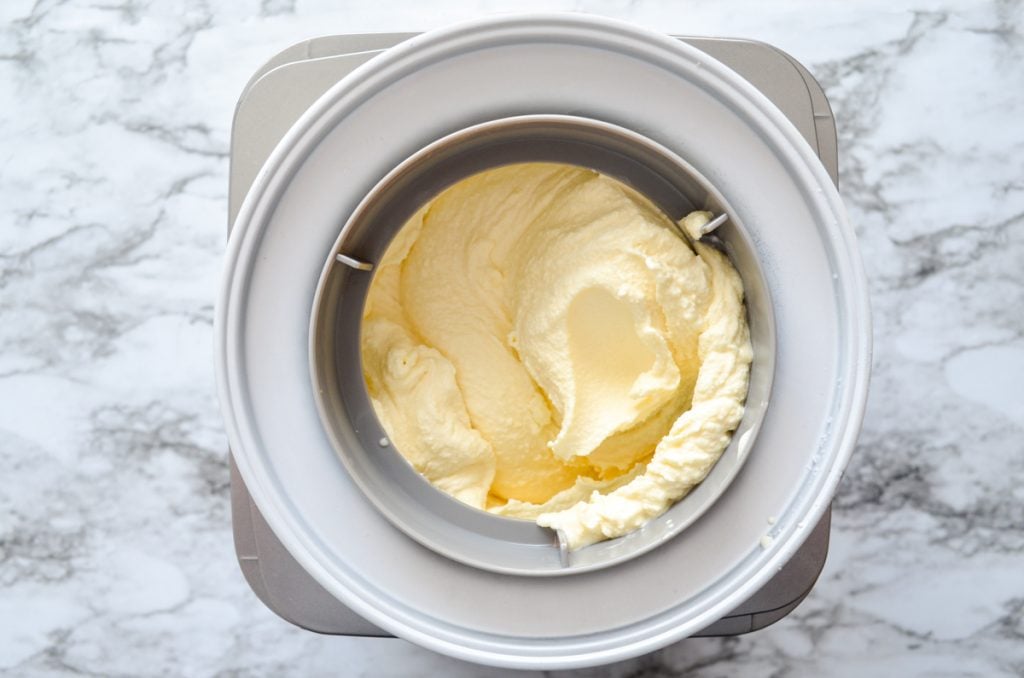 Once the time is up, turn off the ice cream maker.
And use a silicone spatula to transfer the ice cream to the container you will freeze it in.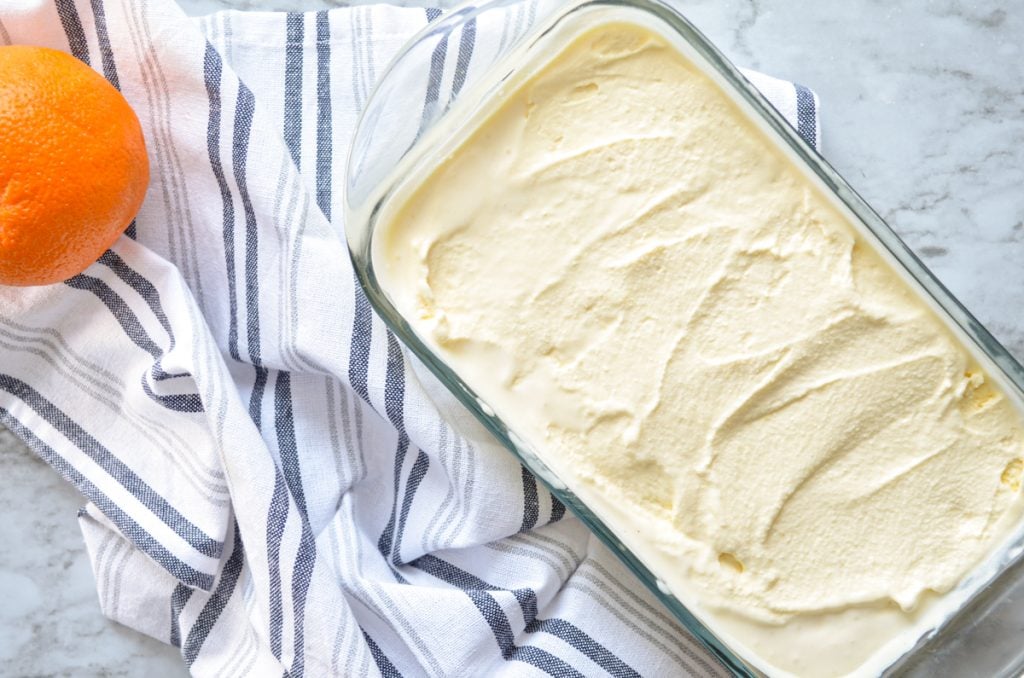 How to Freeze Homemade Ice Cream
Once you've transferred your ice cream to either a freezer safe loaf pan, or a specialty ice cream container, store it in the freezer until you're ready to use! Ensure it is tightly covered, since any air may result in freezer burn or ice crystals on the surface of your ice cream.
Once you're ready to serve your ice cream, let it sit on the counter to thaw for about 5 minutes before scooping and serving. Then, return the ice cream (well covered) to the freezer.
For best results, consume your homemade ice cream within about 1 week of first making it. It's still "good" after that, but the best texture and flavor will be within that 1 week mark.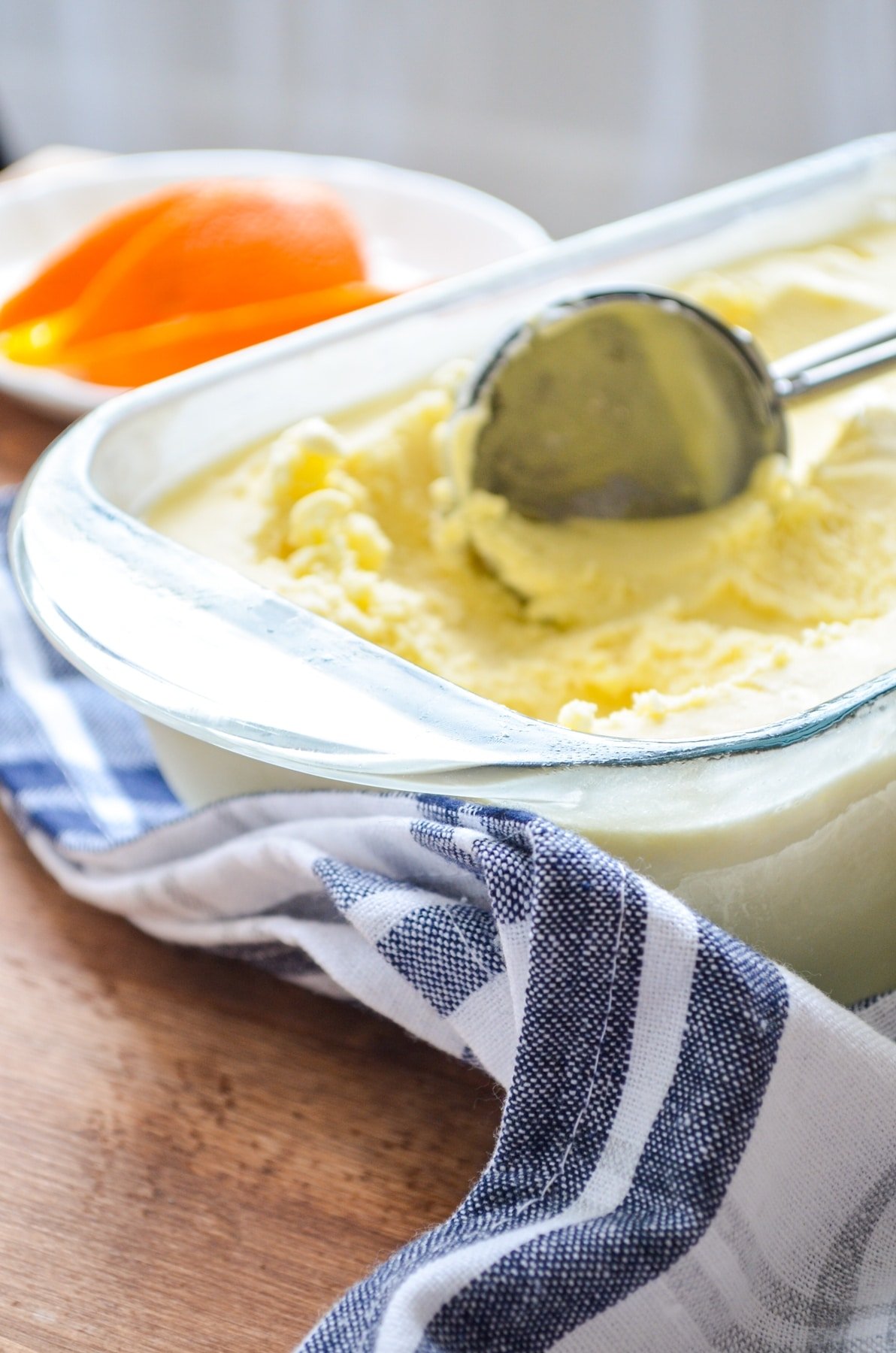 Frequently Asked Questions
Can I make ice cream without an ice cream maker?
While I highly recommend using a high quality ice cream maker (like the Cuisinart I own), some folks have had success with making their own ice creams at home without an ice cream maker. This post from Barefeet in the Kitchen details the method she uses, and many have found that helpful. If you're not ready to invest in an ice cream maker yet, this may be a good way for you to get your feet wet!
Can you use milk instead of cream for homemade ice cream?
No. In order to have a true ice "cream", you need to use a high fat cream like heavy whipping cream. This ensures that the texture is smooth and creamy, rather than icy and gritty. Since milk has a high water content, it cannot be the main ingredient in homemade ice cream. If you can't find heavy cream, you can try using table cream, half and half, or even sweetened condensed milk. Be sure to consult your recipe and see what is recommended for substitutions, OR find a recipe that specifically uses those ingredients.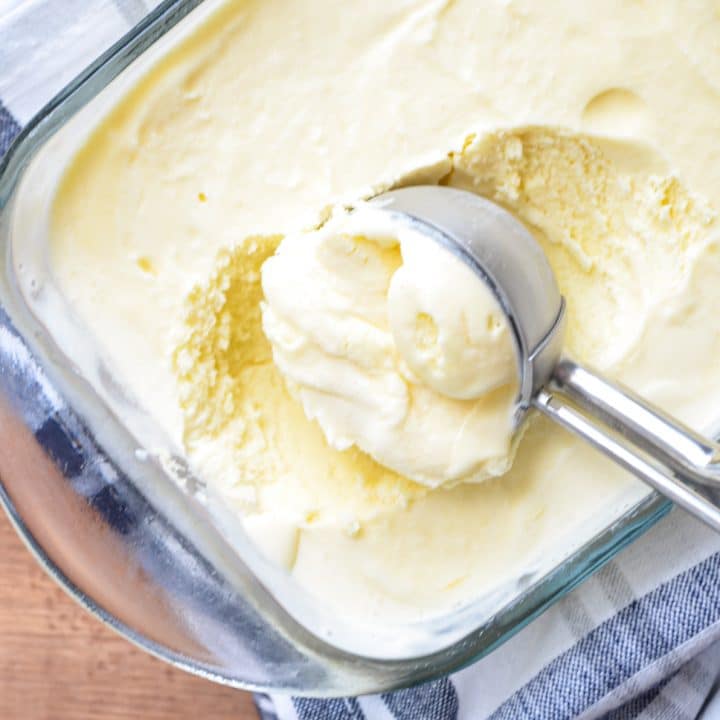 Orange Creamsicle Ice Cream
Additional Time:
30 minutes
This homemade ice cream is made with simple, quality ingredients and tastes just like a creamsicle! Orange Creamsicle ice cream is a refreshing summer flavor that is easy to make at home with an ice cream maker.
Ingredients
2 large eggs
3/4 cup granulated cane sugar
2 cups heavy whipping cream
1 cup whole milk
1/3 cup frozen orange juice concentrate, thawed
1 tbsp. vanilla extract
Instructions
Add the eggs to a medium sized mixing bowl and whisk by hand (or an electric hand mixer) until light and fluffy. This should take about 1 to 2 minutes.
Add the sugar, a little at a time, and whisk in between each addition.
Once all of the sugar has been added, continue to whisk until thoroughly combined or about 1 minute.
Pour in the cream and whisk to combine. Then, add the whole milk and whisk again.
Add the thawed orange juice concentrate, whisk, and then add the vanilla. Whisk until smooth.
Pour this mixture into your ice cream maker as per your manufacturers instructions. Be sure that if you have a removeable frozen bowl, that you have frozen it at least 24 hours in advance!
Turn your ice cream on and let the ice cream churn for about 25 minutes, or as long as indicated in your manufacturers instructions.
Notes
Without an Ice Cream Maker
To make without an ice cream maker, see the method outlined on Barefeet in the Kitchen I haven't tested this particular ice cream with this method, but I bet it would work great!
Sweetener Alternatives:
Since ice cream is a frozen product, it's hard to substitute sugar for alternative sweeteners like honey or maple syrup. My experience with honey and maple syrup is that they are liquid, thus throwing off the ratios and you end up with a very hard ice cream. Granulated cane sugar works best, but if you are using non-nutritive sweeteners, you may have some success substituting sugar for a granulated sweetener that can be substituted 1:1. I haven't tested this method however, and if you CAN have sweet sometimes, it's probably something you SHOULD use sugar in for the best results.
Nutrition Information:
Yield:

8
Serving Size:

1
Amount Per Serving:
Calories:

332
Total Fat:

24g
Saturated Fat:

15g
Trans Fat:

1g
Unsaturated Fat:

7g
Cholesterol:

117mg
Sodium:

48mg
Carbohydrates:

26g
Fiber:

0g
Sugar:

25g
Protein:

4g
Nutrition information is an estimate only.