If you're new to canning and preserving, you may be wondering how to prepare beets for canning. This easy process shows you how to cook, peel and chop beets so they are ready to use in your favorite water bath or pressure canning recipes.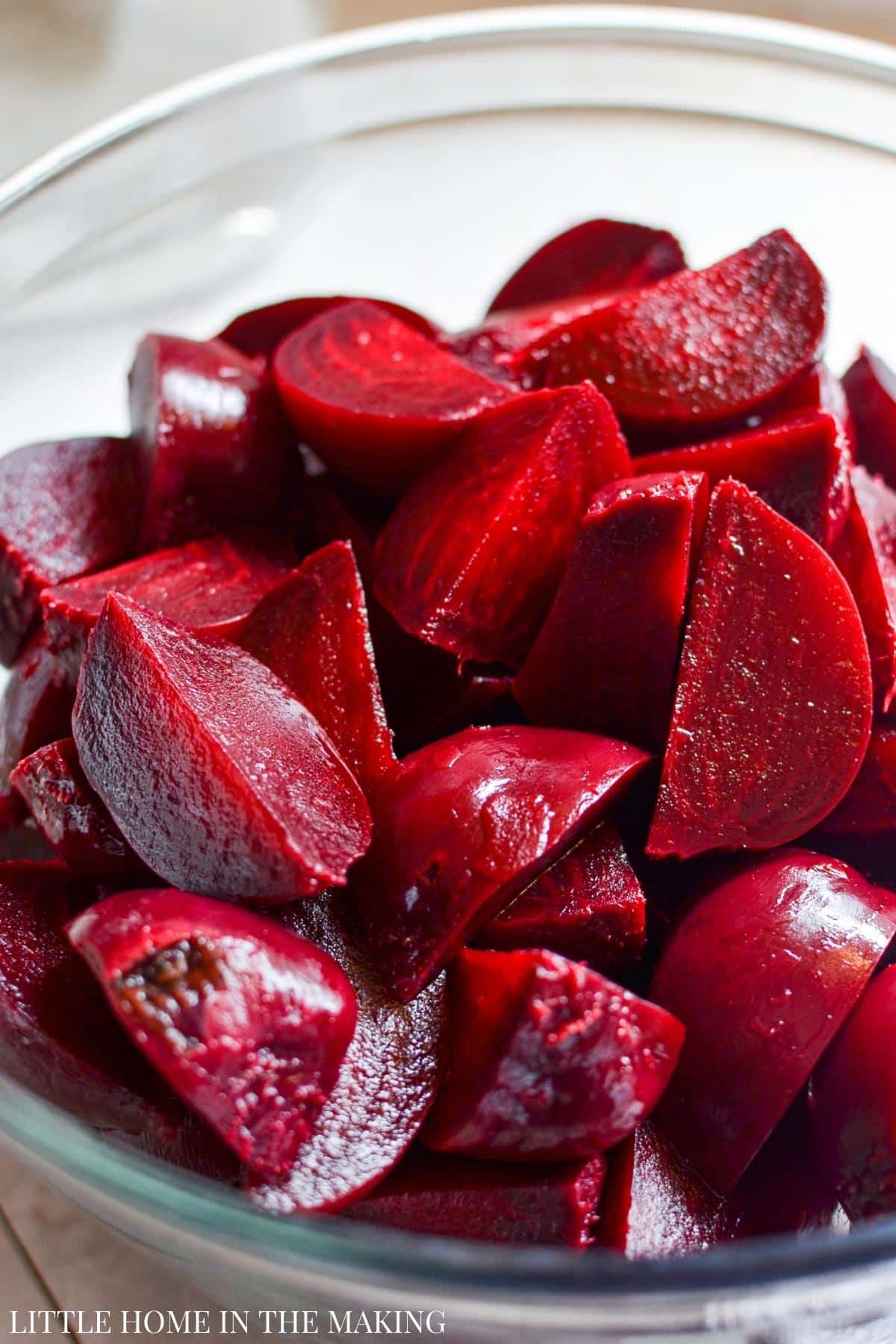 I've been canning for well over a decade now, and while I'm always learning, one of the very first things I learned was how to prepare beets for canning. These tough, yet earthy root vegetables are one of my favorite things to can, even if there is a bit of a learning curve to their preparation.
The good news is that it is easy to cook, peel and prepare beets once you have this simple method down. And while it's hard to estimate just how much you'll need for your recipe, you can use any leftovers to make a small batch of refrigerator beets OR roast them with some oil, salt, and herbs for a delicious side dish.
Reasons to Prepare Beets Before Canning:
Partially cooking beets is the recommended standard by the USDA and is the safest tested method for canning beets.
It keeps them clean of debris and dirt, making for a "cleaner" taste and appearance.
Recipes often called for a certain amount of "prepared" beets (i.e. "10 cups of prepared beets") rather than raw and unprepared.
You can use the leftover prepared beets to make small batches of Pickled Refrigerator Beets!
How to Prepare (and Peel) Beets for Canning
To get started, it's important to give your beets a thorough washing. If they were home grown in particular, they are going to have some dirt and crud to rinse off. Start by giving them a rinse in the sink, and then scrubbing with an abrasive sponge before rinsing each one of their debris.
Once As each beet is cleaned, remove any stem that exceeds 2″ and leave the taproots intact. This will prevent the beets from bleeding, thus losing their color.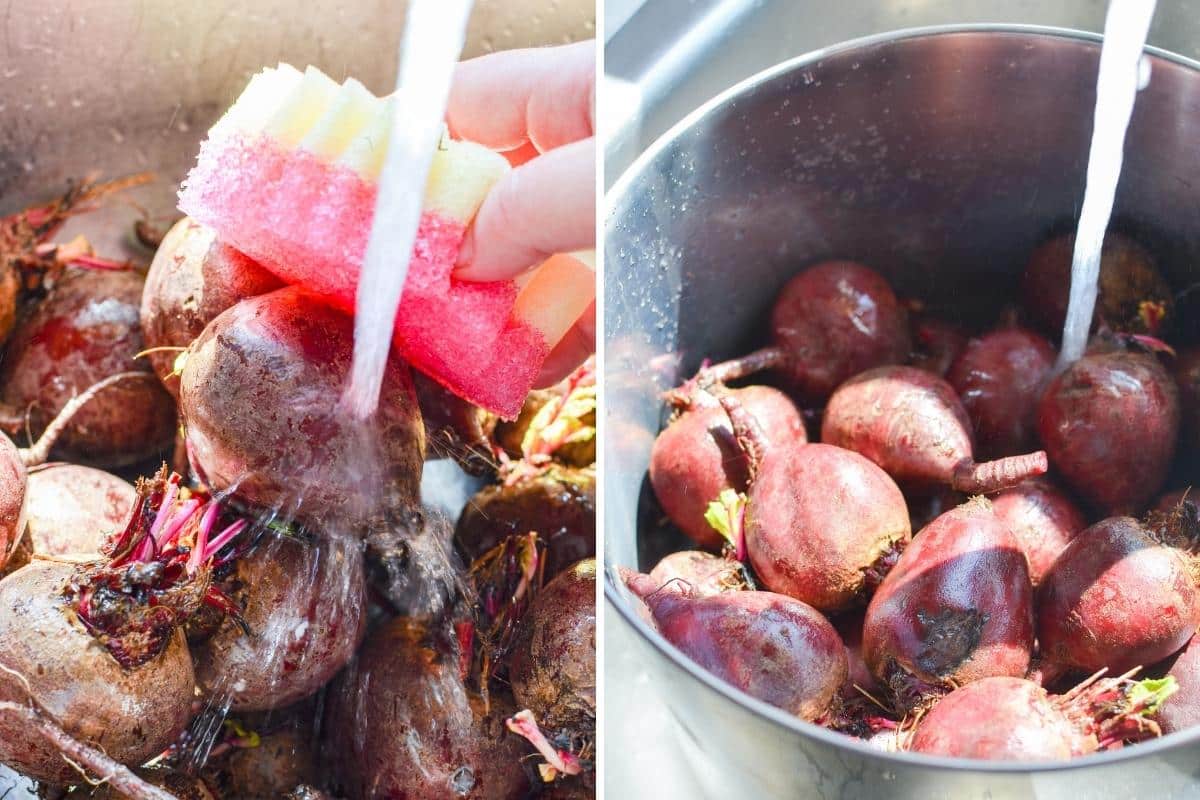 Add each cleaned whole beet to a large stockpot that is large enough to accommodate the beets you are preparing for your recipe. You'll want to leave at least 4-5″ inches at the top to allow for boiling.
Sort the beets by largest to smallest. Clean the largest beets first, placing them at the bottom of the stockpot, then the medium sized beets, and finally the smallest beets. This will help the various sizes cook more evenly.
Once all of the beets have been scrubbed and added, fill the stockpot with water until the beets are covered by about 1/2″.
Boiling the Beets
Add your stockpot full of water and beets to the stovetop and place a lid on top. Bring the beets to a boil over high heat.
Boil for 20-40 minutes if you are making pickled beets OR refrigerator beets. These recipes require the beets to be cooked through.
Test your beets with a fork, and if it easily pierces through you can remove the beet and run under cool water. The smaller beets will likely be done before the larger beets, but be sure to test each size grouping before draining the pot.
If only some of the beets are cooked through, remove them as they cook. You want them to be firm, so remove them as they pass the fork test.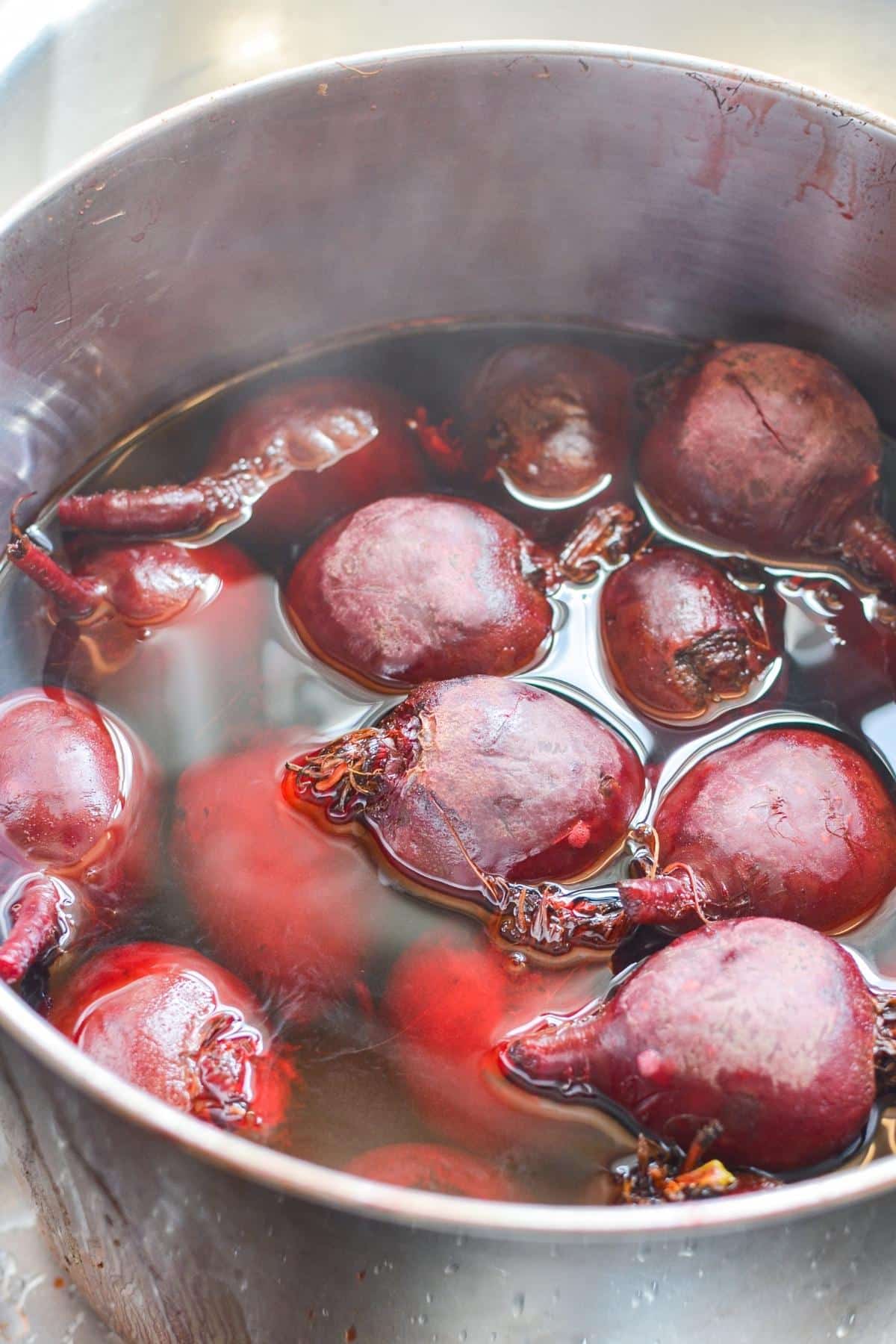 Once all of the beets are cooked through, drain them into a clean sink and run cool water over them to help make them easier to handle.
Cook Times for Pickling vs. Pressure Canning
Beets that are being pickled need to be fully cooked through. The boiling time for this ranges from 20-40 minutes.
For beets that are being pressure canned, they need to be boiled only long enough for the peels to be easily removed. This takes anywhere from 15-30 minutes depending on the size of the beets and if they are older and a bit more woody.
The best way to know if the beets are ready is to remove a smaller one and see how easily the peel slips off after running under cool water. If it comes off very easily, test a slightly larger beet, and so on and so on.
You may remove the beets as they are ready to be peeled, OR you can wait until the larger beets slip easily and then drain the whole pot. Small beets normally take 15-20 minutes, while very large beets take 25-30 minutes.
How to Peel Beets for Canning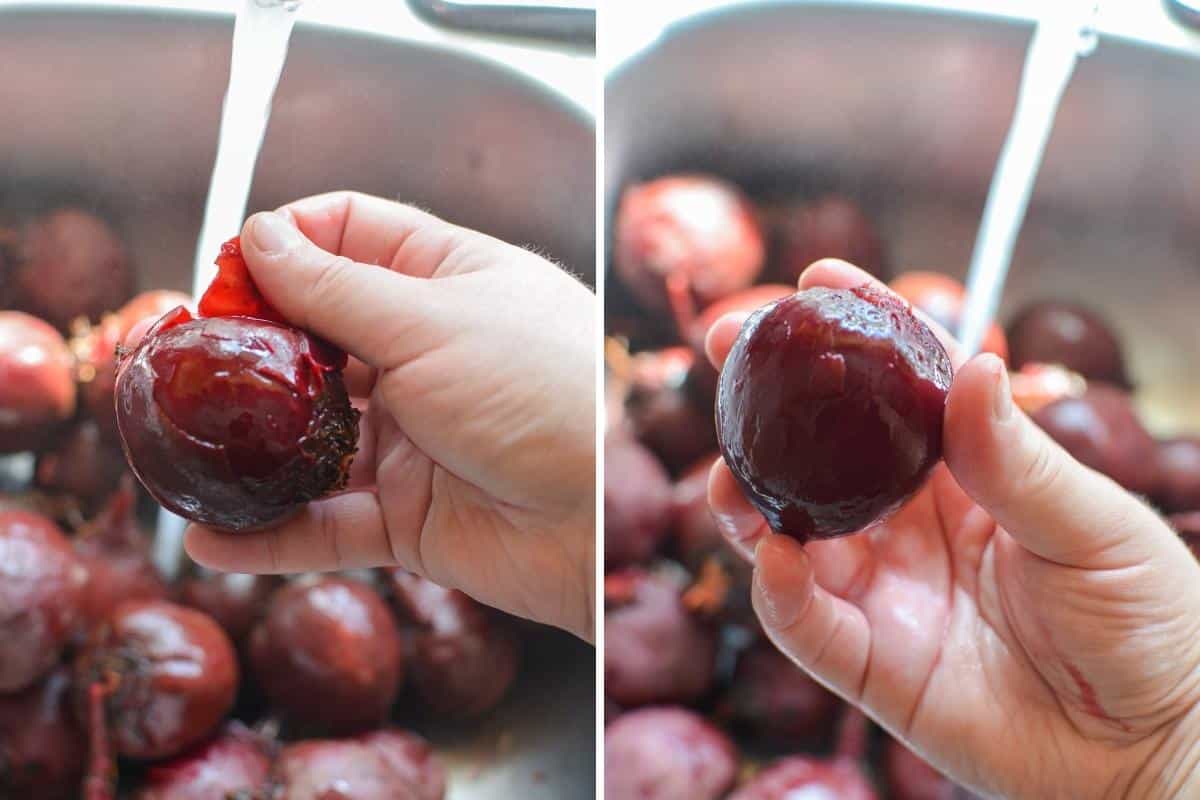 Once your beets have been cooked, drain them in a clean sink or colander and run cold water over them. This will help them to cool down, and will make peeling a still-warm beet easier and cleaner.
Slip the peels off under cool running water, using your thumb to get any stubborn spots. The peels should come off very easily, with just the stem portion being slightly difficult.
Rinse your beet and set it aside for cutting (if desired) or to get ready to can. Try to keep your beets warm if you will be pressure canning.
Cutting to Size OR Leaving Whole
Whether you cut your beets to a specific size OR leave them whole is up to you and up to the recipe. Beets can be pressure canned OR pickled whole, but it does tend to be hard to fit the very large ones into the jar. I like to go with bite-sized pieces or the typical size in which you would serve your beets.
If cutting your beets, you can try halving them, quartering them, or cutting them into chunks.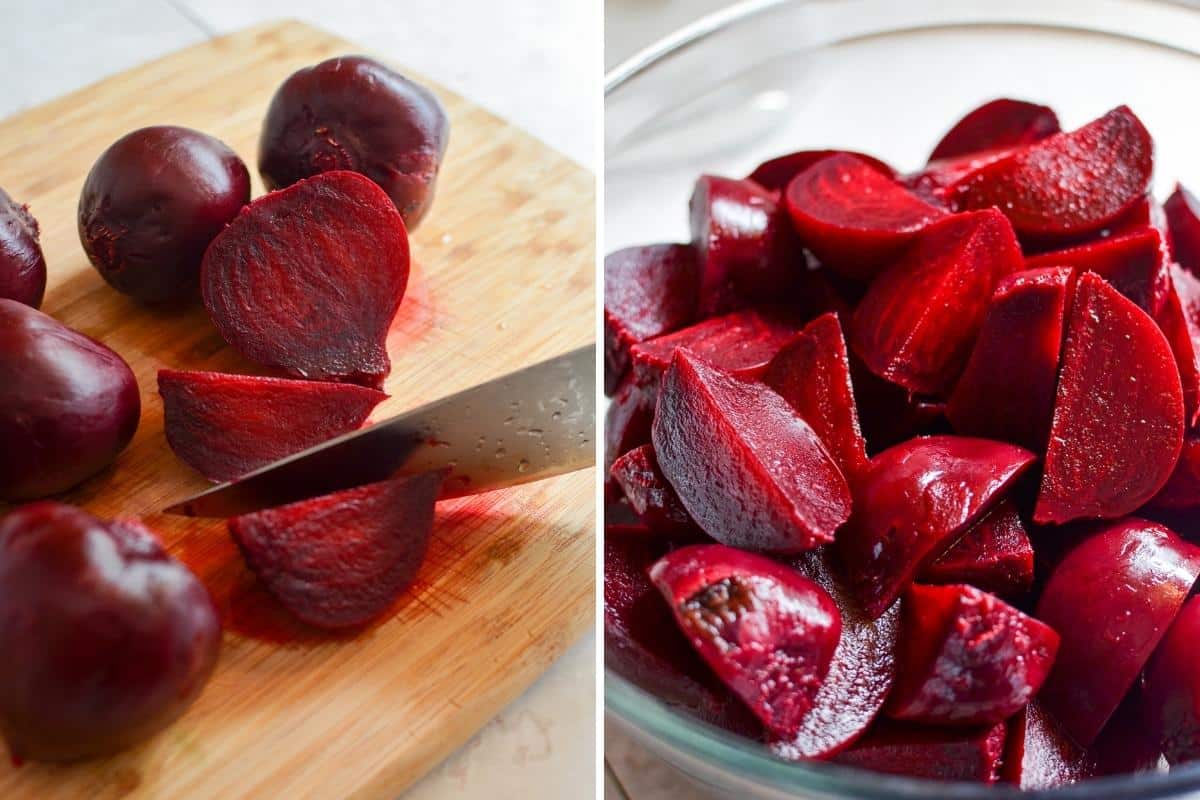 Simply cut them to your preference on a clean cutting board, and remove the long taproot.
Add them to a clean bowl as you cut, giving yourself ample space to work.
Once your beets are cut to size (or left whole), they are ready to be used in your favorite canning recipes OR as refrigerator pickles.
If prepared for pickling (fully cooked through), you can use any leftovers in your favorite recipes or give them a quick roast in the oven with salt and herbs to add some flavor.
FAQ'S
Do you have to cook beets before canning?
All USDA tested canning recipes call for hot, cooked beets. Pickled beets are required to be cooked through, while pressure canned beets need to be cooked enough to be easily peeled and then hot packed. There is no canning recipe that has been tested safe for a raw pack.
Do you have to peel beets before canning?
Yes, you do have to peel beets before canning. Since beets are grown underground, they can harbor a lot of dirt. Removing the peel ensures your beets are clean, free from debris, and taste delicious.
How long do you boil beets to remove skin before canning?
If you are just boiling long enough to remove skin, you should boil them for 15-30 minutes. Small beets will require less time, while larger or woody beets will require a longer boiling time. To get an accurate time, test a beet under cool running water. If the peel slips off easily, they are ready to drain and peel.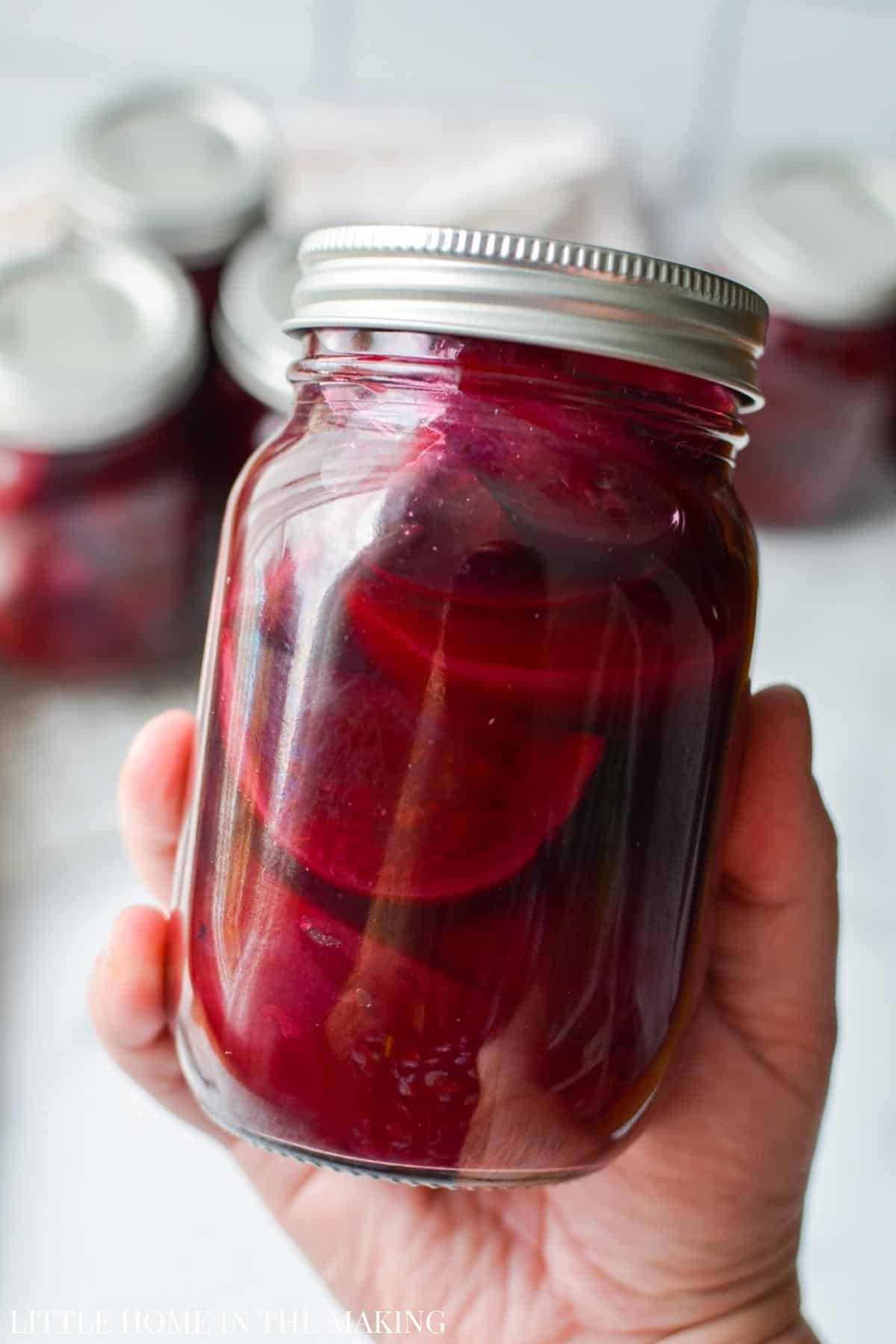 Canning and Preserving Recipes with Beets: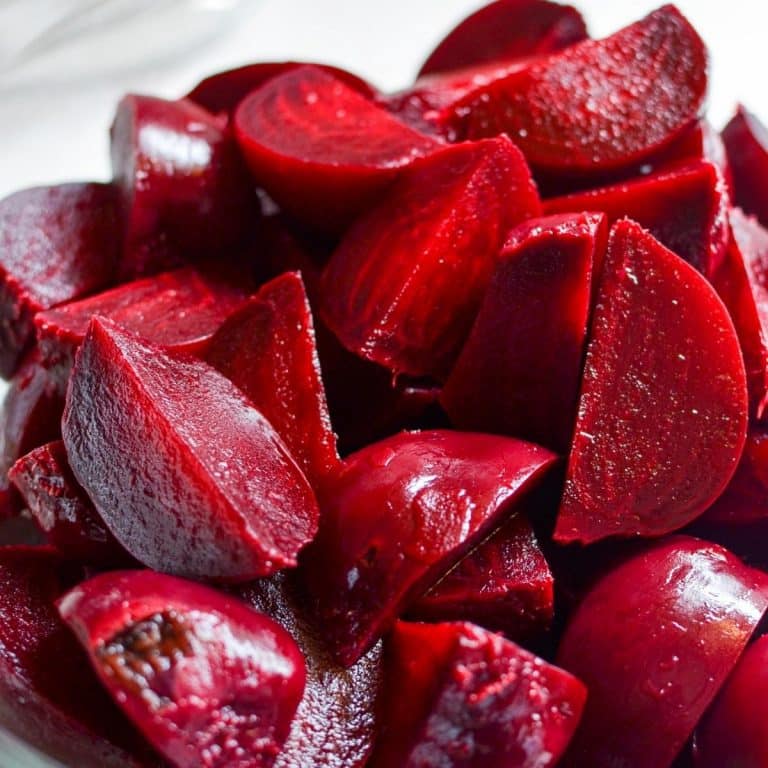 How to Prepare Beets for Canning
Easily prepare and peel your beets for pickling or canning.
Materials
Beets (amount varies according to your recipe)
Water
Instructions
Weigh or portion out how many beets you will need for your canning recipe. If you're pressure canning plain beets, you will need about 2-3 ½ pounds per quart jar. If you're preparing pickled beets, you will need 10 cups of prepared beets (or about 6-10 pounds).
Scrub the beets gently under running water, setting them aside.
Leave the taproot (long thin piece) intact, and trim the stem to 2" if needed.
Sort the beets by size, placing the largest ones on the bottom of a large stockpot.
Keep adding the beets by size, from largest to smallest. This ensures the larger beets have the most direct heat, allowing them to cook through at a similar rate to the smaller beets at the top of the pot.
Once all of the beets are added, add enough water to the stockpot to cover the beets by ½".
Place the lid on the stockpot, and set the element to high heat. Bring to a boil.
For Pickling:
Cook for 20-40 minutes, depending on how large the beets are (large beets will take longer to cook). Remove the lid from the saucepan if needed, but keeping it on will help minimize the steam and condensation in your kitchen.
Remove beets from the pot as they are cooked through. They are ready when a fork can easily pierce them. The smaller beets will be done more quickly than the larger beets.
Run the cooked beets under cool water, using your fingers to slip the skins off of the beets, rubbing any stubborn spots with the back of your thumb.
Repeat until all of the beets are peeled. Remove the tap root.
Leave baby beets whole, and half, quarter, or chop the beets according to your preference.
For Pressure Canning:
Cook the beets for 15-30 minutes, or until the skins slip off very easily when run under cold water. Test a few of the larger beets before draining the whole pot, as sometimes the batch will need a longer boil to get the skins loose.
Once the test beets are easy to peel, drain or remove the beets from the water.
Run each beet under cold running water, using your fingers to slip the skins off the beets, rubbing any stubborn spots with the back of your thumb.
Repeat until all of the beets are peeled. Remove the taproot.
Leave your beets whole, OR cut them according to your preference for canning. Whole, halved, quartered, and sliced are all popular options for pressure canning. You will get the most color retention from leaving them whole, and will be able to fit the most food per jar of your slice or chop your beets.





Notes
Note about color retention: When beets are pressure canned, they lose a significant amount of their color. This is normal, and color retention tends to vary by the variety of beet used. If you're growing your own, you can select beets that are good for canning. If you're purchasing from a Farmer's Market, there is no real way to know. The flavor isn't drastically affected, but the color will be quite pale compared to what you are used to. Adding a small amount of vinegar or salt to each jar tends to help this, as does keeping the beets whole.
Please note that some of my blog posts here at Little Home in the Making may contain affiliate links. If you make a purchase through these links, I will get a small commission at no additional cost to you. Please see my Disclaimer for more information.