Did you know that you can keep lemons fresh for up to 3 weeks!? And that it works for limes too!? All you need is some citrus fruit, a glass jar, and some water. Never let your lemons go bad again!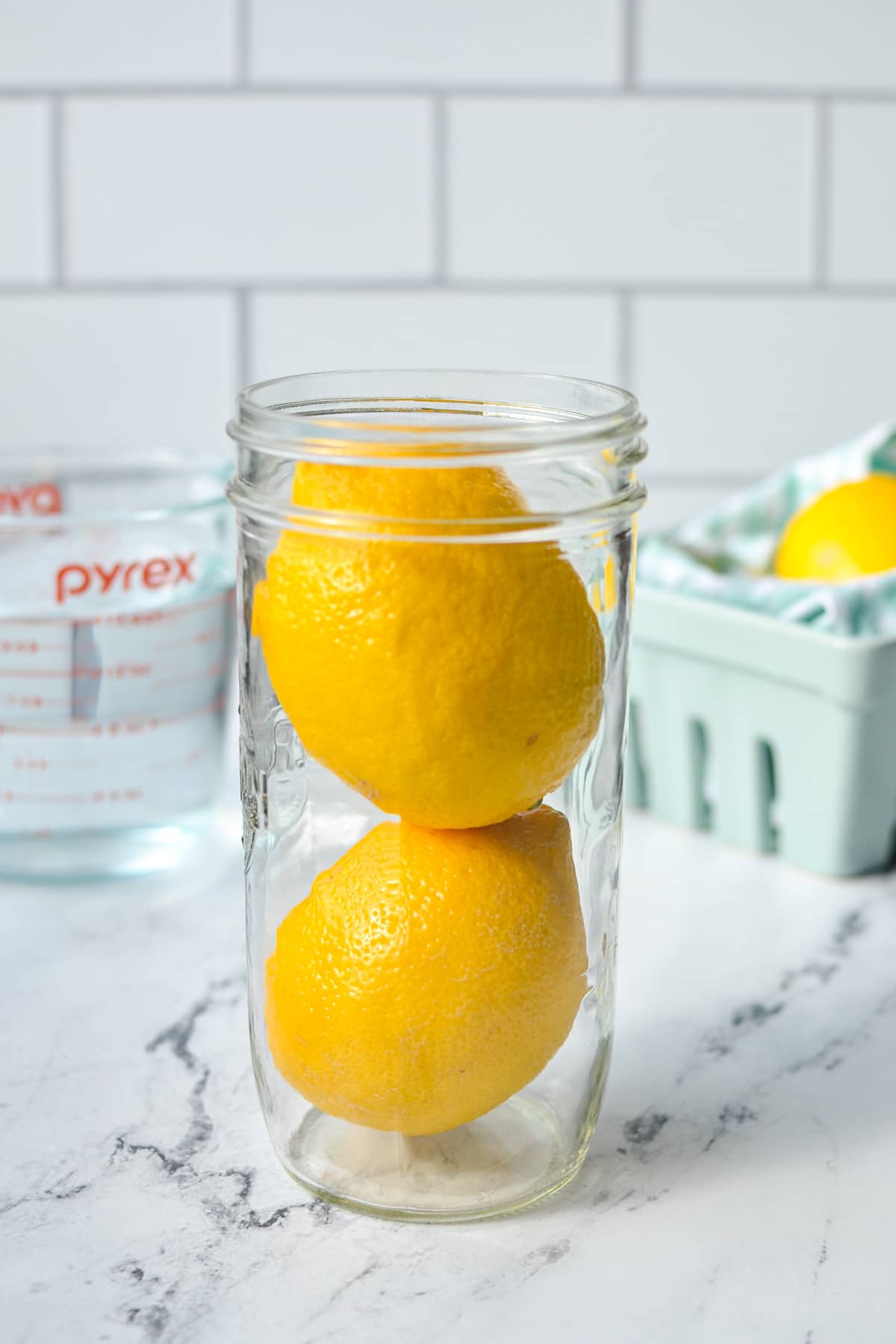 Please note that some of my blog posts here at Little Home in the Making may contain affiliate links. If you make a purchase through these links, I will get a small commission at no additional cost to you. See our disclaimer for more information.
One of the most effective (and easiest!) ways to save money on fresh produce, is to minimize the amount that goes to waste!
Every week, Americans throw out literal tonnes of spoiled food, and produce is a huge chunk of that. And it's no wonder. After transporting, sitting on a truck, then on a store shelf, and finally coming home to you, your produce has been through a lot! You really only have a few days before most fruits and vegetables start to spoil, and by the end of the week you likely have a quite a bit destined for the compost pile.
Learning how to preserve the fruit and vegetables that you do have, both for long term and short term use, is the best way to avoid food waste. One of the easiest ways to do that, is to learn how to store your lemons (and limes!) for fresh use. Using this method keeps your citrus fruits fresh for up to 3 weeks! That's right, 3 WEEKS!
You Will Need:
Lemons: Pick fresh lemons without blemishes, as this will give you the best possible storage time. Starting out with good quality lemons makes for good quality lemons later on!
Water: Any drinkable quality water is good!
A glass jar: This can vary in size based on how many lemons you would like to keep fresh. I used a 1 1/2 pint jar, but the large Heritage Hill jars are perfect for storing an entire bag of lemons.
A lid: You will need a lid or a cover for whatever size jar you pick. I love the plastic lids from Ball for storage, since they don't rust like the canning jar lids do.
How to Keep Lemons Fresh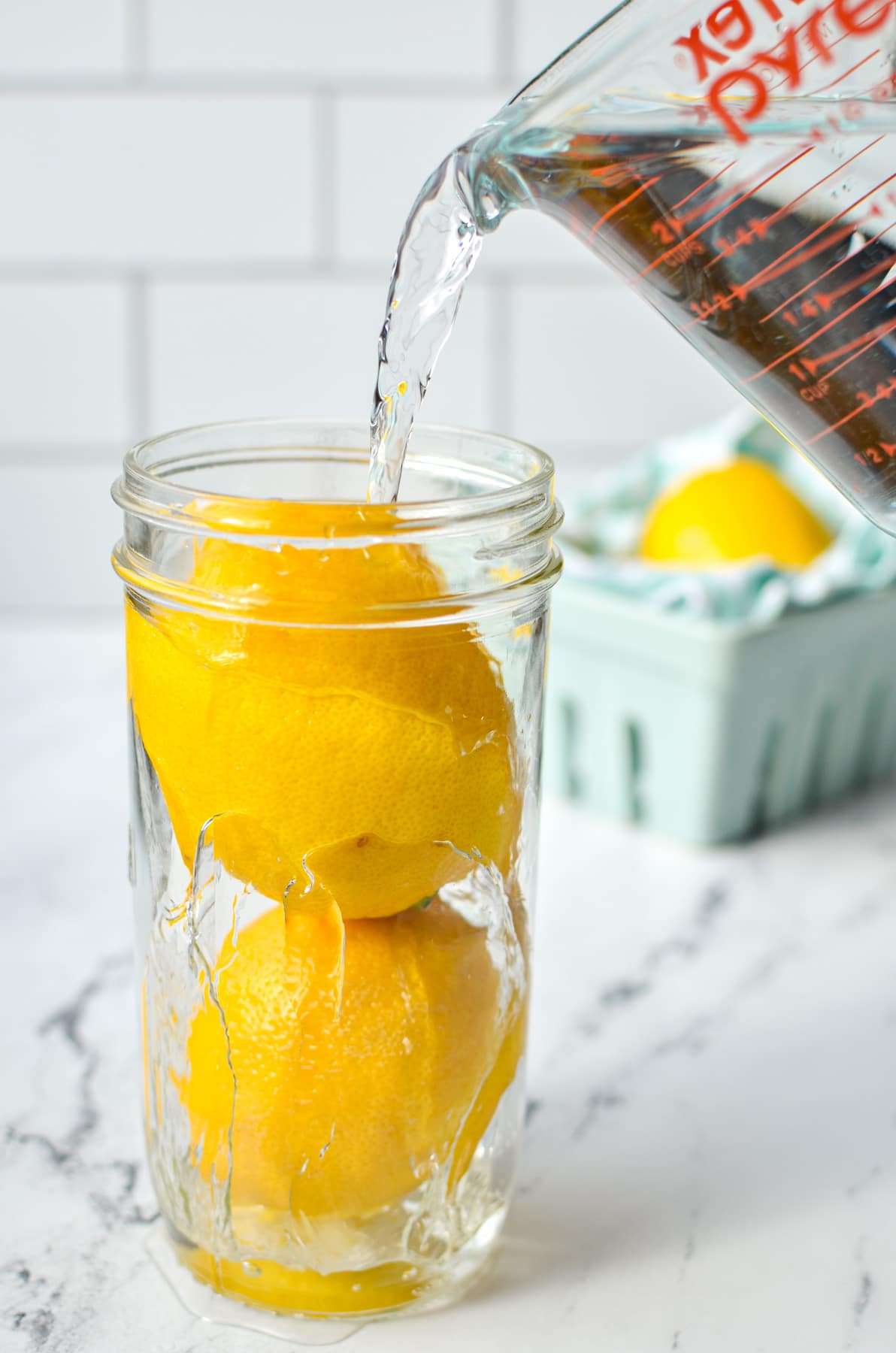 To get started, add your lemons to whatever size jar you're using! Don't pack them in tightly, since you want them to mostly be in contact with the water in the jar, rather than other lemons.
If you have a lot of lemons you want to keep fresh, use a large jar or container instead of smaller mason jars.
Pour in some cold water, filling it to within 1 inch of the top of the jar. Try to keep the lemons submerged if you can (you can use a fermentation weight), as this will extend your storage time, but it's not absolutely necessary.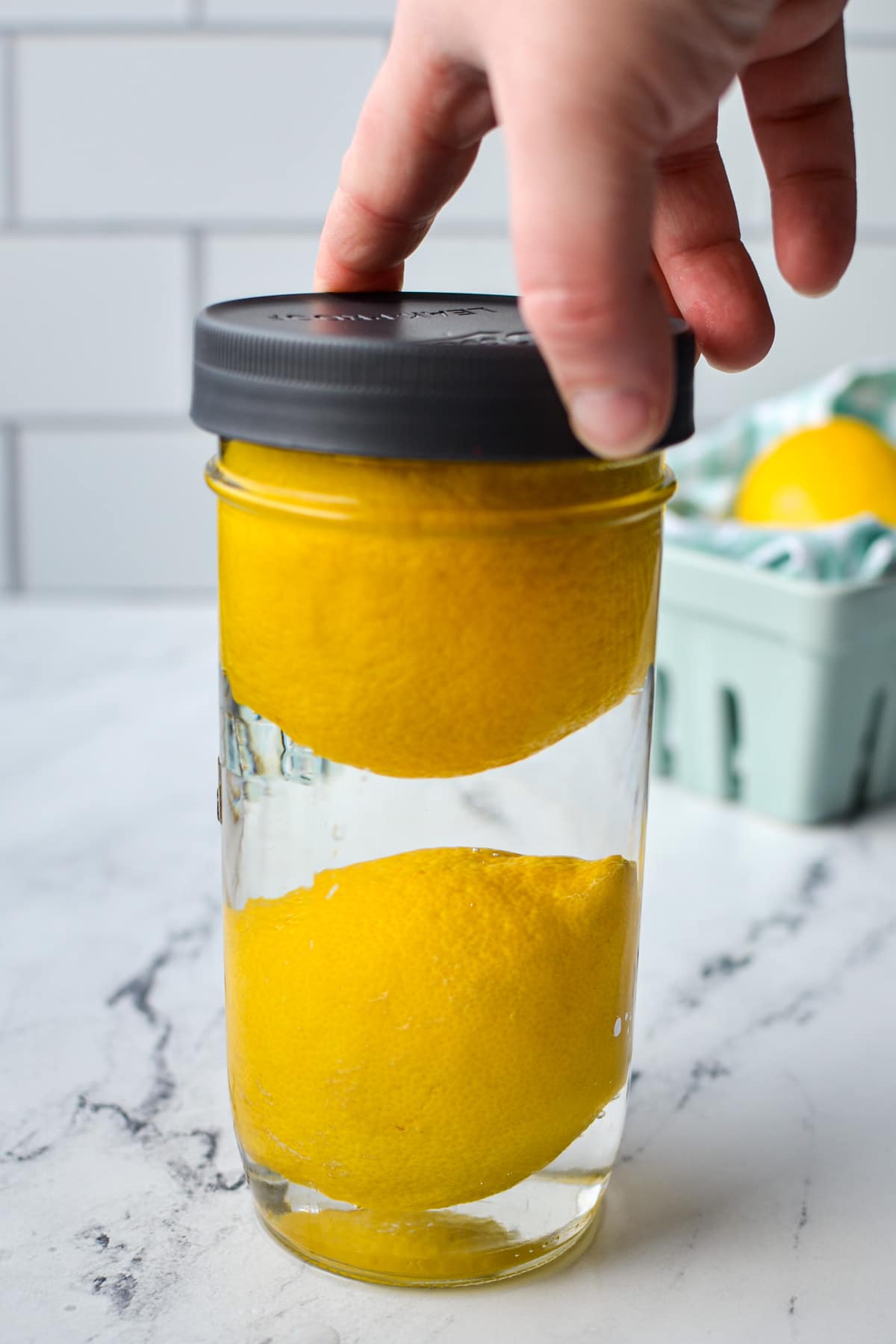 Then to your jar with a secure lid. For mason jars, I like to use the plastic Ball lids, since they don't rust like two piece canning jar lids do.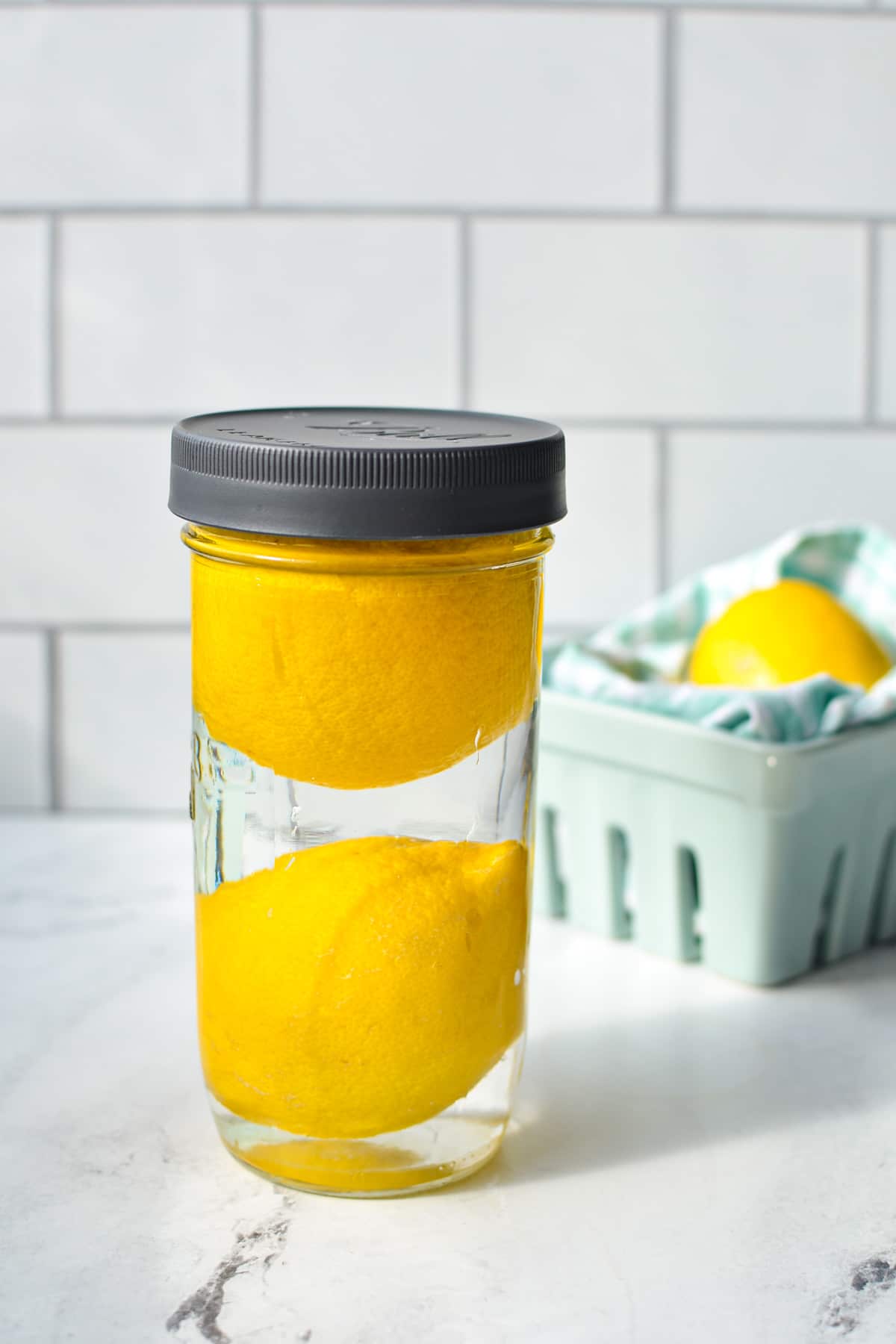 Then go ahead and place your jar in your fridge. I try to keep mine on the door of the fridge so I remember they are there, and for easy access for using in my favorite recipes or adding to a glass of water.
As long as your lemons are in good shape and stay submerged under the water, they can last up to 3 weeks!
Take lemons out as you need them, and top up the jar with some additional water if the water level gets too low.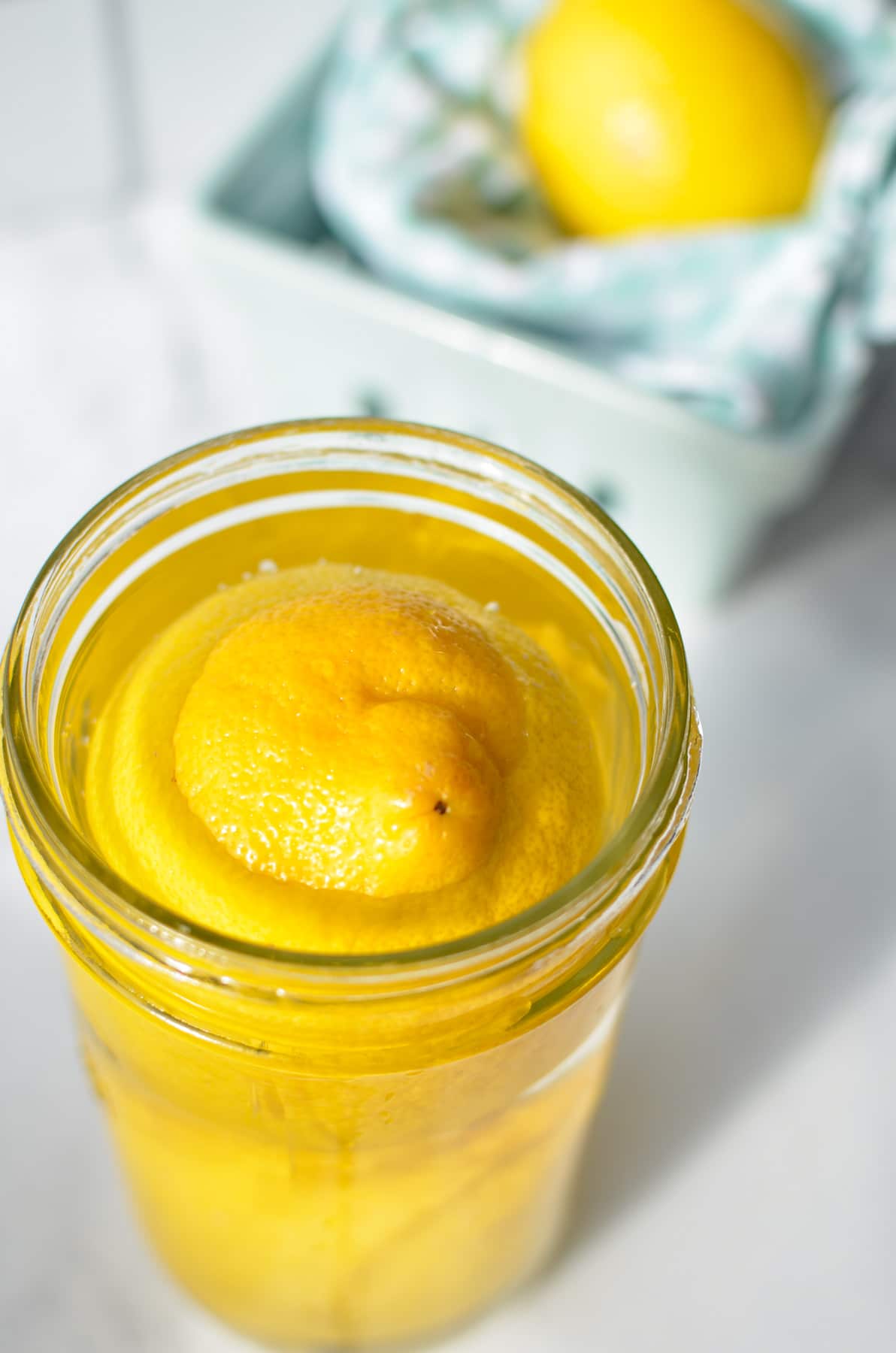 Frequently Asked Questions
Are lemons fruit?
Yes, lemons are fruit! Since they are the mature ovary of a flowering plant, and they are edible, they meet all the requirements for being a fruit! Not all fruits are sweet, some are sour like lemon, and others are bitter like crabapples.
Can lemons go bad?
Yes, lemons can go bad. If they do not have ideal storage conditions, they may last only up to 1 week. For extended storage, try storing your lemons in the fridge in a jar of water.
Should lemons and limes be refrigerated?
Typically, lemons and limes should be stored on the counter for maximum flavor. Storing them in the fridge will result in them drying out more quickly. There is a way around that though! Simply add your citrus to a jar, fill with water, and top with a lid. Your lemons and limes should be good for up to 3 weeks when stored like this.
How do you keep lemons fresh longer?
The best way to keep lemons fresh for a longer period of time is to store them in a glass jar, covered with water, in the fridge. Another method to keep them fresh for longer is to store them in a sealed plastic bag in the fridge.
Do lemons stay fresh longer in the fridge?
If they are loose, your lemons will actually dry out and spoil more quickly in the fridge. If they are stored in a jar of water and covered with a lid, they will last much longer and retain their juicy characteristics.
More Ways to Keep Your Produce Fresh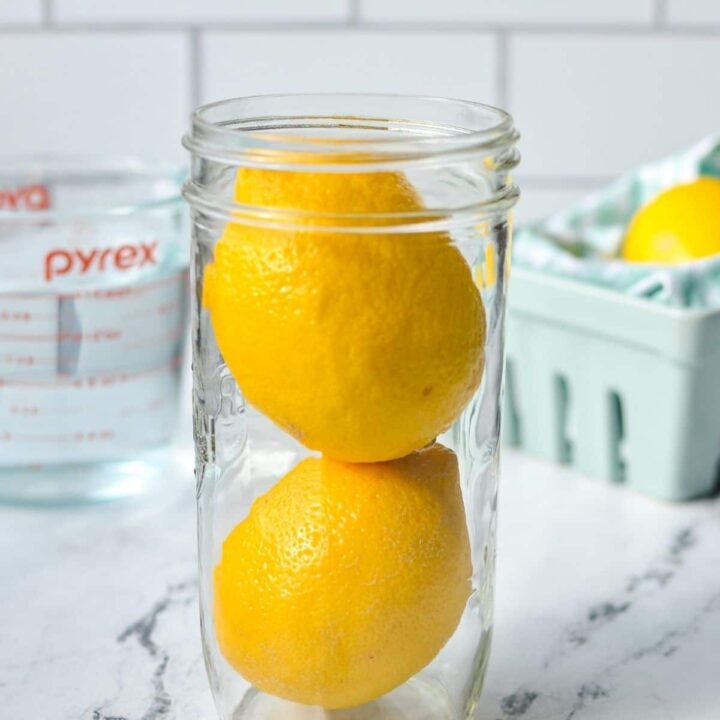 How to Keep Lemons Fresh
Keep your lemons (and limes) bright and juicy for up to 3 weeks! This simple method keeps lemons fresh and ready to use, WITHOUT any special equipment.
Materials
Lemons
Water
Glass jar
Lid
Instructions
Add your lemons to a glass jar that is large enough to easily contain them.
Fill the jar with water, leaving 1" of headspace at the top. Try to keep your lemons submerged if you can, as this will extend their storage life, BUT don't worry too much if you can't.
Add a lid to your jar, and place your jar of lemons in the fridge.
Store for up to 3 weeks, checking periodically to make sure there is no spoilage.
Take lemons as needed, and top up the water level if it gets too low to cover all of the lemons.
Notes
Fermentation weights: If you want to extend the storage life of your lemons, add some fermentation weights to keep everything held down.
Jar Size: Use whatever size jar that will keep your lemons easily contained, and you won't have to pack everything in. You want plenty of room for your lemons, and they should mostly be contacting water, rather than other lemons.
For Limes: This exact process works for limes too! They are smaller, so you may be able to fit more in a smaller jar.