This comfort food classic is sure to win over your family, and it will win you over when you see how easy it is to prepare! Tater Tot and Ground Beef Casserole is the PERFECT weeknight dinner idea, and is one of our favorite ground beef casserole recipes.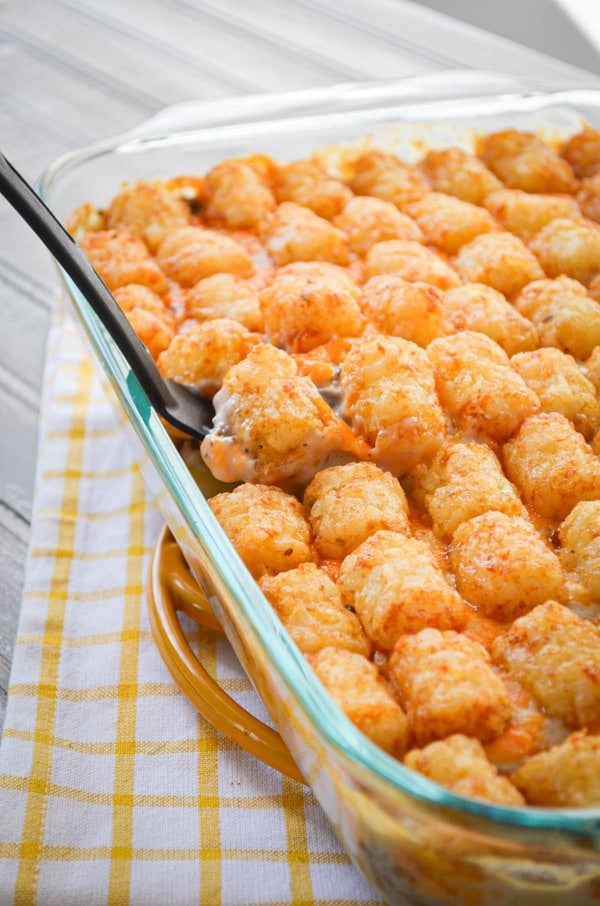 Please note that some of my blog posts here at Little Home in the Making may contain affiliate links. If you make a purchase through these links, I will get a small commission at no additional cost to you. See our disclaimer for more information.
---
Every once and a while you need something that is just purely comfort. Food shouldn't be so utilitarian. There is something to be said about enjoying food for something beyond its nutritional value, and although we're told over and over again it's unhealthy to find comfort in food, I can't help but wonder if food was designed to comfort in some way? Infants find comfort at their mothers breast, or when being cradled and fed from a bottle. Food starts out as being part nourishment, and part comfort…when does it stop? I don't think it does.
Certainly, we can find comfort in nutrient dense foods that are great for our bodies, but sometimes we want that classic comfort food. You know the kind, it normally has some kind of cream soup in it, and there is almost definitely cheese. This recipe for Tater Tot and Ground Beef Casserole is that kind of classic comfort.
Do I Have to Use "Cream Of" Soups?
Eventually I would love to create a completely from-scratch Tater Tot-esque casserole, but this here is for those times when you want to serve up something bubbly, warm, and comforting. If you would like to avoid "cream of" soups, I have a great recipe for Homemade Cream of Mushroom Soup. I include a secret ingredient that gives it that classic taste. This soup freezes really well, so I would go ahead and make the larger batch just to freeze the leftovers.
This version of Tater Tot and Ground Beef Casserole has a little more going on in the seasoning department than other casseroles I've seen. Perhaps the beauty of most of these recipes is in the simplicity and short list of ingredients, but for a small amount of extra effort, you can have a pleasantly seasoned meal. I find a lot of recipes that use a "cream of" soup rely on it for all seasoning and flavor needs, and this should not be so. You still need to add a little bit of seasoning, in my opinion, to round out the flavors. The seasoning list is SUPER simple (salt, pepper, paprika), but it does make a difference.
I also like to use a little sautéed onion and a few cloves of garlic. Since you're going to have the skillet out for browning the ground beef, it really is quite easy to saute some onions and garlic as well.
Can I Freeze Tater Tot and Ground Beef Casserole?
Yes, you can! In fact, it freezes quite lovely! Whether you're looking to stock your freezer for a busy season of life, a new baby, or to help you out during weekdays, Tater Tot and Ground Beef Casserole is a classic freezer friendly dish.
The secret I've learned with freezing is that you cannot put anything in the freezer while it is still warm. Placing a warm meal in a cold freezer causes condensation, which then becomes freezer burn. You really want to make sure everything is completely chilled when you finally place your meal in to the freezer. Since there are several layers to this dish, and only one of them should be hot, I would freeze this a little differently than other dishes.
How do I freeze it?
First, you want to follow the recipe and prepare your ground beef, onions, and garlic. This is your bottom layer. Spread your prepared ground beef in the bottom of a freezer friendly 9X13 dish or foil pan. Let this cool on the counter, and this stick it in the fridge to cool a little more.
Then, take the casserole out and add the remaining layers. Immediately wrap with plastic or foil, and place in the freezer on a flat surface to freeze completely. At some point the following day, I would take the casserole and place it in my deep freezer, or wherever you plan on keeping your freezer meals.
How do I cook it once frozen?
For this particular meal, I would probably prepare it directly from frozen since you don't want the tater tots to thaw out. You would definitely need to allow for a longer cooking time to ensure it cooks through from the frozen state. Instead of the 30 minutes required, I would start with 50 minutes and see how that works for your family. If the tater tots aren't crisping up, but are cooked through, try them under the broiler for a minute or two.
Important tip about cooking from frozen:
If you froze your Tater Tot and Ground Beef Casserole in a glass dish, DO NOT place the dish directly from the freezer to the oven. I would recommend freezing in foil for this reason, but if you use glass, there is a tip that makes your dish less likely to break from the freezer to oven shock.
You want to place your casserole in a COLD oven, and then proceed to pre-heat the oven. That way, your casserole dish warms up gradually with the oven, rather than experiencing the shock of going from freezer to oven. Then, once your oven beeps to indicate it has reached temperature, start your baking time from that point.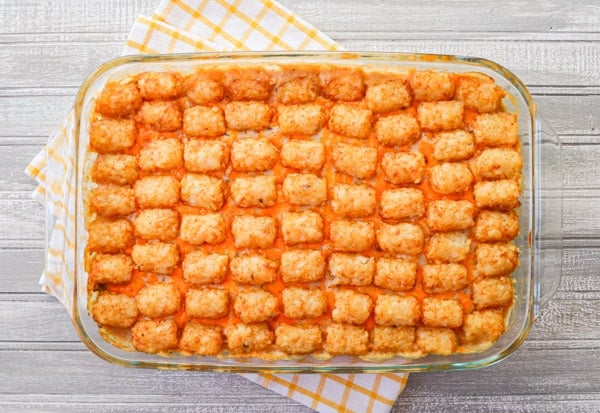 What Do I Need to Make Tater Tot and Ground Beef Casserole?
Ground Beef: I like to use lean ground beef since it requires less draining than regular or medium ground beef.
Onion: Just your regular yellow cooking onion is used here. You could also use a sweet onion if that's what you have on hand.
Garlic: A few cloves of garlic add that little touch of flavor we all love. If you don't have fresh, you can use jarred minced garlic, or 1/4 tsp. of garlic powder.
Cream of Mushroom Soup: You can buy the cans of this, or you could make my Homemade Cream of Mushroom Soup.
Shredded Cheddar Cheese: I don't like to buy pre-shredded cheese, for many reasons, but for casseroles in particular I prefer shredding it from the block. Cheese shredded from the block has a better melting quality, but you can use pre-shredded cheese if that's what works best for you!
Tater Tots: Wouldn't be "Tater Tot and Ground Beef Casserole" without 'em!
Seasonings: Keeping it simple with ground black pepper, salt, and paprika.
Worcestershire Sauce: If you can pronounce it, you get bonus points!
And now for the recipe…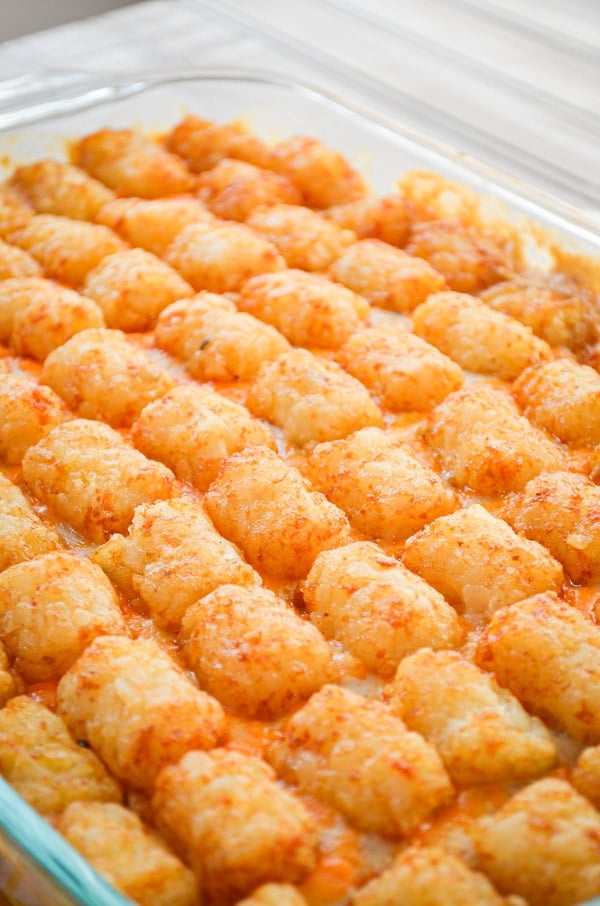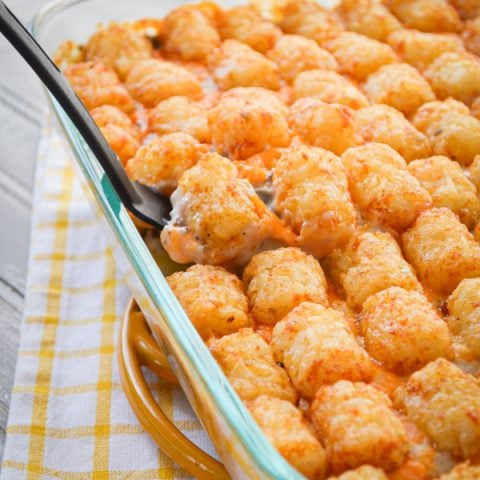 Easy Tater Tot and Ground Beef Casserole
Total Time:
1 hour
5 minutes
An EASY Ground Beef Casserole that is sure to please the whole family. This cheesy Tater Tot and Ground Beef Casserole is simple to prepare, simple to bake, and a real comfort food winner at the dinner table!
Ingredients
2 lbs Lean Ground Beef
2 large Onions, chopped
3 cloves Garlic, minced
¼ tsp. Ground Black Pepper
¼ tsp. Table Salt
¼ tsp. Paprika
2 tbsp. Worcestershire Sauce
2 10.5oz cans Cream of Mushroom Soup, or 2 2/3 cups homemade
1 cup Shredded Cheddar Cheese
1 package Frozen Tater Tots
Instructions
Preheat the oven to 425F and grease a 9X13 glass baking dish.
In a large skillet over medium-high heat, brown the ground beef, breaking it up as you go.
Once the ground beef is mostly browned, drain off the fat and add the onions and garlic. Toss well to combine.
Cook until the onions are soft and the beef is cooked through. Drain any additional excess fat.
Season the ground beef and onions with the pepper, salt, and paprika. Add the Worcestershire sauce and mix well.
Add the ground beef and onions to the prepared baking dish.
Add the cans of Cream of Mushroom Soup to a medium bowl and mix well until smooth. Spread the soup over the beef layer, ensuring even distribution.
Sprinkle the shredded cheese over the soup layer.
Carefully arrange the tater tots on top of the soup and cheese. You will most likely have a few leftover from your package; just put them back in the freezer for another meal.
Bake in the oven, uncovered, for 30 minutes, or until the tater tots are golden and the casserole is bubbly.
Serve and enjoy with a side of mixed vegetables.
Nutrition Information:
Yield:

8
Serving Size:

1/8 of the Casserole
Amount Per Serving:
Calories:

406
Total Fat:

23g
Saturated Fat:

9g
Trans Fat:

1g
Unsaturated Fat:

11g
Cholesterol:

115mg
Sodium:

892mg
Carbohydrates:

11g
Fiber:

1g
Sugar:

2g
Protein:

37g
Nutrition information isn't always accurate and is an estimate only.
Don't Forget to "Pin It" for Later!