Looking for an easy ground beef recipe? Try these delicious Brown Bear Loose Meat Sandwiches! Savory, not sweet! An easy, but delicious skillet meal.
Please note that some of my blog posts here at Little Home in the Making may contain affiliate links. If you make a purchase through these links, I will get a small commission at no additional cost to you. Please see my Disclaimer for more information.
Okay, right off the bat I need to enter a disclaimer: I did not name these. My husband, who is my semi-official volunteer taste tester, named these delicious loose meat sandwiches as they are before you today. That's right, not only has he declared this easy ground beef recipe to be "Brown Bear" Loose Meat Sandwiches, he has in fact insisted upon this recipe being titled as such on my personal blog.
Therefore I cannot be responsible for any questions about the name itself. Why are they called "Brown Bear" sandwiches, you ask? I really have no idea. My thoughts are along the line of they may be something a big, hungry brown bear would enjoy should he find himself absolutely famished. My husband, truthfully, is quite bear-like and so perhaps was projecting when he bequeathed such a name on these hearty sandwiches.
I did, of course, contribute both the recipe and the more logical portion of the name: loose meat sandwiches.
An Easy Ground Beef Recipe
In all fairness, my husband earned the right to name these, because he actually gave me the inspiration for the recipe. I was actually putting together the beginnings of a beef stroganoff recipe to be served over egg noodles, when he made several suggestions that took them completely off the beef stroganoff trajectory and more towards that of a sloppy joe. Instead of a sweet, ketchupy sauce, there was more of a natural beefy sauce. The mushrooms added a nice richness and texture, and we were totally pleased while heaping some of this delicious "brown bear" filling on top of toasted (with garlic butter 😋) Kaiser rolls. Served with my fav fav fav chips (Ruffles regular; no sponsorship, just mad love) this was a hungry gal's dream come true.
Best part? Just One Skillet!
Who doesn't love an easy skillet meal? Everything is prepared in the skillet and served on fluffy kaiser rolls. That means you only have to clean one pan, and if you use cast iron like I do, "clean" is a subjective word.
What Do I Need to Make Them?
Skillet: Any skillet will do, but I love my big 12″ cast iron skillet because it makes clean up a breeze. Cast iron also gives everything a little bit better of a browning in my opinion.
Ground Beef: Lean ground beef is used in this recipe so you don't need to drain the fat. If you opt for regular ground beef, just drain off some of that fat before proceeding with the rest of the recipe.
Mushrooms: Their springy texture and rich flavor work so well with beef.
Butter: Everything must have butter. It is our way.
Worcestershire: If you can't pronounce this, it's okay, I can't either. The flavor though, is an undeniable best friend to beef.
Seasonings: Just a few simple seasonings (salt, pepper, smoked paprika) are used here. There are plenty of other flavor-makers in this easy ground beef recipe.
Kaiser Rolls: You could use brioche, or whatever other type of sandwich-style roll.
Garlic Butter: This is optional, but spreading some of this on the toasted Kaiser rolls is just wonderful! Highly recommended.
Cheese: Another optional one. We actually served these sans cheese, but I know they would be delightful with slice provolone, muenster, or smoked cheddar. Ah, the possibilities.
And Now, The Recipe!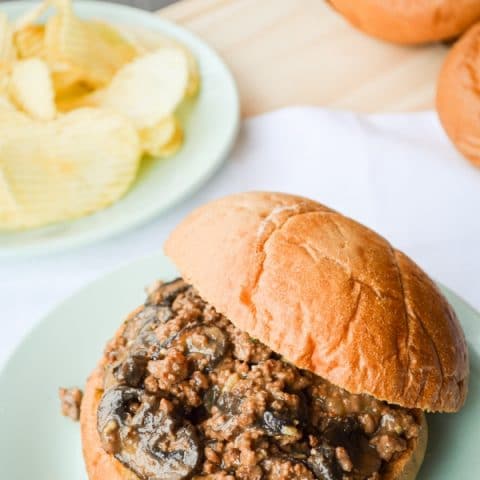 Brown Bear Loose Meat Sandwiches
Looking for an easy ground beef recipe? Try these delicious Brown Bear Loose Meat Sandwiches! Savory, not sweet! An easy, but delicious skillet meal.
Ingredients
2 tbsp. Salted Butter, divided
1 medium Onion, diced
2 cloves Garlic, minced
1 lb Lean Ground Beef
½ lb Fresh Mushrooms, washed, trimmed, and sliced
1 tbsp. Worcestershire Sauce
½ tsp. Mineral Salt
½ tsp. Ground Black Pepper
½ tsp. Smoked Paprika
Kaiser Rolls, for serving
Garlic Butter, for serving (optional)
Sliced Cheese, for serving (optional)
Instructions
Melt 1 tbsp. of butter in a medium skillet over medium heat. Add the onion and sauté until translucent, about 5 minutes.
Add the garlic and cook just until fragrant, about 1 minute.
Add the mushrooms and mix well. Sauté until the mushrooms are soft, about 3-5 minutes.
Remove the onions, mushrooms and garlic to a plate.
Add the ground beef to the skillet and cook until browned, breaking it up with a wooden spoon as you go.
Drain excess fat from the ground beef. Add 1 tbsp. of Worcestershire sauce and 1 tbsp. of butter to the skillet with the beef. Stir until the butter is melted.
Add the salt, pepper, smoked paprika, and beef broth. Add the onions, mushrooms, and garlic back into the skillet. Stir gently to combine.
Reduce the heat to low and simmer for 20-30 minutes, or until the much of the broth has evaporated and a thicker sauce remains. Stir often to prevent burning.
Serve on toasted Kaiser rolls with toppings of your choice. We like to spread ours with some garlic butter. You can serve with or without cheese; sliced provolone is a great addition.
Nutrition Information:
Yield:

4
Serving Size:

1
Amount Per Serving:
Calories:

400
Total Fat:

24g
Saturated Fat:

11g
Trans Fat:

1g
Unsaturated Fat:

9g
Cholesterol:

126mg
Sodium:

611mg
Carbohydrates:

11g
Fiber:

2g
Sugar:

3g
Protein:

36g
Nutrition information is an estimate only.
Don't Forget to "Pin It" for later!
More Recipes to Try: