Whether you love your butternut squash soup in the Instant Pot, slow cooker, or on the stove top, you've probably been faced with the task of finding the perfect side dish for butternut squash soup. This list of 45 scrumptious side dishes are sure to inspire you to whip up something delicious. From breads to salads, and vegan options too. There is something for everyone in this list of the best side dishes for butternut squash soup!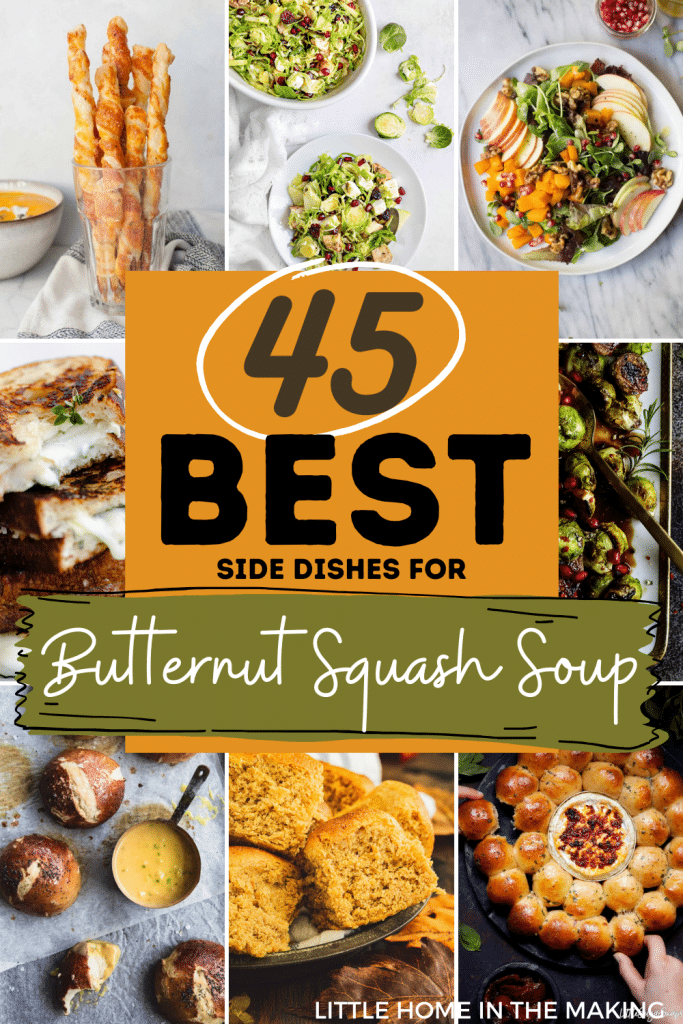 This post contains affiliate links, which means that if you click a link and make a purchase, we receive a commission at no additional cost to you. See our disclaimer for more information. Any nutritional information is for entertainment and informational purposes only, and is not intended as medical advice. Always seek the advice of your health provider.
---
One of the things I always struggle with, is figuring out just what side dishes to serve with a particular meal. If I think about it in advance, it's easy to come up with a few ideas that fit my main dish. If I leave it to the last minute, I'm totally stumped!
Side Dishes for Butternut Squash Soup
Of all the main dishes, I think soups are probably the most tricky to brainstorm side dishes for. While soup and bread is a delicious combo, sometimes you want something a bit more…extra! That's the inspiration behind this list. Here we have 45 of the absolute BEST side dishes for butternut squash soup, a fall and winter favorite of mine. While these side dishes are particularly selected for butternut squash soup, they will work wonderfully with a variety of fall and winter soups.
My favorite recipe for butternut squash soup, is this Instant Pot Butternut Squash Soup with Coconut Milk. It has such a lovely sweet, creamy texture that is absolutely dreamy. I love sprinkling on candied walnuts, but a girl still wants more!
---
The Best Side Dishes for Butternut Squash Soup
Who doesn't love a big bowl of dreamy butternut squash soup? I love the fall and winter months because this is on the menu frequently! The problem always seems to be: what to serve on the side!? This is a list of 45 of the very best side dishes for butternut squash soup! What one do you like best?