This richly flavored sourdough zucchini bread is perfectly spiced and delightfully moist. A great way to use up all that extra zucchini that appears in the summer months, and a delicious way to make use of your stash of sourdough discard. Freezer friendly and a lovely tea time treat!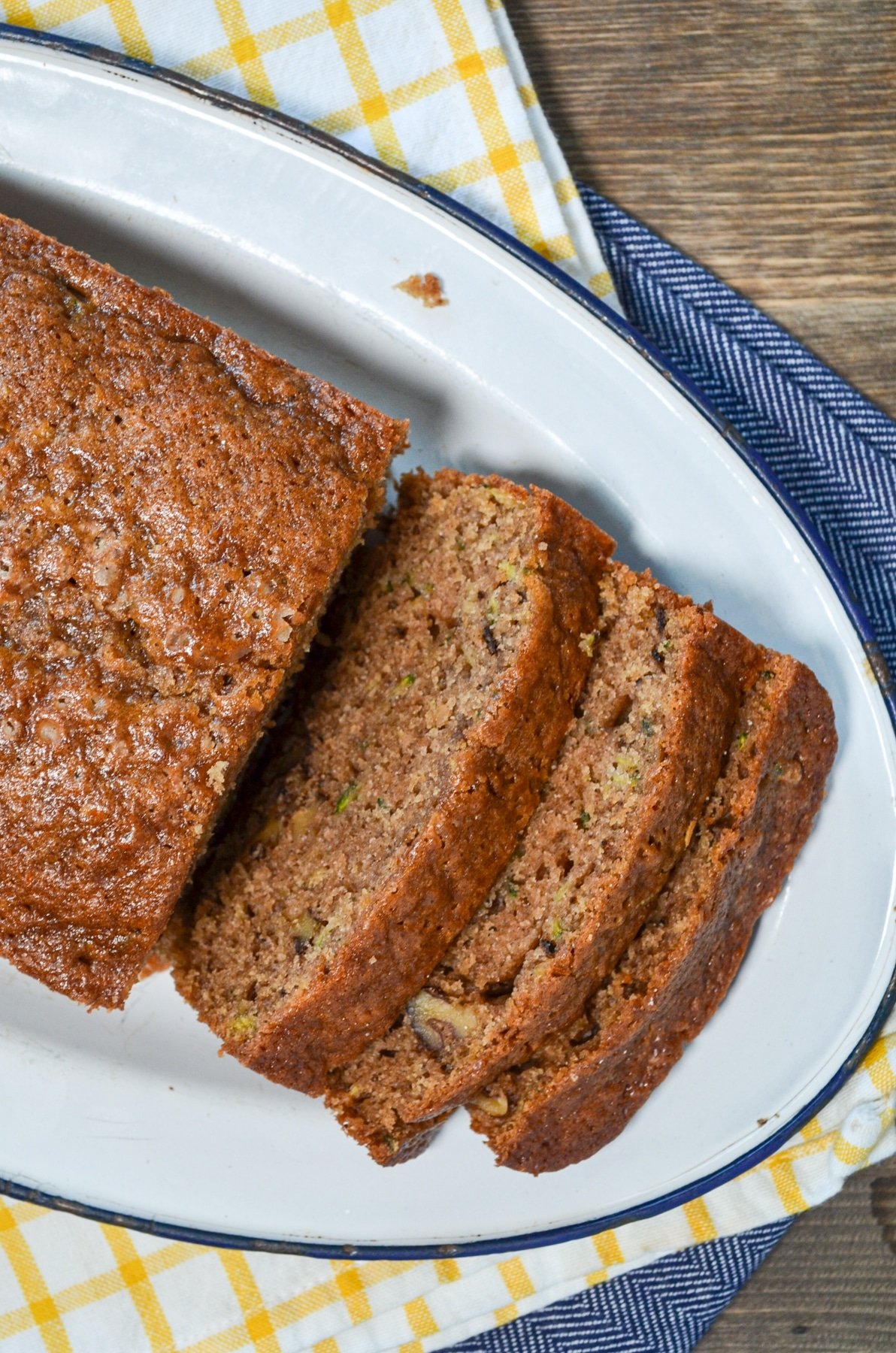 Please note that some of my blog posts here at Little Home in the Making may contain affiliate links. If you make a purchase through these links, I will get a small commission at no additional cost to you. Please see my Disclaimer for more information.
---
You know that it is finally summer when the zucchini begins its reign over your garden and your kitchen. Even if you don't grow a garden, chances are you've had some dropped off on your porch by some desperate neighbors. Or maybe you just snatched some up at the farmers market since they were practically giving it away!
Well now you have a whole lotta zucchini and you're not really sure what to do with it all! This is a familiar problem to us sourdough bakers. Since we are feeding our sourdough starters, we also must discard from them. And unless you're baking a loaf or two a day, it can be quite the challenge to make the best use of your sourdough discard! I've dedicated many posts on my blog to helping with that problem, but today we are going to tackle two birds with one stone.
What Is the Point of Zucchini Bread?
Since zucchini grows in abundance during the summer months, it can be hard to find a way to use it all up. While you can certainly eat it fresh, make zoodles, or shred it for the freezer, one of the tastiest ways to use it is in zucchini bread! When you add shredded zucchini to bread, it creates a lovely moist texture. PLUS, you're getting some hidden veggies in there too!
What Ingredients Do I Need?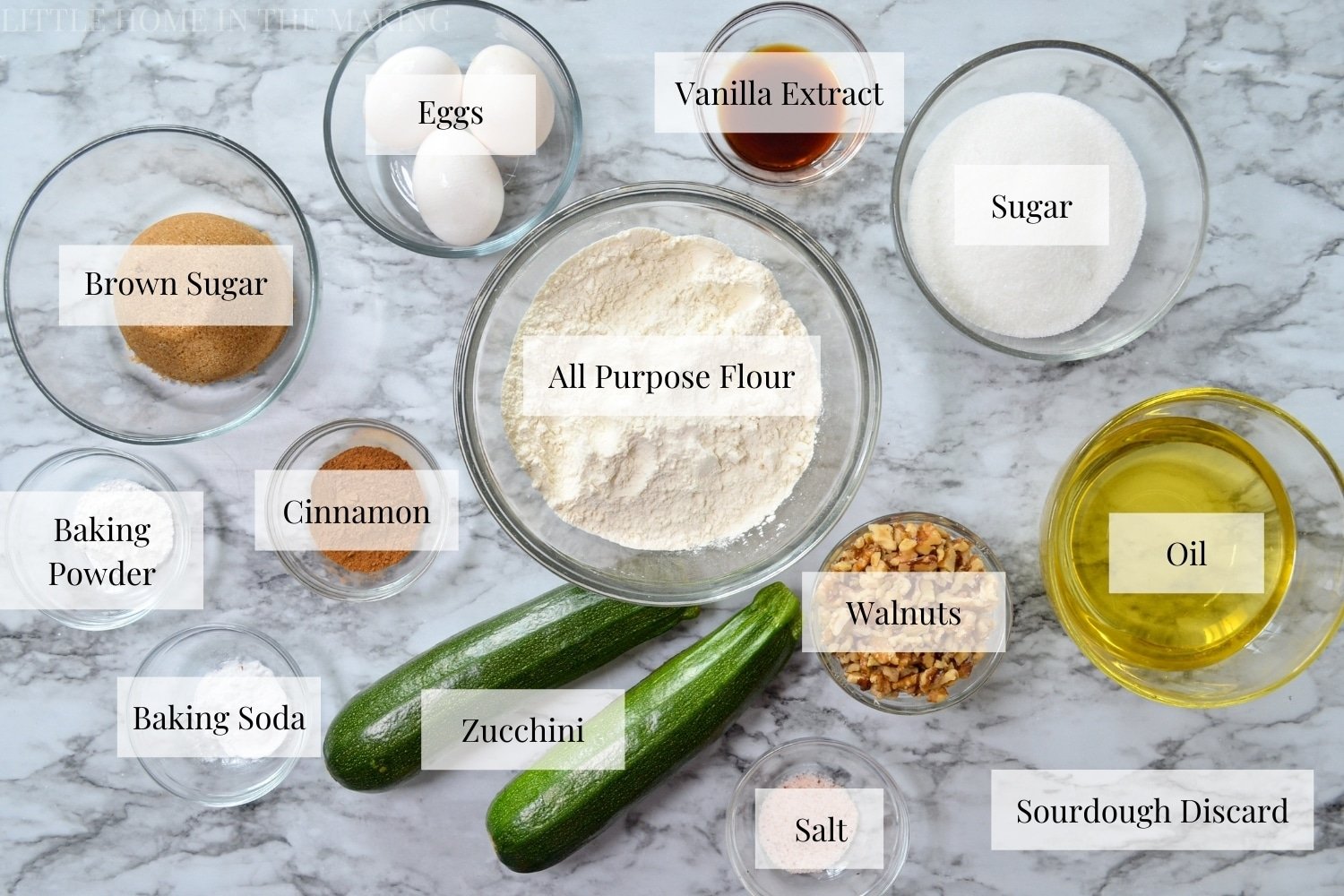 Sourdough Discard: I used cold sourdough discard that I keep in the fridge, but room temperature is fine too! As long as it is "discard" and not starter. I haven't tested this recipe with active starter, and I'm not sure how it would turn out!
Zucchini: We will be shredded our zucchini using a box grater. If you are using small zucchini, like pictured, you can shred them with the skin on. If you are using large zucchini, make sure you peel the skin first. As zucchini get large, the skin gets tough and isn't suitable for shredding and baking.
Flour: I prefer unbleached all purpose, but regular all purpose flour is fine if that is what you have on hand. To measure properly, scoop and level it.
Sugar: To keep the sweetness balanced, this recipe calls for 1 cup each of brown sugar and white sugar. Don't worry: it makes two loaves!
Oil: You can use any neutral tasting oil. I chose avocado oil here, but you could use canola oil, peanut oil, or safflower oil if that's what you have on hand. I wouldn't recommend olive oil since the flavor is very strong. If you don't mind a coconutty taste, you can use melted and cooled coconut oil.
Eggs: Get yourself 3 fresh large eggs!
Walnuts: About 1 cup of chopped walnuts is folded into the batter. I really feel like this makes the sourdough zucchini bread EXTRA special. I bet pecans would work really well too!
And a few baking basics like baking soda, baking powder, salt, cinnamon, and vanilla extract!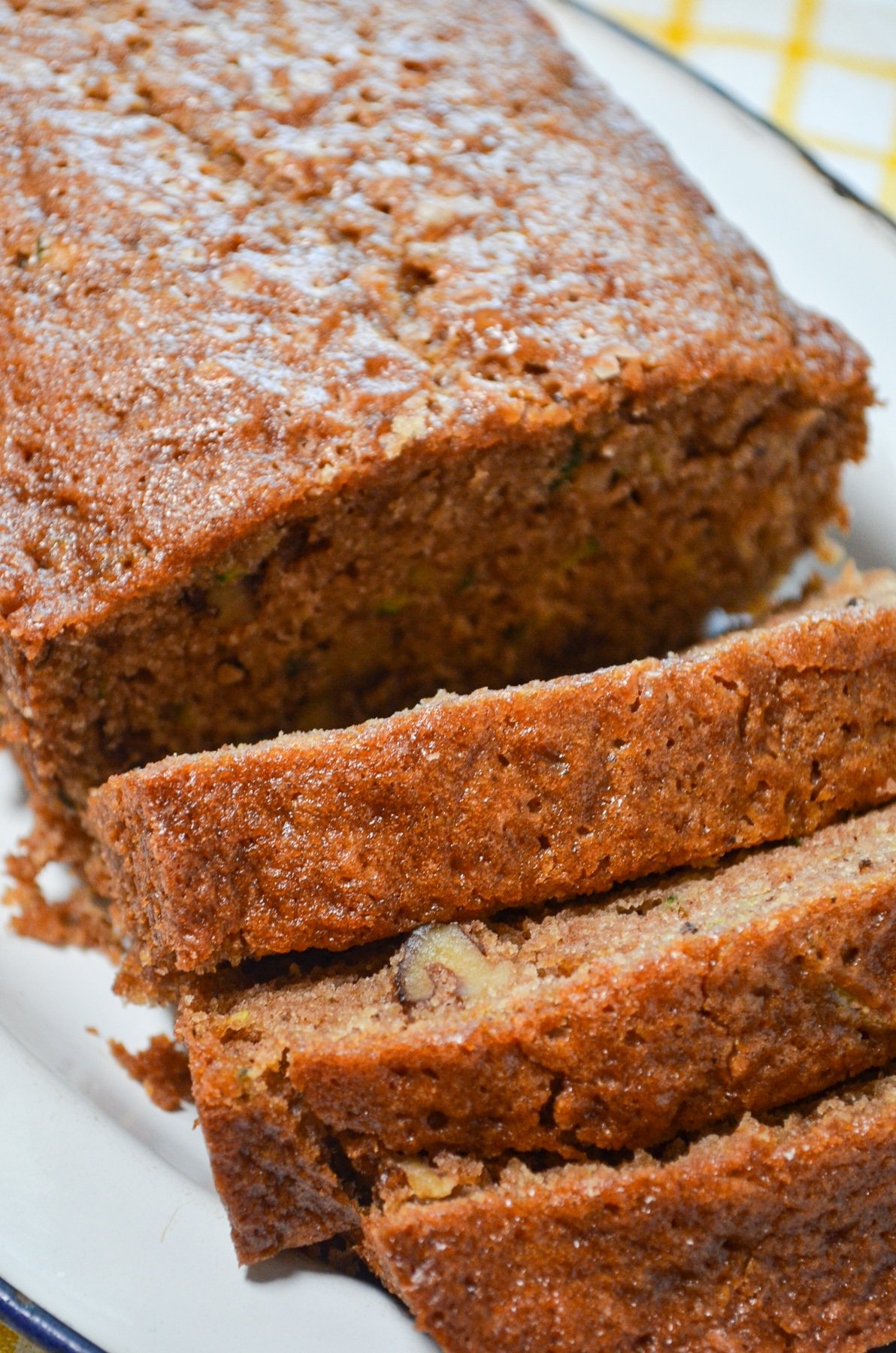 How to Grate Zucchini for Bread
While the food processor makes quick and easy work of grating zucchini for bread, using a box grater is the preferred method. Using the food processor makes for finely shredded, very wet, and densely packed zucchini. This means that you are getting much more zucchini per cup than if you were to use a box grater. Many a "wet" zucchini bread could have been avoided by doing things the old fashioned (albeit slower) way.
Do you squeeze water out of zucchini for bread?
For most zucchini bread recipes, you will not squeeze the water out of the shredded zucchini. Be sure to pay attention to your specific recipe, and follow the instructions as directed.
For this sourdough zucchini bread, we DO squeeze water out of our shredded zucchini. This is to reduce the total liquid, since we are adding very wet sourdough discard!
How to Prepare Zucchini for Bread
Most zucchini bread recipes simply call for grating the zucchini, measuring it, and folding it into the batter. Be sure you follow your recipe, but otherwise be sure to use a box grater (rather than a food processor) for the most accurate measurements.
This sourdough zucchini bread calls for a different technique. This helps reduce the total moisture content, since we are adding a significant amount of moisture in with the addition of sourdough discard.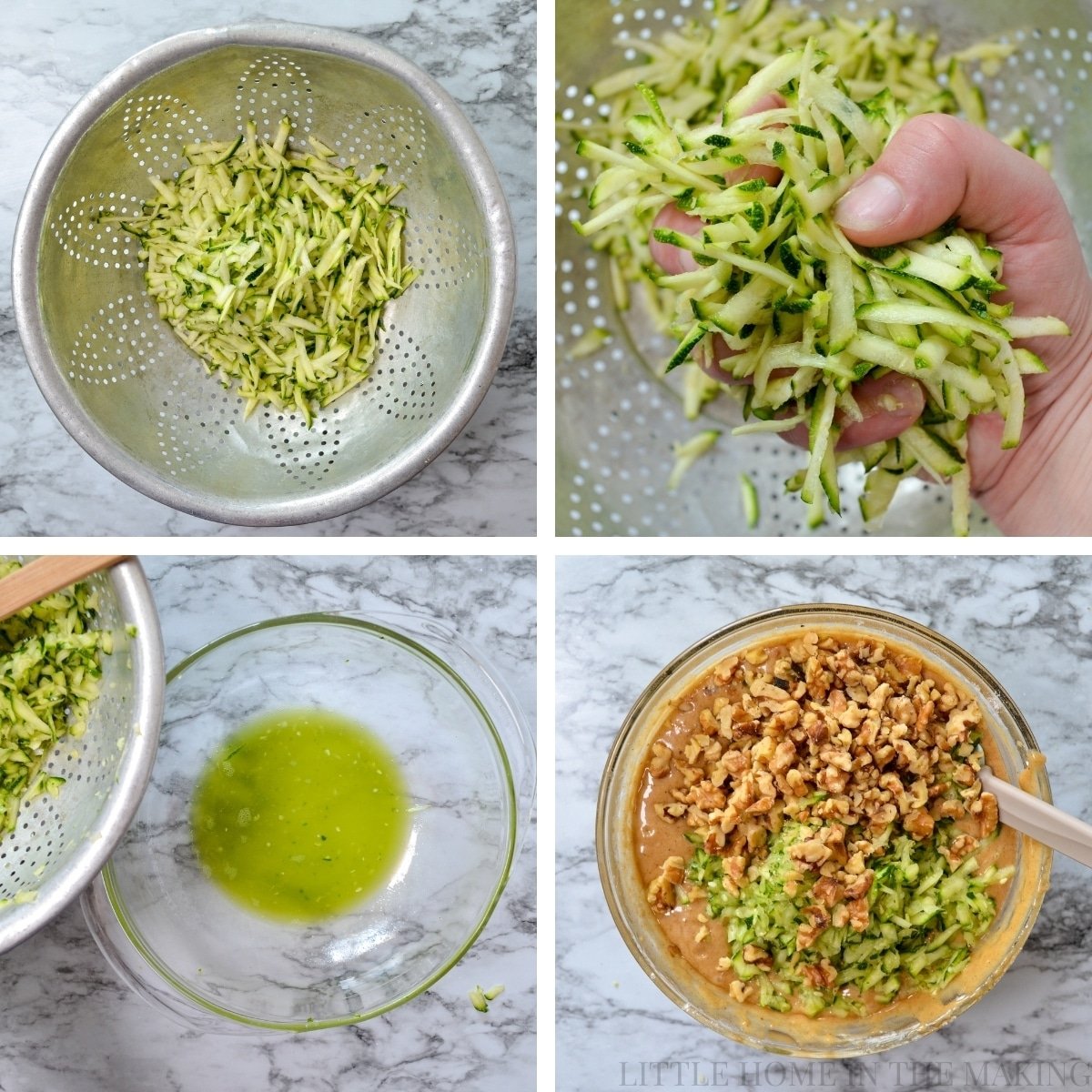 First, you want to shred your zucchini using a box grater.
Measure out your shredded zucchini and place it in a strainer over a bowl. Massage gently with your hands, and then let it sit for 5-10 minutes.
Once you've allowed your zucchini to rest, use your hands to firmly squeeze the excess moisture out.
Once you have 1/4 cup – 1/2 cup of liquid in the bottom of your bowl, stop squeezing. Discard the liquid. If you have MORE than 1/2 cup of liquid, discard 1/2 cup of the liquid and add the remaining liquid to your batter.
You are then ready to add the prepared zucchini to your sourdough zucchini bread batter and fold it in gently.
How to Make Sourdough Zucchini Bread
Once you've gathered your ingredients, and started the prep work for your zucchini, you can get started making your sourdough zucchini bread! This is such an easy recipe, and can be made with just a whisk. No stand mixer or electric hand mixer needed! You gotta like that! All you need is a set of 2 glass loaf pans.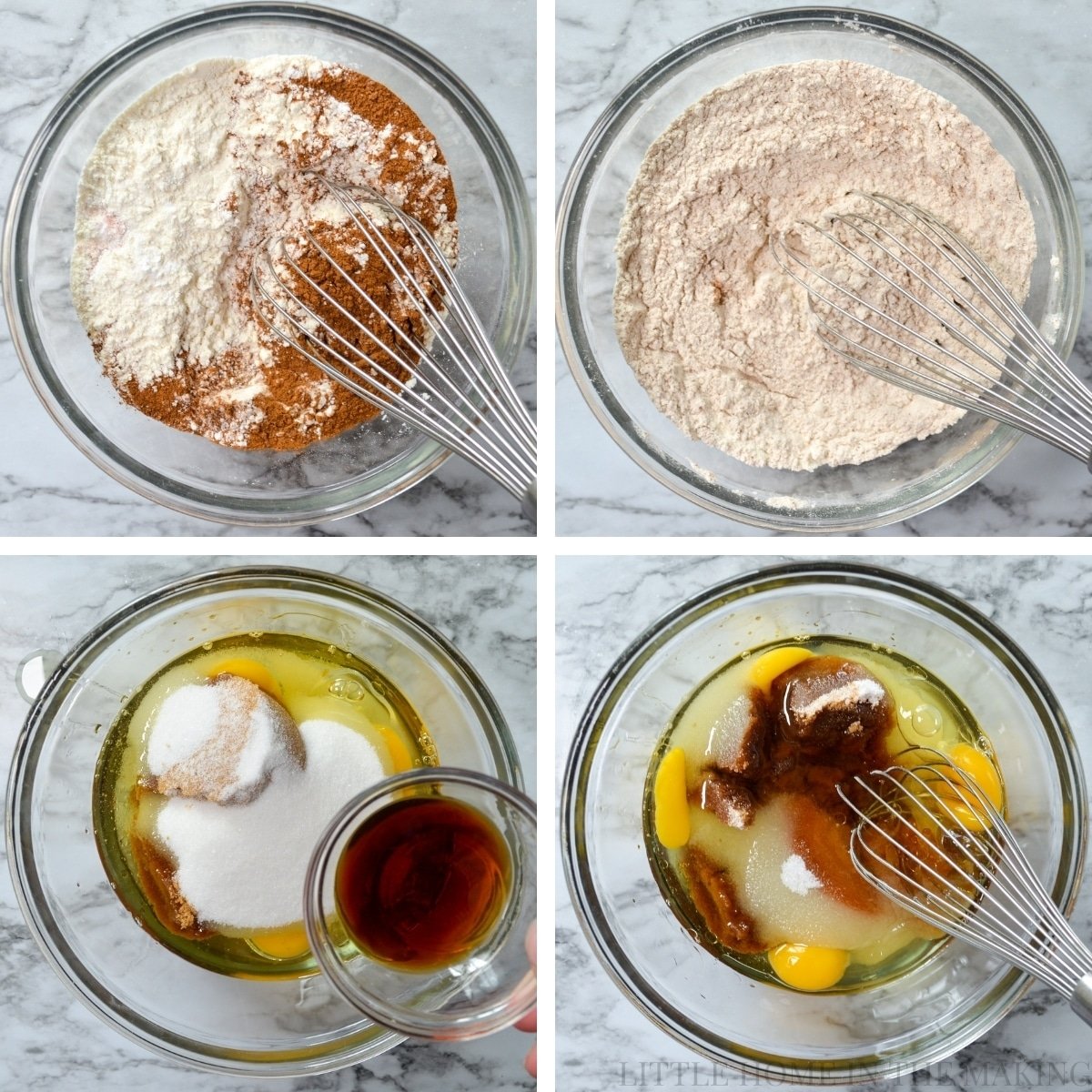 Start off by whisking your dry ingredients together. This includes the flour, cinnamon, baking powder, baking soda, and salt.
Then, you're going to combine the wet ingredients with the sugar. Just like in Home Ec class! Whisk those up until smooth.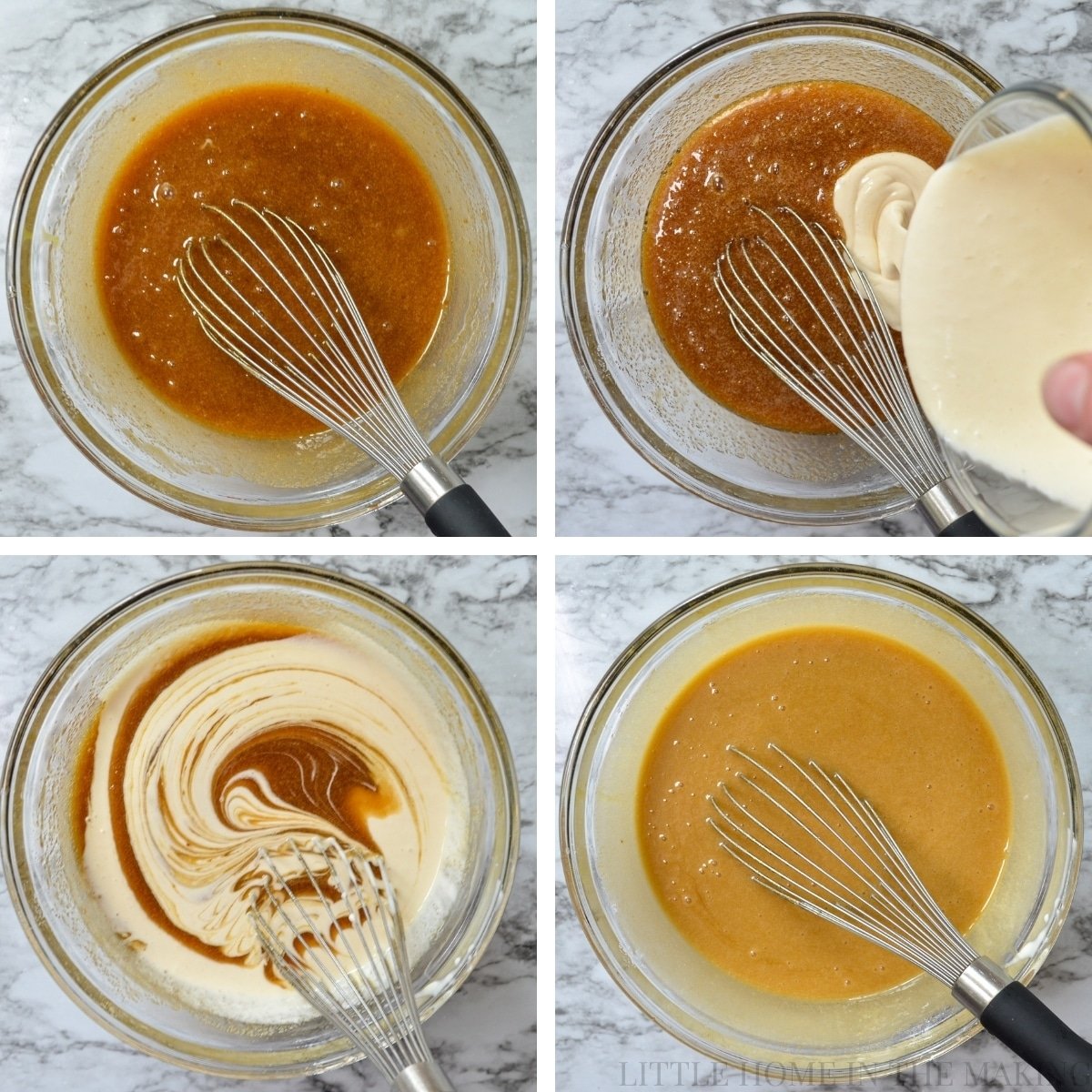 Once your wet ingredients are whisked together with the brown and white sugar, go ahead and add in your sourdough discard.
Give the mixture another whisk until uniform and well combined.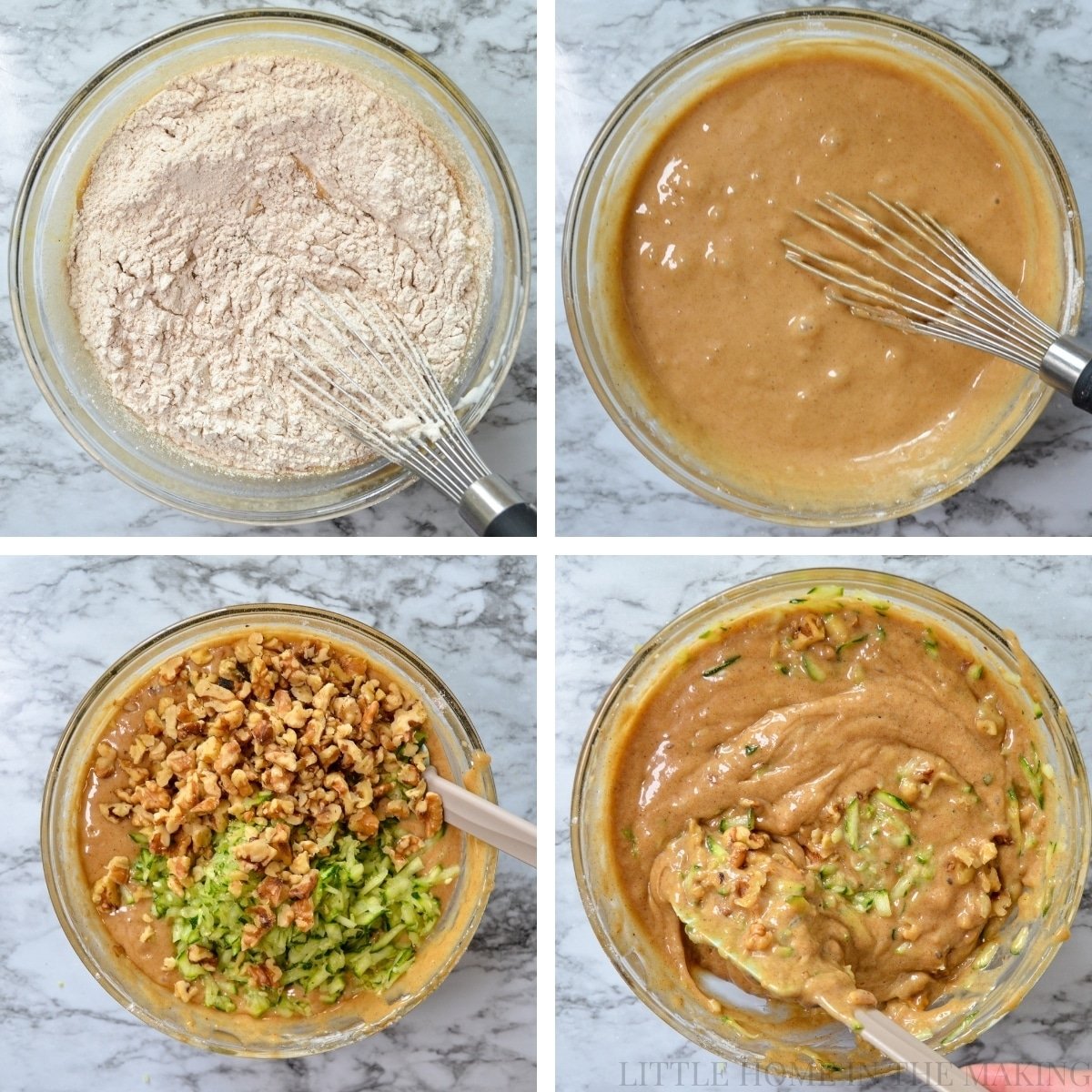 Now, add the flour mixture to the wet ingredients and mix gently to mix the two together. I like to add the flour in small batches. This helps contain the mess, and makes for a more thorough mixing of the sourdough zucchini batter.
Then, you'll add your prepared (see above for how to prepare your zucchini) zucchini and your chopped walnut. Use a silicone spatula to fold that in gently.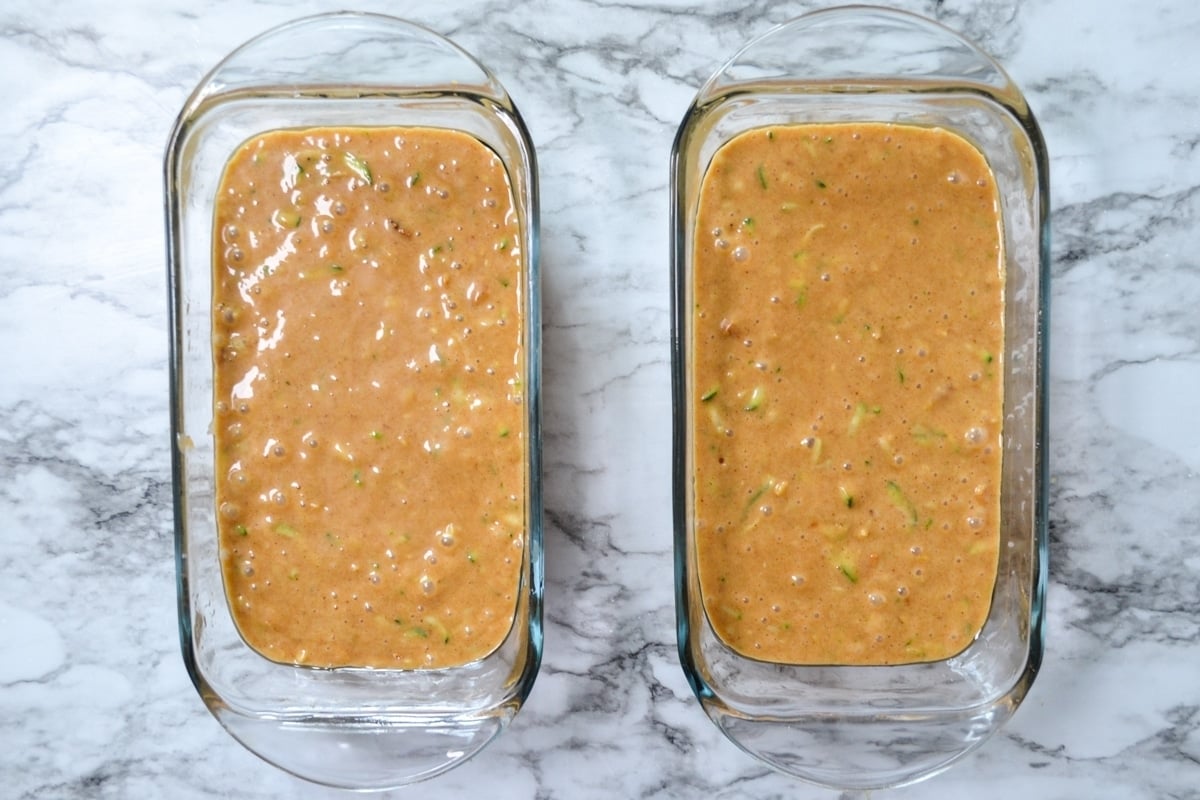 Distribute the batter between the two loaf pans and bake in a preheated oven for 50 minutes -70 minutes. Using a cake tester helps make for bread that is perfectly cooked through, but not overbaked.
How to Store Zucchini Bread
Once your zucchini bread is baked through, let your zucchini bread cool in the loaf pans until cool to the touch. Then, run a knife along the edge of the pan to release the loaf. Place the loaf on a cooling rack, and let it cool completely. Then, wrap it tightly in several layers of plastic wrap and store in the fridge for the best results.
Zucchini bread can be stored tightly wrapped at room temperature for 2-3 days, or up to one week tightly wrapped in the fridge.
Sourdough Zucchini bread also freezes very well. Once your bread is completely cooled, you can wrap it in plastic wrap and add it to a zip top freezer bag. I like to use my frozen zucchini bread within 1-2 months for best results.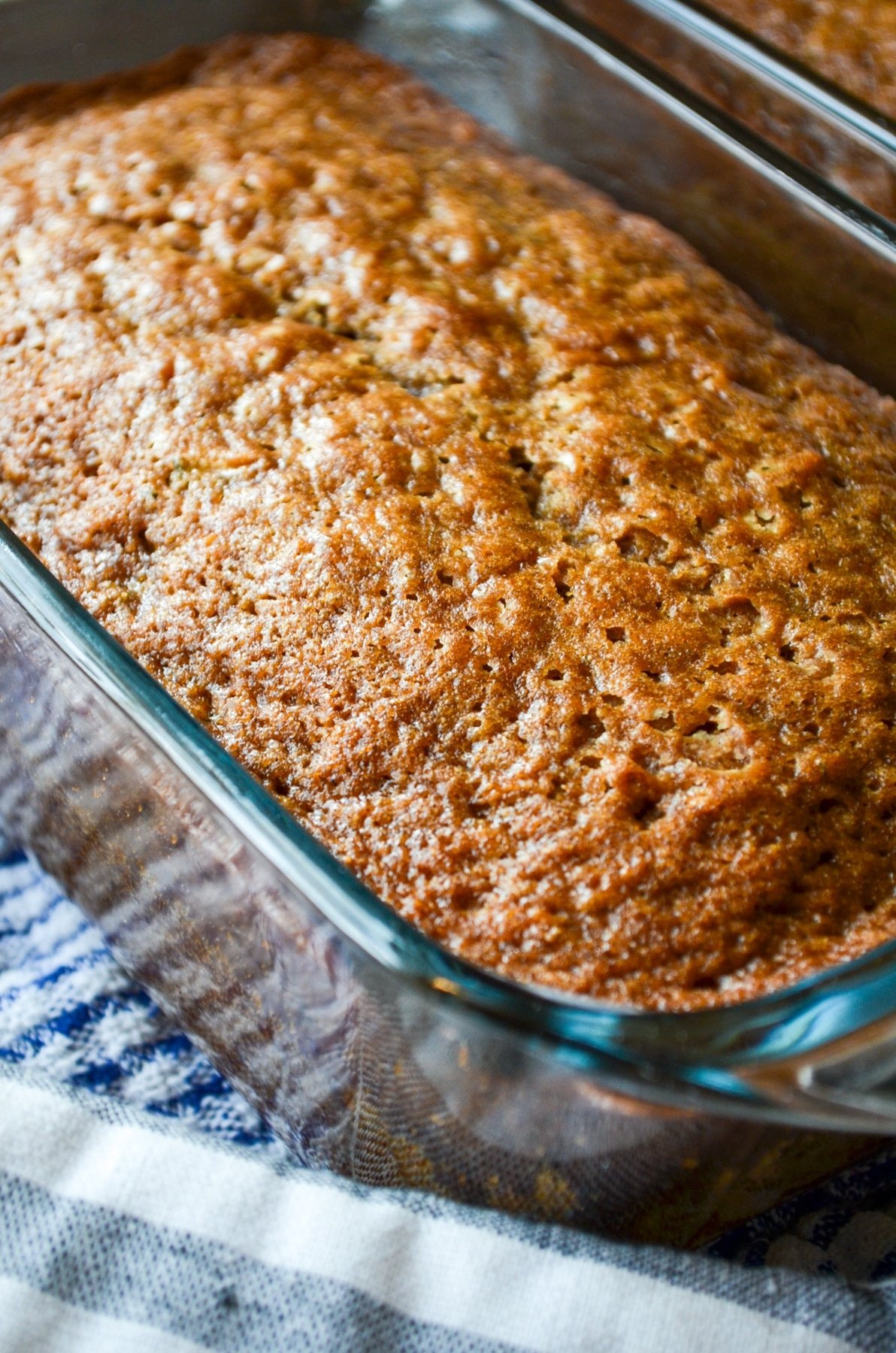 How Long Does Zucchini Bread Last?
Zucchini bread lasts 2-3 days at room temperature, up to 1 week in the fridge, and 1-2 months in the freezer. Ensure that it is tightly wrapped at all times for the best results!
How long can you freeze zucchini bread?
Zucchini bread can be frozen for up to 3 months, although the best results will be for 1-2 months.
Why does my zucchini bread sink in the middle?
Chances are, there is too much moisture in your bread. Ensure you are properly measuring your zucchini and grating it with a box grater, rather than a food processor. If your zucchini still seems wet, give it an extra squeeze.
Some Favorite Sourdough Discard Recipes: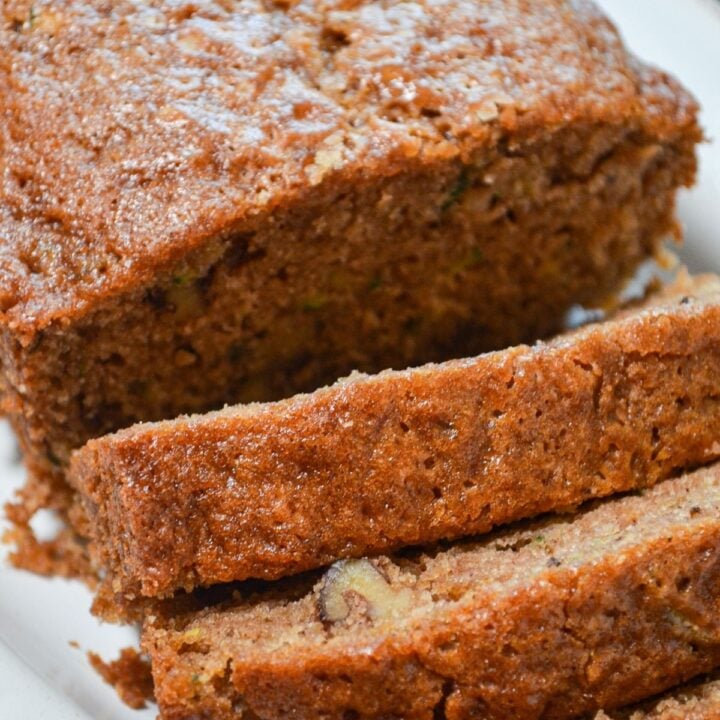 Sourdough Zucchini Bread
Cook Time:
1 hour
10 minutes
Total Time:
1 hour
30 minutes
This sourdough zucchini bread is here to rescue the summer! Uses up that pesky zucchini, AND a full cup of sourdough discard! Moist, sweet, spiced, and SO addictive. We love it with ample amounts of butter spread on top.
Ingredients
2 1/4 cup unbleached all purpose flour
1 tsp. salt
1 tsp. baking soda
1 tsp. baking powder
1 Tbsp. ground cinnamon
3 large eggs
1 cup neutral tasting oil (avocado, canola, vegetable, etc)
1 cup white sugar
1 cup packed brown sugar
1 tbsp. vanilla extract
1 cup sourdough discard
2 cups grated zucchini, squeezed of excess moisture
1 cup chopped walnuts
Instructions
Preheat the oven to 325F and grease two glass loaf pans.
Begin by preparing the zucchini. Grate your zucchini using a box grater. Measure out 2 cups and place in a strainer over a bowl. Gently massage the zucchini, and then let it sit for 5-10 minutes.
Meanwhile, begin making your batter. Add the flour, salt, baking soda, baking powder, and cinnamon to a medium sized mixing bowl. Use a whisk to combine the dry ingredients together.
In a separate large mixing bowl, add the eggs, oil, white sugar, brown sugar, and vanilla extract. Beat this mixture well until creamy and smooth.
Add the sourdough discard to the wet ingredients and whisk again until completely uniform in color and texture.
Add the dry ingredients, a cup or so at a time, to the wet ingredients. Stir to incorporate after each addition of flour. Continue until all the flour is added and the mixture has no bits of dry flour left in it.
Now, go back to your zucchini and use your hands to squeeze out the excess moisture. Check the bowl to see how much water has been removed. You want to see at least 1/4 of a cup, but up to 1/2 cup is good. Keep squeezing until you get at least 1/4 cup. Discard the excess liquid. If there is MORE than 1/2 cup of liquid, discard 1/2 cup and pour the remaining liquid into the batter.
Once your zucchini is ready, add it the the batter. Add the walnuts as well, and fold in gently using a silicone spatula.
Evenly distribute the batter between the two prepared loaf pans. Bake for 55-75 minutes, depending on your oven and the doneness of the bread. I suggest using a cake tester or a butter knife to check for doneness. If it comes off clean when inserted into the center, your loaf is done and ready to come out of the oven. If it comes out with batter stuck to it, put your loaves back into the oven and bake until cooked through.
Notes
Measuring Flour
Ensure that you measure the flour by scooping the flour into the measuring cup with a large spoon, and leveling it off with the back of a butter knife. Using the cup to scoop the flour results in densely packed flour, and isn't as accurate as scooped and leveled flour.
Nutrition Information:
Yield:

20
Serving Size:

1/10 of a single loaf (1 slice)
Amount Per Serving:
Calories:

285
Total Fat:

16g
Saturated Fat:

1g
Trans Fat:

0g
Unsaturated Fat:

14g
Cholesterol:

28mg
Sodium:

231mg
Carbohydrates:

33g
Fiber:

1g
Sugar:

20g
Protein:

4g
Nutrition information is an estimate only.