Use your Instant Pot and save money (and sodium) when you make your own Refried Pinto Beans! The best part? These have NO ADDED FATS! Tastes better from scratch and freezes wonderfully too!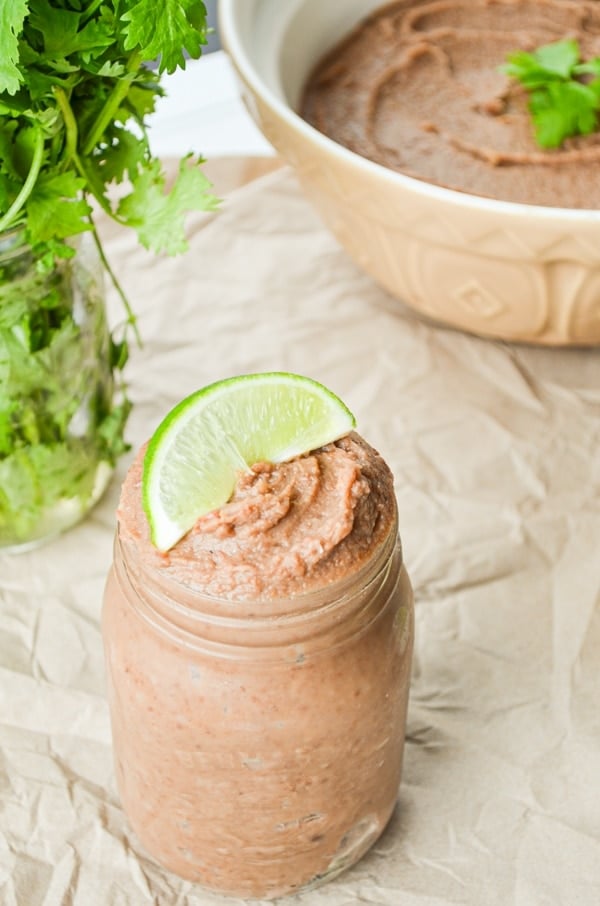 This post contains affiliate links, which means that if you click a link and make a purchase, we receive a commission at no additional cost to you. See our disclaimer for more information.
---
I don't recall the first time I tried refried beans, but I can say for sure that I was well into my 20's when I did. I was a vegetarian for pretty much all of my teen years, and even spent some time as a vegan. During that time, I ate a fair bit of beans, but never just for enjoyment, rather for the protein that I so desperately needed. I found them pasty and disgusting. I was 17 years old when I started eating meat again, and I left beans to the side for many years.
One day, I was making a Burrito recipe from The Pioneer Woman's cookbook (I think it was Food From My Frontier), and it called for Refried Beans. I decided to opt for making them myself at home instead of buying a can from the store. What happened? I FELL IN LOVE.
I used delicious, mild, creamy pinto beans and refried them in plenty of lard. Wow, it was amazing. Beans…could they be…would they be…have they always been…amazing? Why, yes! Yes they have!
First, A Slow Cooker Recipe
As much as I loved making those homemade refried beans, it honestly required a lot more work that I was willing to put out on a regular basis. I had very little time to throw together a supper in the evenings. I also wanted a way to make a HUGE batch that I could make and freeze. I finally found a recipe that I could make in the Slow Cooker without any additional lard or refrying.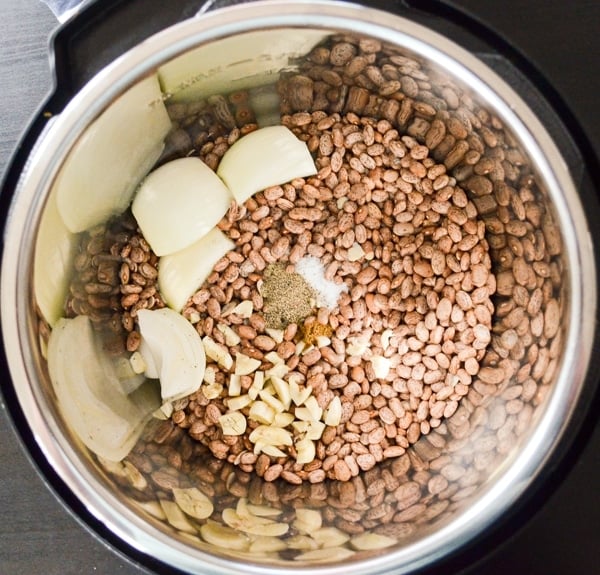 Then, An Instant Pot Recipe
I made that recipe for years! I would do up a big crock of refried beans and freeze them for use in later meals ( I use these plastic containers from Ball since they are a roughly 2 cup size…the same size as a standard can!). Eventually, I adapted the recipe to my tastes, and this year I finally adapted it to fit into my new favorite appliance: The Instant Pot.
I don't know why it took me so long to finally buy an Instant Pot, but I'm never going back! I have both the 6qt and the 8qt models, and I use at least one of them daily. They make quick work out of cooking rice, beans, potatoes, and bone broth too! I figured it couldn't hurt to try my beloved refried beans. And y'all: It worked. It worked so well! I'm so excited to have a super easy, delicious, and favorite recipe become even easier! Now I can make refried beans even without planning ahead!
This is the 8qt model that I have and I love it because it also has a yogurt function! I absolutely love making homemade yogurt, and it really doesn't get any easier than doing it in the Instant Pot. This recipe from A Mind Full Mom is what I use to make my homemade yogurt.
My Instant Pot of Choice: The 8qt Instant Pot Duo
How Do I Serve Instant Pot Refried Pinto Beans?
As a side dish for fajitas or tacos
As a topping option for fajitas or tacos (try my Skillet Chicken Fajitas or 9X13 Chicken Fajitas)
Mixed with rice and cheese and wrapped into a soft sourdough tortilla
Tostadas (try this recipe) using sourdough tortillas
Quesadillas
Burritos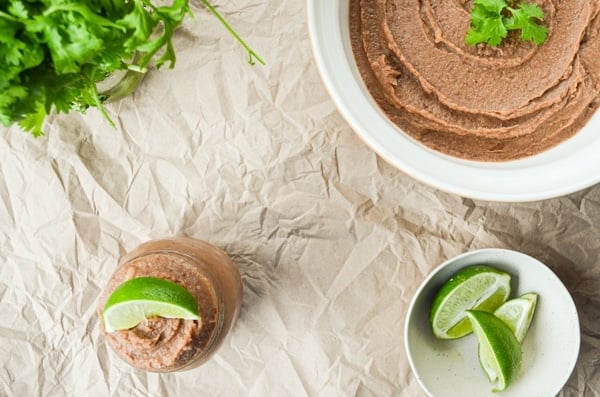 What Do I Need To Make Instant Pot Refried Pinto Beans?
Dry Pinto Beans: Canned beans will be wayyy too mushy. We use dry pinto beans in this recipe, which is a lot better on the wallet than canned too!
Onion: Just one medium onion is all that is needed here!
Garlic: 4 cloves of garlic add a nice flavor, but you can omit if you don't have garlic on hand!
Mineral Salt: I really like Real Salt, which has trace minerals and a wonderful pink color.
Seasonings: We keep it simple in this recipe with just ground black pepper and ground cumin!
Instant Pot: Of course you need an Instant Pot for this recipe! I've used both the 6qt and the 8qt. I think the 3qt model would be too small.
Freezer Containers: If you want to freeze your leftovers for later, I recommend these reusable freezer containers from Ball. They hold about 2 cups, which is equivalent to one can of refried beans.
Should I Soak My Pinto Beans?
If you have a lot of trouble digesting your beans, you should opt to soak them overnight if you can. Also, if you're eating a traditional foods diet and trying to avoid excess phytic acid, soaking your beans overnight with an added acid is recommended. I personally love the flexibility of tossing some beans into the Instant Pot, but if I know I'll be making them the following day I try to make the extra effort to soak them.
How Do I Soak Pinto Beans?
Add the pinto beans to a large bowl, cover with ample room temperature (filtered) water and add a few tablespoons of an acid of your choice:
Whey
Lemon Juice
Apple Cider Vinegar
Kombucha
Etc.
Cover the beans with a tea towel or lid and let set over night. In the morning, drain the beans and proceed with the recipe as detailed in the recipe card below!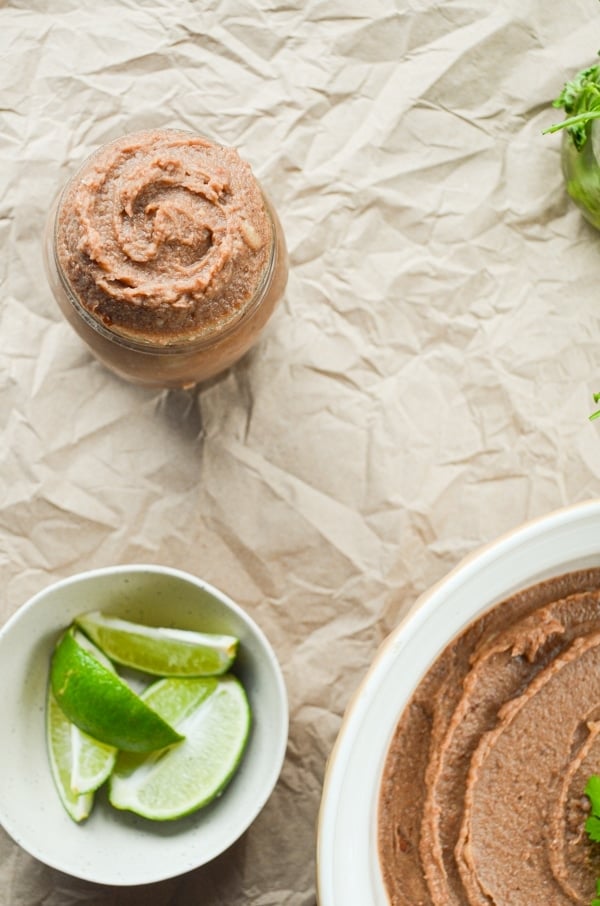 Instant Pot Refried Pinto Beans
Cooling, Pressure Building, and Pressure Release:
50 minutes
Use your Instant Pot and save money (and sodium) when you make your very own Instant Pot Refried Pinto Beans! The best part? These have NO ADDED FAT! Tastes better from scratch and freezes wonderfully too!
Ingredients
3 cups Dry Pinto Beans
1 medium Onion, peeled and quartered
4 cloves Garlic, peeled and roughly chopped
1 tbsp. Salt
1 tsp. Ground Black Pepper
1/8 tsp. Ground Cumin
8 cups Cold Water
Instructions
Add all of the ingredients to the inner pot of a 6 or 8 qt Instant Pot or electric pressure cooker.
Put on the lid of the Instant Pot and set the valve to "Sealing".
Select "Manual" and cook on high pressure for 60 minutes. The pot will take anywhere from 10-20 minutes to reach pressure.
Once the instant pot has completed it's cooking, it will beep and switch to "warm".
Let your pot do a 10 minute natural pressure release, then switch the valve to "venting" and vent the steam from your Instant Pot.
Once the pin has dropped, carefully remove the lid of your Instant Pot.
Turn your instant pot off and let the beans cool for 10-20 minutes.
Drain the beans in a colander set over a bowl to catch the liquid. Add the beans back into your Instant Pot or into a large mixing bowl. Add about 1 cup of reserved liquid and use an immersion blender to puree the beans. Add additional reserved liquid while blending to achieve the desired texture. Note that hot refried beans will appear more "liquidy" than when completely cool. So if you like a thick refried bean texture, you may want to go for a runnier consistency while the beans are still hot.
Serve the beans as desired.
Notes
Per 1 serving (approximately 1/2 cup prepared): Calories: 66 | Fat: 0g | Carbs: 23g | Fiber: 14g | Net Carbs: 9g | Protein: 7g |
If you're planning on freezing some beans (I always do because this recipe makes A LOT!), cool the beans completely in a bowl in your fridge. Once the beans are cooled, you can scoop them into freezer containers and freeze them. These are the freezer containers I use. They are a 2 cup measurement which is roughly equivalent to 1 can of refried beans and are reusable so they can be used for freezing broth, soup, beans, etc. Over and over again.
Notes on Soaking: If you like, you can soak your beans overnight prior to making this recipe. Just drain the soaking liquid and use 7 cups of cold water instead of 8 cups. You will have lots of liquid leftover after cooking, but because of the recipe method you can choose how much of that you want to add back into the beans.
Nutrition Information:
Yield:

12
Serving Size:

1/12 or 3
Amount Per Serving:
Calories:

173
Total Fat:

1g
Saturated Fat:

0g
Trans Fat:

0g
Unsaturated Fat:

0g
Cholesterol:

0mg
Sodium:

594mg
Carbohydrates:

31g
Fiber:

8g
Sugar:

1g
Protein:

11g
Nutrition information is an estimate only.
Don't Forget to "Pin It" to your Instant Pot Board for Later!
Other Recipes to Try:
https://www.pinterest.ca/littlehomeinthemaking/