If you've been bit by the knitting bug, you know you just want to knit everything in sight! Try these FREE knitting patterns for your home!
Please note that some of my blog posts here at Little Home in the Making may contain affiliate links. If you make a purchase through these links, I will get a small commission at no additional cost to you. See our disclaimer for more information.
Knitting is so addictive! Especially as a beginner knitter, you just want to knit for every person you've ever met, and some dogs and cats too! The good news is, there are plenty of available free knitting patterns for your home! That's right, you can knit yourself a wooly wonderland! From the pretty to the practical, you'll find some fun (and free) knitting inspiration here!
Dishcloths
Dishcloths make quick and easy knits, and are a perfect practical knitting pattern for your home! I love whipping these up in between larger projects.
Rustic Cottage Dishcloth Collection – Esther Braithwaite via Ravelry
Ballband Dishcloth – Canadian Living
Gramma's Dishcloth – Pretty Knitty Jewelry Designs via Ravelry
Double Bump Dishcloth – My Jewel Thief Knits via Ravelry
All Washed Up – Jill Knit It via Ravelry
Diagonal Knit Dishcloth – eLoomanator via Ravelry
The Almost Lost Washcloth – Simply Noteable
Leafty Washcloth – Tricksy Knitter via Ravelry
Waffle Knit Dishcloth – Homespun Living
Mock Honeycomb – Knitting Unlimited
Celtic Cables Dishcloth – Yarnspirations
Kitchen Knitting Patterns for Your Home
From towels, to trivets, avocado socks and more. You're sure to find some fun knitting inspiration here!
Duster Cover (Swiffer Floor Style) – Yarnspirations
Swiffer Reusable Cloth – Birdy's Knits via Ravelry
Farmhouse Dishtowels – Purl Soho
Vintage Hand Towel – Canadian Living
Slip Stitch Dishtowel – Purl Soho
Chili Pepper Red Kitchen Towel – JEC Designs via Ravelry
Dixie's Dishtowel – Yarn Zone
Linen Stitch Hand Towel – Purl Soho
French Stripe Tea Towel – Delorme Designs via Ravelry
Heel Stitch Hand Towel – Purl Soho
Bubble Up Towel – 3 Sleeves to the Wind via Ravelry
Cottage Charm (Dishtowel and Dishcloth Set) – Garn Studio
Birdseye Kitchen Set – Knit Picks
Dish Mat – Nick Davis via Ravelry
1 Hour Kitchen Soap Mat – Cheerfully Planted Designs via Ravelry
Bubbling Hot Potholder – Garn Studio
Hot Heart Potholder/Trivet – Garn Studio
TPHPE Potholder – Heather Zoppetti
Pointsettas in the Snow Potholder – Garn Studio
Farmer's Delight Bread Basket – Garn Studio
Avo-Can-Do (avocado sock) – Handmade by SMINE via Ravelry
Wild Strawberries (reusable produce bag) – Blue Skies and Dragonflies
Easy-Peasy String Bag – Sarah Smithies via Ravelry
Knitted Mesh Grocery Bag – Peace Through Knitting via Ravelry
Recycled Glass Jar Covers – Leigh Radford via Ravelry
Super Quick Pan Handle Cover – #WIP via Ravelry
French Press Cover – Hello Yarn via Ravelry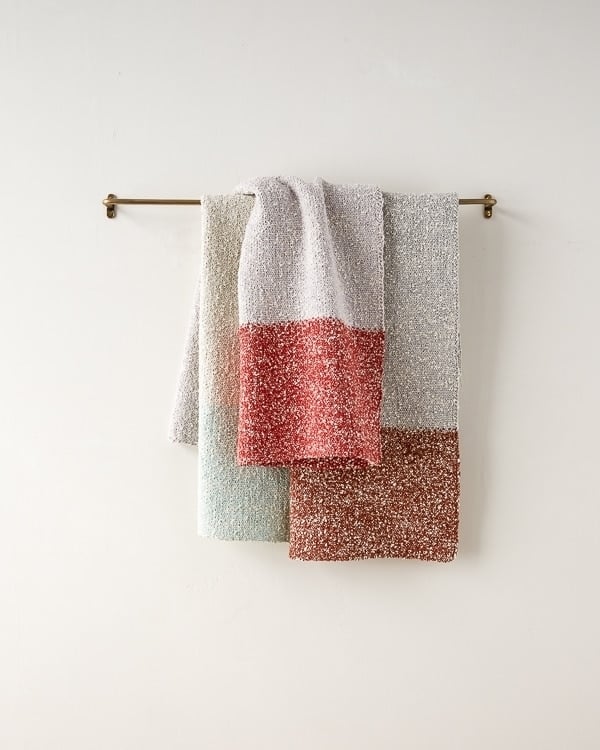 Bathroom Knitting Patterns for Your Home
It almost seems weird to knit for your bathroom, but there are lots of personal care items in this section, as well as some nice decor/practical items too!
Colorblock Hand Towels – Purl Soho
No Purl Rib Hand Towel – Purl Soho
Spa Day Facecloth – Anne Mancine via Ravelry
Leaf Lace Washcloth – Jan Eaton via Ravelry
Soft Cotton Washcloth – Purl Soho
Fishy Fish Washcloth and Bathmitt – Surly Sheep via Ravelry
Waffle Stitch Washcloth – Purl Soho
Bathmitt – Yarnspirations
Nubby Bath Mitt – MoCrafty Blog via Ravelry
Washcloths and Scrubbing Mitt – Purl Soho
Soap Saver – Garn Studio
Textured Soap Pouch – Mandy and Bingley
Back Scrubber – Elizabeth Grabow via Ravelry
Makeup Remover Pads – Beans N Yarn via Ravelry
Face Scrubbie – A Little Knitty Designs via Ravelry
Facial Scrubbies – Knits by West via Ravelry
All You Need – A Classic (Hot Water Bottle Cozy) – London Leo via Ravelry
Hot Water Bobble (Hot Water Bottle Cover) – Maker Maker Store via Ravelry
Nordic Hot Water Bottle Cover – Marie Wallin Designs via Ravelry
Banguibain Bathmat – Ame-Peyrinaud Guilaine via Ravelry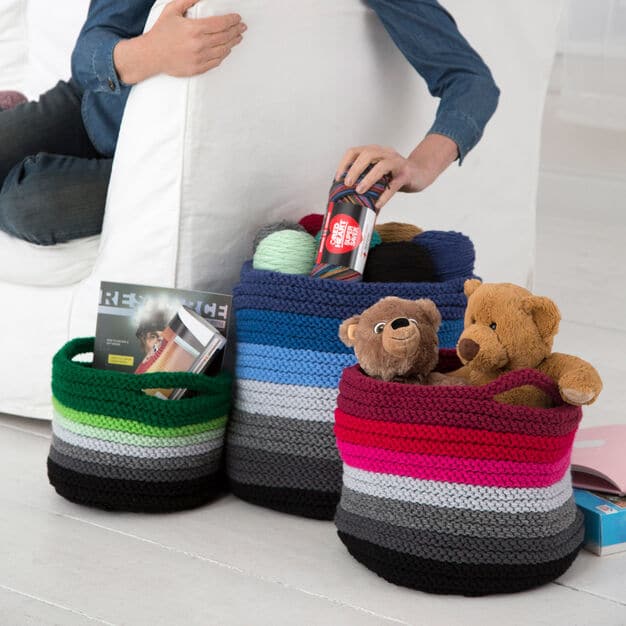 Storage
Who doesn't need more storage? I know I am ALL about that storage in my home! Try some of these lovely pieces.
Ombre Knit Baskets – Yarnspirations
Knitted Hanging Baskets – Craft Bunny (Click the image to be taken to the Google Doc)
Chunky Knit Basket – Angie Cruise via Ravelry
DIY Basket – Little Yellow Wheelbarrow
Felted Bowls – Knit Picks
Plastic Bag Keeper – Lion Brand
Laundry
Knit Felted Wool Dryer Balls – Pretty Stitches
Soap Nut Vessel – Kristen TenDyke Designs via Ravelry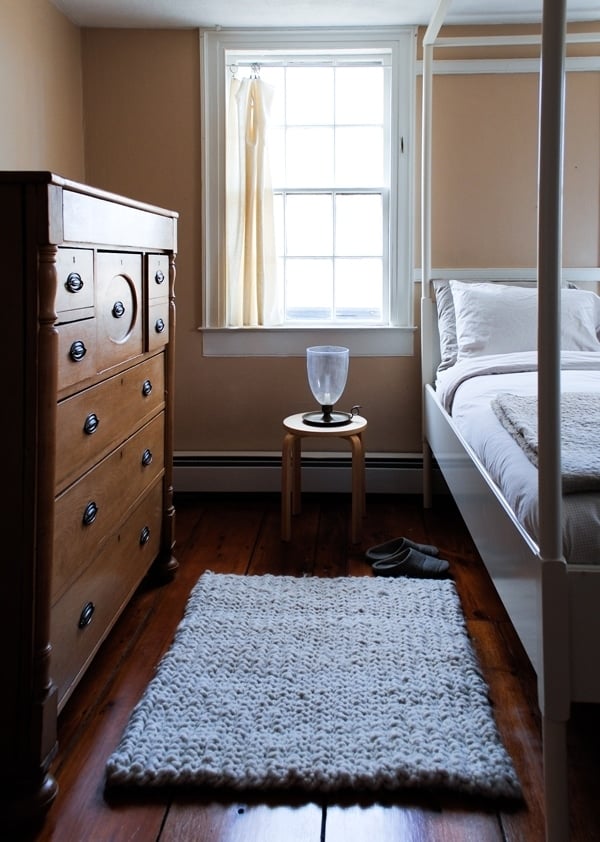 Decor Knitting Patterns for Your Home
Whatever your personal style, there are lots of free knitting patterns to choose from here!
Knitted Pot Hanger – Arianna Frasca
Lizard Ridge Coasters – Fogbound Knits via Ravelry
Reversible Mug Mat – The River Knitter via Ravelry
Coasters (Round) – Squibbly Bups via Ravelry
Calla Coasters – Purl Bee
Beehive Tea Cozy – Yarnspirations
Lace Light – Drillis351 BT via Ravelry (Be careful! Yarn is flammable! Ensure you take care to remove before lighting the candle)
Pineroot – Jennifer Dziuba Leatherman via Ravelry
Laomai Knit Tapestry – Furls Crochet
Aunt Lydia's Knit Flower Doily – Yarnspirations
Poke Me (Decorative Knit Cacti) – Garn Studio
Pouf – Craft Passion
Scalloped Table Runner – Fluid Motion via Raverly
Welcome Home Herringbone Rug – The Hook Nook Life
Big Stitch Knit Rug – Purl Soho
Chair Pad – Start Knitting
Blankets and Pillows
Cozy, cozy, cozy! We all need more blankets in our life.
Colorblock Bias Blanket – Purl Soho
Chevron Color-block Blanket – Espace Tricot via Ravelry
The Boulevard Blanket – Fifty Four Ten Studios via Ravelry
Watercolor Heart Pillow – Satsuma Street Knits via Ravelry
Celtic Throw Pillow – Canadian Living
Sheep in the Meadow Pillow – Carol Quinn via Ravelry
Bobble Sheep Pillow – Purl Soho
---
I hope you found some fun and free knitting inspiration for your home! There are so many things to try, I'm sure your needles will be busy for a very long time!
If you want to come back later and reference these free knitting patterns for your home, you can bookmark the page, subscribe, or "Pin It" on Pinterest!
I'll be putting more lists of free knitting patterns together, so if you'd like to stay updated, subscribe below! I generally post 2-3 times per week, most of which are family friendly recipes.