Sick of wet, soggy brown rice in the Instant Pot? Try my FOOLPROOF method for the BEST Instant Pot Brown Rice. Fluffy and perfect brown rice…every time!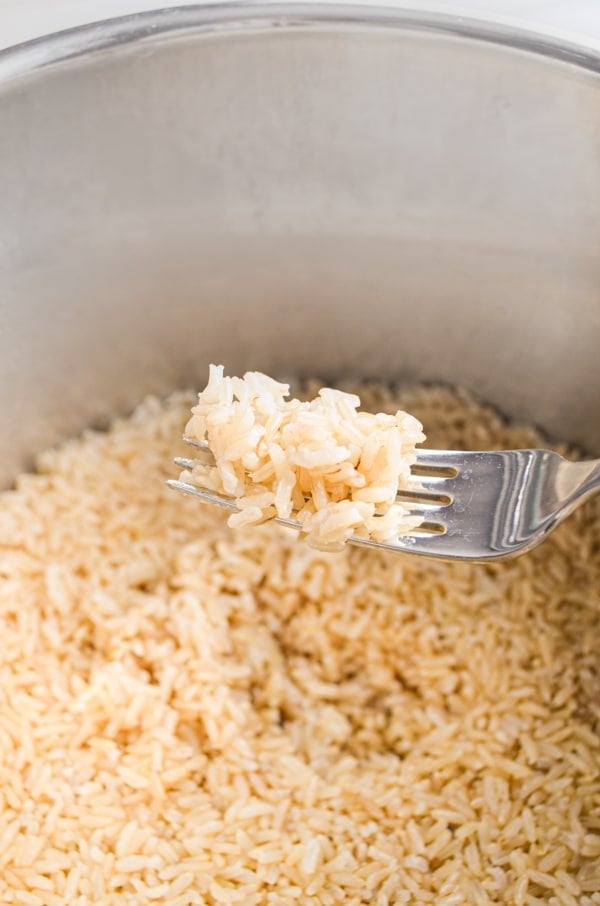 This post contains affiliate links, which means that if you click a link and make a purchase, we receive a commission at no additional cost to you. See our disclaimer for more information.
---
You're going to have to give me a pass on the photos for this recipe, okay? Do you know how hard it is to photograph brown rice!? The photos aren't anything special, but I knew I had to share my method for getting the BEST Instant Pot Brown Rice. There are some things that just need to be out in the world for the masses, and this is one of them.
If you're like me, you've tried allllllll the Instant Pot Brown Rice "recipes". And if you're like me, you've been disappointed every time. The ratio is almost always 1 part rice to 2 parts water, and it often results in a brown rice soup, rather than a perfect fluffy grain. It's particularly disappointing because white rice is just so lovely in the Instant Pot! I felt irritated because I wanted to offer my family the healthier alternative of brown rice, but it consistently came out wet and gross. There had to be a better way!
The Secret to the Best Instant Pot Brown Rice
So I kept plugging away, trying new and different methods. Along the way, I found a few tips and tricks that seemed to work, but I kept coming back to wet, soggy rice. I knew that I had to change the water to rice ratio, so I started experimenting with that. I would take the water back just a little each time, and finally I ended up with the perfect result. Lo and behold, the same ratio of white rice: 1:1. That's right folks, this whole time everyone has been telling us the brown rice ratio is 1:2, but they are WRONG!
If you're making rice on the stove top or a rice cooker, this ratio of 2 parts water to 1 part brown rice works perfectly, but the Instant Pot tells another story. I don't really know the science or the reasoning behind it, but my speculation is that it has something to do with evaporation.
On the stove top, steam (and therefore water) escapes through the lid. In a rice cooker, there is a small vent that allows steam to escape. In an Instant Pot, you're cooking under pressure, which means all that steam (and water) is trapped inside the pot itself. Instead of some of the water evaporating during the cooking time, it's all trapped inside, resulting in a soggy and wet rice.
So why do all the recipes still call for the 2:1 ratio?
Honestly, I have no idea. Maybe they are using a different brand of rice that absorbs more water, or maybe they like their rice a bit on the wet side! I have heard several people complain about how difficult brown rice is to get right in the Instant Pot, so I figure I can't be the only one. If you're here, chances are that you've had some Instant Pot brown rice issues too!
What Do I Need to Make the Best Instant Pot Brown Rice?
The best thing is, you don't need much! But you will need more than just rice and water.
Brown Rice: You're looking for a long grain brown rice, not an instant or short grain rice.
Olive Oil: I like to use extra virgin olive oil because that's what I keep on hand, but you can use whatever you have available.
Salt: A fine grain mineral or table salt works well.
Cool Water: Since we're using our Instant Pot, make sure you are using cool water.
An Instant Pot: I tested this recipe using my 6qt Instant Pot. Larger pots will take longer to come to pressure, and may require more water. If you only have an 8qt, give the recipe a try as written and make any tweaks needed.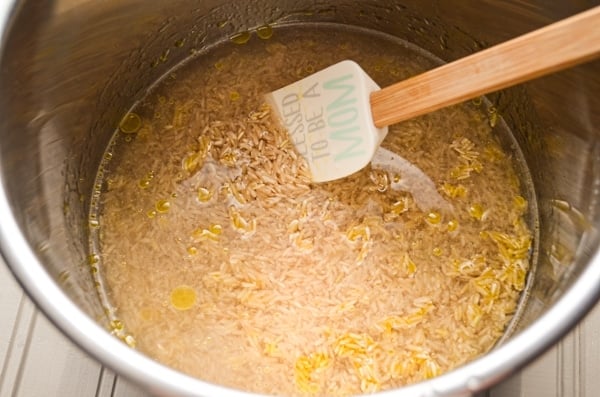 Why use olive oil?
The use of oil in the cooking of Instant Pot brown rice is one of those tips I picked up from the plethora of recipes I tried. I find it creates for a nice, fluffy rice, without being all starchy and stuck together. I use this same method with my white rice often.
Why Use a Natural Pressure Release?
In the world of Instant Pot recipes, there are two types of pressure releases: natural, and manual.
A natural pressure release (NPR) is when you let the Instant Pot complete the cooking cycle, and just leave it. Instead of switching the valve to "venting", you just leave it as is. As the cooker cools, it releases pressure naturally. If you've selected for the Instant Pot to switch to "warm" after cooking time, you will see a digital display that indicates the amount of time it has been on warm ( It normally looks something like L 0:05 for example). This is important with this recipe for Instant Pot brown rice because the amount of time on the display will let you know when it's time to switch from the natural pressure release, to a manual pressure release.
What is a Manual Pressure Release?
A manual pressure release is when you manually flip the valve from "sealing" to "venting" in order to manually release the pressure in the Instant Pot. Once the pin drops and the steam has stopped, you know that the pressure has been released in the Instant Pot and it is safe to open the lid.
This recipe uses both a natural pressure release, and a manual pressure release. A natural pressure release is used for 5 minutes, which allows the rice to soak up any excess moisture. Then, you flip the valve to "venting", which release the pressure manually the rest of the way.
Now for the recipe!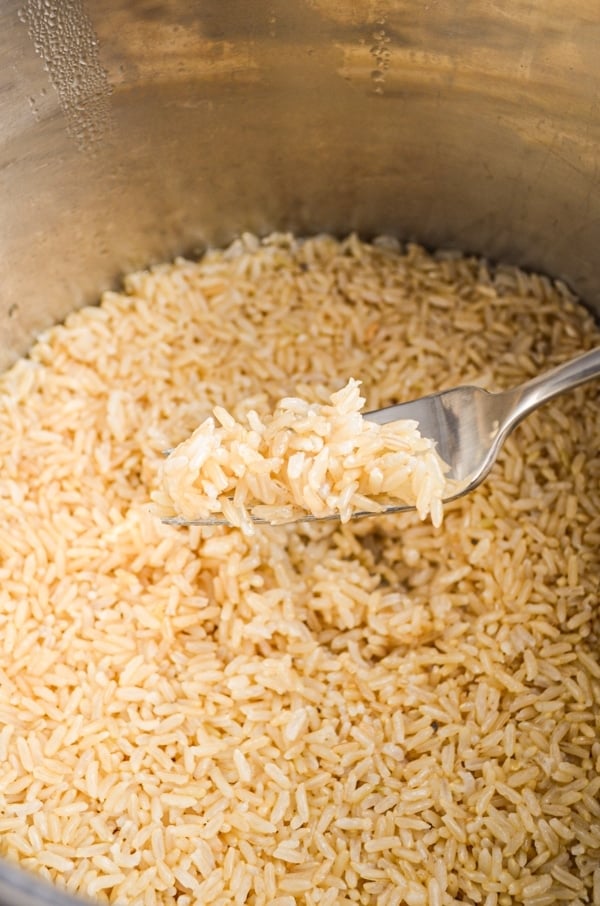 The BEST Instant Pot Brown Rice
Pressure Building and Release Time:
15 minutes
After trying what feels like a billion Instant Pot Brown Rice recipes, I found the perfect method that gives great results every time! No more soggy, puffy brown rice!
Ingredients
2 cups Brown Rice
1 tbsp. Olive Oil
½ tsp. Salt
2 cups Cold Water
Instructions
Add all of the ingredients to the instant pot and stir.
Set the instant pot to sealing and set the pressure time to 15 minutes.
Once the cooking is done, do a natural pressure release for 5 minutes, and then manually release the pressure.
Once the pin drops, indicating the pressure has fully been released, open your Instant Pot.
Fluff the rice with a fork, serve, and enjoy!
Nutrition Information:
Yield:

6
Serving Size:

1 grams
Amount Per Serving:
Calories:

93
Total Fat:

3g
Saturated Fat:

0g
Trans Fat:

0g
Unsaturated Fat:

2g
Cholesterol:

0mg
Sodium:

198mg
Carbohydrates:

15g
Fiber:

1g
Sugar:

0g
Protein:

2g
Nutrition information is an estimate only.
Don't Forget to "Pin It" to Pinterest!
https://www.pinterest.ca/pin/510454939021601453/
Some Recipes to Use with Your Instant Pot Brown Rice: