This easy no bake dessert is THE recipe for peanut butter lovers everywhere. A thick no bake layer is topped with melted chocolate, and then drizzled with a peanut butter chip swirl. Does it get any better than that!? These No Bake Peanut Butter Bars are going to be a new favorite!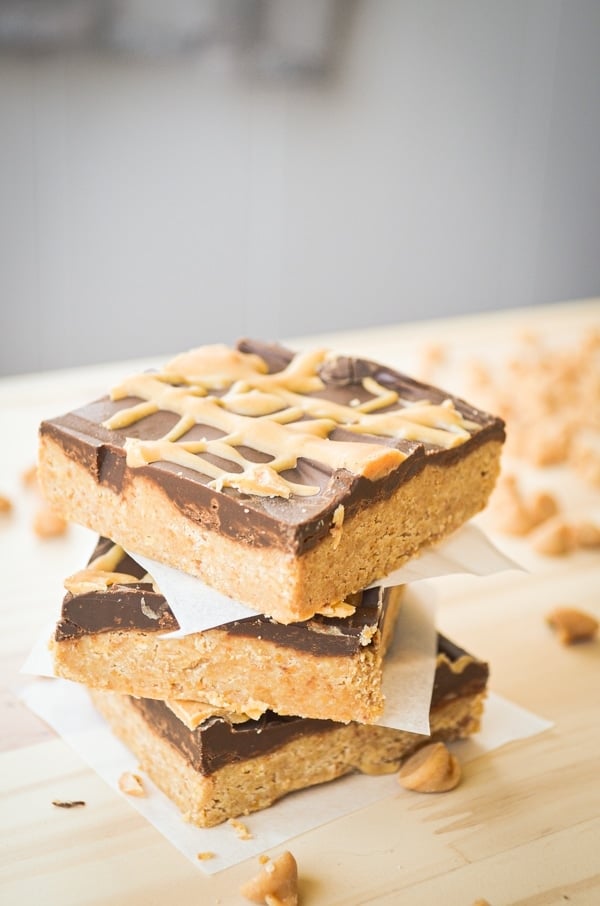 Please note that some of my blog posts here at Little Home in the Making may contain affiliate links. If you make a purchase through these links, I will get a small commission at no additional cost to you. Please see my Disclaimer for more information.
---
There are those of us in this world that like peanut butter, and then there are those who REALLY LIKE PEANUT BUTTER! My husband is one of those true peanut butter lovers. We buy our peanut butter from the bottom shelf of the grocery store, and there is no snacky need that a spoonful of peanut butter can't fix. For true peanut butter lovers, a simple peanut butter bread will not do. That's where this recipe for Peanut Butter Swirl Bars comes in.
A Quick, Easy, and Simple Dessert
This recipe combines the forever favorite flavor combination of peanut butter and chocolate, but it adds an extra element all-too-important for true peanut butter lovers: the peanut butter swirl. The best part though? This is a no bake peanut butter dessert! That's right! You don't have to turn your oven on at all. Just some melting with the help of a double boiler, plus some time to chill in the fridge makes for a delicious simple dessert!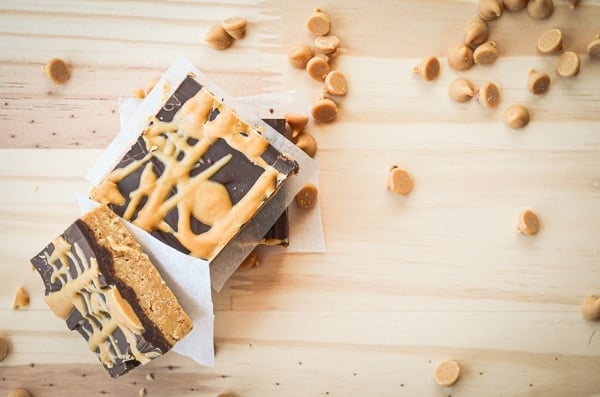 What Do I Need to Make Peanut Butter Swirl Bars:
Peanut Butter: These are called Peanut Butter Swirl Bars after all! A standard smooth peanut butter works best in this recipe. I haven't tried it with a natural peanut butter, but I don't think it would work as well.
Graham Cracker Crumbs: You can buy graham crackers whole and crush them, but I prefer to buy them pre-crushed. I've tried lots of generic brands, but Honey Maid really does yield the best results for me consistently. There are few things that I purchase brand name, but graham cracker crumbs are one of them!
Confectioners Sugar: Also known as icing sugar, depending where you're from. This combines with the graham cracker crumbs and peanut butter to form the base layer of the bar.
Salted Butter: I use salted butter in this recipe because the salt compliments the peanut butter nicely and yields a pleasant salty/sweet flavor. You could use unsalted butter if you prefer.
Chocolate Chips: Purchase a good quality semi-sweet chocolate chip for the chocolate layer of these delicious bars!
Peanut Butter Chips: This puts the "swirl" in peanut butter swirl! This is for all my true peanut butter lovers out there!
What Tools Do I Need to Make Peanut Butter Swirl Bars:
Parchment Paper: This is an absolute must! I used to try to save money by avoiding parchment paper, but it is SO WORTH IT! Prevent sticking and make for easy slicing by using parchment paper! My trick? Crumple it up before you fit it to the sides of the pan: it stays in place so much better!
Silicone Spatula: Melting chocolate can be tricky work, and a lot of the chocolate sticks to the side of the bowl. A good silicone spatula will help you get every last bit. You can buy a set of 3 for less than $10 if you don't have one on hand.
Double Boiler: You can use a bowl set over a pot of water, but a real double boiler is probably going to be a lot easier and a lot safer (hello steam!). This one is under $20!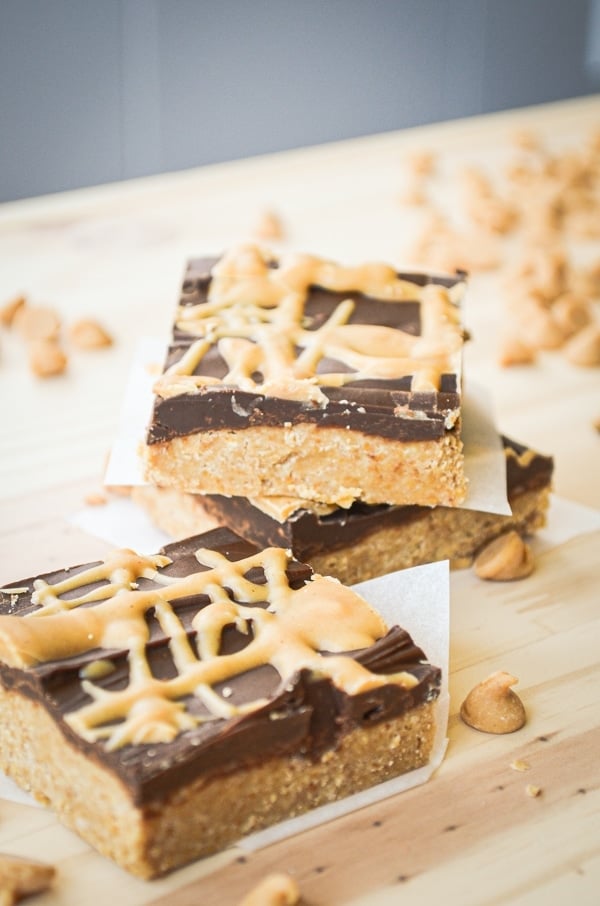 Peanut Butter Swirl Bars
Cooling Time:
1 hour
20 minutes
Total Time:
1 hour
40 minutes
Peanut Butter addicts will absolutely love these Peanut Butter Swirl Bars! They are No Bake, which makes them the perfect last minute dessert!
Ingredients
Base Layer
1 cup Salted Butter, melted
2 cups Graham Cracker Crumbs
2 cups Confectioners Sugar
1 cup Smooth Peanut Butter
Chocolate Layer
1 ½ cup Semi-Sweet Chocolate Chips
4 tbsp. Smooth Peanut Butter
Peanut Butter Swirl Layer
½ cup Peanut Butter Chips
1 tbsp. Salted Butter
Instructions
Base Layer
Grease and line a 9X13 glass baking dish with parchment paper.
Combine the melted butter, graham cracker crumbs, confectioners sugar, and peanut butter in a large bowl. Mix until uniform.
Press this mixture into the bottom of the prepared baking dish in an even layer.
Place the bars in the fridge to chill for 10 minutes.
Chocolate Layer
Prepare a double boiler for melting the semi-sweet chocolate chips with the peanut butter.
Melt the chocolate chips with 4 tbsp. of peanut butter in the double boiler.
Once the chocolate is melted and smooth, top the peanut butter layer with the melted chocolate. Spread it out into an even layer.
Place the bars in the fridge and chill for an additional 10 minutes.
Peanut Butter Swirl Layer
Clean the double boiler and prepare it for melting the peanut butter chips and butter.
Melt the peanut butter chips with 1 tbsp. of butter in the double boiler.
Once the peanut butter chips and butter is melted and smooth, use a spoon to drizzle the peanut butter chip topping over the chocolate layer. Go back and forth, in circles, and so on. Make sure to get all of the peanut butter drizzle by using a silicone spatula to clean out the double boiler.
Refrigerate for at least 1 hour before slicing and serving.
Keep the sliced bars in the fridge until you are ready for serving. They can melt at room temperature if left out for too long.
Nutrition Information:
Yield:

12
Serving Size:

1 grams
Amount Per Serving:
Calories:

575
Total Fat:

40g
Saturated Fat:

18g
Trans Fat:

1g
Unsaturated Fat:

18g
Cholesterol:

43mg
Sodium:

342mg
Carbohydrates:

53g
Fiber:

4g
Sugar:

38g
Protein:

9g
Nutrition information is an estimate only.
Pin it for later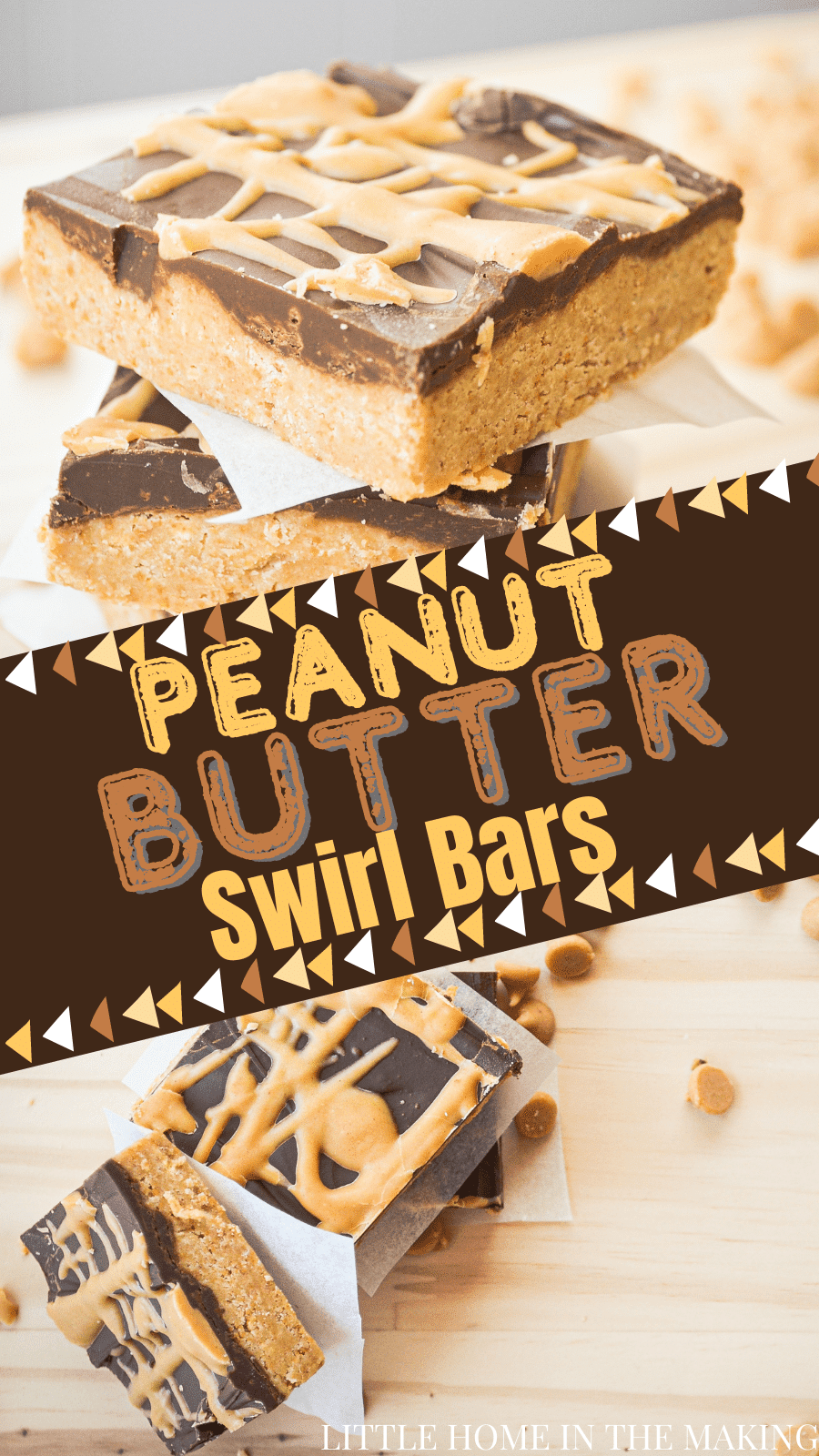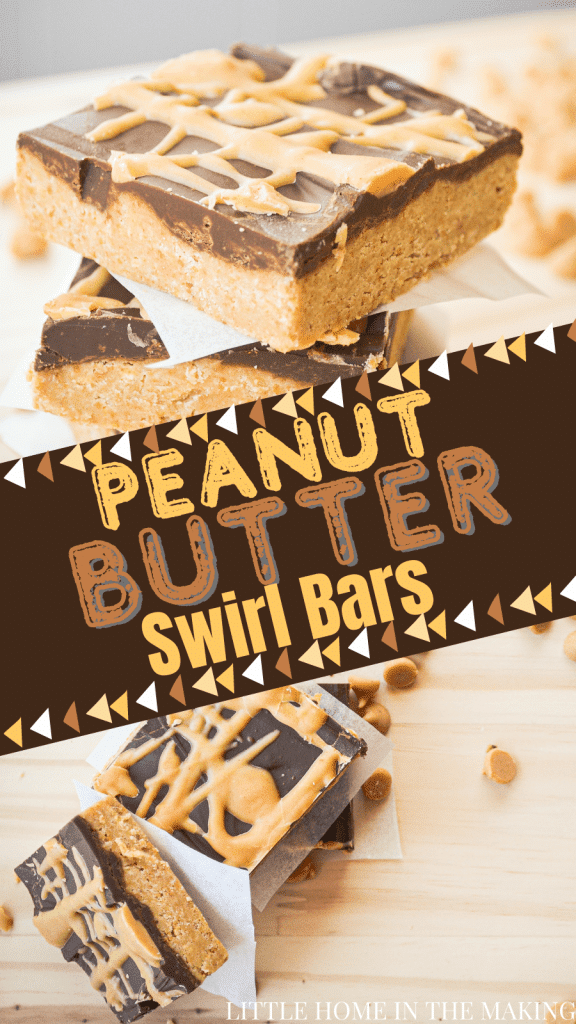 More Recipes to Try: