Chicken Spaghetti is a timeless comfort classic casserole. This is my spin on it, using just a little kick from Ro*Tel Tomatoes and chilies.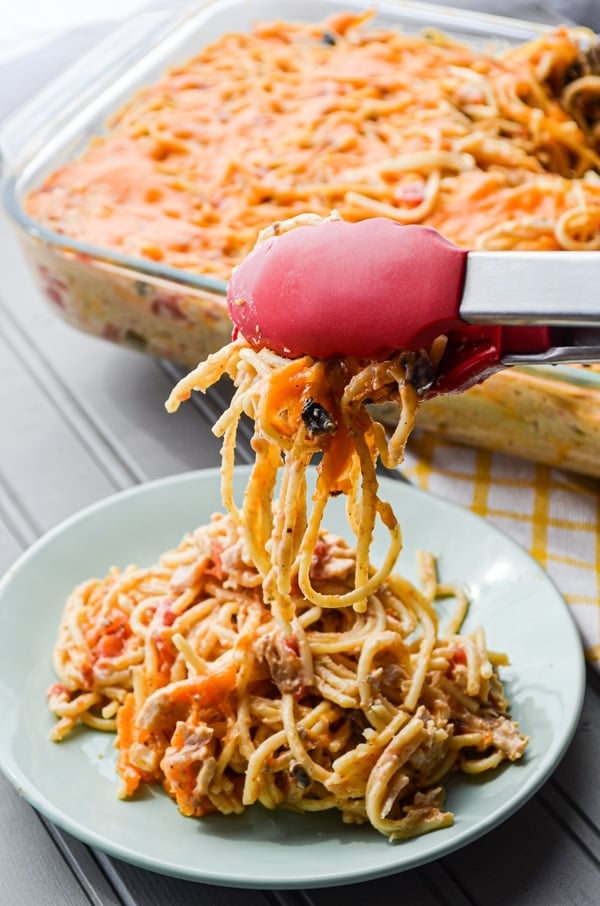 I guess I've been on a real comfort food kick lately! First Tater Tot and Ground Beef Casserole and now this! Mom's Chicken Spaghetti is all about creating that classic comfort food taste, while stretching inexpensive foods like leftover chicken and pasta.
I think it's so important to have a few recipes in your back pocket for using up leftover chicken. I try to cook one whole chicken a week, and I love using the leftovers to create more meals. Typically I'll make bone broth with the carcass, and use the leftover shredded chicken in casseroles. My Poppyseed Chicken and Rice Casserole also makes great use of leftover rotisserie or home roasted chicken.
This recipe for Mom's Chicken Spaghetti is also a great selection for guests (obviously not a dinner party!), potlucks, and feeding a crowd. The ingredients are super inexpensive, so there is quite a bit of bulk for not a lot of money. Serve it with a green salad and a few veggies and you're good to go!
Do I have to use "cream of" soups in this casserole?
Almost every chicken spaghetti recipe out there uses a "cream of" soup. That's what makes it classic, and that's what makes it chicken spaghetti! But if you'd love to make yours from scratch, I have an excellent recipe for Homemade Cream of Mushroom Soup. This recipe uses the equivalent of 2 cans of soup, so you would need to make the larger batch and measure out 2 2/3 cups of homemade cream of mushroom. I've tried it in casseroles several times and it works great!
Can I freeze Mom's Chicken Spaghetti?
I personally find dishes with a lot of pasta kind of dry out with reheating, so I would say yes to freezing, but with caution. Note that pasta may "soak up" some of the sauce during freezing, so you may end up with a less saucy result. You'll also want to take care when baking it, since it can dry out very easily. This is definitely a dish I would tightly cover with foil or a lid while baking to ensure it stays moist.
*Tip: I have heard from a friend that when you are reheating a pasta casserole, to add a little smidge of water. I haven't personally tried this so I can't advocate for it, but it may be something you want to try.
As for freezing instructions, you're going to want to make sure you completely cool the chicken spaghetti before you place it in the freezer. When your casserole is warm, it creates condensation, which results in freezer burn. In order to prevent freezer burn, I suggest letting your casserole completely cool. I generally let it cool to room temperature on the counter, and then move it into the fridge to cool further. Then you will tightly wrap it in plastic, or foil, place on a lid (if you have one) and freeze it on a flat surface in your freezer. The following day, once the casserole is frozen solid, move it to where you would like to store it. I typically store it in a deep freezer, or the back of my freezer so it doesn't get exposed to the warm air.
How do I reheat frozen chicken spaghetti?
I recommend taking this casserole out the night before you're planning on serving it. Place it in the fridge to thaw overnight, and move it to the counter to thaw further later the following afternoon. Then bake it, covered, according to the directions. In my experience, you will need to add 20-30 minutes total baking time if the casserole is starting off cold. If it is still frozen in parts, you may need to add more.
What if I can't Find Ro*Tel?
If you don't have Ro*Tel in your area, you can see if there is a generic can of diced tomatoes with chilies. I've tried many generic brands, but I still love Ro*Tel best. For a long time we didn't have this in Canada, so I would ask my Father in Law to pick it up for me when he was in the US. If I was completely out of Ro*Tel, I would use 1 can of diced tomatoes and 1 4oz can of diced green chilies. This method works really well, but does result in more volume, so you'll have a slightly runnier sauce.
What Do I Need to Make Mom's Chicken Spaghetti?
Cooked and Shredded Chicken: I love to use leftover chicken from a roasted or rotisserie chicken. This means I can make the most of every single bit of the chicken. If you don't have leftover cooked chicken, you could bake and shred 2-3 chicken breasts or 4-6 thighs.
Cream of Mushroom Soup: If you don't want to use store-bought, you can try my recipe for Homemade Cream of Mushroom Soup. It works great in casseroles.
Diced Tomatoes and Chilies: I use the Ro*Tel brand for the best results, but you can use generic or 1 can of diced tomatoes, and 1 small can of diced green chilies.
Spaghetti: It couldn't be Chicken Spaghetti without…spaghetti! This recipe calls for 1 pound of spaghetti, which makes it easy when you're shopping since they often come in 1 lb sizes.
Shredded Cheddar: I like to use cheddar from the block in my recipes, but you can use whatever your preference is.
Seasonings: To add a little extra flavor, we use seasoned salt, chili powder, onion powder, garlic powder, and black pepper.
And Now For the Recipe!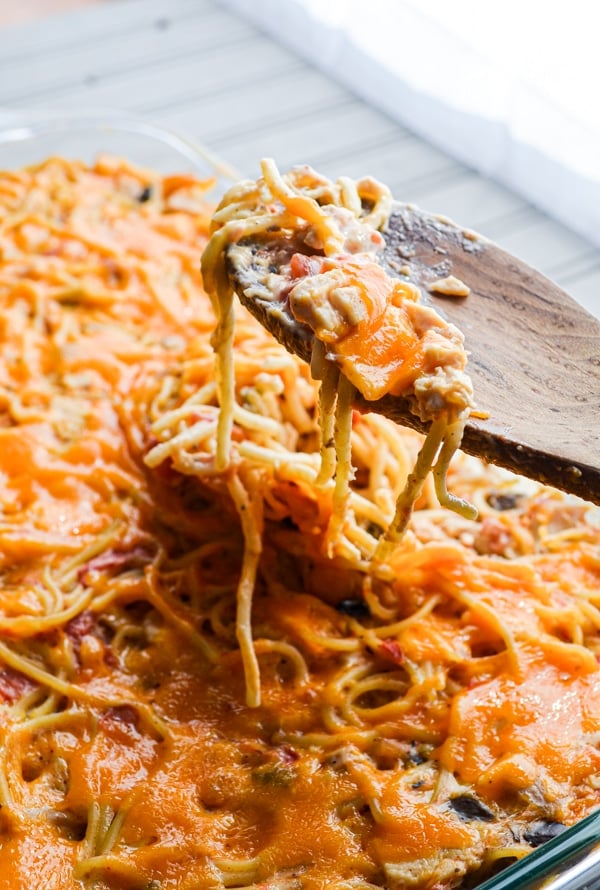 Mom's Chicken Spaghetti Recipe
Chicken Spaghetti is a timeless comfort classic casserole. This is my spin on it, using just a little kick from Ro*Tel Tomatoes and chilies.
Ingredients
4 cups Cooked, Shredded Chicken
2 10oz cans Cream of Mushroom Soup, or 2 2/3 cups homemade
1 10oz can Ro*Tel Tomatoes and Chilies, undrained
2 ¾ cups Shredded Cheddar Cheese
1 tsp. Seasoning Salt
1 tsp. Chili Powder
½ tsp. Onion Powder
½ tsp. Garlic Powder
¼ tsp. Ground Black Pepper
1 lb Dry Spaghetti, broken into thirds
Instructions
Preheat the oven to 350F and grease a 9X13 glass baking dish.
Bring a large pot of salted water to a boil.
Meanwhile, combine the chicken, cream of mushroom soup, Ro*Tel tomatoes, 2 cups of the shredded cheese, and the seasonings in a very large bowl.
Once the water is brought to a boil, cook the spaghetti until al dente, about 9 minutes.
Drain the spaghetti in a colander.
Add the cooked and drained spaghetti to the soup and chicken mixture. Toss well to combine.
Pour the mixture into the prepared baking dish, and spread it out evenly.
Sprinkle the remaining ¾ cup of shredded cheese on top of the casserole, cover and bake for 20-30 minutes, or until bubbly and the cheese is melted.
Serve and enjoy!
Nutrition Information:
Yield:

8
Serving Size:

1 grams
Amount Per Serving:
Calories:

546
Total Fat:

21g
Saturated Fat:

10g
Trans Fat:

0g
Unsaturated Fat:

9g
Cholesterol:

92mg
Sodium:

810mg
Carbohydrates:

51g
Fiber:

3g
Sugar:

5g
Protein:

36g
Nutrition information is an estimate only.
Don't Forget to "Pin It" for Later!