Who can resist something so small and cute? Use up your excess ripe bananas, and serve up a tiny treat that is perfect for any lunch box. Mini Banana Chocolate Chip Muffins are sure to be a family favorite.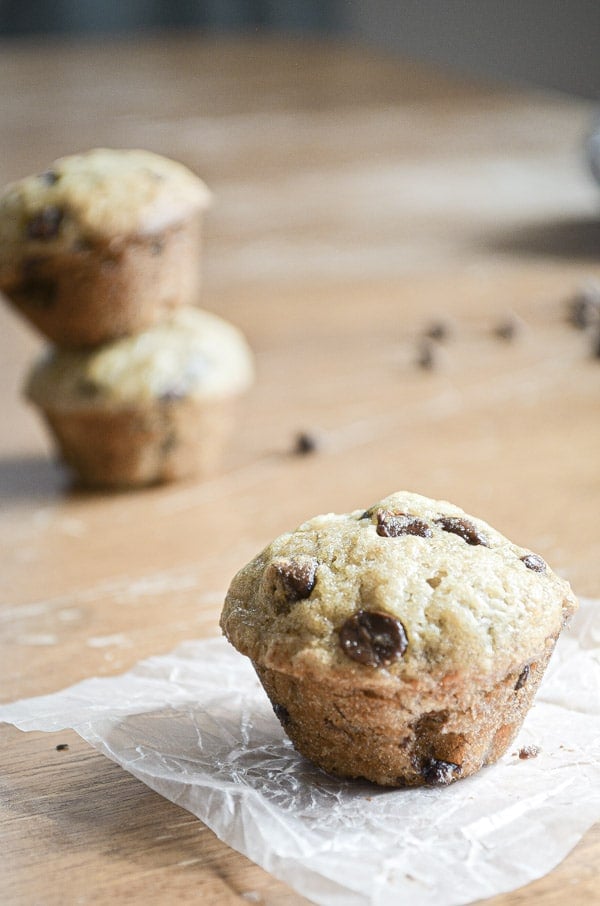 Please note that some of my blog posts here at Little Home in the Making may contain affiliate links. If you make a purchase through these links, I will get a small commission at no additional cost to you. See our disclaimer for more information.
There is something peculiar about bananas. I've seen many memes that correlate with my exact thoughts about bananas, therefore I know that this is indisputable truth. Bananas are either in extremely high demand, with an incredibly low supply OR they are in ample supply, with virtually no demand. There is no in between. There is no amount of bananas you can purchase per household member to ensure perfect banana harmony. It cannot be done.
It is a common grace that we have something known as banana bread. Not only is banana bread wonderfully tasty, but it uses up those excess ripe bananas that we all end up with sooner or later. You can even store your extra bananas in the freezer, no prep needed, for later use in our beloved banana bread.
The problem is, the same family that has a waxing and waning love for bananas in their whole form, has the same feeling when it comes to banana bread. There is only so much banana bread a normal, functioning person can eat. *Note: I am not a normal, functioning person, as I will never tire of banana bread spread with salted butter. 😋
How do you bypass the maximum threshold for banana bread?
The following tactics can help:
Add Chocolate Chips: Chocolate makes everything better, right?
Make It Mini: Who doesn't love a cute little treat?
Make Banana Muffins Instead: So what if the recipe is the exact same? Muffins are clearly another food all together.
If you're feeling particularly devious, you could combine all three and you would have these Mini Banana Chocolate Chip Muffins! That's right, I put all of the tricks in the book into one simple recipe. Not only did I use chocolate chips in this recipe, I doubled down on one of the concepts and used mini chocolate chips. These sweet little treats make a perfect snack for the lunch box. To be honest, they look downright adorable in tiny, chubby hands. I try not to let my little one get too much in the way of sweets, but this was just too cute to resist!
What Equipment Do I Need to Make Mini Banana Chocolate Chip Muffins?
You really don't need a lot of equipment to make this recipe, and chances are, you already have these tools if you bake often!
What Do I Need to Make Mini Banana Chocolate Chip Muffins?
Overripe Bananas: I'm sure you have some of these currently rotting on your counter, or stored up in your freezer (see above). If not, you can use bananas that are decently ripe, but they need to have at least some black spots.
Mini Chocolate Chips: If you are going to make a mini muffin, it only makes sense to use a mini chocolate chip!
Butter: Use the real stuff. I like to use salted butter as a general rule.
Sugars: Both brown sugar and white sugar are used in this recipe. I really like the subtle molasses flavor that comes through from the brown sugar.
Egg: Just a single large egg is used in this recipe.
Flour: All purpose works just fine in this recipe! No fuss.
Vanilla: It wouldn't be baking without vanilla, right!?
Salt: All sweet foods need a touch of salt.
Leavening: In order to get some quick rise, a leavening agent must be used. Baking soda is used in this recipe. Don't substitute for baking powder, they are not the same!
Mini Banana Chocolate Chip Muffins
Total Time:
1 hour
4 minutes
Who can resist something so small and cute? Use up your excess ripe bananas, and serve up a tiny treat that is perfect for any lunch box. Mini Banana Chocolate Chip Muffins are sure to be a family favorite.
Ingredients
1 1/4 cup Mashed Overripe Banana, about 3 large bananas
1/3 cup Salted Butter, melted and cooled
1/3 cup White Sugar
1/3 cup Brown Sugar, packed
1 large Egg
1 tsp. Vanilla Extract
1 tsp. Baking Soda
pinch Table Salt
1 1/2 cups All Purpose Flour
1 cup Mini Chocolate Chips
Instructions
Preheat the oven to 350F and grease a mini muffin pan with a light layer of butter or oil.
Mash the bananas and measure. Pour into a medium mixing bowl and add the cooled, melted butter. Mix well with a hand mixer until smooth.
Add the sugar, brown sugar, egg, and vanilla to the mashed banana and melted butter. Mix well until no lumps remain.
Add in the baking soda and salt. Fold in with a silicone spatula.
Add the flour and chocolate chips at once, folding in gently with the silicone spatula.
Use a #40 scoop (2 tbsp. size) to portion the batter into mini muffin tins. If you do not have a scoop, fill the mini muffin tins until they are full and slightly mounded.
Bake in the oven for 10-14 minutes, or until a toothpick comes out clean (well, cleanish. You will still see the melted chocolate chips).
Cool the mini muffins in the pan for about 10 minutes before removing gently with a butter knife and cooling for an additional 30 minutes or so on a cooling rack.
Store in the fridge, covered, for about a week. You can freeze if you want to keep these on hand as a quick snack or lunch box option.
Nutrition Information:
Yield:

20
Serving Size:

1 grams
Amount Per Serving:
Calories:

160
Total Fat:

6g
Saturated Fat:

4g
Trans Fat:

0g
Unsaturated Fat:

2g
Cholesterol:

17mg
Sodium:

100mg
Carbohydrates:

26g
Fiber:

2g
Sugar:

15g
Protein:

2g
Nutrition information is an estimate only.
Don't Forget to "Pin it" for Later!