This delicious French Onion Dip is made from scratch using pantry ingredients! No packet needed. Just as easy, but half the cost! Food from scratch is always better.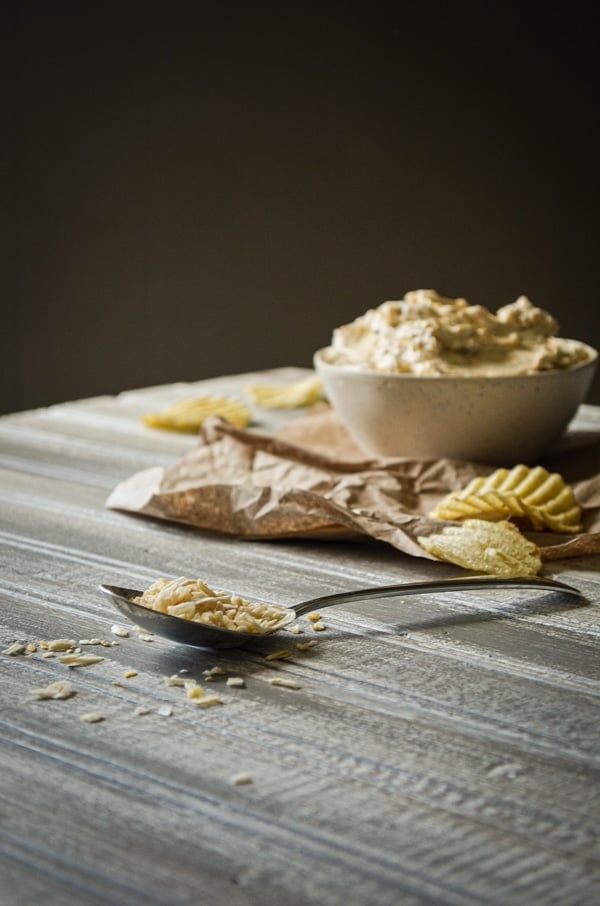 Please note that some of my blog posts here at Little Home in the Making may contain affiliate links. If you make a purchase through these links, I will get a small commission at no additional cost to you. See our disclaimer for more information.
I absolutely love making food from scratch! Not only does it save my family money, but it also helps me find ways to be creative in my home. Sometimes it's all about what is easy and simple to prepare, and then other times it's all about the experience and making something with your own two hands and a little ingenuity. This recipe for French Onion Dip is actually somewhere in the middle. While I would certainly consider this recipe "from scratch" it isn't truly from the ground up (like my Homemade Cream of Mushroom Soup is).
Using Short-cuts
This from scratch recipe for French onion dip employs the wonderful shortcut of store-bought mayonnaise. If you happen to have some homemade mayonnaise on hand (or the desire to make some), you could certainly use that, but a good quality real mayonnaise is all you need here to make a wonderful dip. I love using this as a chip dip, but it's also really lovely with cut veggies or fried pickles.
The best part?
It comes together just as fast as a recipe that uses a packet of onion soup mix. Yup. I mean, it may take a few more seconds, but that's negligible! In the time it takes for you to measure out a few spices and some powdered beef bouillon, you will have made a wonderful french onion dip — from scratch! — for your family. What can be better than that?
Speaking of bouillon…
Isn't Bouillon Bad For You?
I don't like to give foods "good" or "bad" labels because I personally don't like to think of food as moral. If you eat a "bad" food, you are not a "bad" person simply for eating that food. When we label food as "good" and "bad" we can start to feel righteous when we make "good" choices, and guilty when we make "bad" choices. All that being said, there are foods that are "better" choices than others, and certainly some foods are more nutrient dense than others as well.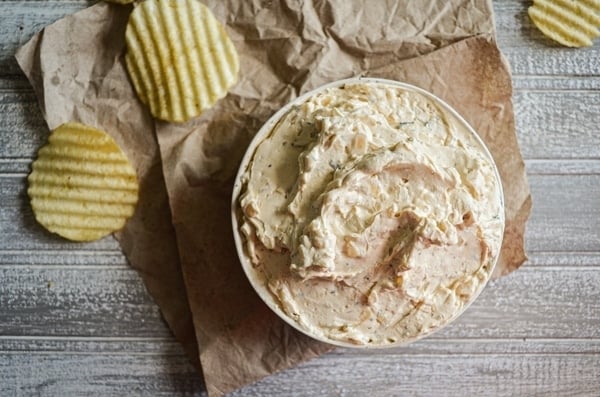 So what's the concern with bouillon? The concern with bouillon is that most store-bought bouillon powder contains MSG (aka Monosodium Glutamate). MSG is a food additive that flavors food, creating a similar umami effect that you would get from seaweed, fermented soy, and some meat. There have been some studies regarding the negative effects of MSG, so many people choose to avoid it. Most of the studies have observed large quantities of MSG being consumed, which isn't something that most of us who cook and eat at home wouldn't encounter on a regular basis.
I think it's one of those things that you need to weigh the risks and benefits of. If you're experiencing some of the negative effects of MSG, and you're eating out quite a bit or consuming lots of processed foods, you may want to look into making some swaps. If you eat mostly at home, from scratch, you're probably okay to go ahead and pick up a few convenience and conventional items to use in your meals. These are all choices you have to make for your family.
Options for Avoiding Added MSG
If you're looking for a bouillon product that is MSG free, you can certainly find those! This one from Better than Bouillon is free from added MSG and is certified organic. I've also found a few MSG free bouillon powders at my local bulk foods store. If you do opt for something that is free from MSG, you may have to add some salt to the finished product and taste as you go. Better for Bouillon is saltier than other MSG free bouillon's I've tried, so you may not need salt at all if you opt for that.
Note: I'm not a dietician or nutritionist, so none of this constitutes advice. I'm just sharing my perspective and what works for my family. If you have concerns, you can always bring them up to your doctor, dietician, or nutritionist and get advice that is tailored for your particular situation.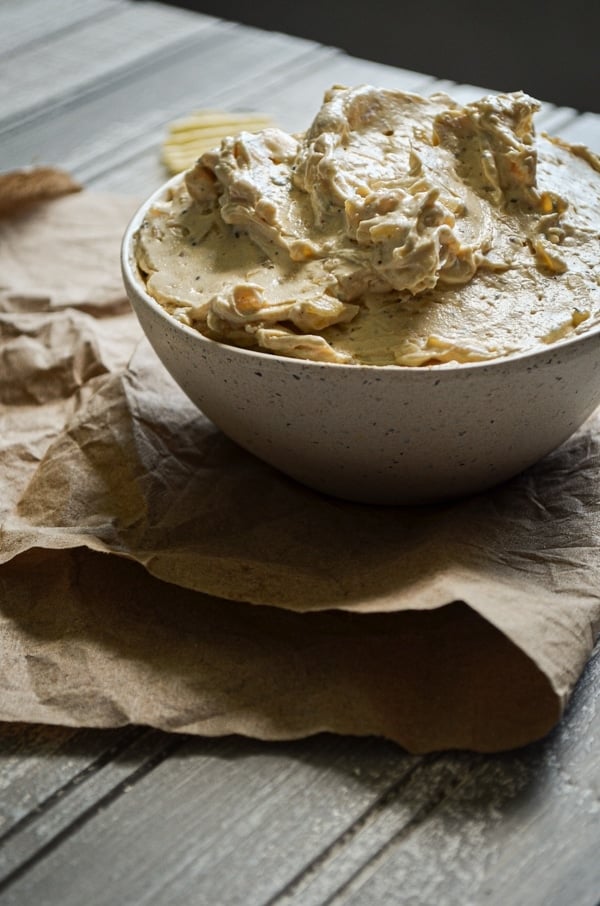 Can I Use Homemade Mayonnaise?
Yes you can! I've used store-bought mayonnaise in this recipe for ease of use. If you have some homemade mayonnaise on hand or feel like making some from scratch (I love using this hand blender method) you can certainly use that in your from scratch French onion dip.
If you're using a homemade mayonnaise, ensure that you are careful to keep it stored at an adequately cool temperature. Homemade mayonnaise contains raw egg and needs to be treated carefully compared to store-bought mayonnaise, which uses pasteurized egg.
What Can I Serve with Pantry French Onion Dip?
I love serving this with some ridged potato chips! If you're avoiding refined oils, Boulder makes some excellent potato chips with coconut oil, and ridged ones with avocado oil. They are really delicious! You can buy them on Amazon, but even my small town grocery store carries these in their (small) natural foods section. A treat is a treat, so if you want to, go ahead and splurge on whatever brand you love the most.
You can also serve these with cut veggies (like celery, carrots, mushrooms, cherry tomatoes, cucumbers, etc) or as a dip for fried pickles! I'm working on a recipe for some healthier fried pickles, and I plan on making some of this to enjoy with them. 😋
How Long Will it Last in the Fridge?
I found that the quality of this dip started to go down after day 4. I started to see some separation, so I would definitely eat this up within about 3-4 days of making the recipe. Make sure you keep it in a clean, covered container in the fridge (particularly if you used homemade mayonnaise).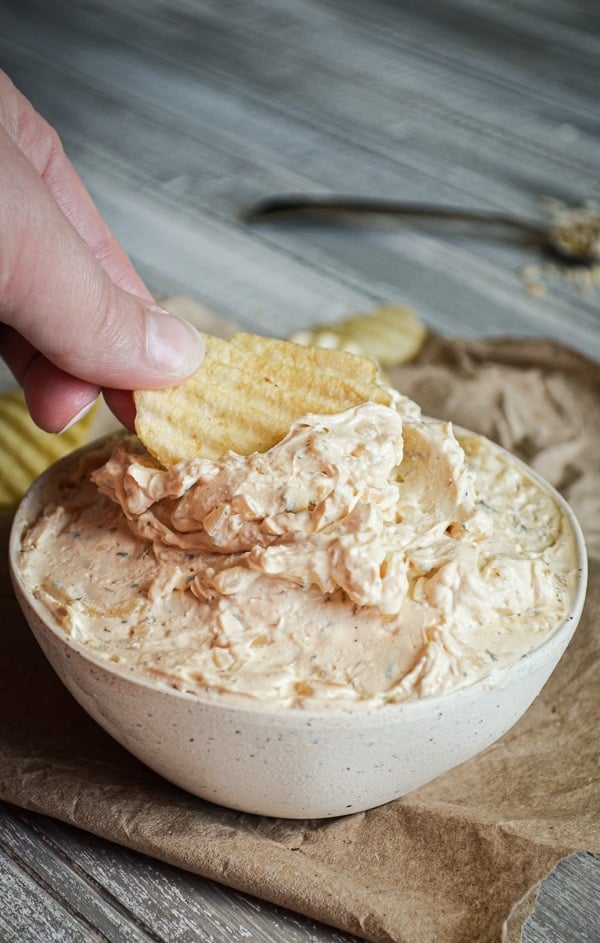 Can I Make a Smaller Batch?
If you're worried about having too many leftovers, try cutting the recipe in half and seeing how that works for your family. We are just a small family, so unless I was serving guests I would opt for the half serving most of the time.
Can I Freeze Extra French Onion Dip?
I would not advise freezing this dip. In my experience, sour cream separates when frozen. Since sour cream is a good portion of this dip, I wouldn't chose to freeze this and expect it would still be good as a dip. I think it would be a better choice to make a smaller batch of dip, or use it in a casserole or give some to friends or family if you have lots of leftovers. If you're anything like my family with a bag of chips and some dip… there won't be any leftovers. 😂
---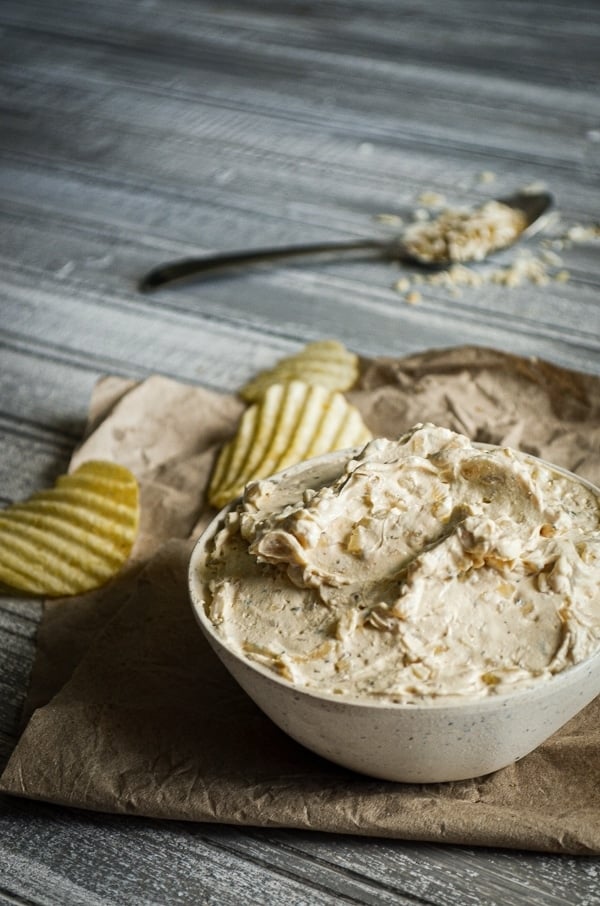 What Ingredients Do I Need to Make Pantry French Onion Dip From Scratch?
Mayonnaise: Always use the real stuff! You can use either store-bought mayonnaise, or homemade. If you opt for homemade, ensure you're careful to store it properly at all times since it contains raw egg.
Sour Cream: Use a really thick, heavy sour cream. Daisy is a good brand with a thick texture.
Dried Minced Onion: The shortcut of dried minced onion is what makes this dip come together so quickly! In the future I'll post a recipe that uses cooked fresh onions, but the dried onions in this recipe means it can come together with absolutely zero prep, directly from your pantry.
Beef Bouillon Powder: Make sure you buy the loose powder, not the bouillon cubes. If you're looking to avoid the added MSG, you can opt for Better than Bouillon, or any other no-msg-added brand.
Seasonings: These round out the flavors and work with the beef bouillon and dried onion to create a from scratch stand in for the package of soup mix that is often used in French onion dip recipes. Onion powder, parsley, celery seed, paprika, and ground black pepper are the seasonings you will need on hand.
And now for the recipe!
French Onion Dip
This recipe for French Onion Dip uses PANTRY ingredients, but is still made from scratch! As easy as making it from a packet, but half the cost! Food from scratch is always better.
Ingredients
½ cup Real Mayonnaise
1 ½ cups Thick Sour Cream, ex: Daisy brand
¼ cup Dried Minced Onion Flakes
2 Tbsp. Beef Bouillon Powder
¼ tsp. Onion Powder
¼ tsp. Dried Parsley Flakes
⅛ tsp. Celery Seed
⅛ tsp. Paprika
⅛ tsp. Black Pepper
Instructions
Add the sour cream and mayonnaise to a large bowl, using a silicone spatula to fold the two together.
Add the minced onion, bouillon, and seasonings to the bowl, and mix well until thoroughly combined.
Chill for 30 minutes before serving, if possible.
Serve with ridged potato chips, vegetables, or anything else you like to serve with French Onion Dip.
Nutrition Information:
Yield:

12
Serving Size:

1/12 of Recipe
Amount Per Serving:
Calories:

124
Total Fat:

13g
Saturated Fat:

4g
Trans Fat:

0g
Unsaturated Fat:

7g
Cholesterol:

21mg
Sodium:

327mg
Carbohydrates:

2g
Fiber:

0g
Sugar:

1g
Protein:

1g
Nutrition information is an estimate only.
Don't Forget to "Pin It" for Later!