This sweet and flavorful Caramelized Onion Spread will lend itself well to a variety of uses. Made from scratch and made ahead, it's a great way to elevate any meal.
Please note that some of my blog posts here at Little Home in the Making may contain affiliate links. If you make a purchase through these links, I will get a small commission at no additional cost to you. See my disclaimer for more information.
This Caramelized Onion Spread is actually the result of a happy accident. I am notoriously distracted when I'm cooking or in the kitchen. I can't just stand there and watch something cook, so I get to doing dishes or organizing a cupboard, or writing down a recipe. Focusing on the task at hand is seemingly impossible.
One such day I was making onions for a Deluxe Cheeseburger Salad I had planned for Supper, and I left them a little too long. Well, a lot too long. They went beyond the gently softened stage, and were sticking to the bottom of the pan a bit. With some diligent scraping and stirring, I was able to save them from burning. I decided that since I went so far beyond the softened onion stage, I ought to continue right along to a caramelized onion. So I nursed these onions for 45 minutes or so, stirring gently over low heat every so often as I went about my kitchen chores.
I served these caramelized onions with our Deluxe Cheeseburger Salad that night and my husband has since declared them "the onions." When I tell him of my plans for supper, if it is involving something we have had Caramelized Onion Spread with before, he will ask, "are you making the onions?"
Yes, of course I'm making the onions.
Making Caramelized Onion Spread does take time, this is true, but there are so many ways you can use them and they add so much richness and flavor. I personally find the time is more than worth it, especially since I normally have so many other things to do in the kitchen at the same time.
To make chopping the onions easier, I peel and quarter the onions. I then put them into this Ninja Mini Food Chopper and give them a few whirls. This gets the onions super small without any fantastic knife skills or tears on my end. Getting the onions small enough is truly the key to getting that "spread" consistency.
How Do I Serve Caramelized Onion Spread?
In place of the onions in my Deluxe Cheeseburger Salad
Spread on your favorite breads ands tortillas
Spread on crackers
Dolloped on pizza
Dolloped on nachos
Mixed into vinaigrette to pour over salads
How Long Does It Keep?
You can store the cooled onions in a covered small glass jar for about a week. I wouldn't go any longer than that. I use mine straight from the fridge to dollop on pizza. The oils and butter melt as the pizza bakes, so the onions spread out very nicely.
What Do I Need to Make Caramelized Onion Spread?
Butter: I use salted butter in this recipe because I like things salted! You can use unsalted butter if that's all you have on hand.
Olive Oil: I like to use a combination of fats for a well rounded flavor. Butter burns easily, so having another oil along with it helps. Avocado oil would be a great fit here too.
Onions: Just your regular yellow cooking onions will do!
Salt: a pinch or two to round out the flavor! Add a little more if you used unsalted butter.
Yup, that's it! Simple, I know. I find the best flavors come from simple ingredients, cooked slow and lovingly attended to. Good food takes time.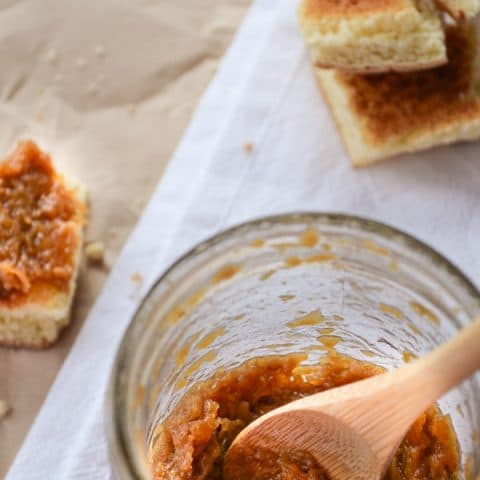 Caramelized Onion Spread
This Caramelized Onion Spread lends an incredible flavor to a variety of uses and can be made ahead of time! A little goes a long way.
Ingredients
2 tbsp. Salted Butter
2 tbsp. Extra Virgin Olive Oil
4 medium Yellow Onions, peeled and minced fine
pinch Mineral Salt
Instructions
Prepare your onions by mincing them finely with a knife or use a food processor as a shortcut. The pieces should be smaller than your pinky finger nail.
In a medium saucepan over medium-high heat, melt the butter with the olive oil.
Once the butter is melted and the olive oil is shimmering, add the minced onion and stir well to coat.
Cook the onion for 10 minutes, stirring very frequently to prevent burning with a silicone spatula or wooden spoon.
After 10 minutes, reduce the heat to low and add a pinch of salt. Stir well.
Cook the onions for an additional 35-45 minutes, stirring often, until they are a deep golden color and have a sweet taste. This is a recipe that takes a lot of time and attention, although it is very simple to do. I suggest preparing this while doing dishes or working in the kitchen, as you sort of have to nurse the onions to ensure they do not burn. Just give them a nice stir each time you walk by the stove.
Once the onions are cooked through, cool slightly in the pan, then transfer to a small jar (a half pint size should do). Once the onions are completely cool, add a lid to the jar and store in the fridge for up to one week.
Notes
Per 1 Serving (approximately 1 tbsp): Calories: 52 | Fat: 4g | Carbs: 3g | Fiber: 1g | Net Carbs: 2g | Protein: 0g
Nutritional Information is an estimate and is calculated using My Fitness Pal.
Nutrition Information:
Yield:

12
Serving Size:

1
Amount Per Serving:
Calories:

51
Total Fat:

4g
Saturated Fat:

2g
Trans Fat:

0g
Unsaturated Fat:

2g
Cholesterol:

5mg
Sodium:

27mg
Carbohydrates:

3g
Fiber:

0g
Sugar:

1g
Protein:

0g
Nutrition information is an estimate only.
Don't Forget to "Pin It" to Pinterest!